Home
›
U.S. Coin Forum
Four Coins I've Questioned Over the Years

braddick
Posts: 22,507
✭✭✭✭✭
Coin #1:
I purchased this coin in a Whitman cent album twenty + years ago. It was in the spot of the regular 1943, and it wasn't until a couple of years after purchase I noticed the date. It does stick to a magnet, and the single time I took it to the ANACS table at Long Beach, the grader/authenticator stated, "probably a counterfeit yet would require equipment we don't have at the show to know; with a certainty." I've never followed up with it yet have resigned to the fact it is probably a counterfeit of some sort.
Coin #2:
Interesting counterfeit of a "silver" 3c (trime):
I found this one on a bid board being sold as a genuine coin, yet so obvious it isn't. It is a contemporary counterfeit, though, so I was comfortable paying the requested $15.00
Coin #3:
A contemporary Bust Half dollar:
This one is made out of German silver. I liked it as it is a bit closer to reality than many of these early bogus bust halves.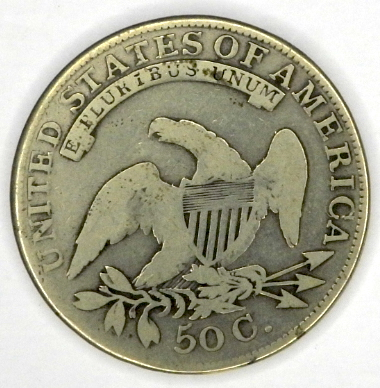 Coin #4:
I did buy this one as a genuine Peace dollar! It wasn't until it arrived that I saw the various 'tells' of its origins. It is unusual enough and kind of cool enough. I never complained and left the seller positive feedback. It is made of silver and weighs the correct amount.
Leave a Comment