Home
›
U.S. Coin Forum
Roosevelt Dollar, HK-308.
keets
Posts: 25,351
✭✭✭✭✭
As long as I have collected So-Called Dollars I have admired the design of HK-308 from the 1904 Louisiana Purchase Exposition held in St. Louis. The designs used on both sides are really attractive and elegant, the obverse showing a very stern and powerful image of President Theodore Roosevelt, the reverse showing the Hall of Festivals and Central Cascades from the Exposition. The medal itself is struck in Silver as a Proof and is the size of a standard Silver Dollar at 38mm. Hibler-Kappen and the Second Edition catalogue list it as an R-7 with 11-20 known. Combined, PCGS/NGC show six graded and I have seen images of maybe 3-4 more.
Although I have always been interested in owning one of these medals I'm always stopped short due to the overall appearance of them which tends to be some degree of slate grey. The image posted below is typical of every medal I have seen except for one. I read somewhere that it was suspected the tone came from long term storage in small envelopes, perhaps how they were given out at the time of purchase. Judging from the medals I have seen there doesn't appear to have been any attempt at conservation on any of them.
I wondered if any members own an HK-308 and could post a picture and give a worded description of their medal?? Also, can anyone speculate on what caused the tone to develop on every medal?? Thanks in advance.
Al H.
straight on lighting.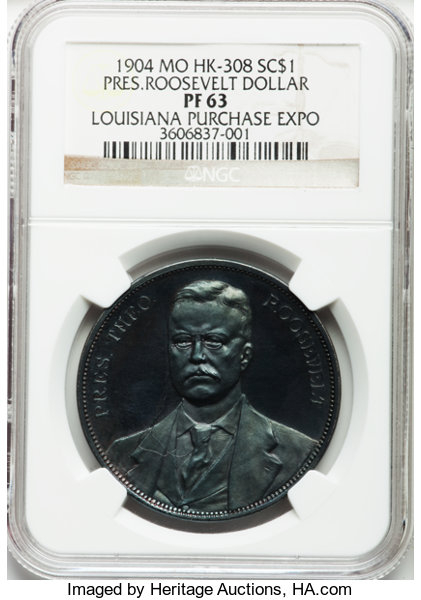 high intensity lighting angled to show the surface finish.

Leave a Comment