Home
›
U.S. Coin Forum
Newly Discovered 1942-S Experimental Zinc-Coated Bronze Cent???

Zoins
Posts: 33,735
✭✭✭✭✭
MintErrorNews is reporting a 1942-S cent that looks like it was struck on a bronze foreign planchet with an (experimental?) zinc coating. It seems that this planchet and coating was done in Philadelphia, but was somehow struck by S mint dies? Could S mint dies have been used in Philadelphia or did this planchet somehow end up in San Francisco?
A lot of experiments were done during the war so this seems like it could have been part of that?
Visually, it looks pretty cool and very different from many other cents.
The link has a lot of info so please click through to read. Below is a short excerpt and a few photos from the article, but there are many more!
This is a fascinating 1942-S Lincoln Cent that was struck on a 2.5 gram bronze planchet with a composition of 95% copper, 4% zinc and 1% tin. After examining this unique mint error and consulting with many experts on mint errors, patterns and die trials, the consensus is that it was struck on a 1942 Curacao cent planchet that had been coated or plated with zinc before being struck.

This lovely original lustrous mint error is choice uncirculated. There is slight weakness in the strike which is visible on the obverse in the beginning of LIBERTY and part of IN GOD, and on the reverse in the O of ONE and the AM of AMERICA. This is due to the planchet weighing 2.5 grams and not 3.11 grams which affects the strike since the die pressure was set up for planchets weighing 3.11 grams.

Planchets for the 1942 Curacao cent were produced by the U.S. Mint in Philadelphia and have the exact same specifications as this 1942-S cent; 2.5 grams in weight, a diameter of 19mm and a composition of 95% copper, 4% zinc and 1% tin. However, Curacao cents were never struck in San Francisco!
The article shows off this zinc-coated experimental cent from the Philadelphia Collection, along with some others from the collection. @MrEureka: Given this piece was done at the Mint, is there Judd number for this now?
This is also going to be an upcoming MintErrorNews cover coin!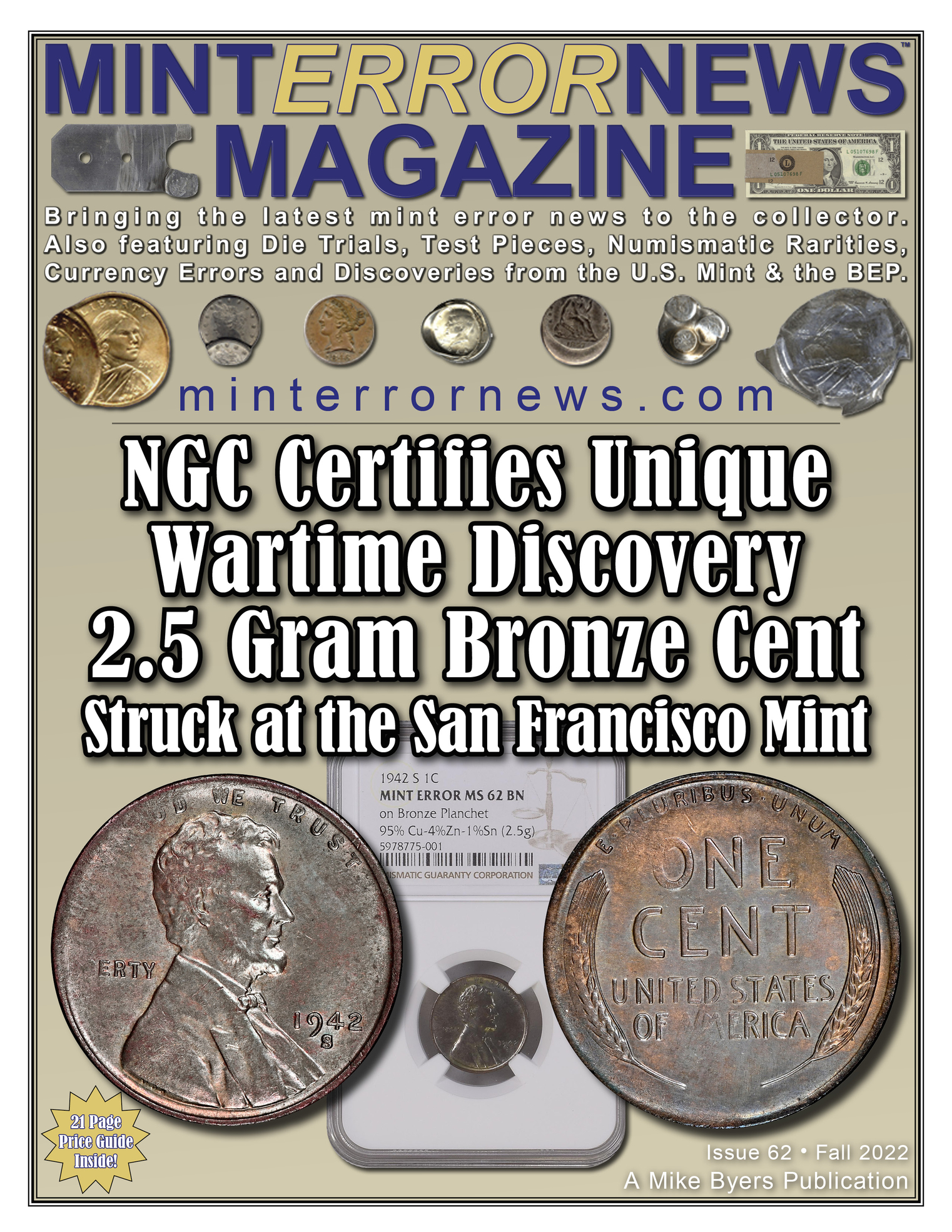 Tagged:
Leave a Comment