Home
›
U.S. Coin Forum
My new pickup 1803 Kettle Turban Head Half Eagle. I think this might be a rarer variety
coinsarefun
Posts: 21,657
✭✭✭✭✭
All Kettle Turban half and quarter eagles are rare but without the signature is much rarer,
I have seen them out there in holders and not even indicated as such.....but not many.
.
I have been anxiously waiting for this to arrive in the mail. I have looked up all the varieties known and mine is slightly different from any known. Now it could be much rarer than any others known till now or, just not if any research info available to me.If anyone knows or can help me out I would be very grateful
.
EDIT I did finally find one in a graded slab but doesn't make any mention of the signature missing. I posted it below
.
Also if anyone wants to guess the grade I would love to hear it as I will be submitting to PCGS for grading right away.
.
It appears to me to grade MS63/63. I just cannot capture the luster. But, who knows with grading anymore....
I've seen MS62 look terrible and a Quarter Eagle gilt grade AU58 looks better than most MS63 out there.
.
The KETTLE is missing from the right of date
and does not look like any movement of metal so looks authentic.
I also learned through my research that there can be 2 different initials under the bust.
.
Mine is:
Weakly struck but better than almost any other example I have seen missing the KETTLE signature.
25.3 mm dia.
diag. reeded
1.3 mm thick
weight 6.2 g.
.
There are no references that I know of that give the weight or thickness.
.


.
.
Now....if anyone can make out the initials I would be very thankful. I can't for the life of me!
.
.


.
.
I cannot see where the date was removed so, I'm saying missing or die filled.
.
.


.
.
Below are pages from Fauver's book. Rulau said his studies are convincing.
.
.


.


.
.


.
.
I thought to add my other Half Eagle graded MS63
Stars and clouds are different on the reverse
.
.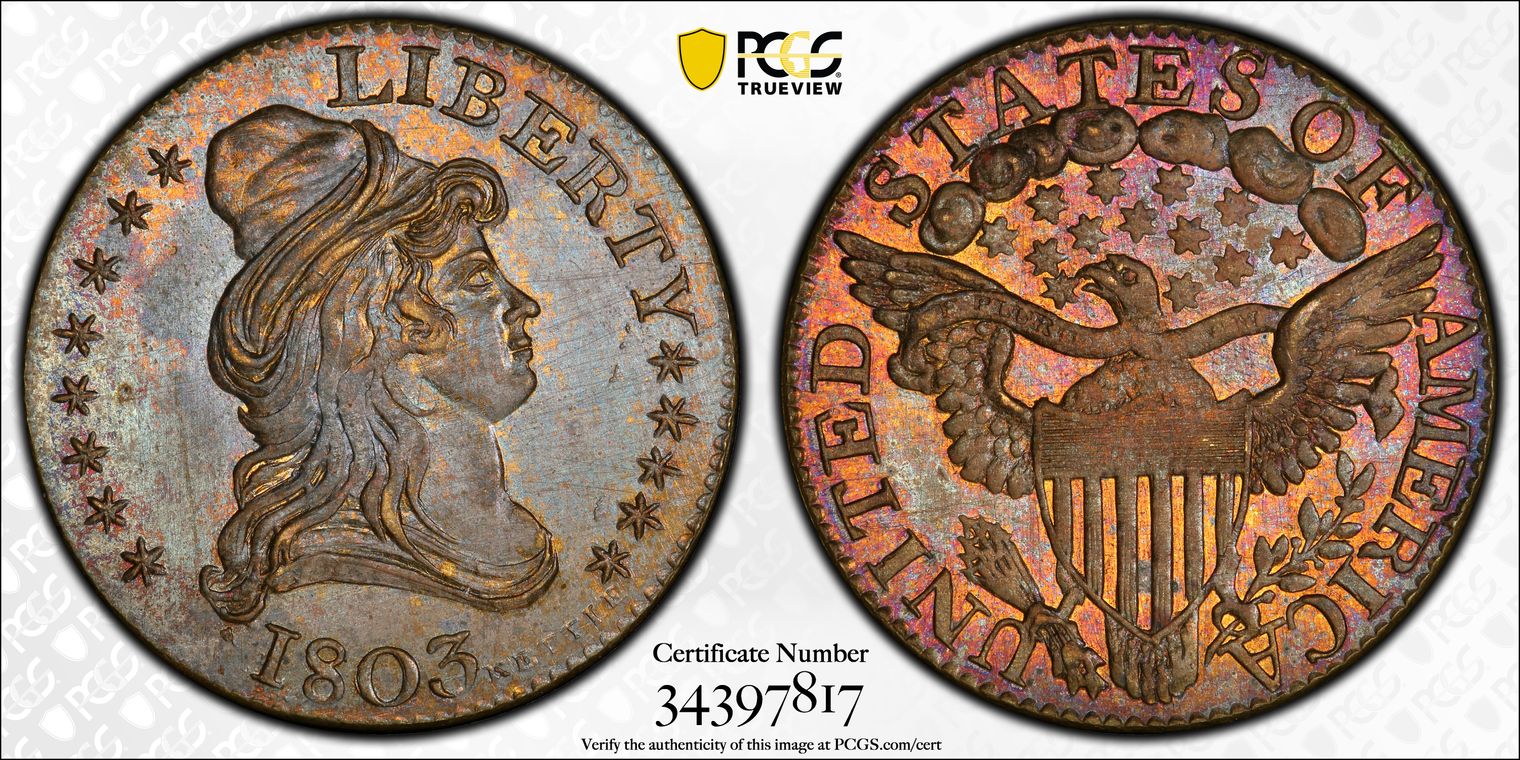 .
.


.
.
.
I was able to find another seemingly identical already graded MS62 for comparison.
When I overlaid them and changed the opacity in the program everything lines up.
Now it might be a question of what my grade is compared to the MS62 and to see if I can get a distinction.
Its labeled as a** J-C1803-3 Kettle & Sons** which is the same as my toned example so either PCGS does
not distinguish one variety or another. Seems to me that having KETTLE on it or not would be important enough
to get its own number.
.
.

Leave a Comment