Home
›
U.S. Coin Forum
Hibler & Kappen's So-Called Dollars . . . let's see yours!

ZoidMeister
Posts: 2,997
✭✭✭✭✭
In my pursuit of interesting tokens, medals, and other exonumia, I have become more and more educated on items identified and cataloged by Harold E. Hibler and Charles V. Kappen as a series of exonumia they affectionately named "So-Called Dollars."
I searched high and low to find a similar thread, but came up empty, so I thought I would start the ball rolling.
Anyway, I started picking up some of the more affordable pieces when I run across them, but I am sure there are loads of types and examples I will never run across. I am interested in learning more about their minted quantities, original issue prices, and relative rarities. I am also interested in relative values in today's world.
What is interesting to note is that MANY of today's contemporary Numismatic and Coin Club medals are based either loosely or nearly identical to, So-Called Dollars and other commemorative coinage of bygone eras.
Here is a recent So-Called Dollar I picked up. I am very pleased with the condition and design of this piece. It is the . . . . . .
.
1904 Louisianan Purchase Expedition Official Souvenir Medal (HK-300)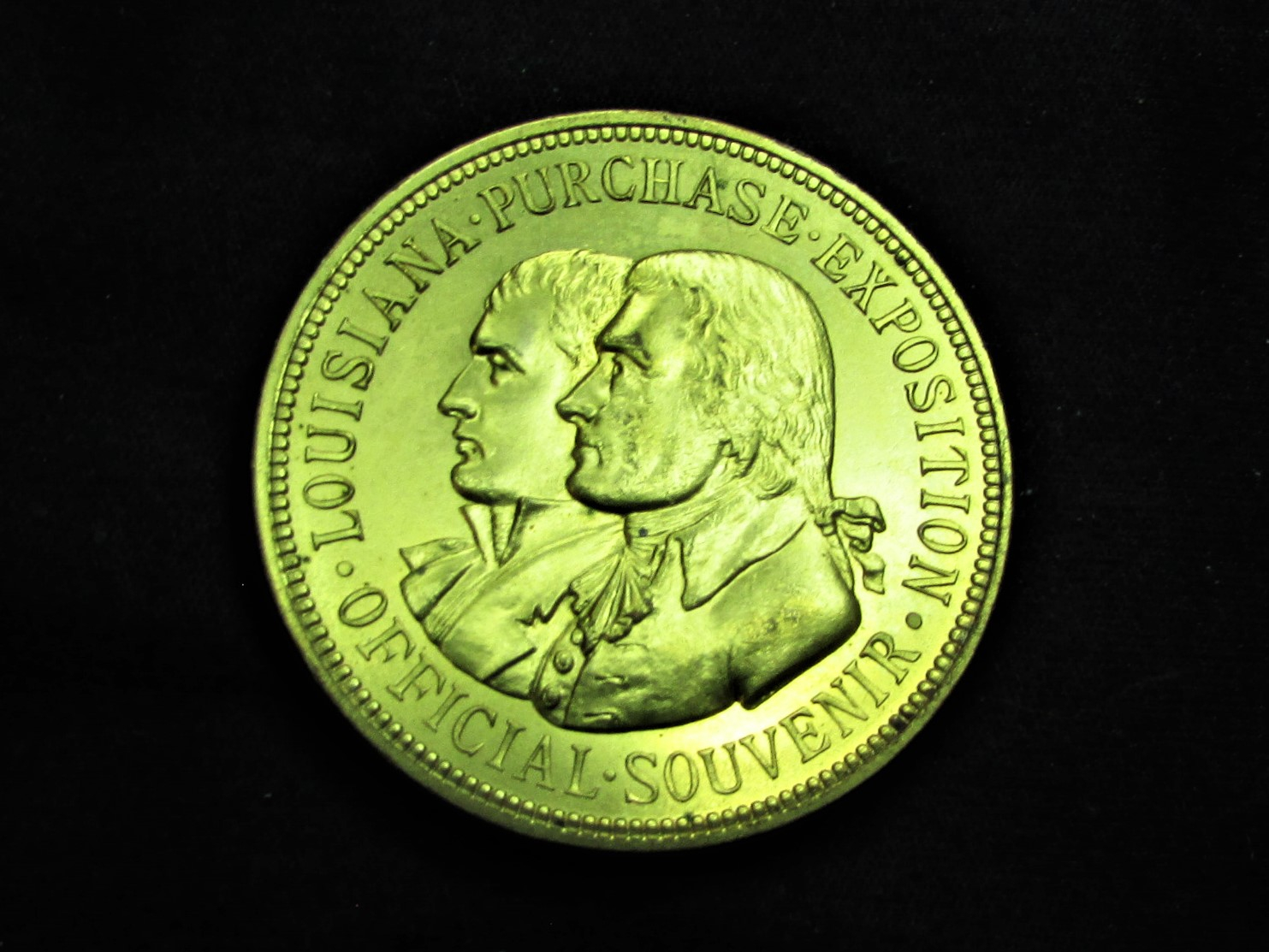 Gold plated bronze, 33mm
Obv. Conjoined busts l. (Napoleon & Jefferson); above, around • Louisiana • Purchase • Exposition •; below all Official • Souvenir •; beaded border.
Rev. Relief map of U.S. with Louisiana Purchase across that portion representing extent of purchase; above Louisiana Territory / 1803 / 1,000,000 Square Miles / $15,000,000.; below map St. Louis 1904, beaded border.
References from:
https://so-calleddollars.com/Events/Louisiana_Purchase_Exposition.html
Busy chasing Carr's . . . . . woof!
Successful BST transactions with: Bullsitter, Downtown1974, P0CKETCHANGE, Twobitcollector, AKbeez, DCW, Illini420, ProofCollection, DCarr, Cazkaboom, RichieURich, LukeMarshall, carew4me, BustDMs, coinsarefun, PreTurb, felinfoal, jwitten, GoldenEgg, pruebas, lazybones, COCollector, CuKevin, MWallace, USMC_6115, NamVet69, zippcity, . . . . who'd I forget?
Leave a Comment