Home
›
U.S. Coin Forum
So I'm going to the Las Vegas Members show Dec 1st......UPDATE.....it's a no go!
coinsarefun
Posts: 21,657
✭✭✭✭✭
** update** just got back to the hotel room. I'm going back Friday to pick up the one token they will grade for me.
Unrelated to the pattern test strikes.
.
They asked headquarters and they said no, cannot be done as it will not fit on the description insert of slab.
I'm not sure why things cannot be changes or abbreviated. It's not like hundreds have been graded.
It saddens me very much that these cannot be attributed right.
Instead a test piece is net graded for damage instead of what it really is.
.
.
.
Here is a screenshot of coinfacts. I do understand there is not enough room left to
put"test strike" as you can see. But things are not always written in stone, maybe it can be changed?
.
.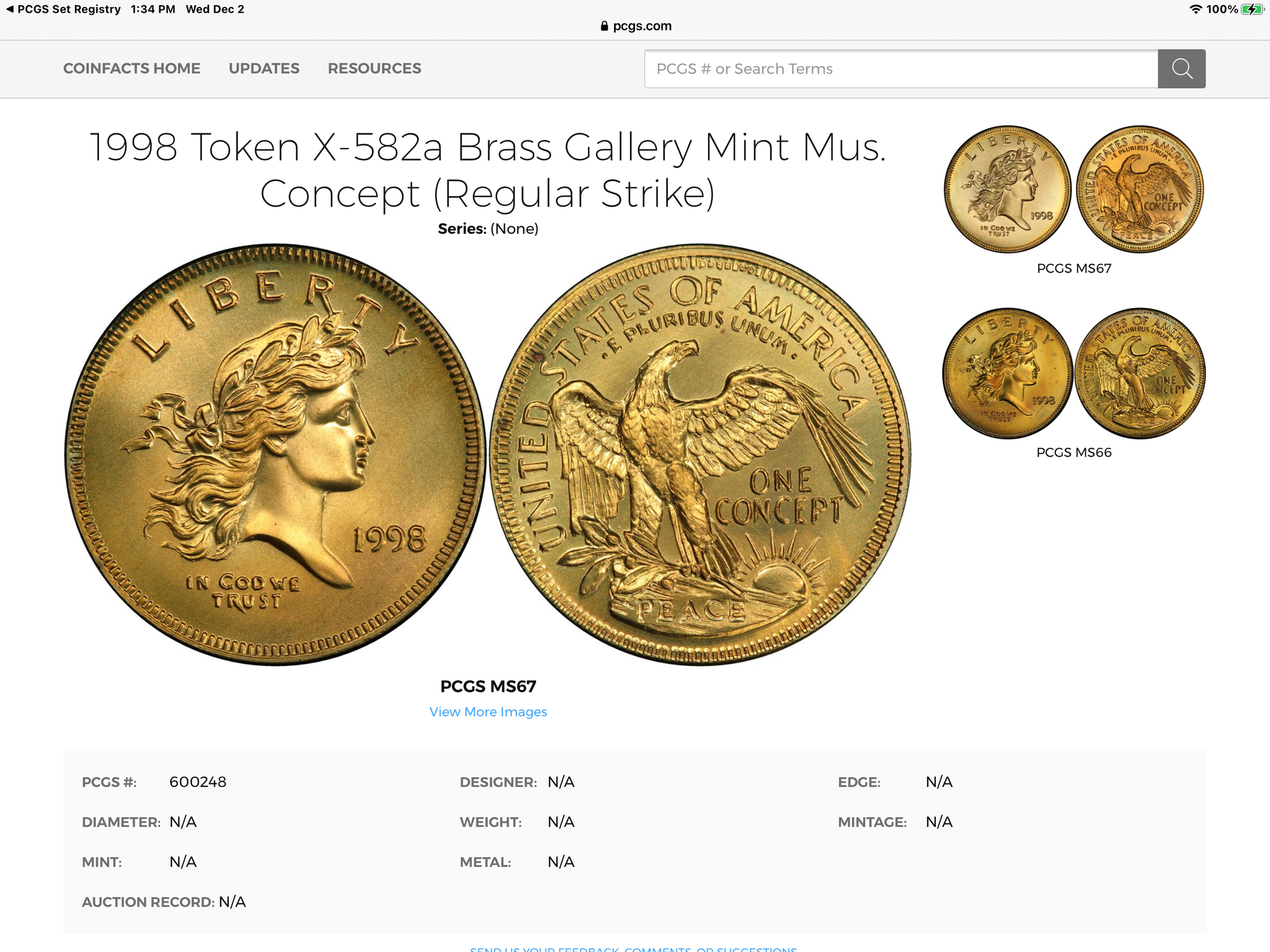 .
.
End of update........
Wish me luck when I go to the Las Vegas Members show in Las Vegas this coming Tuesday to sit down
with someone there and explain my Ron Landis and the GMM patterns and get them labeled as they should be.
.
.I am also bringing along a very popular rare token with an incredible pedigree to have graded and trueviewed.
I have worked on obtaining this token since 2008!.........When I get back home I will post it.
I originally posted this thread here
I thought to update and put all in one place the individual test coins on one thread so it is easier to follow.
I will be going to the Las Vegas PCGS Members Only Show
Tuesday, December 1 to Friday, December 4, 2020
Park MGM
3770 S Las Vegas Blvd
Las Vegas, Nevada 89109
.
I have Ron's letters written to me that I will bring with me to help confirm ownership along with Ron's agreement that I can have PCGS email him with any questions. I also have his cell number that I will use only if needed to help convince PCGS of the importance of these patterns being labeled correctly.
.
It was brought up in the thread (linked above by @messydesk that
"The best way to do this would be to corner a PCGS person at a show and get Ron on the phone, then offer to have PCGS exhibit your set.'" I believe this is a wonderful idea and would love to have @PCGS_SocialMedia announce that they will be displaying it at the Long Beach show
'
Since these were graded and trueviewed 10 month's ago I will ask them to change the holder to reflect that these are
Test Strikes by Ron Landis & GMM for Competition in the Golden Dollar Dollar contest the mint had.
Which we all know the Sacagawea design won.
.
.
I recently picked up a few other items from Ron with include the

2000 Modern Portrait. These were struck and handed out to the advisory commission during the 1998 meetings.
Supposedly 47 pieces struck
.
.

Then I have a 2000 dated Liberty head overstruck on a Sacajawea dollar. Unique from Ron's personal collection also.
When we put all these items together I think it tells a wonderful story of Ron's involvement the national completion for the
new Golden Dollar Design that the Mint was going to be minting for the year 2000.
.
.

.
.
.
FIRST TEST STRIKE 7-27-97
.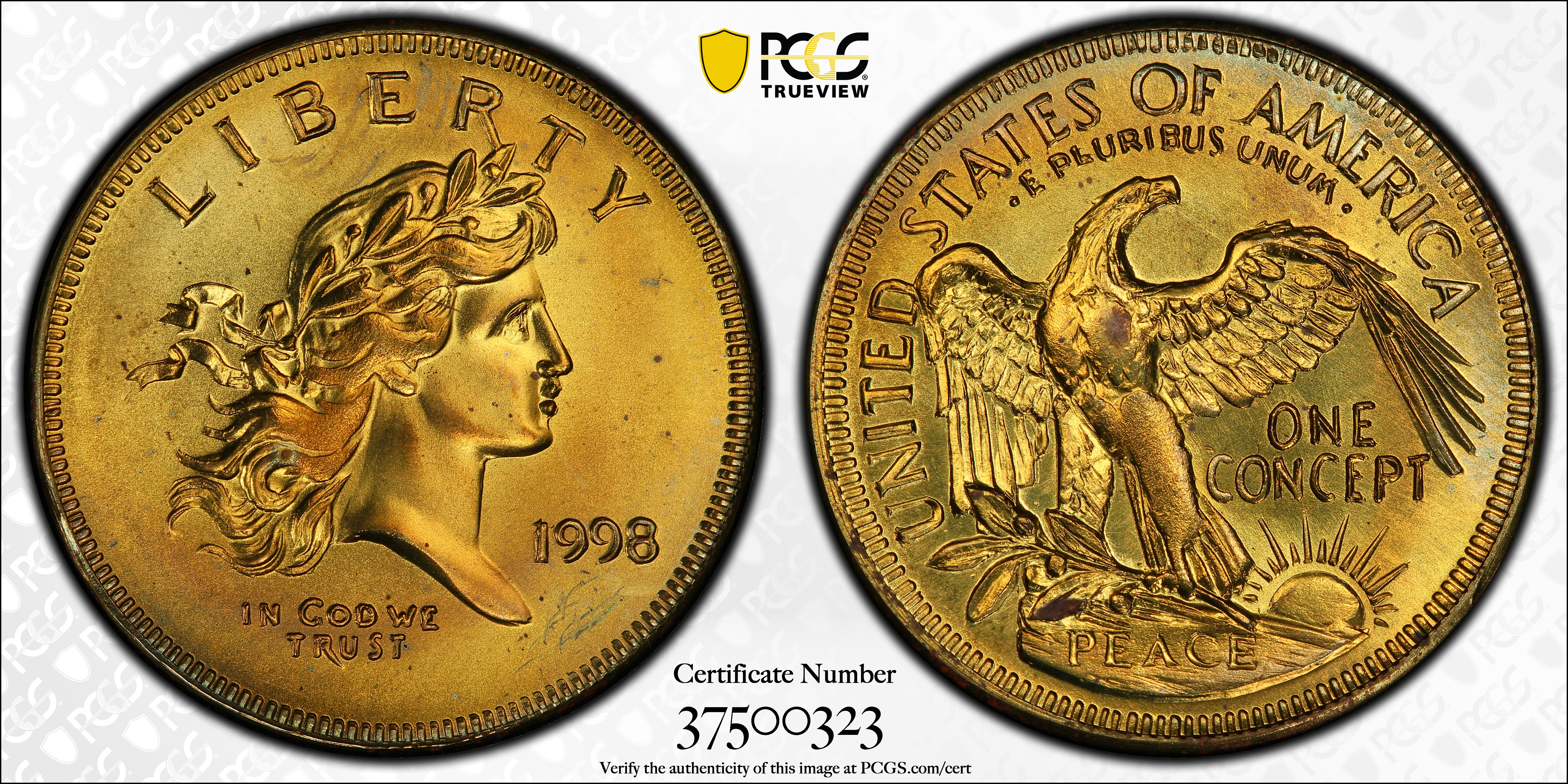 .
SECOND TEST STRIKE 10-06-97
.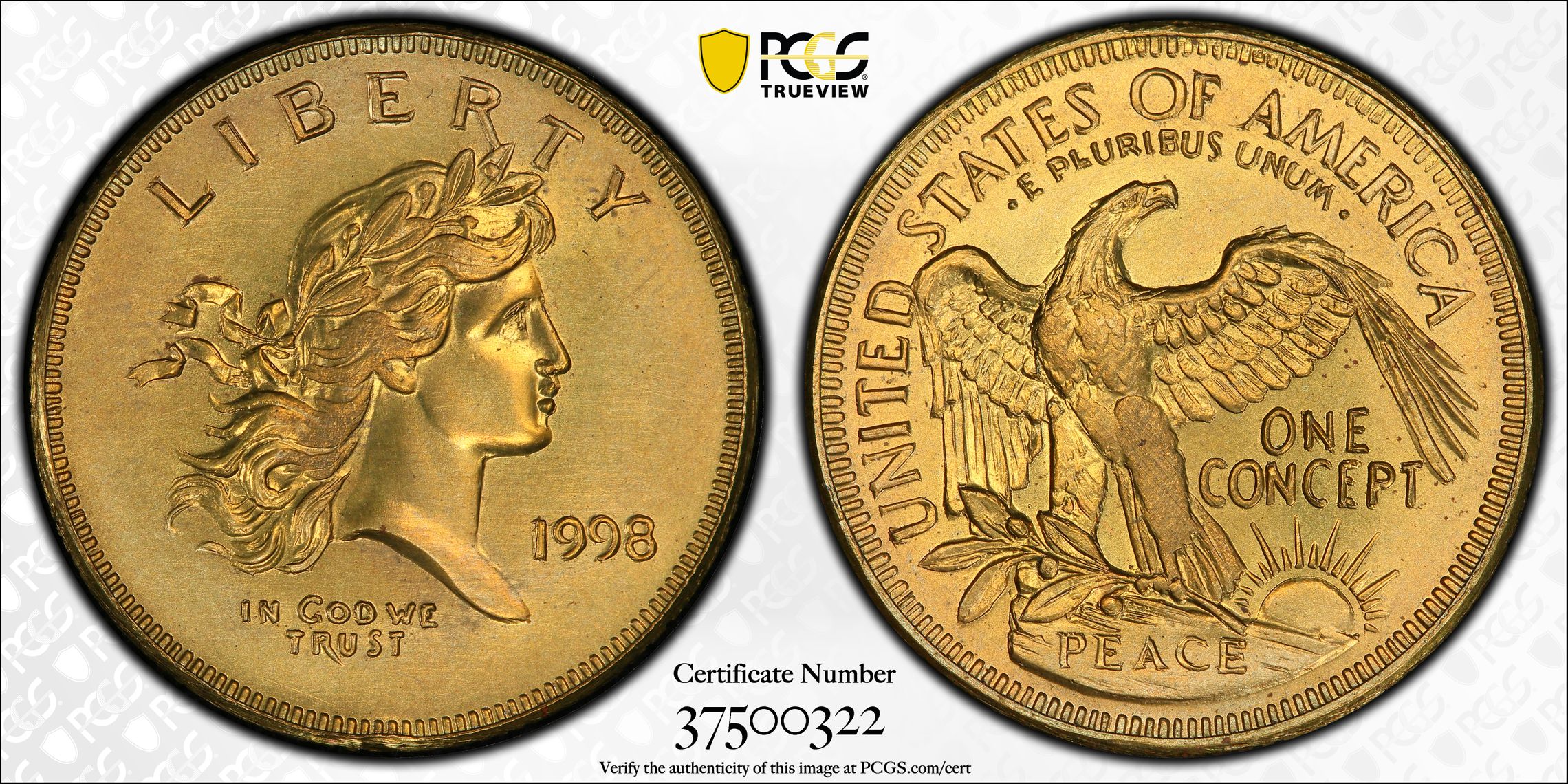 .
.
THIS BLANK KEPT DIES FROM CLASHING WHEN EJECTOR COLLAR WAS PLACED WRONG, ONE STRIKE ONLY
.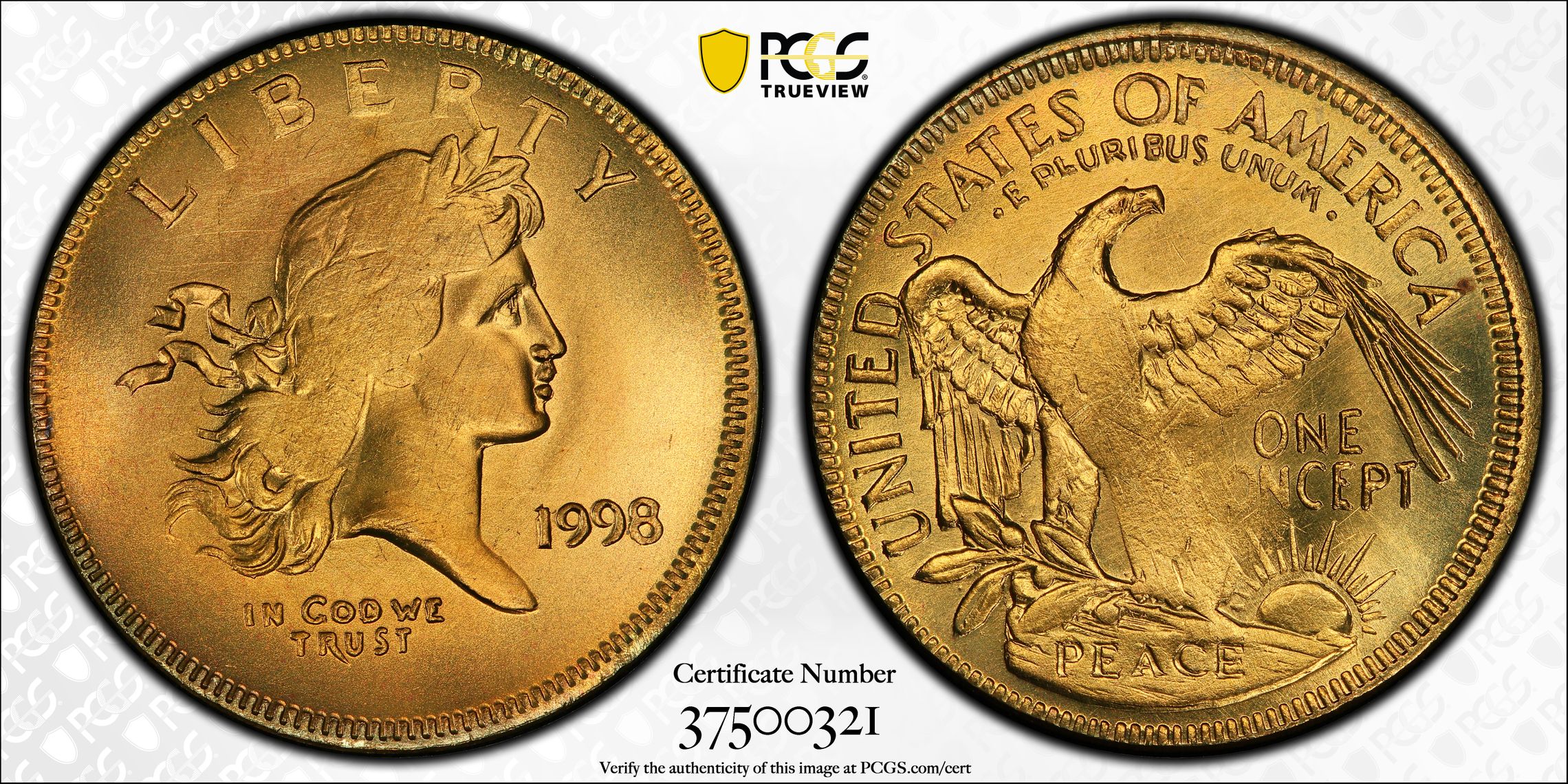 .
FORTH TEST STRIKE, YELLOW BRASS 10-08-97
.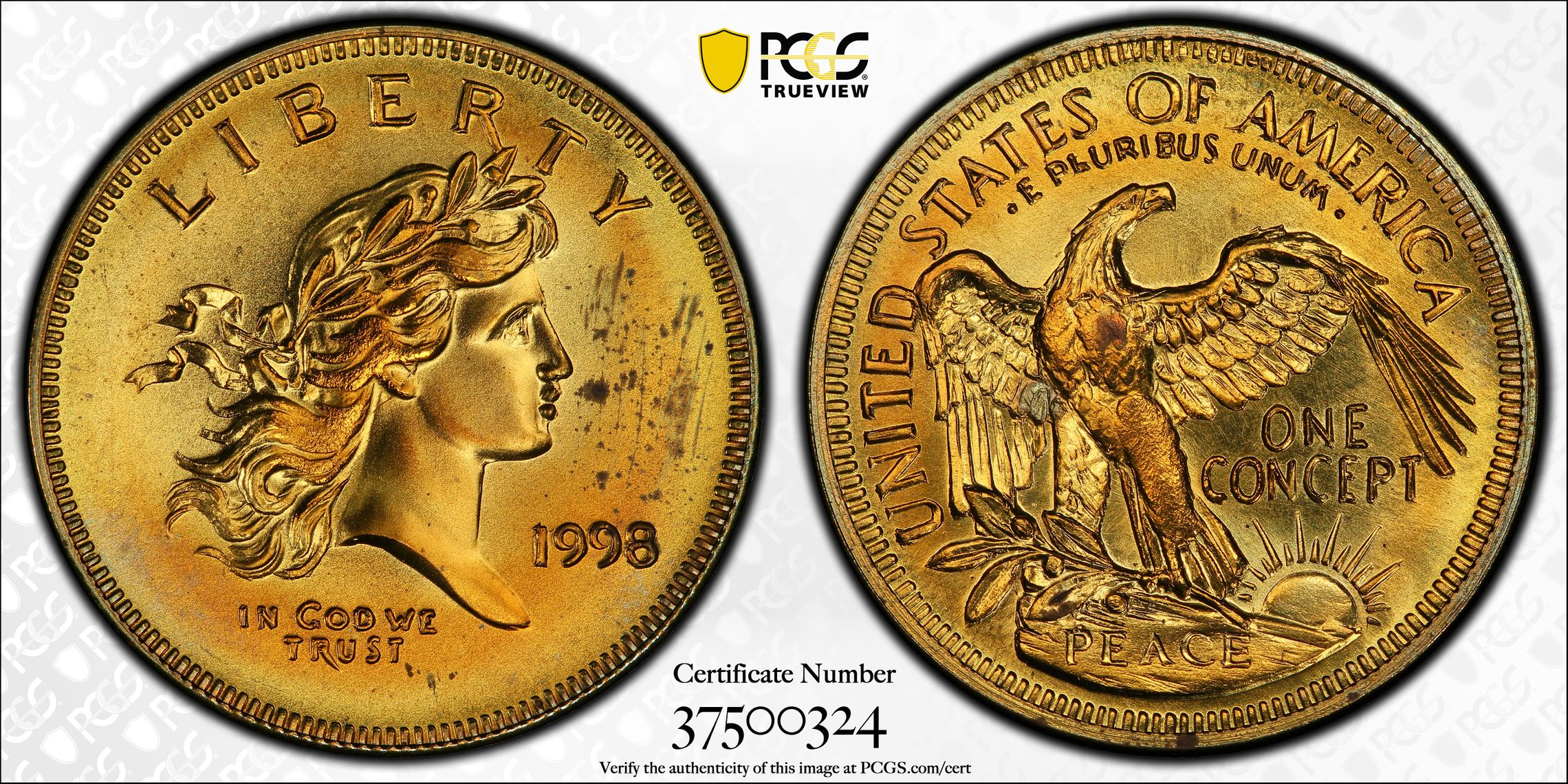 .
FIFTH COIN PIEDIFORT
.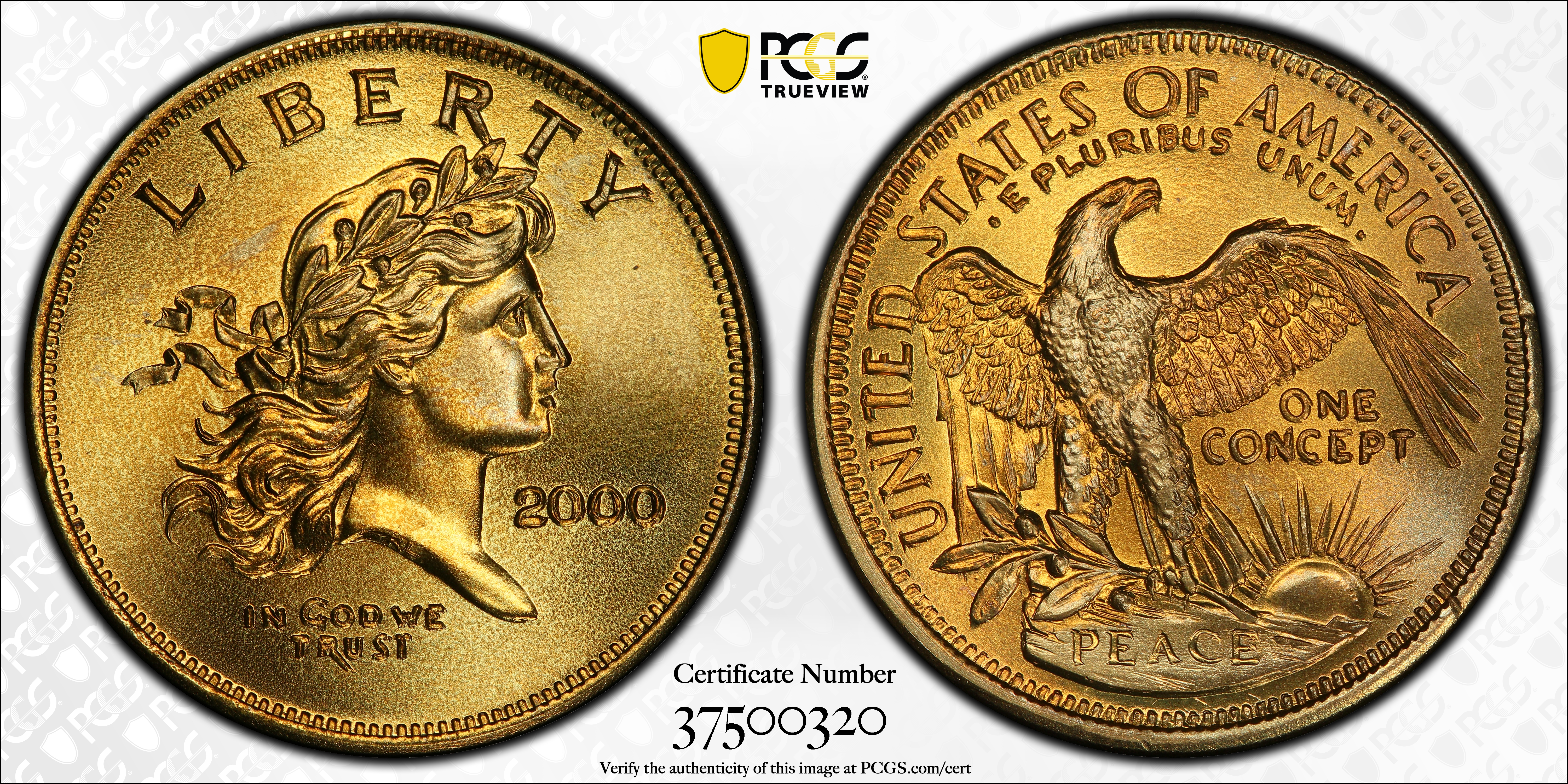 .
.
SIXTH COIN, ALLOY TEST....Notice "A" at base of LIBERTY
85% clad, 15% zinc, 11-21-97
.


.
SEVENTH COIN, ALLOY TEST.....Notice "B" at base of LIBERTY
50% clad, 50% zinc 11-21-97
.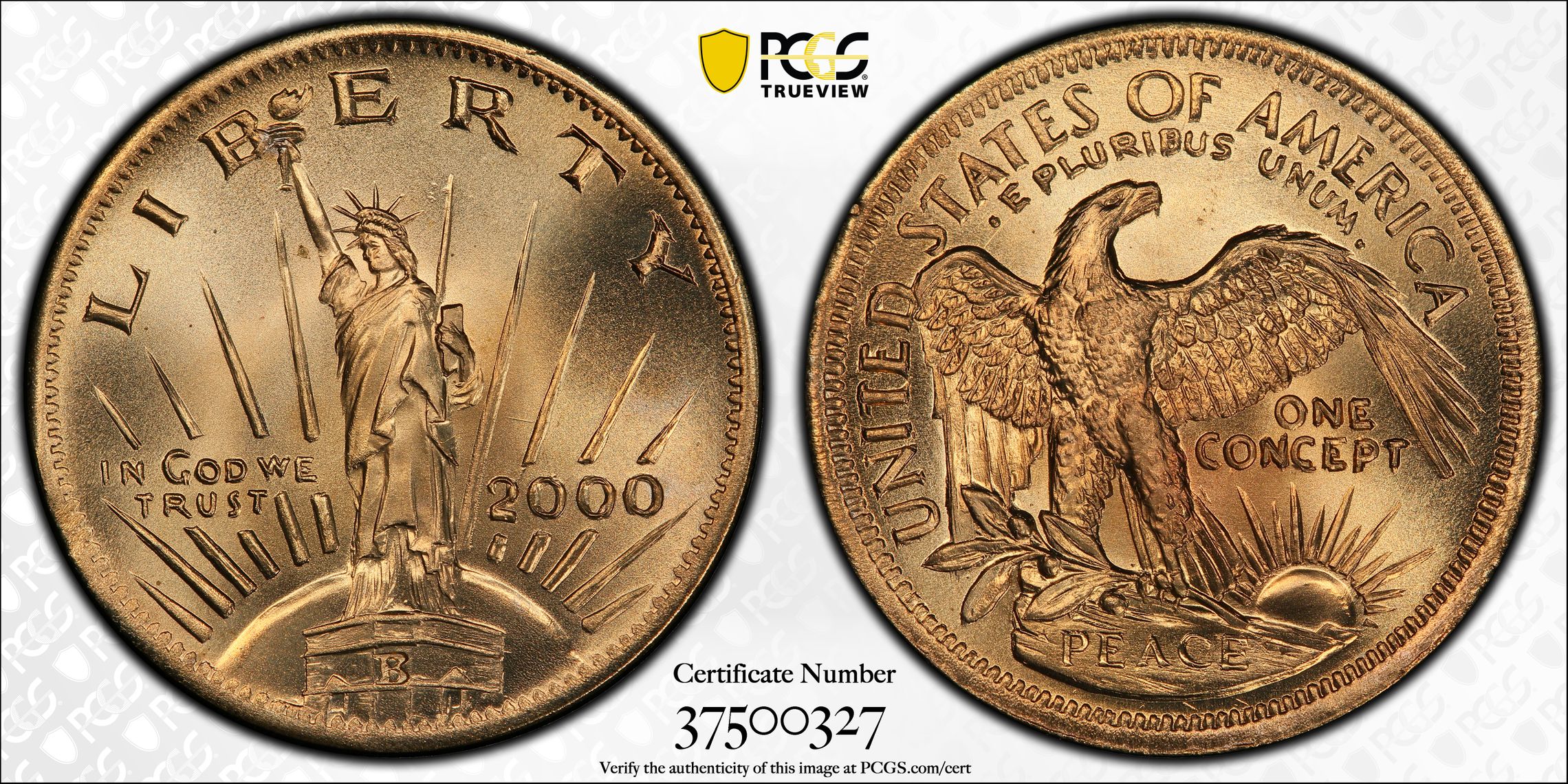 .
EIGHTH COIN, ALLOY TEST.....Notice "C" at base of LIBERTY
50%clad, 35% copper, 15% zinc, small clip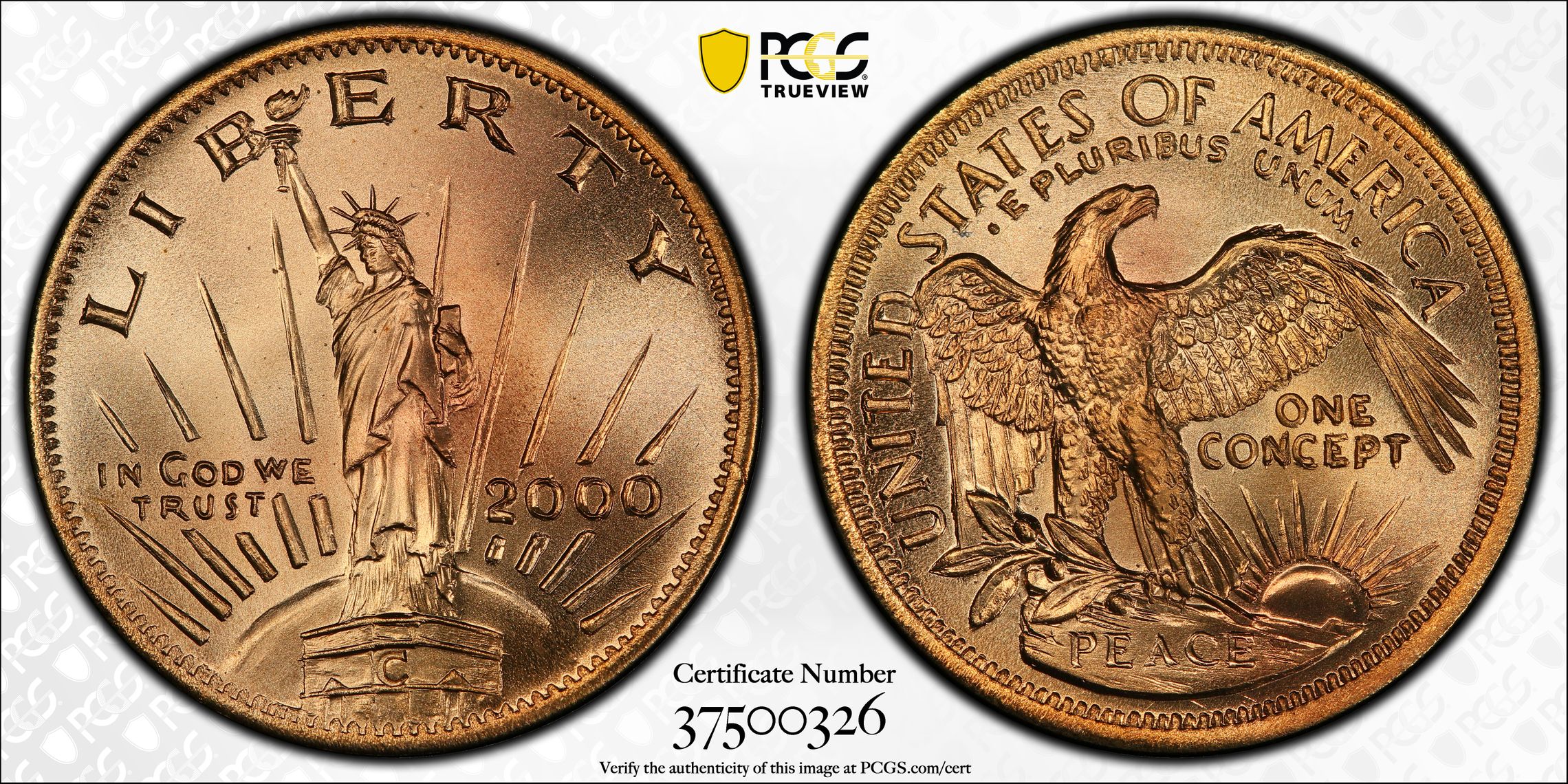 .
.
THESE ARE THE BLANKS OF VARIOUS ALLOYS
.
.


.
.
This is the image Ron provided me with each coin on top of its flip and a piece of alloy in the middle
.
.


.
.
.
.
Now for the other half of Gallery Mint Museums endeavors is Joe Rust.
I picked several other items from Joe Rust's daughter .
And, have the certificates showing ownership. for the below items.
.
The blue presentation box that was handed out to congressional member's and a few 11 rays, along with Piedfort's
The presentation box was limited to 100 (I think) @MWallace can tell us better.
.
.


.


.


.
.
.


.

.


.


.


,
,
Sorry for any misspelled and or incorrect sentences...... prolly have to change and update a few times
Leave a Comment