Home
›
U.S. Coin Forum
Charmy's 2019 PORTLAND PNNA Coin Show Report w/Pics!

ThePennyLady
Posts: 4,387
✭✭✭✭✭
This will be a rather quickie show report since Baltimore is just around the corner. I love going to the Portland show since it's an easy 2 1/2 days, and is on my same coast which makes it a quick and easy flight. Plus Portland is a really pretty city with some great places to dine! In general, this is a much more relaxing show than most of the national shows I do, so I have time to walk around and check out everyone's inventory and chat with my dealer friends. It's never been a blockbuster show for me, but it's always worth it to participate and the PNNA folks do a great job catering to the dealers and public as well. (By the way, some of my photos will be smaller than usual because I'm having some technical difficulties transferring them to my computer.)
I left sunny and warm OC Friday morning, flew right over Catalina island on our way north, and landed in Portland around 10:30am. It was bright and sunny but very cold!
I was really surprised that I was able to check into the DoubleTree right away. So I settled in, then met my bff Cindi for lunch before set up opened at 3pm.
I tend to find a good selection of raw material at this show which is great for my raw inventory. But I was also pleased to find a scarce PCGS 1888/7 Indian cent.
After set up on Friday, we went to our favorite restaurant, Jake's Crawfish, in downtown Portland. It was yummy as usual! I had my usual Parmesan crusted sole and it was fabulous! I had a delicious glass of wine but I forgot to take a picture of the bottle!
When I got back to my room, I remembered this trick I saw on social media on how to keep the curtains in your hotel room from letting in the bright morning light - and it worked perfectly!
The show opened at 10am on Saturday morning and we were all pleased to see a large group of folks waiting to get in!
I quickly walked around and took some photos before the public was let in so you could get an idea of the size of the show.
Scott and Lisa Loos (the bourse chair)
Me all ready for business!
Once the public was let in, the show became quite busy.
Even though he doesn't collect pennies, forum member Brian/Meltdown stopped by to say hi!
After the show was over on Saturday, a ground of us just gathered at the hotel bar for dinner and drinks. We had such a great time relaxing and catching up withe each other, with lots of joking and laughing.
There was a table of folks who had a couple boxes of Voodoo donuts and as much as we tried to cajole them into parting with a couple of the coveted donuts, they wouldn't do it (and none of us could blame them!). So after some of us went to bed, we found out later that James and Mark ended up making a late night run over to Voodoo donuts and bought us a bunch of donuts to share in the morning. That was one of the highlights of the entire show!!!
I nabbed this yummy mini M&M covered donut!
As expected, Sunday was much slower so I walked around and stopped at some of the dealer's tables that I missed on Saturday, and found this awesome Indian cent error that I plan to add to my own collection!
Soon it was time for me to pack up and head home. Portland was pretty cold, mostly in the 40's and low 50's and they didn't turn on the heat in the convention room until Sunday, so I was really looking forward to getting back to warm SoCal!
Bye-bye beautiful Portland for now....
And waiting for me at home as usual is my cutey Penny!!
Next up: Baltimore next week, immediately followed by Palace Station Las Vegas show.
Charmy Harker - The Penny Lady® President of Women in Numismaticshttps://thepennylady.com/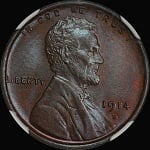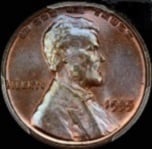 Leave a Comment