Home
›
METAL PORN FRIDAY !
Weiss
Posts: 8,502
✭✭✭✭✭
I've seen some interesting things pop up on the forums (like @asheland 's gorgeous new medal).
I've been practicing Tom's First Law of Numismatics: If you've been actively collecting in your particular field of numismatics for more than a decade and you come across something you've never seen before: BUY IT. Because you're unlikely to see it again for another decade, maybe more.
Case in point. Going through a dusty box of material at a local shop that was heading toward the dump, wholesale, or smelter and came across something I'd never seen before.
Two beefy, solid silver ingots from the House of Seagram, the parent company of the famous spirits conglomerate which essentially ceased to exist nearly twenty years ago.
It's not surprising these were issued at the height of the 80s Wall Street era culture. Like the era, they are big, bold, take charge pieces designed to impress:
They weigh 9.5 troy ounces and 8.7 troy ounces, respectively! If ever there was an image which corresponds to the term "ingot", it's these bad boys. Their heft isn't surprising when you consider silver was essentially flat at $5 an ounce when these were created.
The research I've done shows there are a few other examples out there. I was able to track down a 1985 and at least one 1988 example. But the sales are few and far between. And I'd certainly never seen them before.
The detail is impressive, too. Surprisingly impressive. Like, there has to be more to the story about who made them...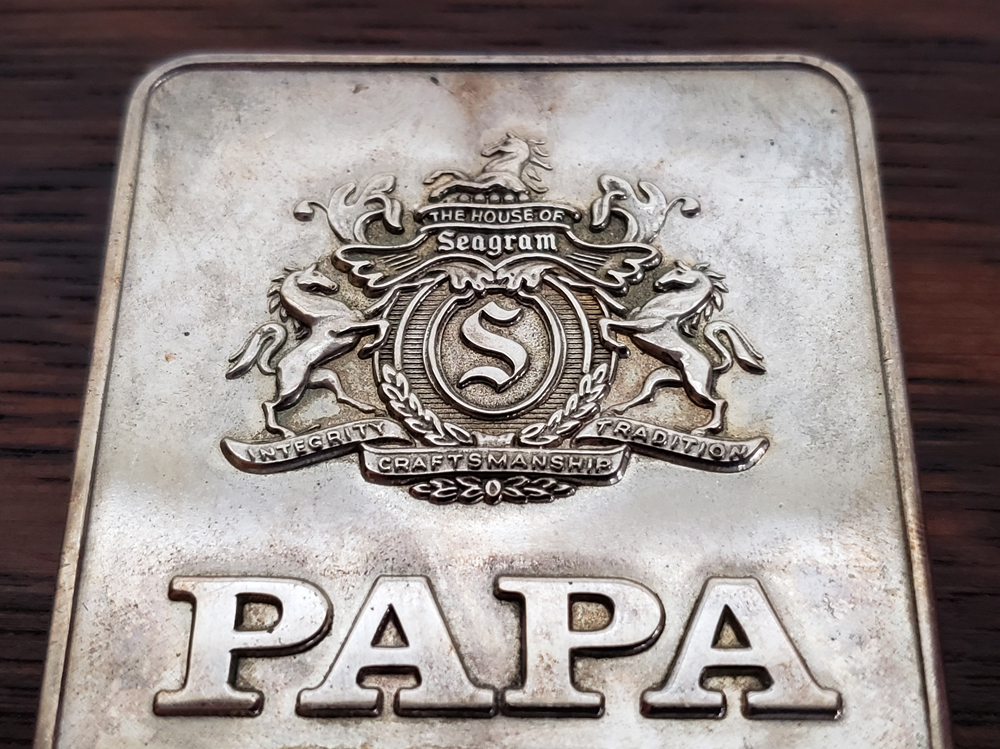 ...and it turns out there is more to the story about who made them
We are like children who look at print and see a serpent in the last letter but one, and a sword in the last.
--Severian the Lame