Home
›
U.S. Coin Forum
Charmy's January/February 2019 LONG BEACH SHOW REPORT w/lots of pics!

ThePennyLady
Posts: 4,321
✭✭✭✭✭
First, let me apologize for the lateness of this report. I left for Oxnard the day after the show ended to meet up with my brothers and sister so we could spread my Dad's ashes out to sea as he wanted, and to spend the week cleaning out my parents' home where they lived since 1959. I just got back home and this is the first chance I've had to write up a show report. Needless to say, t's been a long and emotional week. But we did make some great finds in my folks' closets, some of which I'll share with you at the end of this report. Now back to Long Beach....
You know many of us are creatures of habit, and whenever I attend the Long Beach show, it seems this is even more true than for any other show I attend. I usually see the same faces, shop with the same dealers, and dine at the same restaurants - all of which I look forward to. So this report may seem a little redundant from past Long Beach show reports, but I will try to throw in some unique aspects as well.
Taryn (Long Beach Expo) let me use a couple photos she had posted on Facebook. Thiis photo was taken while the Expo folks were beginning to set up for the show at the same time another show was still vacating the convention floor.
Well, they obviously did a great job putting everything together and on time - I took this photo about an hour before we were let in for set up.
So as usual, I arrived at the convention center early Wednesday well before the projected rain storm had arrived.
Cars aren't allowed up the ramp until 11:30 so it usually takes quite a while for cars further down the line to unload. So since the line of cars waiting to get up the loading ramp was already long, I decided to unload the car at the bottom of the ramp and push my cart up the ramp (it only takes me one cartfull). I had my friend watch the cart, then moved my car to the parking structure. This is the ramp to the loading dock.
While waiting to get inside, I chatted with my friend Al Weinberg who was first in line. Al has found me some of my best and more unique pieces of penny exonumia. As many of you know, he also has the most amazing collection of early copper, several pieces of which recently sold at the FUN auction. At this show, Al was displaying one of the most incredible pieces of numismatic history - a 1787 Brasher Doubloon. So while we're standing out on the loading dock, Al asks me if I want to see the Brasher Doubloon. I said "of course I do"! So he pulls it right out of his pocket and hands it to me. Wow! I was holding a $5.5 million piece of history in my hands. I asked if I could take a picture of it, and he said "sure." So he is holding this precious piece in his hands while I take pictures with my phone.
We were let in at noon, and I quickly set up my booth. I noticed while arranging my booth that there was a computer on a stand right next to my table. It was there for anyone to run searches for specific coins. I wasn't sure exactly how to use it but thought it was a helpful idea.
As soon as I finished setting up, I walked around the bourse so try and fill some want lists. I have a couple customers putting together a toned Indian cent registry sets. One customer has allowed me to find every one of the coins in his set and I am proud to say that he is currently No. 1. I found him a beautiful 1877 in PCGS MS65 BN at the FUN show which really helped boost his score. And this pretty 1905 is another one I found for him at this show.
These are the rest of the coins I found throughout the show, including a very pretty 1856 Flying Eagle that sold before I even left the show!
As usual, when things died down, I opened a nice bottle of wine. This Bella Cavalli is a very nice red from a vineyard in Solvang (Santa Barbara County).
Soon it was time to pack up and head out to dinner. Our usual Wednesday night spot is Cafe Piccolo's with the same dealer friends. But this time, my dear friend Ron Guth also joined us! We shared a nice variety of wine, and Joanne and I had our usual very yummy goatcheese chicken dish!
When I arrived at the show on Thursday, it wasn't yet raining, but it didn't take long before the thunder and lightening and downpoor began. The thunder was so loud it sounded like explosions!
At 10am when the show opened, there was a good crowd at the front door streaming in (photo courtesy of Long Beach Expos)
However, overall the attendance on Thursday was less than usual, most likely due to the heavy rain - since as many know, we here in SoCal don't know how to drive in the rain! ;-) So I took a few minutes to walk around the bourse and take some photos.
David and the busy folks at PCGS
The Brasher Doubloon and early copper display was right next to the PCGS table
As was the stunning Perfection collection of proof Morgan dollars
These two PCGS folks were "guarding" these amazing collections!
NGC was also very busy during the show
These photos of the bourse were taken from my table in the middle of the room later in the day on Thursday
Forum member Aspie Rocco stopped by and bought a few Lincoln cents for his collection and allowed me to take his photo for my show report. It was very nice meeting him.
I also ran into my hard working good friend Shae who runs coins to dealers who can't get away from their table - like me!
My other bff Cindi stopped by and gave me this wonderful smelling black cherry merlot soap and hand sanitizer, which is a must-have at coin shows!
Thursday night is always rib night with a large group of dealers at Naple's Ribs!
This time, I was pleased to have some good friends from San Diego (who started out being customers) joined us for dinner - Mark and Lynne (they are seated next to me and my booth helper Rich).
Even though this is a large dish of ribs and brisket, please know that we make 4 meals out of this one plate since I take 3/4 of it home and my hubby makes several meals out of it over the next few days. It's one of his highlights of me attending the Long Beach show!
Friday was a beautiful day with a nice break in the rain, and we thought it would help bring more people to the show, but unfortunately it was pretty slow, and attendance seemed down. It didn't help that there was another event at the convention center which filled up the parking structures so people had to park across the street. I still had a steady flow of people looking, asking questions, showing me their pennies trying to find out if they had something special, and even customers buying some Pretty Pennies!
Forum member Original Dan had contacted me about how his daughter was getting into collecting pennies, and said he might stop by, so I had gathered a baggie of wheat cents to help her get started.
Down the aisle from me was a dealer with a corner booth that had more coins in flips simply piled on his table than I had ever seen before! It looked like a sea of coins!
There was also a large table at the front of the room with a great selection of vintage movie posters.
Al Weinberg also stopped by and brought me a couple more encased pocket mirror pennies to add to my collection. I really enjoy finding pieces that I don't already have in my collection.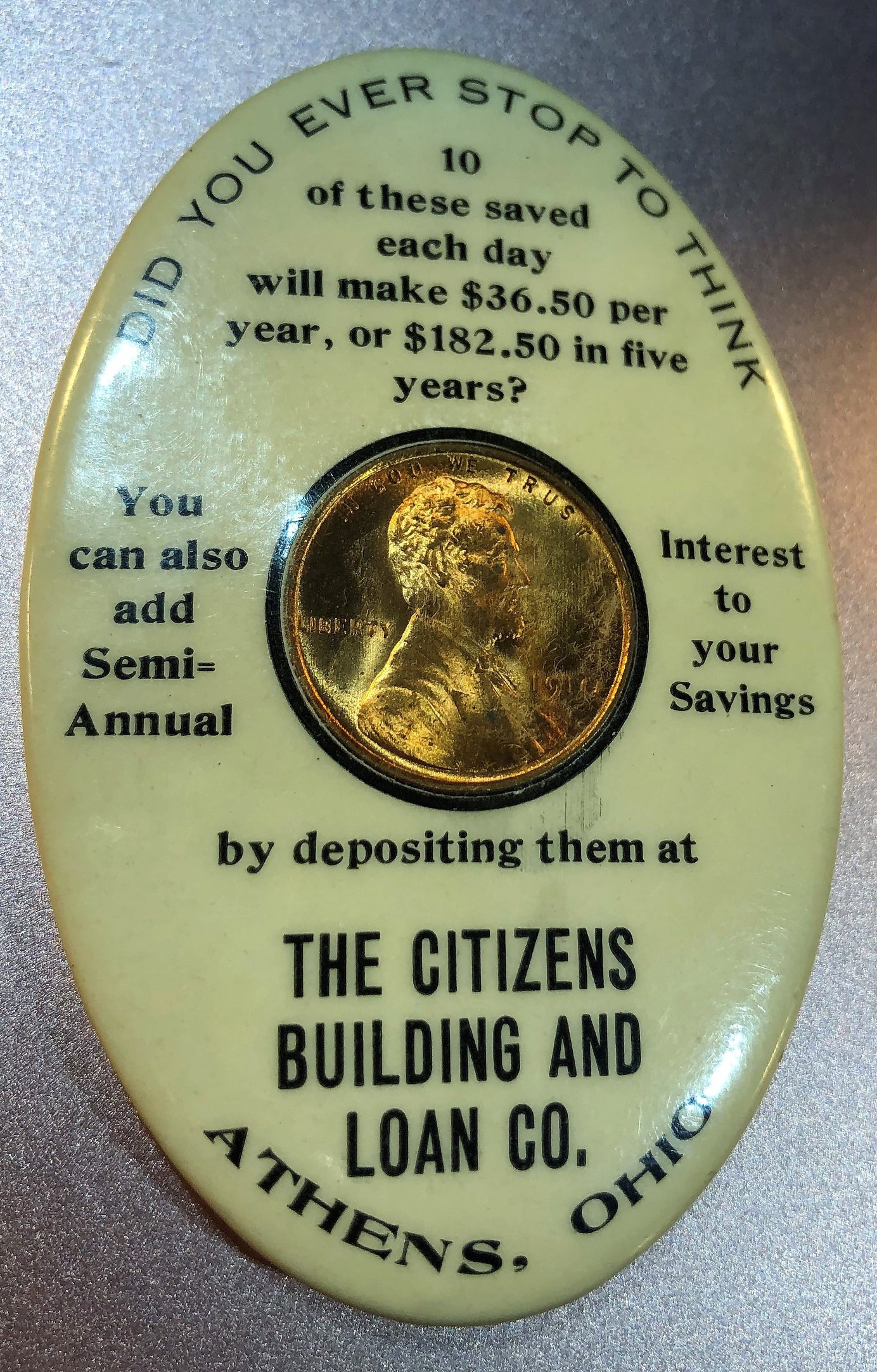 Speaking of Weinbergs, Fred dropped by and gave me this very cool old Flying Eagle, Indian, and Lincoln cent error booklet that he had acquired in a collection - thank you again Fred!
Later that afternoon, I opened up a bottle from another one of the vineyards I belong to. This nice Syrah is from Hawk Watch which is a SoCal vineyard in Warner Springs (Southeast San Diego County).
After the show closed on Friday, we went to our regular Friday night dinner spot - King's Fish House - which is just up the street on Pine and a popular dealer dining spot. I'd say there were no fewer than 20 dealers having dinner there Friday night!
And of course, we shared some amazing wines!
And I had my usual macadamia nut crusted halibut, which is so delicious!
Saturday opened up rather quietly, but soon there were several families with several young numismatists stopping by looking for pennies to fill their sets. I was honored to fill the last hole in a young man's Lincoln set, and when that happens, I hand out a special certificate and one of my copper coin cards to congratulate them for finishing their set.
And surprising for a Saturday, I had my best sales day of the show! Overall, the show was on the slow side but I think it was due to many factors as I mentioned above. Soon, once again, it was time to start packing up and head home. Luckily the rain had subsided by the afternoon so I didn't have to worry about loading up in the rain. As always, it was nice to come home to my hubby and my sweet Penny! This is a photo from a couple years ago when Penny was a bit littler!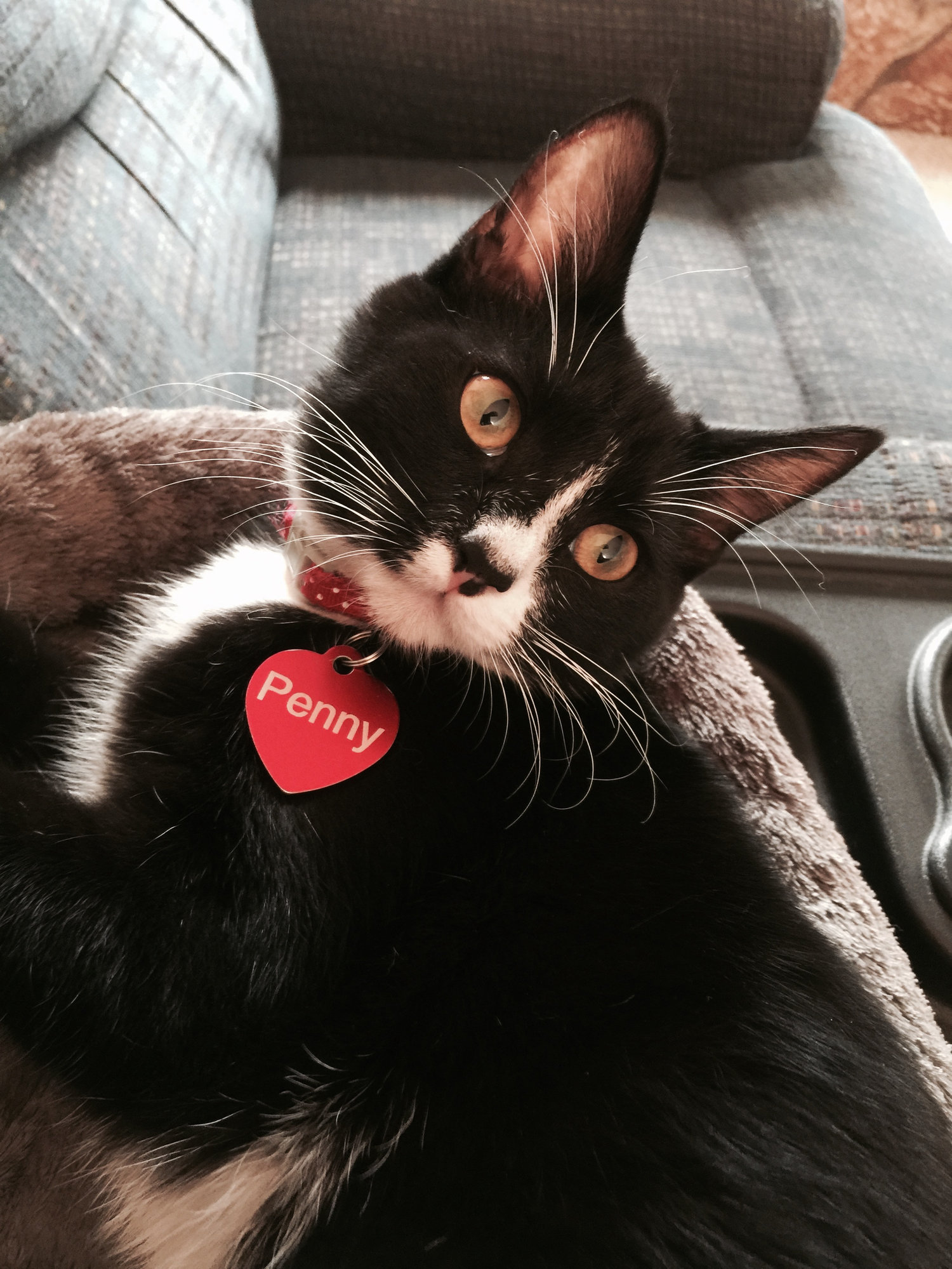 So, as I mentioned earlier, the day after Long Beach ended, I drove up to Oxnard to scatter my Dad's ashes and to work with my siblings to clear out my parents' home - the home we were all raised in. My brothers were in charge of clearing out the garage which was a HUGE endeavor since my Dad never threw anything away. We had rented an industrial sized dumpster which, due to the amount of metal being disposed of, had gotten so full it had to be dumped twice.
My sister and I were in charge of going through the house, which was quite a chore as well. But we found some real treasures and things from our past that brought back fond memories. We found a couple of early group photos of my Dad's various units in the Navy, including these. The first one we think was taken in early 1940's in front of a F4-U Corsair airplane - my dad is sitting front and center. The second one was taken we think in mid 1950's - my Dad is 4th from the left 1st row. Very cool pics of my dad!!
But for me, the biggest treasure of all was a photo album my Dad had put together during his time on Pearl Harbor. Although we have seen a few photos of him on Pearl Harbor, we had no idea they came from an album with probably 50+ photos of him and his buddies romping around Hawaii. We couldn't see any photos with damaged buildings, equipment or airplanes so we are guessing most of the photos were taken before the attack but some could have been taken later as well. He also had many friends sign his album starting in 1942 all the way through 1945, and many left a personal note for him and printed their address too. He even had pictures of some Hollywood folks like Shirley Temple, Dorothy Lamour, and others. I don't know if he took the photos or they are stock photos. Then the second half of the album were photos of his family, my grand parents, etc. Again, we've never seen these photos before and were just amazed they existed. Following are pictures I took of just the signature pages and some of the Pearl Harbor pages.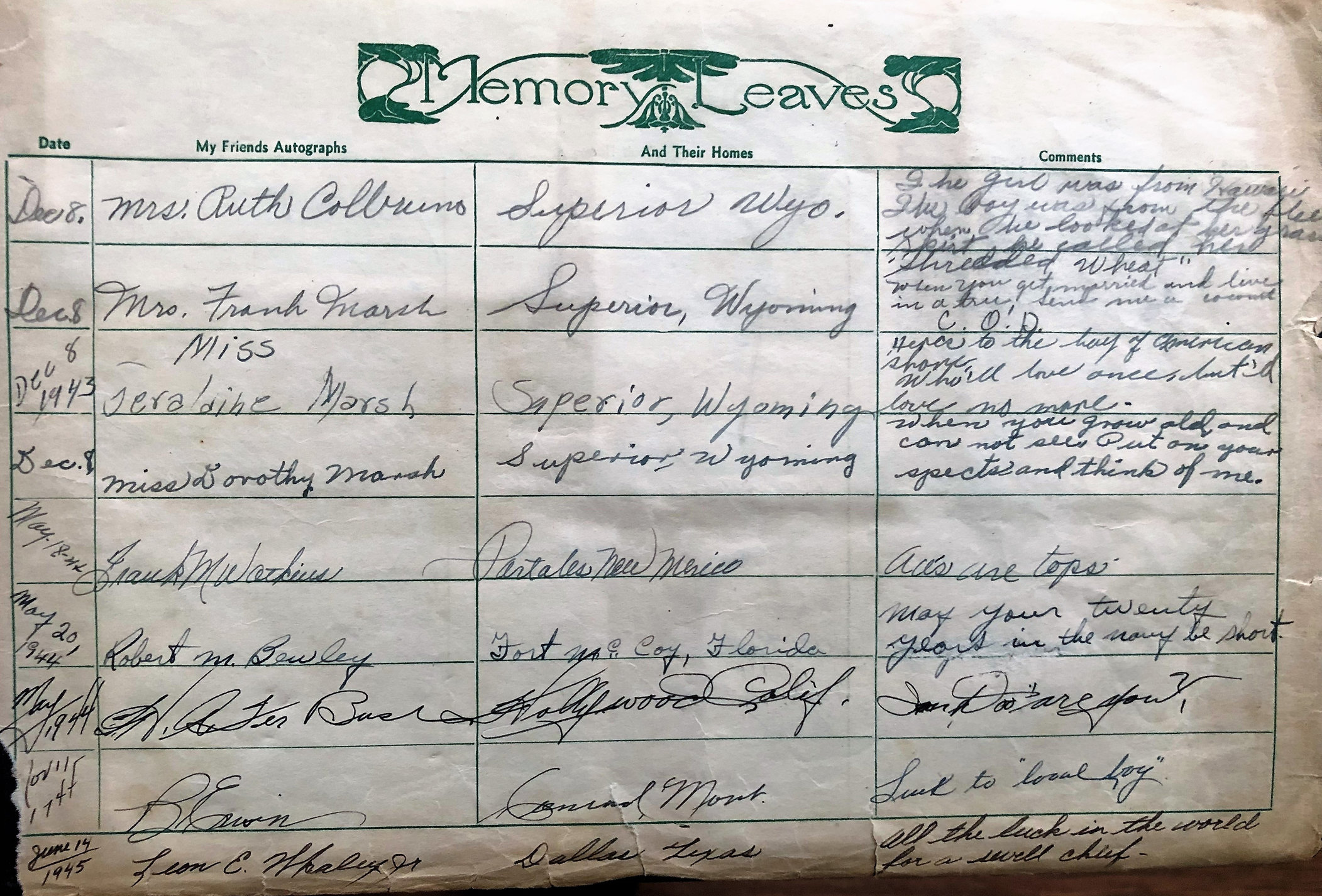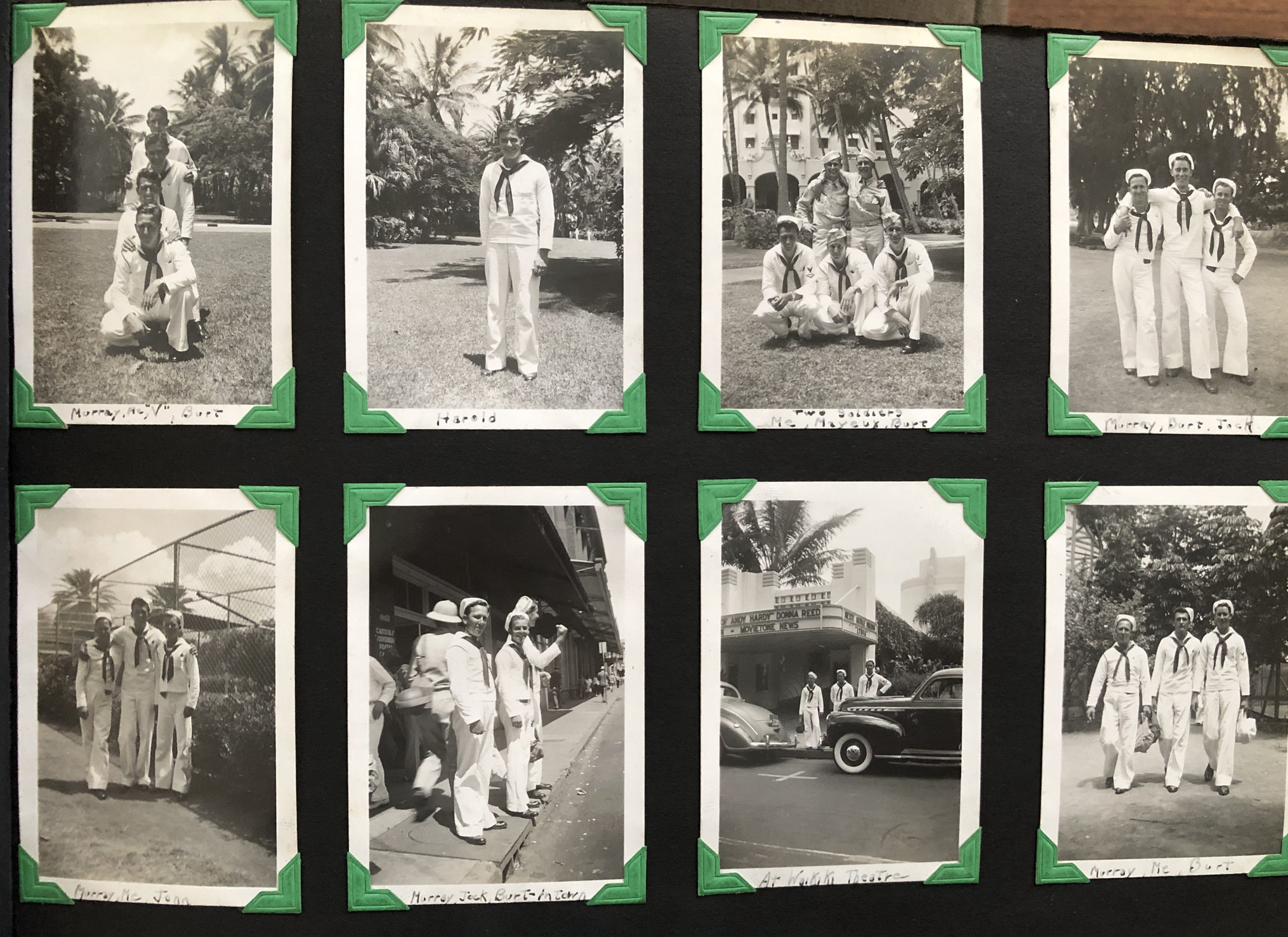 I also found my Dad's officer's hat which I took home with me.
My niece and her husband came up on Wednesday since they were taking the old family jeep back to San Diego with them. My Dad bought his 1953 Willy from the military right after the Korean war and modified it quite a bit so he could take all us kids camping in the back of it while hauling our trailer. I even found the pink slip and original bill of sale - my Dad bought it for $300 in 1957. This was the most sentimental thing our parents left, and we are grateful it will stay in the family. It took my brothers and nephew about 4 hours just getting the wheels to turn since it had been probably 20 years since it last ran.
Then Thursday morning we went gathered at the end of the Port Hueneme pier to scatter my Dad's ashes. It was a perfect beautiful crisp sunny morning as we watched his ashes wash out to sea off the coast of Ventura County just as he wanted.
I am grateful that my brothers and sister and I were able to do this whole process together, it would have been so hard doing it alone. But I have to say, by the time we finished and we each went our separate ways, I was exhausted and so glad to be home in my own bed. Now that the hard part is over, we can move on with selling the house and finalizing the estate. But my siblings and I have made a pact that, even though we live in different states, we will get together for at least one weekend every year to honor our parents by not letting our family drift apart.
So that's it for now. Next up: Baltimore, Buena Park, PNNA Tukwila (Seattle), and NMS in Pittsburgh - all next month!
Charmy Harker - The Penny Lady® President of Women in Numismaticshttps://thepennylady.com/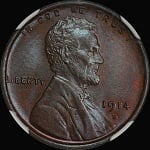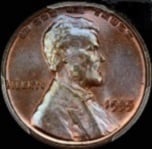 Leave a Comment