Home
›
U.S. Coin Forum
Just my Two-Cents......................and then some.
keets
Posts: 21,170
✭✭✭✭✭
I submitted some coins to PCGS for Gold Shield ReHolder because I wanted to have them TrueViewed. The pictures posted this afternoon so I thought I'd post them and explain.
I have always liked Two-Cent Pieces, so about 2-3 years ago I decided to try to put together a Date Set. I was thinking of it as a diversion, something to do while I was looking for other coins and came upon Two-Centers. After some initial searching I decided to focus on Mint State AU58's, 1864-1872 with the latter date and the Small Motto being the ones I'd buy last. I put parameters on myself that didn't seem extreme at the time but would help ensure that the coins were nice --- PCGS graded coins, minimal verdigris, even color, no dark carbon spots and minimal contact marks. After some initial searching I checked the pop report because I wasn't seeing a lot of coins. Here is where it is now:
1864/Small Motto --- 52.
1864/Large Motto --- 273.
1865 --- 161.
1866 --- 48.
1867 --- 52.
1868 --- 47.
1869 --- 38.
1870 --- 30.
1871 --- 65.
1872 --- 26.
Aside from the 1864/Large Motto and the 1865 there are only about 40-50 AU58's from each date which surprised me and made searching harder than I expected. Early on I saw an 1870 that I regret not buying since that date has proven elusive. Also, 1866 is hard to locate. The 2-3 I have seen had too many carbon spots and verdigris. I do have an 1871 that was already TV'd but I can't remember the cert number and it's in the bank box. Here are the others.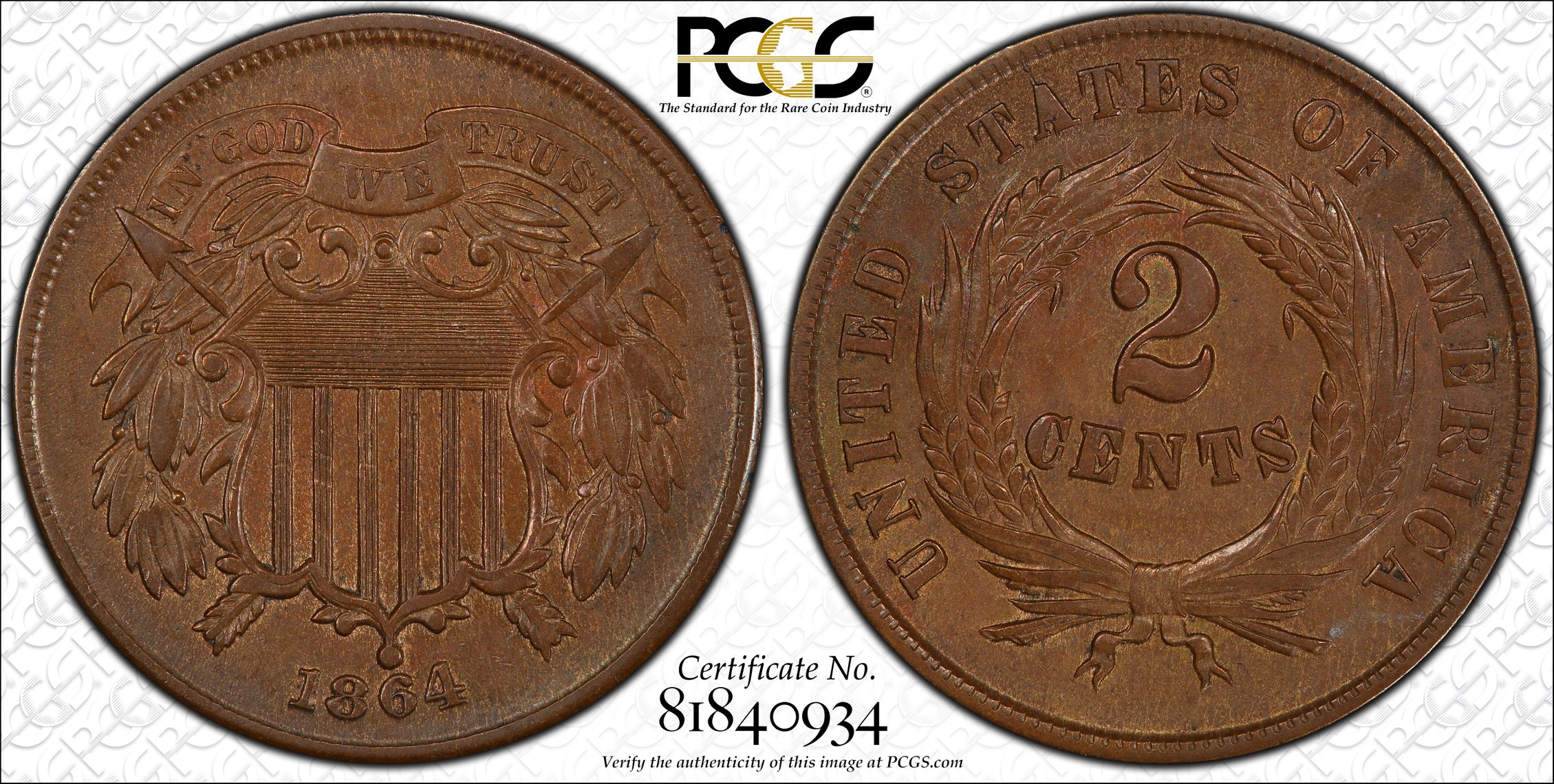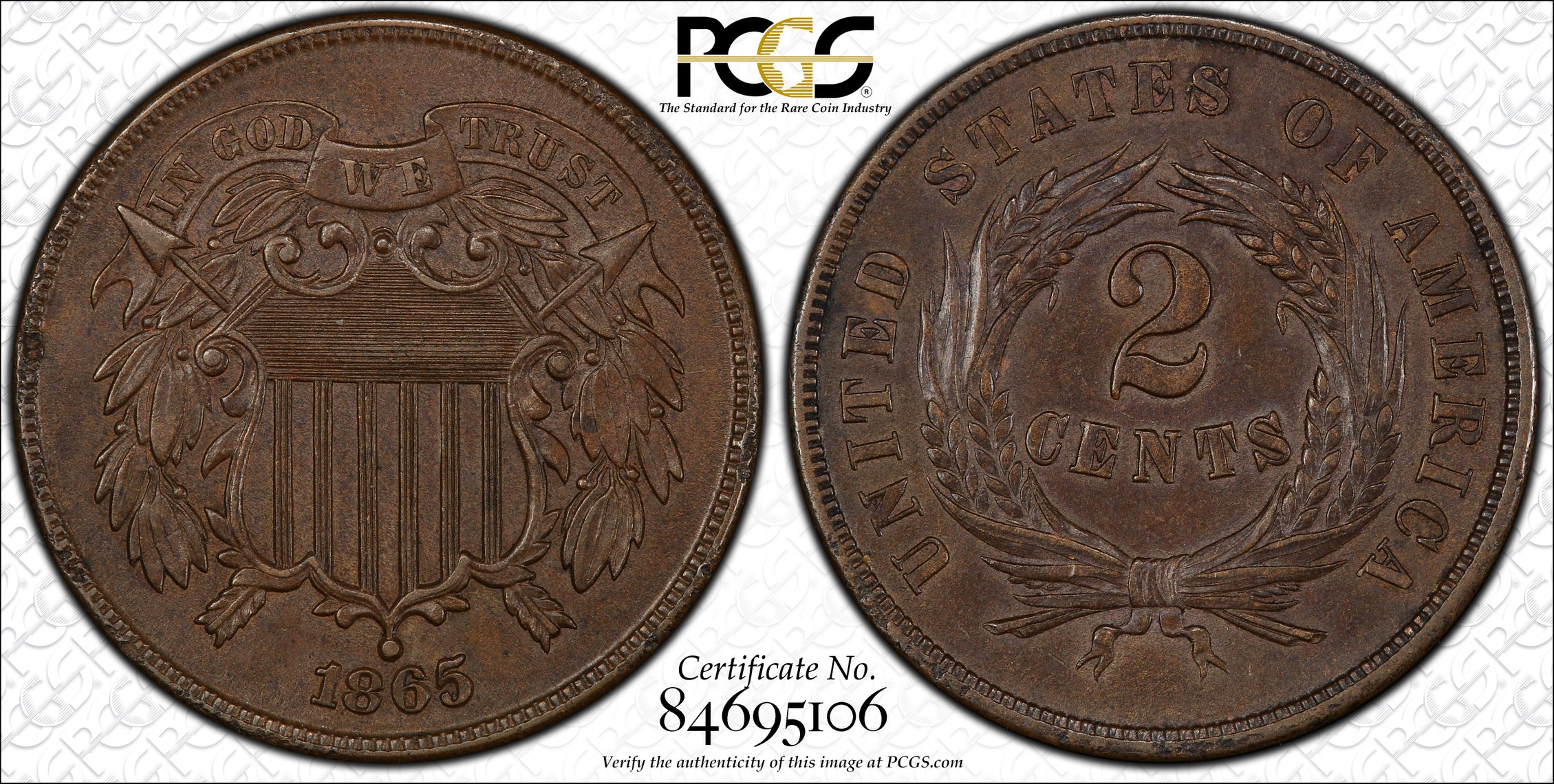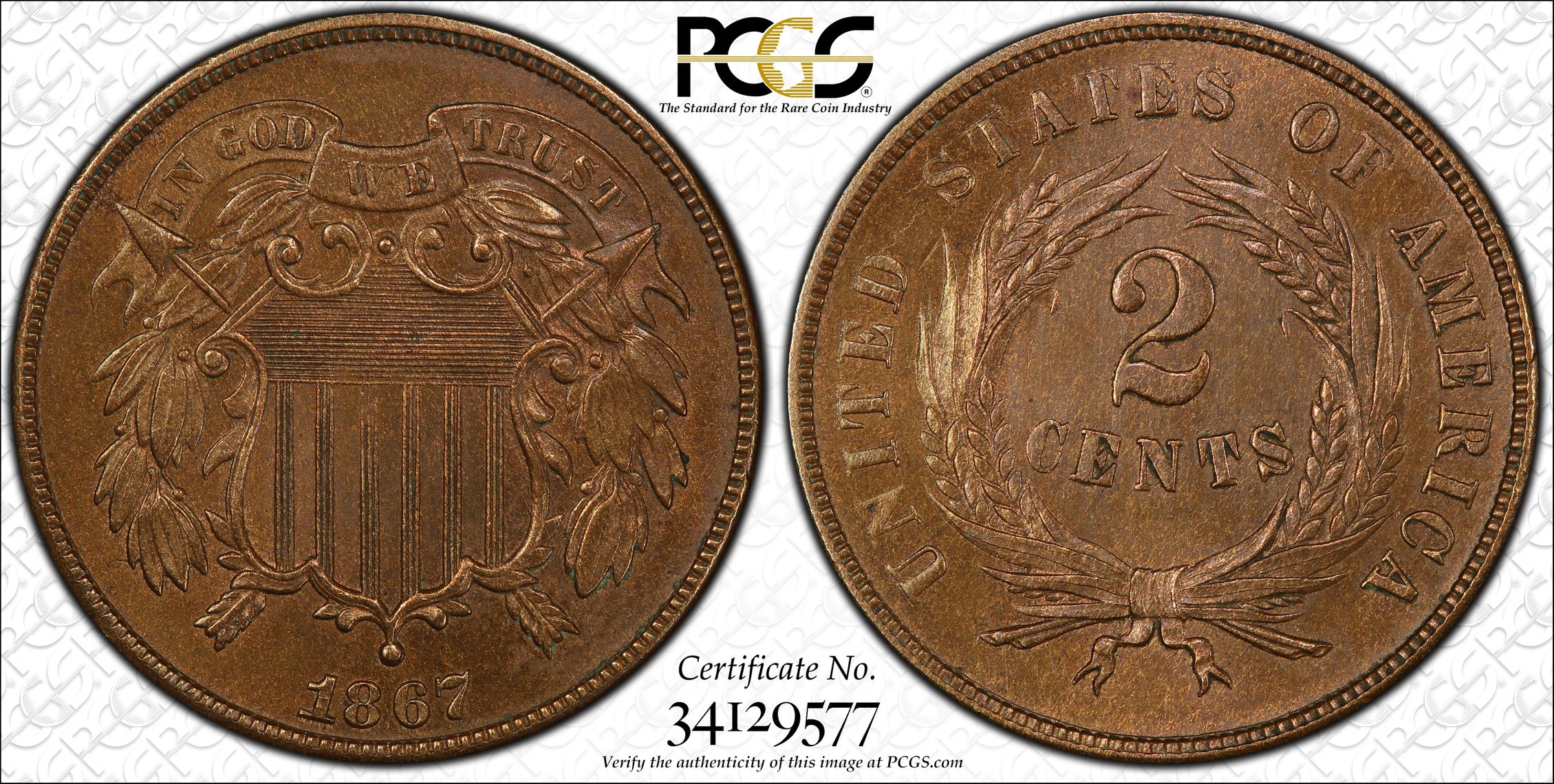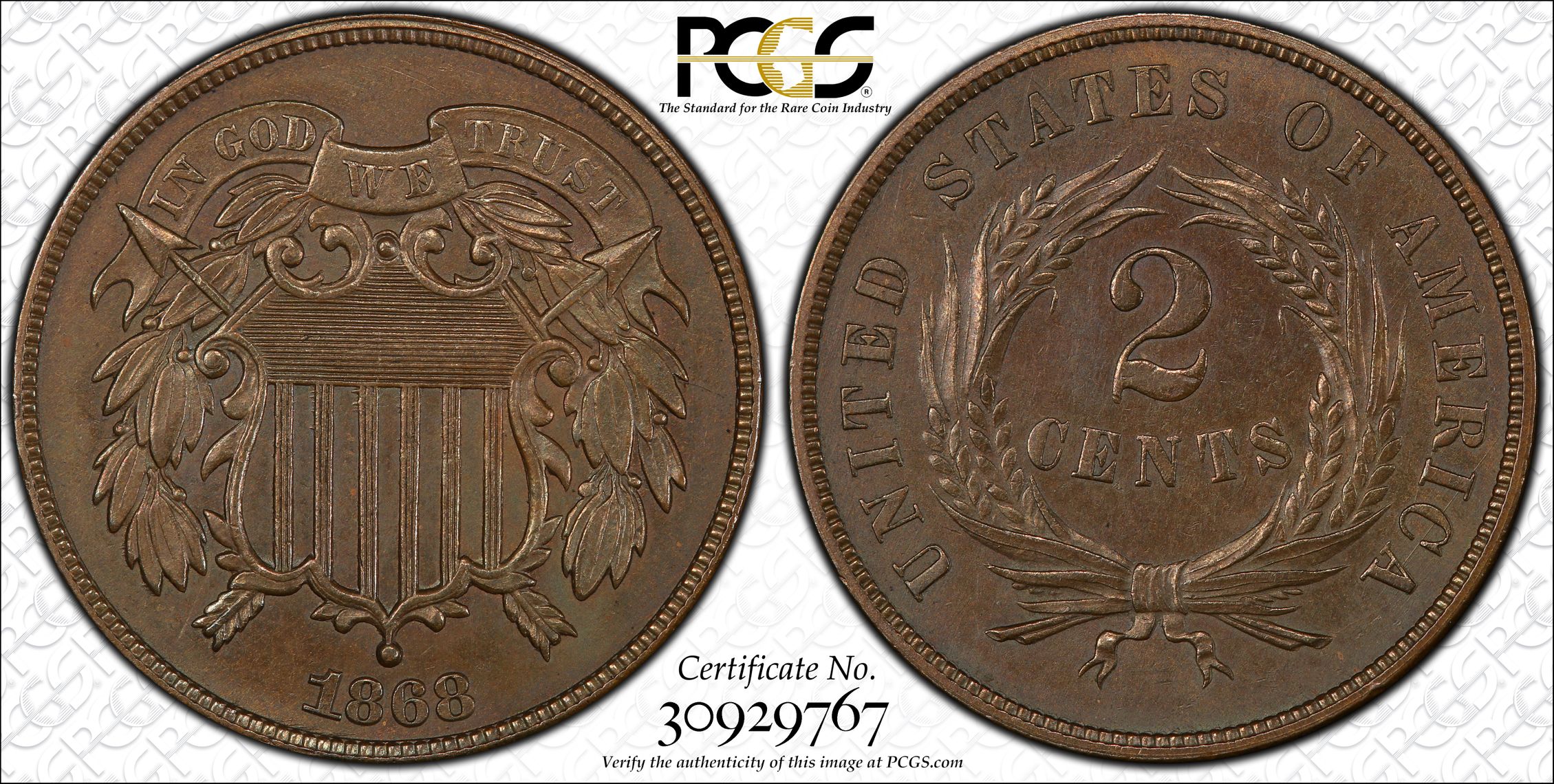 I also submitted a few pieces from my Type Set for the images.
1851-O/3CS --- Technically, there should be three of these, right, one for each Type?? I thought the only 3CS with a MM was a good start.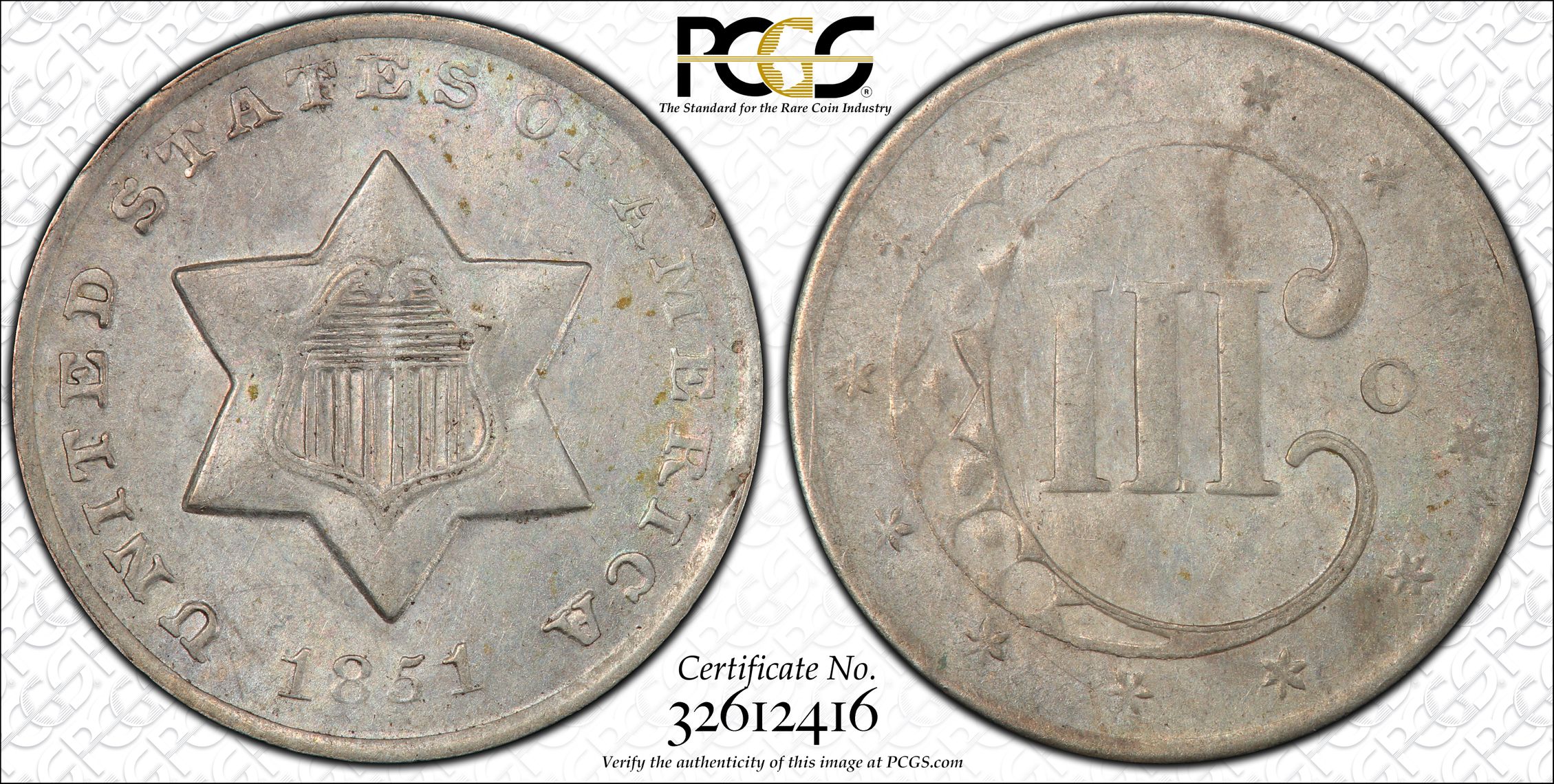 1962/5C --- Some might see this as "AT" but I have been able to find three similarly toned 1962 Proofs, one in a small, white ANACS holder and another in a still intact flat pack Proof Set. JMHO, the color results from something on the coin's surface(maybe a rinse residue) that reacted with the cello packaging. This is the most vibrant of the three coins I own.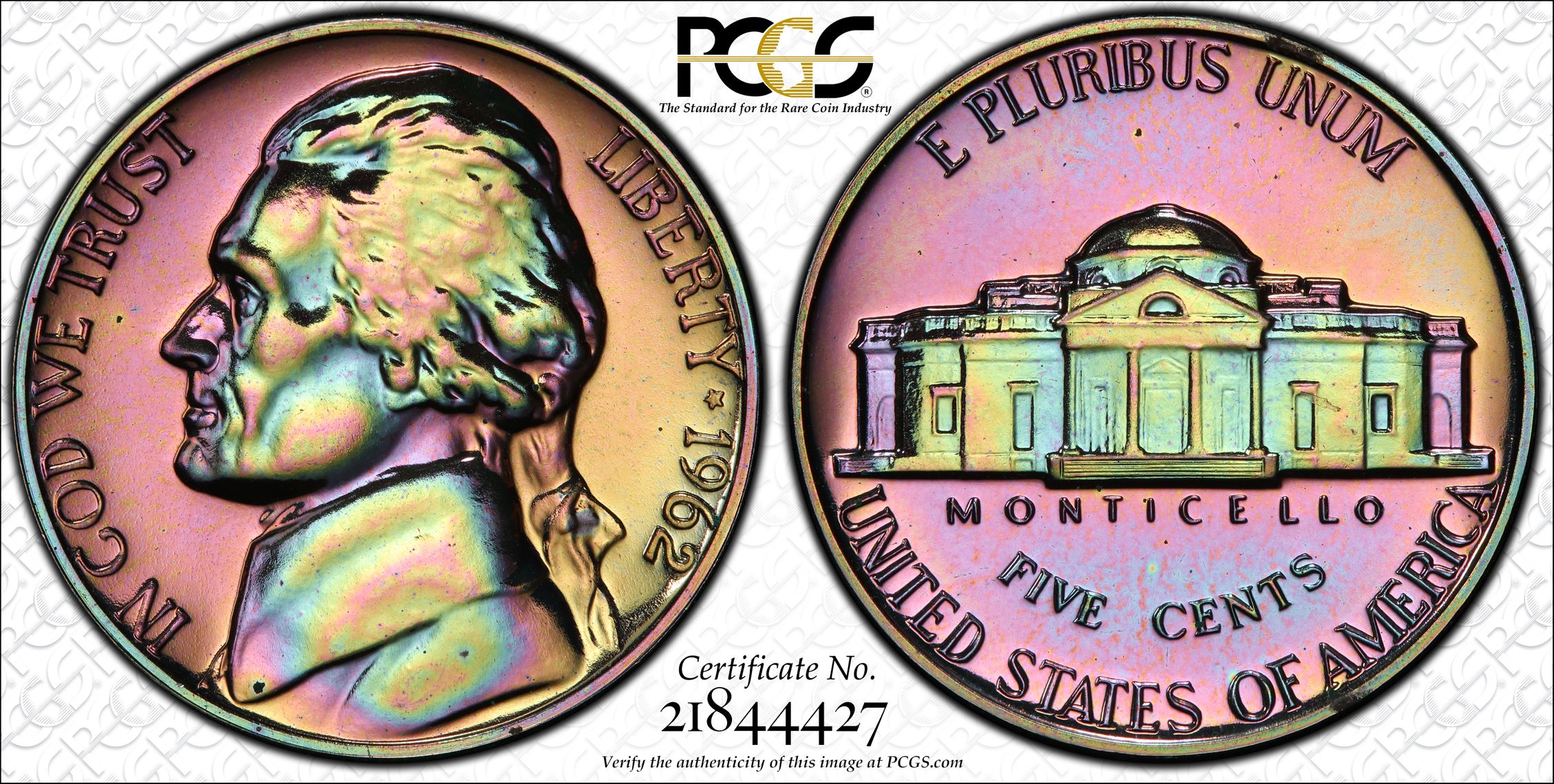 1964/25C --- This is one of the advantages of working in a Coin Shop: we deal a lot in "junk" silver and I handle most of it. If I picked out Varieties there would be tubes full, but nothing else would get done as I searched. Color coins are easy to spot.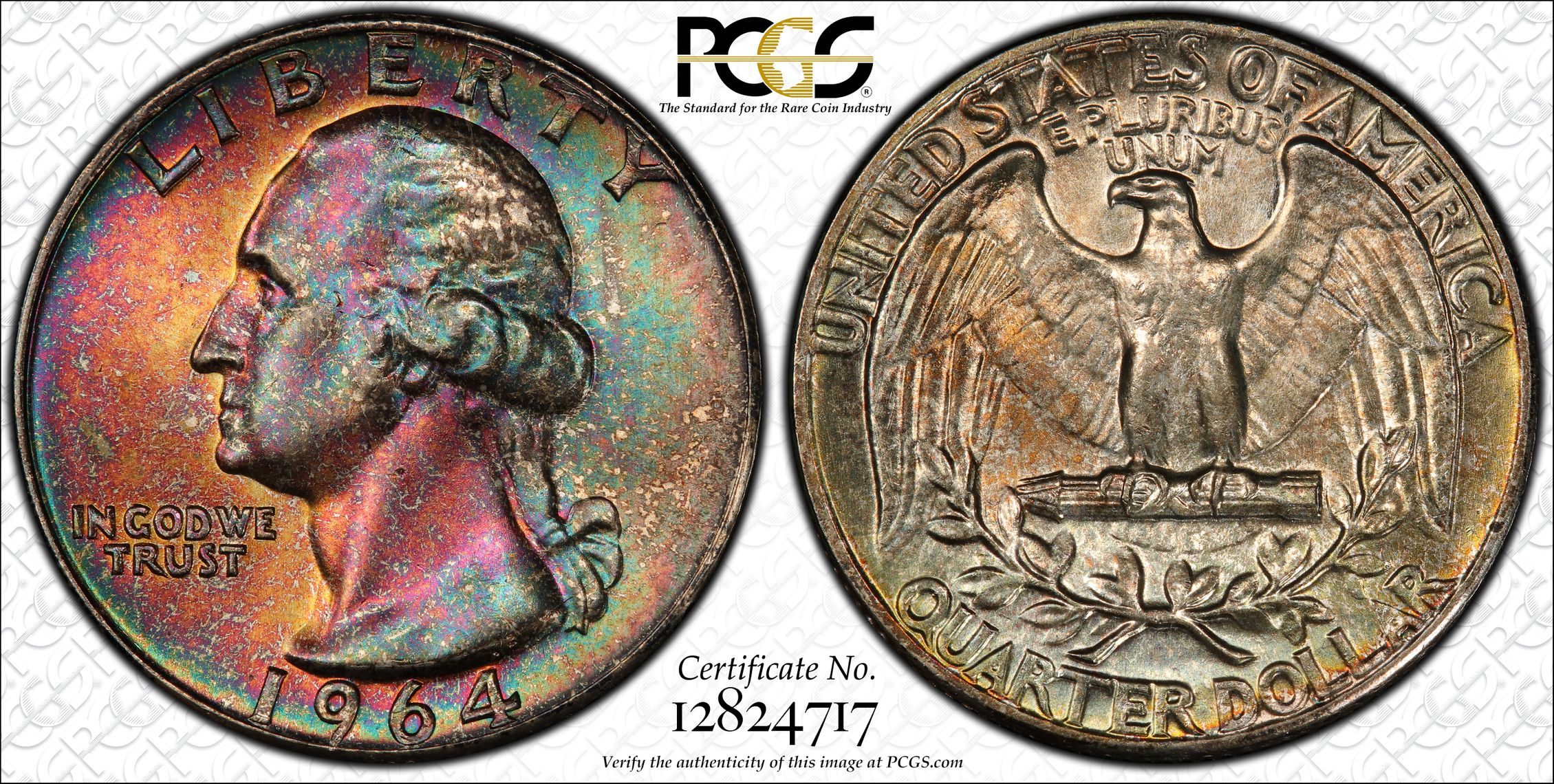 1892/25C --- This was included in a bunch of coins a collector had in a tin, we found it as we were buying the collection. It was really weird, inside the tin was an assortment of VG Indian Cents, worn Buffalos and stuff like that. Mixed in was this coin and an 1860 something Seated Half-Dollar.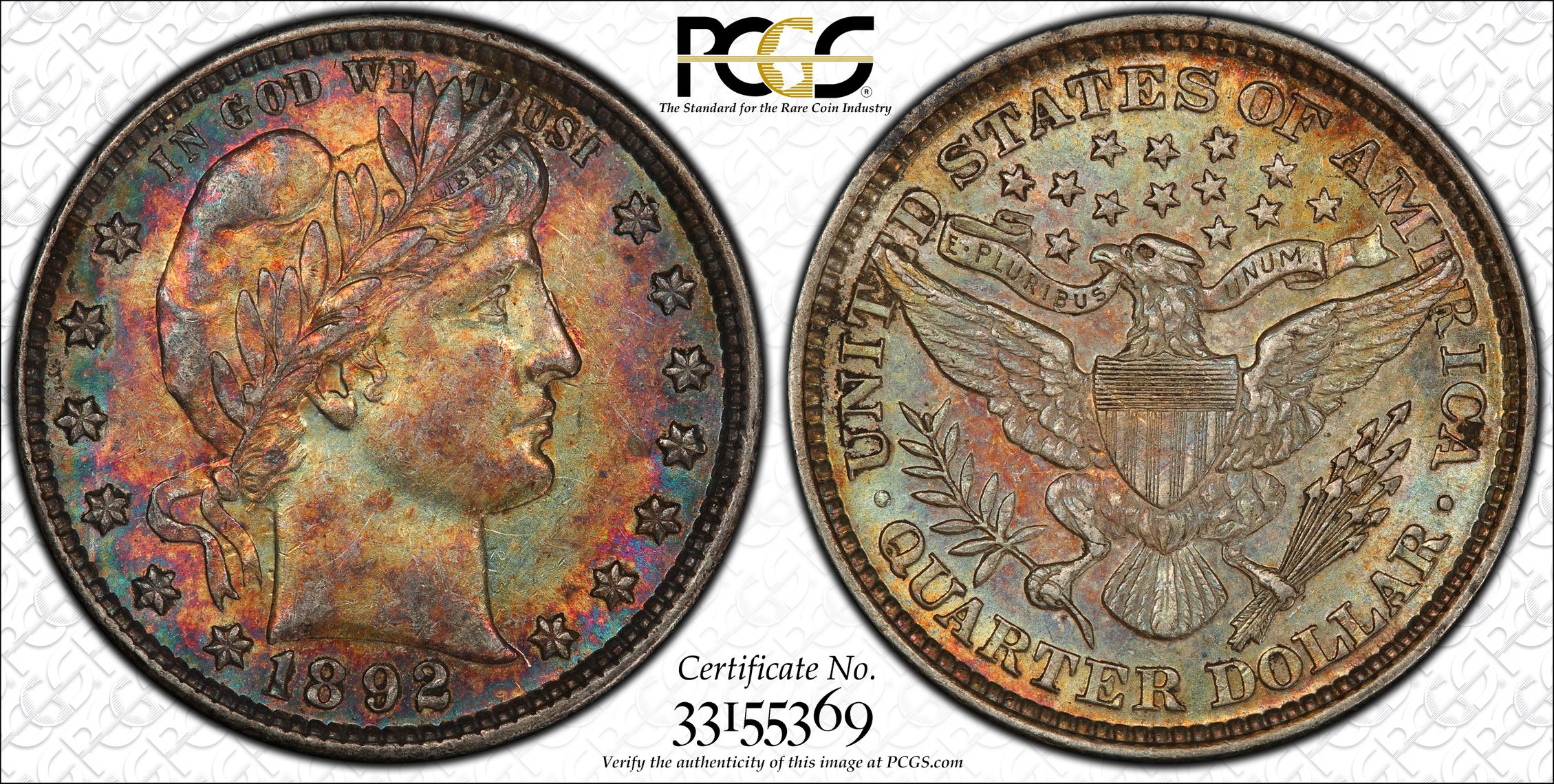 1901-O/Morgan Dollar --- I don't buy Morgans very often but I liked the look of this one. It fills the series hole for the 1900's.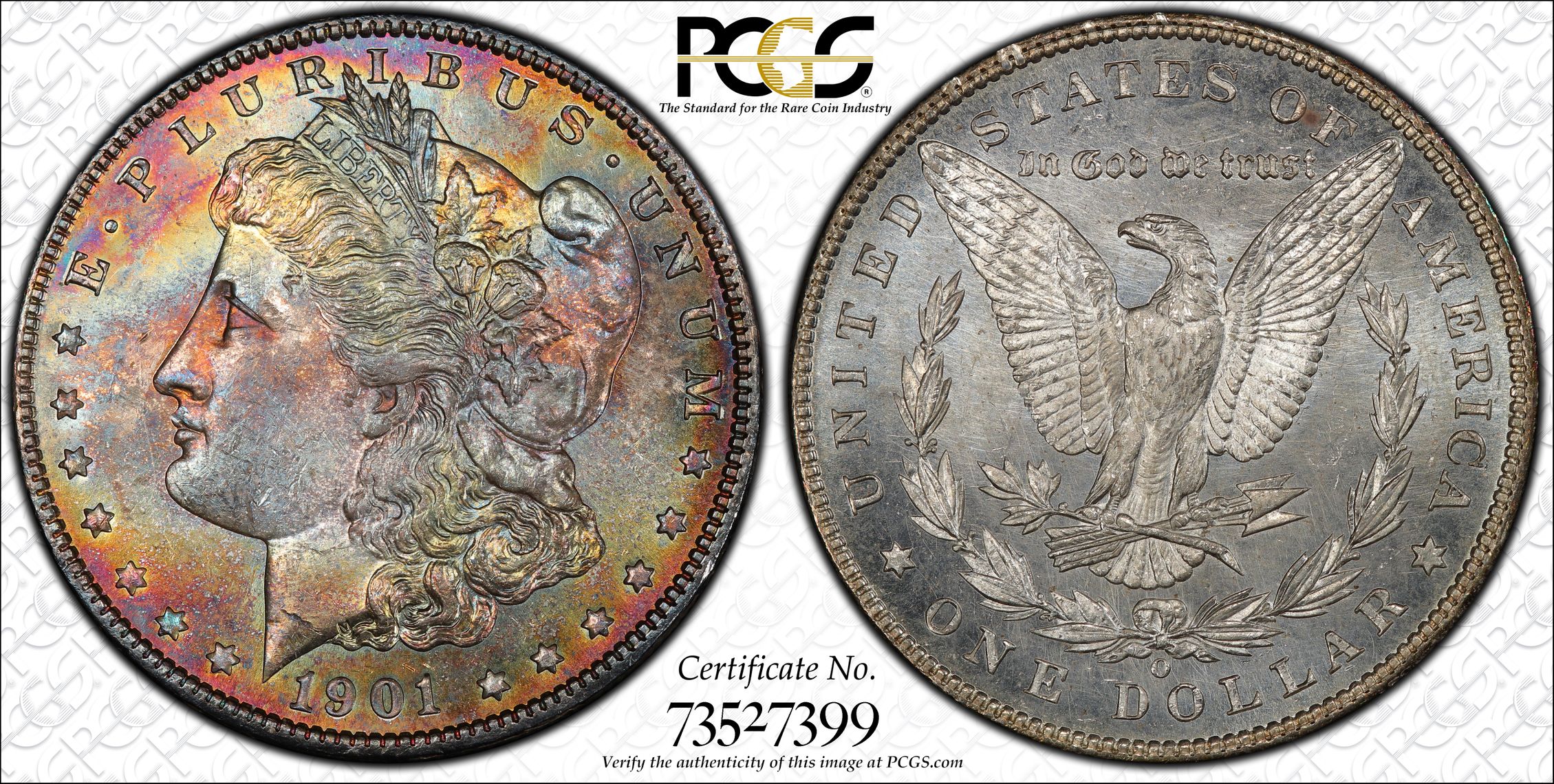 HK-299/SC$, Louisiana Purchase Exposition, Silver --- What can I say, my weakness is Medals and other Exonumia and this one didn't have a picture. In-hand it's sort of a mottled grey with pretty good luster.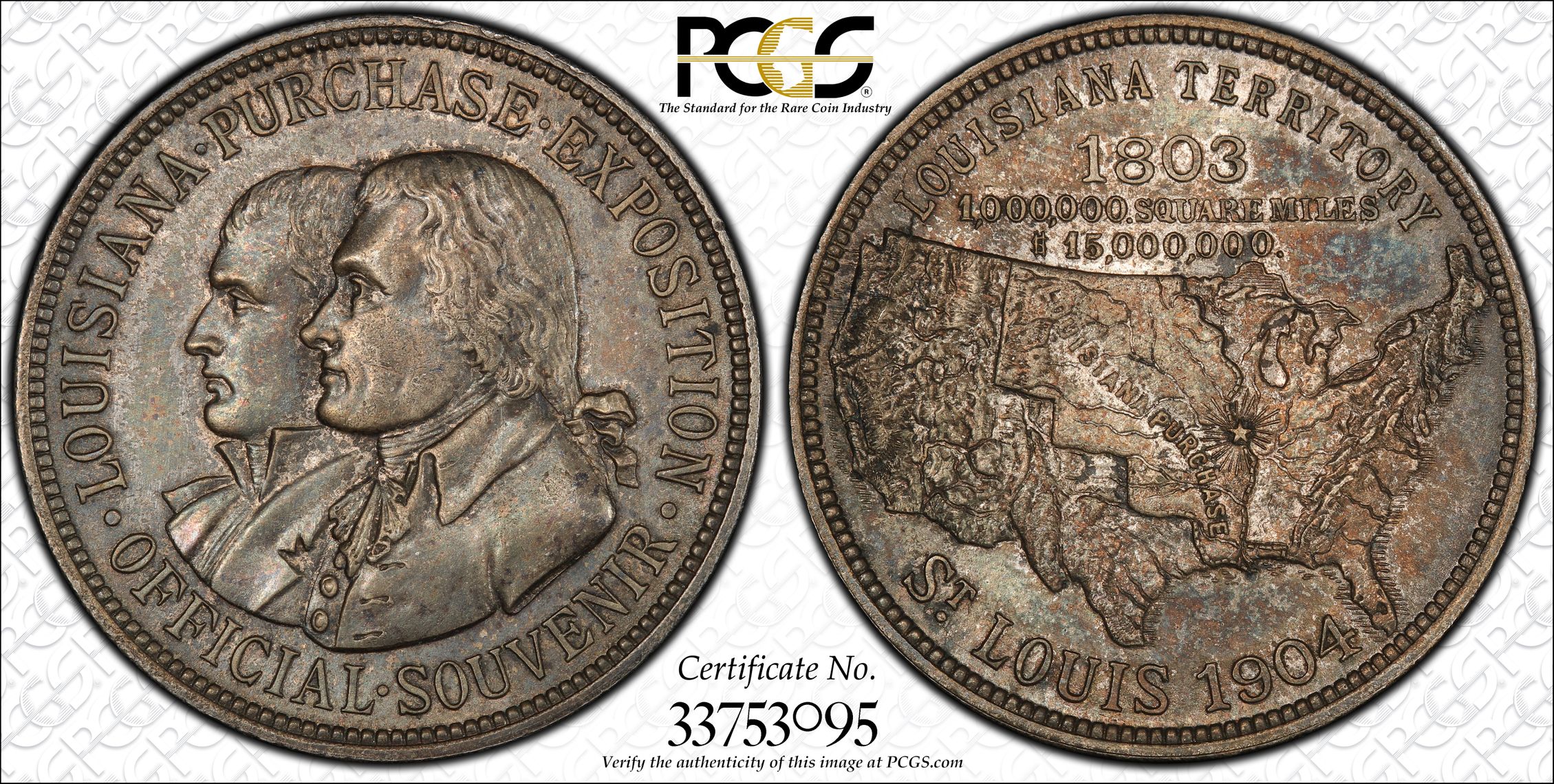 So that's it for now, I have another raw submission en route to the factory. I figure those grade will show up in early February and there's an eclectic mixture of SC$'s and a couple of Alaska Bingles. Stay safe and enjoy.
Al H.
--- George Carlin RIP, he'd have a lot of fresh material if he was alive today!!