Home
›
U.S. Coin Forum
For discussion, some cross-over results.
keets
Posts: 20,624
✭✭✭✭✭
I remember being at the F.U.N. Show, probably in 2003, and HRH undertook a question-answer session after the feast. What stood out to me most was his strong suggestion that collectors should use the cross-over service instead of crack/submit which seemed to be all the rage back then as markets were heating up. Above everything else he stressed the fact that in-holder submission protected the submitter against a myriad of bad results. Over the years I have taken that to heart and since then have only cracked/submitted 3-4 coins.
When PCGS first started to encapsulate SC$'s I was slow to the party, I thought it was only prudent to wait to see how they graded them and how accurately they were able to attribute the medals. After a period of a couple years I tried a few cross-overs, then some raw medals and over time I have gained confidence in their ability. Most recently I have sent some cross-over submissions to the Factory, this latest one comprised of 10 NGC encapsulated medals. I believe if we are careful in our purchases and even more careful in screening what we submit for cross-over that we can tilt the odds in our favor and be successful. This submission bears that out.
Al H.
Here are my results followed by the NGC grade and my request:
Line Items Cert # PCGS # Description Grade Country
1 1 36067407 642044 1870 SC$1 HK-15 Brass Pilgrim Jubilee Memorial MS63 USA --- MS63/same.
2 1 36067408 642696 1904 SC$1 HK-301 La. Purchase Expo Copper, BN MS64BN USA --- MS64BN/same
3 1 36067409 644063 1939 SC$1 HK-490 Gilt-Copper Golden Gate Int'l Expo MS62 USA --- MS62/any MS grade.
4 1 36067410 686192 (1939-40) SC$1 HK-494a Brass-Plated Aluminum North Carolina Dollar DNC USA --- MS66/same.
5 1 36067411 642879 1958 SC$1 HK-517 Gilt-Bronze Minnesota Statehood Cent. MS65 USA --- MS65/same.
6 1 36067412 643045 1886 SC$1 HK-601a Bronze, Type-I Albany Bicentennial, BN MS66BN USA --- MS66/any MS-PR grade.
7 1 36067413 643571 1897 SC$1 HK-833 Bickford Dollar Aluminum w/Brass Center MS66 USA --- MS66/same.
8 1 36067414 643574 (1897) SC$1 HK-836 Bickford Dollar Aluminum w/Brass MS65 USA --- MS65/same.
9 1 36067415 643641 (c.1890s) SC$1 HK-866 White Metal, Elder Confederation Dollar MS63 USA --- MS63PL/MS63.
10 1 36067416 643740 1945 SC$1 HK-910 Brass WWII Victory Medal MS63 USA --- MS63/any MS.
The choice of "same" is self-explanatory. Lines 3-6-10 crossed at the same grade even though I chose "any" because I wasn't certain how some aspects of the medals would be viewed(areas of discoloration and weak luster). The only medal that had been tried previously was Line 6 which DNC'd about eight months ago.
Line 1--- HK-15 Brass Pilgrim Jubilee Memorial(R-5). This medal is 37mm in diameter, slightly smaller than a standard dollar, and struck in Brass which tends to be harder to locate in problem free MS grades. Most medals offered for the type are silver plated copper. It was struck in 1870 to commemorate the 250th anniversary of the Landing of the Pilgrims in 1620. The celebration was held on December 21, 1870 in Plymouth, Mass. and included a speech by U.S. Senator C. Winthrop and some 900 guests attended a dinner which was followed by Ball.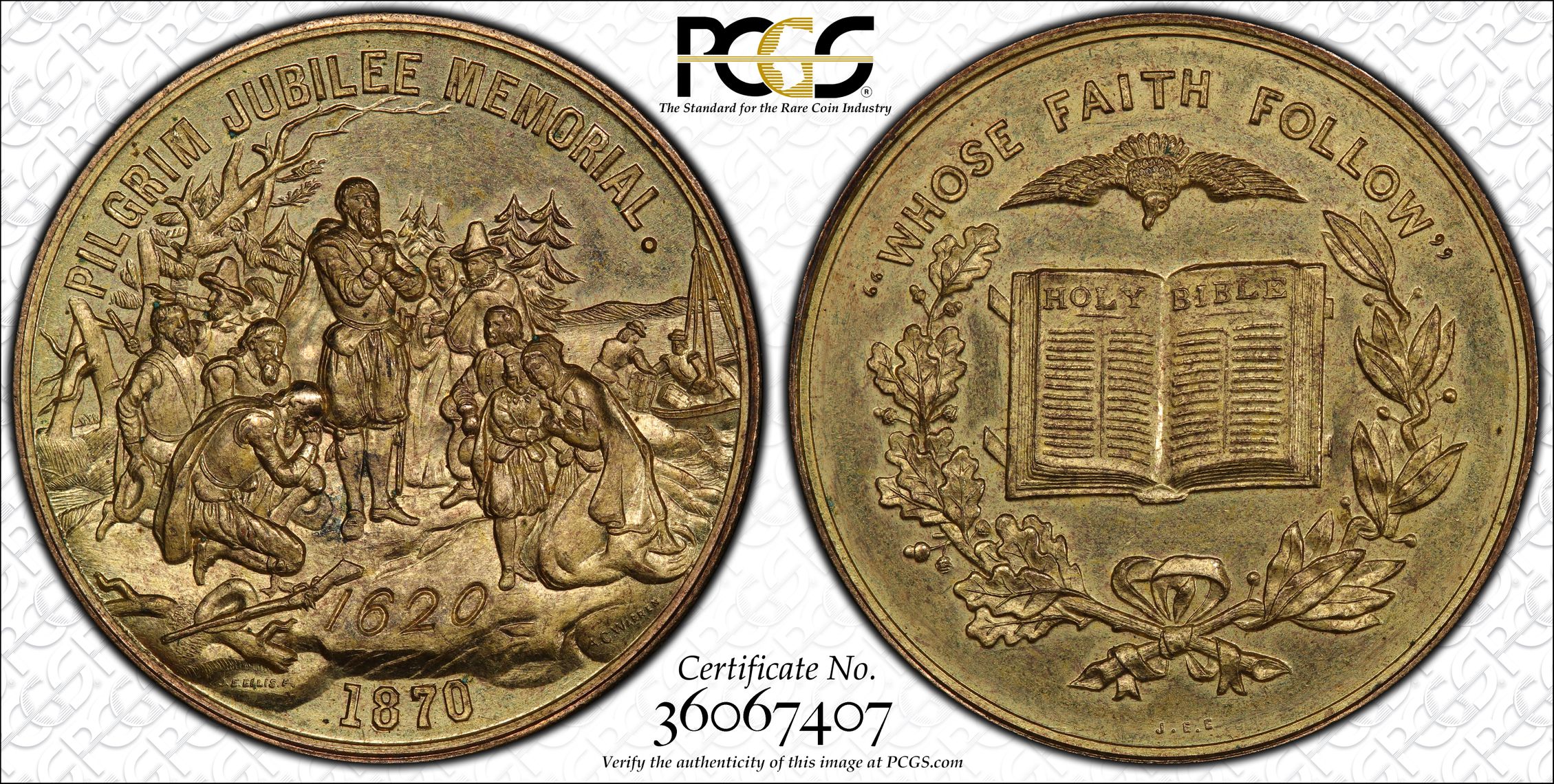 Line 2 --- HK-301 La. Purchase Expo Copper(R-6). Slightly smaller at 36mm in diameter this one is a nice chocolate brown example of a difficult medal to find. I have another but it shows signs of an old cleaning, It can be found easily in silver and bronze and has a pleasant design.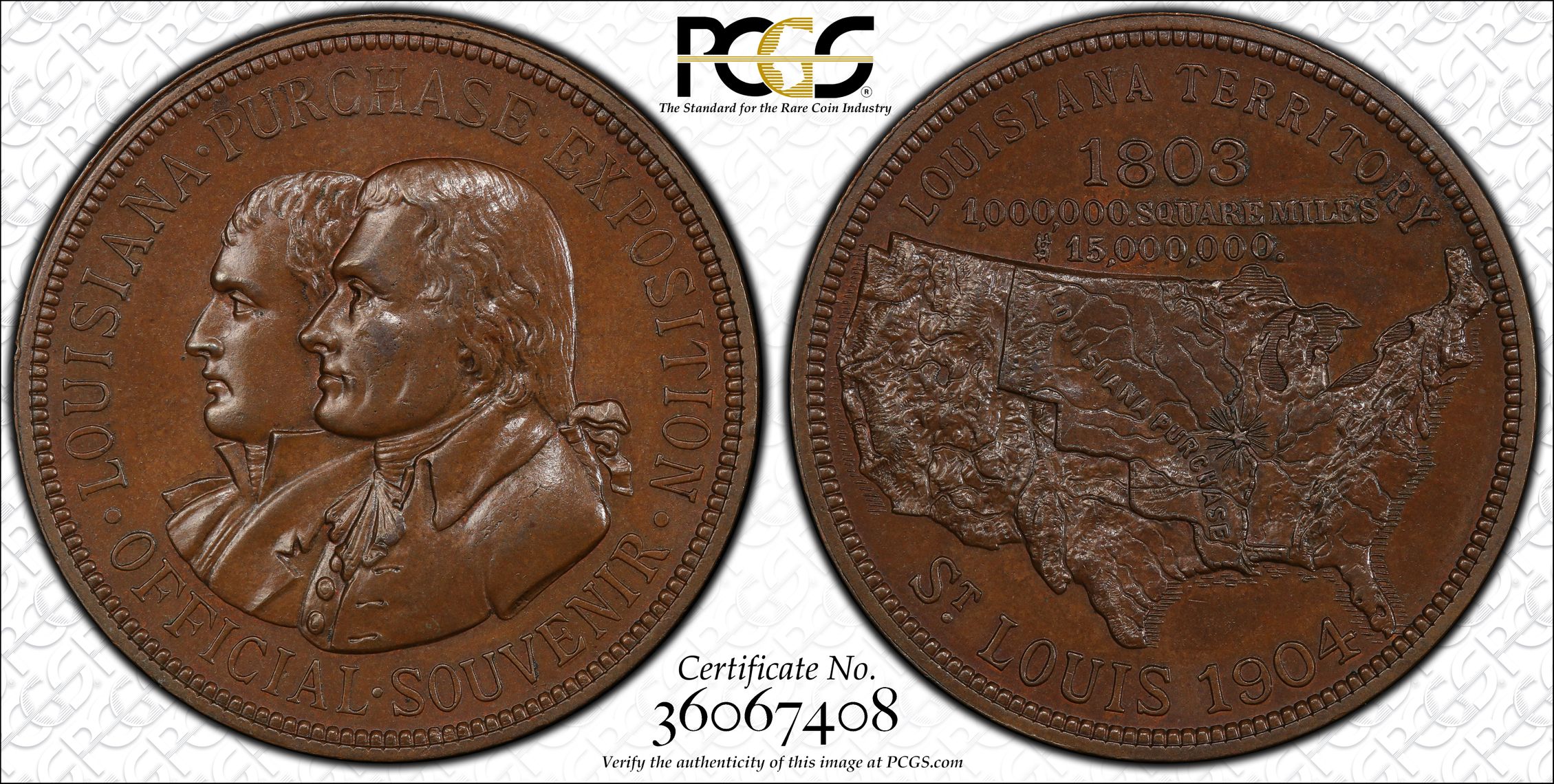 Line 3 --- HK-490 Gilt-Copper Golden Gate Int'l Expo(R-8). This is a small medal at 12mm and the design was struck in about eight different alloy composition. Jeff Shevlin has a good book out about these medals. All the varieties were struck in limited numbers by a local jeweler and poor sales resulted in most of them being melted. Survivors are hard to find. I bought this one about two years ago from a store customer.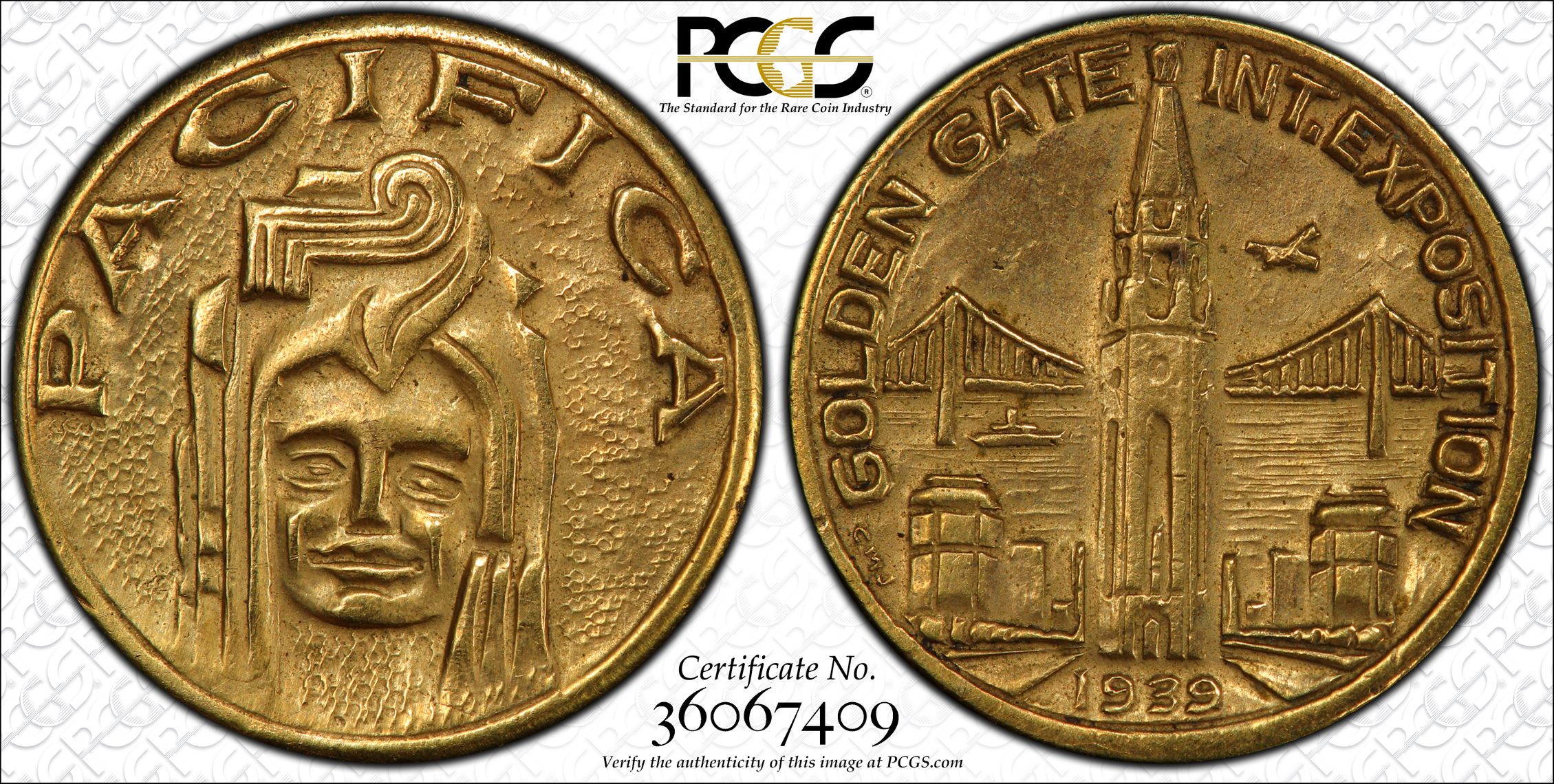 Line 4 --- (1939-40) SC$1 HK-494a Brass-Plated Aluminum North Carolina Dollar. This one is puzzling to me; it was wrongly designated on the NGC insert and despite two calls to customer service PCGS still seems to have not corrected that error. It is actually HK-294 Brass South Carolina Inter-State and West Indian Exposition from 1901-1902, listed as an R-5. Since PCGS has wrongly attributed it I can only assume they also wrongly assessed its condition, hence, the DNC.
Line 5 --- HK-517 Gilt-Bronze Minnesota Statehood Cent(R-5). I really like this modern design from 1958, originally intended sort of as a pattern or trial piece which was distributed "Uniface" and later issued as trade/advertising tokens by various merchants. They can be found easily in their various incarnations though some are scarce in better condition.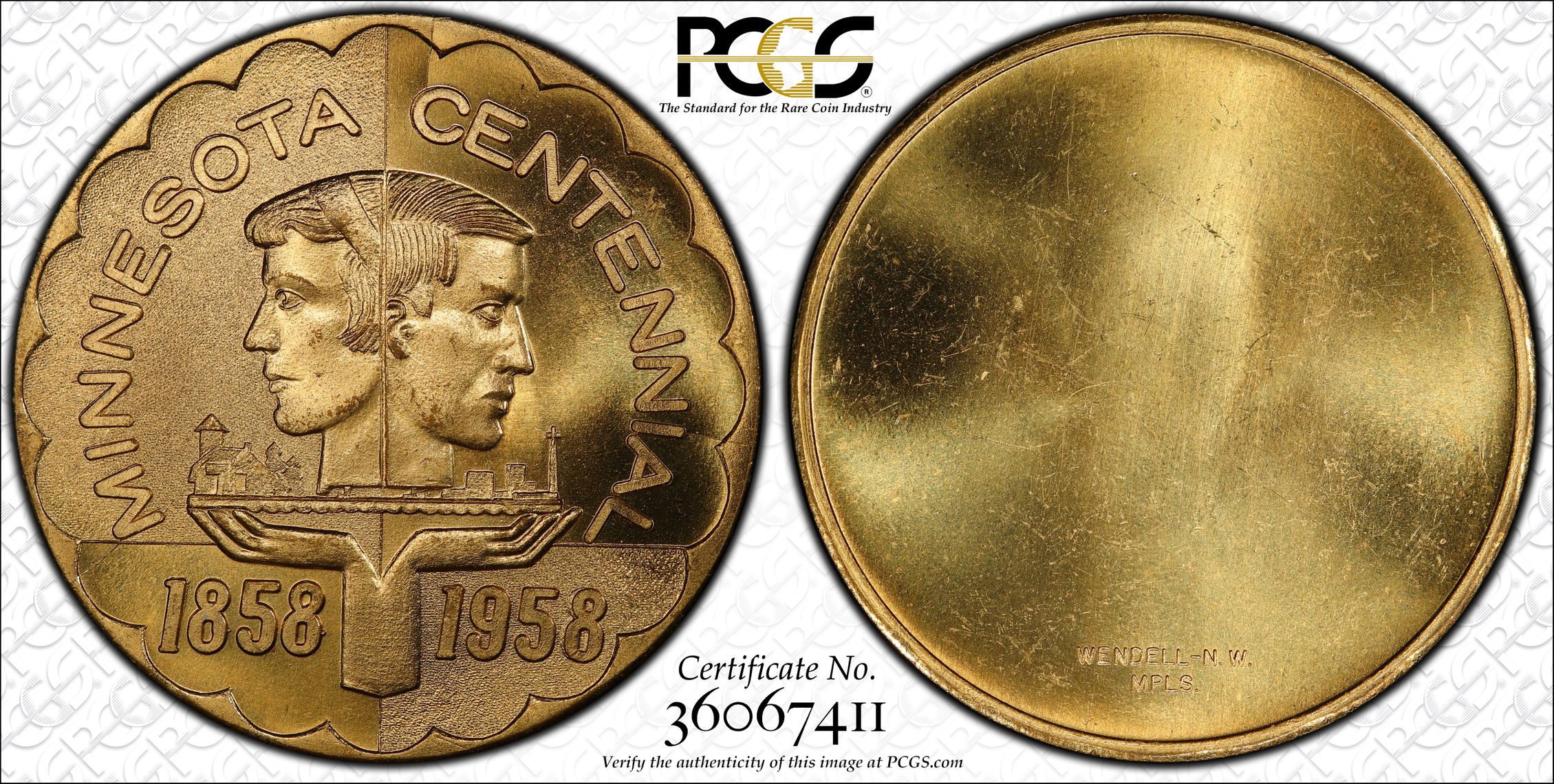 Line 6 --- HK-601a Bronze, Type-I Albany Bicentennial(R-6). Not much information is given by Hibler-Kappen about this medal aside from the fact that it was struck in 1886. I traveled to Albany this past summer and was impressed with our short stay: spectacular architecture, clean and uncrowded downtown area and a safe feeling which had us walking to dinner in the evening and strolling around after dark. One thing I learned prior to our trip is that Albany has the oldest continuous charter in the US. Not surprisingly since the area was settled by the Dutch, I believe their sister-city is Amsterdam. I think I could live there.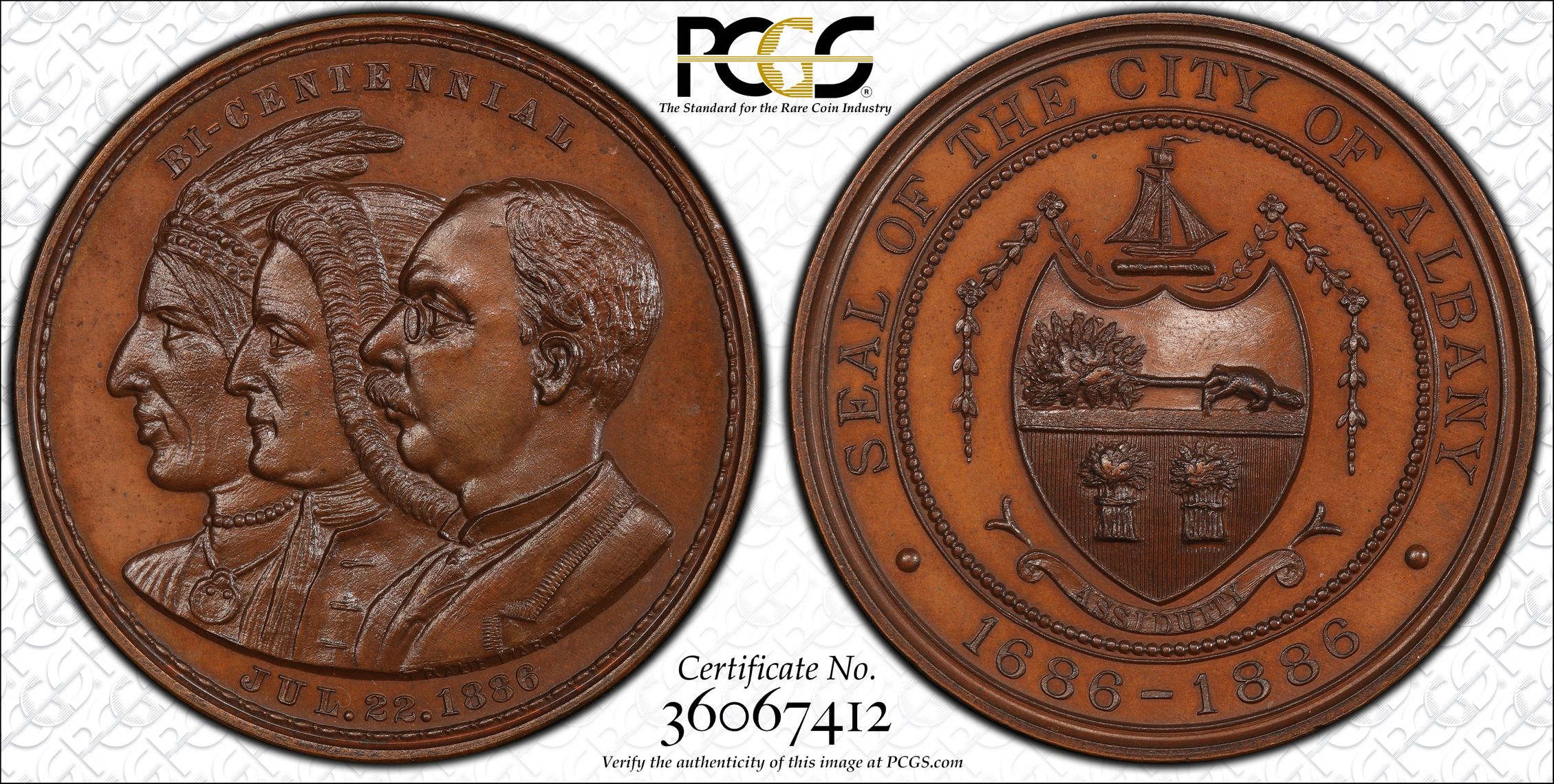 Lines 7 and 8 --- HK-833 Bickford Dollar Aluminum w/Brass Center(R-6)/HK-836 Bickford Dollar Aluminum w/Brass Center(R-5). Bickford Dollars are some of the more interesting medals in the catalogue and issues which really caught my attention early on. They were designed by Dana Bickford who invented an automatic knitting machine and subsequently traveled overseas in Europe to market his invention. He encountered trouble converting the various currencies and when he returned to America he went so far as to contact Mint officials in hopes of having a coin issued to solve his dilemma. A pattern was struck in the 1870's but the coin never cam to fruition.
These medals were struck in the late 1890's, eight different issues with slight design changes and different inner/outer ring combinations. The HK-833 is rare unholed and HK-836/837 with US Grant both seem more scarce than listed. At 28mm they are slightly smaller than a half-dollar.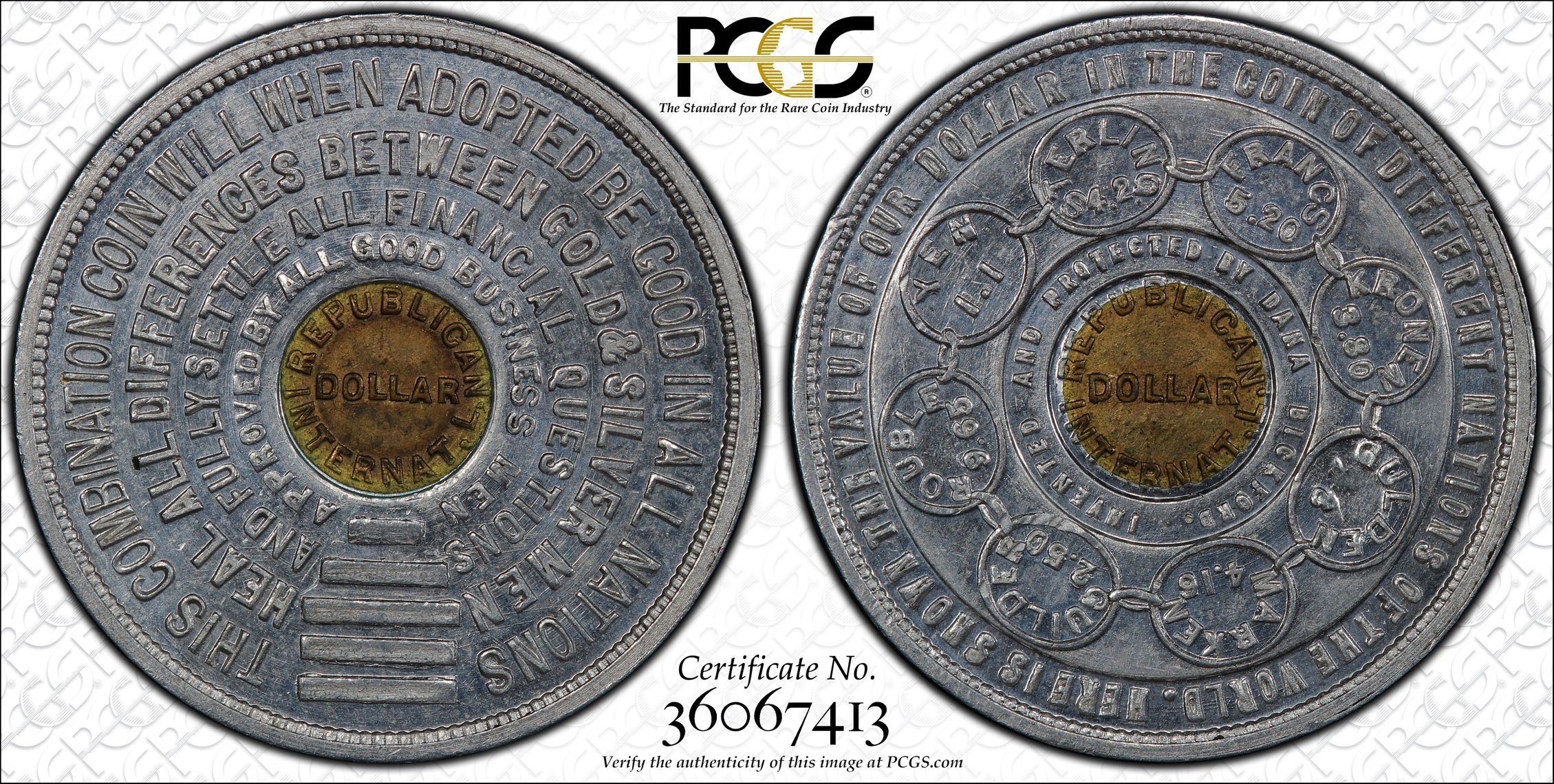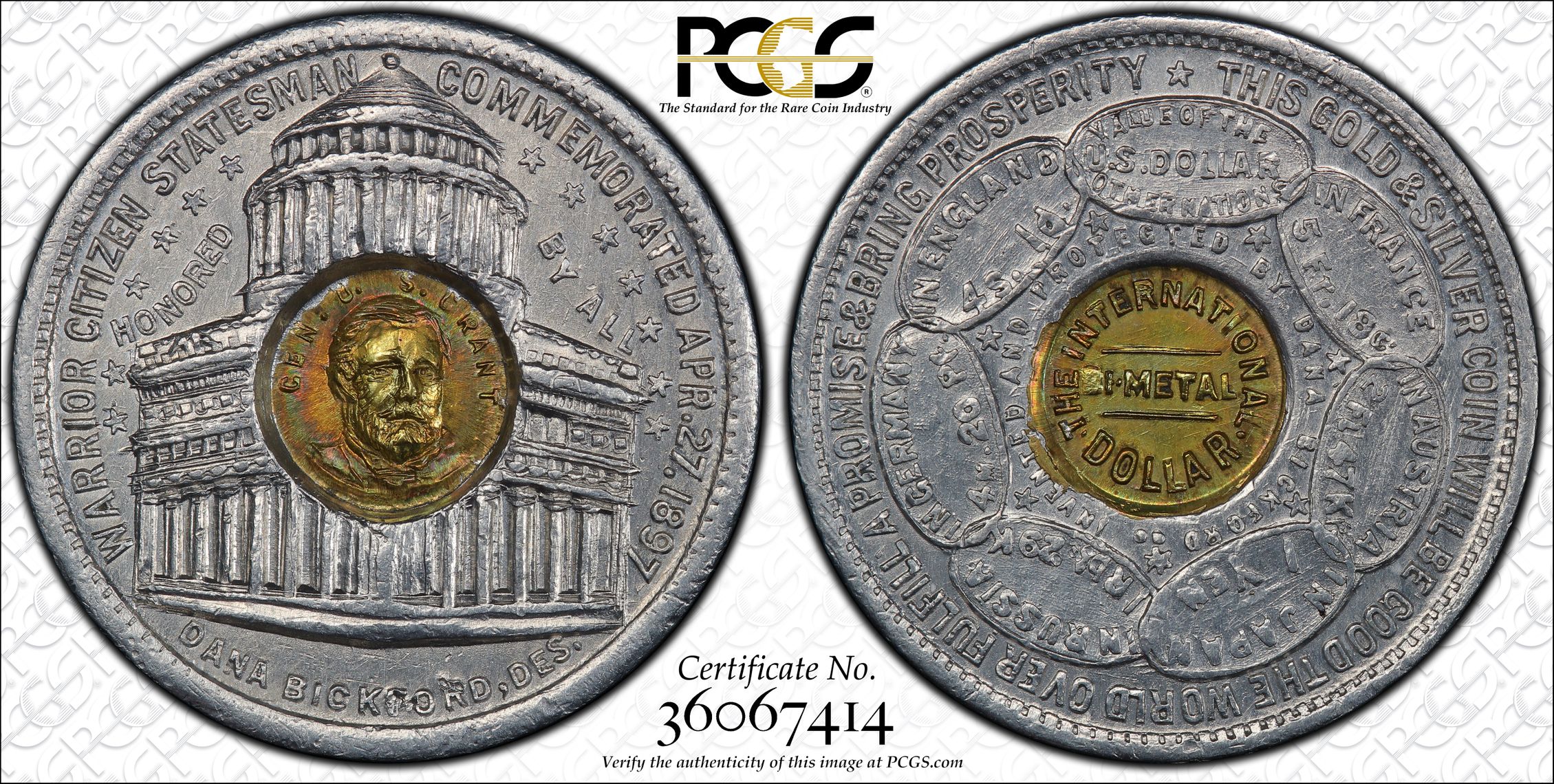 Line 9 --- HK-866 White Metal, Elder Confederation Dollar(R-7). This medal was previously graded MS63PL by NGC and it has mirrors that offset the devices nicely. The obverse design comes from Continental Currency $40 bills and the reverse is self-explanatory, stating what was issued. There are a few different issue dates that are muled with several obverses. Origin is difficult to know for certain. Some say they were issued by Thomas Elder around the time of WWI and some say they were issued by Pro. Montroville Dickeson between 1860-1876. Whoeever and whenever, they comprise a group of interesting and lovely medals. The diameter is 39mm and this one was struck in White Metal(tin), one of several planchet types used by Dickeson and Elder.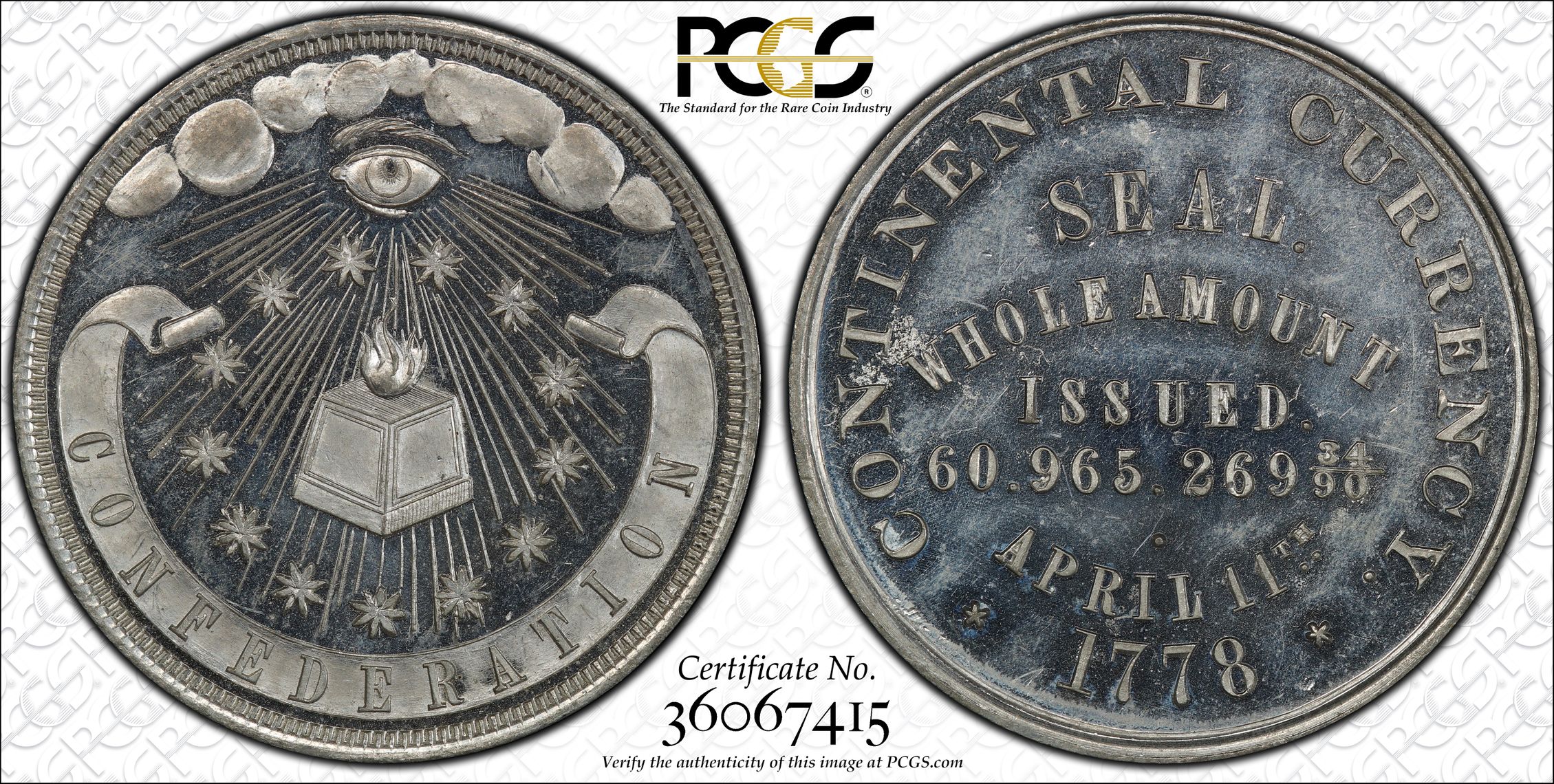 Line 10 --- HK-910 Brass WWII Victory Medal(R-7). This is a relatively common medal, listed as an R-1 with a loop attached, many members probably own one with a ribbon still attached to the loop. We have a few in our store but finding one without the loop can be a daunting task. I bought this on eBay around 2002-3 as an XF45 and expected to see evidence of the loop being removed, but there was none. My hope was to have it in a prong holder where the rim is visible and I also asked PCGS to no "Unlooped" on the insert. The size is 36mm and what looks like rub on Liberty is actually discoloration from resting obverse down for a long time. The symbolism on this medal is really great and the reverse message is very clear.