Home
›
World & Ancient Coins Forum
(OT) LM2E update, 6/27/13 (gold coin drawing winner announced!)

lordmarcovan
Posts: 41,833
✭✭✭✭✭
For those somewhat newer to the forums, "LM2E" is shorthand for "Lord Marcovan To England". Feel free to ignore this thread if you haven't been involved in it before, or if it bores you.

This was a mind-blowingly generous series of donations from the forums to send me on a metal detecting trip to England, with the proviso that I write about and share the adventures.

Several years have passed and nothing much happened on that front. It was not until last year that I actually received the funds from Laurentyvan, who is no longer active on the forums. He was instrumental in collecting them on my behalf, and I am forever grateful to him for that.

Let's start by saying

I am not soliciting further donations.

I never was, actually. This was offered freely by forum friends, and I accepted. (There have been times I wished I never had, but that's irrelevant now.)

So, now that we're in late June of 2013, there has finally been some action by yours truly. Two hurdles have been cleared.

One, I am now once again the holder of a valid US passport.

(My old one had expired sometime around 1977.)

Two, I am now in the process of paying the deposit and actually booking the trip, which should happen from November 2nd to November 9th of this year.I will be hunting with the Colchester group.

So barring a catastrophe, I'll be in England before the year is out, digging old stuff out of the ground, living a lifelong dream, and having the adventure of my life. Mostly due to the generosity of the forums.

Of course I intend to post plenty of videos of the action. In fact, I've been warming up for that, with my new

"Dirty Movies"

.

I apologize that it has taken me so long to uphold my end of the bargain. The offer is still open for anyone who donated years ago to have their money back, if they feel I procrastinated too long.

So, there are now two pieces of business.

One, I promised a gold coin giveaway years ago. And I intend to honor that promise. The good news is, if you're one of the original donors, you're automatically entered. I'll do the random drawing by July 1st.

(The bad news is, if you're not an original donor, you're not in the gold giveaway, but I'll do another British coin giveaway that's open to all.)

The prize in the donors' drawing will be a 1789 half-guinea from my signature "Holey Gold Hat".

UPDATE:

see below- the drawing was won by "llafoe & children"

.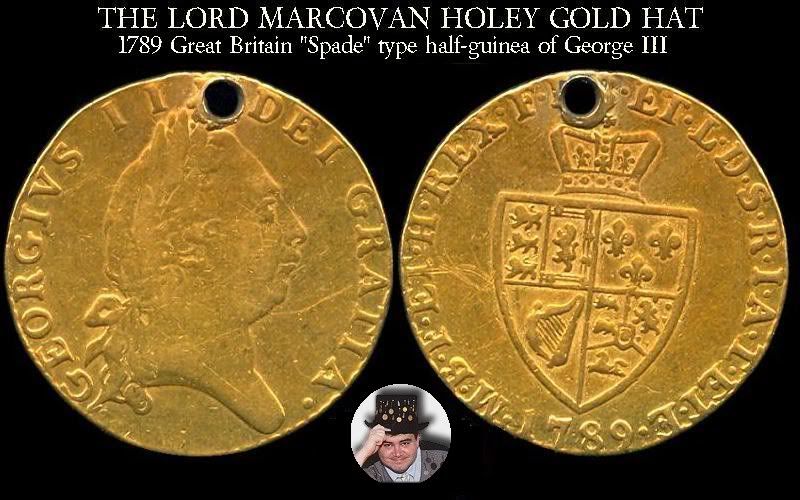 (I'll announce the other "open for all" giveaway soon. Three people will win UNC George V farthings.
This
is one of them.)
Stay tuned for the giveaway threads, and further updates on the trip (though I'll not post TOO much about it because it has been a bit of a sore spot with the admins in the past.)