Home
›
Testing Forum
Proposed coin giveaway to promote THoE podcast

lordmarcovan
Posts: 41,833
✭✭✭✭✭
David- if you're reading this here, note that I've posted it on the
Testing
Forum of Collectors Universe, which means it isn't official (or even
quasi-
official) yet. I thought I'd get your nod before proceeding, of course.
Maybe it will get you a new listener or two. After all, there are several collectors of British coins on this site, and we coin people do like history, as I'm sure you've guessed.
You need do nothing except provide me with a list of your July donors sometime after the first of August. I don't need to know how
much
they gave. Just a name and an email address so I can contact the winners. I will ship the prizes.
Here's the proposed draft. Just say "Bob's your Uncle" or some other jolly Briticism to indicate you're on board, and I'll post the following on the
World & Ancient Coins
and
Coin Swaps, Tags & Giveaways
Forums here to give you a little cross-promotion. You may of course announce it as you see fit on the podcast. (If and when I post it on the main forums, you can just link to it from your site without having to type much more yourself.)
Naturally, if you have any suggested tweaks or adjustments you'd like me to make, well... Bob's your uncle. Just let me know.
---
Another British coin promo to benefit David Crowther's fine "The History of England" podcast
Hello, Collectors Universe friends. I just wanted y'all to know that I am an avid fan of David Crowther's podcast.
It livens up my commute to work and I've thoroughly enjoyed it.
Do please listen to an episode or two, if you're so inclined.
Oh, and hello, fellow THoE podcast listeners who might have come for a peek.
You already know what I'm talking about. But maybe you'd like some British coins to go with your British history podcasts, hmm?
Now, last time we gave away a medieval silver penny of Edward I. I don't exactly have bags of those lying around. So until we get up into the Tudor period at least, I won't be able to offer up any coins relevant to the period the podcast is currently covering. So these are a bit more "modern". But still fun. During the silver penny giveaway, David (generous soul that he is) made anyone who commented on his website eligible in the drawing.
I'm
running this drawing, though, so there is one tiny string attached this time.
I'm asking that you click the "donate" link on the podcast site, and send David at least one measly dollar, or quid, or... whatever.
Hopefully you'll become a listener and comment on his website, too, of course.
Everyone who makes a donation (no matter how small) to the podcast in the month of July will automatically be entered to win one of the prizes below.
I will draw the winners sometime after August 1st, using a random number generator. I will ask David to provide me with your names and email addresses, strictly so I can contact you if you win, and not for any other nefarious spammy purposes.
(***Disclaimer*** none of this was David's idea, so don't think he's passing the beggar's cup around. I came up with this on my own. He's been a good sport in the past, though, and I think we all had fun with the silver penny giveaway, so why not do it again?)
---
Here are the prizes.
Prize #1: A Great Britain 8-coin proof set from 1970. The last of the Sterling-standard coinage, with original box and booklet.
Krause-Mishler #PS26. Eight coins: the halfpenny, penny, threepence, sixpence, "English"-reverse shilling, "Scottish"-reverse shilling, florin, and halfcrown. By "Sterling standard", I mean that these were the final pounds-shillings-pence coins struck before decimalization on Februrary 15, 1971. (Not Sterling
silver
- that went out of the coins many years earlier.) This is a nicely mirrored set in the original case with that nifty rectangular mint medal, purple outer box, and original paperwork. Current Krause catalog value is $70.00 US, though that's a bit inflated. I've borrowed some stock photos, but the set offered is just like the one in the pictures, except it has one little bit of stickum from some old adhesive on the outer box.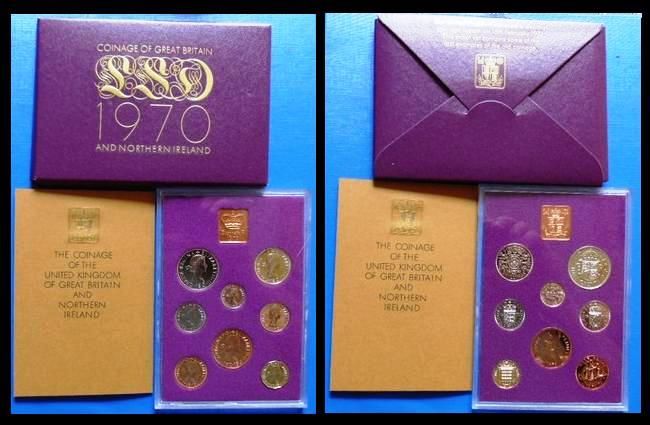 ---
Prize #2: A Great Britain farthing of George V from 1936. PCGS Secure Plus certified as Mint State-63 Red-Brown.
An Uncirculated farthing with some of the original red luster remaining. Ex-Dimitri Gotzamanis collection. What's it cost to get a coin certified in one of these PCGS Secure Plus holders these days? 30 bucks? 35? So there you have it- this one has some nice top-tier plastic in addition to being a nice little coin.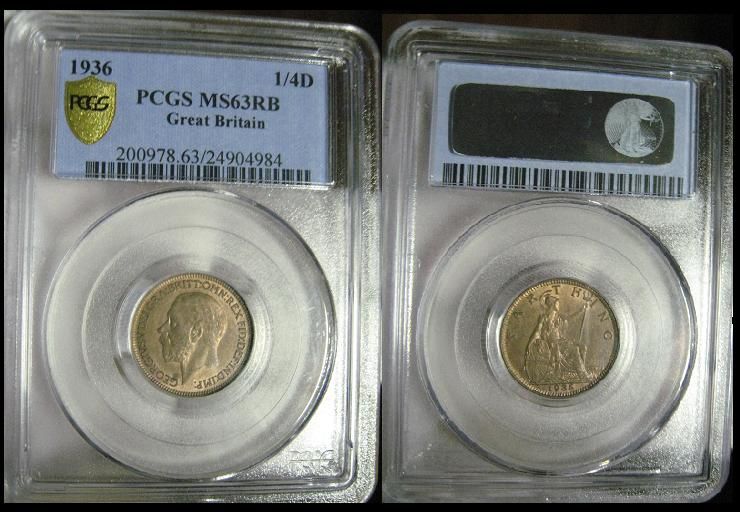 ---