Home
›
U.S. Coin Forum
Fun Visit to Harlan Berk's Shop
BryceM
Posts: 11,587
✭✭✭✭✭
Before you cry "wrong forum", humor me a bit.
Business called me to Chigago for a few days and I realized my hotel was only a couple of blocks from Harlan Berk's shop.
I've never done business with them before but I decided to run over and take a look at what they had. I've been toying with the idea of getting a couple of ancients and I've always understood them to be one of the larger dealers in that area. I also wanted to see what they had in US type. The ground-floor shop is pretty small, but held a few cases of interesting US material. I saw one Indian cent that tempted me, but it wasn't exactly what I was after. I was a little surprised to not see a single ancient coin so I asked "don't you deal in ancient coins?"
A simple "Yes."
Me, "Where are they?"
A mysterious "Not here."
Me, "OK.........", puzzled.
"Hey, Aaron, you going upstairs?"
"Yeah"
"Want to take this guy up to see some coins?"
Aaron, "Sure."
So we get on the elevator and go to the thirteenth floor. We end up in a cozy, little, old-time library where I'm left for a minute.
Then, "Hi, I'm Harlan Berk. What do you want to look at?"
Me, feeling slightly out of place. "Um, maybe some old coins.....?"
Fortunately I had the presence of mind to just tell him that I had no clue about ancients and that I was interested in testing out the waters a bit with something with some great history but not terribly expensive. Roman coins seemed to be the logical place to start. He was kind enough to bring several trays of coins out to review. He spent quite a while going over the various pieces, their history, condition, preservation, demand, the market, etc. I selected a couple and he asked if I wanted to see some gold. Who wouldn't? He then brought out an enormous tray of various gold pieces and we spent several minutes reviewing them. Fascinating!!! He then brought out a very small tray of some enormously cool coins. The price tags on these ranged from new car to upscale new house. One in particular was a unique piece that he described in some detail.
I paid for my modest purchases and we chatted for a few more minutes. In all we probably spent the better part of an hour together. By the time I left I had enjoyed a solid introduction to Ancients, 101. He gave me a copy of their current catalog and was kind enough to give me a copy of his book "100 Greatest Ancient Coins." We chatted for a few more minutes and I got out before temptation set in.
I can't say enough about Mr. Berk's hospitality. It's a slightly rare thing to receive such personal service from a well-recognized dealer. Service like that risks creating a long-term client. If I was slightly more intelligent I would have also sought out Tom D. to make his acquaintance.
Here they are: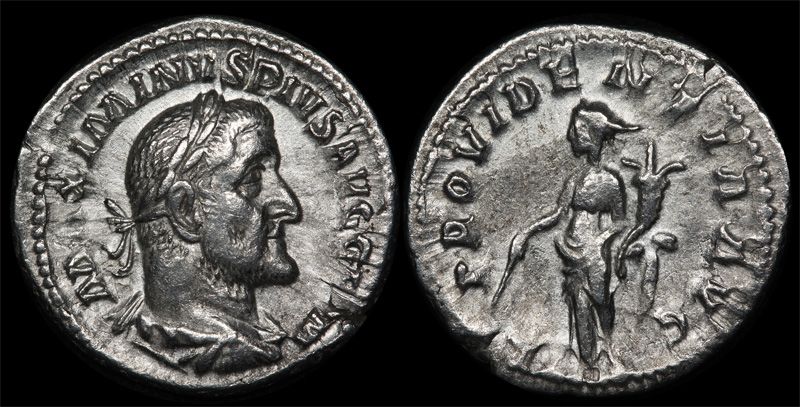 Maximinus I Thrax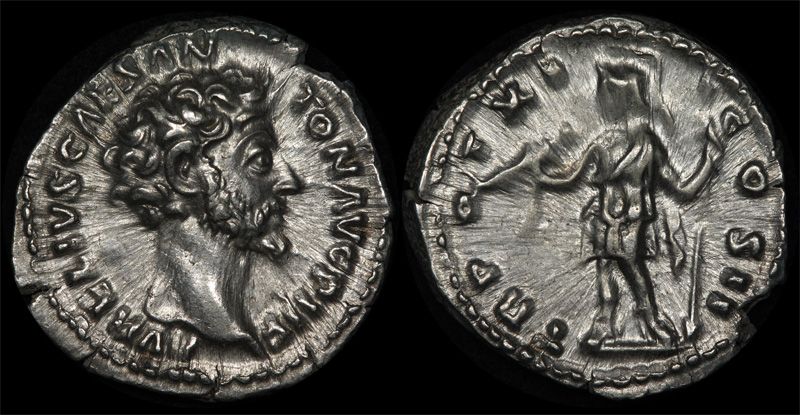 Marcus Aurelius as Caesar
Leave a Comment