Home
›
U.S. Coin Forum
Charmy's (brief) 2012 FREMONT COIN SHOW REPORT w/Pics!

ThePennyLady
Posts: 4,029
✭✭✭✭
The Fremont Coin Show is a 2-day show held once a year at the Elk's Lodge right off the 880 freeway just south of San Francisco. It's one of the smaller shows that I participate in, but this one always seems to be bustling with lots of activity, especially on Saturday. It's a great little show, so I thought I'd do a short show report.
I left on Friday and decided to take the coast highway so I could visit my folks who live in Ventura County which is just north of Los Angeles. Even though traveling along the coast takes a little longer, it is such a pleasant drive with some breathtaking views.
Here are some photos of Santa Monica and Malibu
The Santa Monica Tunnel which connects the 10 freeway with Pacific Coast Highway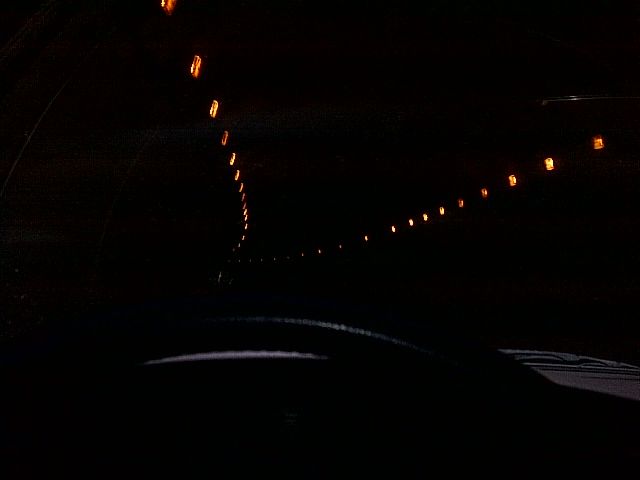 This is Mugu Rock just south of Pt. Mugu Naval base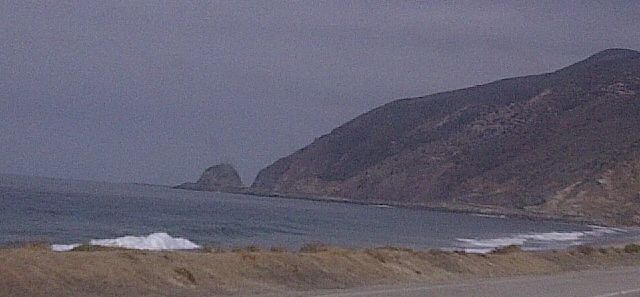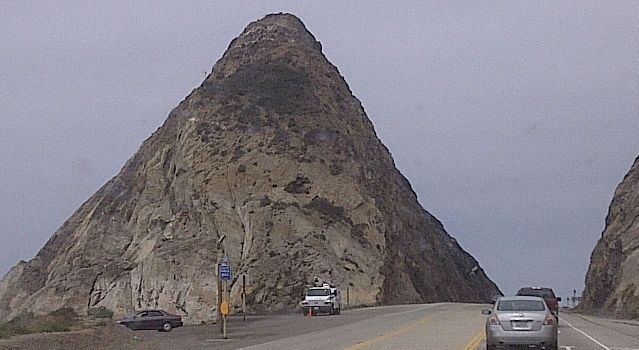 After visiting with my folks, I left and continued north through Santa Barbara
After Santa Barbara, the highway heads inland, then back towards the coast through San Luis Obispo, Morro Bay, etc. The total drive time up the coast (not counting my visit with my folks) is about 7 hours. I arrived in Fremont, checked into my hotel, then decided to pay a visit to my favorite NoCal poker room – Bay 101!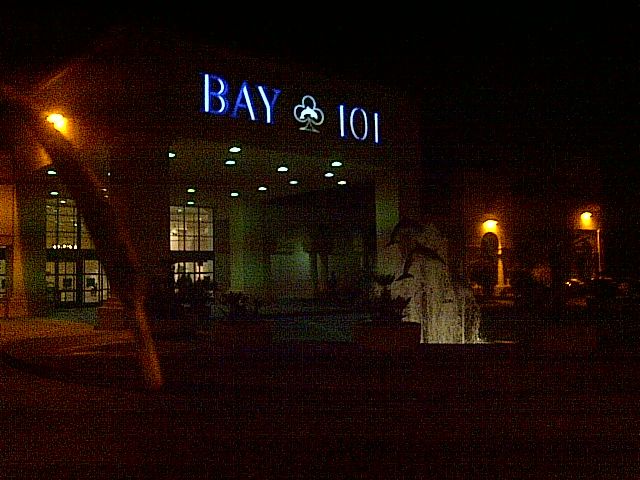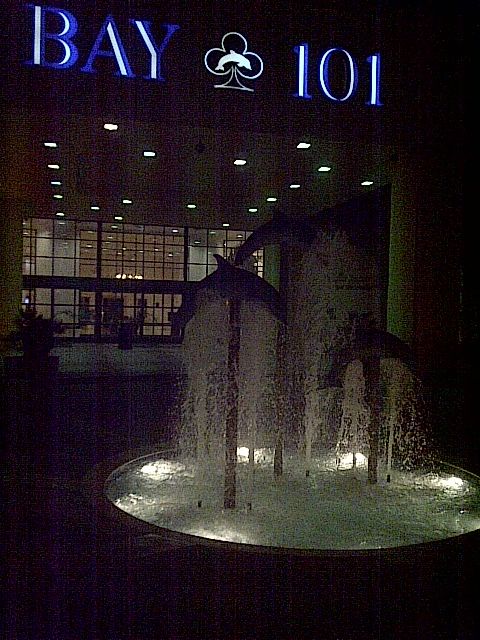 I was playing 6/12 limit and did pretty well for most of the evening.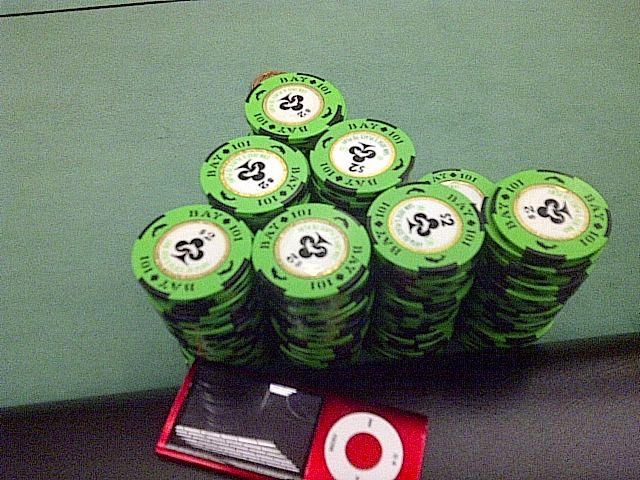 You never know what kind of characters you end up playing with, that's for sure. For the most part, people are pretty nice and friendly, but there is usually one player that is just a little "off" and can sour the atmosphere at the table. We had a young man who was very kocky and mouthy, and liked to brag about what he learned while he was in prison! I decided it was time for a table change!
Saturday – set up began at 8am and it usually takes me about 1 ½ - 2 hours to get everything ready. The table space and aisles at this show are minimal, so in order to make sure there is enough room in the aisles, the dealers who are against the perimeter walls do not have room enough for a back-up table. That leaves very little room to move around behind our tables but we have learned to make due.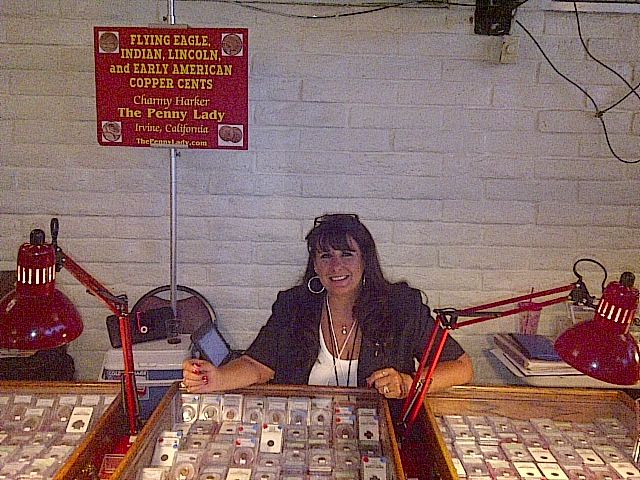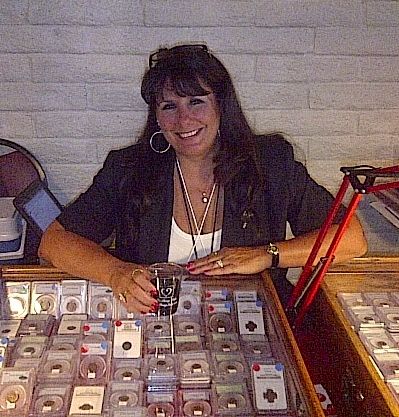 The show opened at 10am and there was soon quite a large crowd in the room.
A very nice YN stopped by my table first thing and bought a coin from me for my first sale. I didn't realize that he was Taylor 101 on the message boards until he introduced himself.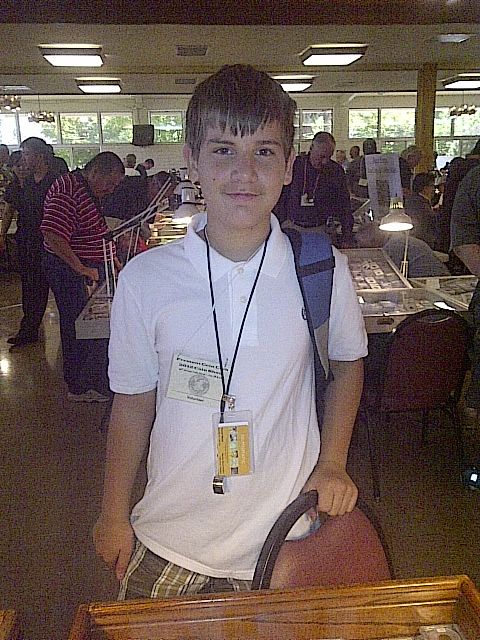 Taylor also just had an article published in Coin World on how young numismatists benefit from mentors (link to article:
Taylor's Article
)
This is Sean/Kookoox10 - a forum member on CoinTalk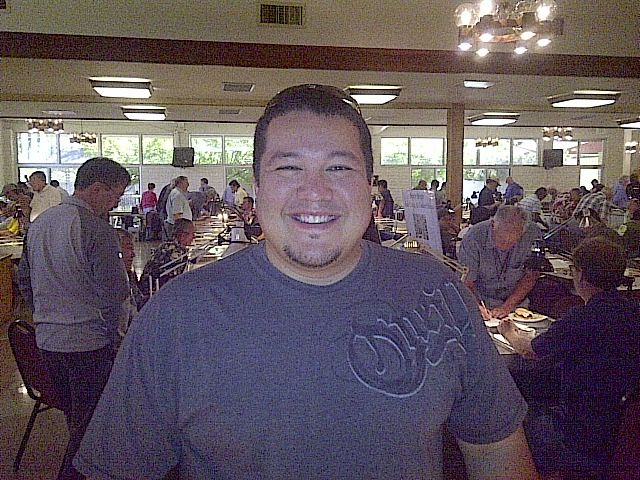 Dewey is one of my very favorite NoCal regular customers (he is also a retired Chief of Police of the San Jose Police Dept and gave me advice back when I was trying to decide what the best type of gun would be to carry to my shows). As soon as Dewey sat down, he told me a little story about an auction he attended a month ago where he bought a bag of wheat cents for $20. He said he could hardly wait for the Fremont show since he knew I would be there so he could show me this 1909-S vdb that was in the bag. He feared it might be counterfeit and was very anxious to see what I thought. After examining it very carefully (and showing it to another dealer just to confirm what I thought), I determined that, although it had an old cleaning, it was authentic and would probably grade a VF details, net F. Boy, you would have thought I told Dewey he just won the lottery – which in his mind, he did!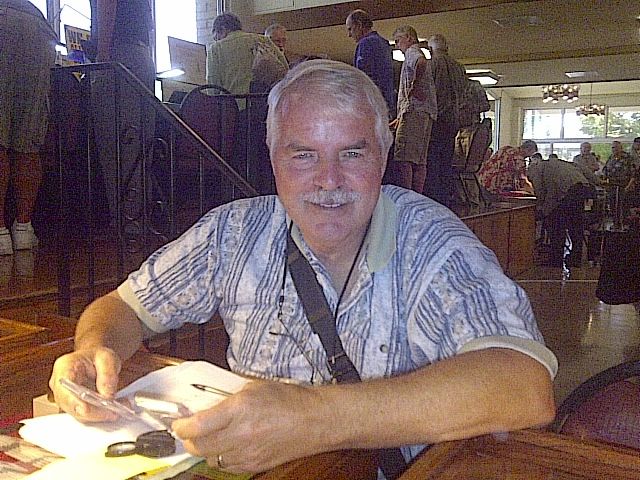 Wei also came to the show and hung out at my table in between his wheeling and dealings – and even shared some wine with me!
Sunday – the show, as expected for a Sunday, was pretty slow with more than the usual share of "tire kickers" and people just wanting to look at some of my coins so they could compare their coin to see if it was as nice and worth as much as my coin, etc., which can be frustrating. However, there were several nice folks who stopped by to ask serious questions about their collections or particular coins they were looking for. I always enjoy trying to help newer collectors who are just starting out or considering upgrading their collection. And overall, it was a really good show and I was pleased with the outcome and sales.
Then it was time to pack up and head back home. This time, I took the 152 Pacheco Pass which is a really pretty drive and goes through Gilroy (the garlic capital) and the San Luis Reservoir and takes me to the 5. Here are a couple photos of the Reservoir.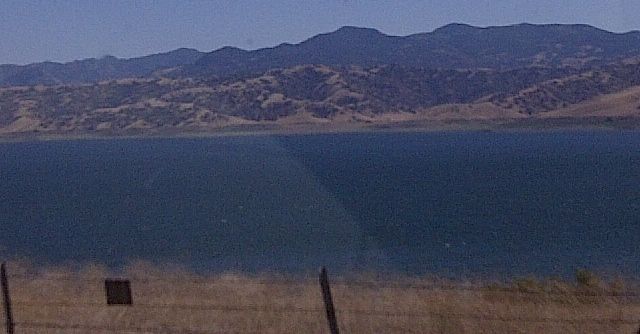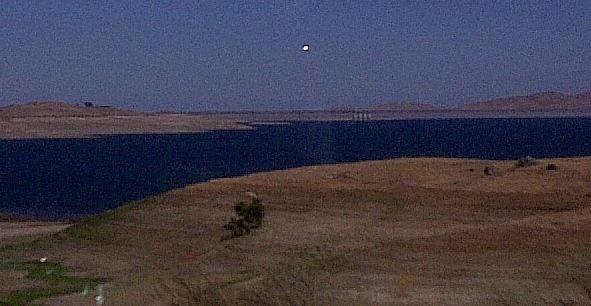 This way is a quicker route than the coast, and usually only takes about 6 – 6 ½ hours to get home – except that there was road construction near Bakersfield with only one lane open for about 40 miles which caused a huge backup on the freeway! I ended up getting home around 10:30pm last night, very tired and bleery eyed, unloaded, kissed the hubby, and immediately fell asleep in my very own comfy bed!
Now, I'm getting things ready, updating inventory, organizing coins, packing, etc. and heading off to Philly in a couple days!!! Awwww, such is the life of a coin dealer on the road!
Charmy Harker - The Penny Lady®
President of Women in Numismatics
ThePennyLady.com