Home
›
Buy, Sell & Trade - Autographs
FS:Family Guy Star Trek Cast/Adam West Family Guy/Fanboys,KickA@@, 300 Poster +MORE
Sketchman
Posts: 1
Up for sale...contact me at
[email protected]
if anything interests you!
1. 8x10 color Star Trek Cast starring on Family Guy IP signatures are Patrick Stewart, Jonathan Frakes, Brent Spiner and Lavar Burton-175 shipped in US
2. Adam West signed Family Guy Star Wars Blue Harvest episode-65.00 shipped in US
3. Kenny Baker-SOLD
4. Carrie Fisher-SOLD
5. Next is a CV Ahsoka print from Grant Gould..SOLD
6. A Kick-Ass Poster signed by the 3 teen stars...35.00+shipping
7. A Fanboys 11x17 poster signed by many of the cast including Dan Fogler, Ray Park, Carrie Fisher, Kyle Newman, Chris Marquette and one other cast memeber who's signature I can't make out. Signed Kirsten Bell card not included.
Looking for 125.00 shipped in the US
8. I also have a Gerard Butler Signed 300 11x17 Poster for sale. Looking for 75.00 shipped in the US
PM me if anything interests you.
[URL=
http://s1196.photobucket.com/albums/aa413/8063/?action=view&current=300close.jpg]
[/URL]
[URL=
http://s1196.photobucket.com/albums/aa413/8063/?action=view&current=300.jpg]
[/URL]
[URL=
http://s1196.photobucket.com/albums/aa413/8063/?action=view&current=adamwest-1.jpg]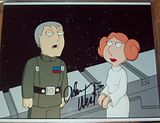 [/URL]
[URL=
http://s1196.photobucket.com/albums/aa413/8063/?action=view&current=startrek.jpg]
[/URL]
[URL=
http://s1196.photobucket.com/albums/aa413/8063/?action=view&current=kcikass.jpg]
[/URL]
[URL=
http://s1196.photobucket.com/albums/aa413/8063/?action=view&current=ahsoka.jpg]
[URL=
http://s1196.photobucket.com/albums/aa413/8063/?action=view&current=bakerfisher.jpg][img]http://i1196.photobucket.com/albums/aa413/8063/th_bakerfisher.jpg
">[/URL]