Home
›
U.S. Coin Forum
FINAL UPDATE: Charmy's SAN JOSE Coin Show Report with PICS (of course)!

ThePennyLady
Posts: 4,029
✭✭✭✭
I know, you're probably getting tired of my show reports (which usually have more fluff than substance!) but I have been asked to provide a report on this show, so here goes....
We arrived yesterday evening after an uneventful (yet CHP riddled - I think they're trying to drum up extra revenue for our poor bankrupt state!) drive up the 5, and set up was at a very weird time - 7pm-10pm (due to hotel conflicts). Chatted with Wei for a while, had a glass of wine, then luckily, I found out that my particular table section was prepared and ready to go a little early so we were able get in and set up around 6pm. We made quick work of it, then went to dinner with several people at the wonderful Spencer's Steakhouse right here in the hotel. Then it was off bed (no, no partying yet)!
Today was quite busy right from the start, and here it is about 4:30 pm. and the room is still a buzz. I bought a few nice coins today (1909-S vdb PCGS AU58, 1909-S Indian PCGS XF45, 1931-S PCGS MS65 RED rattler, 1915-D PCGS MS64 RB, 1925-D PCGS MS64 RB, 1936 NGC PF66 RED, etc.). Todd is stopping by tomorrow I think and I plan to give him several coins to take home and photograph for me. I sold quite a few coins as well. Good thing, since I also spotted a beautiful bracelet that goes really well with a ring I bought here last year - but we'll see!
To give you a feel for this show and its surroundings, here are some photos of the hotel, restaurant, and inside the show. As you can see, the hotel is quite nice and spacious, and the show room is also really nice, fully carpeted, and everything was set up nicely. Ray Johnson and his crew do a GREAT job putting this show together, that's for sure!
The outside entrance to the convention room
This is the lobby in front of the show where the supplies and exhibits are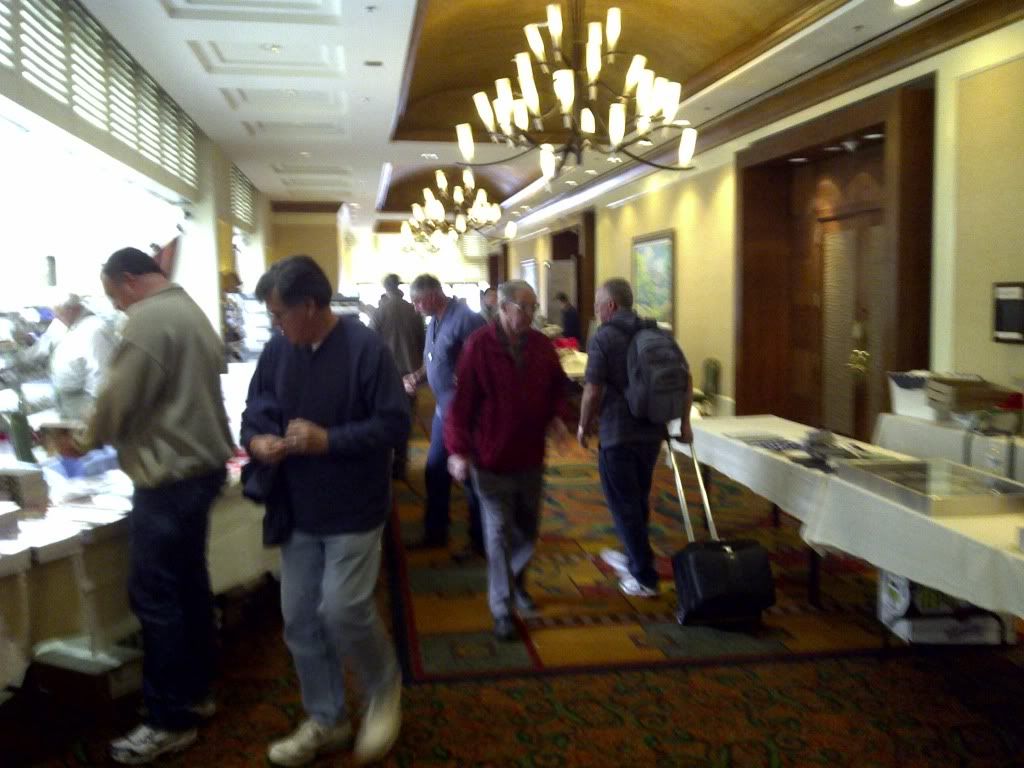 Entrance to the show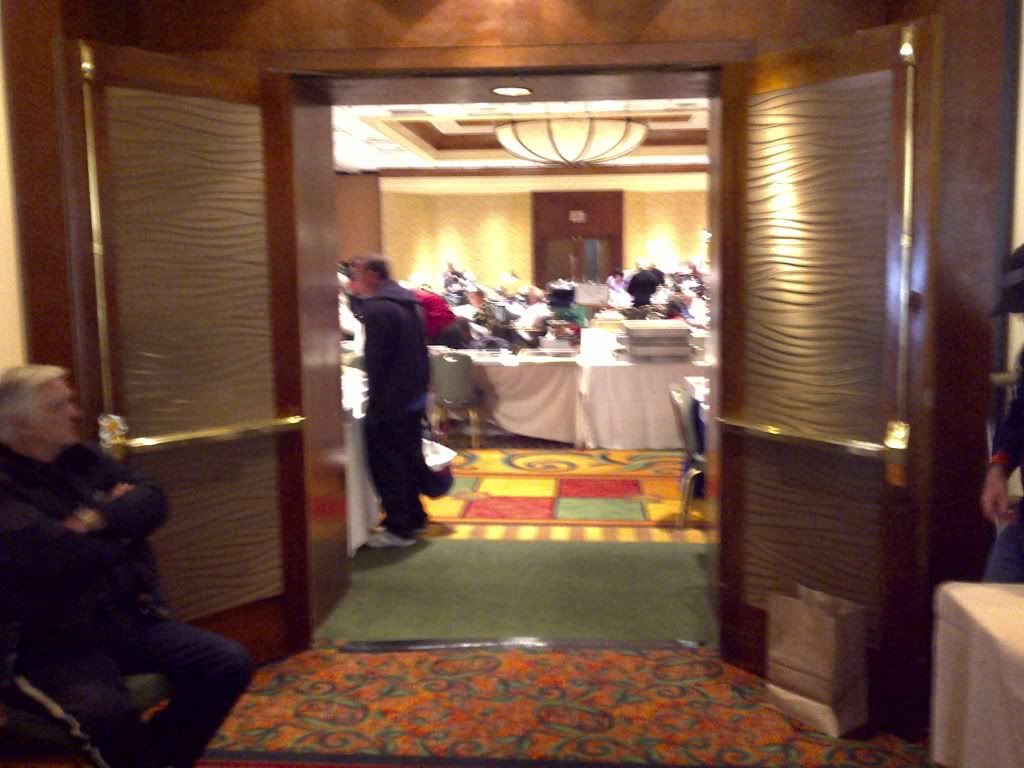 My table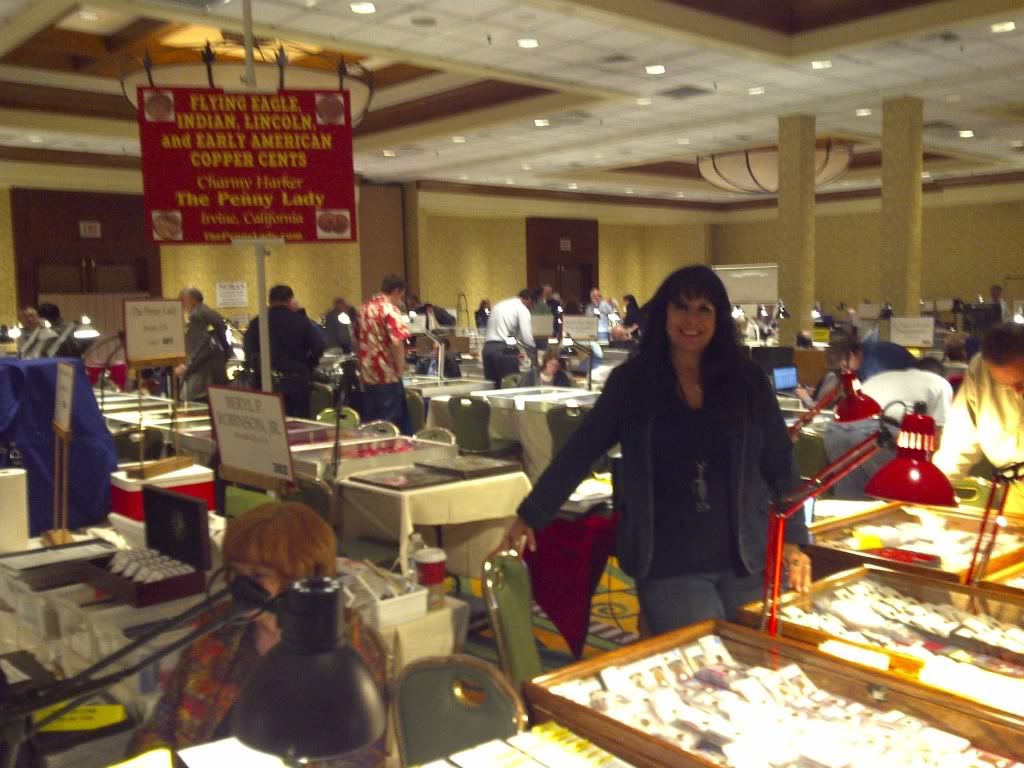 My cute little boy!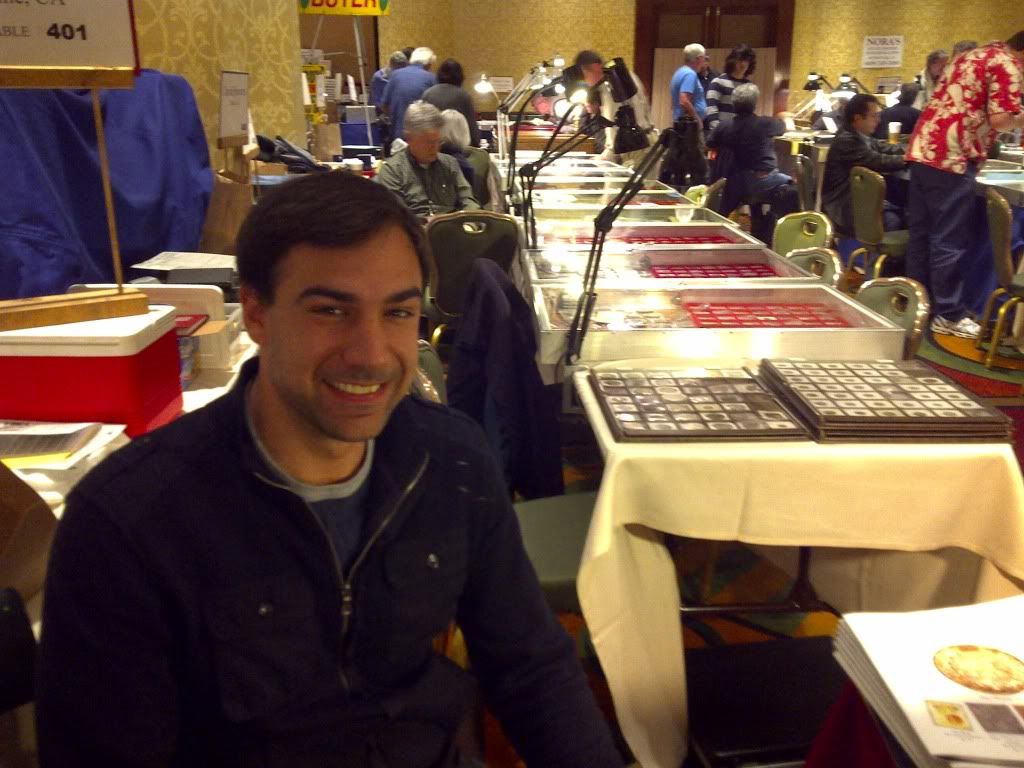 The bourse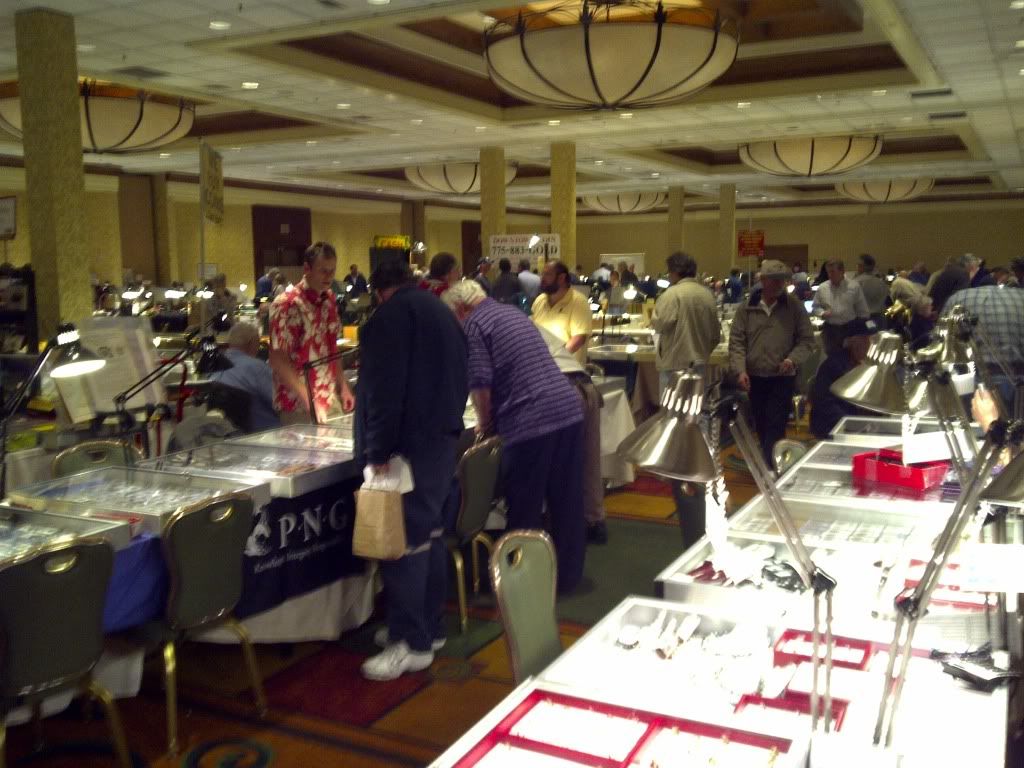 The wonderful Spencer's Steakhouse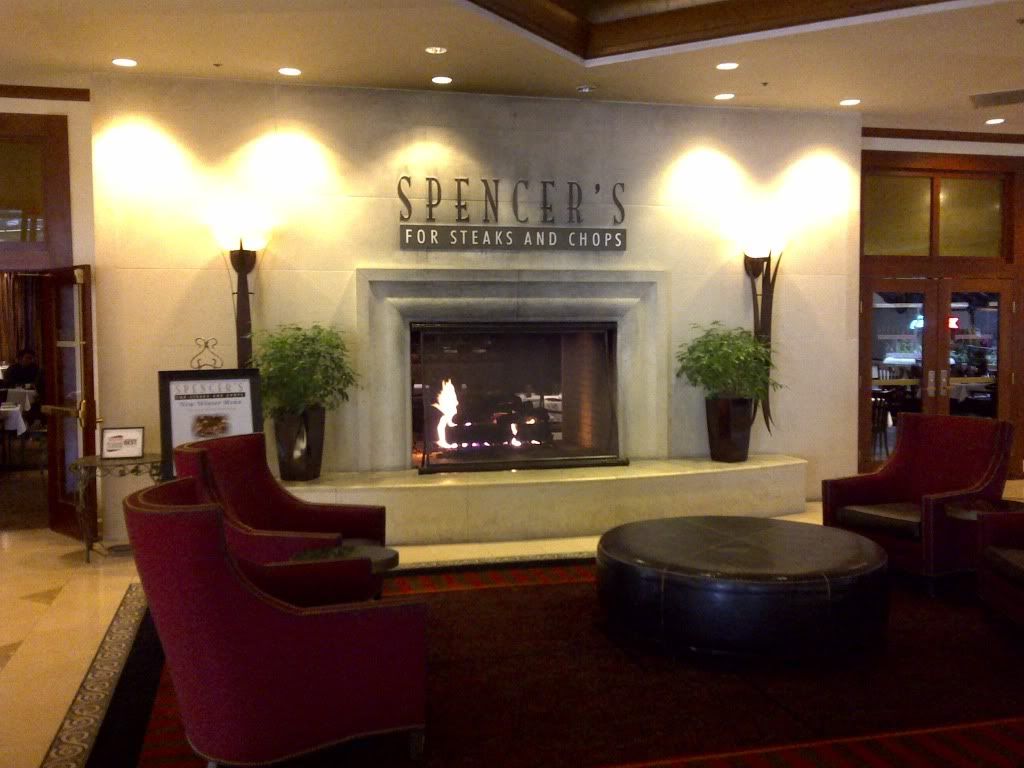 The hotel bar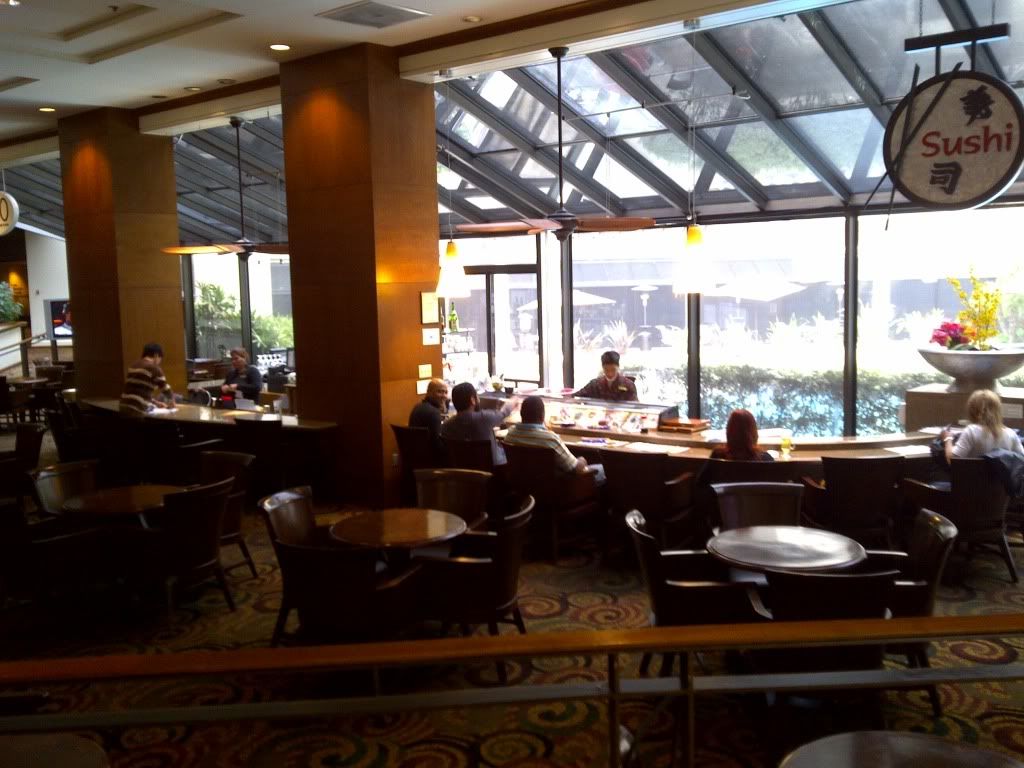 The hotel coffee shop where we had breakfast
So tonight is back to Spencer's where several of us are bringing a good bottle of wine so we can do some tasting during dinner, then it's off to the Bay 101 casino for me. Erik is saving his money since he's moving to Italy in a couple months to teach English for a year.
So, more tomorrow!
Charmy Harker - The Penny Lady®
President of Women in Numismatics
ThePennyLady.com