Home
›
My 2500th post giveaway! For Young Numismatists - prize is a NGC 1939 MS 63 Walker! Winning entry
claychaser
Posts: 4,405
✭✭✭✭
Here is the winning entry, by Madison., a four year old preschooler! Her dad drew the circle for the coin, and she did her artistic work from there.
Her entry was amoung the four chosen by a drawing (see later down the thread).
Great work! I hope you stay with the hobby.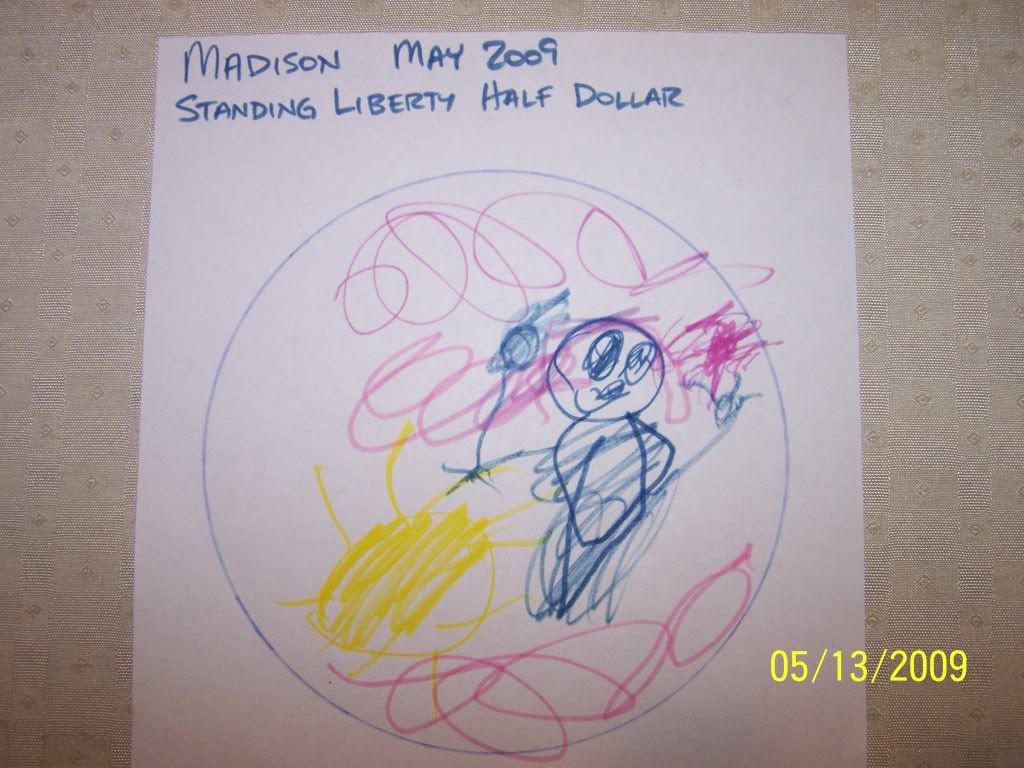 OK, it's time. But I just cannot make it simple.
First, the coin. A lovely 1939 Walking Liberty Half, NGC MS63, blast white. I liked this coin so much that I took it back in a tag after trading it away once. But I digress.
Here's how to enter:
Open to all YN's, defined as someone in pre-school through 12th grade in 2009. Recent high school grads ok.
To enter:
Write a short essay with a Walking Liberty Half dollar theme commensurate with your grade in school. If you can't write yet, a picture with your parent's notes on it will do. For high school, I expect to see real grammer and thought. The theme is open - it can be about a year, say 1921 or 1916, a historical event and the impact to commerce (e.g. WW2, the Great Depression, etc), or the designer, or a technical subject such as die varities, grading the coins, rarity of certain issues. You can also write why you just like the coins.
You can PM me your work, or PM me for an e-mail address and e-mail it to that. You may either type or neatly print or write your essay and e-mail or even postal mail it to me. It's ok to have your parent PM or e-mail me your entry.
All entries that meet the grade requirements (as determined by me!) for a passing grade are entered. I will then draw names at random to determine the winner. If 5 have more than 10 entries, I'll also award some nice runner up prizes.
Deadline is June 22 to enter, so you have lots of time.
I'll post the essays after the contest closes.
Good luck!


==Looking for pre WW2 Commems in PCGS Rattler holders, 1851-O Three Cent Silvers in all grades



Successful, problem free and pleasant transactions with: illini420, coinguy1, weather11am,wayneherndon,wondercoin,Topdollarpaid,Julian, bishdigg,seateddime, peicesofme,ajia,CoinRaritiesOnline,savoyspecial,Boom, TorinoCobra71, ModernCoinMart, WTCG, slinc, Patches, Gerard, pocketpiececommems, BigJohnD, RickMilauskas, mirabella, Smittys, LeeG, TomB, DeusExMachina, tydye