Home
›
2000 post/ 1 year GIVEAWAY!!!!- Swampboy is the winnah!
NHSBaseball
Posts: 2,470
✭
I was trying to decide what to give away for my 2000th post/ 1 year on the boards when I came across what I thought was a super-cool item on the internet. It is a T-Shirt with the obverse of an 1828 Bust Half Dollar. I am ordering one for myself, just so I can show EVERYONE what a total coin geek I am, and decided that I would order another to give away. I'll even hold off so that I can order the winner's size! I know that it's no huge prize, but I thought it would be a fun way to thank everyone for the enjoyment I have gotten from the boards.
Some of you know that I teach and coach high school baseball for a living- my school's mascot is the Vikings. I did not attend the high school where I now teach. In order to win this fabulous prize, all you have to do is guess the mascot of the high school that I played football and baseball for. In the case of multiple correct guesses, I will choose a random winner from the correct responses.
I will choose a winner by Friday, Sept. 26. I guess per person- and good luck! Below is the prize: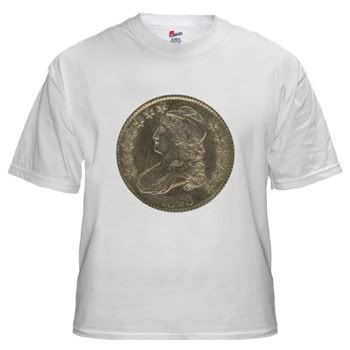 "College men from LSU- went in dumb, come out dumb too..."
-Randy Newman