Home
›
Trading Cards & Memorabilia Forum
Joe Montana Pigskin Trio Photos - These Custom Slabs from HGA Are Awesome
ATimeBeforeBitcoin
Posts: 14
✭✭
I asked HGA to coordinate the design of all 3 of these so that they would display well. We did 1 image that goes across all 3 and I'm pretty happy with these. I might get them graded instead because I think this is better than the "Authentic" label. I didn't know it would get the A if I didnt pay for grading and I tried to change at the last minute but was too late. I just wanted to get the custom artwork for my collection and I think it turned out awesome! I made this post also so I could post my wanted list of Montana pigskin cards... there are 3 more listed at the bottom of this thread.
The slabs are the best quality of all of my slabs as far as the look and feel and I love the frosting. They dont use any adhesives so they sonically seal all of these unless the cards are too large. I submitted 6 total, all jersey/pigksins, and 1 needed to be sealed with acrylic glue.
Do you think I should pay to get these graded instead? I think they are probably 8s in general and I dont care much I just think it might look better.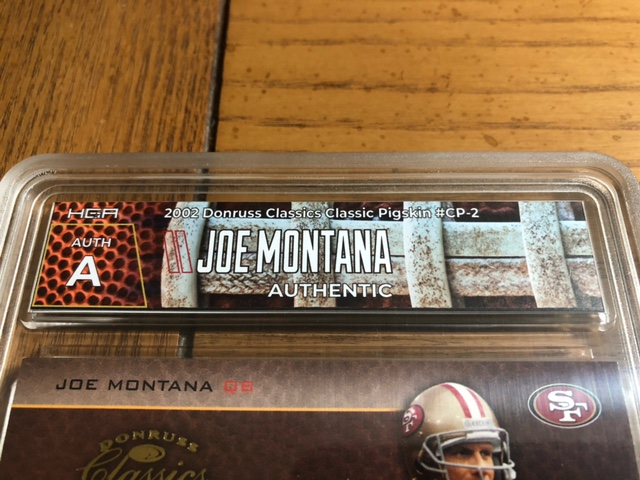 You can check out their gallery of custom labels they have done here I think there are some pretty sweet ones, just select the customs tab - https://hybridgrading.com/gallery/
Want List...
If you see any of these please try to message me here. Thanks!
2002 Donruss Classics Ball and Lace Super Bowl Pigskin /25 (CP-2)
2004 Donruss Classics Ball and Lace Superbowl Pigskin /25 (CP-3)
2010 Panini Classics Montana/Rice Pigskin /25