Home
›
Sports Talk
A thing of pure beauty @thisistheshow
doubledragon
Posts: 21,708
✭✭✭✭✭
I know you love boxing @thisistheshow, this fight always reminds me why boxing is my favorite sport of all-time, Julio Cesar Chavez vs Edwin "Chapo" Rosario, 1987. On this night, Chavez was moving up in weight to face the feared monster puncher Rosario, and this fight demonstrates why the sport is called the sweet science. Edwin Rosario was feared as one of the hardest punchers in boxing history, his punches changed guys careers, he had some terrifying knockouts leading up to this fight, and a lot of people thought Rosario would knock Chavez out, but showing no fear of Rosario's monster power, Chavez proceeds to methodically stalk Rosario down, apply pressure, stay in his chest, pin him against the ropes and systematically dismantle him, not giving Rosario room to breathe and get off his monster punches. Executing his gameplan with brilliance, he lays quite a beating on Rosario. As the rounds pass, Chavez's combinations to the body and face begin to take their toll on Rosario, and the towel is thrown in by Rosario's corner, an absolute masterclass of the technical side of boxing from Chavez, the sweet science at it's finest, here are the highlights from this masterpiece performance by Julio Cesar Chavez. By the way, Chavez is in the Red trunks.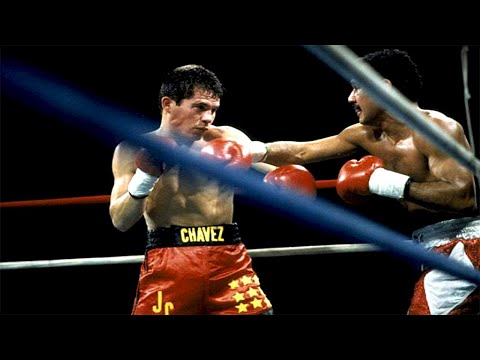 https://m.youtube.com/watch?v=GS594Qo2oHI
The name's Jones....freakin' Mustache Jones.