Home
›
Autographs Forum
Old autographs signed in sharpie

JMS1223
Posts: 1,085
✭✭✭✭✭
I know that over time autographs or anything written in black sharpie sometimes will have a yellow halo around the ink. I currently do not have decades old autographs that were signed using a sharpie so I figured I would start a new thread so those who have been collecting for decades can post examples of old autographs you still have that were signed in sharpie. I am curious if they have haloed or faded at all. I want to see how they have held up over the decades.
I noticed U.S. Presidents did not typically sign in sharpie until George W. Bush took office and it seems since him all those that served after him have signed in sharpie (including former Presidents such as Carter and Bush Sr. signed autographs in sharpie after Bush took office). However, I very rarely see Ronald Reagan autographs signed in sharpie. I am thinking this trend is probably due to the popularity of sharpie becoming huge in the early 2000s. I believe sharpie was invented and first used in the 1970s? Or am I wrong and that was just when the fiber tip marker was invented?
EDIT: I found an example of haloing around black sharpie signatures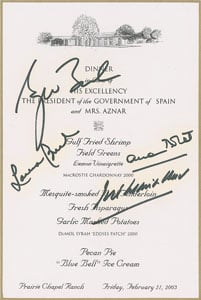 I know that Sharpie now sells fade resistant sharpie pens but I am not sure if celebrities, Presidents and other people that sign autographs in sharpie typically use those pens now.