Home
›
Autographs Forum
Signed books found in the wild (library, book stores, yard sales) Post your stories and experiences

JMS1223
Posts: 988
✭✭✭✭✭
Since I work at a library and I shelve books I am amazed sometimes at the number of signed books that make it into our circulating collection. Most are not valuable or rare (as of yet) but it makes me wonder if I ever do come across something valuable. Some autographs are so valuable that just the signature removed from the book would be worth money so even though the book is pretty much "ruined" by library stamps and stickers, the signature would still be worthwhile to obtain.
The other day someone donated a perfectly clean Lee Child book (his latest one) and it was autographed! In this case if I had wanted it bad enough I probably could have bought it since it was not yet cataloged or part of our collection. Despite that, it seemed like it might have been a little difficult due to the way we process donations - I can't just buy what I want — it has to be processed by the Friends (our volunteers) and decided if it goes in our collection, get sold in bookstore or donated to a shelter/charity. Only after it's decided to get sold in the bookstore do I have the opportunity to buy it. Since it was Lee Child's autograph I wasn't that keen on trying to get it but if it was someone else I wanted much more I might have been able to talk to the Friends and ask if they could set it aside — not sure. I passed on it mostly because I don't collect author signatures very much outside of the historic and classic writers (such as Harper Lee, JD Salinger or Stephen King for example) and didn't want to go through the hassle especially if a better one shows up in the future and I will need the favor of getting it "set aside" much more.
Yesterday while I was shelving I happened to notice this numbered signed edition of a book. Nothing valuable (just looked it up out of curiosity) but WHAT IF it was one of those very rare numbered and signed Stephen King books (one such example was his recent book Later that got a limited hardcover signed and numbered edition that goes for over $1000). It would seem so sad if they stickered and stamped that book especially when having the whole book matters.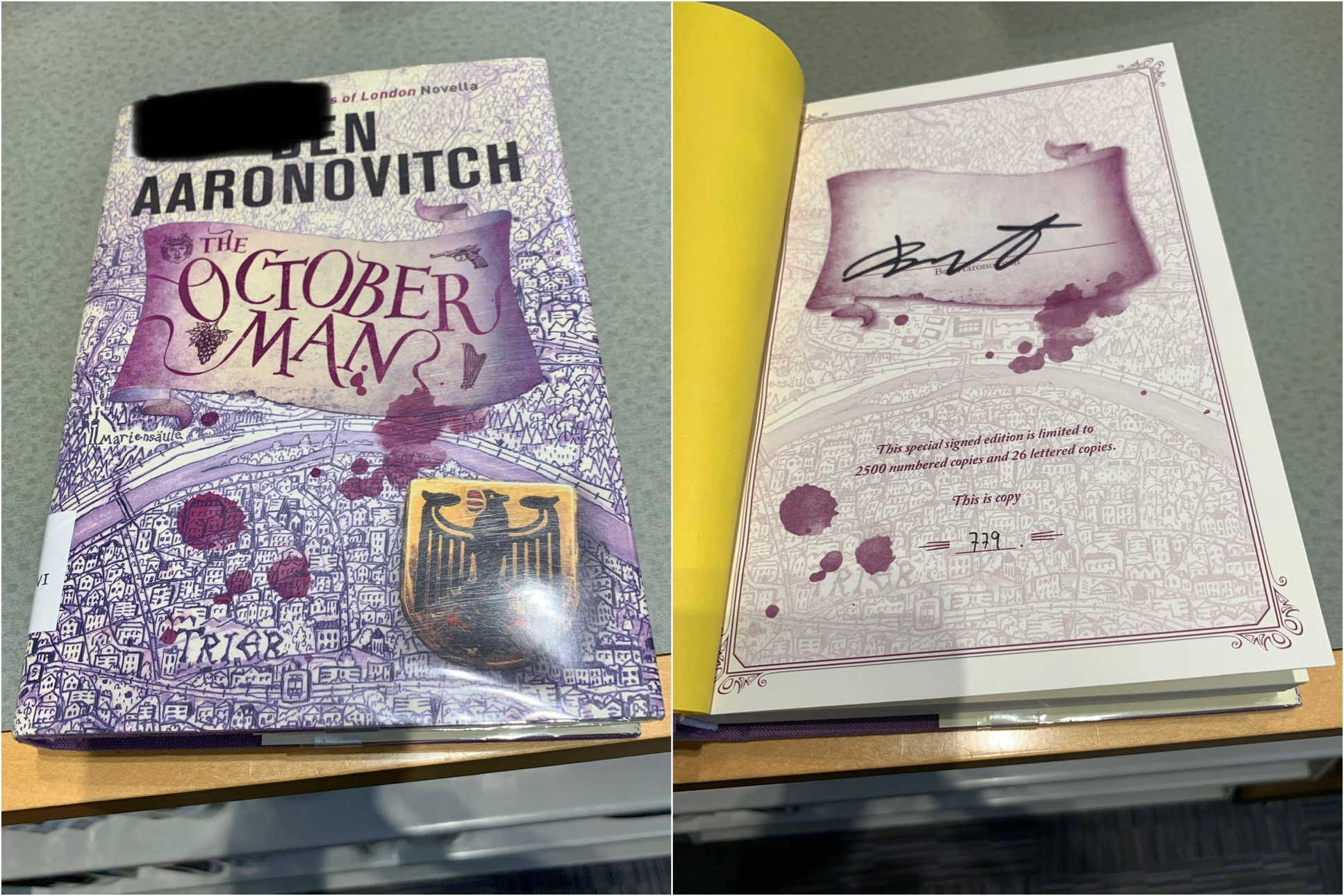 Another example is a signed Gloria Steinem book. The signature alone is probably more valuable in my opinion than the ex-library book itself. Nice clean non-personalized signature. I am hoping they discard this book someday and I can buy it for $2 at our bookstore. (There are 3 copies of this book My Life On The Road in our collection and they rarely get checked out so they may discard two of the three next time they weed out the biography collection). The book is pretty much worthless by itself (in ex-library condition) so I would be buying it for the signature alone.