Home
›
U.S. Coin Forum
I found a Heidi Wastweet in my collection, hiding in plain sight . . . . . .

ZoidMeister
Posts: 2,997
✭✭✭✭✭
I must admit, that I didn't know who Heidi Wastweet was before today.
I ran across her name in a few listings on the bay that I was interested in, pulled up a website or two, and dang if I didn't recognize a little piece of exonumia that a kind member of this forum sent to me, for FREE . . . . .
For all intents and purposes, it looks like any other commemorative strike, but the design of this one did catch my eye. That's one of the reasons I hung onto it and didn't gift it to a Young Numismatist months ago.
Anyway, this 2004 Maui Trade Dollar lists Heidi as its designer, even if they couldn't get her last name spelled right.
.
,
.
.
All I can say, is that it's pretty exciting finding a design by a well respected sculptor and die engraver in your collection that you didn't even know you had . . . . .
Here is a screen shot from her website. This 2004 Maui Trade Dollar is prominently featured under her "Commissioned Medals" section.
Yup, prominently featured.
Well, it's kinda at the bottom of that section . . . . . the very bottom . . . . . okay, it's the VERY LAST MEDAL in that section, but it is THERE nonetheless . . . . . . . . . . .
.
.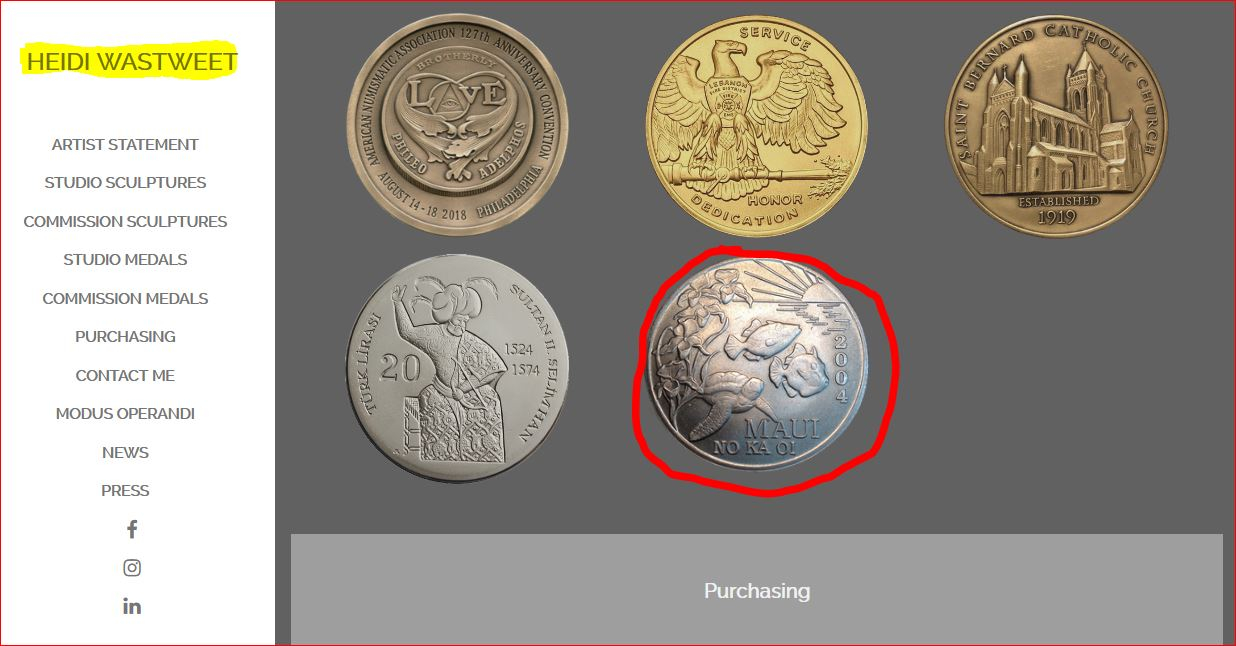 .
.
**How cool is that? **
And how often do you find a "notable piece" hitherto undiscovered in your hoard?
Z
Busy chasing Carr's . . . . . woof!
Successful BST transactions with: Bullsitter, Downtown1974, P0CKETCHANGE, Twobitcollector, AKbeez, DCW, Illini420, ProofCollection, DCarr, Cazkaboom, RichieURich, LukeMarshall, carew4me, BustDMs, coinsarefun, PreTurb, felinfoal, jwitten, GoldenEgg, pruebas, lazybones, COCollector, CuKevin, MWallace, USMC_6115, NamVet69, zippcity, . . . . who'd I forget?
Leave a Comment