Home
›
U.S. Coin Forum
Broncos Mile High Stadium Coins/Tokens...anyone here document this kind of stuff?

Kurisu
Posts: 1,746
✭✭✭✭✭
I know for sure these are truly rare from Broncos Mile High Stadium...
I know because I was a food concessions manager there for a couple of years.
These were coins that were originally intended for use on the stadium club level of Mile High Stadium in Denver. They were available for purchase in the VIP club level and then could be spent on food and products, I think they cost $10 each while I was working there. I'm sure a few went home with fans but surprisingly most of them stayed in the stadium.
Long story short, as far as anyone knows only a couple to perhaps a few thousand were made well over 20 years ago ordered by the food concessions company, Centerplate, who ran pretty much all the built in and portable food stands in the stadium since the old Broncos Mile High Stadium. They retained the concessions contract in the new Mile High Stadium until just a few years ago.
I asked an executive or two if they knew anything about these but actually no one who worked with me had actually been working there since the original old Broncos Stadium. The coins were made for the old stadium before the new one was built and have a very similar obverse to some of the Broncos coins that were used for the pre-game coin toss. No one from the executive team knew how many of these were originally minted.
There are gold and silver versions of these and at least 3 different designs, not made from valuable metals, they are about silver dollar size and weight.
A couple of the design versions I believe were tests/patterns because I only have a few of those compared to the rest. Zero are what I'd consider to be a proof although I have a few in MS type conditions. I ended up with a few dozen of them when the food concessions contract changed to another company and executive management had no interest in them. I know a few managers got to take a tube each when we moved the company's presence out of the stadium and I ended up being given the remaining tubes.
After Broncos games the coins would all be gathered and put into money bags, I had never seen more than just a few hundred of these together at one time. Surprisingly few were actually purchased and used during each game, probably because the club level area was actually fairly exclusive during the games.
The ones I have which are in great condition I put in capsules, a few of the steel/silver color ones have rusted just a tiny bit over the years but only one or two have a bunch of rust.
Maybe one day I'll sell a few. I've already given a few away.
I just wanted to share this with the token people because I'm guessing no one has ever documented anything about these before today. Feel free to ask me anything you'd like to know...and yes, I got to go to EVERY Broncos game and concert and event that took place year round for the two years I was working there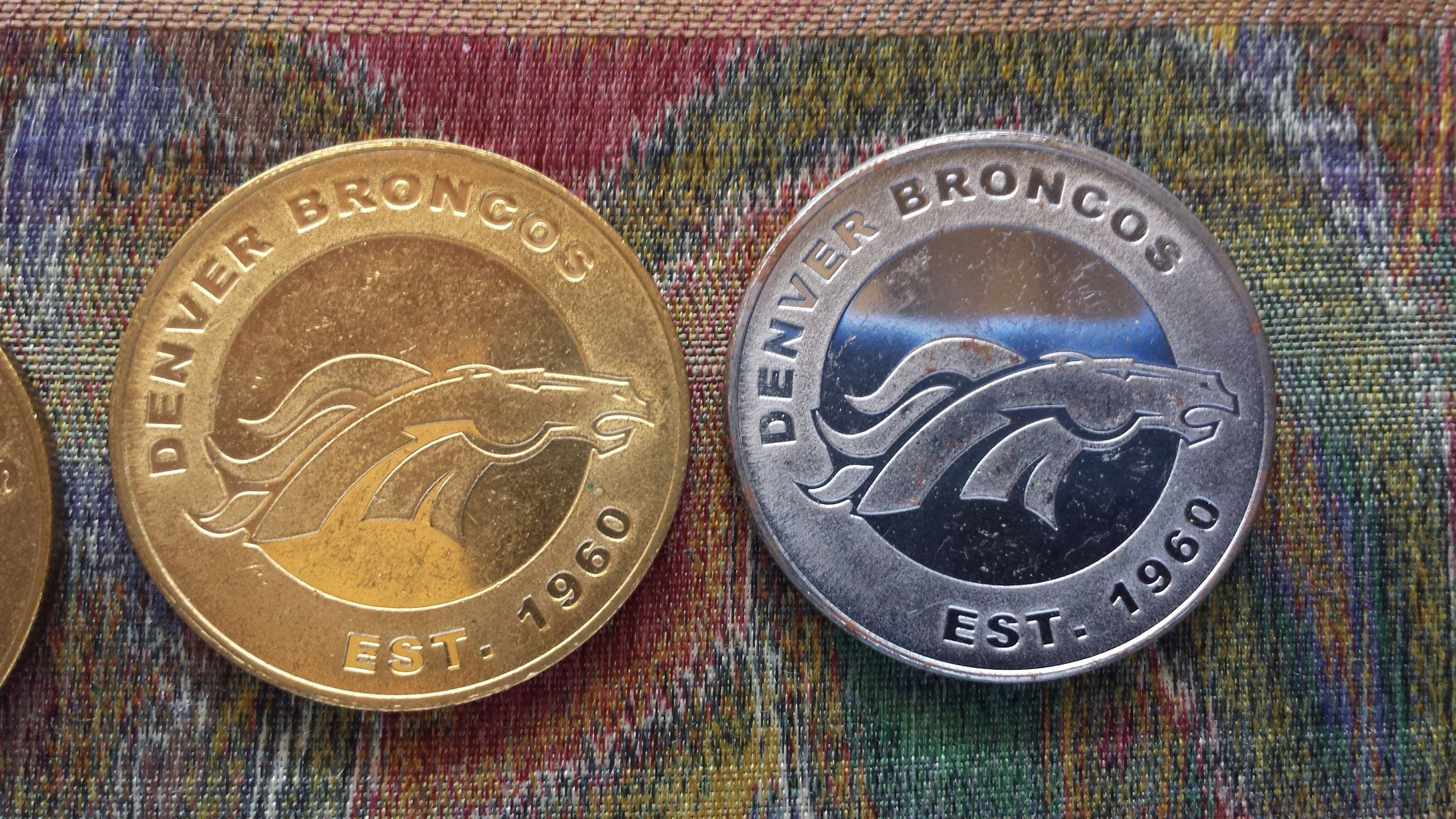 Here's a replica I found online of a one of the coin toss coins

Coins are Neato!



"If it's a penny for your thoughts and you put in your two cents worth, then someone...somewhere...is making a penny." - Steven Wright
Leave a Comment