Home
›
Sports Talk
October 5, 2014
countdouglas
Posts: 2,128
✭✭✭✭✭
Several notable things happened on this date in baseball history.
"He is moving like a tremendous machine!"
.
Billy Freaking Butler stole a base. Aybar did his best to hang tough, bless his heart, but I laugh no matter how many times I watch him bail out at the end as "Country Breakfast", aka, the "Billdozer" comes roaring in there with a full head of steam!
.


.
And then Bill-Dawg got up, looked towards the dugout and his fellow speedsters, and revved it up! 'Cuz that's what speed do!
.


.
Then, just a short time later, with runners on and the Angels desperately trying to save their season, Lorenzo Cain ripped the heart out of the Angels team with two unbelievable 5-star catches coming off the bats of back to back hitters.
The first occurred as he was running towards a sinking line drive in left field.
.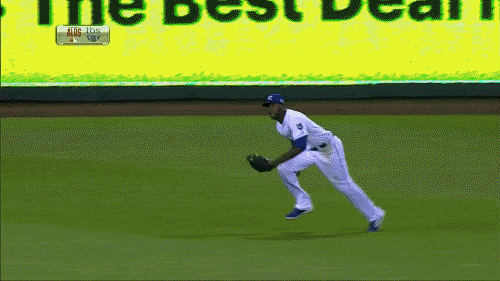 .
The next ball was another sinking line drive, this time into short right field. That pretty much ended whatever fight the Angels were going to put up on this night.
.


.
The third, and probably most notable thing that occurred in that game, was the very last postseason at bat of Mike Trout's career. It ended just like you'd imagine, with explosions and sparks going off at the end, a la "The Natural". Of course, there wasn't a homerun trot for Trout. Rather, another swing and a miss for strike 3 to end the game for the second night in a row, causing the Royals to pour out of the dugout as fireworks lit up the sky. Mike got a good look at the rocket show as he took his walk of shame back to the dugout.
.

Ahhhh...the memories...