Home
›
Testing Forum
BS
Broadstruck
Posts: 30,497
✭✭✭✭✭
Rare Copper Lincoln Deep Die Cap Mint Error Very High Grade MS65RB
1978-D Lincoln Cent Die Cap Mint Error NGC MS65RB @ $1,650.00 Shipped
Die Caps are some of the most common errors within the mint, but the rarest to escape. On the Lincoln series they are generally only available on the post 1981 Zinc planchet cents mostly dating around 1999-2000. In copper they are very rare and even more so as a Wheat era cent which can easily fetch even $5-7K in cleaned condition. Around 2008 a small group of all Denver dated copper die caps hit the market dated between 1975-1979 as I recall. Mostly all UNC but many had spots or smeared by fingerprints. This example here was the most visually appealing along with being a complete tiny bowl and the highest graded of the bunch by a grade or two. Anyhow it's deep with a very mint red obverse with a almost full uni-face reverse and huge stretched Lincoln brockage on which you can see the multi strikes as his nose is doubled. Missing the Memorial reverse this copper die cap filled a void without having to spend upwards of $20K for a Wheatie.
1888 5C Liberty V Nickel Semi Key Date NGC AU58 Off Center @ $950.00 Shipped
Tougher semi key date super slider not just within the series, but also at this grade level as a mint error. In a older non pronged NGC holder designated as Broadstruck however it's Off Center and would grade as such at PCGS should anyone care to cross it.
1906 5C Liberty V Nickel NGC MS62 PQ Uncentered Broadstrike @ $775.00 Shipped
1906 is a tough date to find as a mint error and this is lovely toned uncentered broadstrike which looks off center. Also housed in a older NGC non pronged holder.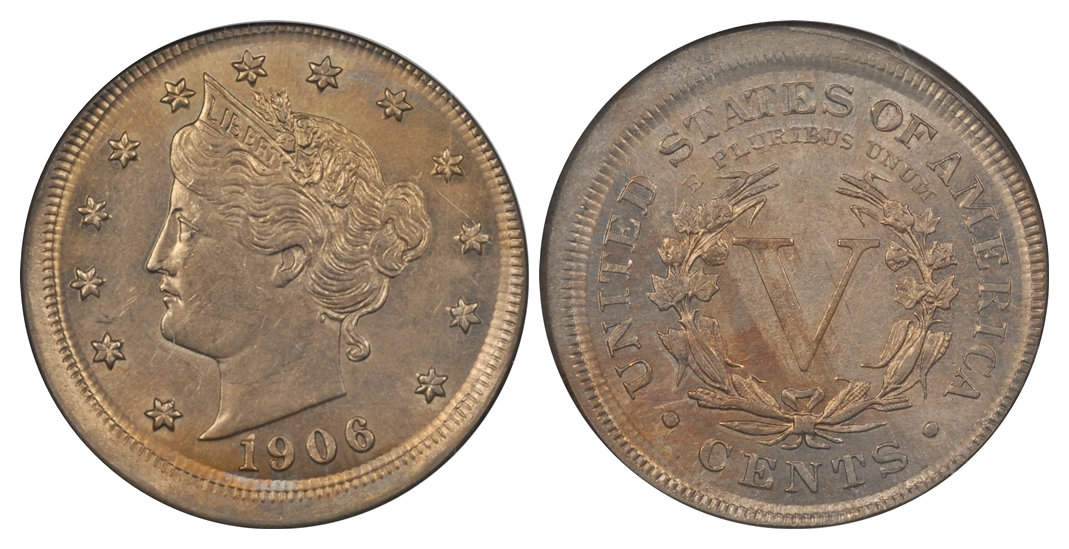 The following group of premium quality selected older non pronged holder dollars is fresh to the market. All in this offering visually exceed what is commonly seen these days at the same grade point. The PL and DMPL example could be poster children for the designations. Even if you do not like Morgan or Peace dollars these below might just win you over.
1880-S $1 PCGS MS-66PL OGH CAC @ $
Should be DMPL as this will make your jaw drop instantly in hand.
1842 Seated "No Motto" Dollar NGC AU58 CAC $ 2,000.00 Fully Shipped.
Dollars and Twenty Cent pieces are most molested of all the Seated coinage series.
This example is a very wholesome issue free early No Motto reverse type.
Never cleaned, wiped, and hairline free with trace light peachy pumpkin luster in the devices.
It has also been stickered by CAC for your pleasure.
Not what your looking for...
Well then send me a PM of what you seek?
I'm just getting ready to photograph a long overdue bunch of coins since a new recent PC purchase and might have that specific piece on my cameras copy stand...
You'll never know if you don't ask!
NOTE: All coins listed below are fresh to the market with none having been resubmitted for re-grades. Plenty of Rattlers & Old Green Holders as this is a Premium Quality listing with upgrade candidates if resubmitted. Every single coin has been CAC'd for your pleasure. All full slab photographs are Raw as no post photo editing has been done. Some have been photographed 1 F Stop darker so the coin can be seen well. Click on the photos to see a larger view. Please ask if you'd like an "In Hand" description or larger photos. Thanks for looking!
1880-S Morgan $1 Dollar PCGS MS-65 CAC 1ST GEN RATTLER @ $350.00
1881-S Morgan $1 Dollar PCGS MS-66 CAC @ 375.00
1904-O Morgan $1 Dollar PCGS MS-65PL CAC @ $595.00
1921 Morgan $1 Dollar PCGS MS-65 CAC @ $450.00
1923 Peace $1 PCGS MS65 CAC @ $895.00
General B/S/T Terms & Notes:
PM me for more details.
Coins above will all ship at my expense.
Over $1K will be mailed via USPS Registered Mail Insured, Priority 2 Day, or Next Day Air Insured.
Coins less then $1K will be mailed via First Class USPS Mail Insured w/ Delivery Confirmation.
Payment Options = USPS or Bank Money Order, Cashiers Check, Personal Check, E Check, & Paypal (no fee % up-charge).
Trades at times depending on if of interest to me may be considered.
All Checks must clear prior to shipment.
7 Day full refund minus any associated shipping charges unless mentioned otherwise in the description.
Extended terms available if your Piggy Bank is skinny, or hurt and healing.
As I can also offer extended 30-60-90 day terms, 1/3 down, no refund on layaway option.
A Reasonable Offer May Be Accepted on some items... the Key Word is Reasonable.
Full detailed in hand description on any of the items along with larger images available at request.
I'd greatly appreciate that posting of your most recent acquisition purchased from me on any forum board isn't done until the ink on the check is dry and you've happily received it.
I place a "On Hold" for three days max without a deposit on any item for members I've never dealt with, however if after this time period complete lack of responsive communication occurs, I reserve the right to offer the item to another active member.
Many Thanx in Advance!
111% Positive Transactions with Members =
123cents, 49thStateofMind, 777, a039, adamlaneus, agentjim007, acloco, Ahrensdad, AnkurJ, ArizonaJack, astrorat, ASUtodd, Barndog, BBN, BBQnBLUES, beartracks42, bestclser1, brg5658, Blackhawk, blu62vette, bobsr, Bootleg55, braddick, brokenCC, bstat1020, bsshog40, Cameonut, candy2012mustang, CarlWohlforth, Casey, chaze215, claychaser, cohodk, coinbuf, coindeuce, Coinerww2, coinlieutenant, CoinRaritiesOnline, Collectorcoins, ColonialCoinUnion, CommemDude, commoncents05, coinpictures, coinsarefun, cucamongacoin, dantheman984, DaveWcoins, Dave99B, DavidLawrence, dcarr, DCW, deltadimeman, DeusExMachina, disruptek, dizzyfoxx, DMWJR, DONNYJF, drddm, Dropdaflag, dunerlaw, DwaineO, EagleEye, Eagleguy, etexmike, erickso1, erwindoc, EXOJUNKIE, exposer, Fairlaneman, FilthyBroke, firstmint, fivecents, FredWeinberg, gecko109, Gerard, giorgio11, GoldenEyeNumismatics, guitarwes, Gluggo, Harry779, harvey85422458, holeinone1972, ianrussell, illini420, InYHWHWeTrust, Jamericon, jimbux61, jmj3esq, Jimscoins, jhdfla, joconnor, Jobessi, jom, jonathanb, Julian, joz350, kaz, keepdachange, keets, kieferscoins, KollectorKing, kyleknap, Lakesammman, lasvegasteddy, lordmarcovan, LRCTom, LeeG, LindeDad, LotsoLuck, lunytune2, MarkJude, messydesk, mercurydimeguy, metalmeister, MFH, mgoodm3, MICHAELDIXON, MidLifeCrisis, MisterTicToc, mkman123, Moonbiter, mommam17, monsterman, morgantype, MrEureka, mrearlygold, mustanggt, nencoin, NewEnglandRarities, njcoincrank, Nocerino18, NotSure, Numismatticadotcom, OffMetal, okiedude, OnlyGoldIsMoney, Oreol, oreville, ormandh, PawPaul, PonyExpress8, PQMorgans, PreTurb, ProofCents, pursuitofliberty, QuarterCollector, questor54, RaginsteveK, Realone, RG, RichieURich, richardshipp, RickMilauskas, ricko, RKKay, rld14, Ronyahski, RTS, RyGuy, rwyarmch, savoyspecial, ScarsdaleCoin, SeaEagleCoins, seanq, SeattleSlammer, segoja, Shortgapbob, silvereagle, SilverEagles92, shylock, slcphan, SLQ, SmallTownCoins, Smittys, SNMAN, SomeGuyFromMichigan, Sonorandesertrat, soty27, Southcounty, spacehayduke, SpaceMonkey, SteveHayden, stephunter, SullivanNumismatics, Swampboy, Tdec1000, terribleredmonster, thebigeng, theboz11, ThePennyLady, Timbuk3, TJM965, TomB, twodrhrdtp,TwoSides2aCoin, tychojoe, tydye, valente151, Vbowling299, WaterSport, wayneherndon, whatsu, yellowkid, Youngcoin15, zas107, zeebob. (Your Name Here!)
To Err Is Human.... To Collect Err's Is Just Too Much Darn Tootin Fun!