Home
›
Buy, Sell, & Trade - U.S. Coins
1 onza Mex Silver! Rare and Harder to Find Proof Sets!!! 1950, 1970 no S, 1971 no S.

SurfinxHI
Posts: 1,295
✭✭✭✭
HI all,
I'm going to be listing several harder/rare proof sets for your consideration over the next little bit. These include a 1950 proof set with all original government packaging, a 1970 no "s" proof set (in original government packaging), and a 1971 no "s" proof set, in original government packaging, but the nickle has been graded (67+, PCGS -- just got it last made last week). All of these set have been in an old collection for the last 40+ years. There was also a 1936 proof set (see the proof set thread in the other forum for photos and grades of that set, if you'd like!). All of these are straight up, not messed with in the slightest, as near as I can tell. Given the grades for the 1936 set, I think these will be pretty good to go as well.
So, first up is the 1950 set. All original, all original packaging as well. The half dollar has broken free of its cellophane wrapper though. All of the coins look decent for what this is -- a 70 year old proof set. Some carbon spots are noted on the penny and nickel, and the nickel has some nice toning as well. The quarter has a few sweeps of purple and yellow toning, very subtle. The half is fairly clean, but has a bit of a mottled appearance. Ask for the set is $500, bid is $455. I'm at $450 plus $8 for priority mail shipping (I'll cover the insurance).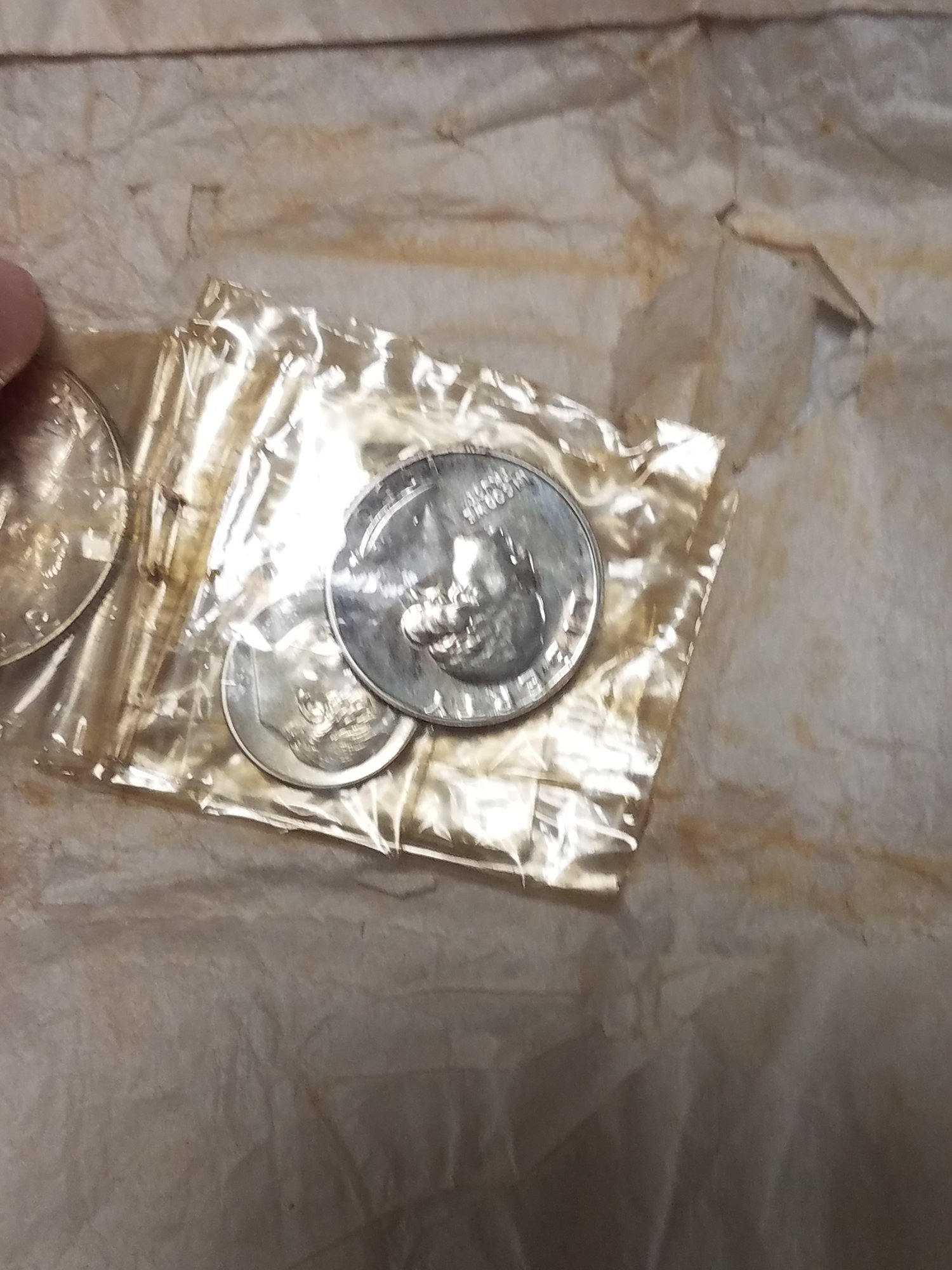 Next is a 1970 no S proof set. Originally bought back in the 1980s, it still has all of the stickers and originally pricing on the cover. The set is intact, has not been messed with at all. Sheet ask is $770, bid is $700. I would like to see this get to a new home for $650, since it is ungraded. Some scratches are present on the mint holder.
If you have any questions, or a counter-offer, please shoot me a PM.
The last one is a 1971 no S proof set, the nickel this time. Like the above sets, it was in a safe for the last 40 years or so. This one was sent for grading, and it came back as a 67+. The nickel is absolutely gorgeous, hints of blue/purple across its surfaces. I thought it would Cam, but I guess not enough frost. Oddly, these are all over the board in terms of pricing, and a reliable comp is difficult to find. $850 to get it to a new home! Photos soon.
Ive got a bunch of 1 onza Mexican Silver (18 pieces) listed over in the PM forum. BU, $21 each, compare with APMEX at spot plus $10. 1985 and 1984. Good looking pieces. Open to offers.
https://forums.collectors.com/discussion/1017346/the-official-april-2019-precious-metals-buy-sell-trade-thread#latest
Thanks,
Surf
Dead people tell interesting tales.