---
Welcome to my BST Forum "mini store"!
Terms of Sale & Shipping:
Unless you see the words "delivered" or "postpaid" in the description, please add what you consider to be an appropriate amount for shipping, including extra for insurance if desired. Generally I ask no more than a dollar or two for uninsured domestic shipments of one or two coins. Insured shipments require a 20-mile drive to the post office (as I live out in the country), so figure $4-5 or so, (more for valuable Registered Mail shipments). I usually prefer to send shipments under $50 value uninsured so I can mail them straight from my home mailbox instead of going into town, but that is up to you. I will package the coins securely in a bubble mailer either way. PayPal is fine. Customers outside the USA are welcome, but of course I'll need to charge you a bit more for shipping- just shoot me a PM and we'll figure that out.
If you use PayPal, PLEASE add your forum name to the payment so I know who you are and what you are buying!
Full return privilege if you are not 100% satisfied. My return privilege is very flexible, mostly because I've almost never needed one. The main thing I ask is that you notify me as soon as you can if there is a problem or concern of any kind, and I'll do my best to make it good.
Contact Info:
Should I ever disappear from the forums and the computer for several days to a week or more, as I sometimes do, and you need to reach me, feel free to call (912) 261-8408 and ask for Rob. I check PMs more than I do email, so emailing me in the event of a forum absence won't help much- usually when I am away, I am away from the computer entirely.
I love to swap!
I'll even let you haggle... a little. Reasonable counteroffers or trades? Put your best foot forward... I'm listening! If there's "wiggle room" somewhere, I'm OK with letting you haggle me down a few bucks. The operative phrase there is
a few
. Generally I've got more flexibility in the world coins than the US coins, but of course that varies. Don't be shy- I've been a swapper for decades and hagglin' don't bother me too much 'cause I got my start as a flea market dealer. (Ain't come up in the world too much since then, either, haha.)
A note about pictures:
I totally stink at coin photography. Part of that is substandard equipment, part of it is improper lighting, and part of it is just plain inexperience. (I do some pretty decent landscapes outdoors, but my indoor macro work is horrid.) I've recently reverted to using a scanner since with that at least I know I'll get detailed and well focused images, but the scanner doesn't work well on lustrous coins or some with a thick patina. On a few coins I wavered back and forth between scanner and camera and got wretched results both ways. If the picture you see looks good, odds are that I got it from the previous owner of the coin! But even a blind pig finds a few acorns, so once in a while I get a lucky shot. Please bear this in mind when you see the pictures below, and forgive me if I am constantly apologizing for the poor pictures. In the rare event you might want to reuse one of my pictures, that's fine- go right ahead.
Bullion Info & Misc:
I've added a bullion chart from Kitco.com towards the bottom of this thread, should you need it for reference. I'll probably add some other useful links there over time. Also, if you need info on a coin you bought here, I've started archiving these threads- Just do a search for "BST archives" on the Testing forum.
---
Enough blather, now- on with the COINS!
---
Below are some leftovers from my old Roman Imperial collection, which I was forced to break up when I got laid off in 2008. Since then, I've resumed collecting Roman coins (I love this stuff!) but now I'm focusing exclusively on the "Twelve Caesars" (Julius Caesar through Domitian). Got a nice Roman from that era to sell or swap? Let me know! Oh- and if you've always thought these kind of coins were interesting but have never collected any, don't be afraid- jump right in! They're not as hard to study as most people think, and the Web is full of free reference material. Also, they're often a lot less expensive than you'd think, considering the rarity of some of them.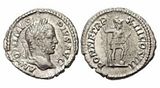 Roman Empire: silver denarius of CARACALLA (198-217 AD), struck 210 AD
CARACALLA
, Augustus 198-211 (with Septimius Severus and/or Geta), 211-217 (and sole ruler after he killed Geta, his brother). Rome Mint, struck 210 AD. Obverse- ANTONINVS PIVS AVG, laureate head right. Reverse- PONTIF TRP XIII COS III, Virtus standing right with spear and parazonium, foot on helmet.
RIC 117a, RSC 477
. 19.7 mm, 2.865 g. Ex-John Knudsen ("johnsim03"), 03/2011. (I've recycled his old picture- note that I'm asking 10% less than he was, originally.)
$70
.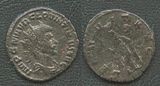 Roman Empire: bronze antoninianus of QUINTILLUS (270 AD)- scarce emperor- ruled less than a year
QUINTILLUS
, Augustus 270 AD. Obverse- radiate and draped bust right. Reverse- Securitas standing left, leaning on column and holding scepter.
RIC-31
, Cohen-63, Sear-11451 21 mm, 3 g. Ex-Incitatus Coins (Canada), 05/2007. Asking
$39
, which should be my cost or a little below it, but since online records of that purchase are gone and I don't remember what I paid, just make me an offer.
Roman/Palmyrene Empire: bronze antoninianus of VABALATHUS (266-272 AD), struck ca. 271 AD, desert patina
VABALATHUS
was king of the breakaway
Palmyrene empire
under his mother, Zenobia, ca. 266-272 AD. This was initially with the acquiescence of the Roman emperor Aurelian (who was busy fighting on other fronts), but Aurelian later conquered Palmyra in 273. This bronze antoninianus was struck at Antioch around 271 AD and shows dual portraits of Aurelian and Vabalathus, perhaps in expression of the Palmyrene hope that Aurelian would allow them to coexist. Obverse- VABALATHVS V CRIMDR, Laureate and draped bust right. Reverse- IMP C AVRELIANVS AVG, Radiate and draped bust right. (Which side is considered the obverse and which is the reverse is up for debate on a two-headed coin, but more folks probably use this type to represent Vabalathus in collections.)
RIC-381
. 20.62 mm, 3.3 g. Ex-Ancient Imports, 05/2007. Use this in a coin toss, and you'll always win, provided you pick "heads" every time! Asking
$69
, which is
my cost
.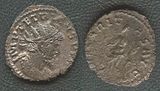 Roman/Gallic Empire: bronze antoninianus of TETRICUS I (ca. 270-274 AD)
TETRICUS I
was emperor of the breakaway
Gallic Empire
from circa 270 (or 271) AD until 273 (or 274) AD. (As is often typical of the Crisis of the Third Century,sources sometimes differ on the exact dates). He ruled with his son Tetricus II, until they were defeated by Aurelian and the Gallic provinces were brought back under the dominion of Rome. AE antoninianus. Obverse- IMP TETRICVS P F AVG, radiate, cuirassed bust right. Reverse- HILARITAS AVGG, Hilaritas standing left, holding palm and cornucopiae.
RIC-80
, Cohen-57. 19.6 mm, 2.3 g. Ex-Ancient Imports, 05/2007. Asking
$34
, which is
my cost
.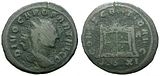 Roman Empire: bronze antoninianus of CARUS (282-283 AD), posthumous issue struck ca. 283 AD
CARUS
, Augustus 282-283 AD. Posthumous AE antoninianus, Siscia mint, ca. 283 AD. Obverse- DIVO CARO PARTHICO, radiate head right. Reverse- CONSECRATIO AVG, flaming altar, A to right, SMSXXI in exergue.
RIC-111 var.
, Cohen-23, Venera-4341. 21 mm, 3 g. Ex-Ancient Imports, 05/2007, Harmer Rooke 1988. Asking
$55
, which should be my cost or a little below it, but since online records of that purchase are gone and I don't remember what I paid, just make me an offer.
---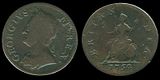 Great Britain: copper farthing of George II, 1754, VG
KM581.2, copper, 24 mm. This coin did not scan very well because it is such a dark brown. I had to tweak the colors and/or brightness in the picture and that ended up making it look a bit strange (and still too dark). In hand, it is a pleasant brown circulated example with nice surfaces. There are some faint old marks but overall the eye appeal is good for a low grade piece. Krause lists a 1754/0 overdate and there appears to be something going on beneath the 4 on this one, but it doesn't look like a 4 over a 0- it looks more like the 4 was repunched. Update- this
photo
only shows the obverse but it should demonstrate how bad the scans truly are. The coin actually has fairly decent surfaces for a lower-grade example.
$7
.
Great Britain: copper halfpenny of George III, 1799, G
KM647, copper. 31 mm approx. A one-year type, KM647 has several subvarieties that have something to do with the number of gunports on the ship (five, six, nine,
none
, etc.), and whether those gunports are raised or incuse. Which is something of a joke, even on coins in better shape than this, as the ship is but a tiny blip on the horizon. Counting gunports on a piece in this grade? Fuhgeddaboutit- who cares? All the varieties are relatively similar in value, anyway. Just call this another nice, cheap oldie. Yes, there is a rim nick but the scanner exaggerated it- it's not inconsistent with the grade level, if you ask me. The coin has pretty nice surfaces overall. "Just honest wear", as they say.
$5
.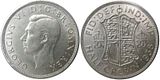 Great Britain: silver halfcrown of George VI, 1938, BU
KM856, .500 silver/.2273 oz. Nice white UNC with cartwheel luster not seen in the picture. Gradewise, I personally would estimate it to be either a high-end MS63 or maybe even a more typical MS64. There are a few small marks so it's no MS65, but it's definitely one of the nicer 50% silver halfcrowns I've had.
$27
.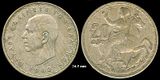 Greece: silver 20 drachmai of Paul I, 1960, VF
KM85, .835 silver/.2013 oz. The obverse of this piece features a left-facing bust of Paul I and the reverse portrays Selene the moon goddess on horseback, riding over waves and dolphin. This is a typical circulated example and there's nothing really special about it, but it's silver, and the reverse design is kind of nice. I'll ask
$8
, which is slightly less than the melt value as of this edit (7/18/11).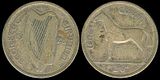 Ireland: silver halfcrown, 1928, VG
KM 8, .750 silver/.3409 oz. Well worn with an old stain or two, but not displeasing. For once I'll say my scans portray the coin accurately. 1928 was the inaugural year for modern Irish coinage under the post-independence Irish Free State. The obverse features the harp common to all Irish coins, and the reverse an Irish Hunter horse. I'll price this piece a little less than its melt value (as of 7/18/11).
$13
.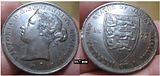 Jersey: 1/12 shilling of Queen Victoria, 1877-H, AU+
KM8, bronze. 240,000 minted. This coin is lighter brown than the poorly-focused pictures indicate. There's some faint rim chatter but not enough to call a real problem, I'd say. It's a sharp About Uncirculated piece and I'd frankly be surprised if a third-party grading company didn't assign it a grade somewhere between AU53 and AU58. I'll split the difference and call it AU55, in my opinion. The surfaces are quite nice and it's a very handsome piece in hand. The Fourth edition Krause lists an UNC at $50. I'll ask
$26
for this one.
---
Psst! Are you a "holey" coin weirdo like me? Don't worry- I won't tell your dirty little secret. Just PM me if you wanna make a bulk package offer on all of the holey duplicates I've listed below- I'll cut you a bargain.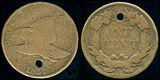 USA: "holey" Flying Eagle cent, 1857
This one is a castoff from my famous "Holey Coin Vest" because I upgraded to one with UNC details. I reckon it's probably got Good (G4) details. Whoever holed it was paying attention to the reverse, since the hole's at the top of that side. He spared the date by drilling inwards from the rim a bit, though. An undamaged G4 lists for $28 in the 2011 Red Book, so for this one I guess I'll ask
$9
.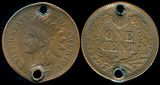 USA: Indian Head cent, 1867, better date w/VF details but two holes
As a longtime collector of holed coins, I subscribe wholeheartedly to the maxim that "one man's trash is another man's treasure". I love holey coins that are "heartbreakers" for other collectors, but even I have to say "ouch" over this one. Of course when somebody murdered this coin, no doubt for a bracelet or watch fob, he didn't know that future collectors would lament this. It was just a penny to him. The coin has full LIBERTY and some veins in the feathers. If it were unholed, this would be a $135 piece by the current Red Book. As-is, well, who knows. What's it worth to you? The bottom hole goes through the 6 in the date but does not completely obliterate it. Even if it were gone you could tell this is a Type 1 Indian (the last feather in the headband points between I and C in AMERICA), which would narrow it down to either 1867 or 1877. Boy howdy, if it were an 1877 that would be a
real
heartbreaker! Here's a cool semi-key Indian for someone who's not too picky- maybe even another one of you Holeyheads. (I'm not the only nut out there who collects this stuff, haha.) Price? I dunno. Let me pull a number out of thin air. If you don't like that number, pull one of your own out of thin air and PM it to me. Let's say... umm...
$22
?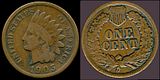 USA: Indian Head cent, 1905, G+ to VG
Nothing but your everyday humble, common Indian cent here. There's some old circulation scuz in places but the scans exaggerate the differences in color. In hand, it's an even brown with decent surfaces; just about what you'd expect for an inexpensive collection in a folder or album. The top half of the motto LIBERTY is visible, so it's not one of those flat G4 coins with just a silhouette for a portrait.
$2BU Lincoln/Wheat cents
- I've got a few I'll be posting below, but let me go ahead and say it now- these images are scans, and SCANS WILL NOT SHOW LUSTER. There, I've said it. Again. No doubt I'll repeat myself a few times before all is said and done, haha.
USA: Lincoln/Wheat cent, 1939, Red BU
A nice Red Wheatie. This one has begun mellowing just a bit to the right of the portrait, but only the tiniest bit- it is by no means a RB coin- and is still a full Red by just about anyone's standards. I'd say it's still probably 98% Red. The luster is fine. I personally called this one MS 64 RD when I had it out at my antique mall booth, but let's just call it MS63 RD to be safe.
$5
.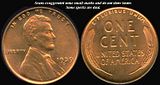 USA: Lincoln/Wheat cent, 1939-D, Red BU
Nice full Red coin with great color and luster. In hand, I see no reason this shouldn't go MS65 RD but let's just say MS64 RD to be safe.
$8
.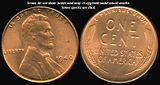 USA: Lincoln/Wheat cent, 1940, Red BU
Some very slight mellowing but still full Red. A few micro specks in the fields, which aren't quite so noticeable with the coin in hand- the scans exaggerated them a little. This is a fairly typical MS63 RD coin, I'd say.
$3
.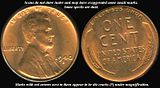 USA: Lincoln/Wheat cent, 1940-S, Red BU
Nice orange-red coin with full luster. I'd call it MS63 to MS64 RD. There are some marks near the top of the reverse which I think are die cracks. I marked them with tiny red arrows in the picture, but the arrows got kind of "melted" when the jpeg quality of the image was reduced.
$5
.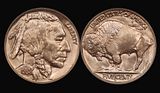 USA: Buffalo nickel, 1938-D in old "fattie" NGC MS65 holder
Has that nice goldish "liquid" luster which is frequently seen on these later-date pieces.
$49
.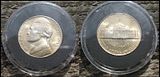 USA: silver Jefferson "War" nickel, 1945-S, BU in AirTite holder
This coin has nice luster I'd call "chatoyance". There's a sixty-four-dollar word for you. It comes from a French word describing the shifting, lustrous properties of a cat's eye, and is often used by jewelers when describing the "star" in cabochon gems. But I digress, as usual. It has a satiny sort of luster, in other words. I see no reason I wouldn't personally call this coin MS65 or maybe better, but let's just say MS64. It's not a Full Steps coin, as it has the typical mushy strike there. When I scanned it there was some weird green on the portrait. Either this was a strange artifact of the digital image, or there is a trace of PVC on the coin that the scanner saw when I couldn't. In hand, it looks just fine- the green stuff either doesn't exist or is invisible to the naked eye. You might wanna take the coin out of the holder and give it a quick acetone bath, just in case there is PVC there. In the end, I reimaged it with photos to try and catch some of the luster (they didn't, entirely), and I abandoned the awful scans. This is a handsome BU warnick and I think you'll like it. If not, I'll take it back.
$15
.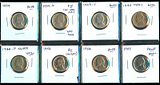 USA: Jefferson nickels, eight different including circulated 1939-D key date
This lot consists of the following: 1939 AU58, 1939-D F15 (sm. obverse scratch), 1939-S AU50, 1942 Type 1 AU50, 1944-P silver VF20, 1953 BU (MS63+), 1954 AU55, and a 1957 proof (PR65+). Though low grade, the 1939-D is a key date, of course. That coin does have a shallow, curved scratch that runs parallel to the bottom of the words GOD and WE in the motto, probably from old counting machine damage. It's fairly subtle, though, since it kind of underlines the lettering and is not immediately apparent to the eye. The 1939-S is a semi-key date and though very lightly circulated, it is a nice looking coin. The 1942 is a nonsilver Type 1 with some light brownish toning. The 1944-P is pretty typical but at least it gives you one silver coin in the lot. The 1953 is a pretty BU coin with light gold toning, and the 1957 is a proof which doesn't have super-deep mirrors but rather a more "liquid luster" look to it and some very subtle purplish toning. All in all this lot would possibly be a nice way of filling or upgrading a few holes in somebody's "everyman" nickel album.
$19
.
Here are some slightly larger scans:
(Obverses)
~
(Reverses)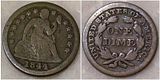 USA: key date 1844 dime, VG details
The 1844, popularly nicknamed the "Little Orphan Annie" dime, is as most of you know a true key date in the Seated dime series. This particular example has some old crisscross scratches on the obverse which will knock quite a bit off the price, but it does have solid VG details and medium-dark (perhaps original) toning which helps to mitigate the scratches somewhat. Most of LIBERTY on the shield is complete. Numismedia trends as of this posting are $180 in G4 and $240 in VG8. I'll ask
$145
. Or... do you wanna swap?
ON HOLD (Simply because I've... umm...
misplaced
it, for the moment... I swear it's around here somewhere...)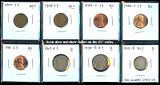 USA: eight-piece mixed lot, cents through dime, 1907-1956
This lot consists of the following coins: 1907 Indian cent (VG+), 1928 Lincoln/Wheat cent (VF+), 1945-S Lincoln/Wheat cent (Red BU), 1948-S Lincoln/Wheat cent (Red BU), 1956 Lincoln/Wheat cent (Red BU), 1907 Liberty nickel (G), 1934-D Buffalo nickel (G), and a 1912-D Barber dime (G). All are problem free and pretty much what you'd expect, I reckon. The 1907 cent looks almost Fine. I'd call the 1945-S cent MS63 RD. The 1948-S cent has some nice gold color and looks particularly nice, in my opinion- it's the prize of the lot, probably. I'd call both it and the 1956 cent MS65+ RD. The 1907 nickel is a pretty typical low grade piece but at least it has a full rim on the reverse. The Buffalo nickel and Barber dime are both typical low grade pieces.
$16
.
Here are some slightly larger scans:
(Obverses)
~
(Reverses)
USA: "holey" 1877 Seated Liberty quarter
Nice XF-ish detail and "CircCam" contrast. Yeah, it's a holey, but it's a
nice
holey. I'll price it below Numismedia G4 price, as of this posting (7/18/11). Without the hole, this would be a $70-ish coin, I reckon.
$21
.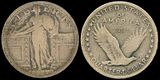 USA: 1917 (Type 1) Standing Liberty quarter, Fine
A handsome original coin with that "nice-dirty" look and no distractions.
$55
.
USA: Statehood quarters, five pieces 2008-P clad coins cut from mint set
These coins feature the designs from Oklahoma, New Mexico, Arizona, Alaska, and Hawaii. They are all dated 2008-P and are copper-nickel clad. Cut from a mint set, they remain in the original plastic. Despite the weirdly-colored scans, all are white and of MS65+ quality.
$2
.
USA: "holey" 1834 Capped Bust half dollar
A cool holey with VF+ to XF-ish details. Would likely be a $100+ coin without the hole. As-is, I'll ask
$50
, which is significantly below Numismedia G4 price (as of 7/18/11).
SOLD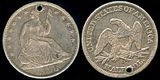 USA: "holey" 1858-O Seated Liberty half dollar
This one's got sharp AU-ish details and a tidy hole. Without the hole, this coin trends $162 in XF40 and $215 in AU50 on Numismedia (7/18/11). Coins like this are "heartbreakers" to mainstream collectors, but if you're whacked enough to love holeys (like I do), you've gotta admit this one's a beauty! I'll ask
$50
.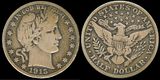 Raw VG-F Barber half wantlist
I'm collecting VG Barber halves in a Dansco album. Let me know if you have any I need! I'll happily trade anything off this list or buy from you if you have nice original grey VG-F coins for sale at or below VG prices. When I end up with duplicates I will add them below.
USA: Barber half dollar, 1909-S, VG
Here's a nice original grey circulated Barber half, recently a part of my VG Dansco collection. I just upgraded to one with a bit more detail in LIBERTY on the headband, but this one's got four letters ("LI...TY") present.
$18
.
---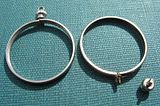 Screw-top coin bezels in assorted sizes
The cent-sized bezels are gold-colored while all of the others are silver colored. I would not recommend these for valuable coins, obviously, but they make nice inexpensive mounts for cheap keepsake coins. A few years back I took some of those gold-plated Statehood quarters from my home state and put some in these bezels, and they sold very nicely at my antique mall booth. I gave my lady boss a Peace dollar in one of these as a Christmas gift, and she was happy. Put some common Indian cents, Buffalo nickels, or Merc dimes in these and I'll bet you'll find them popular. Use needle nose pliers to gently open the crown screw, put the coin in, and screw the crown back on. Be careful not to overtighten or you could snap the stem off.
$2 each
CENT size (gold color): 9 available
NICKEL size (silver color): 10 available
DIME size (silver color): 10 available
QUARTER size (silver color): 22 available
HALF DOLLAR size (silver color): 8 available
LARGE DOLLAR (Morgan/Peace/Ike, not ASE) size (silver color): 8 available
Keychain attachment (the typical inexpensive kind you see on most novelty key rings): 4 available (just ask for one free if you buy a bezel).
---

---


-------------------------

~ Eclectic Box of 20 ~ Oddball Set ~ eBay ~