Home
›
U.S. Coin Forum
Charmy's BIG 2016 ANA ANAHEIM SHOW REPORT w/Tons of Pics!!

ThePennyLady
Posts: 4,288
✭✭✭✭✭
As most of you know, I haven't been attending many shows over the past several months due to my hubby's neck injuries from an off-roading accident back in April. So before I begin my show report, I thought I'd give you all an update on Lou.
When the accident occurred, Lou was given the choice of surgery to fuse C1 and C2 or trying a halo device to see if his C2 fracture would heal on its own. He chose the halo option because the surgery would greatly limit his neck mobility and would mean he could no longer pursue his passion of racing. Unfortunately, after a couple months, his neck didn't heal in the halo and he had to have the surgery after all.
There were no complications from surgery and he is recovering nicely, though it was horribly painful the first week when he had to begin using his neck and shoulder muscles to hold up his head again (the halo was doing that for him), but he has gotten used to it and isn't in much pain now. He will begin physical therapy in a couple weeks and can start driving again. The bad news is that his racing days are definitely over, but the good news is he survived and isn't paralyzed which could have easily occurred, so in spite of all this, we are very grateful.
He wears a hard neck brace during the day and a soft brace at night, though lately, around the house he prefers not to wear anything so he can try and strengthen his neck muscles. Here he is in his favorite place, the garage, in front of one of his favorite vintage games, a 1973 Baily's Bow and Arrow pinball machine!
Now that Lou is on the mend and no longer needs my daily assistance, I'm back to attending my usual shows, starting with the huge ANA in Anaheim! Yay!!!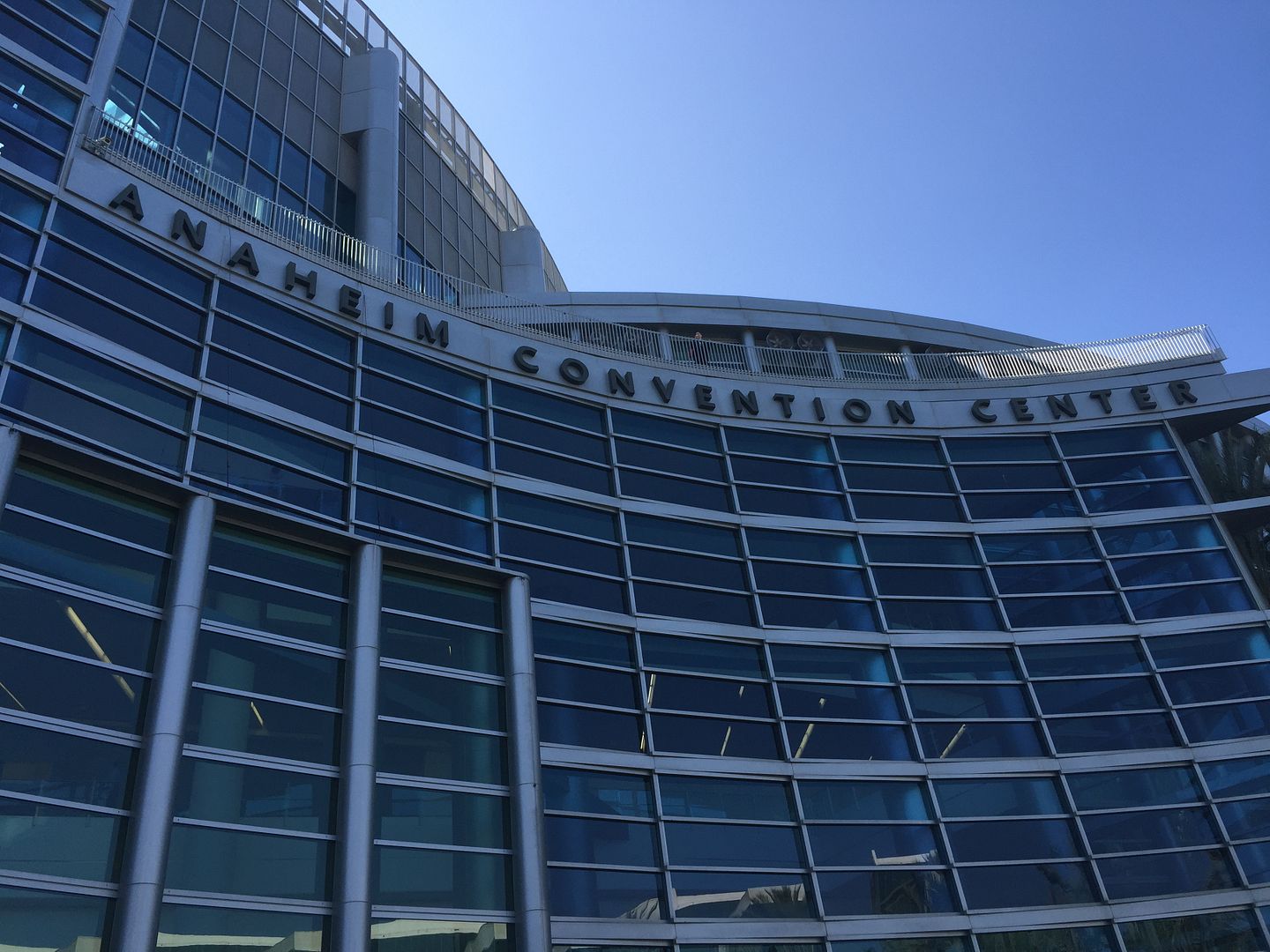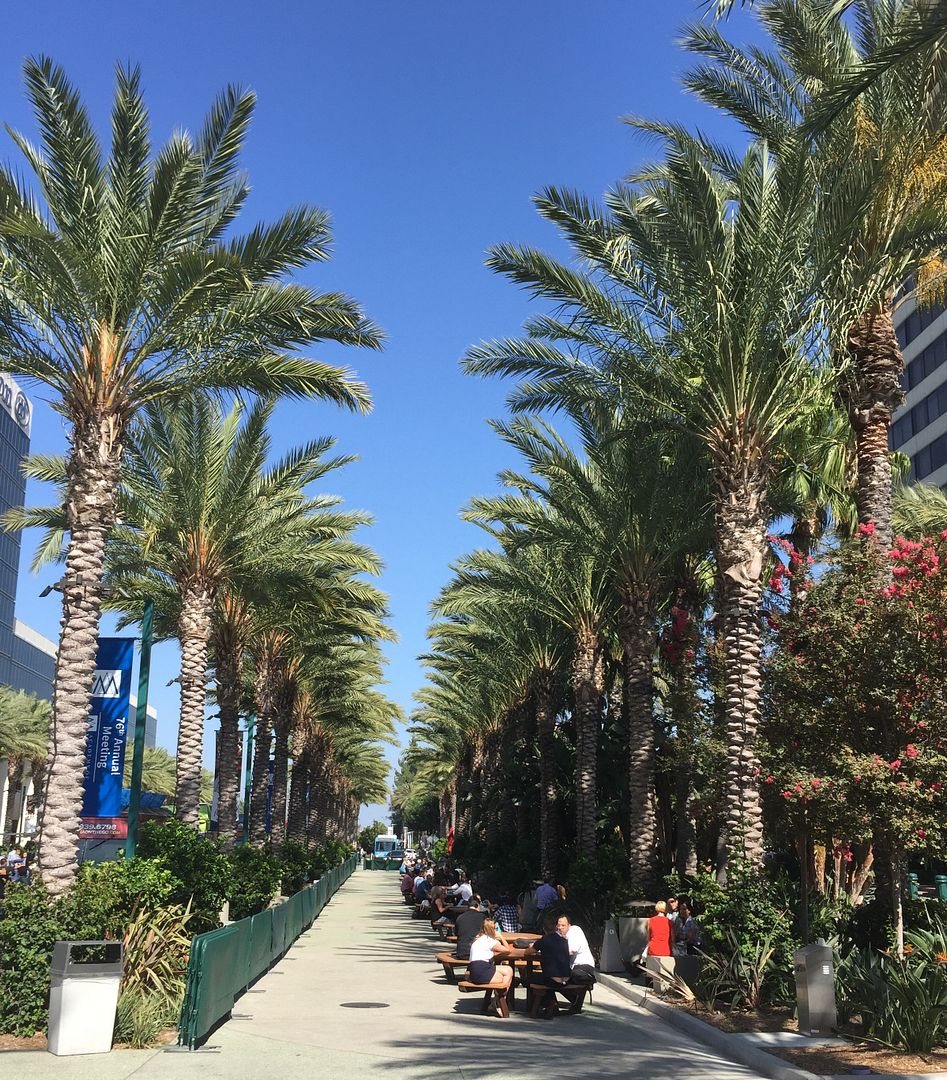 I signed up for a table at the PNG preshow for a couple of reasons. First, I wanted to get a jump on buying new coins for my inventory since I hadn't bought any new coins in quite a while. Second, since I was driving to the show and bringing more material than usual, I wanted to be able to get in through the loading dock area when it wouldn't be so crowded with all the other dealers on Monday afternoon.
So I woke up early Saturday morning feeling excited, packed up the car, and made the 20-minute drive to the Anaheim Convention Center. My very dear friend, Rich, who usually helps me at the Long Beach show and agreed to help me at my table during the ANA, arrived just in time to help me unload, wheel my cart through the loading dock to our preshow table. The preshow is held in the front quarter area of the convention room. These photos are of the rest of the bourse floor that is blocked off and not yet built up.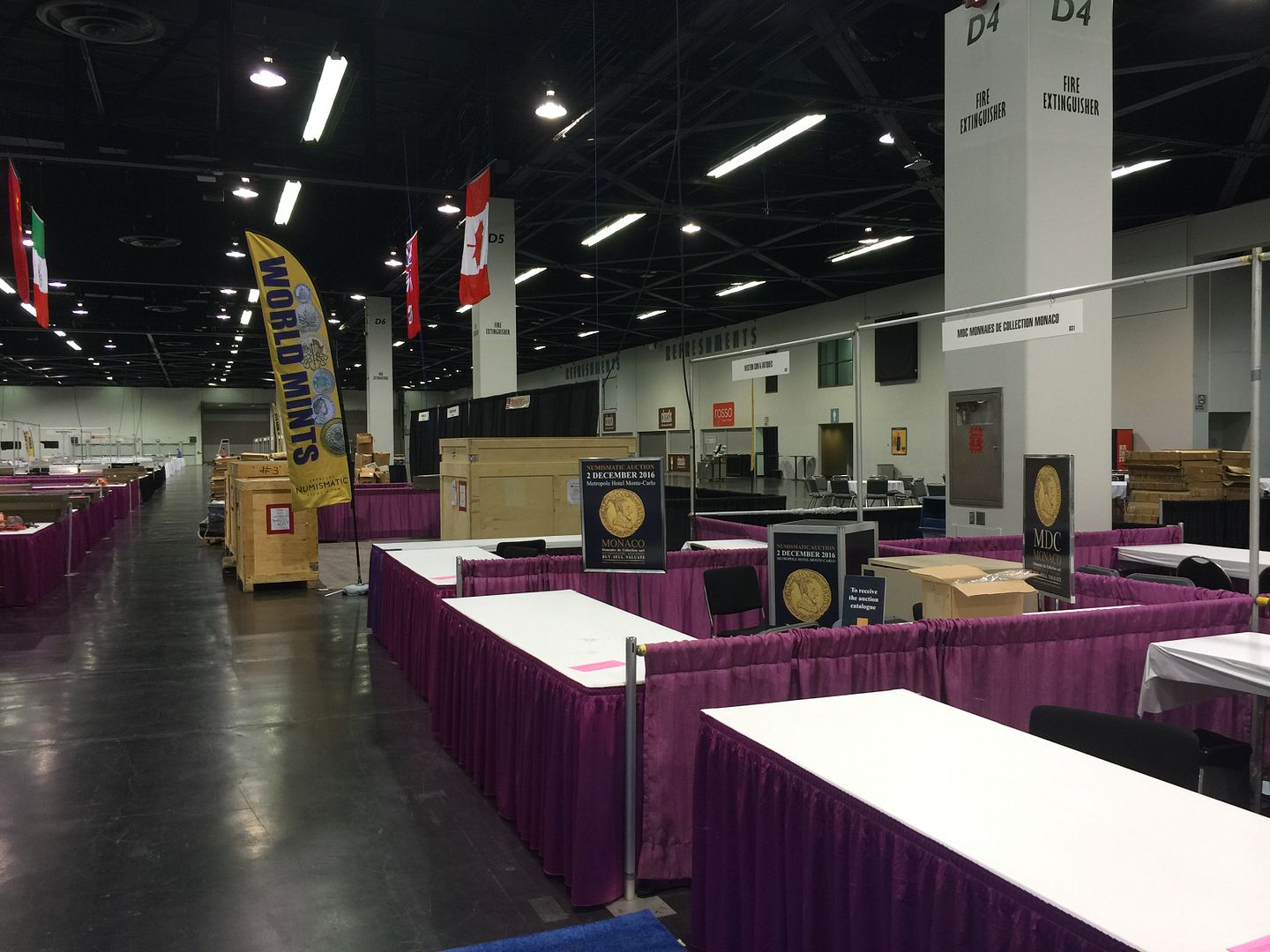 After my table was set up, I made my way around the preshow and stopped at several dealers' tables to see if I could add to my inventory before the show opened to the public.
These are the folks at David Kahn Coins where I found a few pieces to add to my inventory.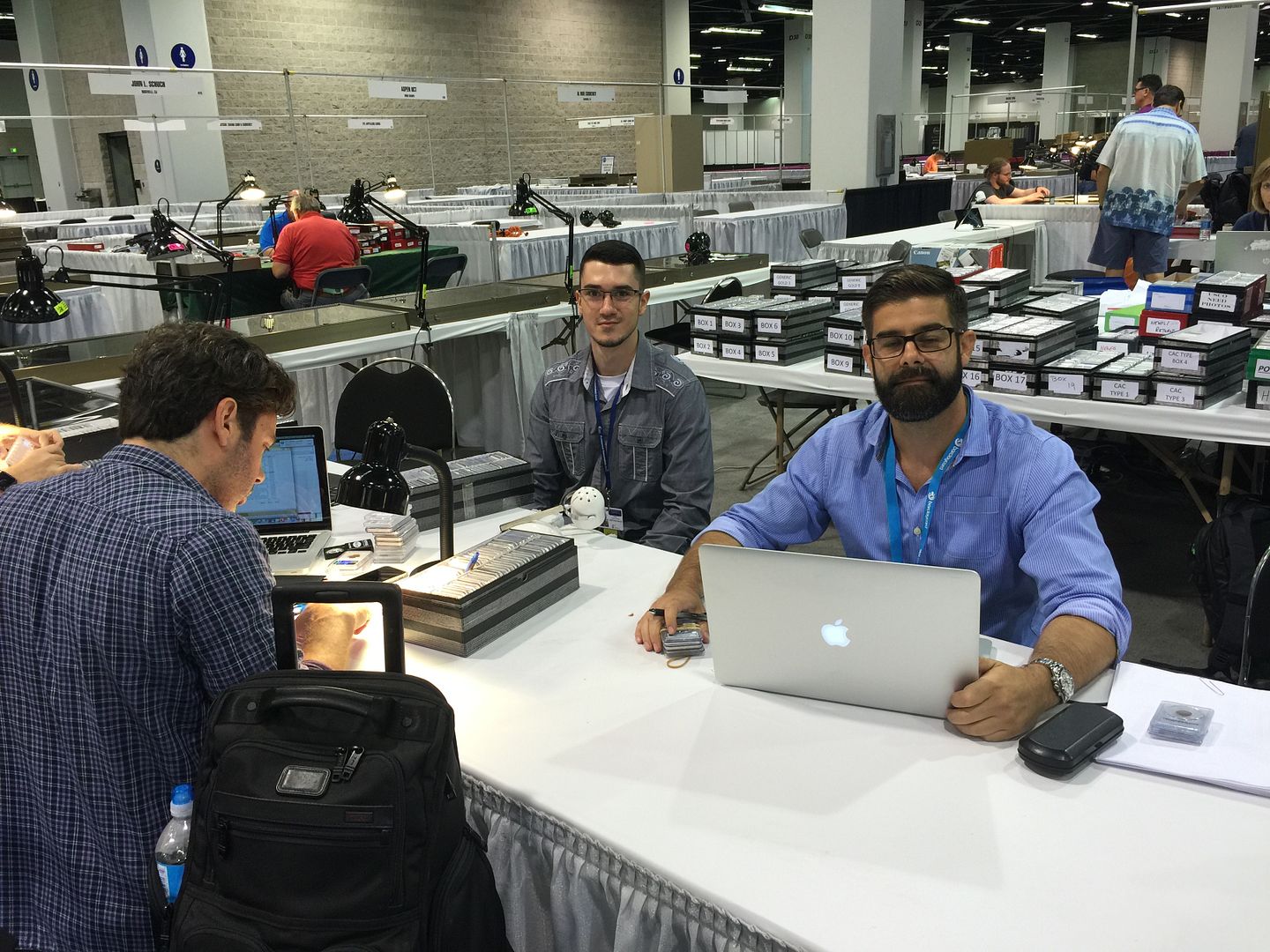 I also found a few coins at David Lawrence's table.
There was light public attendance at the show, but enough to keep me busy.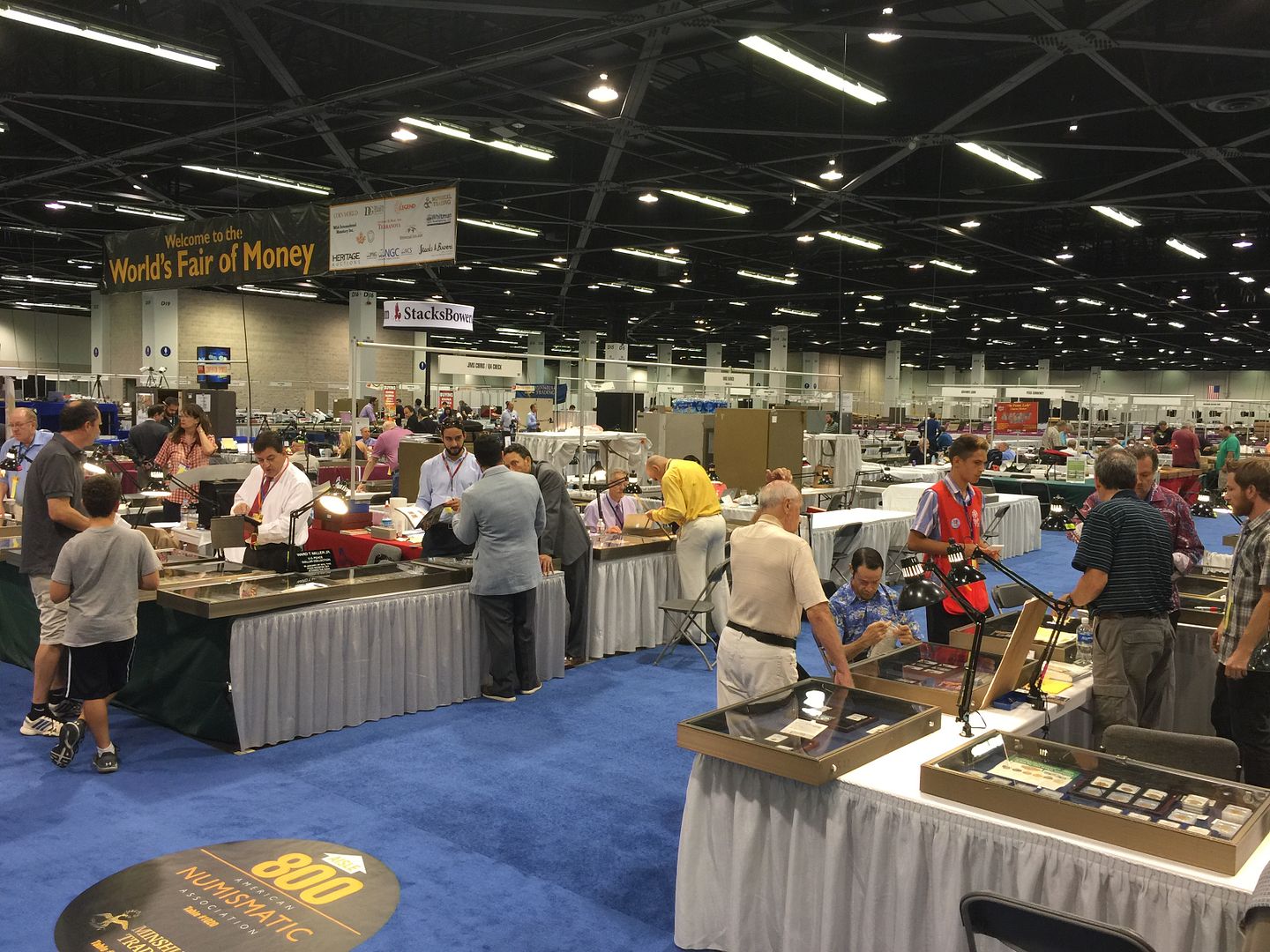 Even though I don't carry any paper money, I had to stop and say hi to my friend Peter Treglia at the Stacks Bowers table. Peter is also one of the members of my Dealer Relations Committee.
I found the cutest and most cheerful little page who was a great cleaner of cases!
During my hunt for inventory, I happened upon this very cool Indian cent error that I picked up for my personal collection!
By the end of the preshow, I was very proud to have amassed quite a few coins and filled in a lot of empty spots in my inventory!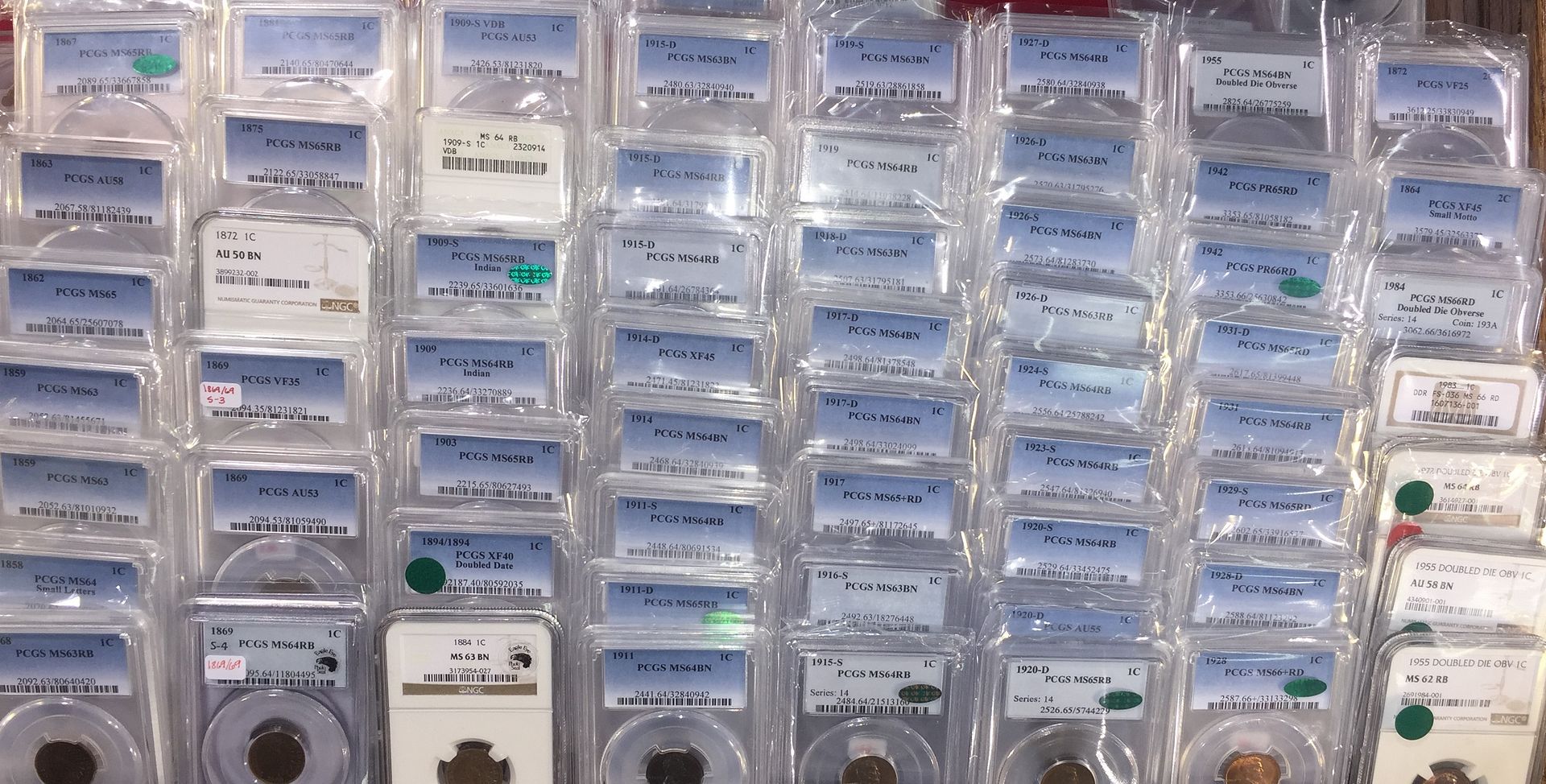 In the plaza area between the convention center and the Hilton Hotel several "roach coaches" set up to serve lunch. During one of the evenings, they also had live music playing. It was a very festive atmosphere.
I saw that CBS Sunday Morning featured the ANA World's Fair of Money on its weekly calendar!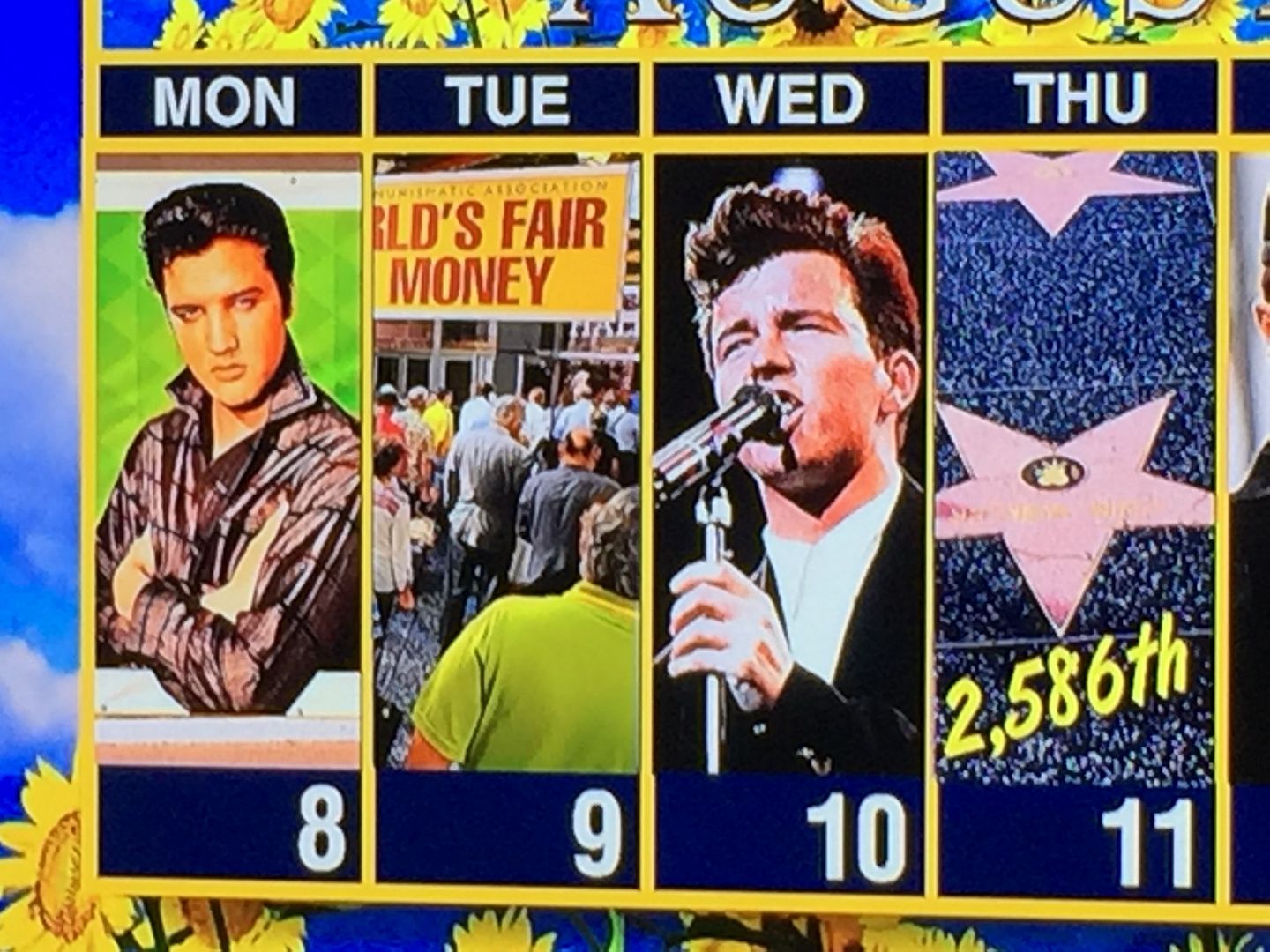 Monday morning was the PNG breakfast meeting. We received updates on various state legislation affecting coins and bullion. We also heard from an eBay representative about recent developments involving their coin category.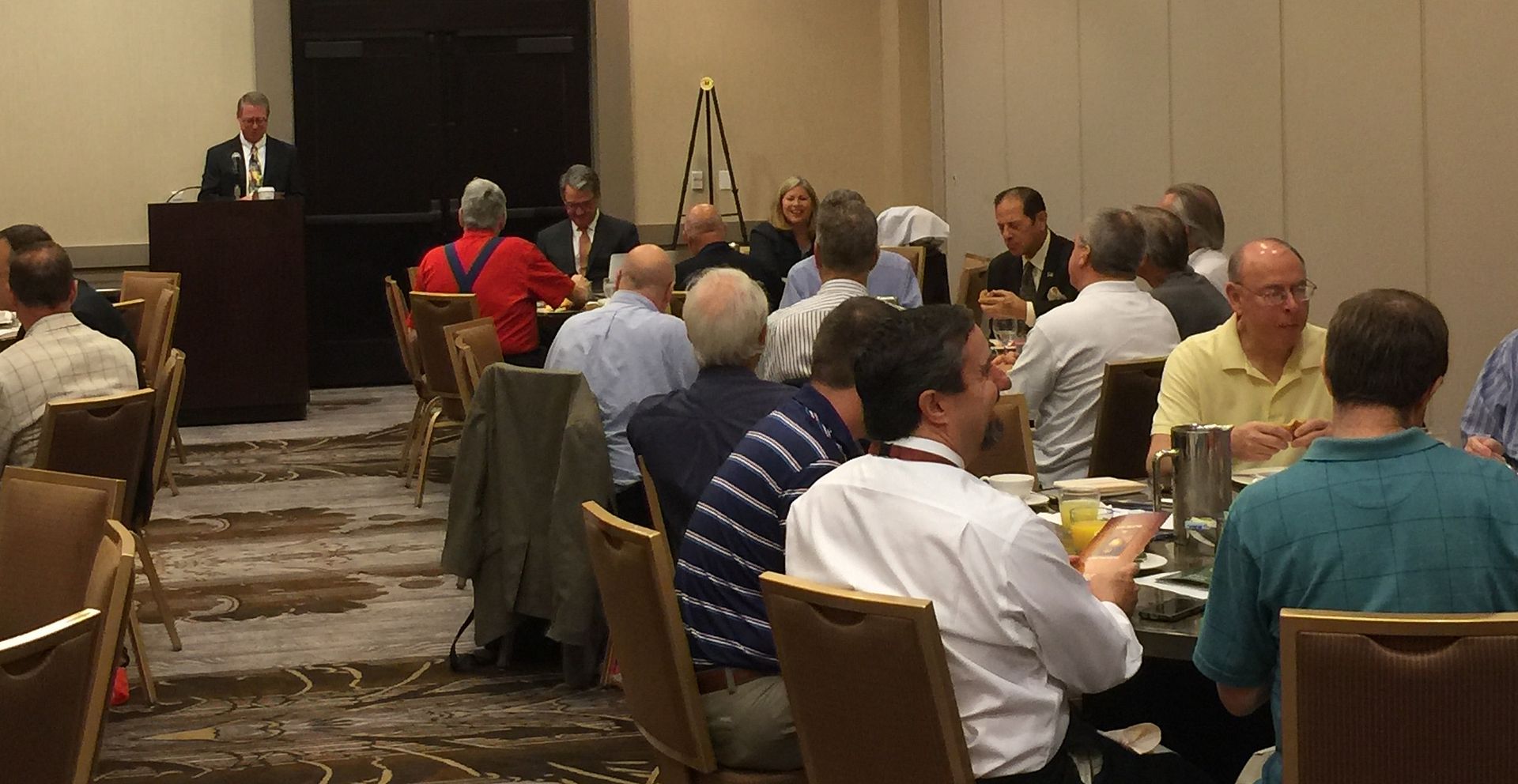 It was pretty quiet during the preshow on Monday, so it was nice to have the time to catch up with friends. This is Emily Silver (on the right, she used to be with the ANA) and her coworker, Marilyn Pecson.
The preshow ended at noon at which time non-preshow dealers and public had to leave the show, so the preshow dealers had time to move to their regular tables. I know this was a "bone of contention for some dealers" because if you were a preshow dealer and left the show during this time, you were not allowed back in until 3:00pm. I heard a lot of gripes about this policy, but I can see both sides. Luckily, I don't think it will be an issue next year.
After setting up my corner booth, I then set up my new exhibit, "Penny Pots and Pins Made by Offenders and Defenders." It included penny teapots and charms made by prisoners and penny WWII Victory pins made by soldiers. It was fun working on this exhibit because I was able to take my time, leave it up on tables, rewrite the text, move things around, , tweak it here and there, etc. It wasn't as large and involved as my last exhibit, but I did a lot more research and was proud how it turned out.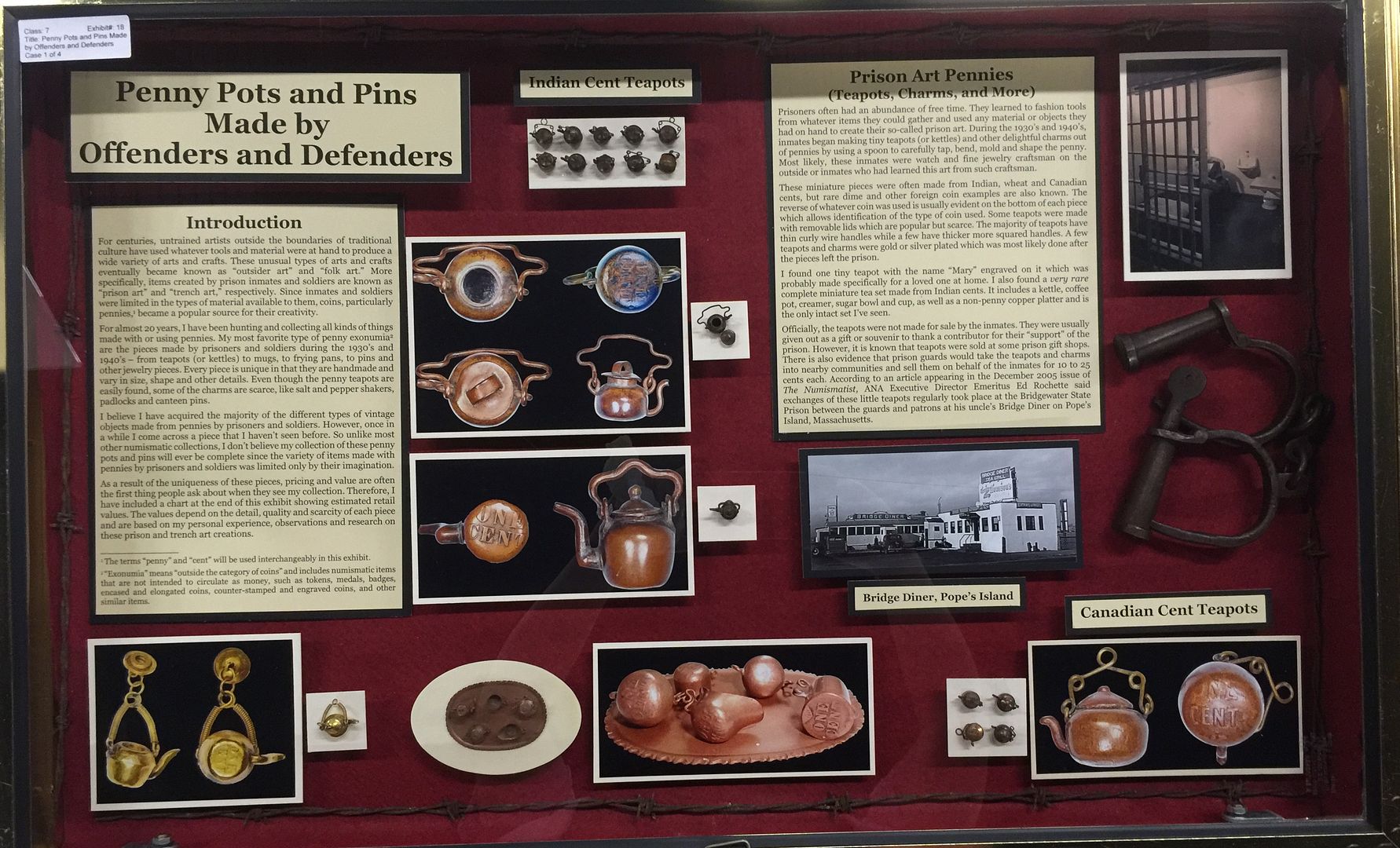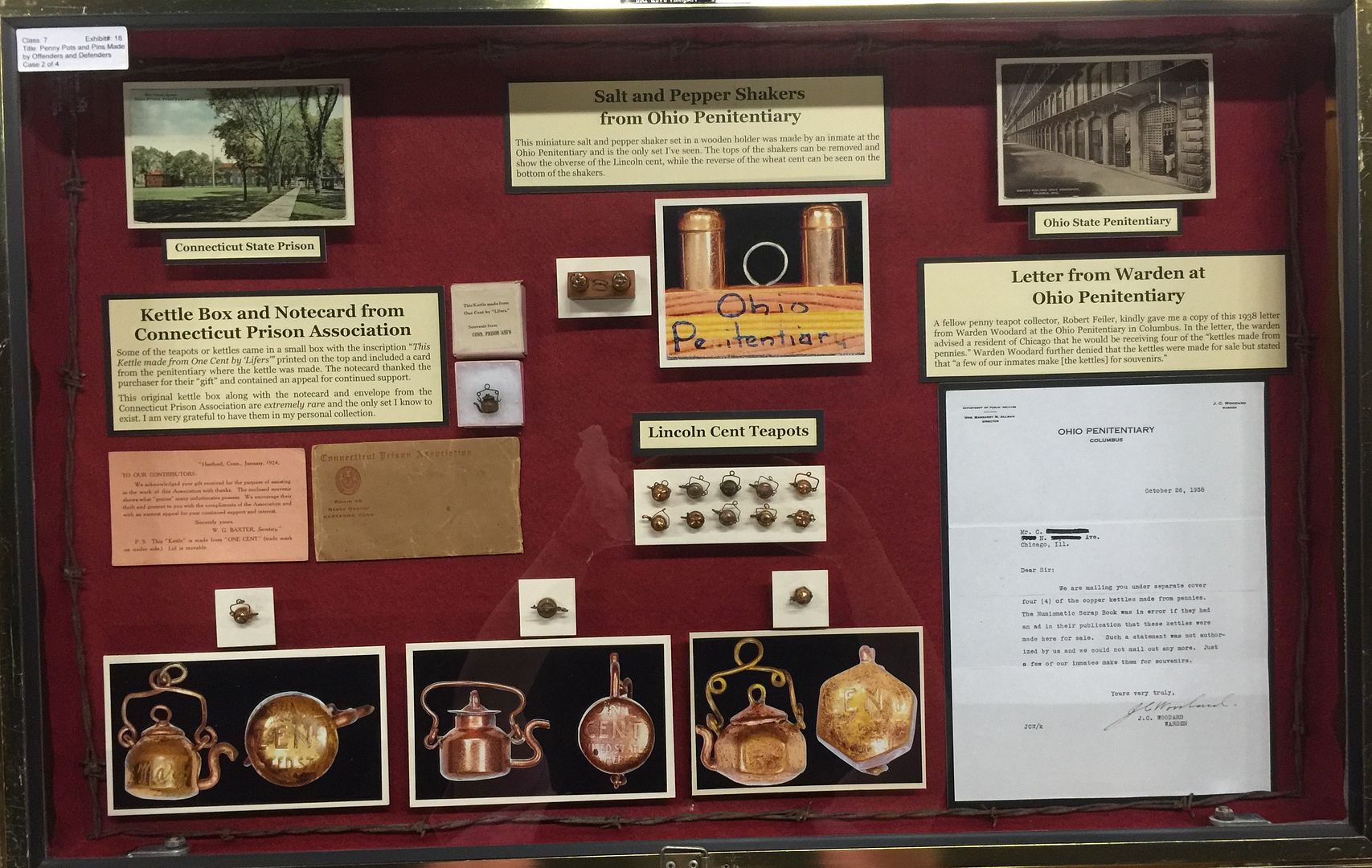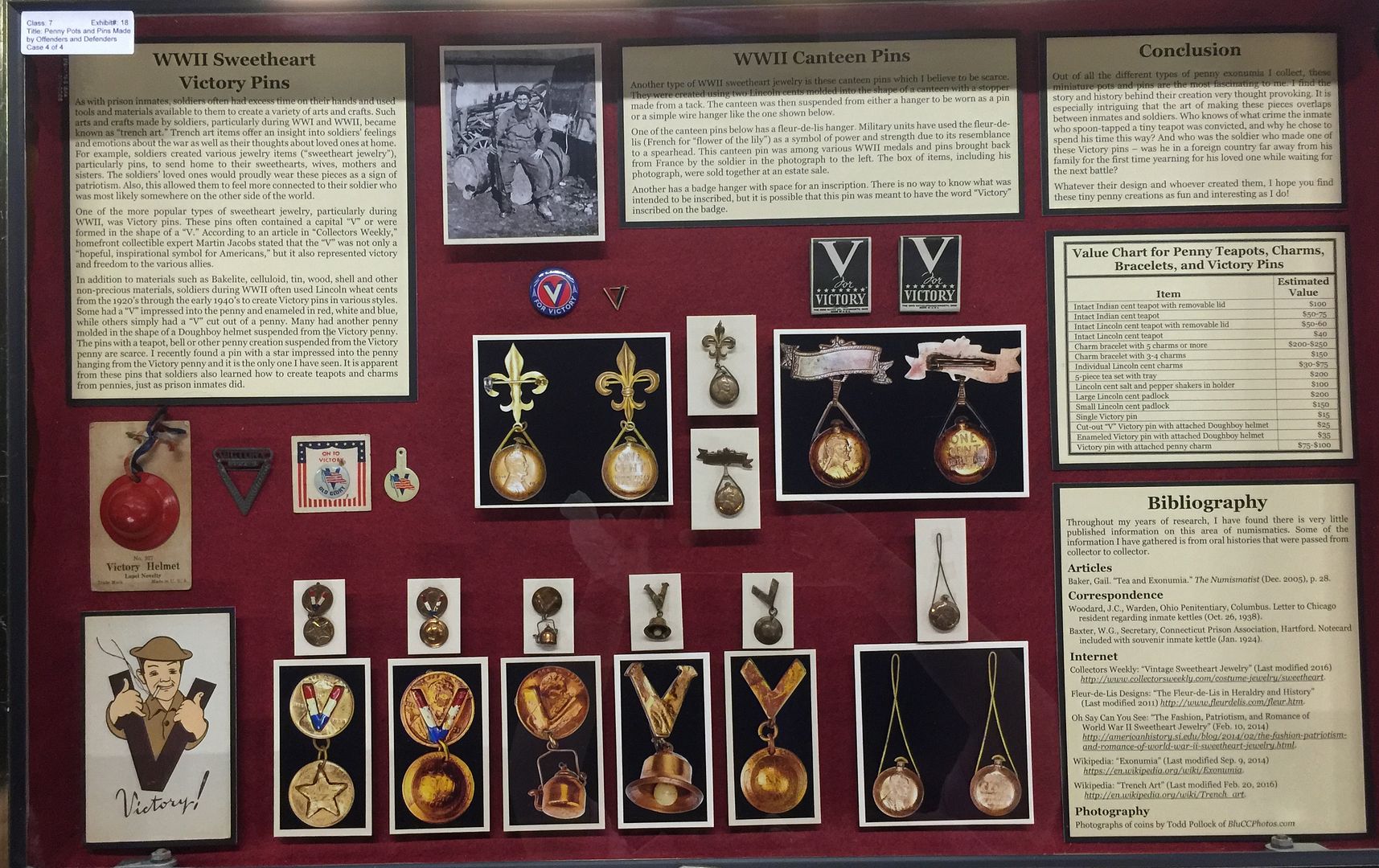 The rest of the dealers were let in at 3:00 p.m. to set up their booths. Next year at the ANA show in Denver, there will only be one PNG day on Monday, and then regular set up will be on Tuesday morning, with the show opening to the public some time later on Tuesday.
After the show, we attended the PNG awards reception and dinner at the Ranch Steakhouse. I'd never been to it before, but would gladly return.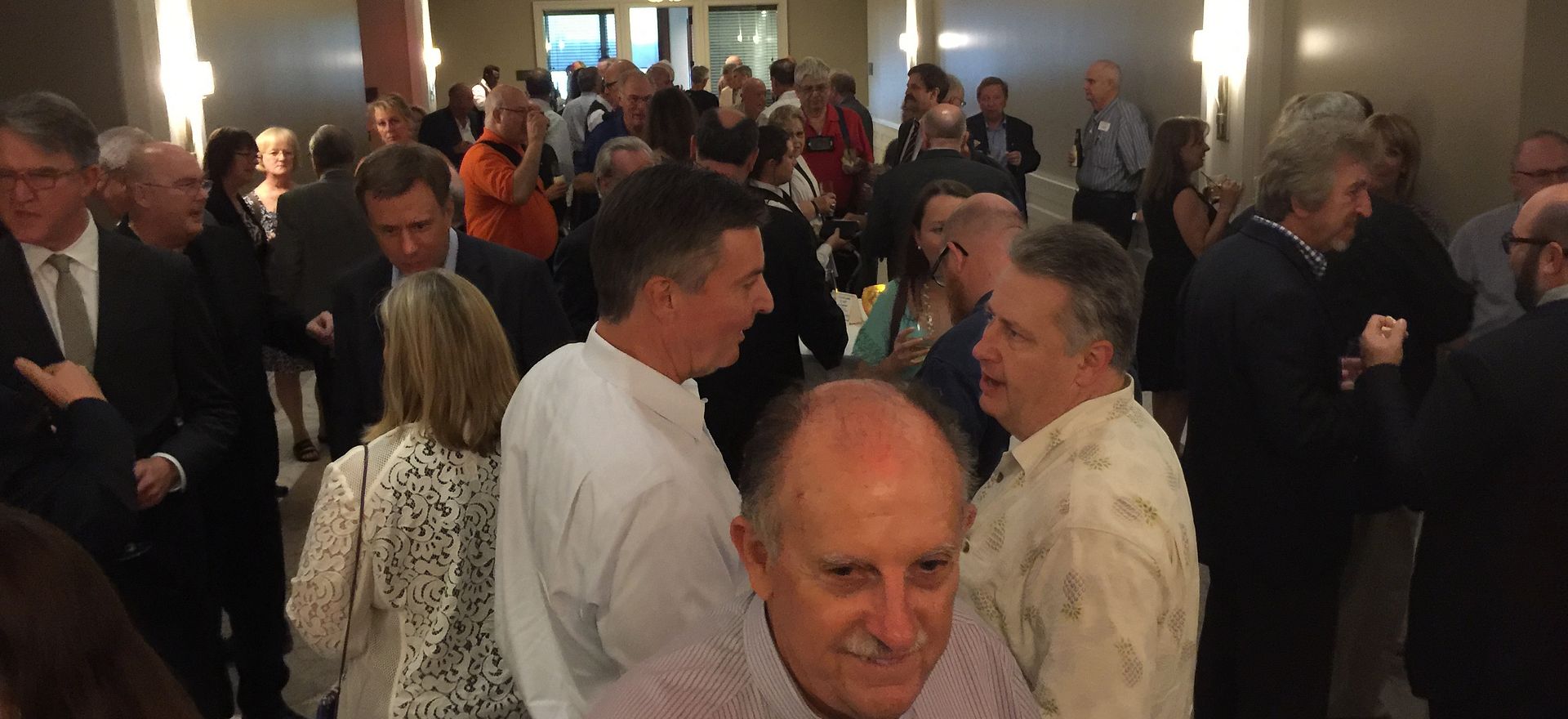 This is me and my best booth helper friend, Rich.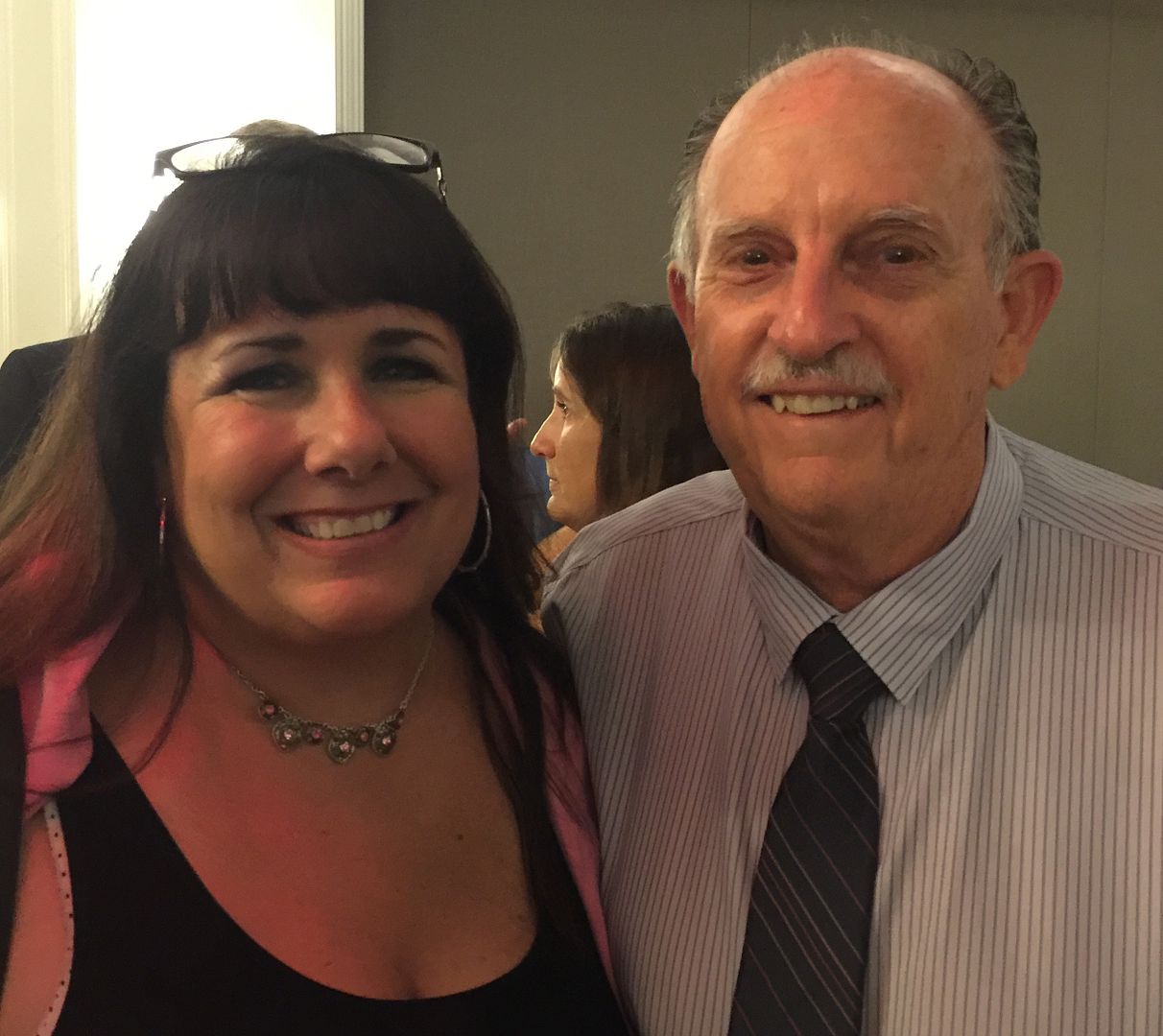 Me and Rick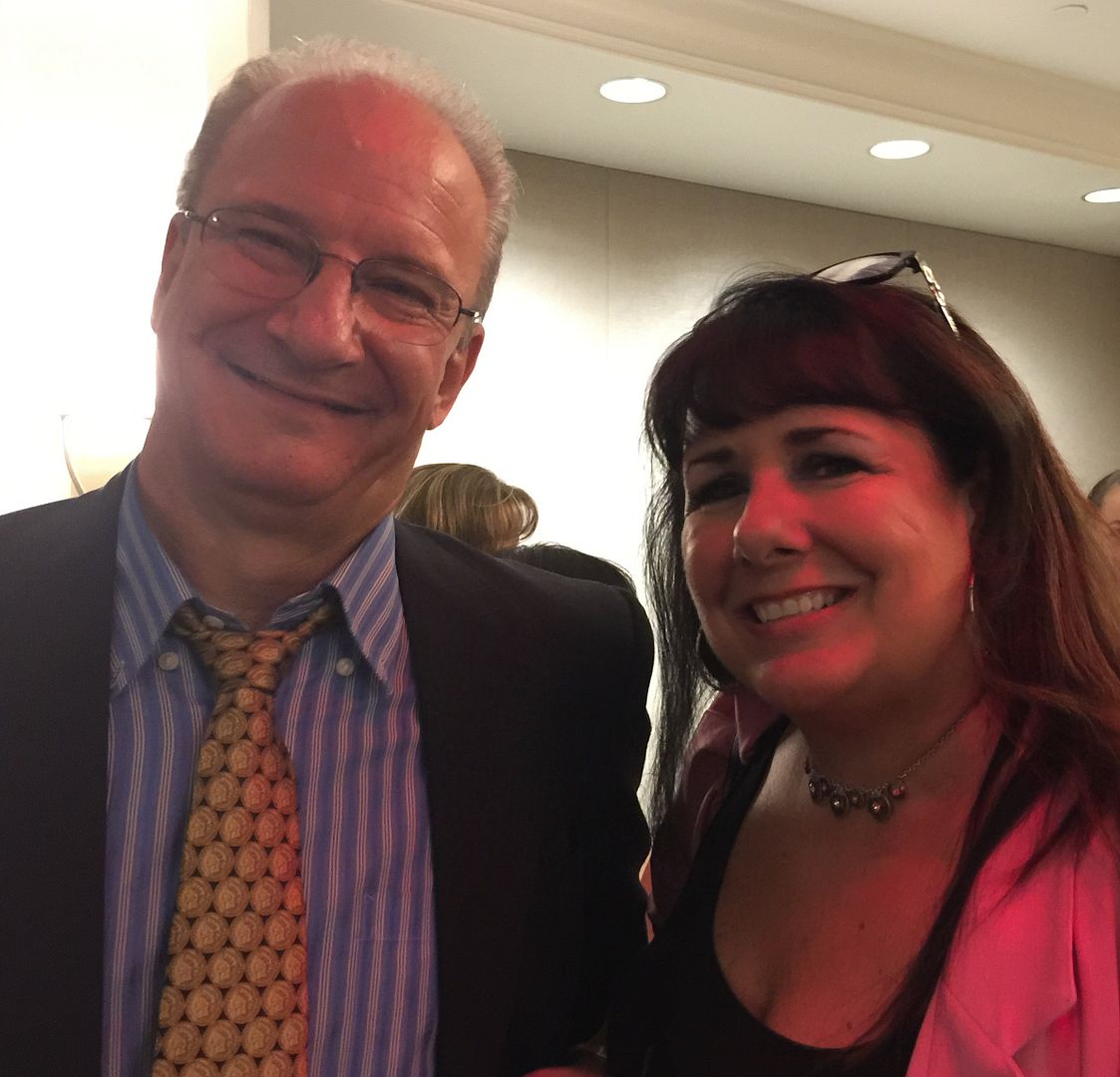 Rich with Rick Snow and Rick's son Kenny.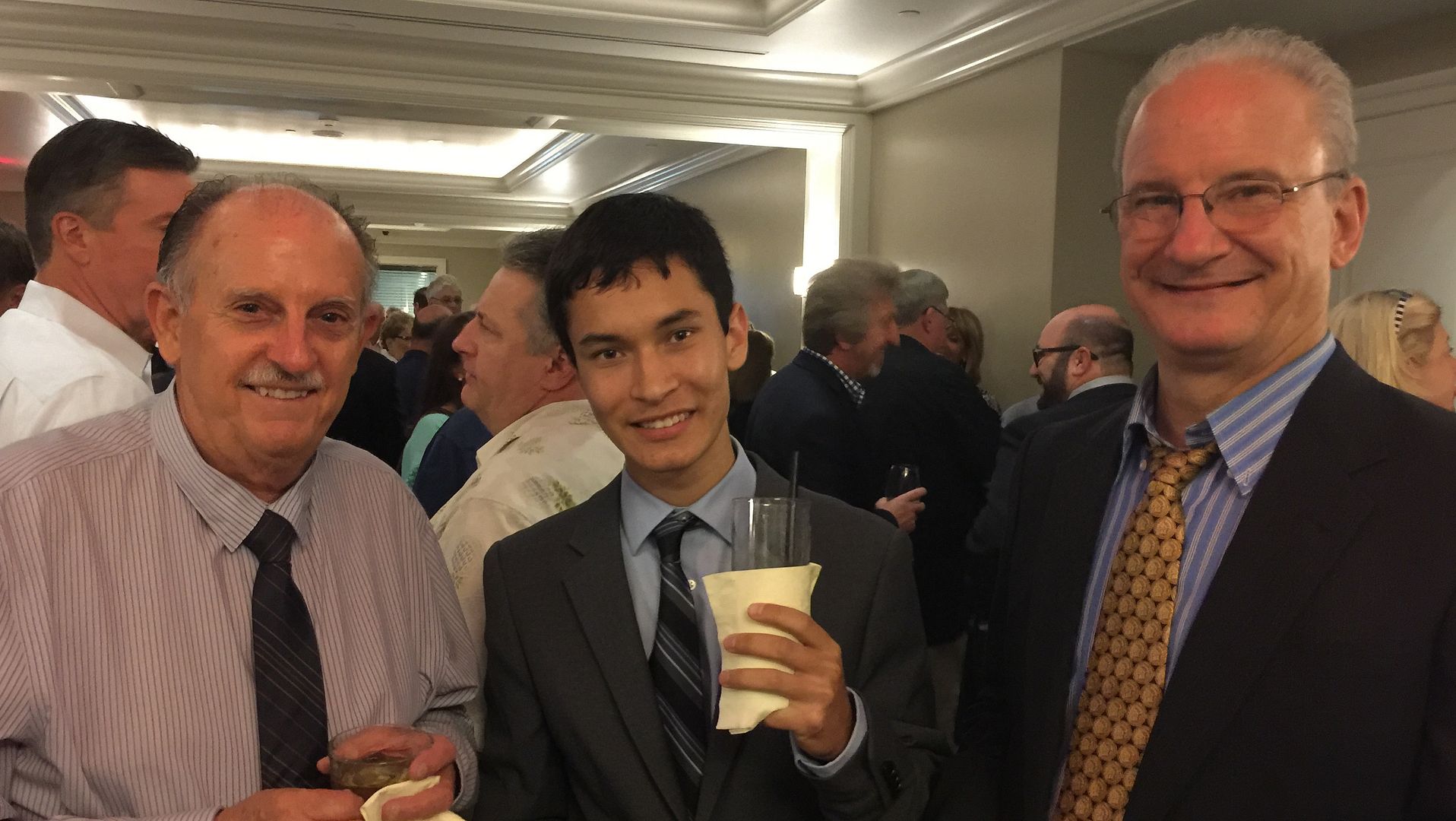 I ran into my good friend David Lange of NGC.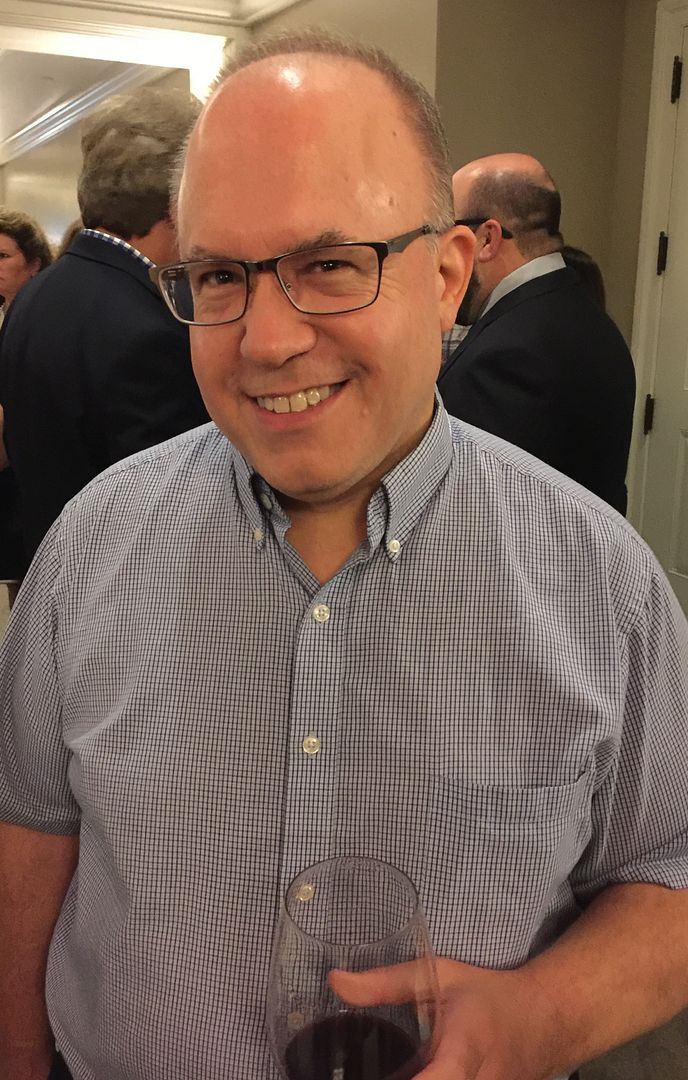 The view of the sun setting in the west from the restaurant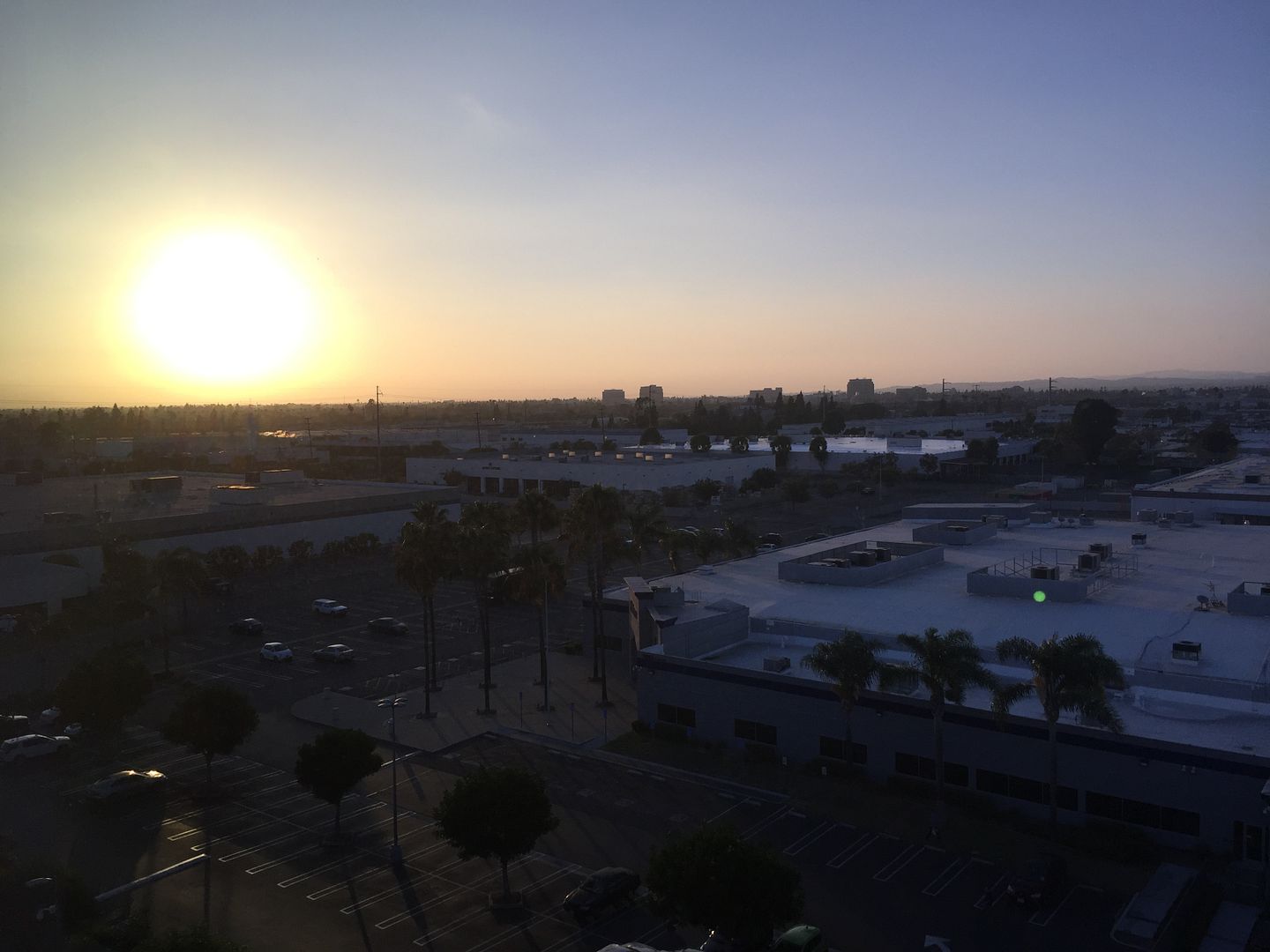 We dined with Fred Weinberg and his assistant Kathy who has been working for Fred for 35 years!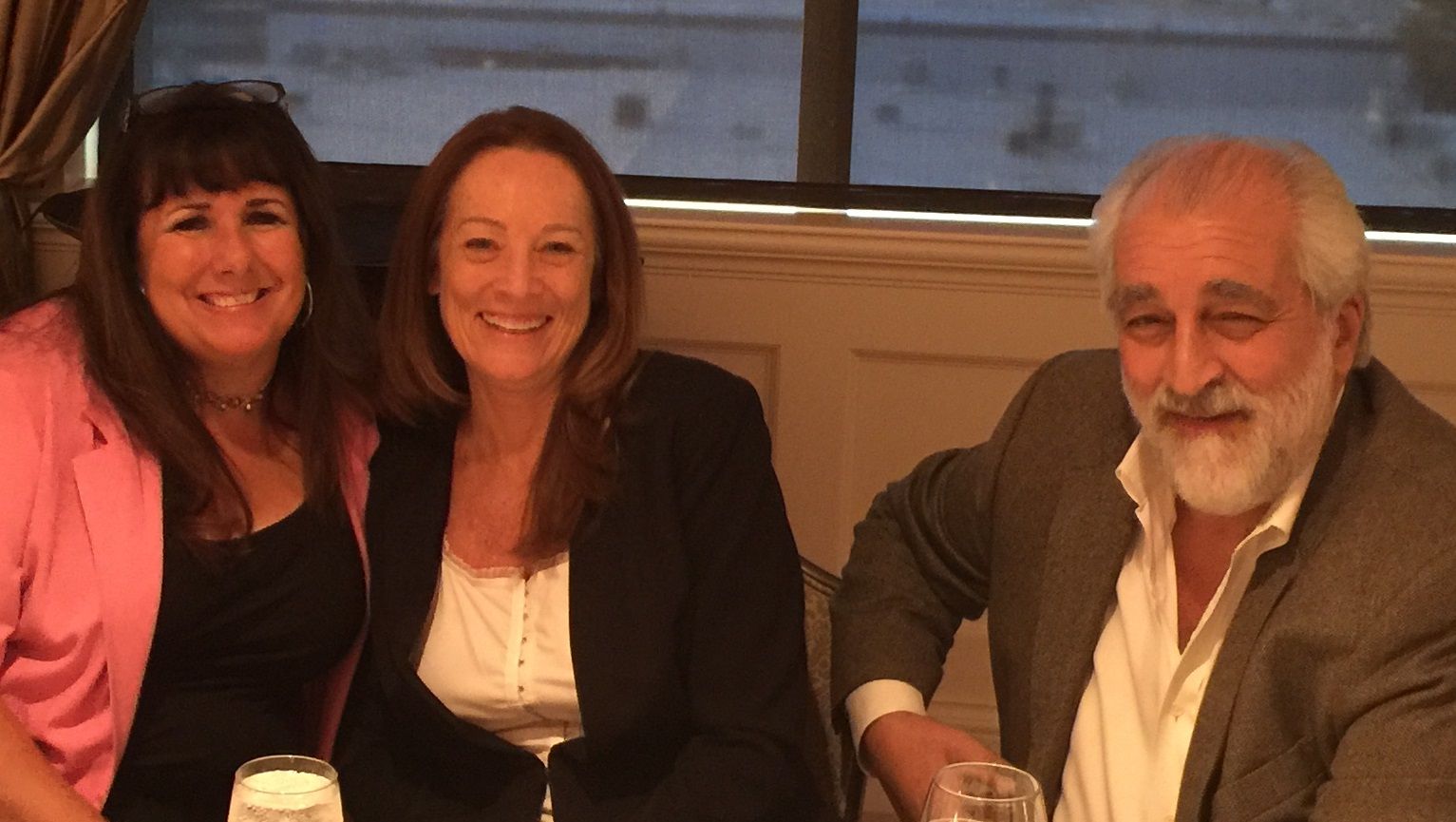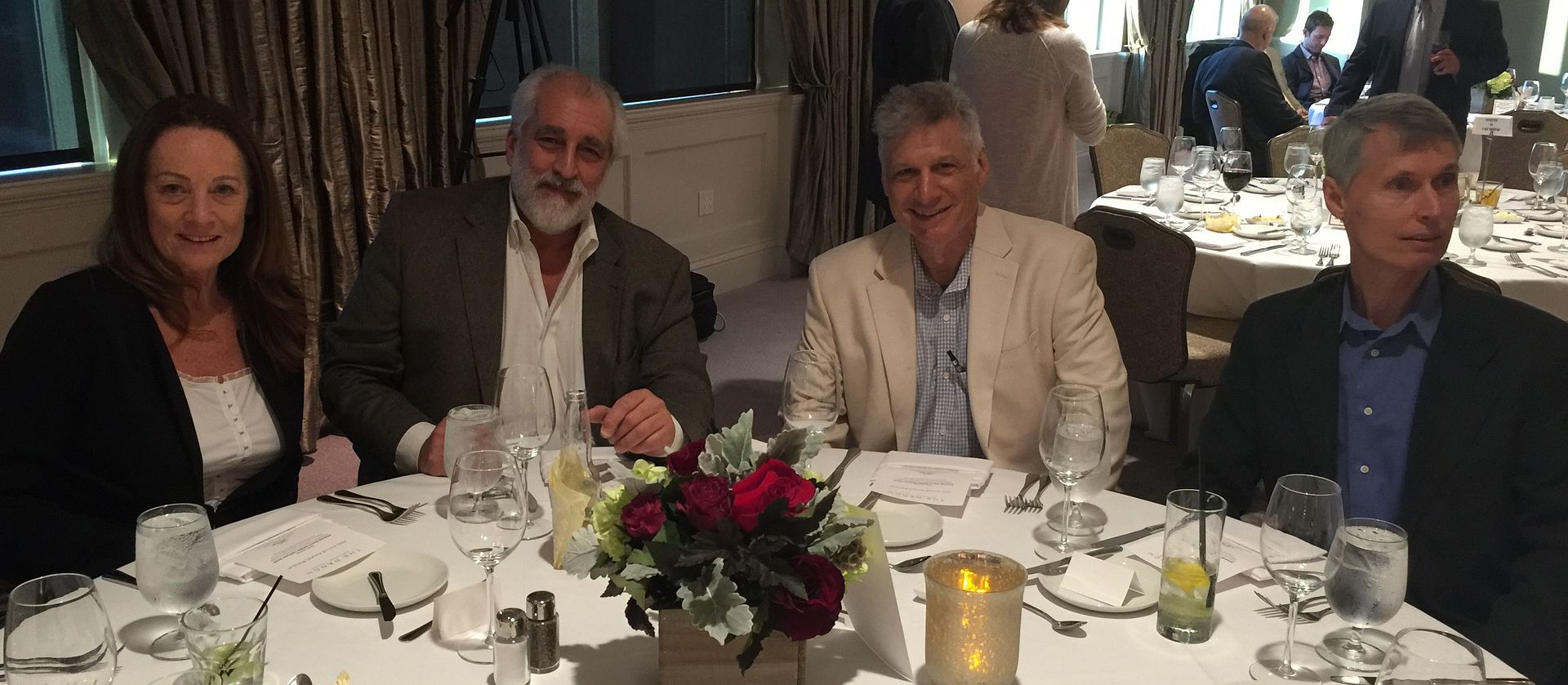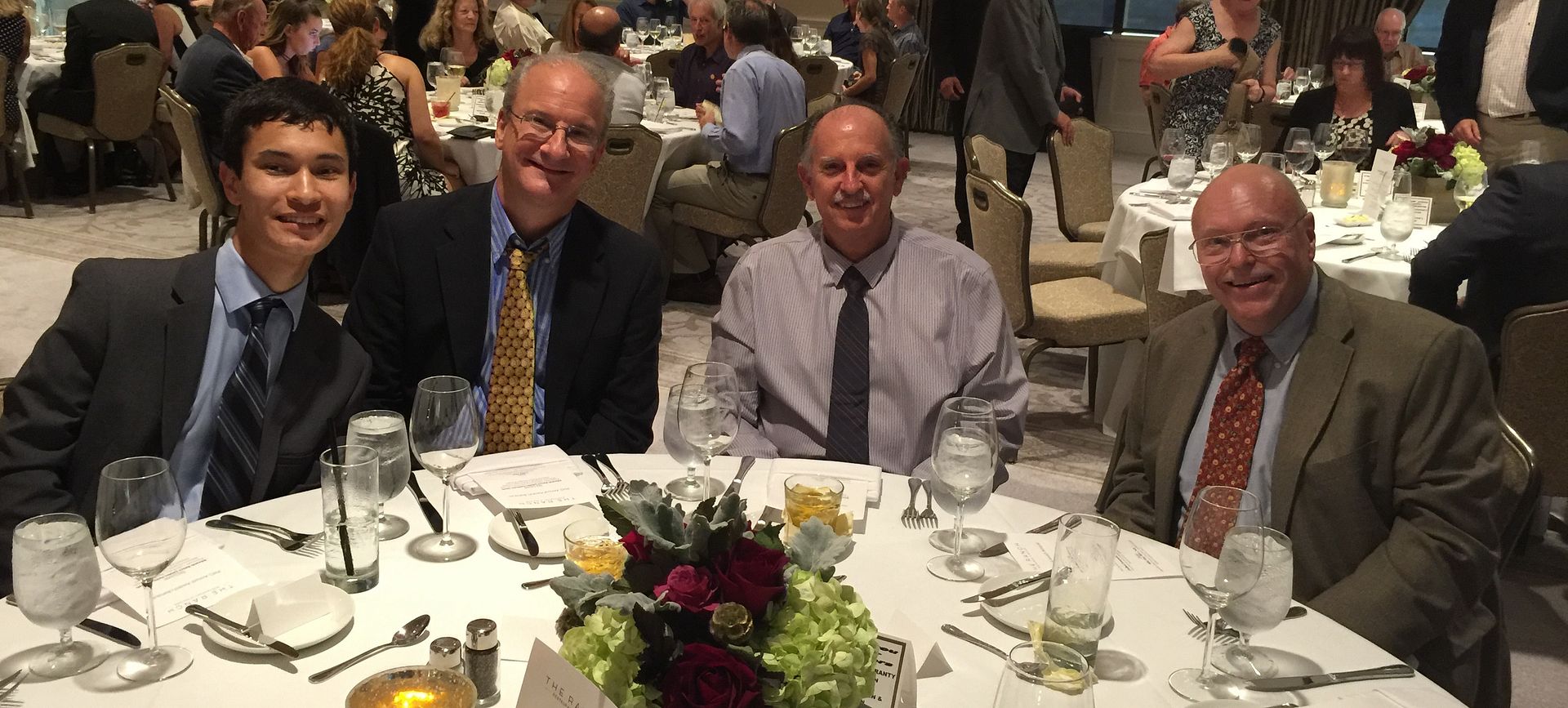 Wow, the filet was fantastic, and so was the Justin wine!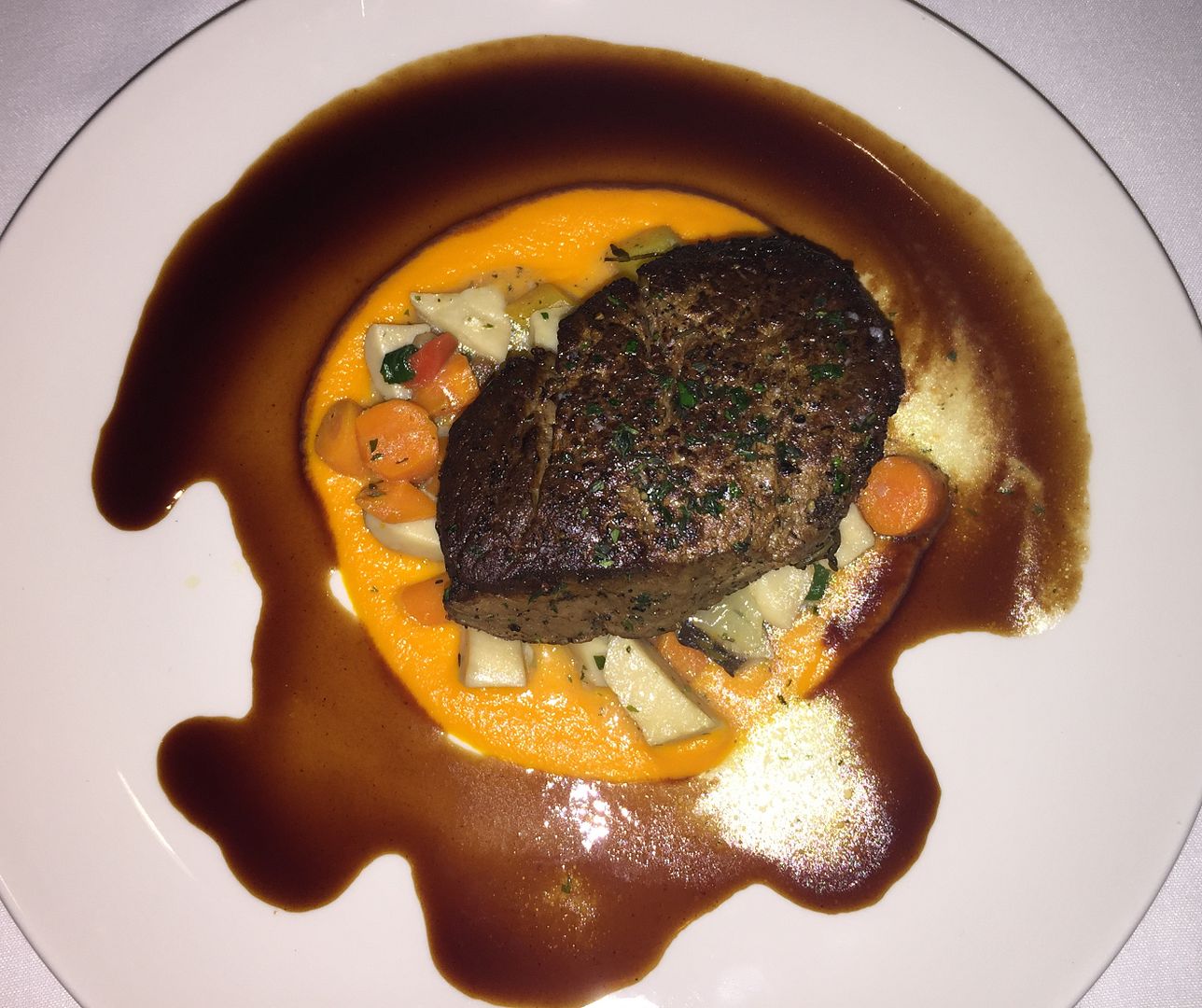 And so was the milky way dessert!!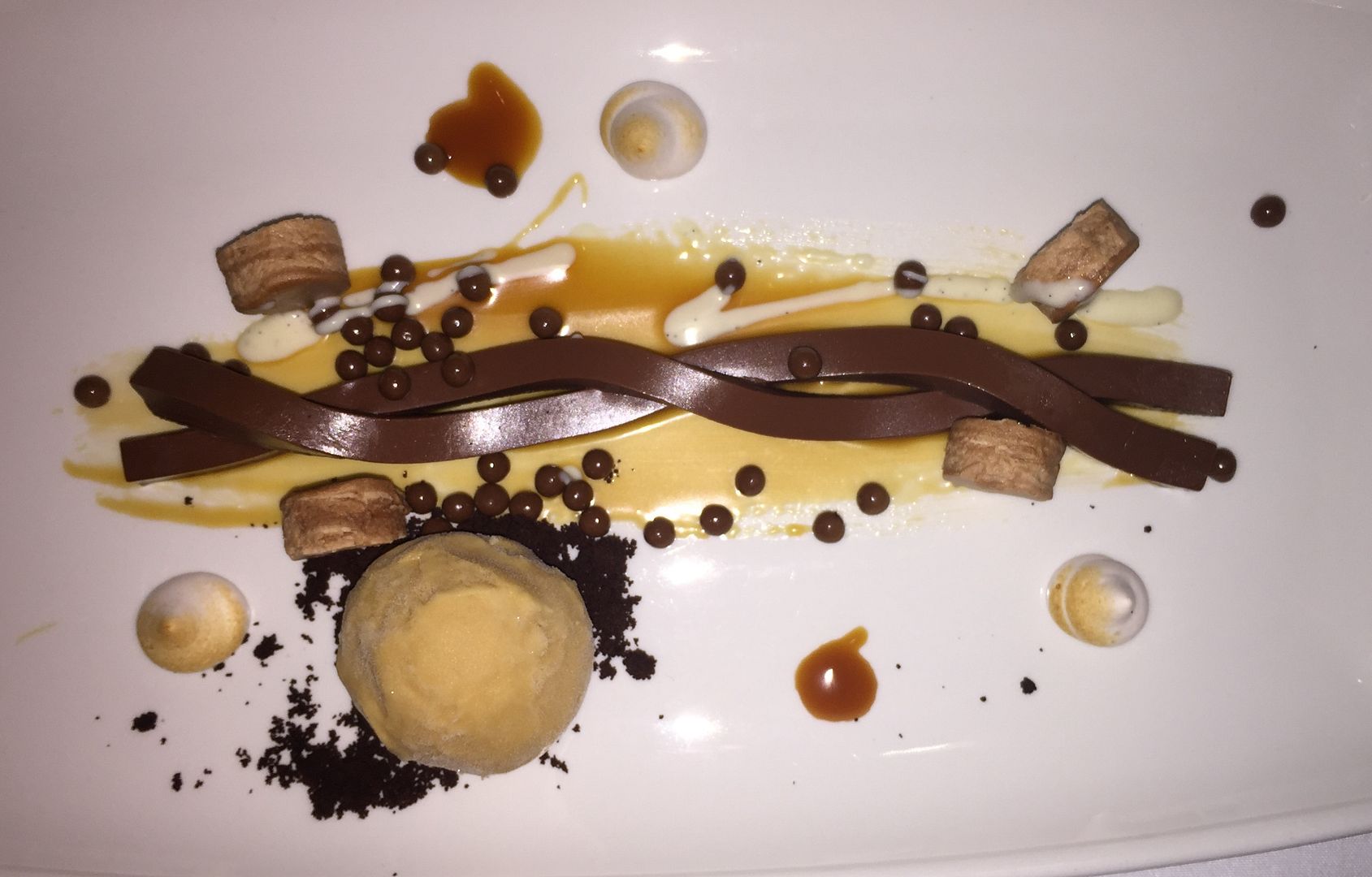 The show opened to the public on Tuesday morning. When I arrived, there already was quite a crowd waiting to get in.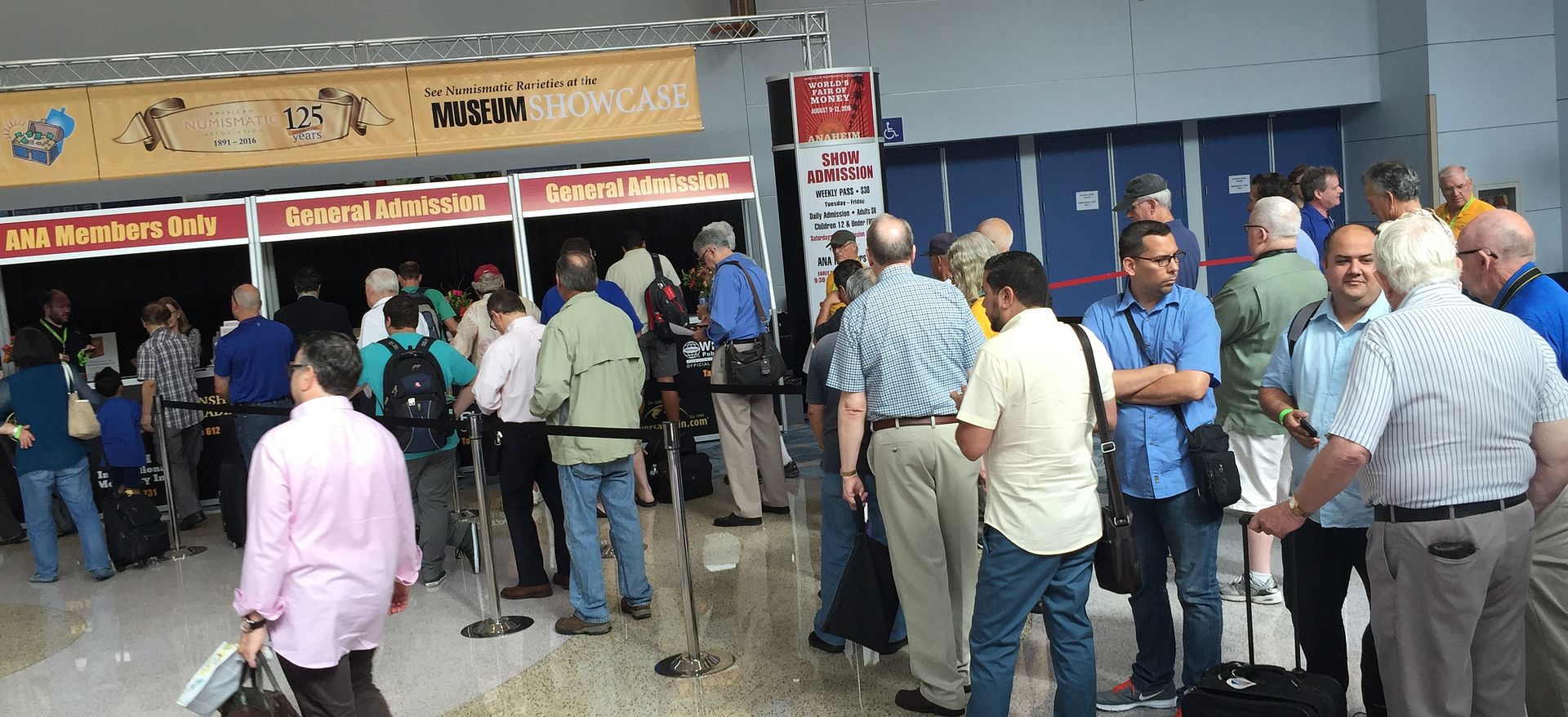 Getting our booth ready for the public, and for the kids' Treasure Trivia hunt (we were No. 13 on the hunt).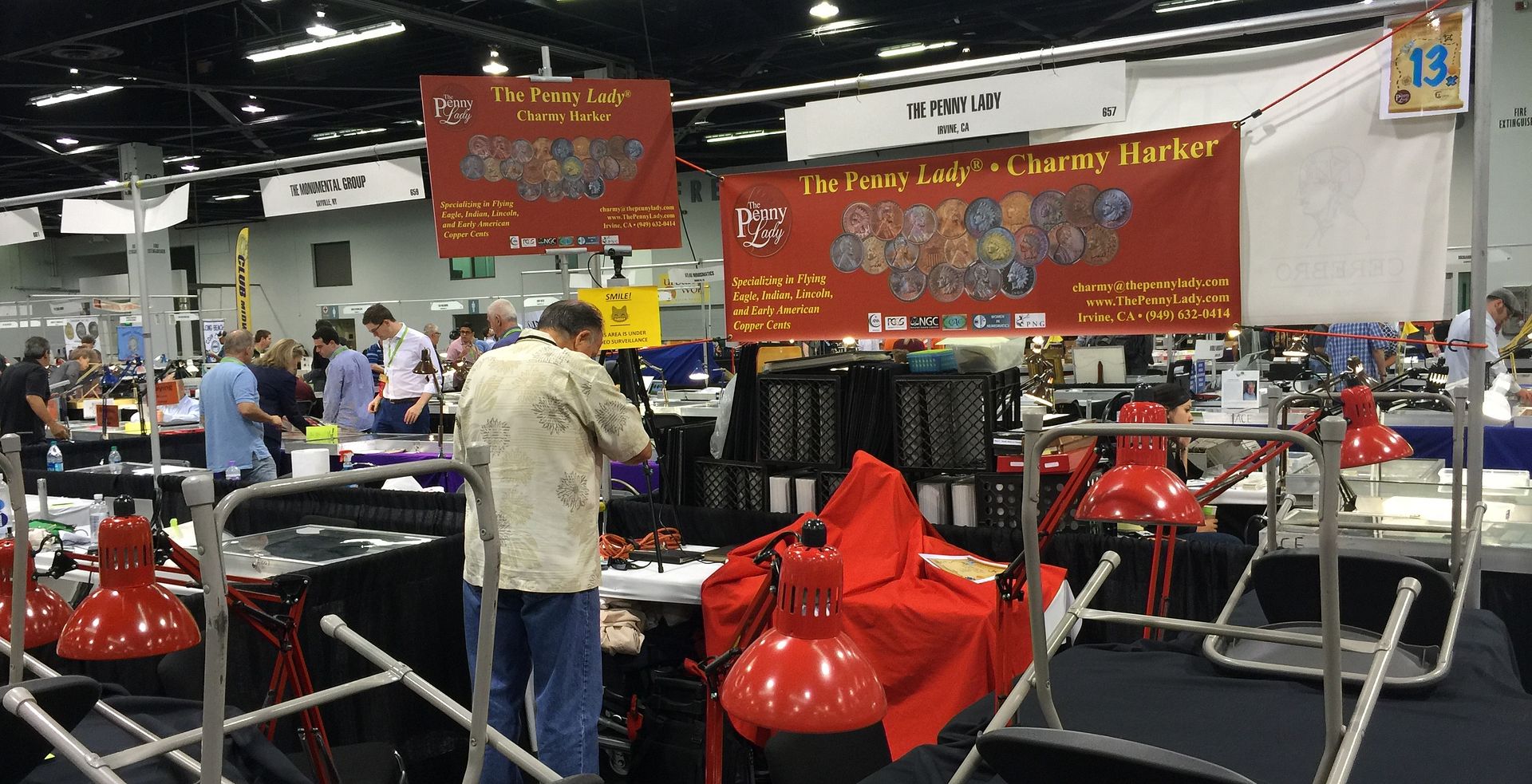 My friend Matt showed me this absolutely amazing gorgeous 1916 MPL he bought at the show!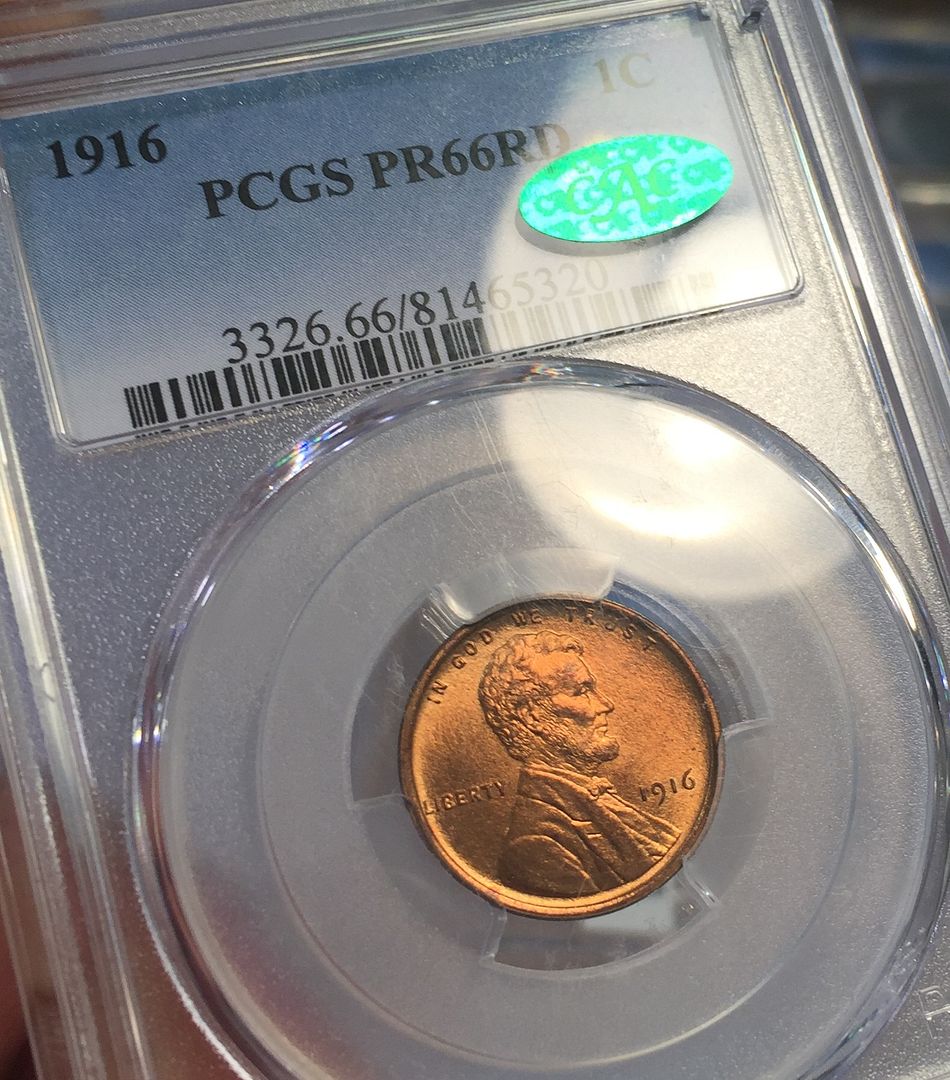 After the show on Tuesday, we attended the ANA's 125th Anniversary reception at the Hilton.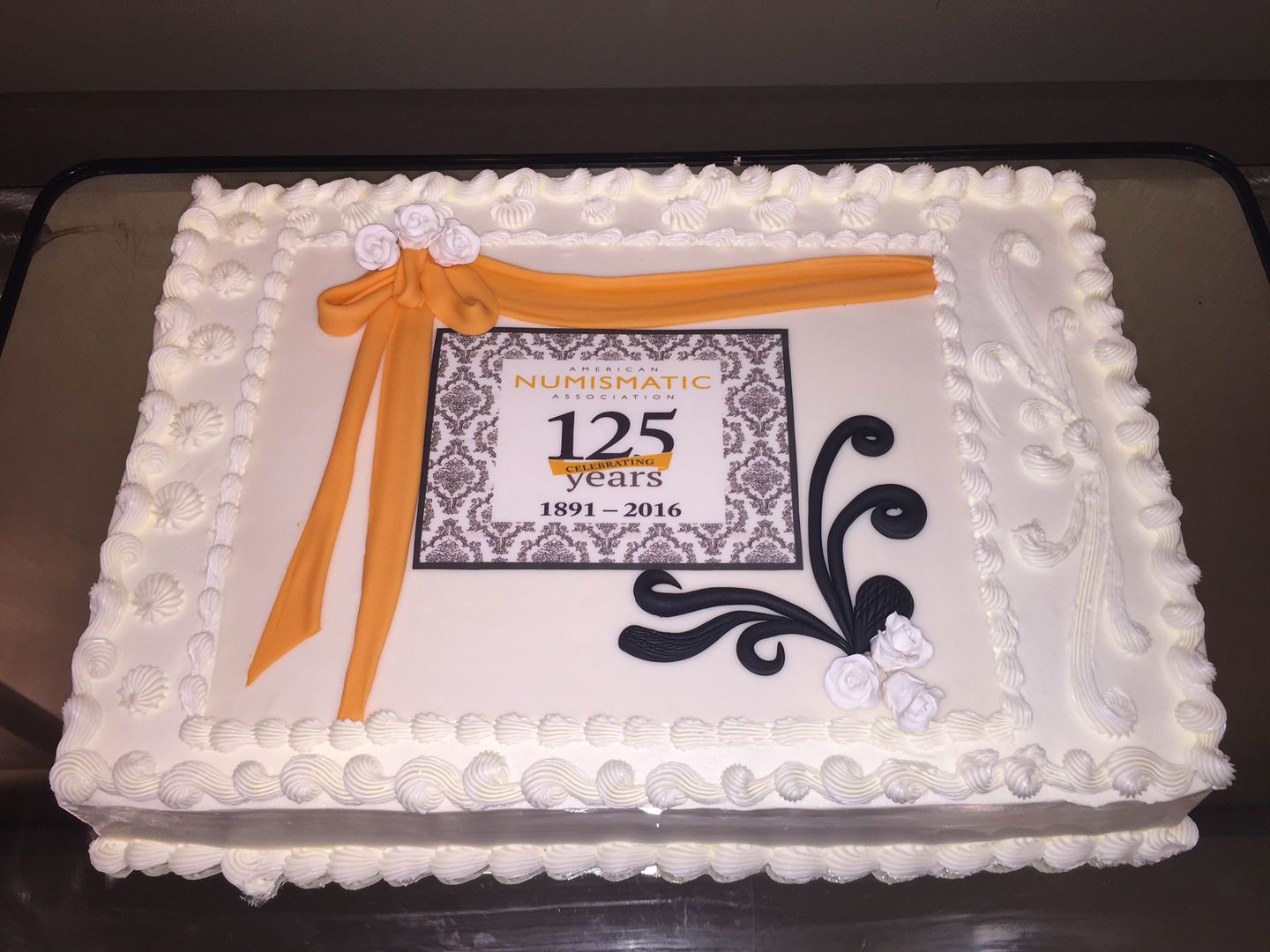 This is ANA President Jeff Garrett giving a brief talk about the ANA.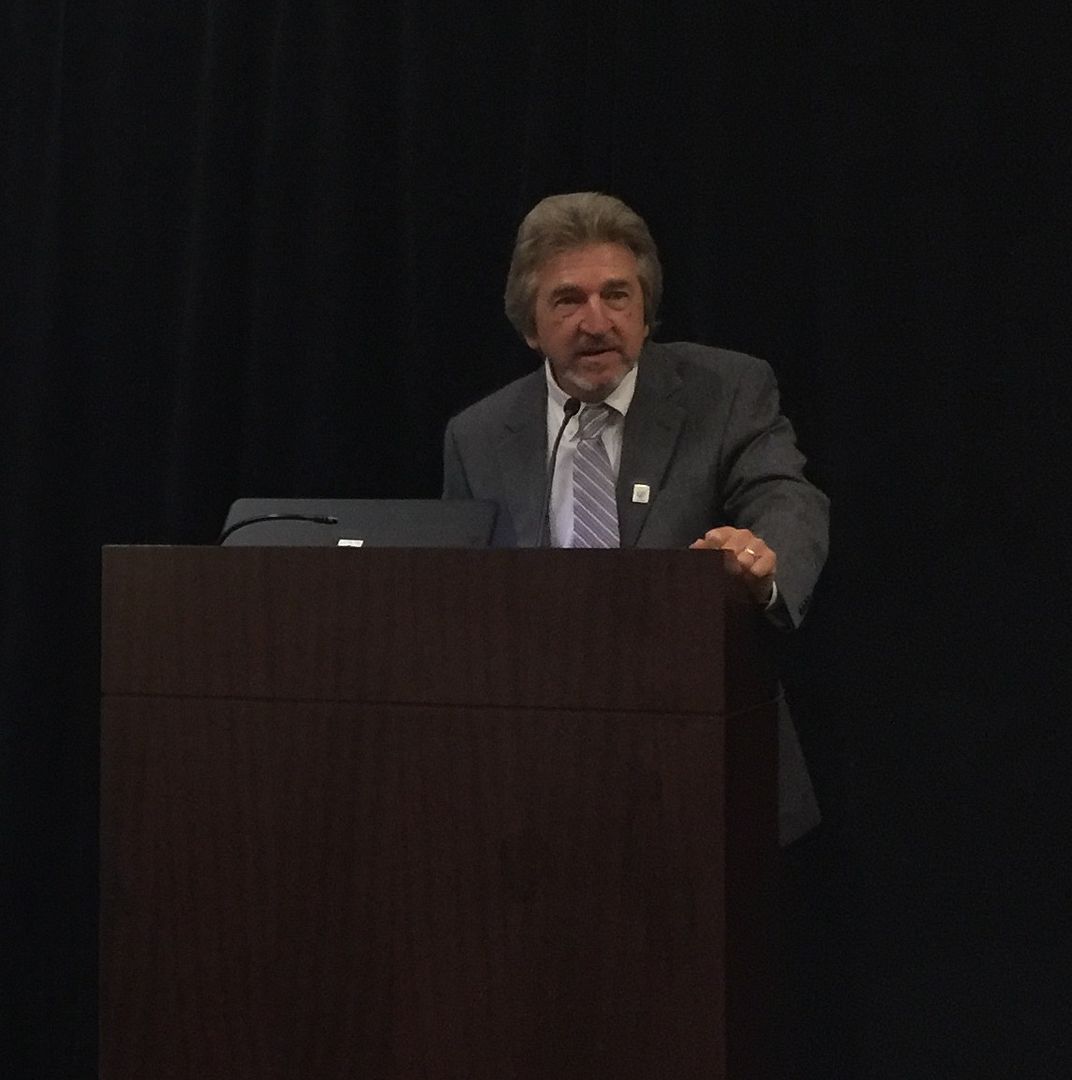 And hard working ANA Executive Director Kim Kiick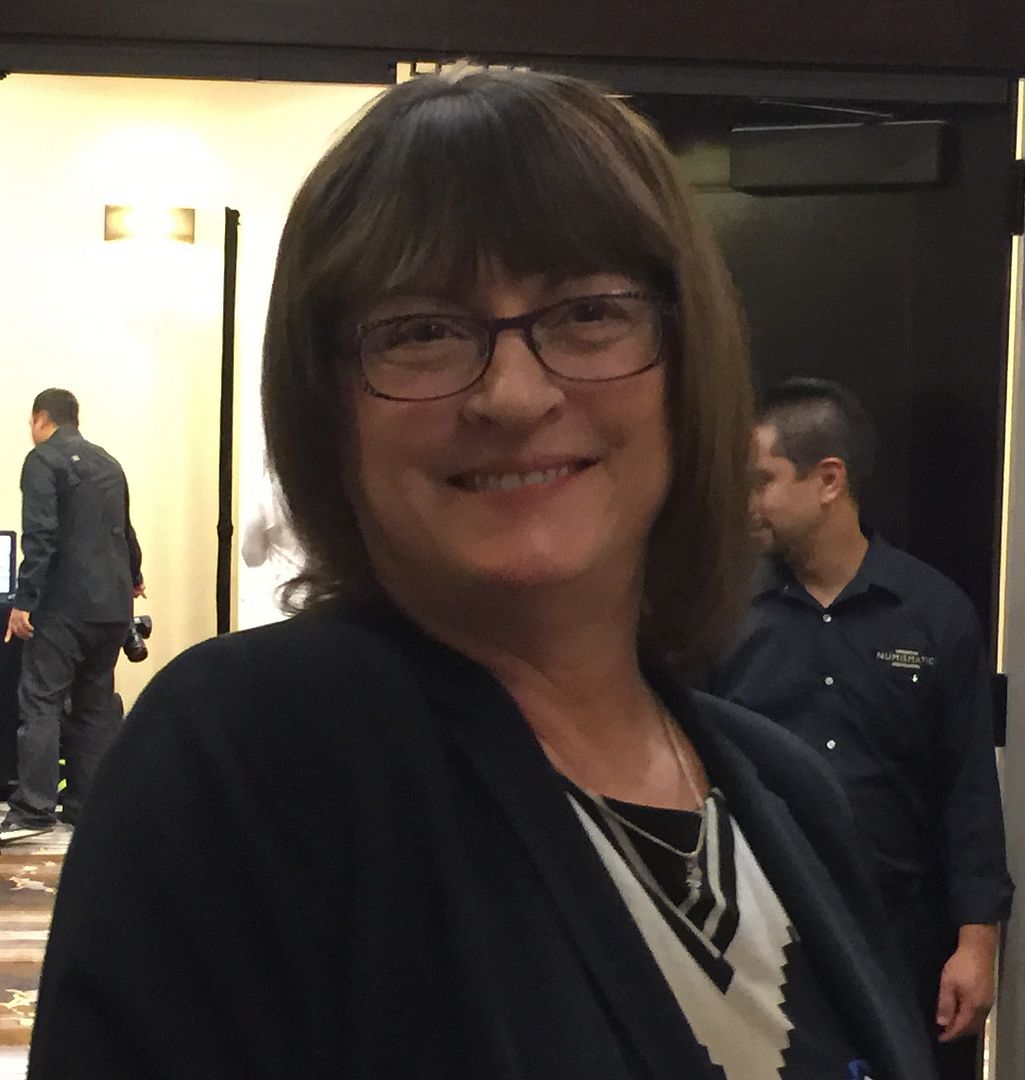 My favorite motley crew: Neil, Rick, Ron, and Matt

Me and Neil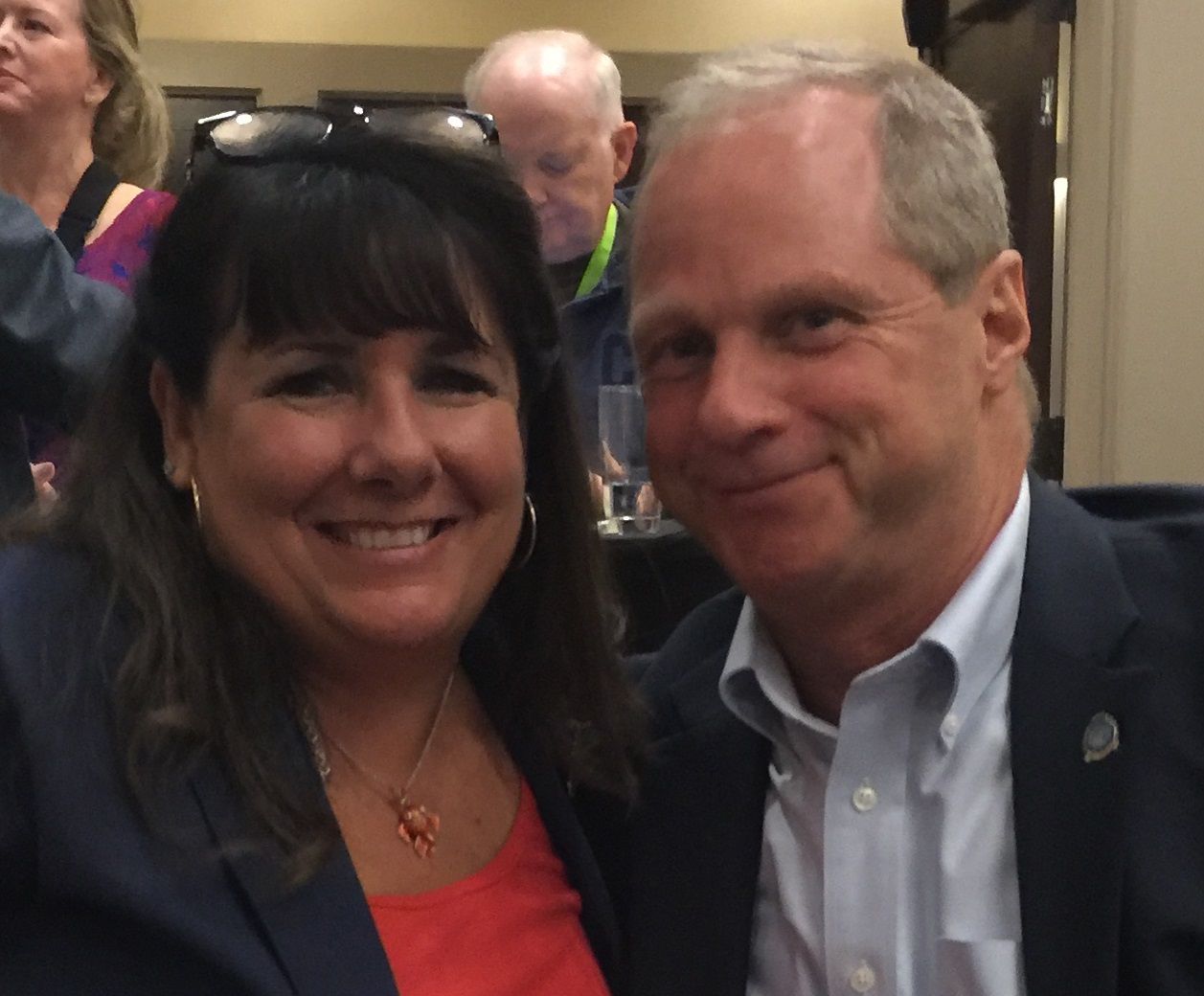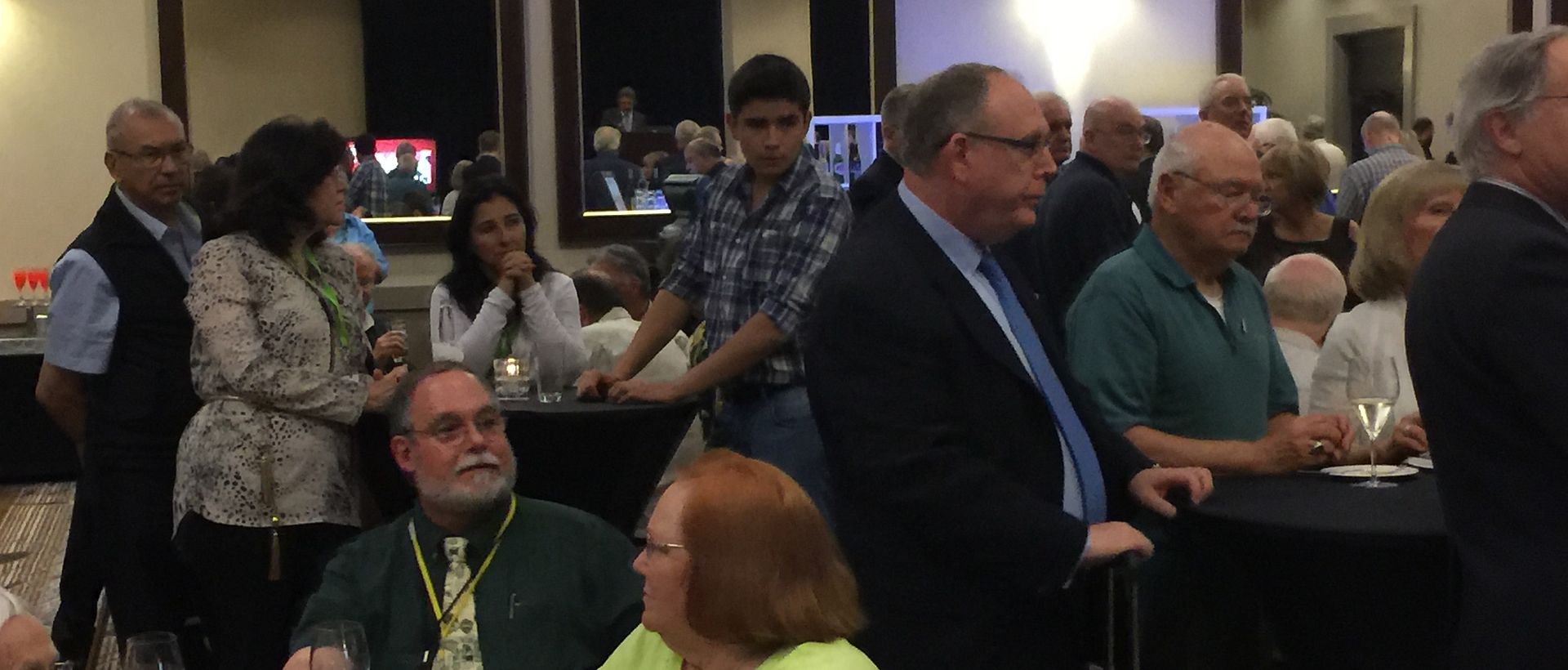 Wednesday morning I had a Dealer Relations Committee meeting where we discussed ways to improve the ANA shows, including future locations, logistics, etc. All the meetings and events throughout the week were held at the Hilton Hotel since there were no meeting rooms at the convention center.
Then it was off to another day at the show!


Kevin Lipton was giving out these adorable Mickey and Minnie Mouse ears, they were a great hit for the ladies!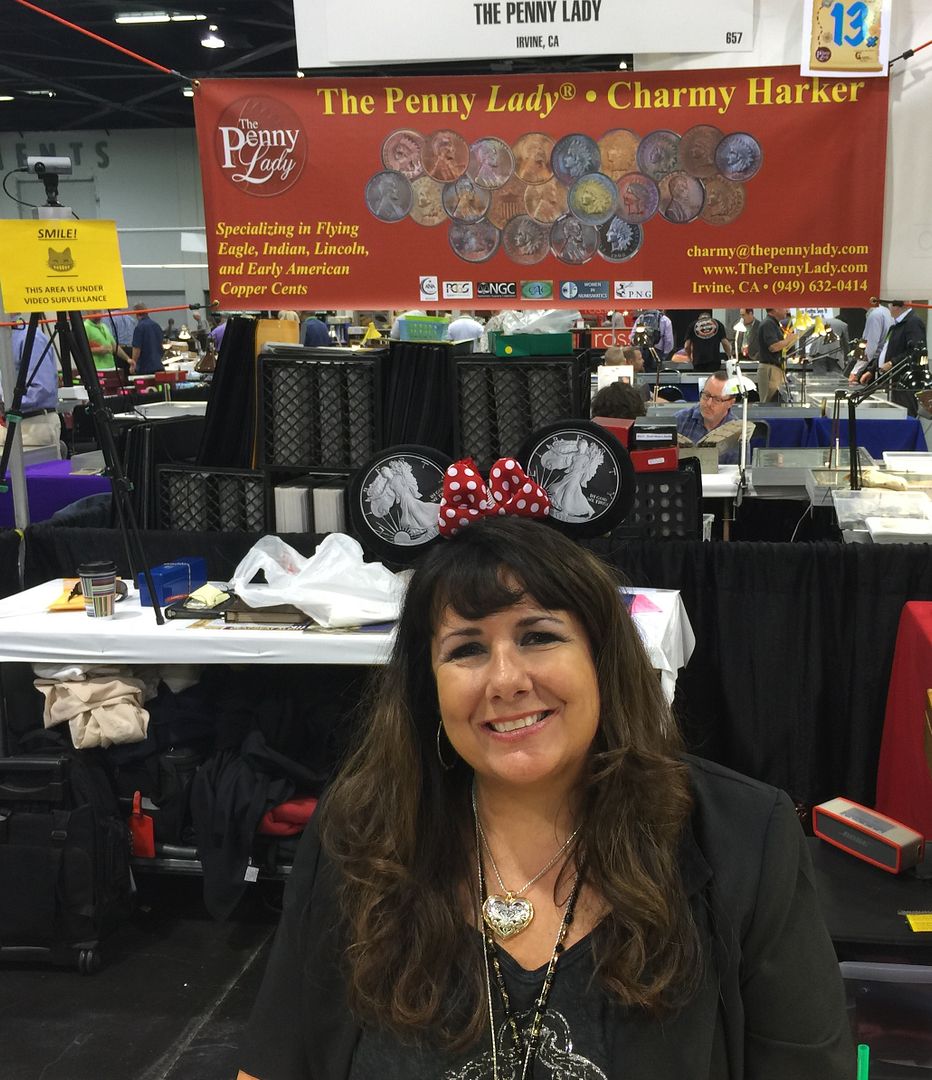 Bonnie at Albanese Rare Coins and me!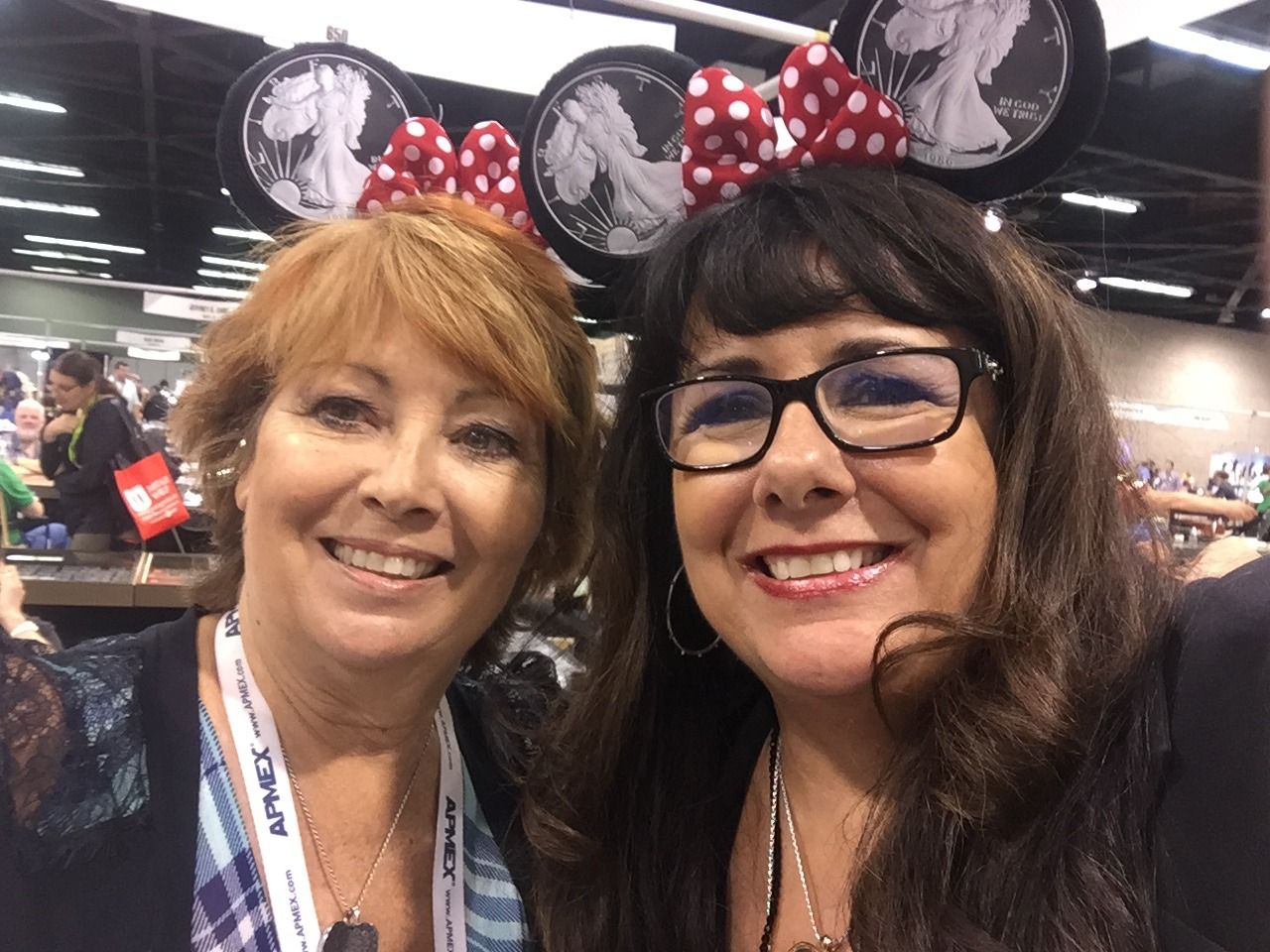 Cindy Wibker (FUN show bourse chair) and me
Me and Matt Powell/Digital Studios NW (fyi, Matt created my new website, as well as several other dealers' websites)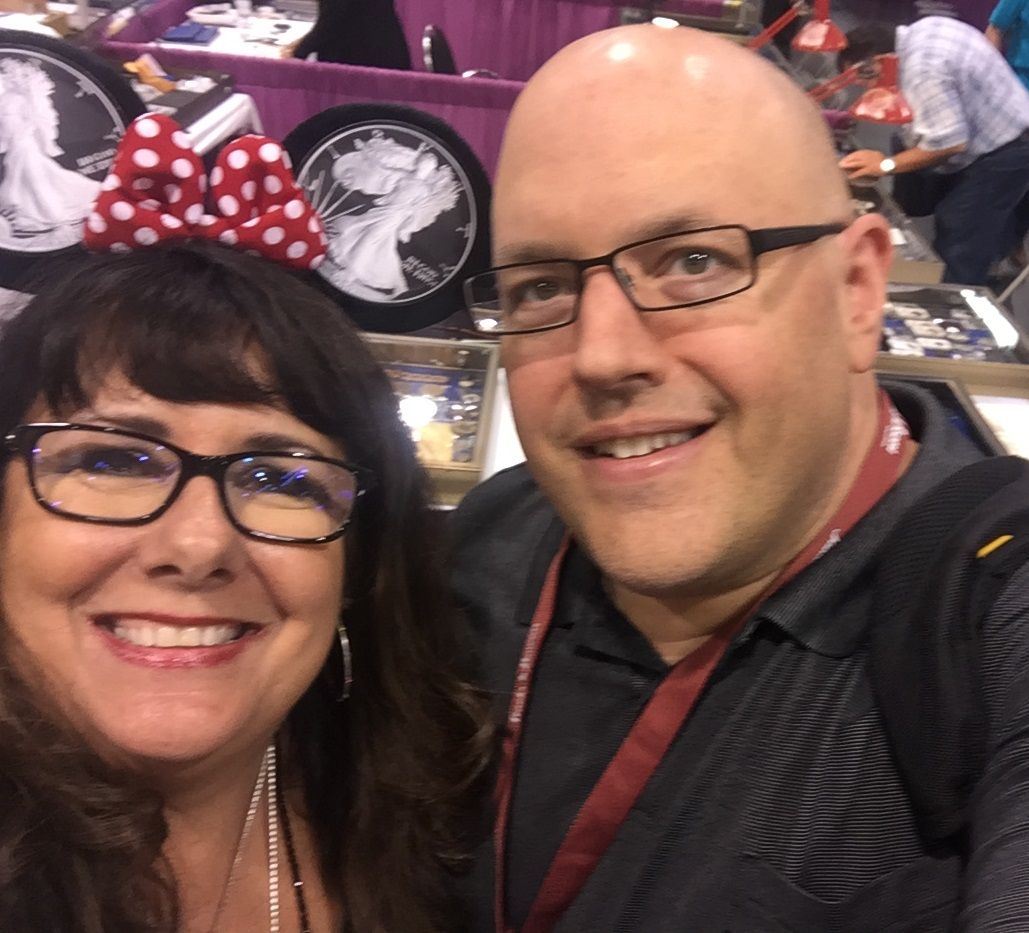 Wednesday after the show I hosted a wine tasting and pizza party at my home for several dealer friends. Unfortunately, I was so busy setting up, organizing, and running around making sure everyone had what they needed that I completely forgot to take photos! I was very disappointed with myself because we had a great turn out, along with some fantastic wines, and everyone had a fun time. I finally thought about the photos the next morning, so I took a couple photos of the "aftermath."
These are all the "dead" bottles of wine!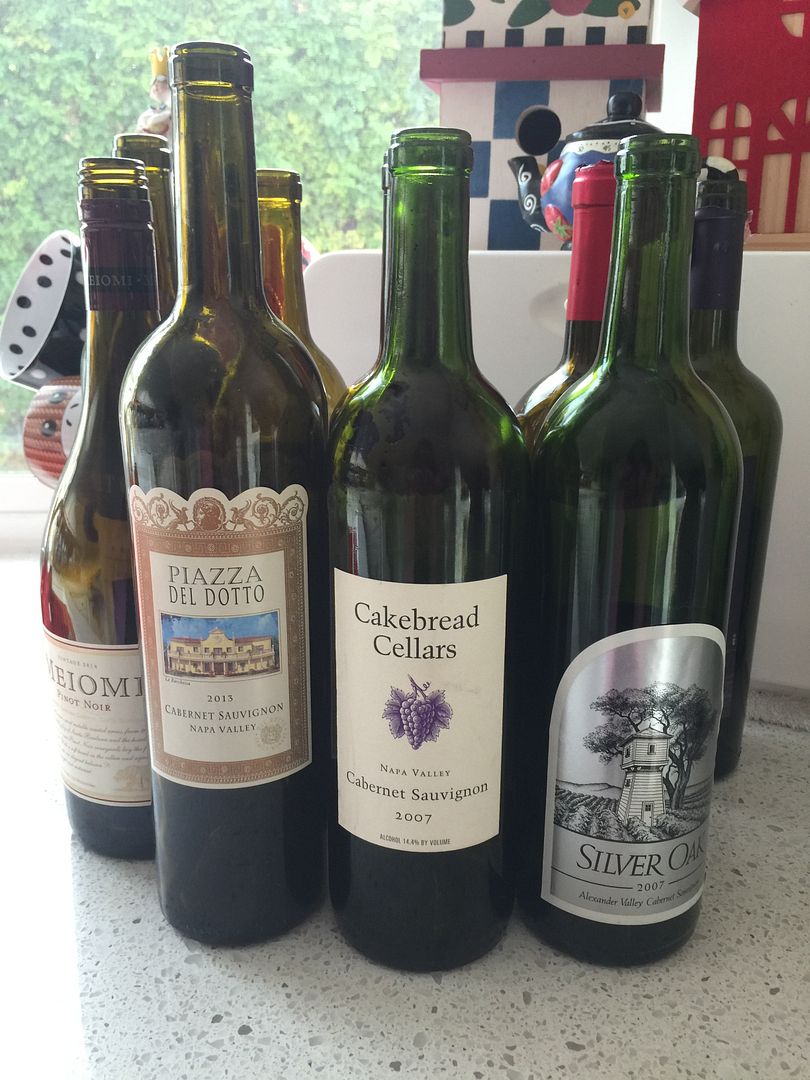 I contributed these three bottles, which are some of my most favorite wines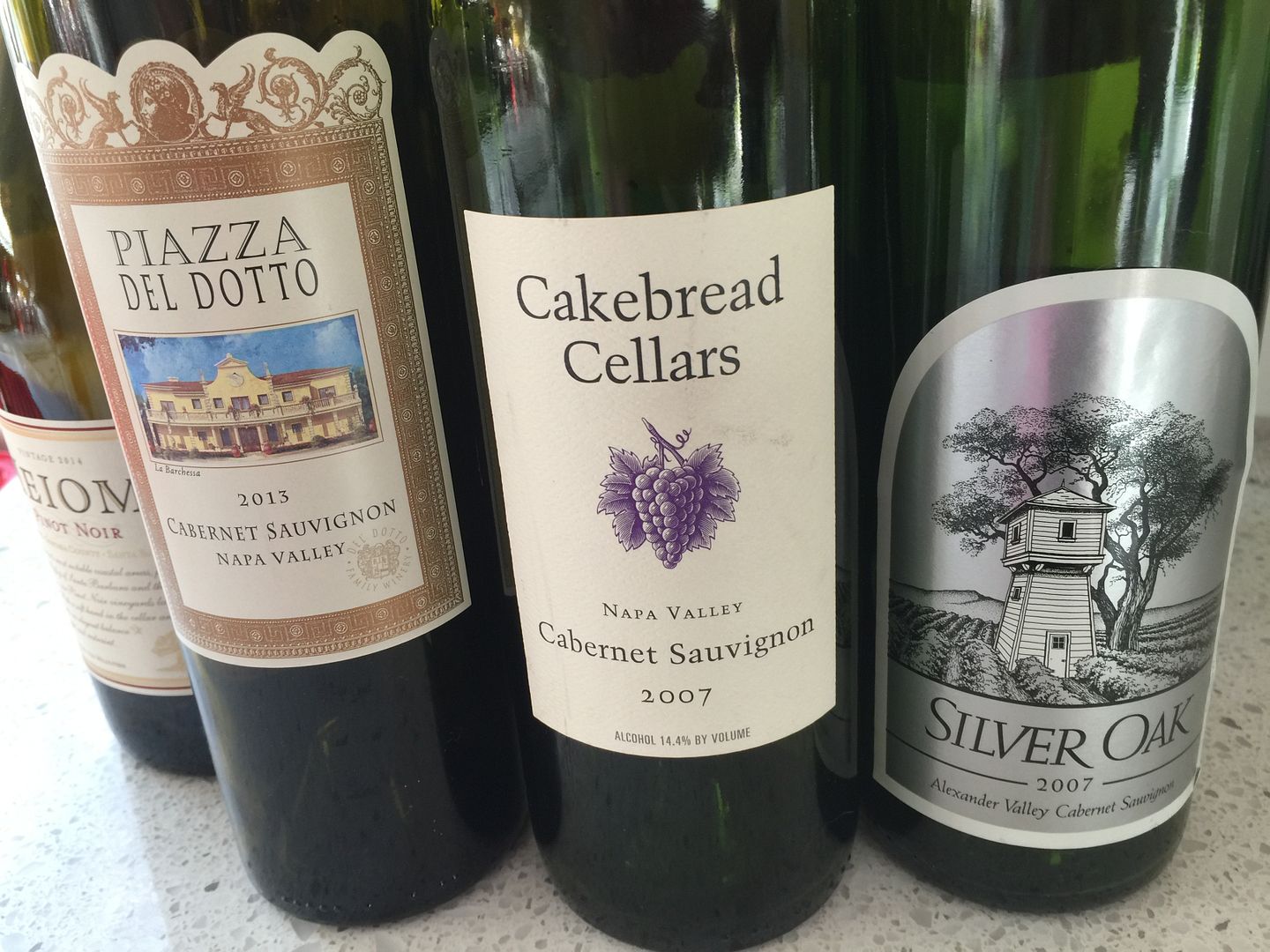 And we had quite a few dirty wine glasses (I ran out of glasses, so many had to drink the wine out of plastic solo cups!).
On Thursday morning I had an early Women in Numismatics board meeting, followed by our general meeting. This year is WIN's 25 th anniversary so we had some original members give talks about the early days of WIN. We also had several special door prizes, including a set of our anniversary elongates.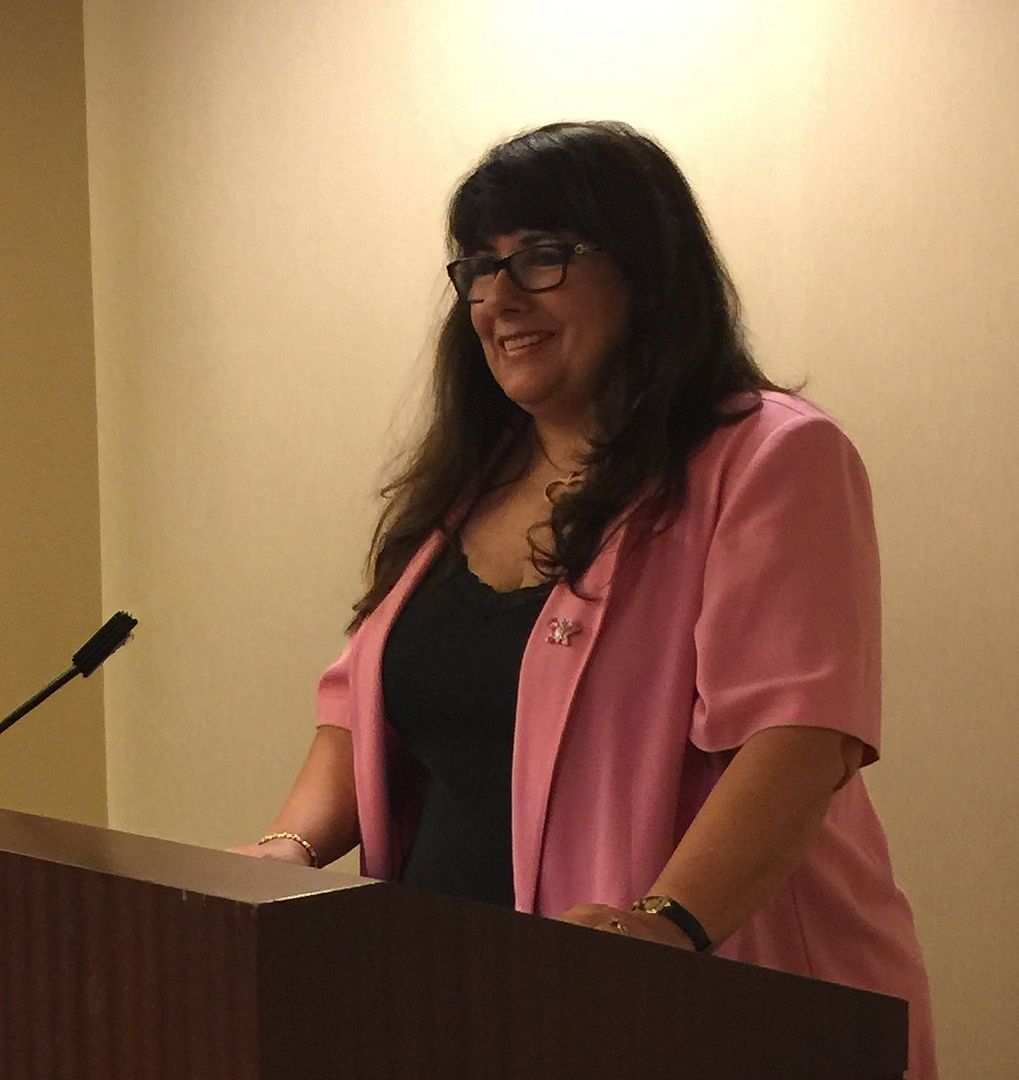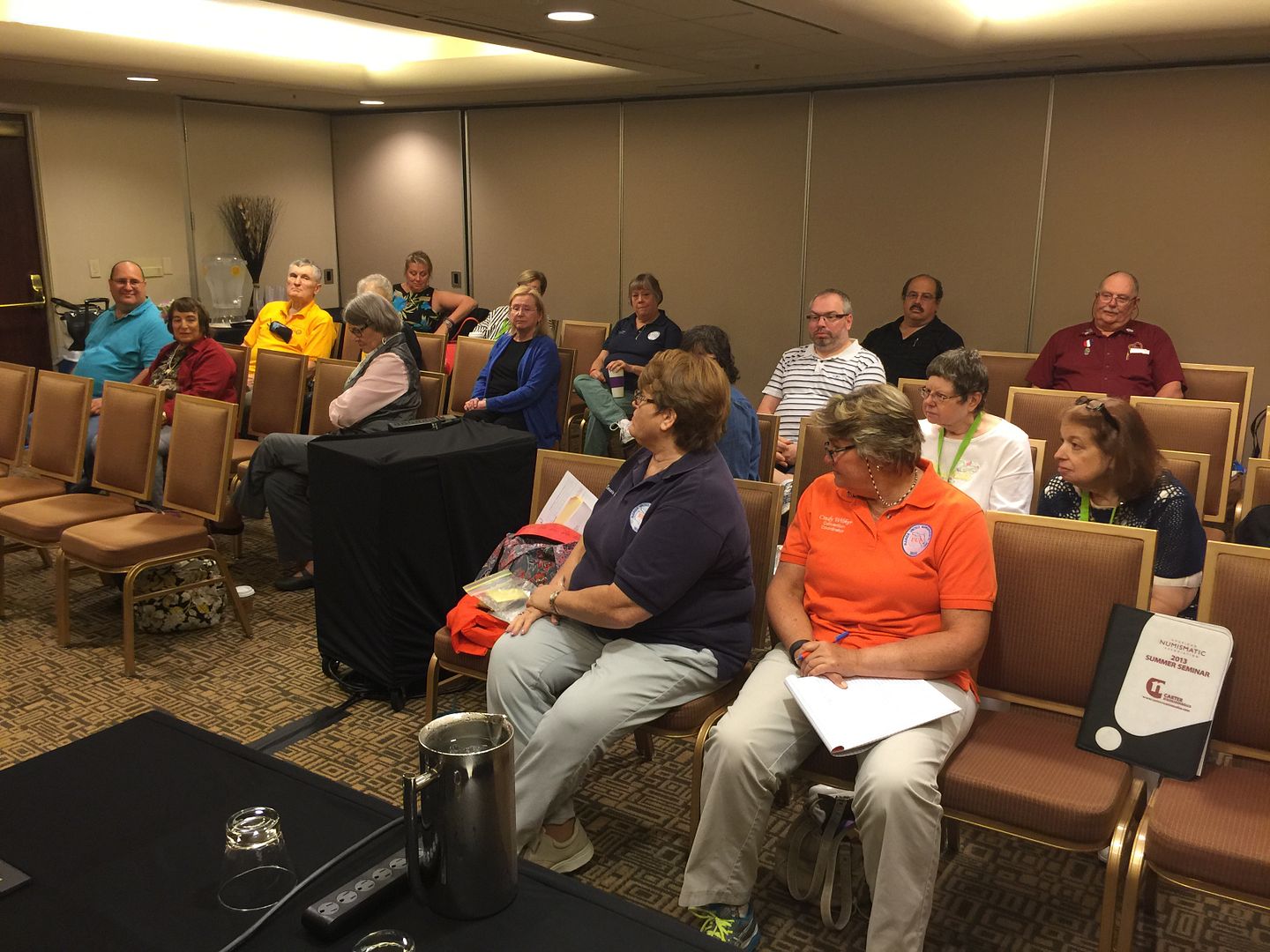 Door prizes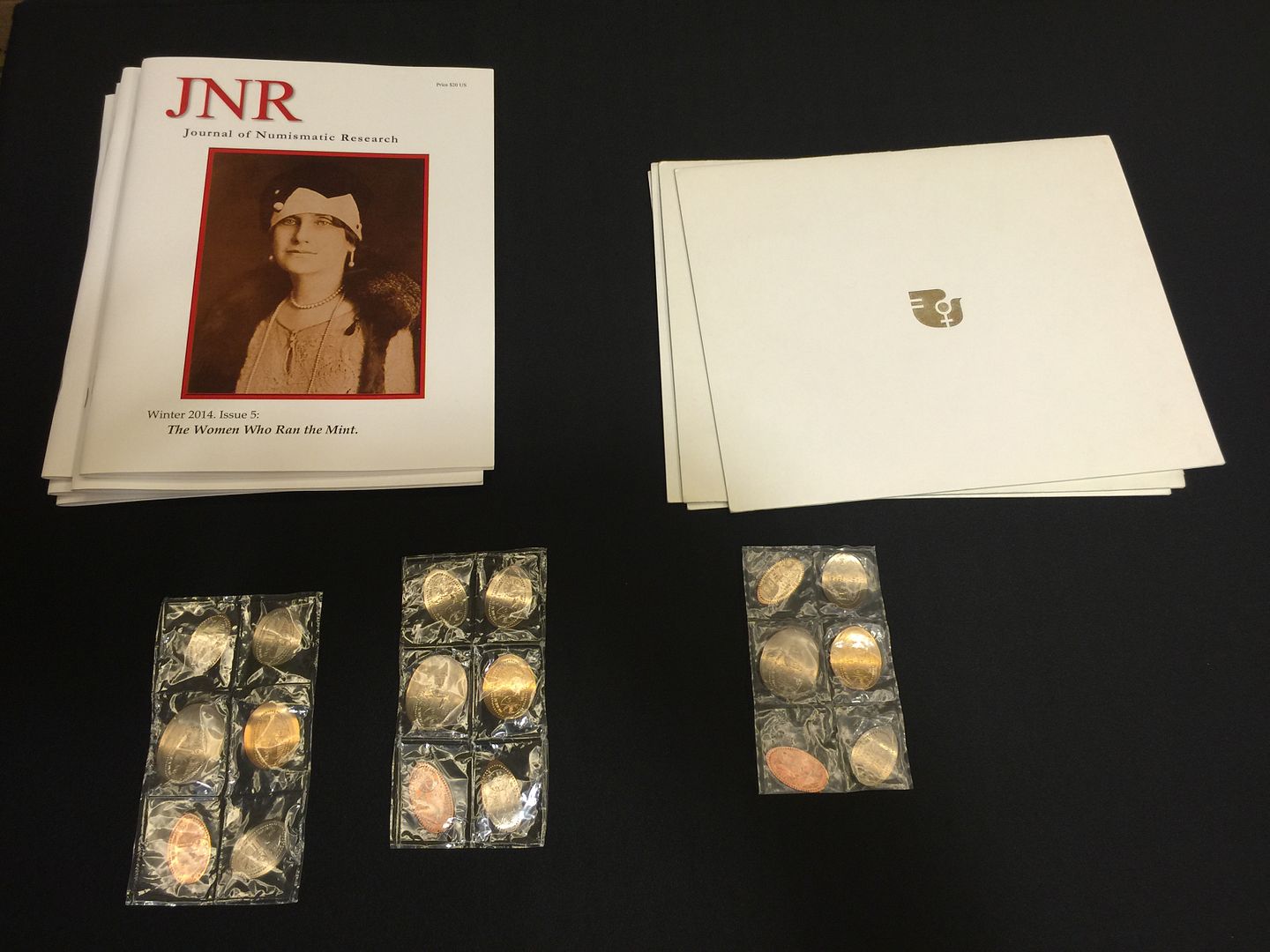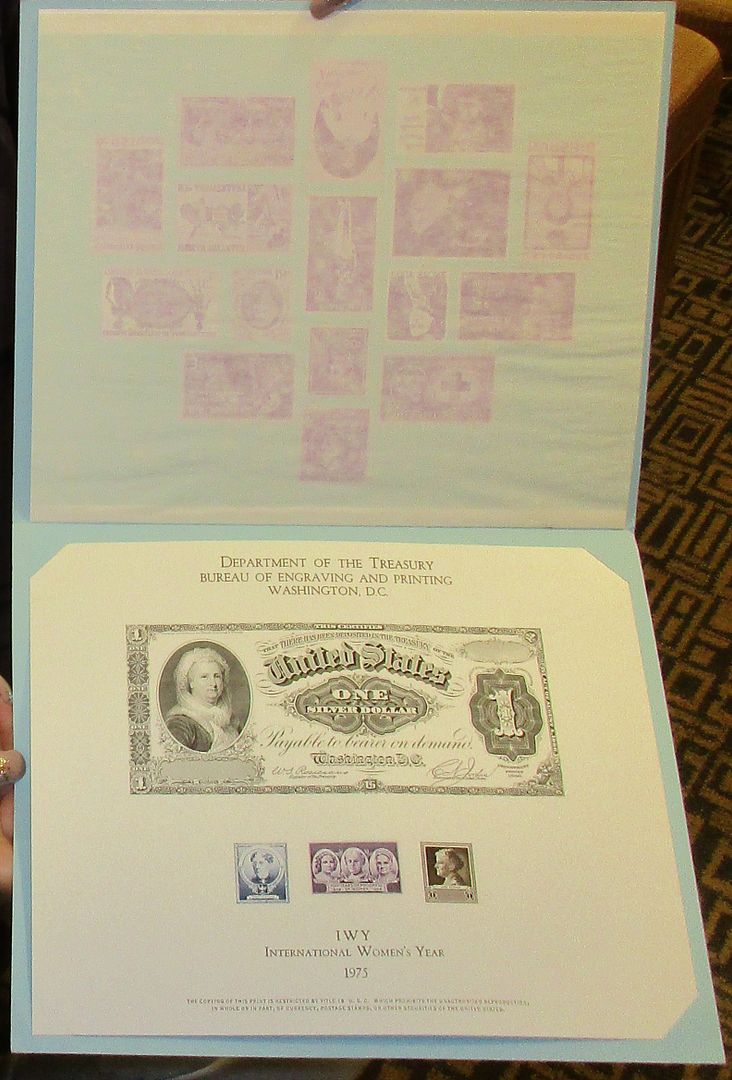 Cindy Wibker won WIN's Gloria Peters Literary award for an article she wrote for Winning Ways
Saundra Behmer was one of WIN's founding members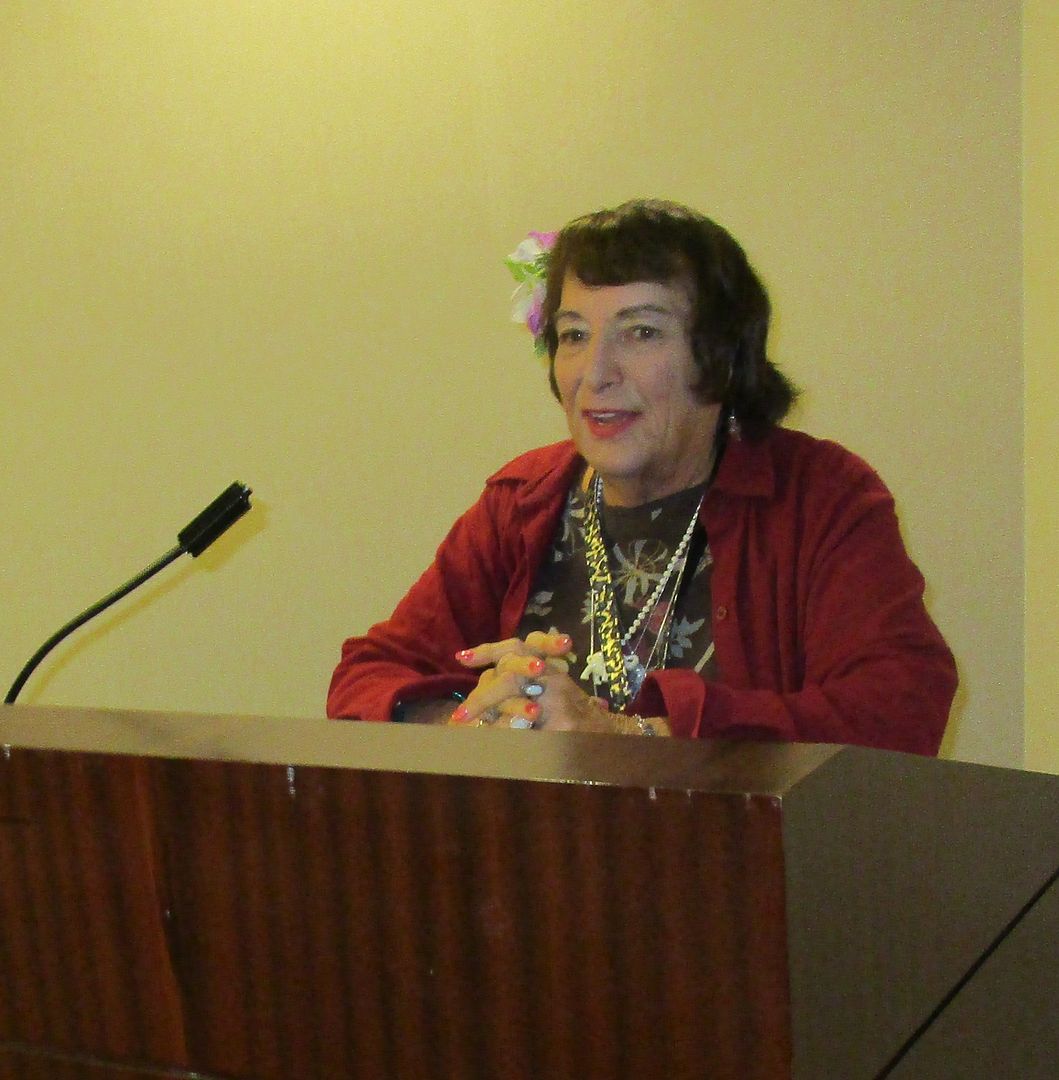 Nancy Wilson and Prue Fitts were early charter members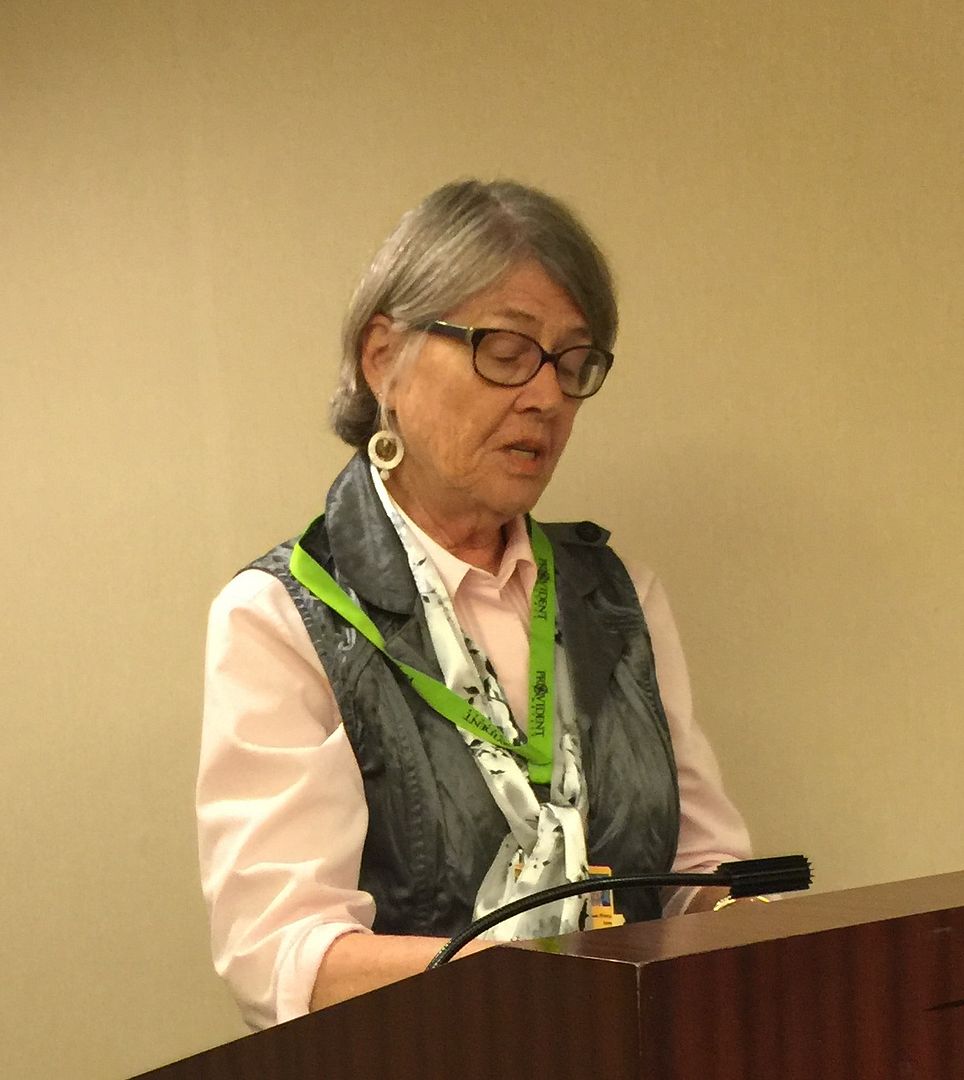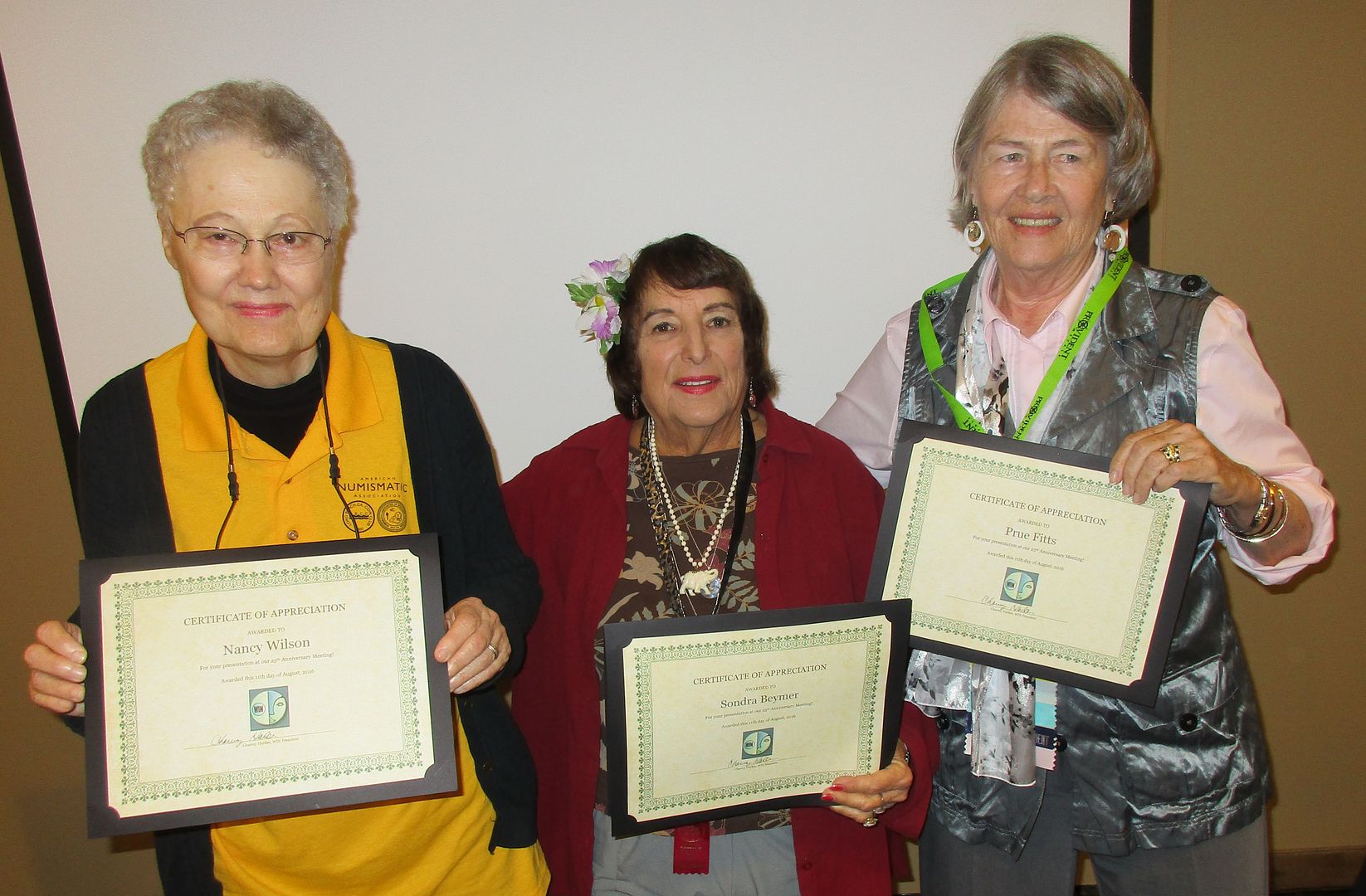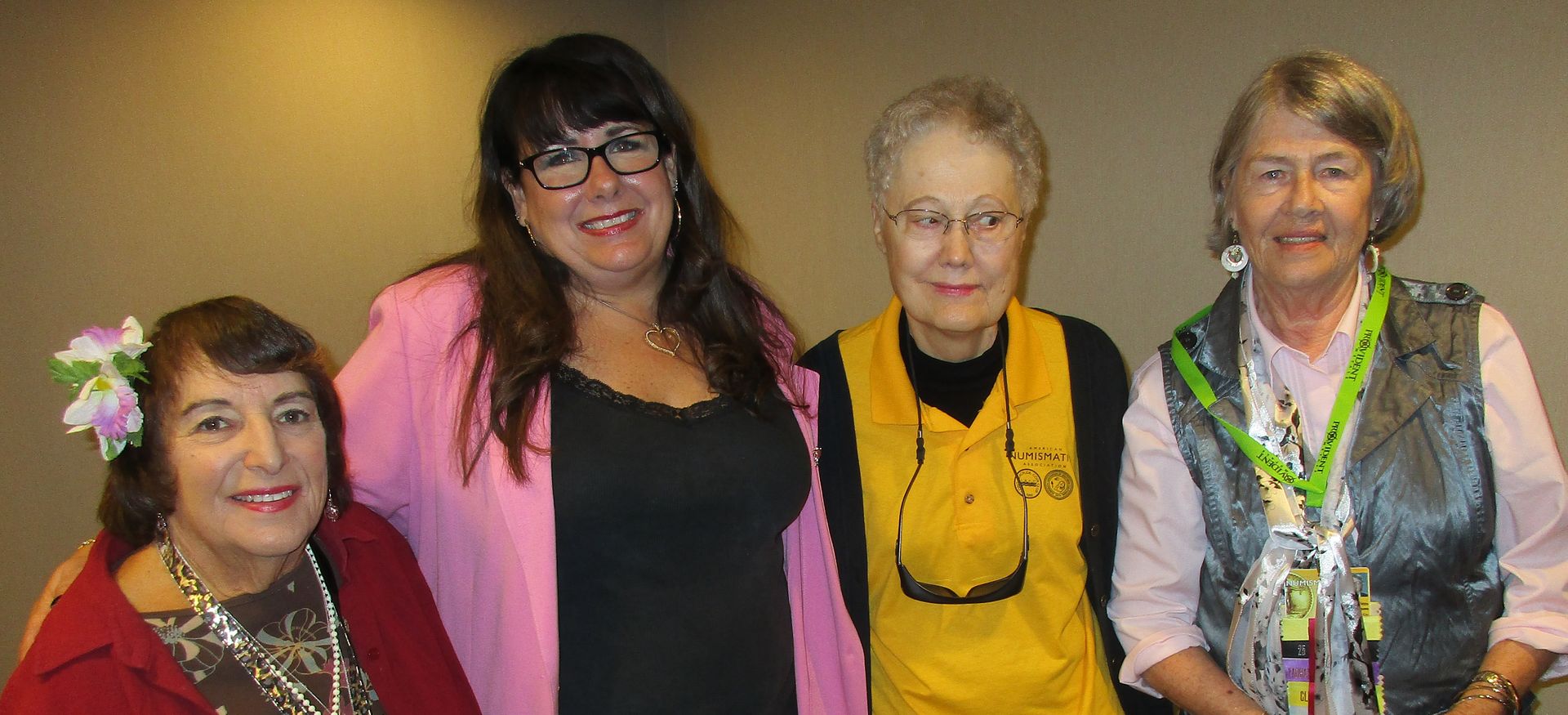 Cindy Wibker put together this nostalgic poster of WIN's history.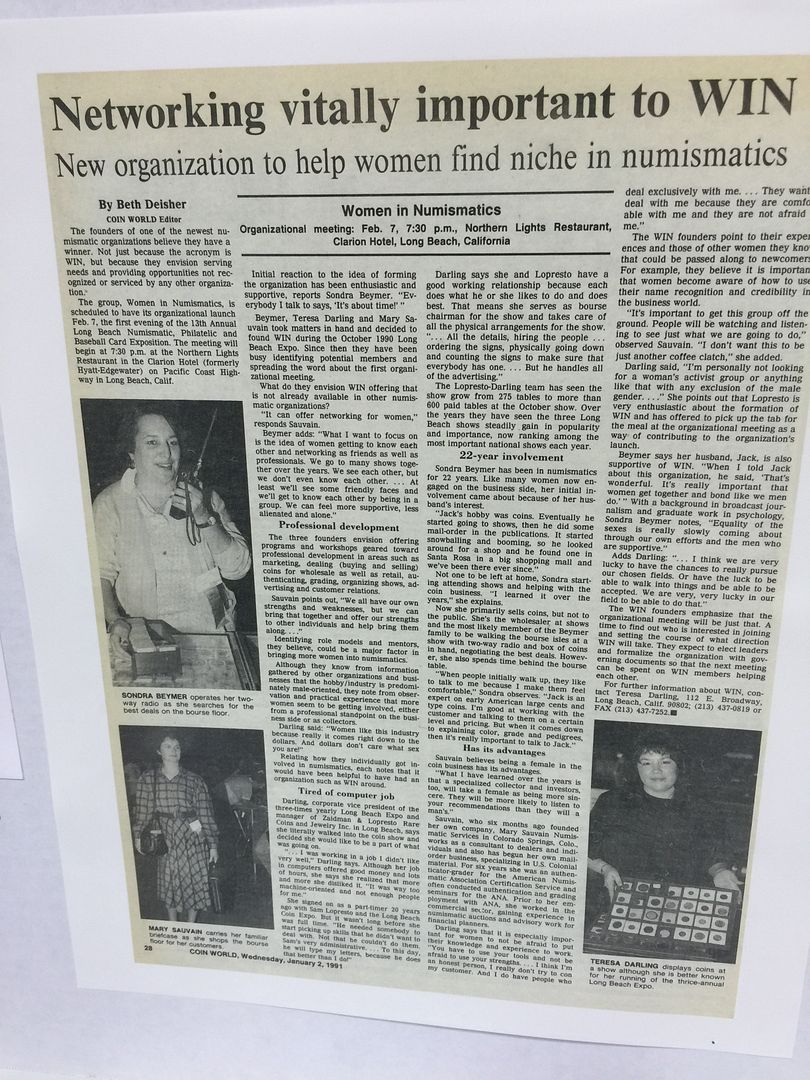 At noon on Thursday, we had our WIN anniversary cake celebration at the FUN table. This is only half of the cake that FUN sponsored for us, and it was delicious!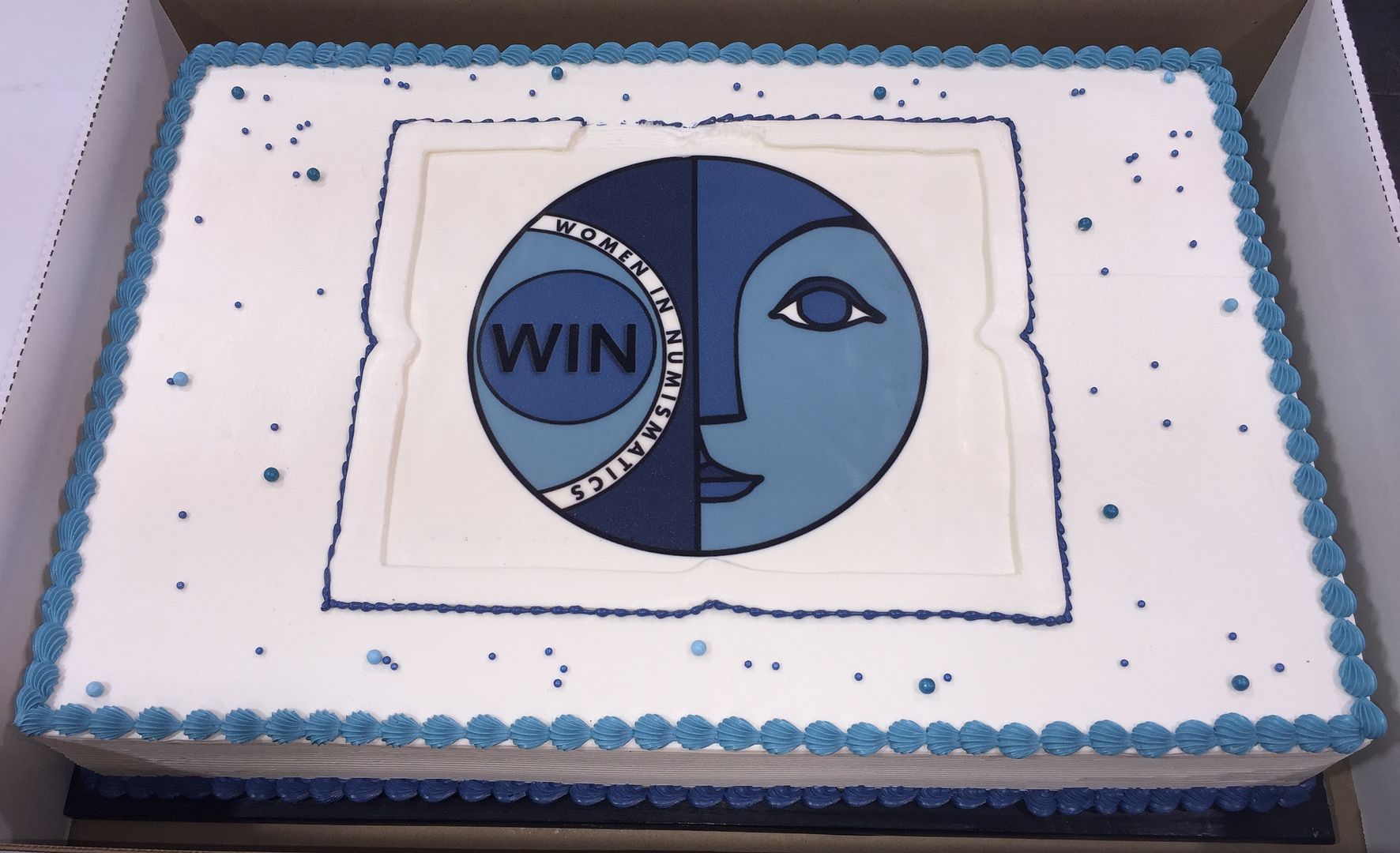 The exhibit committee also gave us our score sheets for the class judging. I received 90, 90, and 91. These were not bad scores considering the judges changed the scoring process and started with lower scores and added points, rather than starting with 100 and deducting points. Even though I was very happy to receive First Place in class, I didn't have much competition as there was only one other exhibit containing ONE hobo nickel. (Interestingly, that exhibit received a Third Place in class out of only two exhibits because it didn't score enough points to receive Second Place.)
I celebrated my "win" with this bottle of Bramare which was given to me by a dealer friend, Dan, at the wine tasting party. It is the same wine we had at our last dinner at the Black Olive restaurant in Baltimore that everyone loved. I saved it so we could share it at the show the next day, and it was very yummy and much appreciated!
I took a few minutes on Thursday to see the ANA exhibits and of course, the 1974-D Aluminum penny. Such an amazing piece!
This is the US Mint's photo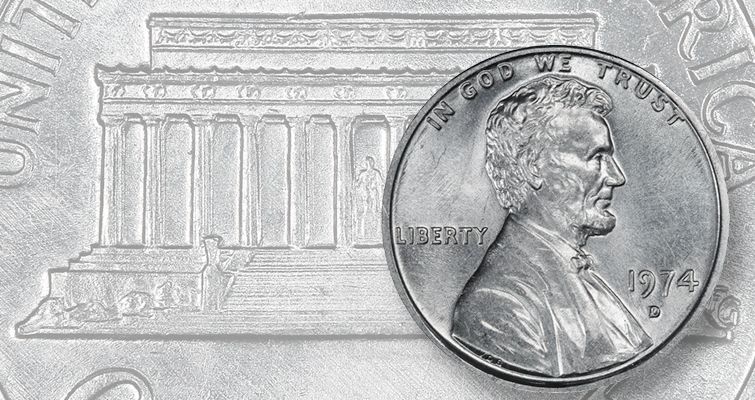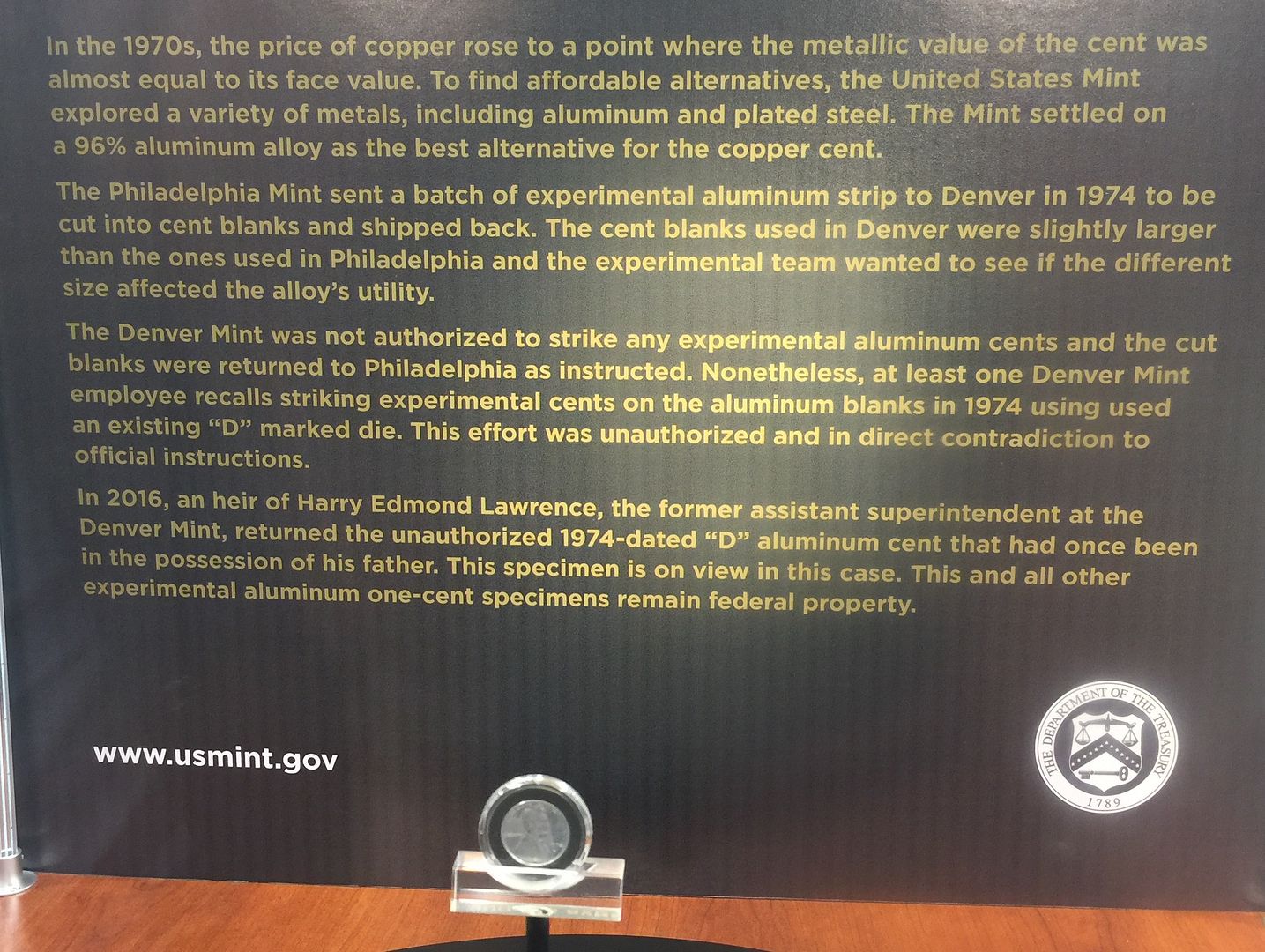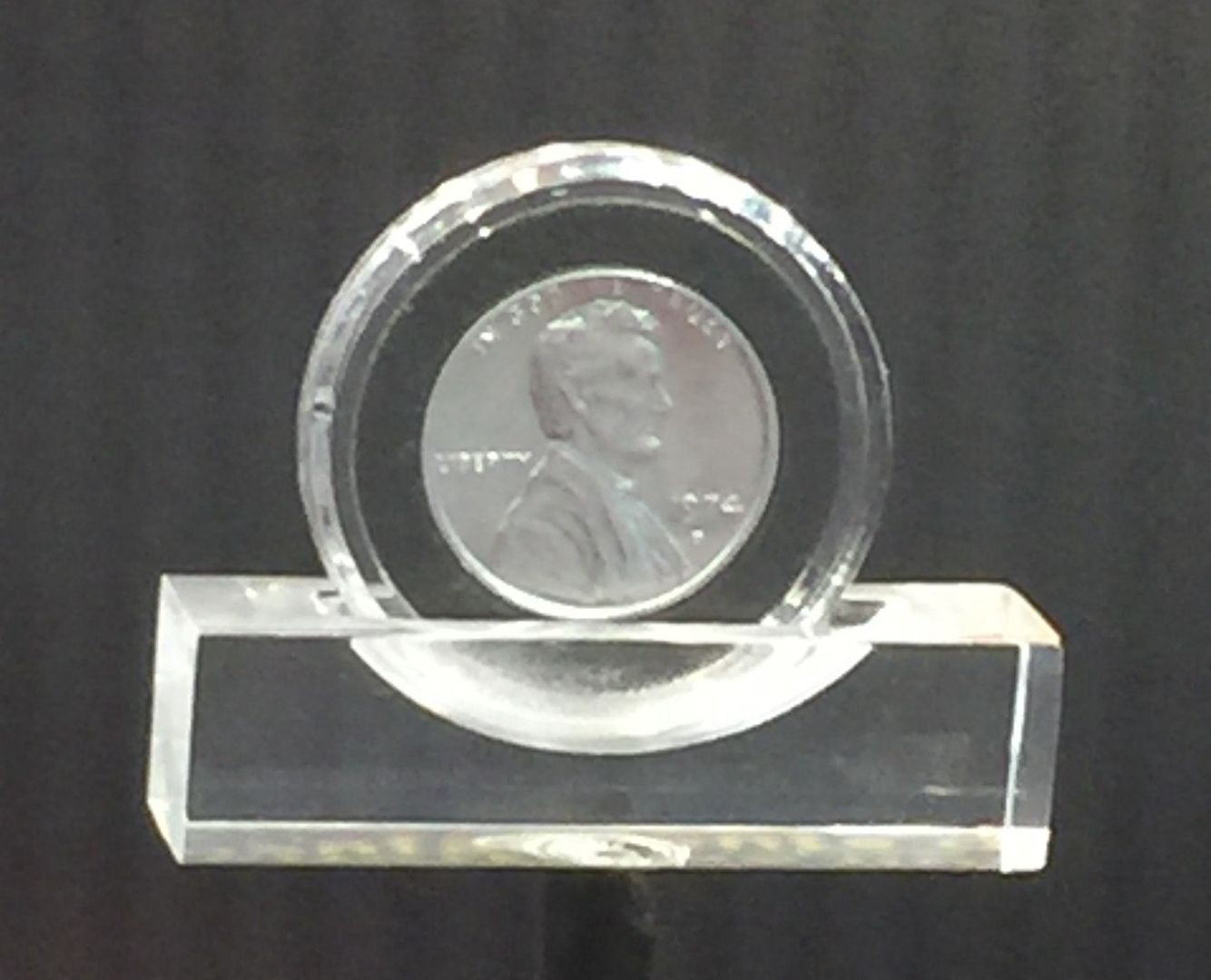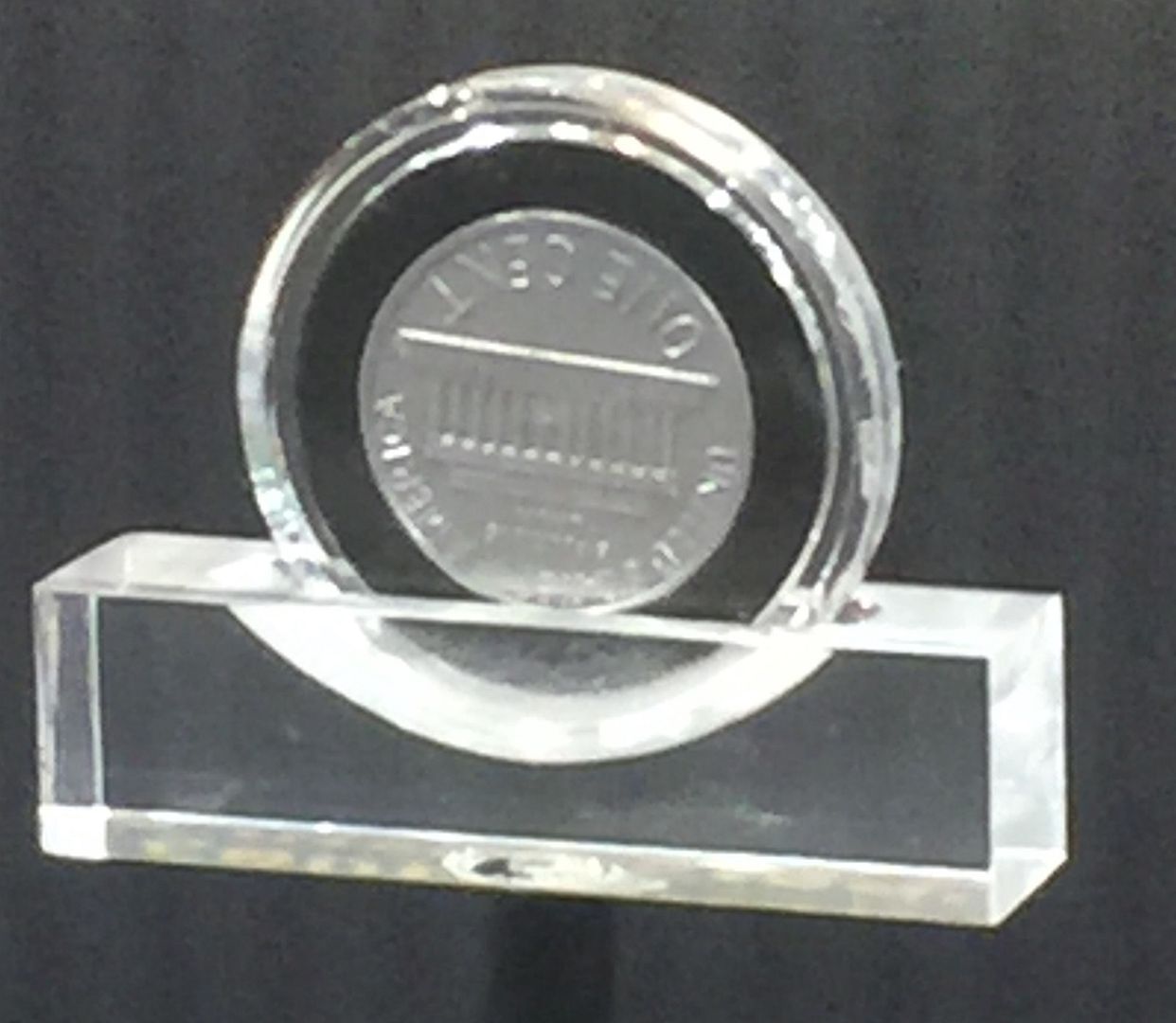 The U.S. Mint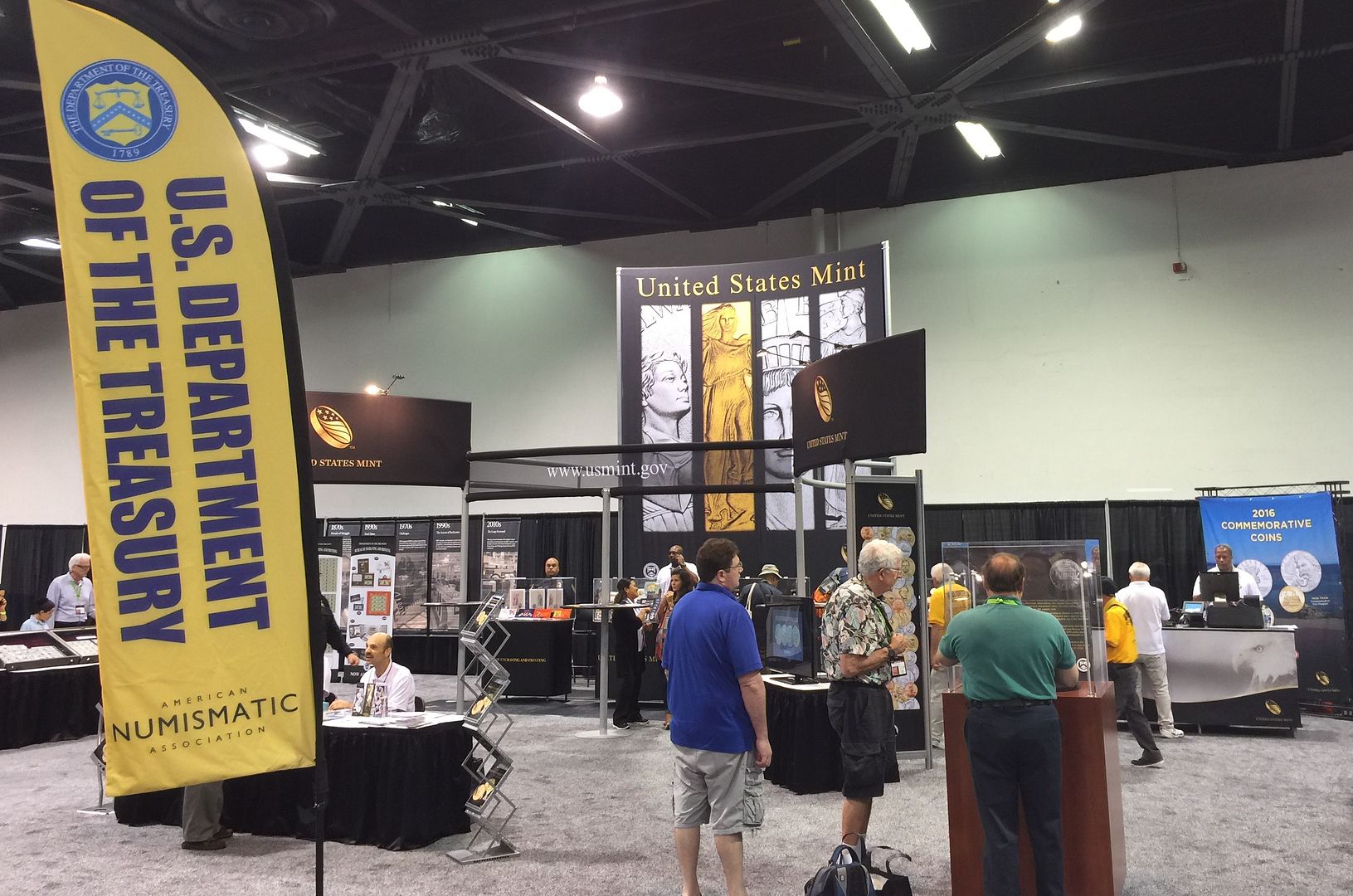 The Austrian Mint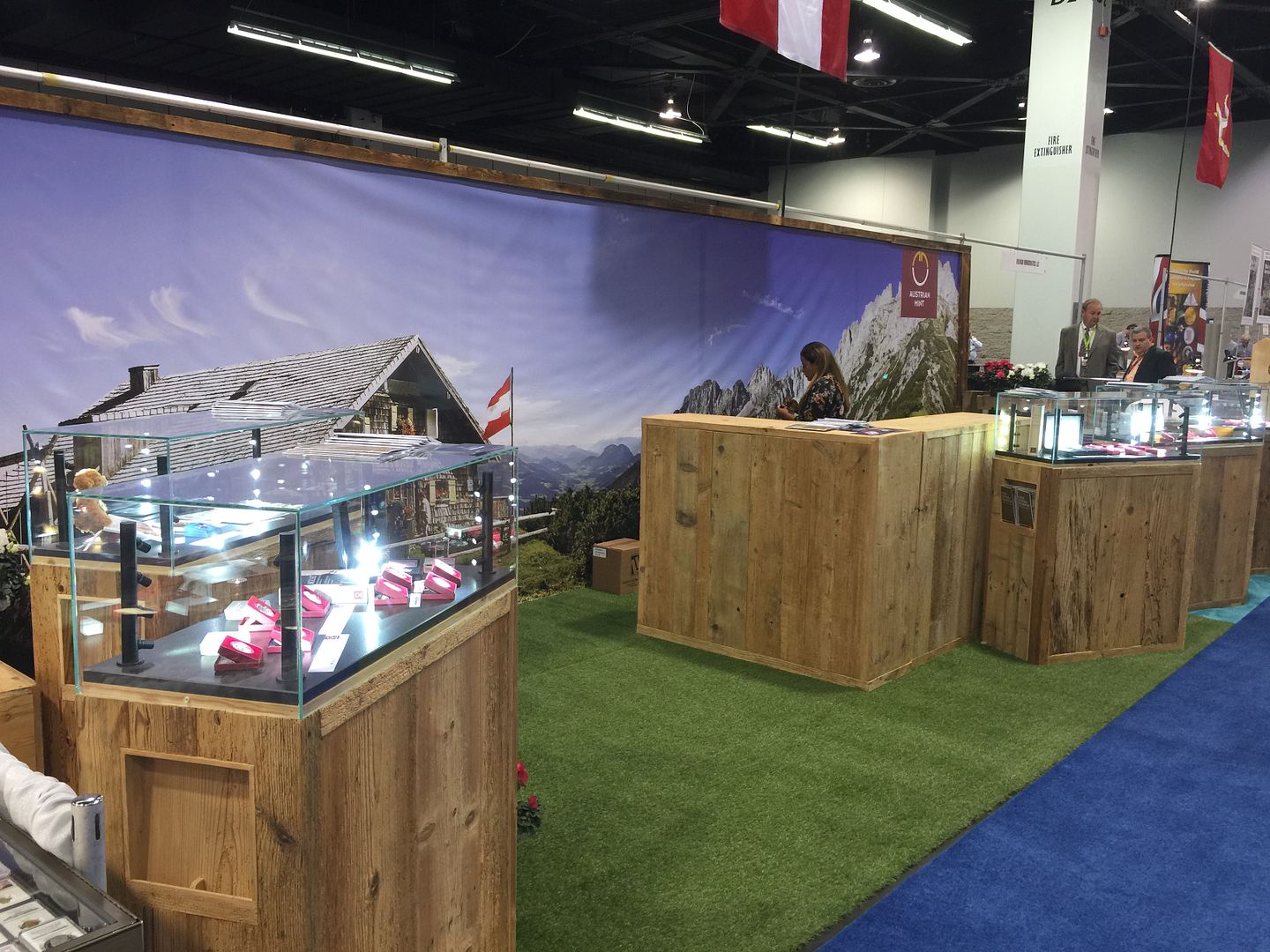 Three guys from the Cointalk.com forum: John/C-B-D, Chris/Cascade, and Mike/calcal
Thursday Rick gave his presentation on a new grading system, but I wasn't able to attend due to my WIN meeting. It's a very interesting and less subjective concept and I hope the numismatic community gives it great consideration.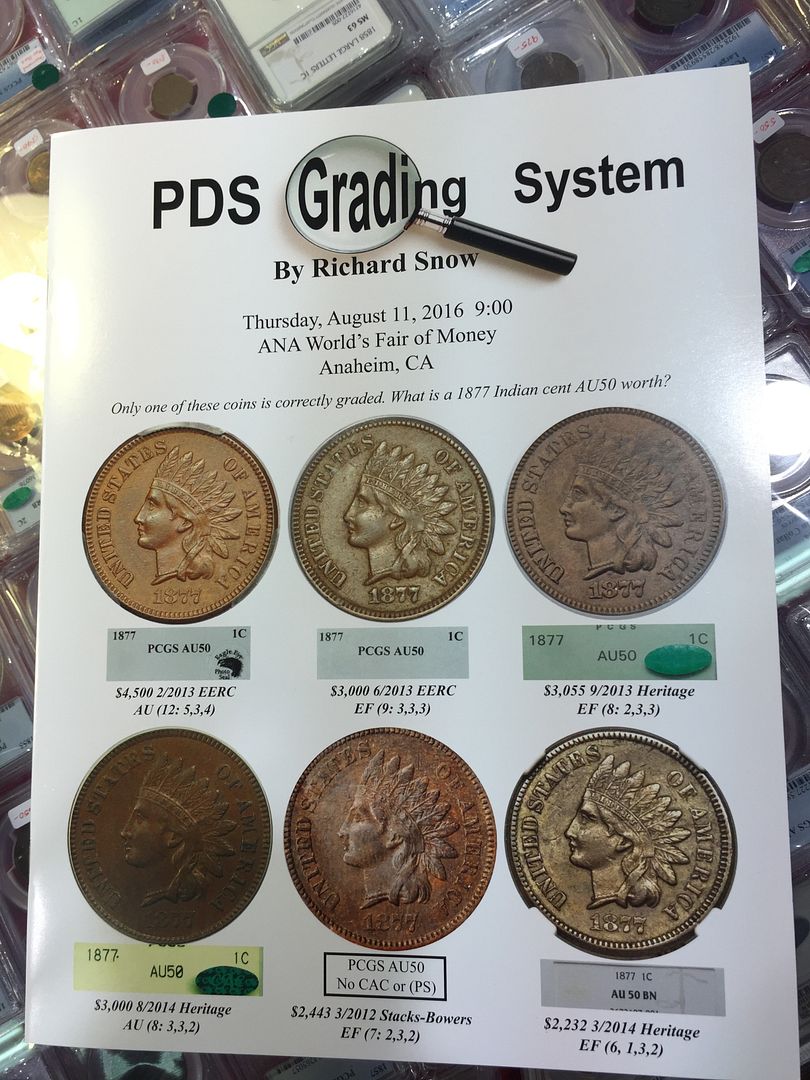 The ANA Literary awards were held on Thursday afternoon, and I was very pleasantly surprised to receive this Honorary Mention award for my Penny Potpourri article that appeared as a cover story in the March 2015 issue of The Numismatist. I didn't even know it was nominated for an award!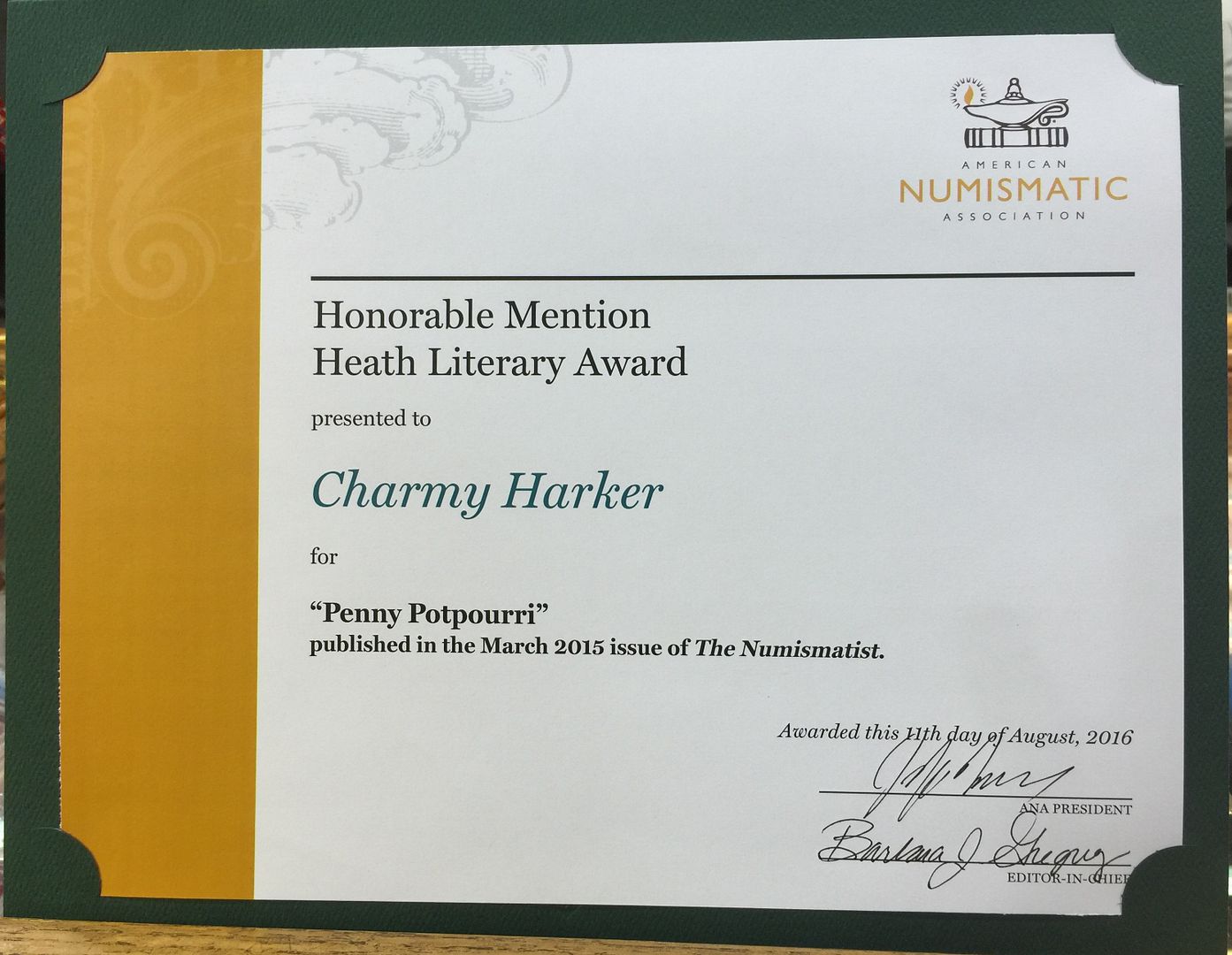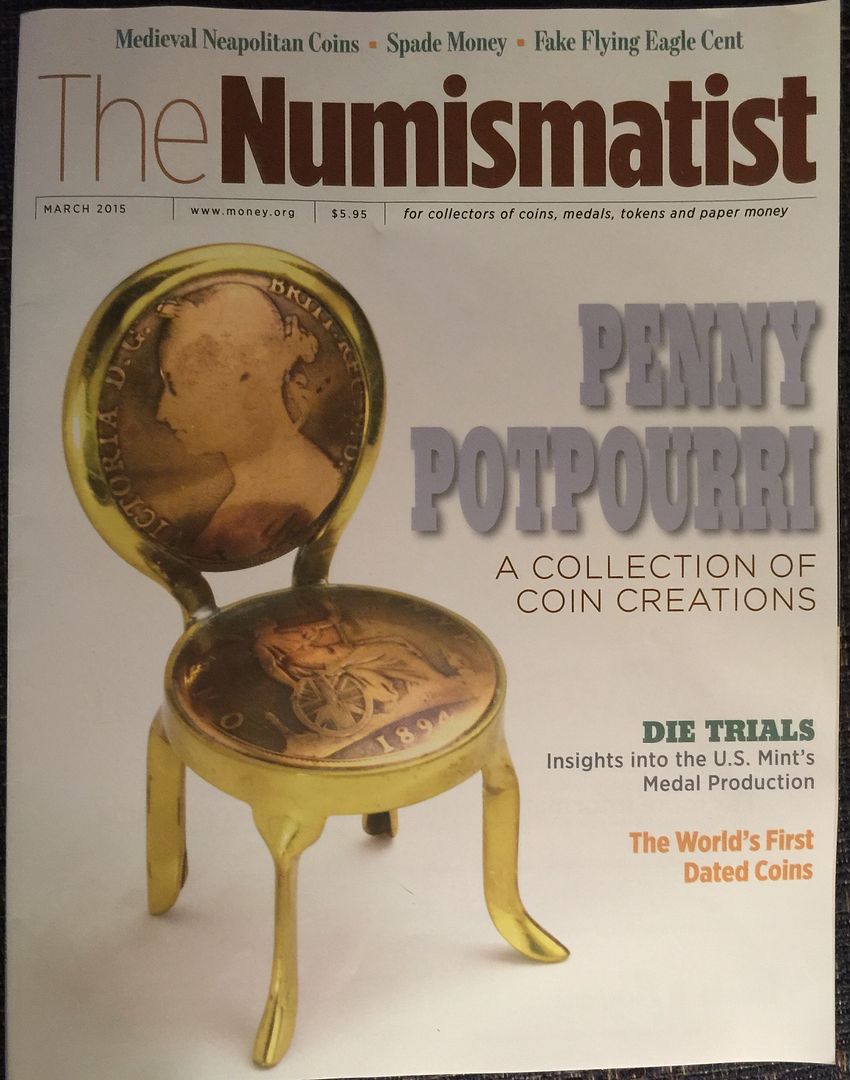 Thursday evening we had a WIN social mixer at the Hilton, again, I neglected to take photos, but we had a really nice time chatting with other WIN members.
I arrived early on Friday and took a few more photos around the bourse.
Kathy, Fred Weinberg and fellow error coin guy Mike Byers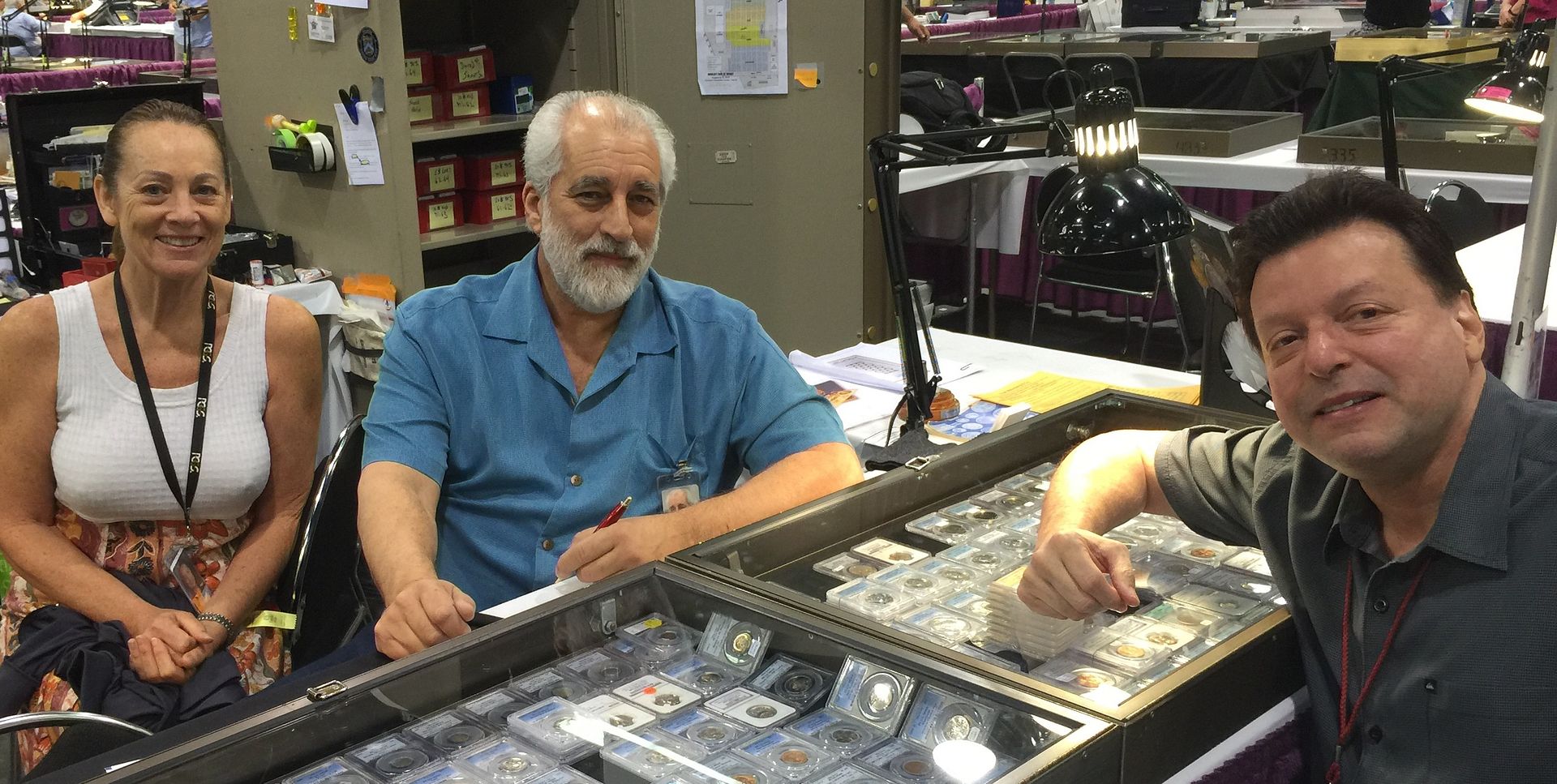 Very busy ladies at PCGS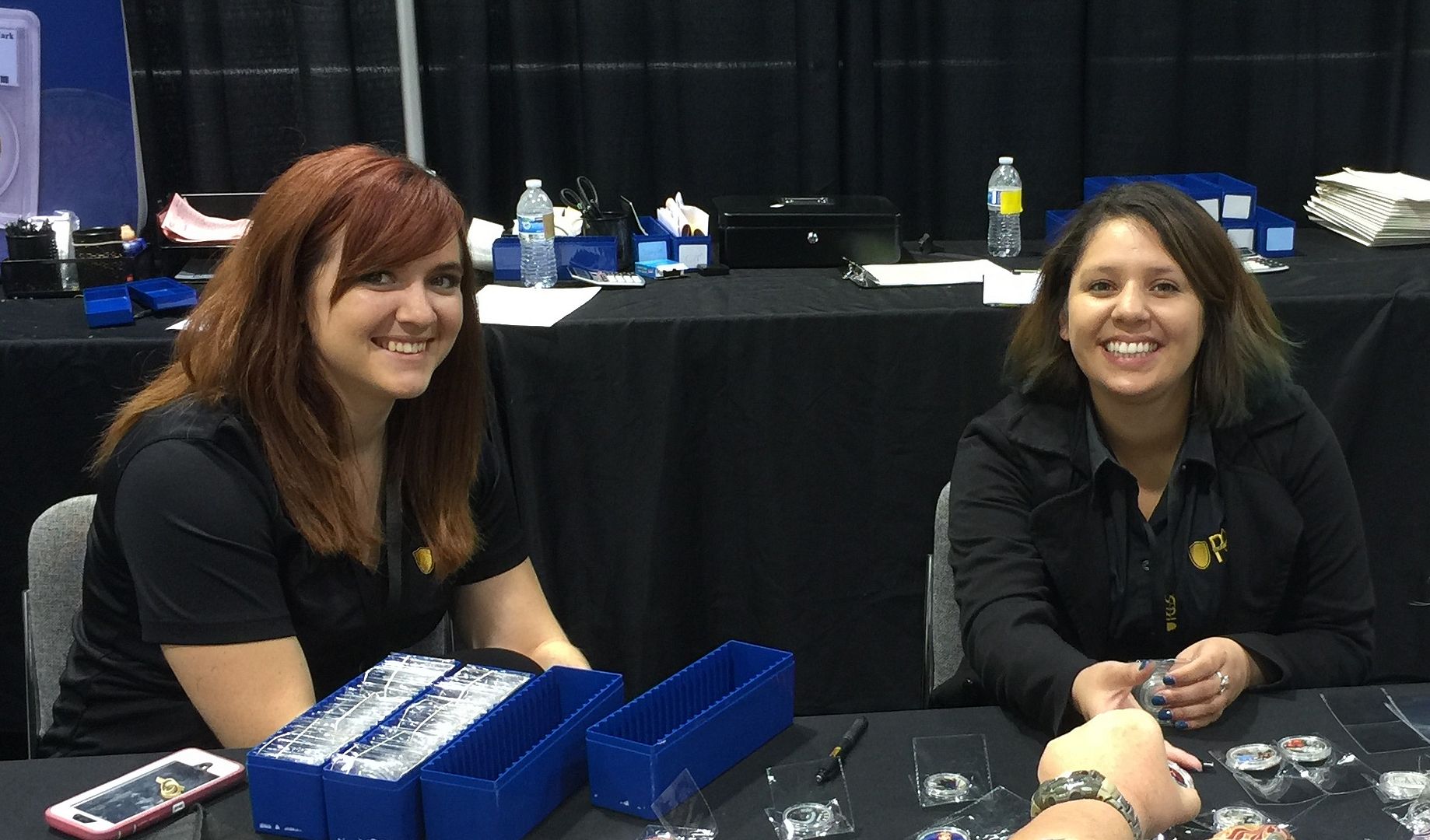 My good buddy Larry Shapiro and his associate Andy Wedding
More good dealer friends, Lou Roten and Doug Bird
Beautiful Bonnie of Albanese Rare Coin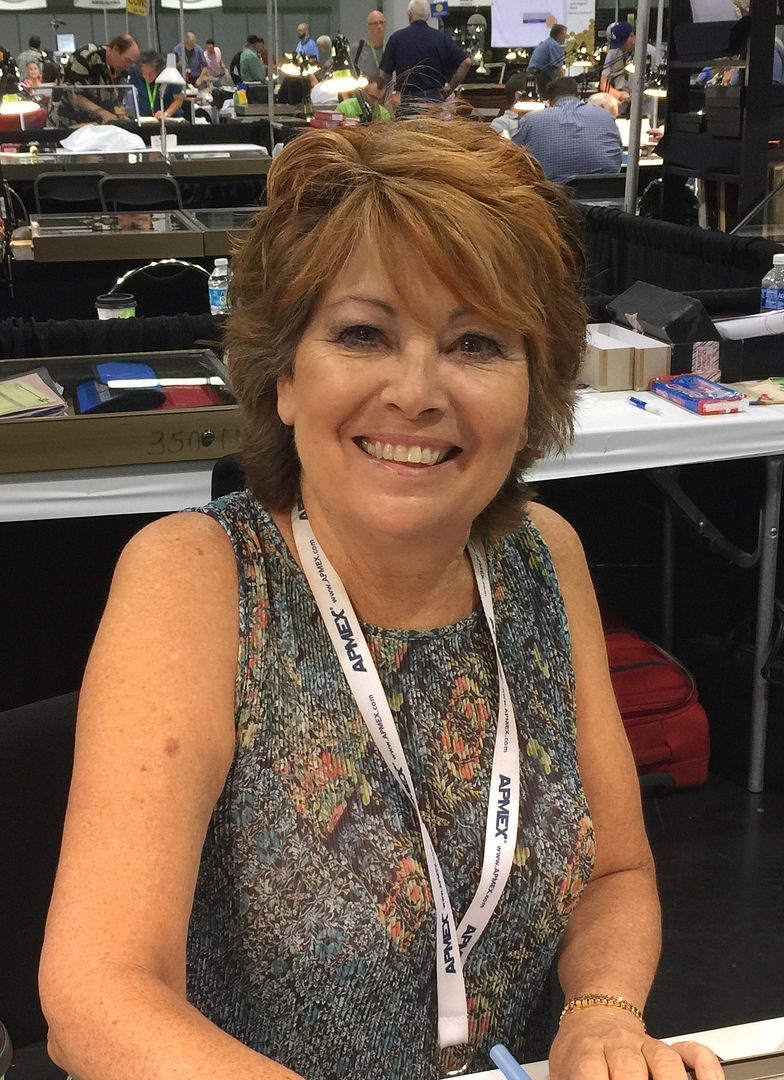 The Fly-In Club received it's plaque for 25 years as an associate member to the ANA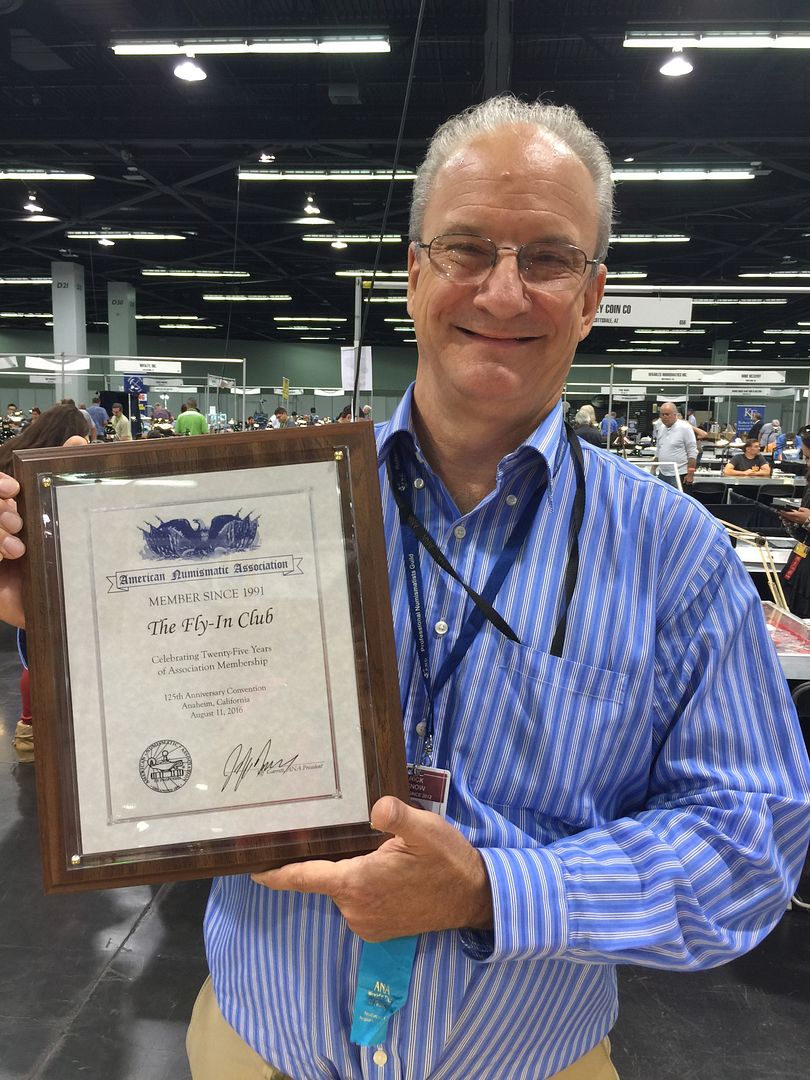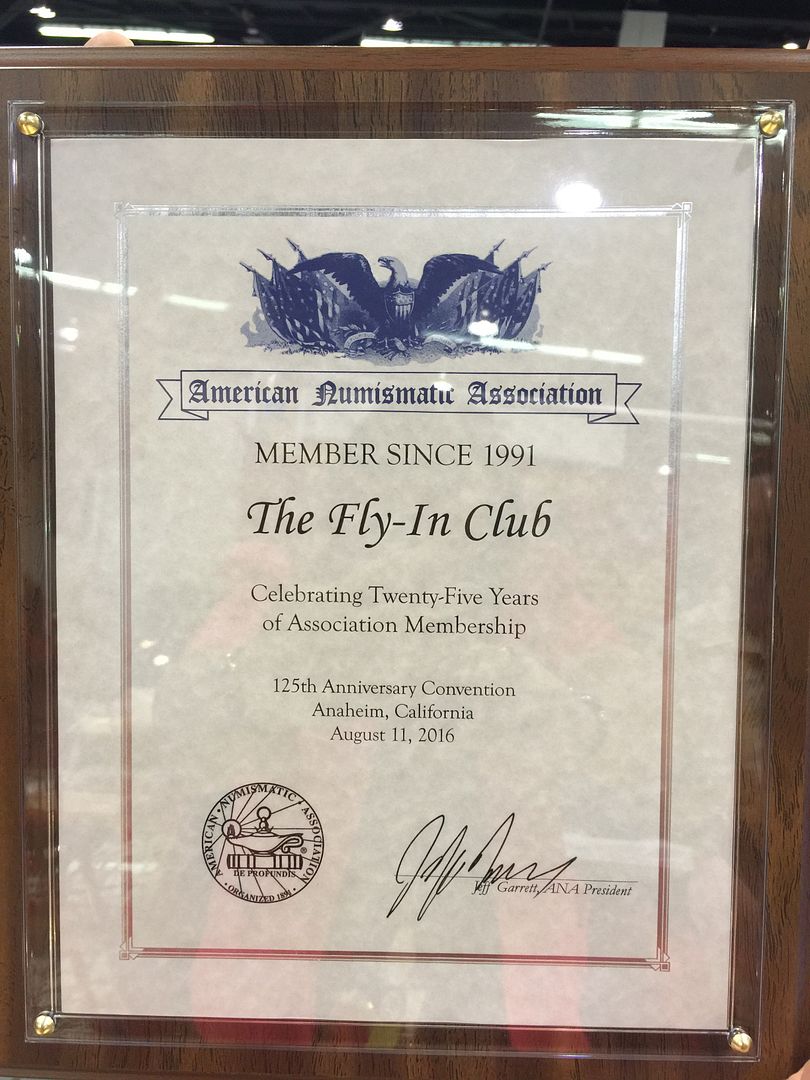 Bob/Watersport stopped by to say hi!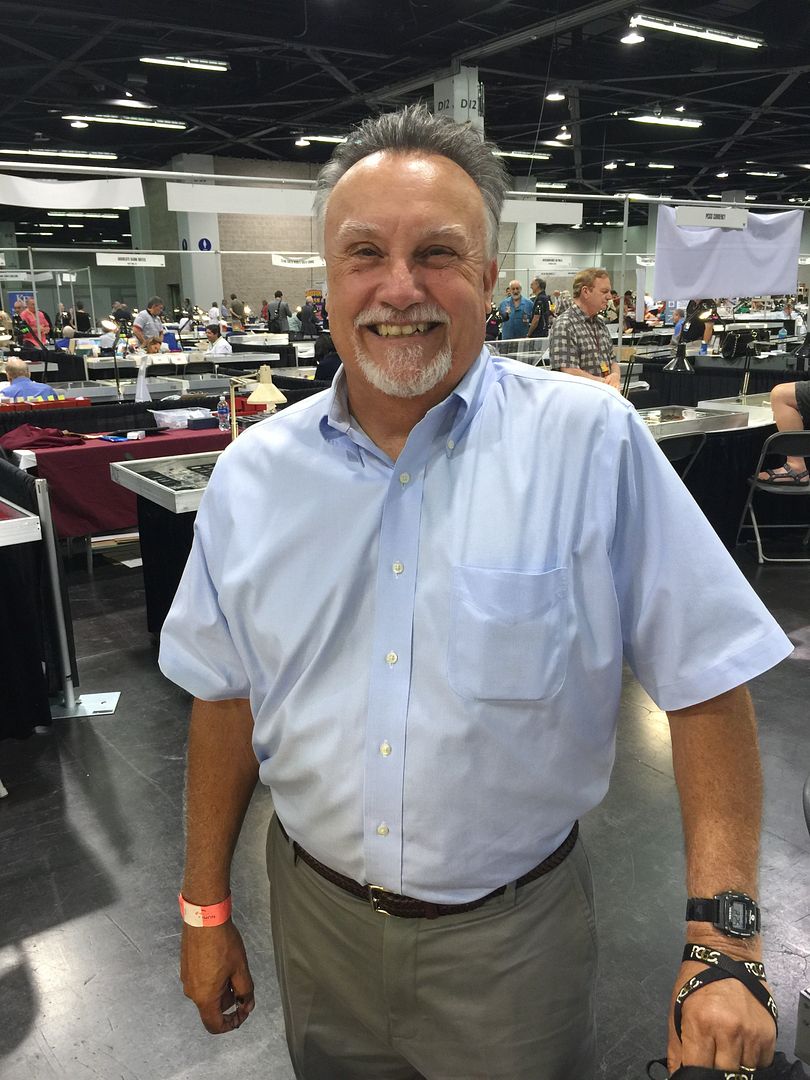 Great SoCal sunny weather and lots of activity on the walkway between the convention center and the Hilton Hotel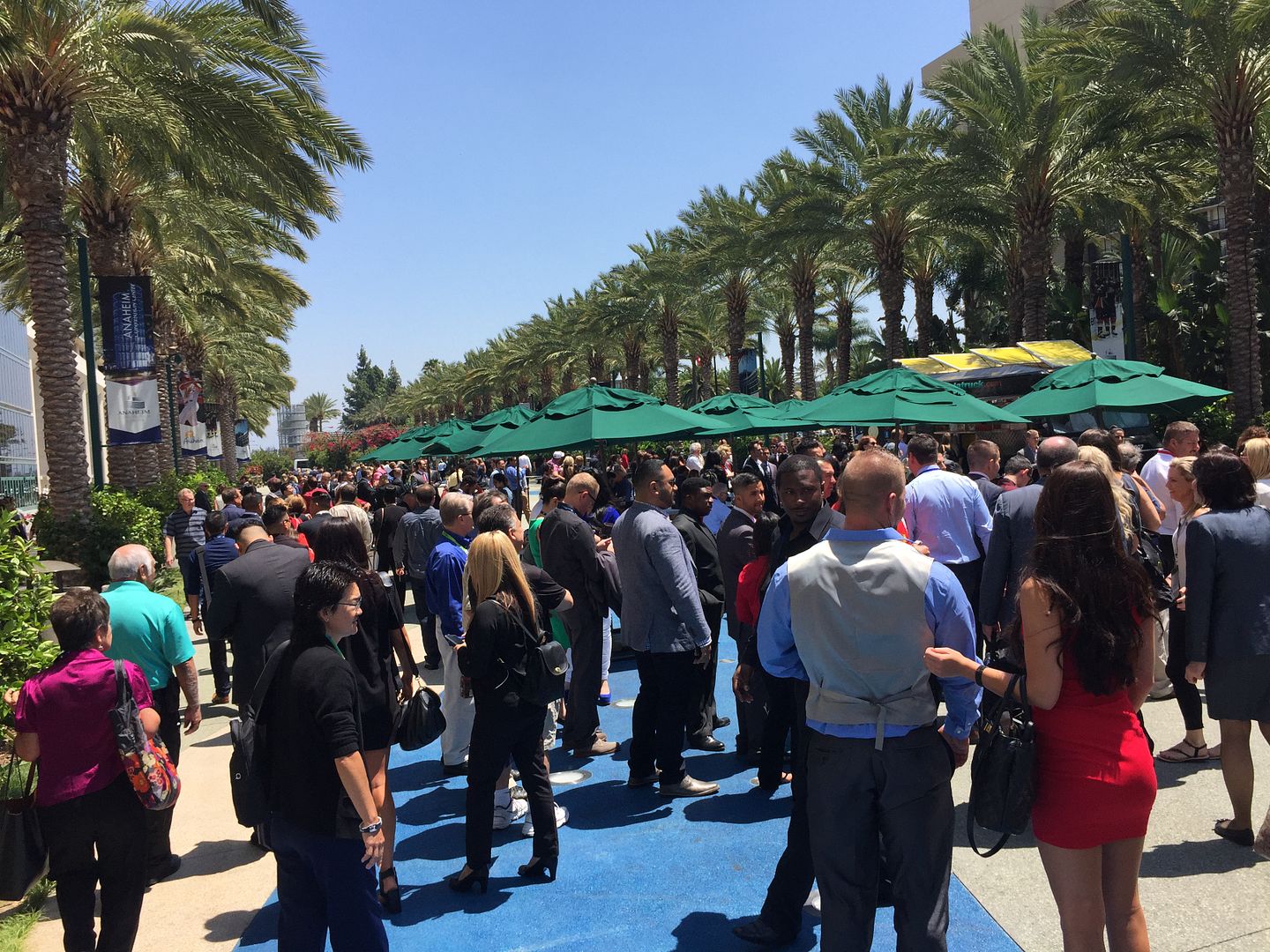 The exhibit class awards reception where I got First Place for my new exhibit, Penny Pots and Pins Made by Offenders and Defenders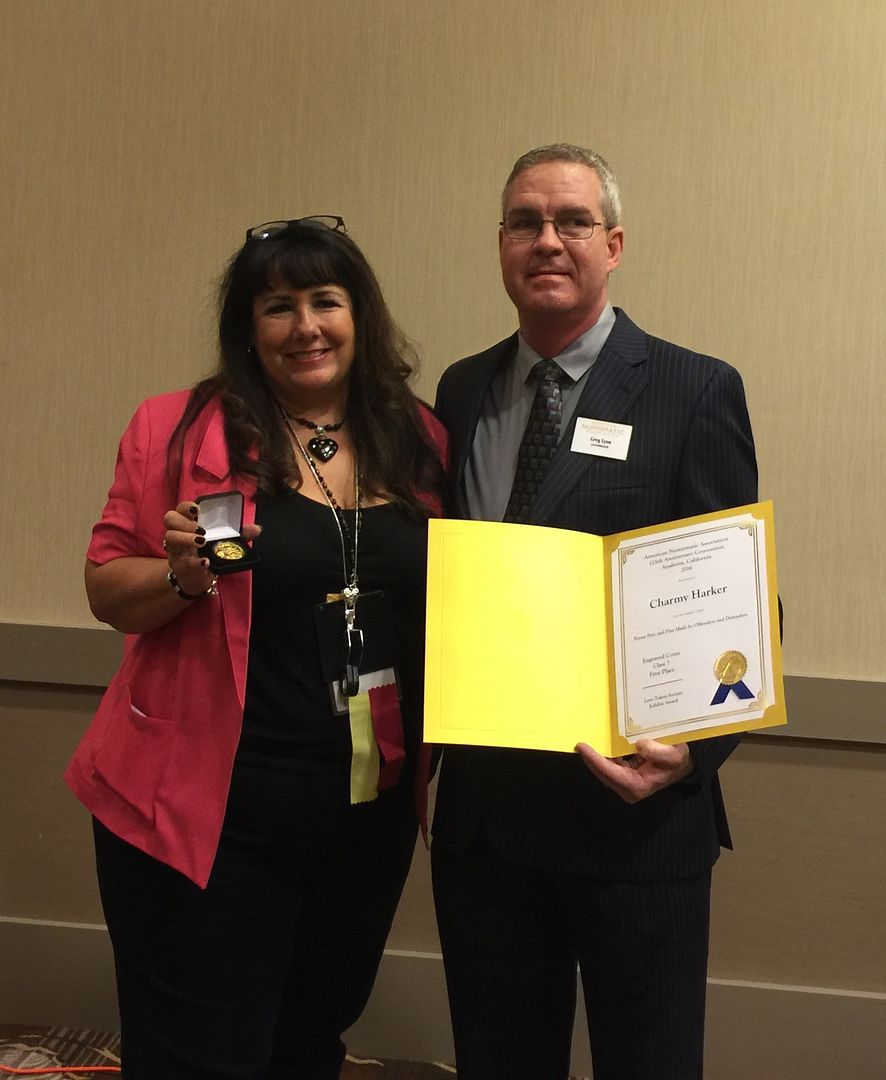 At 4pm on Friday, WIN drew two winners for its 25/25/50 raffle fundraiser which supports WIN's Summer Seminar Scholarship. WIN raised $1,000 from this fundraiser. David Crenshaw (of ICTA), and Carrie Best (of FUN) both won 25% of the total proceeds collected. (Carrie graciously donated her $250 back to WIN!)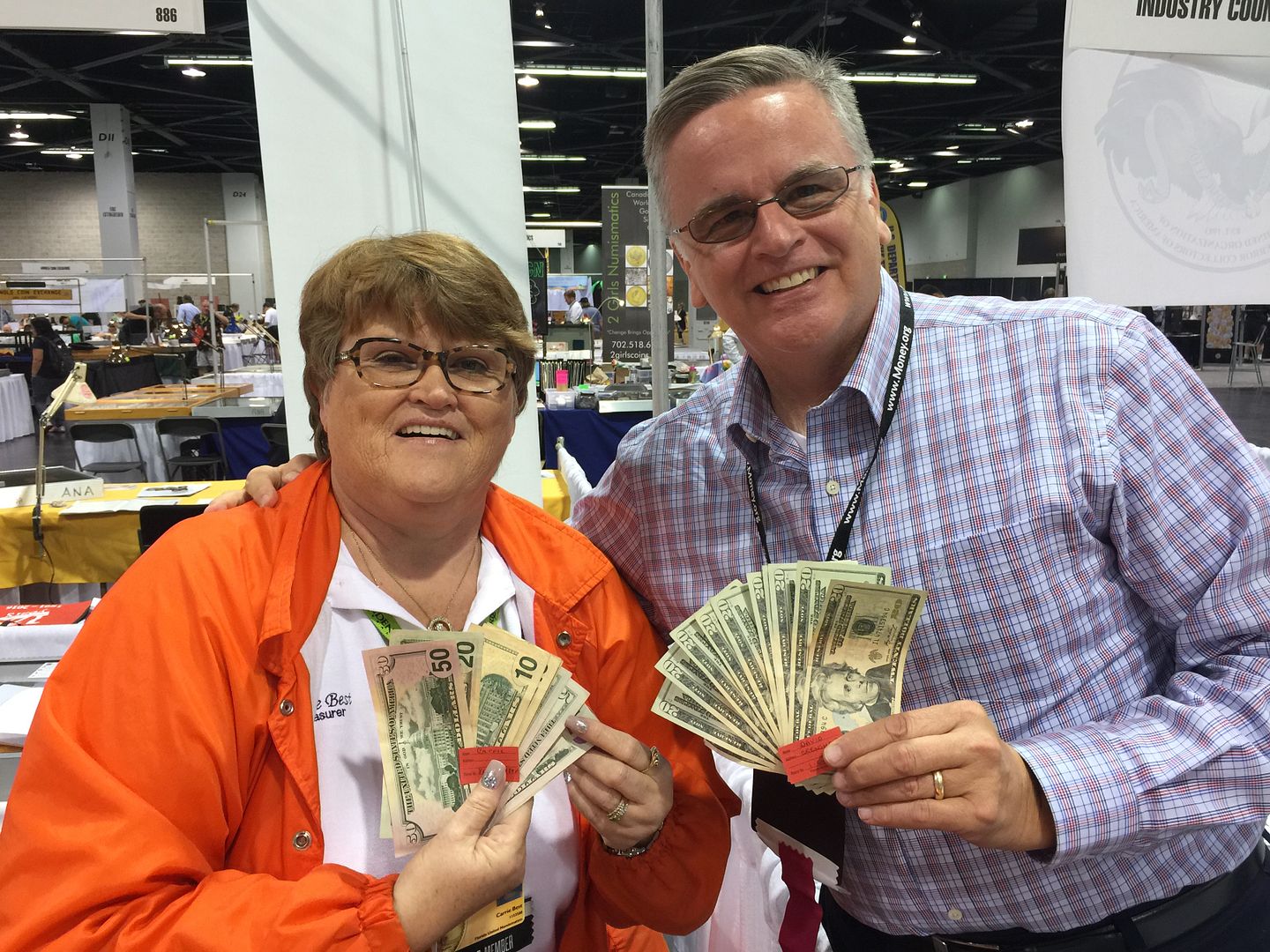 One of the tables near the front of the room had this amazing display of original Panama Pacific Expo Commemorative Coins, including original boxes, documentation and buttons!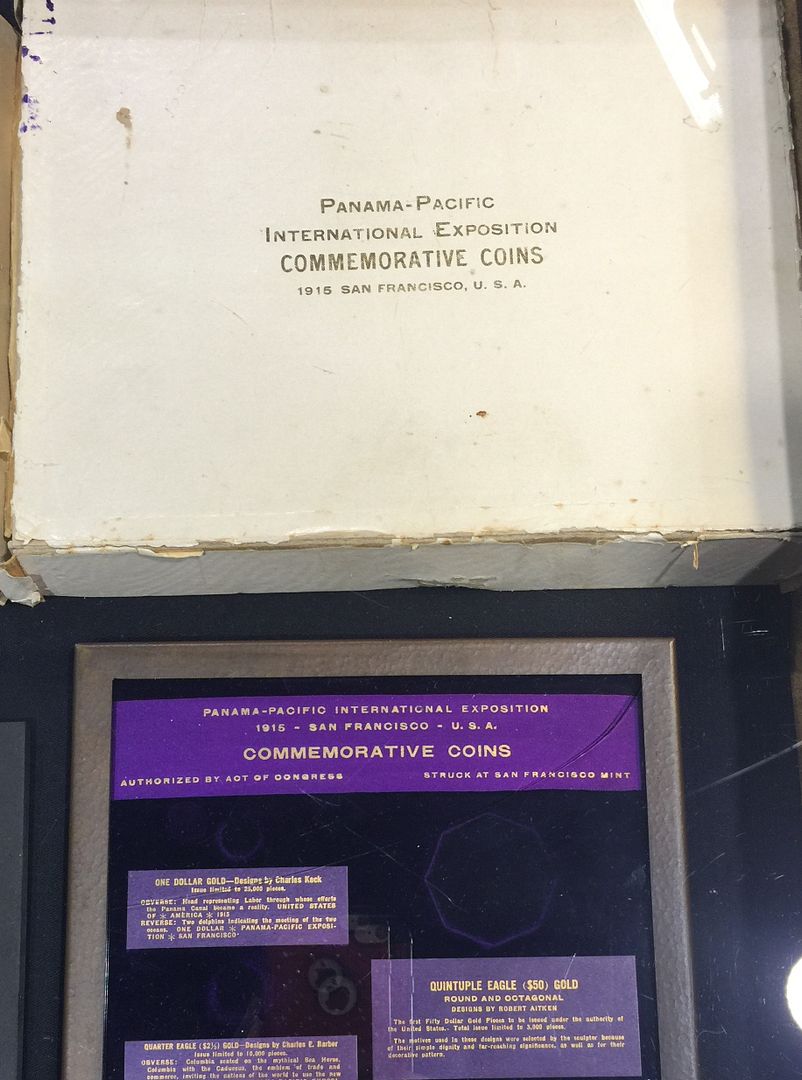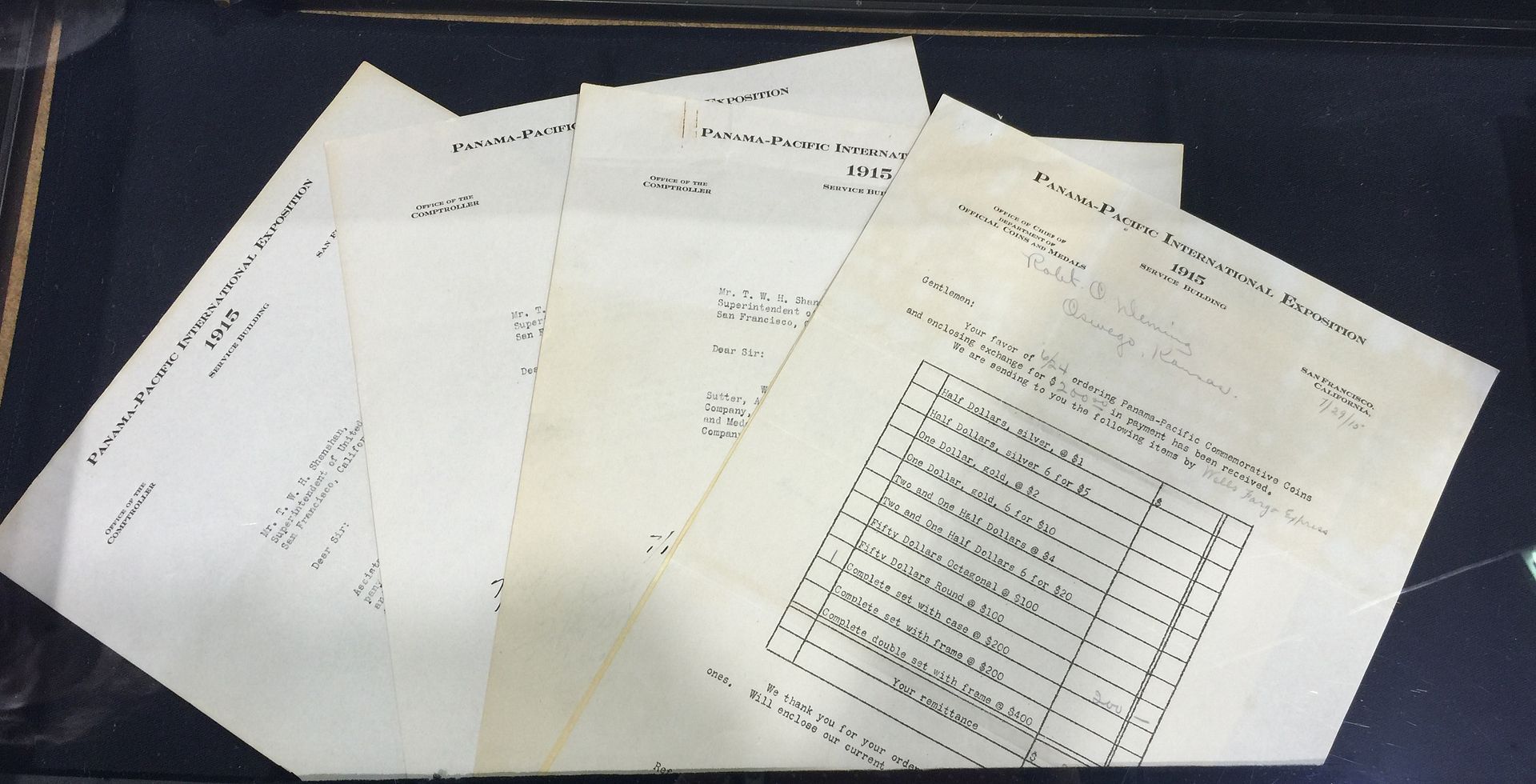 Friday evening was the ANA awards reception, silent auction, and banquet.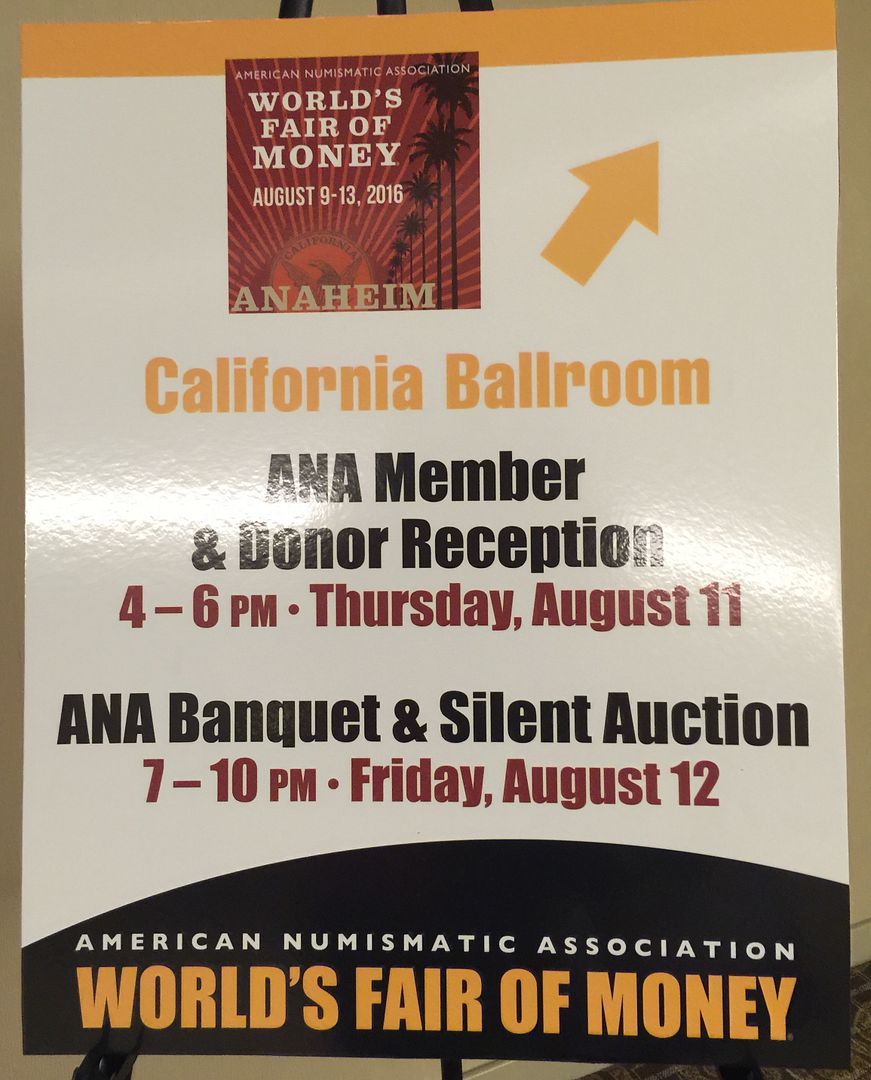 I sat with my usual crew.
The program
The food was delicious!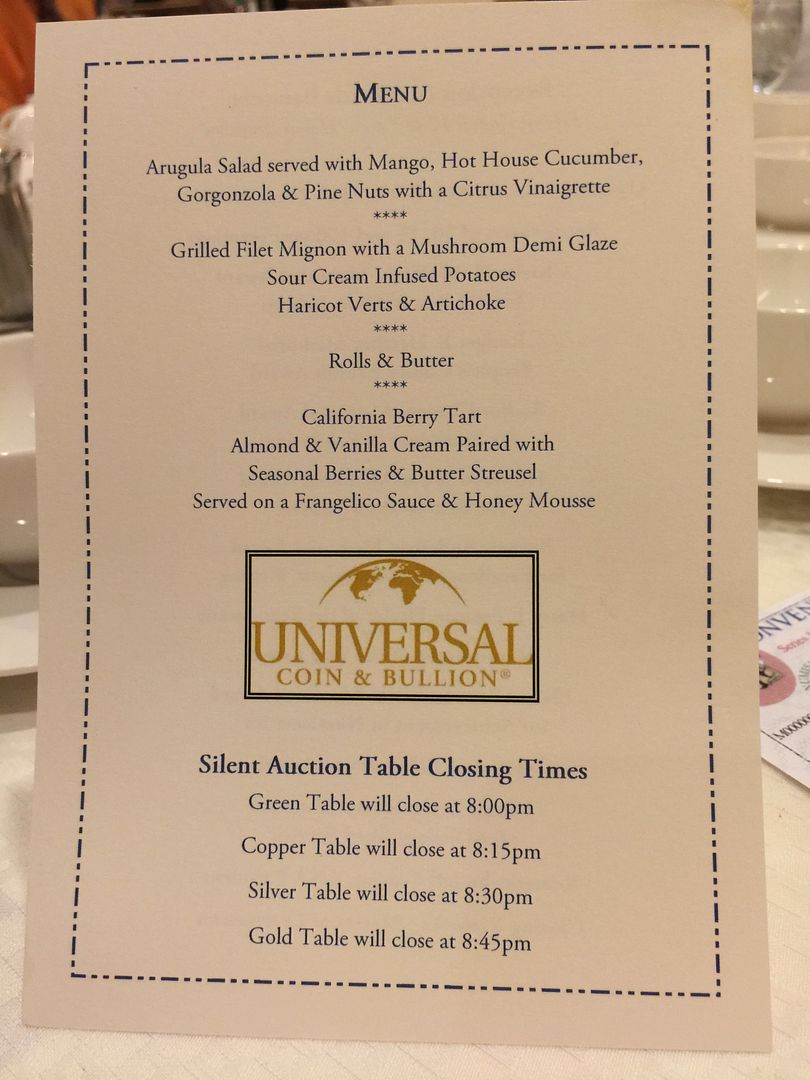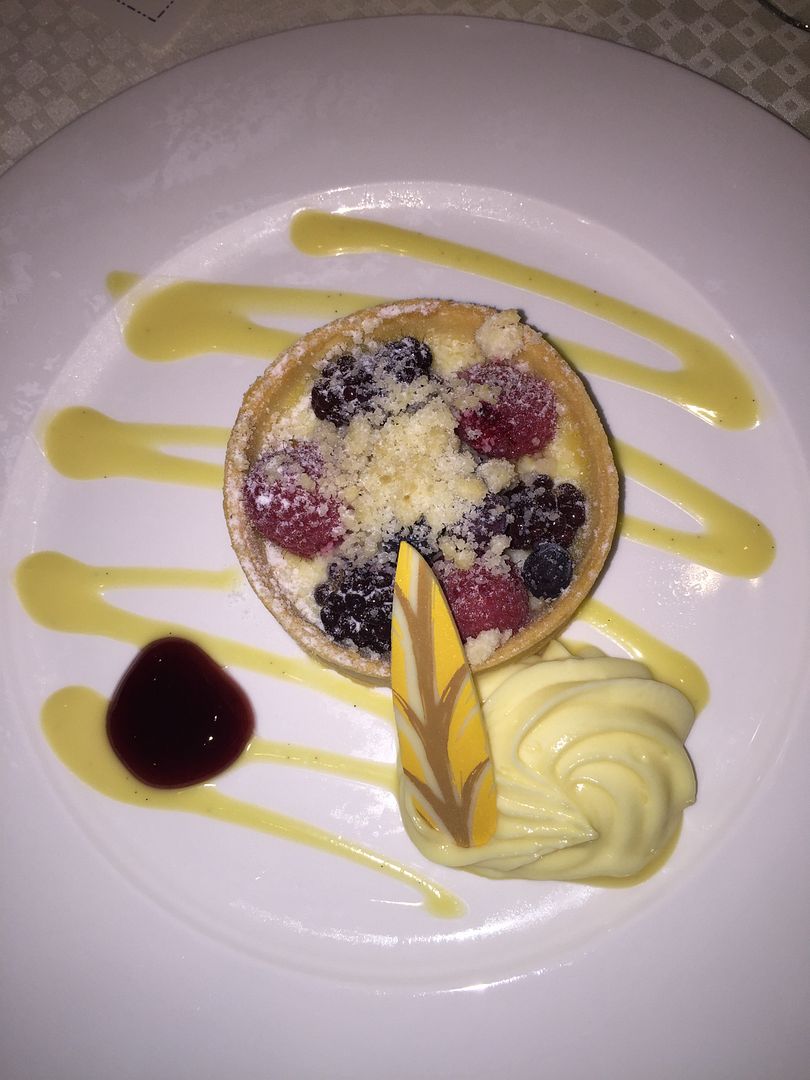 As many of you know, John Kraljevich won Numismatist of the Year!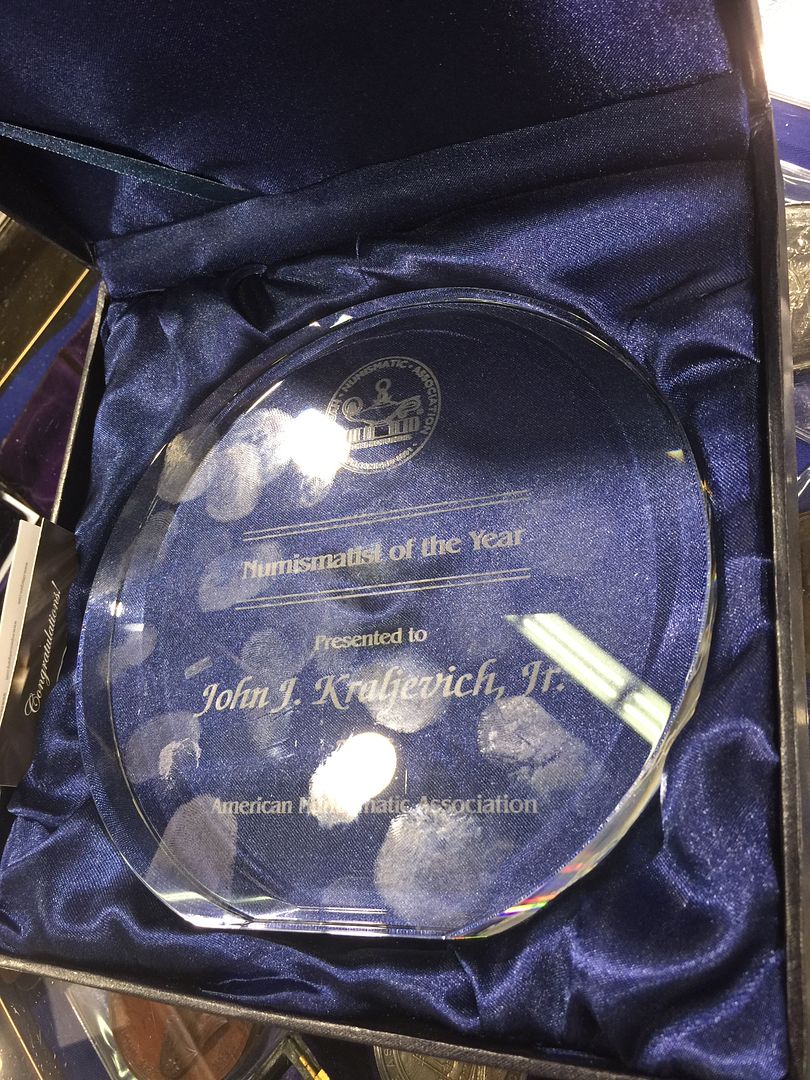 Unfortunately, my exhibit didn't win any awards this time, but I still enjoyed putting it together and displaying it at the show. I may bring it to the FUN show in January, but we'll see. I did "win" these silent auction items!
Rare original brand new Penny Punch Board with pennies included all dated 1945!
Poker chips in an ammo can!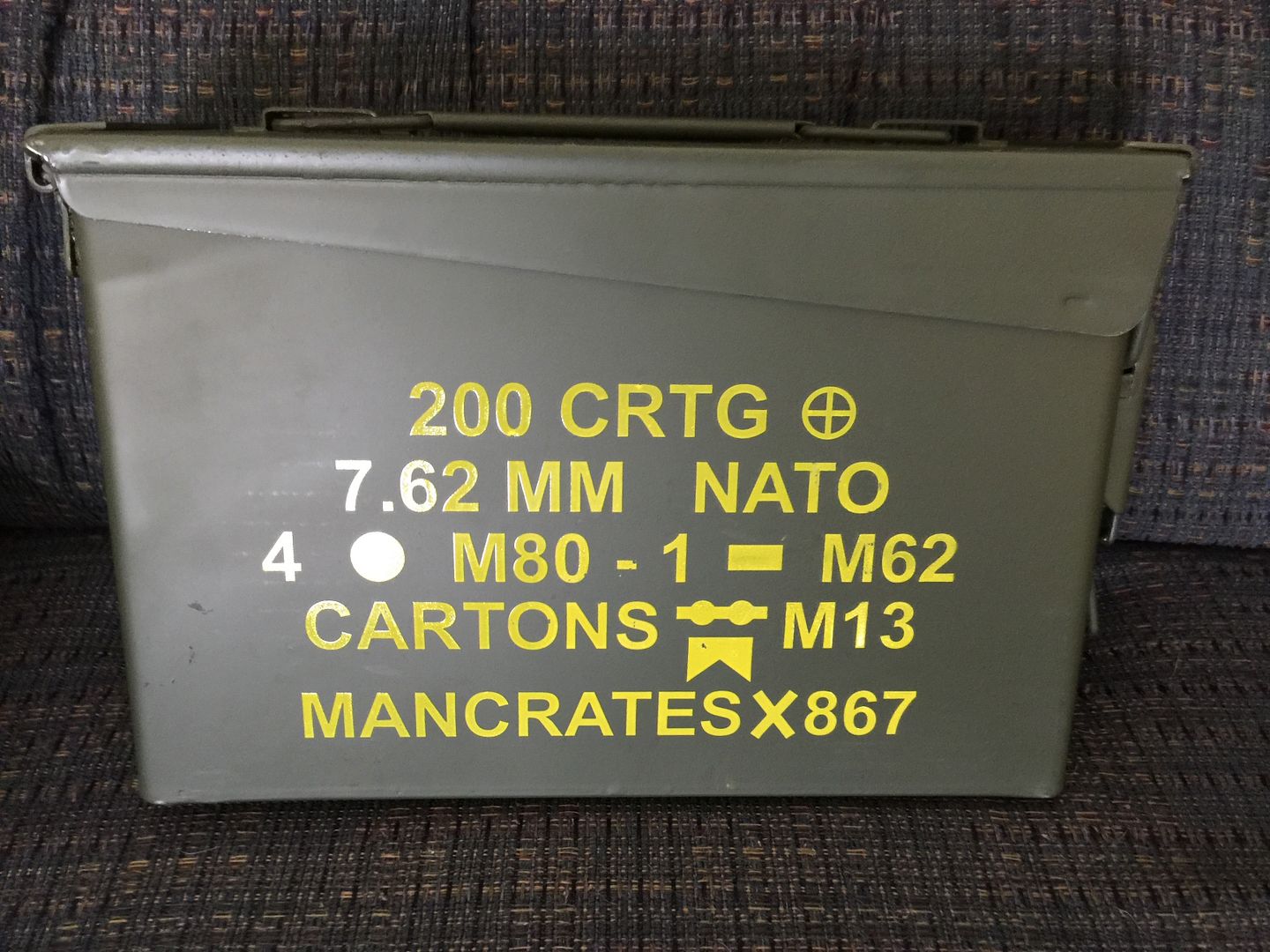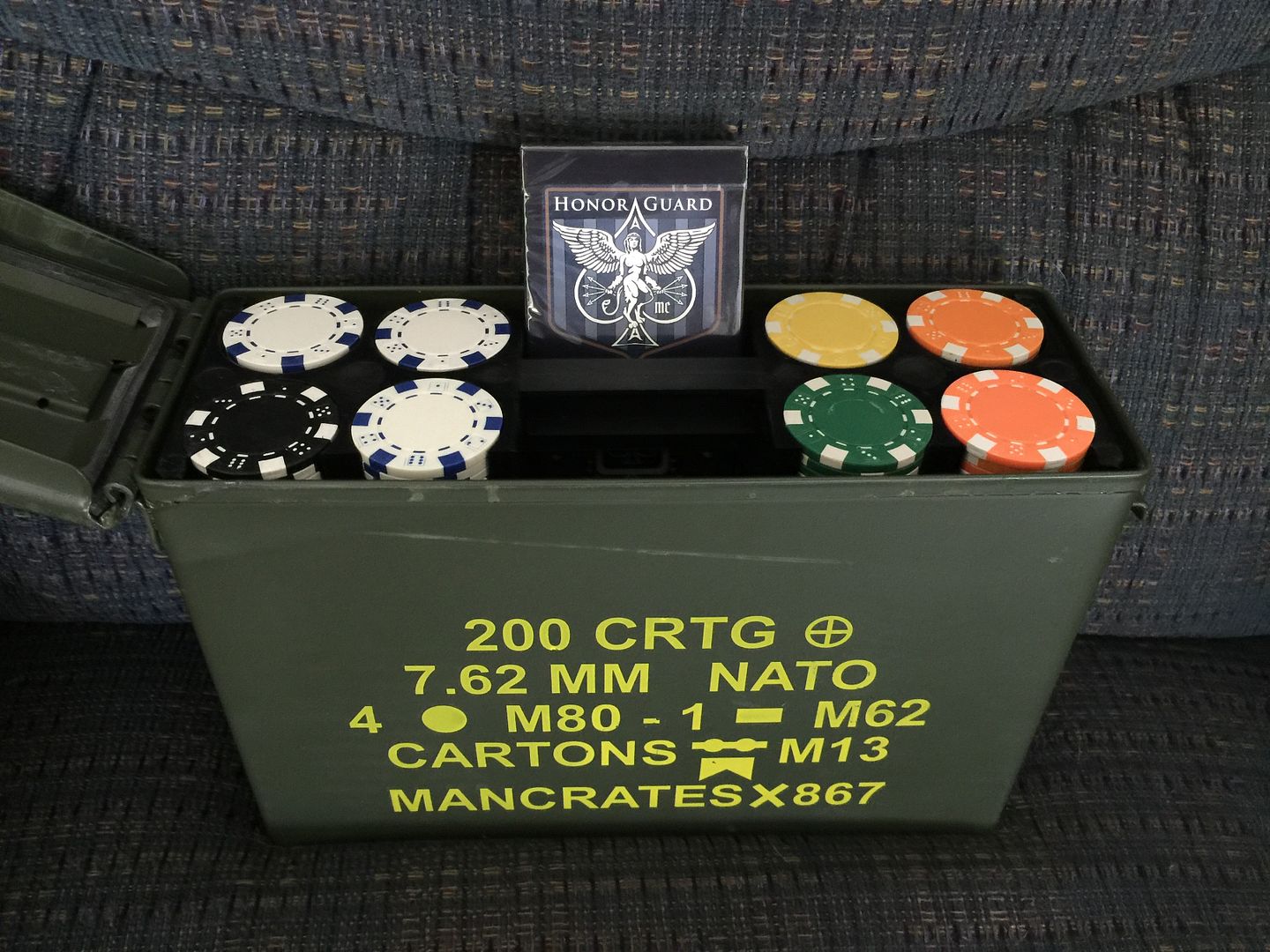 It was a very enjoyable evening with lots of special awards given out to very deserving folks, too many to list, but I'm sure they will be published in various coin magazines, as well as on the ANA website.
On Saturday, I stopped by the PCGS table to drop off some coins and ran into my dear friend Ron Guth. He is always a delight to talk to!
This is the exhibit that took Best of Show, it was very interesting with great information on the history of coins.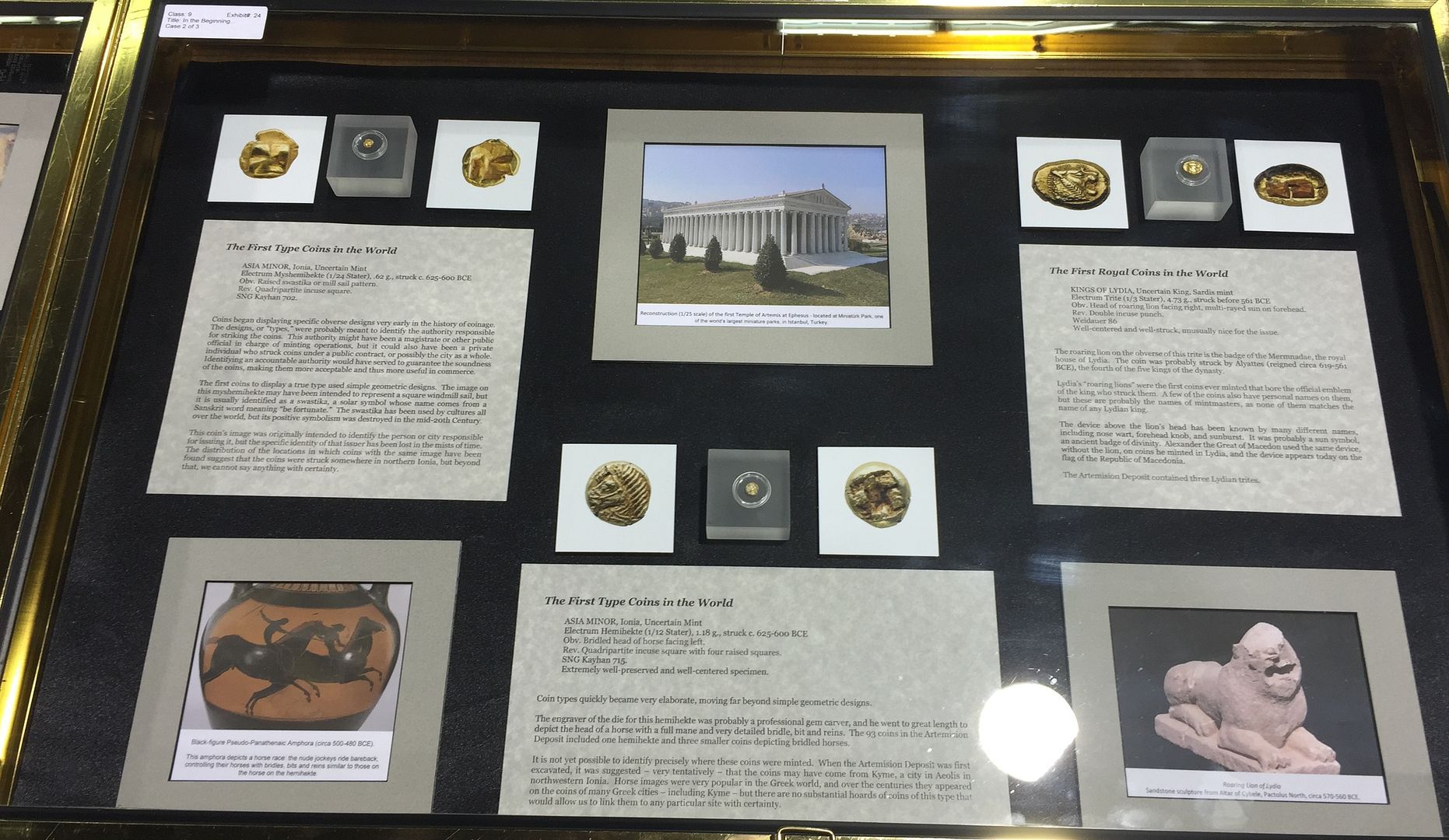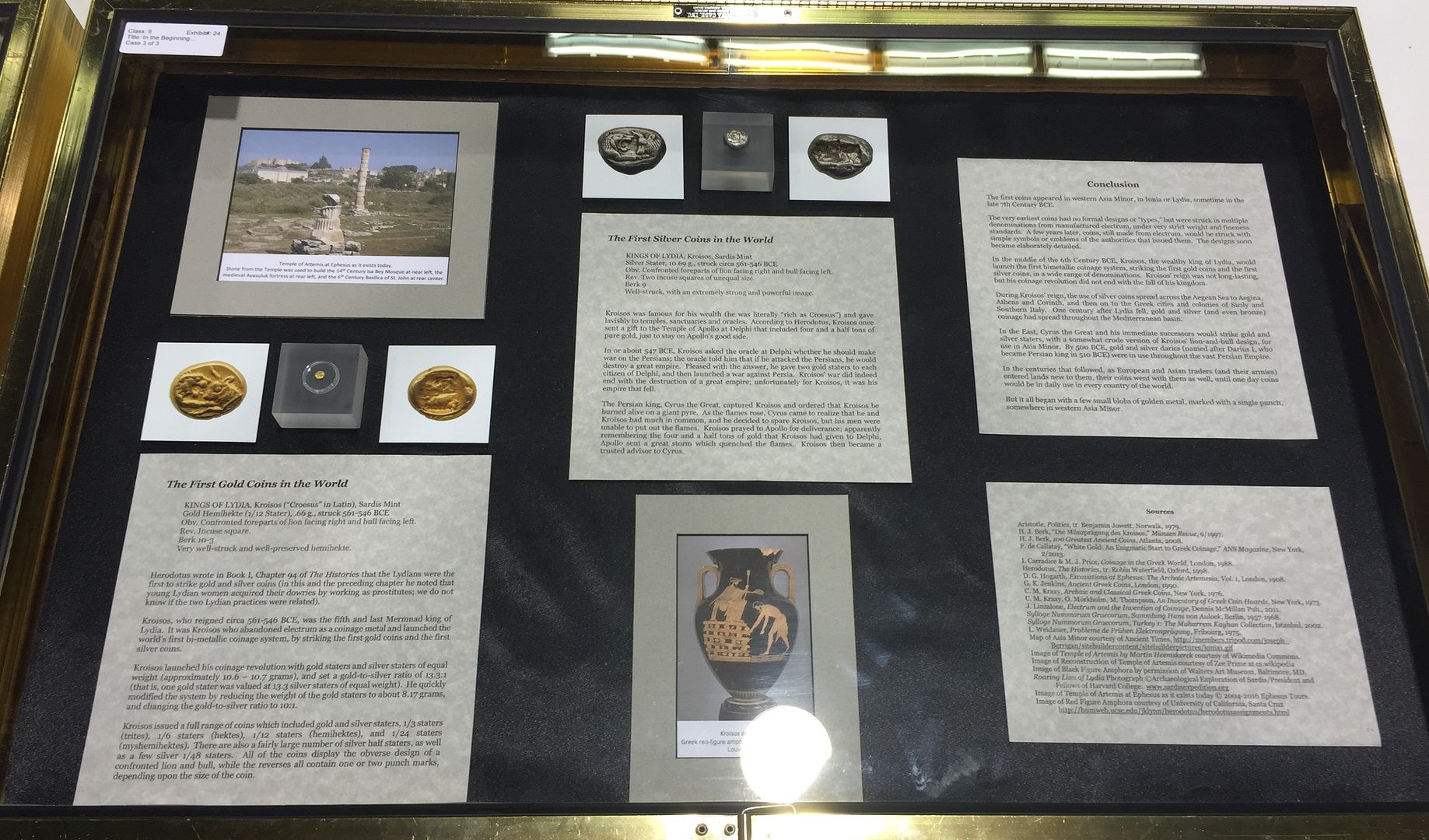 This is the exhibit that won People's Choice and Best New Exhibitor. It was 8 cases long and fascinating, I can see why it was so popular. One of the judges told me that my exhibit and this one were neck and neck, but he ended up winning by just a few votes!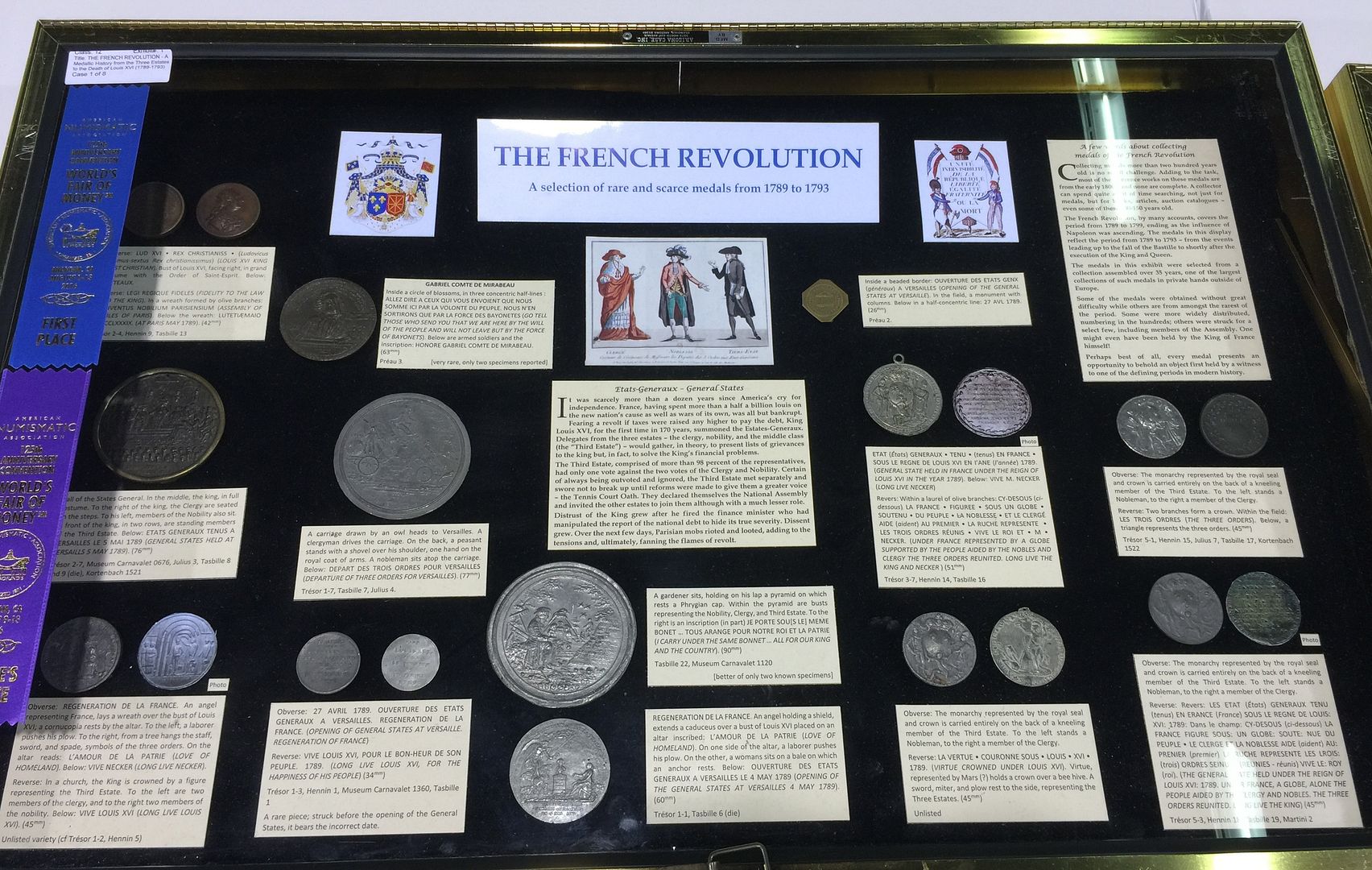 On Saturday, the bourse was full of families, and lots of scouts working on their coin collecting merit badge. I must have had 30+ kids stop by my table for their Treasure Trivia question.
It was great to see my bff Cindi (she works the ANACS table). We always have so much to catch up on, but it seems so little time!
And here's my little sweet Penny, waiting for me when I got home, laying on her favorite spot on top of my printer in front of the window!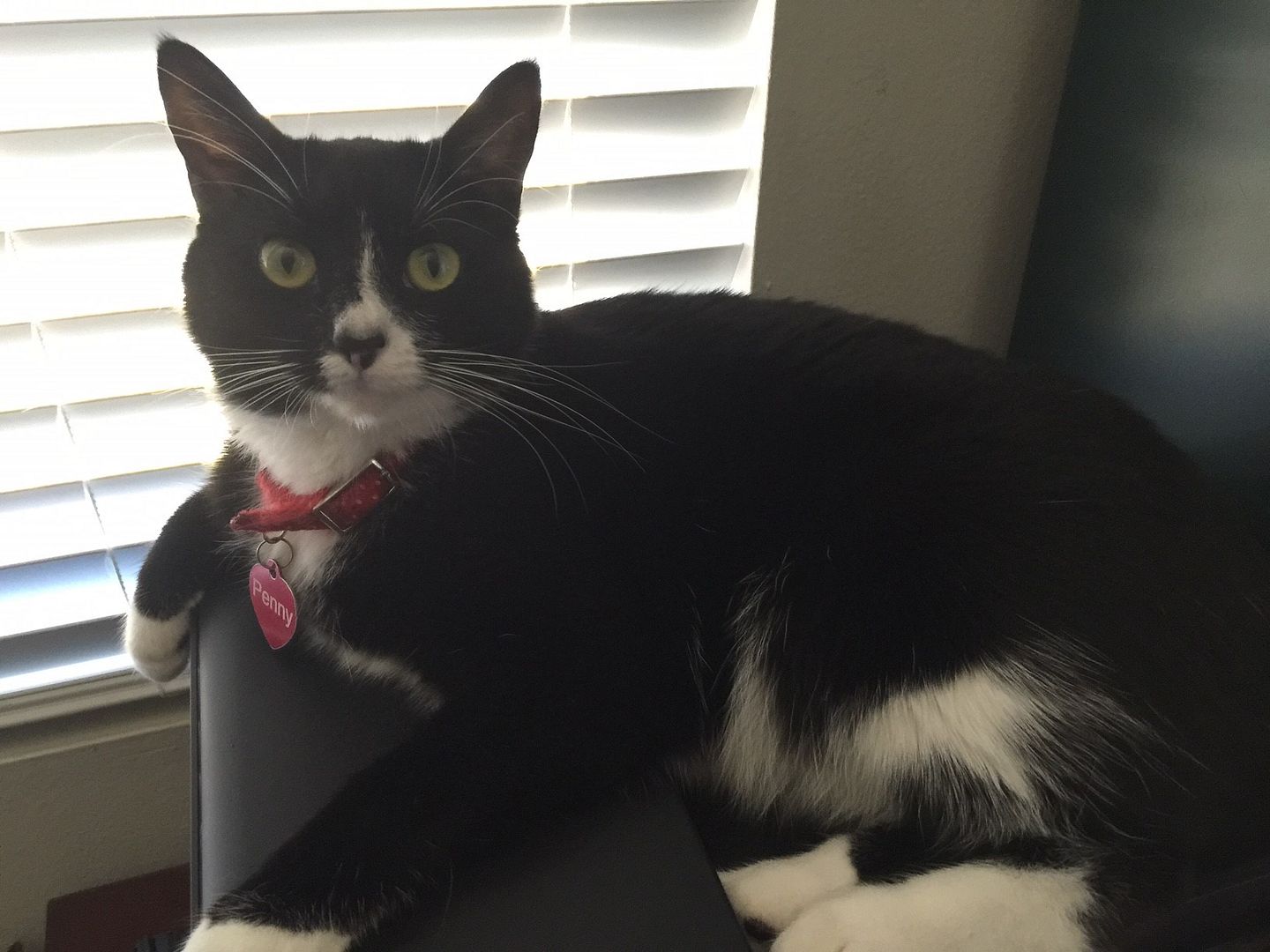 Overall, this show was less attended than expected, including dealer-wise. My retail sales were also less than I had hoped for, but as I mentioned above, I was able to stock up on some great inventory. I also loved being at the show, seeing all my friends, and just being back in the coin world again. And having the show so close to home that I could go back and forth was an added bonus for me.
I am thankful for how hard the ANA and all the volunteers work to put on this show. I realize having shows in California is not ideal to out of state dealers, but the large amount of dealers and collectors in California sincerely appreciate having the ANA in California every once in a while. And the ANA truly does a great job trying to make sure everything is in place and that the show runs smoothly. Everyone wants to see these shows be a success, and even in spite of any hitches and glitches, I give the ANA big kudos for bringing the coin community all together twice a year, including dealers, collectors, volunteers, numismatic educators, vendors, authors, and exhibitors.
Next up: The Santa Clara Coin Show in two weeks, followed by the Long Beach Show, then the Las Vegas Show, and many more! Boy, I've missed coins, my coin friends, and coin shows; it feels really good to be back on the show circuit again!
Charmy Harker - The Penny Lady® President of Women in Numismaticshttps://thepennylady.com/