Home
›
U.S. Coin Forum
Charmy's 2016 CSNS Show Report and SPECIAL OT Report w/Lots of Pics!

ThePennyLady
Posts: 4,084
✭✭✭✭✭
This show report will be different than any of my previous ones. While it will include a limited report and photos on the Central States Coin show, as some of you may know, my wonderful crazy fun loving Evil Knievel hubby Lou was in a horrible off-road accident in Baja the day I arrived in Chicago. That of course greatly affected my focus during the show so I didn't take nearly as many photos as I usually would. And believe me, if I had known on Tuesday what I slowly learned throughout the week, I would have turned right around and headed back home.
I know many of you follow my show reports and I am grateful for all the friends and acquaintances I've met through this forum, so even though most of this report will be off topic, I thought you might be interested in what happened. So if you will indulge me, I'd like to chronicle the events of last week, including some true miracles, and how this event has greatly affected our lives, at least for the next several months, including my attendance at future coin shows.
Last week right after I left for the PNNA Tukwila/Seattle show, Lou and his race team finished preparations and headed to Ensenada for the NORRA Mexican 1000 race which is actually a 1300+ mile, 4-day off-road race from Ensenada to Cabo (NORRA is an older, less "prestigious" version of the Baja 1000). He has done this race twice already and has a dedicated race team that supports him all the way.
This is Lou making one last check of his car before they loaded it onto the trailer. Please note that he has to climb in through the roof, rather than the window, due to the reinforced center supports attached to the double roll-bar. This extra support will become very significant later in this story.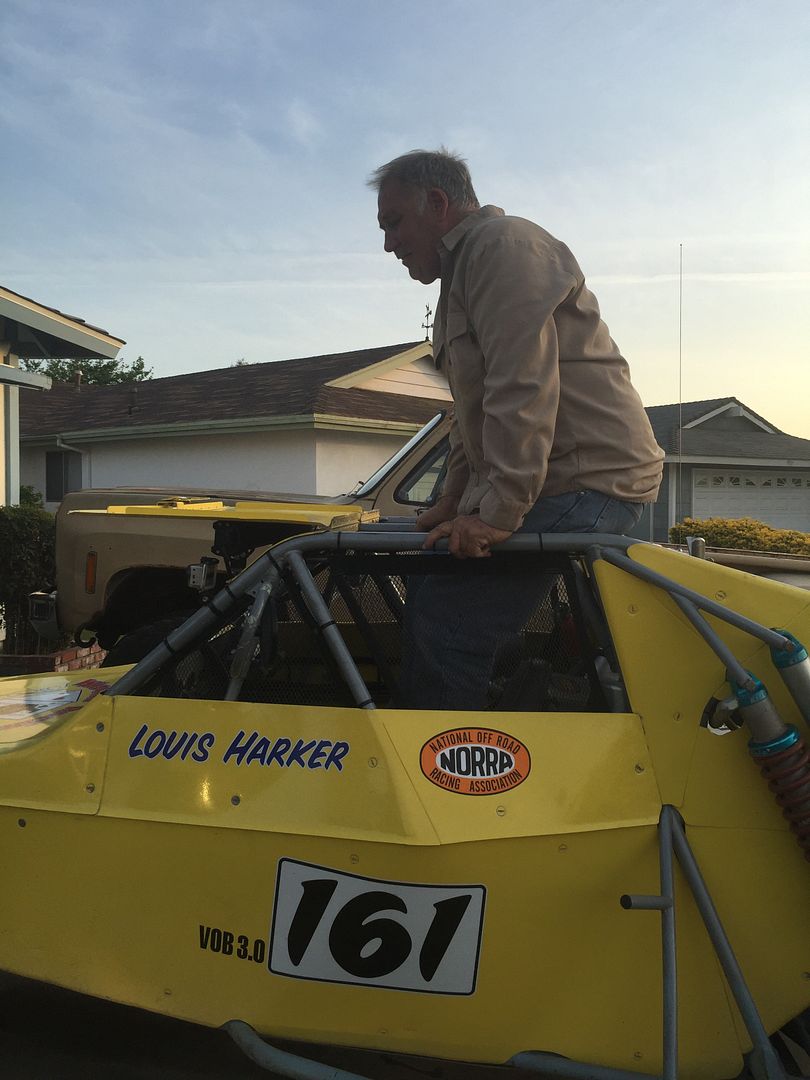 As a little background, the team which consists of 7 of Lou's friends, mostly other Southern California Edison guys, arrived in Ensenada on Friday to get everything ready, get through tech inspection on Saturday, and join in the street fair they have where everyone can view the cars in the race. This is Lou's car (he's the one in the back pushing, his two navigators, Steve and Rich, are on either side of the car).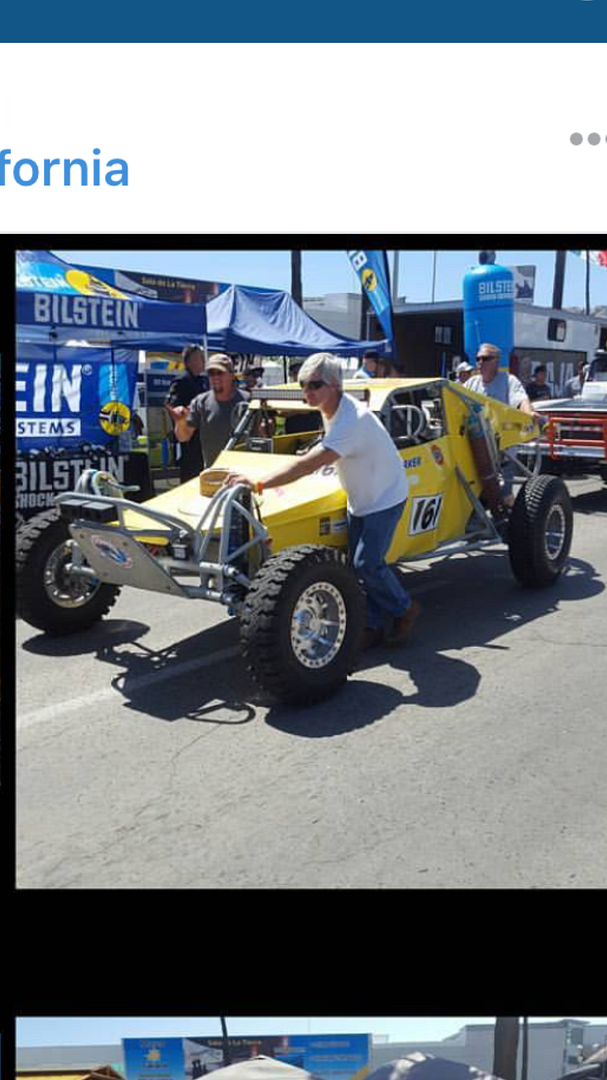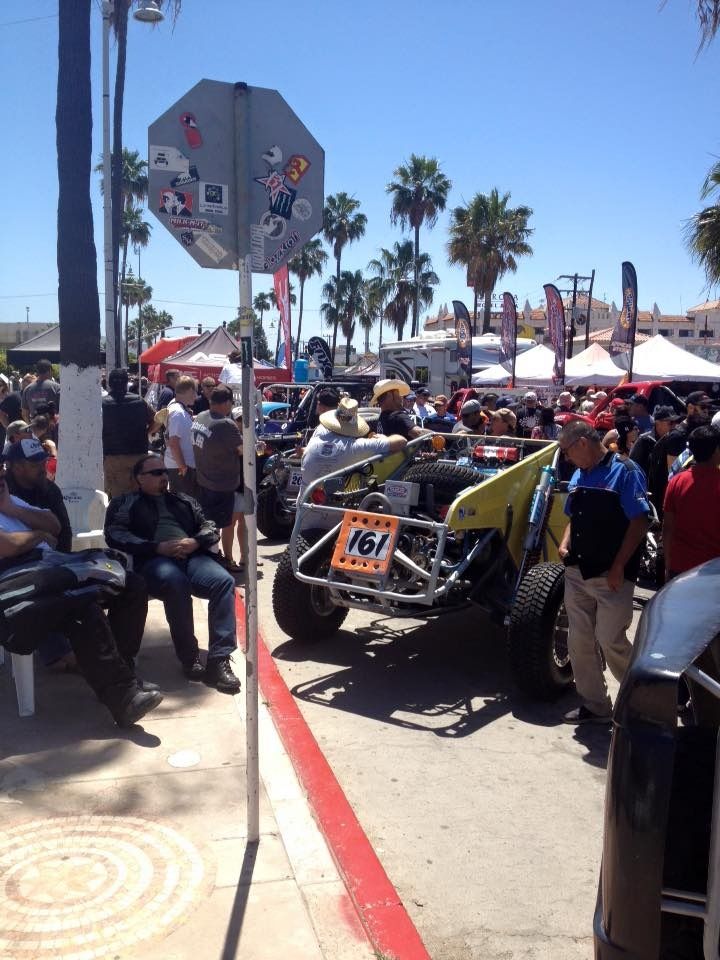 The race began on Sunday morning. Lou and his team got off to a great start. Each day, they race from one checkpoint to another, spending the night at each checkpoint town, then starting again the next morning, ending on Wednesday. NORRA keeps track of each racer's time between each check point. You're able to track each car on a website via the car's GPS, which I did. The website let me know exactly where they were, how fast they were going, and what place they currently were in. I checked it frequently.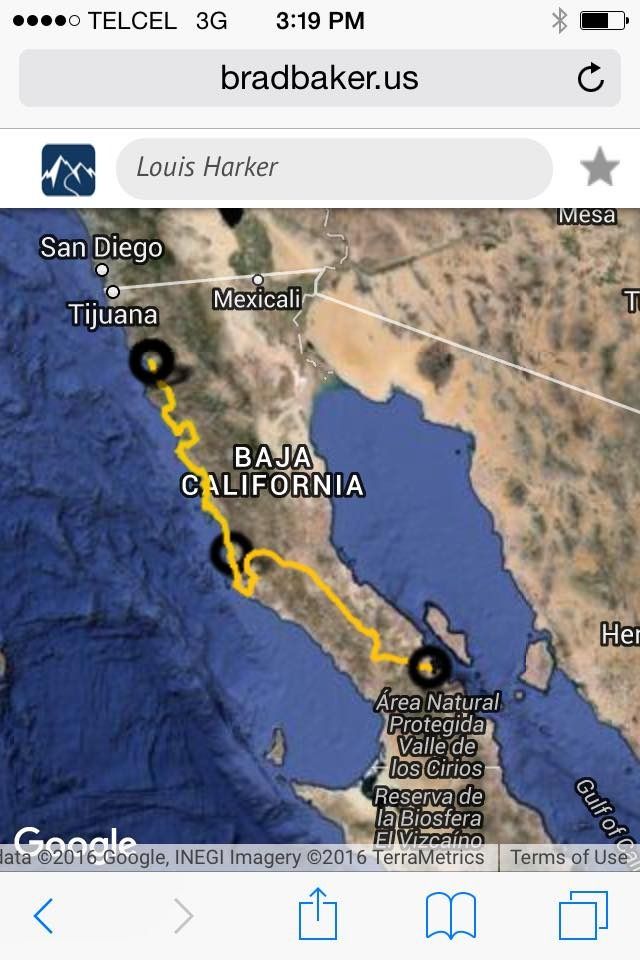 So I got back from the Tukwila show that Sunday, had Monday off to quickly catch up on paperwork, then left on Tuesday for Chicago, again checking the tracker as often as I could. I knew from the last two years, that if they were stopped for any length of time, there could be a problem, either mechanical or otherwise. So far, Sunday and Monday they were killing it!
Before my flight left for Chicago on Tuesday, I continued to check the tracker, so far so good. As usual, I was looking forward to the show in Chicago, seeing my friends, having some of Chicago's great food, and buying and selling my coins.
I arrived in a rainy cloudy Chicago (which I don't mind because we haven't seen much rain in OC) Tuesday afternoon.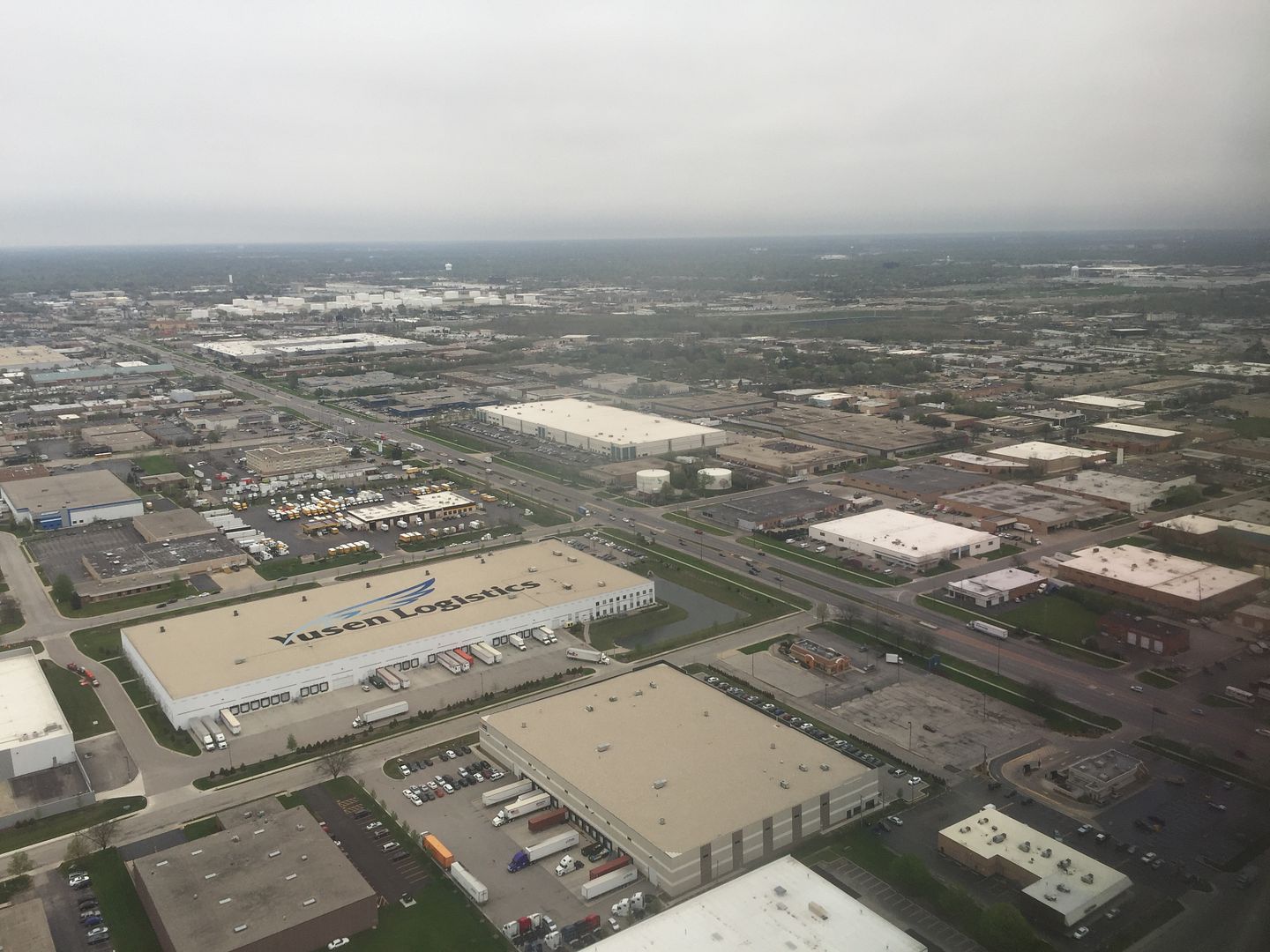 I always love seeing the gorgeous light show they have over the walkway between terminals at O'Hare!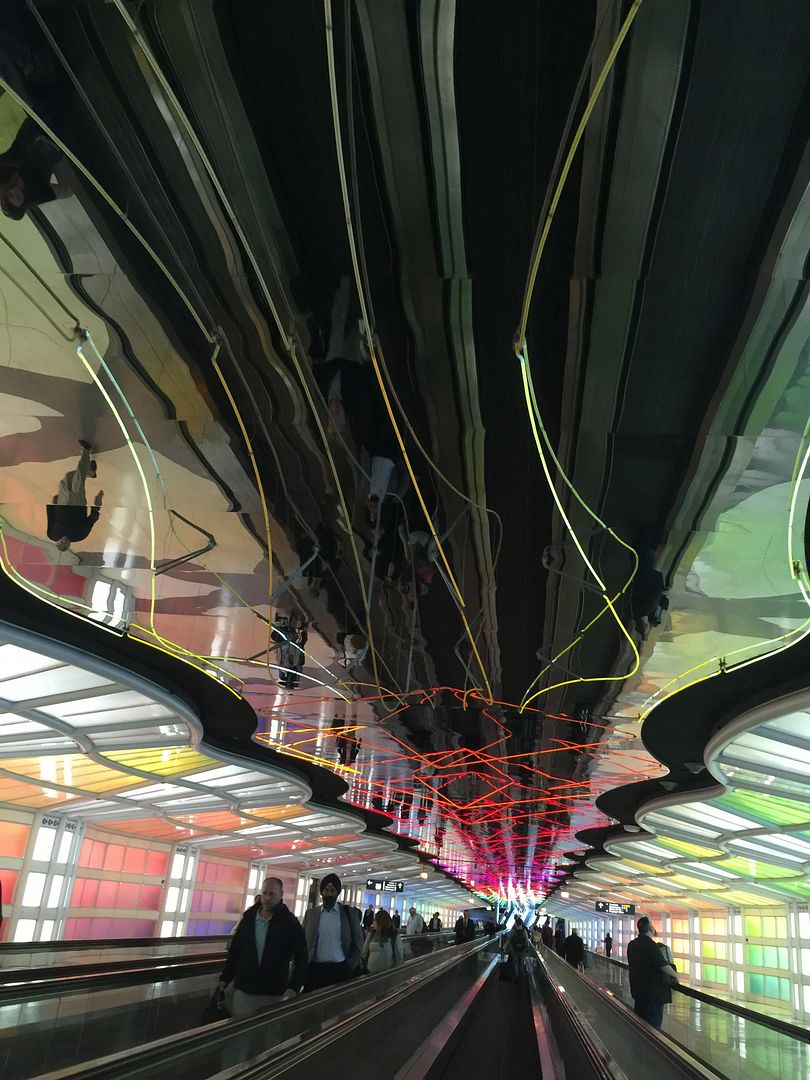 I checked in at the Renaissance, which is a beautiful hotel and is connected to the convention center.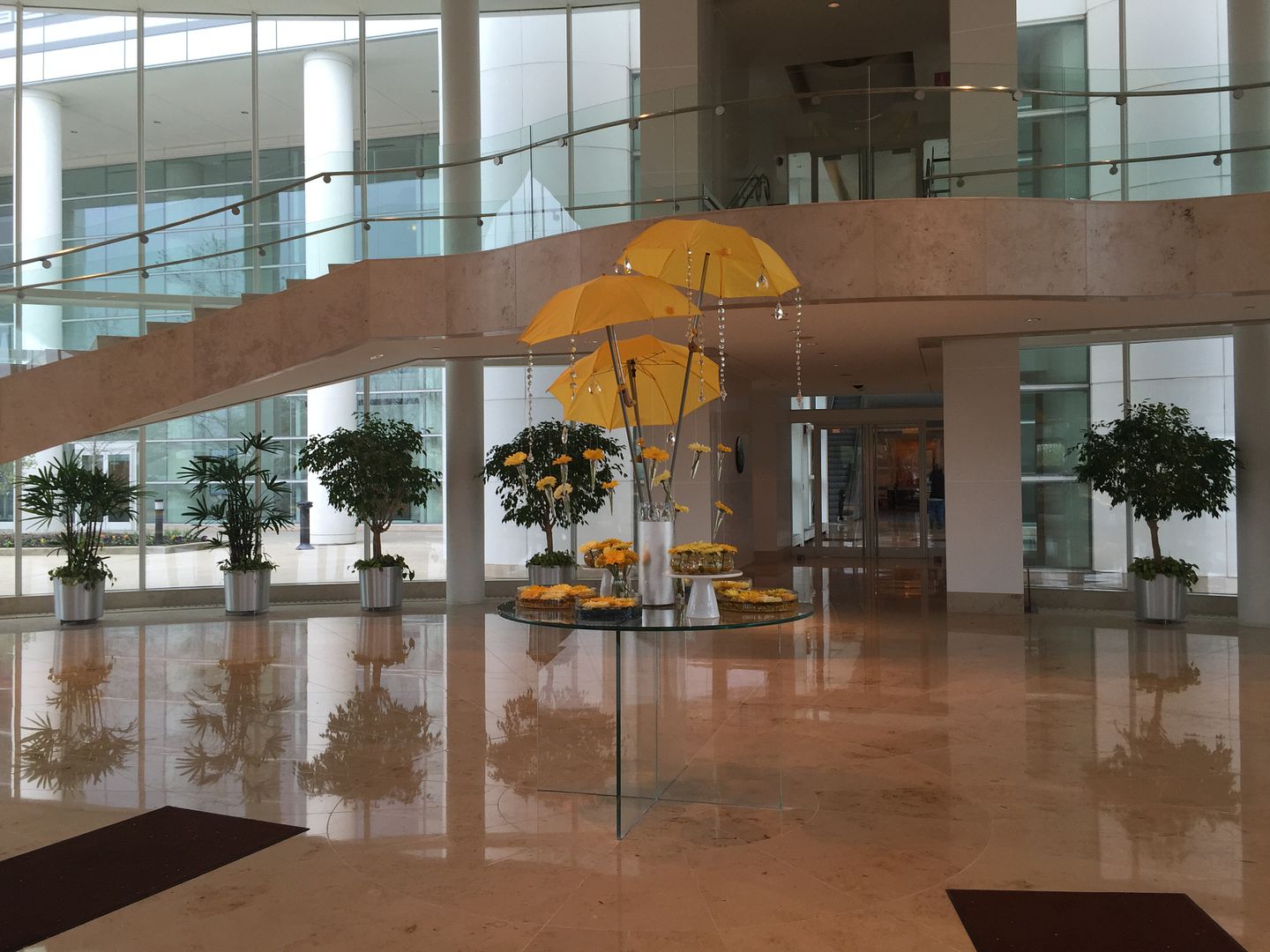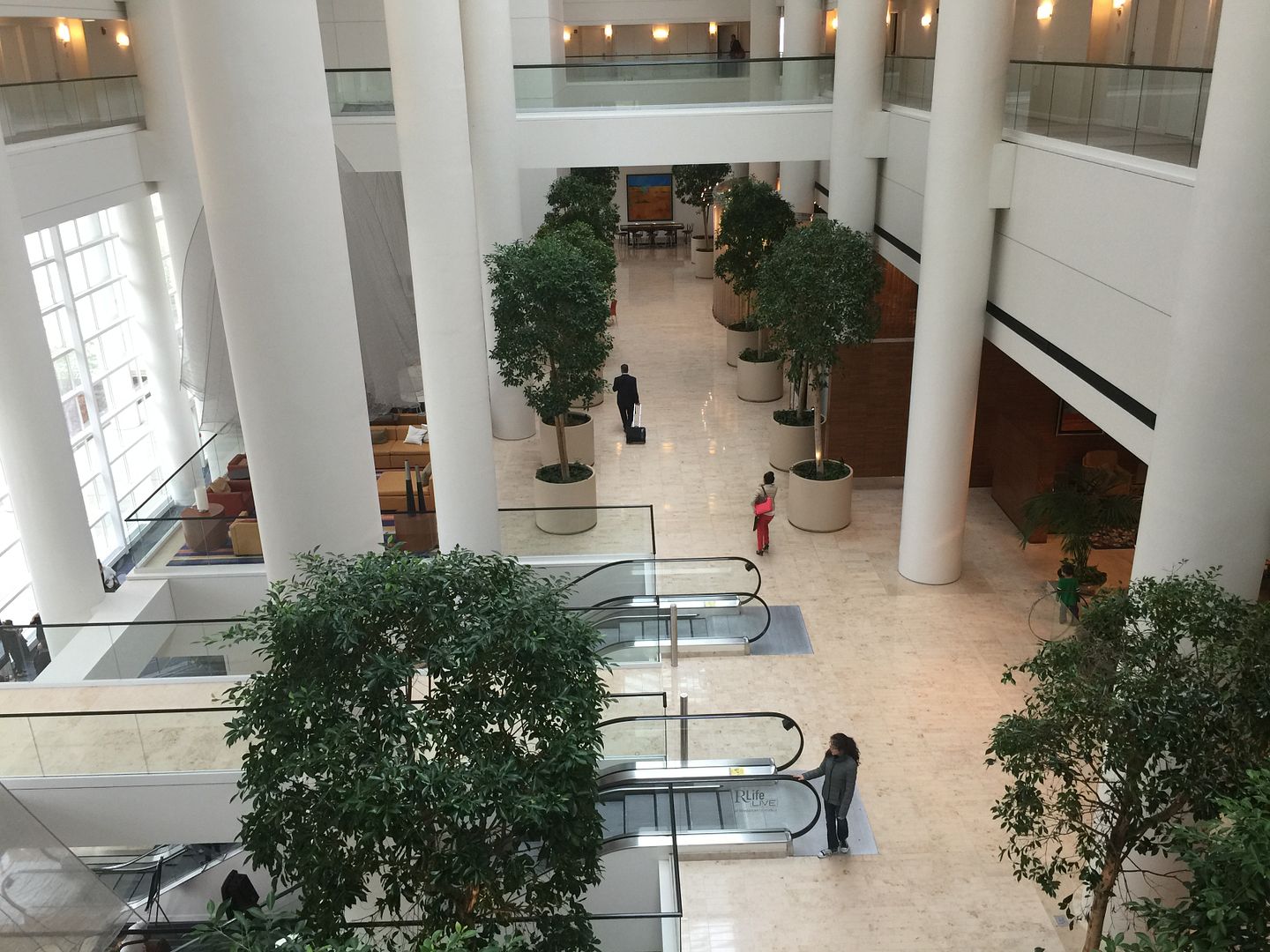 When I got to my room, this nice bottle of wine soon arrived. I still have no idea who sent it!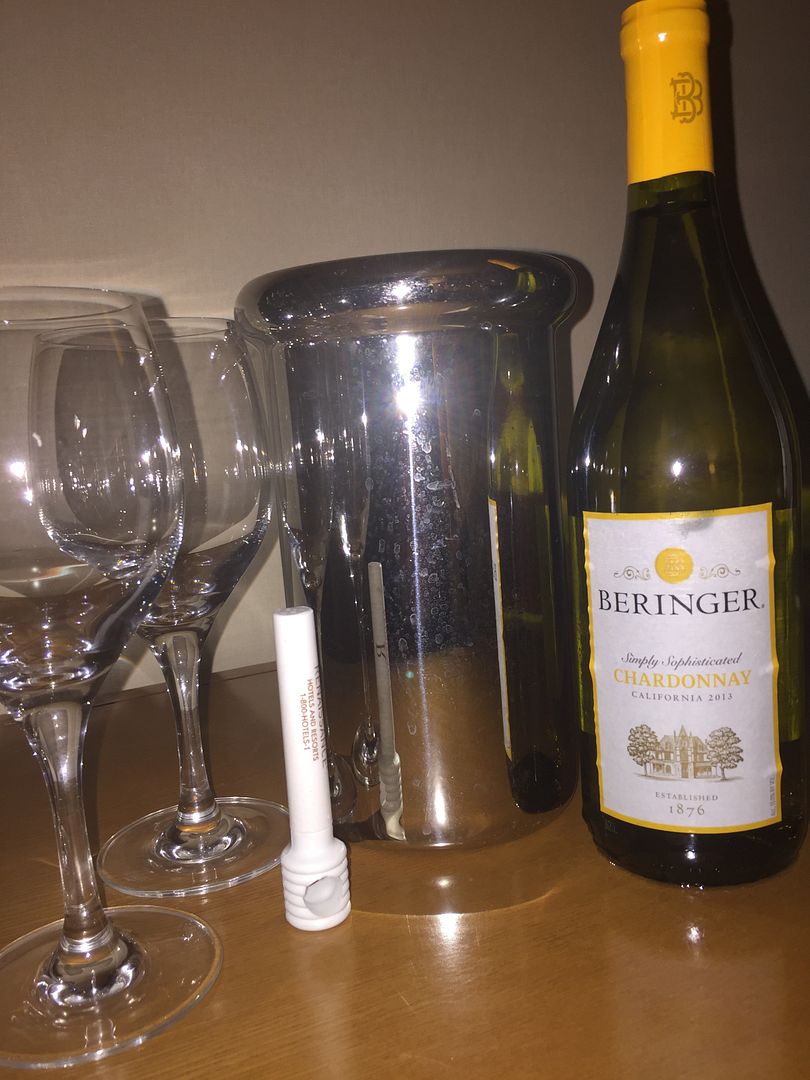 After settling into my room, Rick and I headed over to the Grand Victoria Casino in Elgin to play some cards.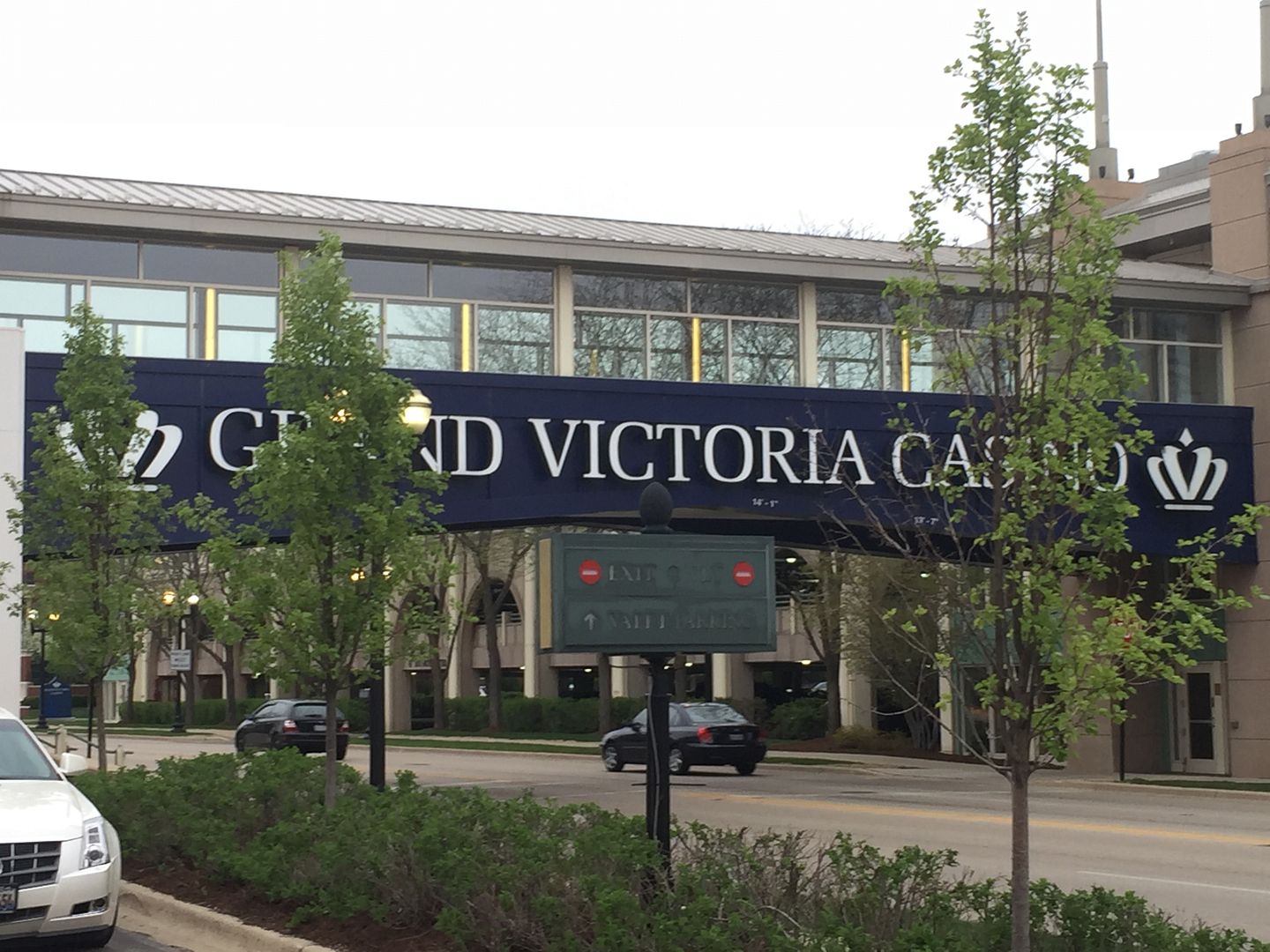 We waited briefly for some seats to open on the poker table, and no sooner had I set my chips down at my spot when my cell phone rang, so I stepped away to take the call. It was about 6pm. Lou's best friend Jeff and one of his pit crew team members said "Lou's car went off a cliff," those exact words. Knowing Jeff as I do, and him knowing how adventurous my hubby is, I just knew he was kidding and told him to knock it off. He repeated that statement, and again I said it wasn't funny. But when he told me the third time, it sunk in that he wasn't joking. I asked for more information but he said he didn't have any but wanted to let me know because he knew I was tracking their car and would be worried. My heart sank, I was in shock.
This is what I was told, at least as I remember it. The team was in La Paz which was the Tuesday check point and were waiting for Lou and Rich to arrive (Rich was Lou's navigator at that time, he switched off with Steve every half day). They learned about the accident from listening to radio chatter. However, all they knew at that time was "Car 161 went off a cliff about 100 miles from La Paz, and they are sending in a helicopter." That's basically all the information they had for quite a while. Then they heard over the next several hours in bits and pieces, through translators from various sources, that the two were hurt, broken legs, broken hands, unconscious, one was hurt worse than the other but they didn't know who. Gratefully, they relayed to me whatever information they heard, but everyone was still frantically trying to get specifics, through officials, or anyone.
Finally about 1am, they called and told me that Lou and Rich were able to talk, that Lou was more seriously hurt than Rich. We heard later that Rich was able to climb out of the buggy but Lou was not. Lou had been knocked out, had a concussion (his helmet was cracked), but was awake and had been picked up at the crash site by the helicopter, was being flown to an awaiting ambulance on the highway, and then driven by ambulance to the hospital in La Paz. Various members of the team were keeping me informed all along the way. They called me when Lou arrived at the hospital about 2am, and I asked if I could talk to Lou. As soon as the doctor was finished examining him, I finally got to speak to him. Lou was his usual "I'm fine, don't worry" self, but sounded slurred and groggy. However, he seemed to have all his faculties, so I was very relieved and grateful. Rich was transported to the hospital after Lou, but because it had gotten dark and the helicopter couldn't fly at night, he had to be helped down the ravine, then taken by off road vehicle to the highway where an ambulance took him to the hospital.
Later that morning (Wednesday) before I headed over to the show, I checked to see what flights I could take to La Paz, just in case Lou had more severe injuries. However, once I got to the show, one of the team guys called me and told me the doctors said Lou had no serious injuries, his fingers on one had were cut up a bit, he was very sore and bruised, his neck was also sore, but that was all, no broken bones. I had asked them to make sure the doctors checked his neck thoroughly because Lou already had a plate connecting C-4/5/6 from an accident 20 years ago, ironically also in Mexico. I breathed a huge sigh of relief when they confirmed the x-rays showed all was fine. They also said Rich had a minor fracture below his knee, the doctors put him in a boot, and though he was bruised and sore, he too was good to go. The team immediately made arrangements for Lou and Rich (as well as Steve and the wife of another friend who helped Lou tremendously) fly home the next day (Thursday) from Cabo which was about 100 miles south of La Paz. Here are the guys on their way out of the hospital.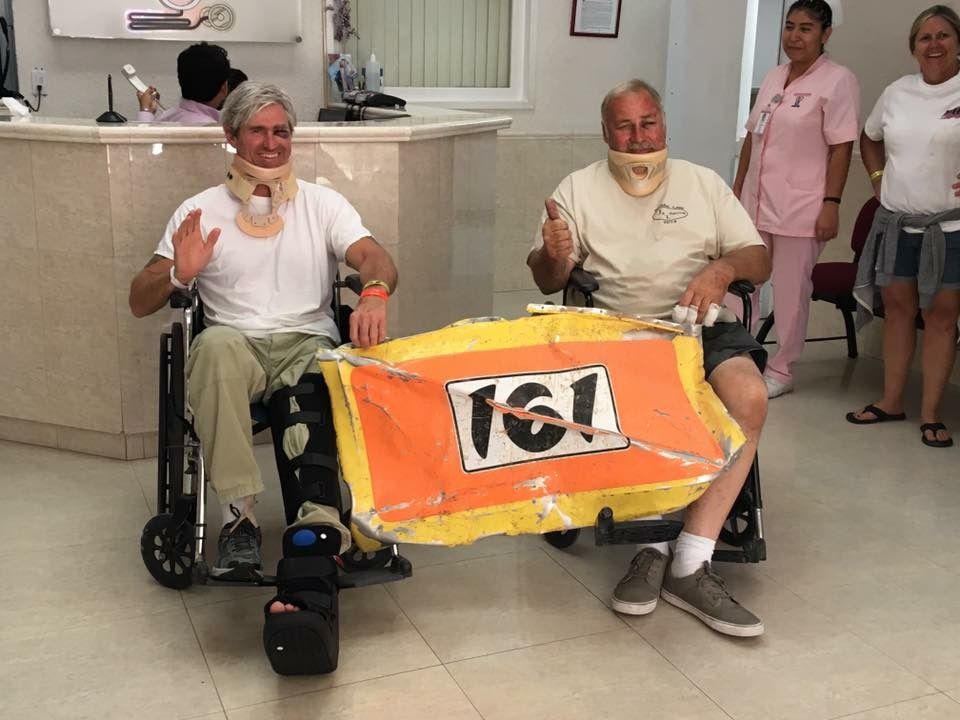 Several of the team members sent me photos of the wrecked car, most of which were taken by Rich at the crash site before he was taken to the hospital. The team was told that they didn't have the equipment (a crane) to get the car back up to the top of the cliff so they decided to hire local workers to remove and retrieve as many parts of the car as they could and to just abandon the chassis there on the side of the mountain. You'll notice the roll bar was severely dented but held up, due to that extra reinforced triangle side support I mentioned earlier. You'll also notice there is a tree that impaled the car right between Lou and Rich, miraculously missing both of them!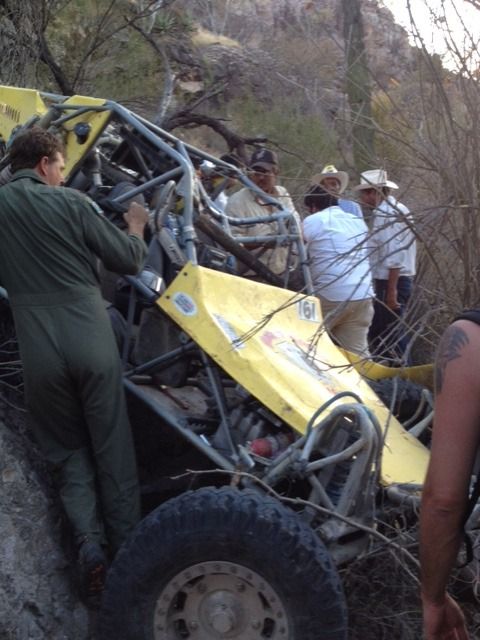 This boulder also contributed to preventing the car from traveling the rest of the 150 feet down to the bottom of the ravine.
Here is an aerial photo taken of the crash site by the helicopter pilot. If you look carefully, you can see a tiny yellow dot in the bottom middle of the picture; that is Lou's car. For whatever reason, which we will probably never know since Lou has no memory and Rich's memory is foggy, they didn't make the right turn on the road above and instead drove straight and tumbled nose over tale at least twice 150 feet on their way down the cliff before landing, gratefully, right side up.
We later found out that some locals saw Lou's car tumble off the cliff and waived down one of the other race cars. Here's another miracle: the car they flagged down was driven by two marines who had EMT training. They pulled over, climbed down the mountain to the car, and immediately pressed the special emergency beacon button on the GPS tracker that would notify the officials at NORRA that there was an emergency and to send a helicopter. Neither Lou nor Rich were able to press the button right after the crash. These two angel marines also helped them the best they could and stayed with them for several hours, all at the expense of losing racing time and the race itself.
We also later learned that NORRA gave those two selfless racers back the time they lost by helping Lou and Rich, and they went on to take first place in their class!!! How awesome is that!
Since Lou seemed to be ok and mostly would need just rest, and since he would only be home basically a day and a half before I got home on my original flight, I again made the decision to stay in Chicago and finish the show. I called my son Troy to see if he could take Lou to the hospital when he arrived just so he could get checked out as a precaution in case anything was missed, and also asked him to just hang out with Lou that night at home because of his concussion and soreness, and maybe the next day (Friday) depending on how Lou was feeling.
So back to the show. Wednesday was dealer set up day, with early birds allowed in as well. So I set up my booth, walked around the show, and as usual did the major bulk of my buying. I did find a few nice pieces but not as much as I usually do.
Later in the day, I opened the bottle of wine I had brought, one of my favorite cabs, which I thoroughly enjoyed!
After the show on Wednesday, we went to Chicago Prime Steakhouse, we had been there before and knew they had great food and wine!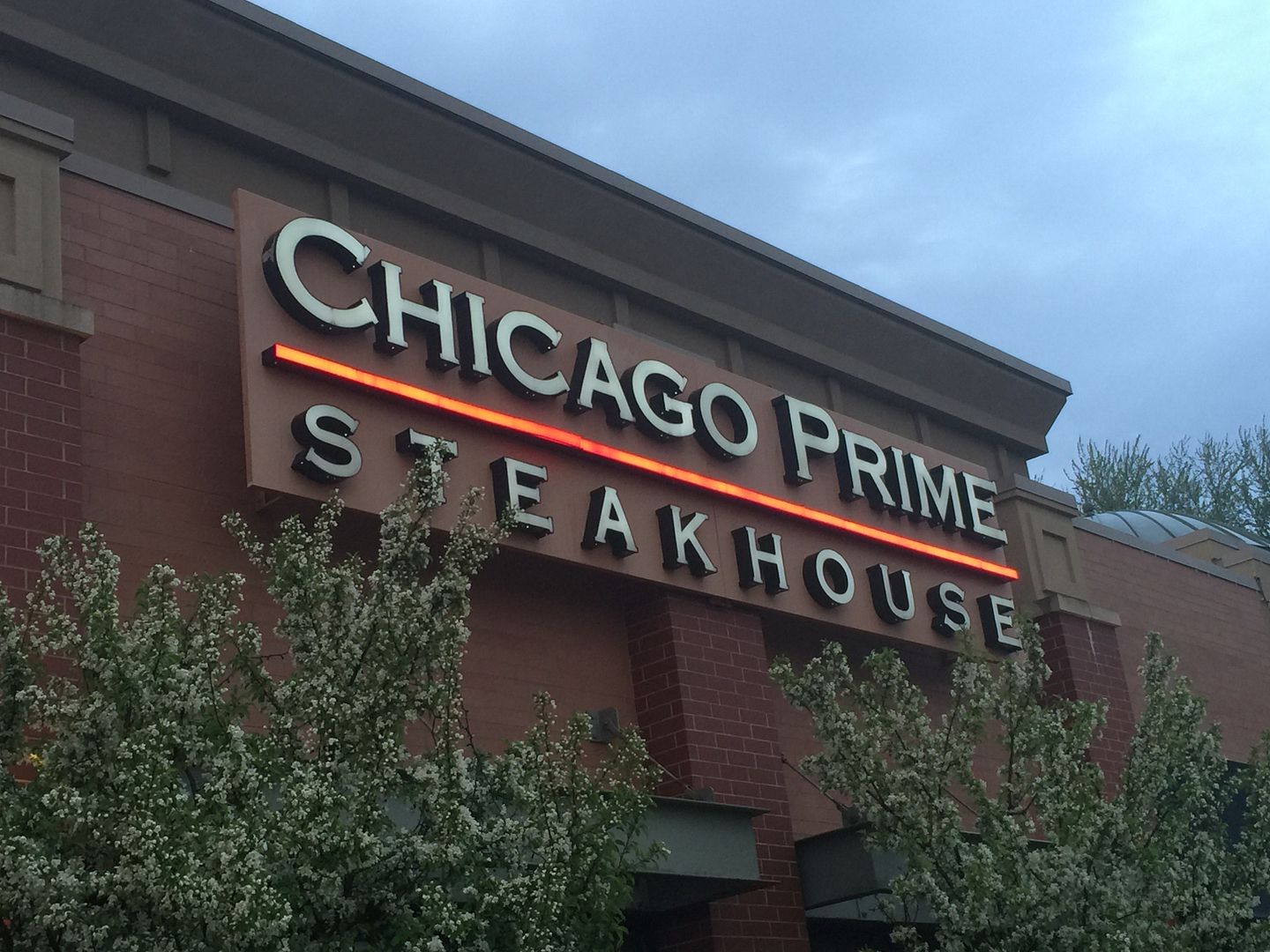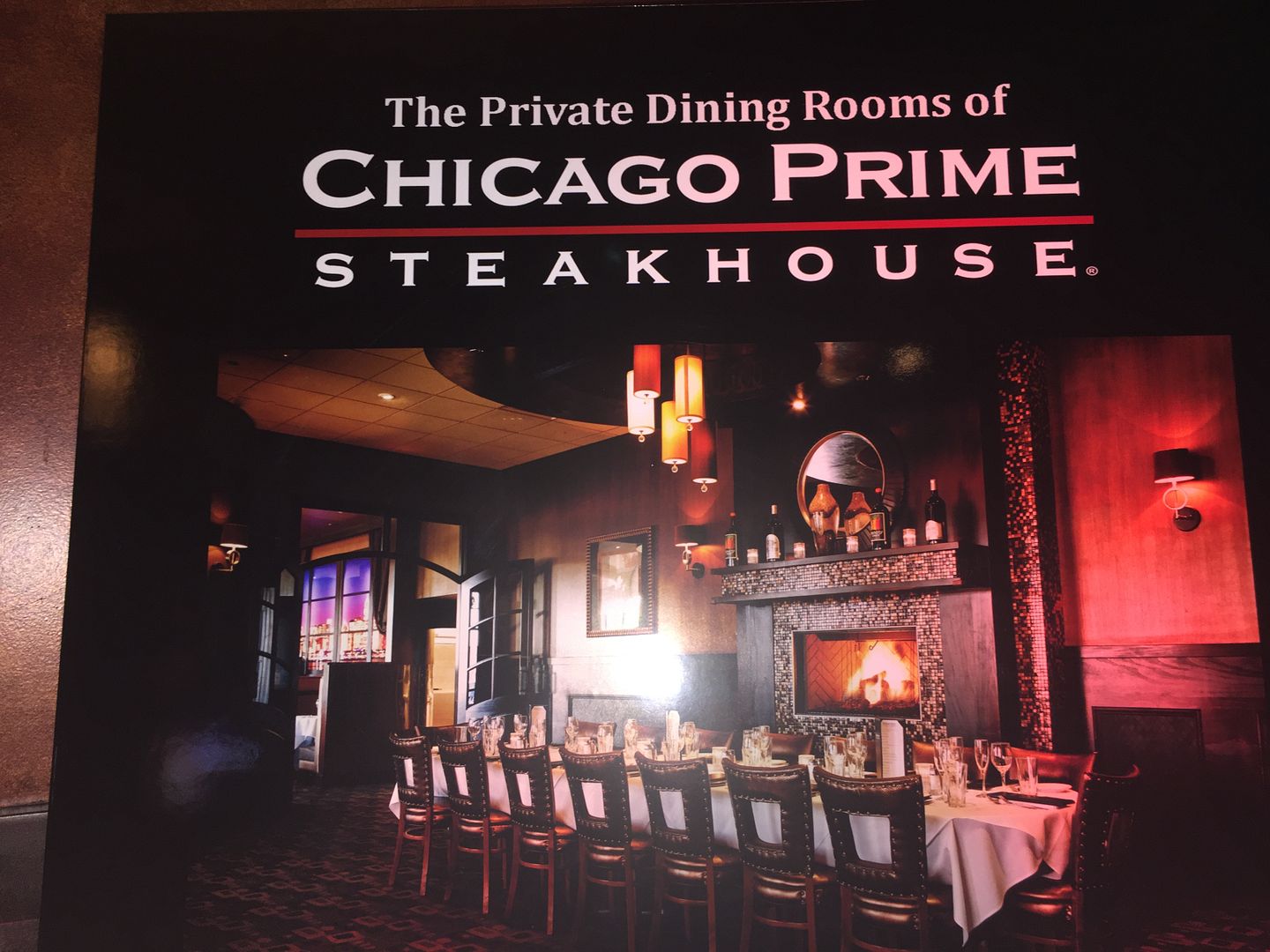 Me, Rick and Matt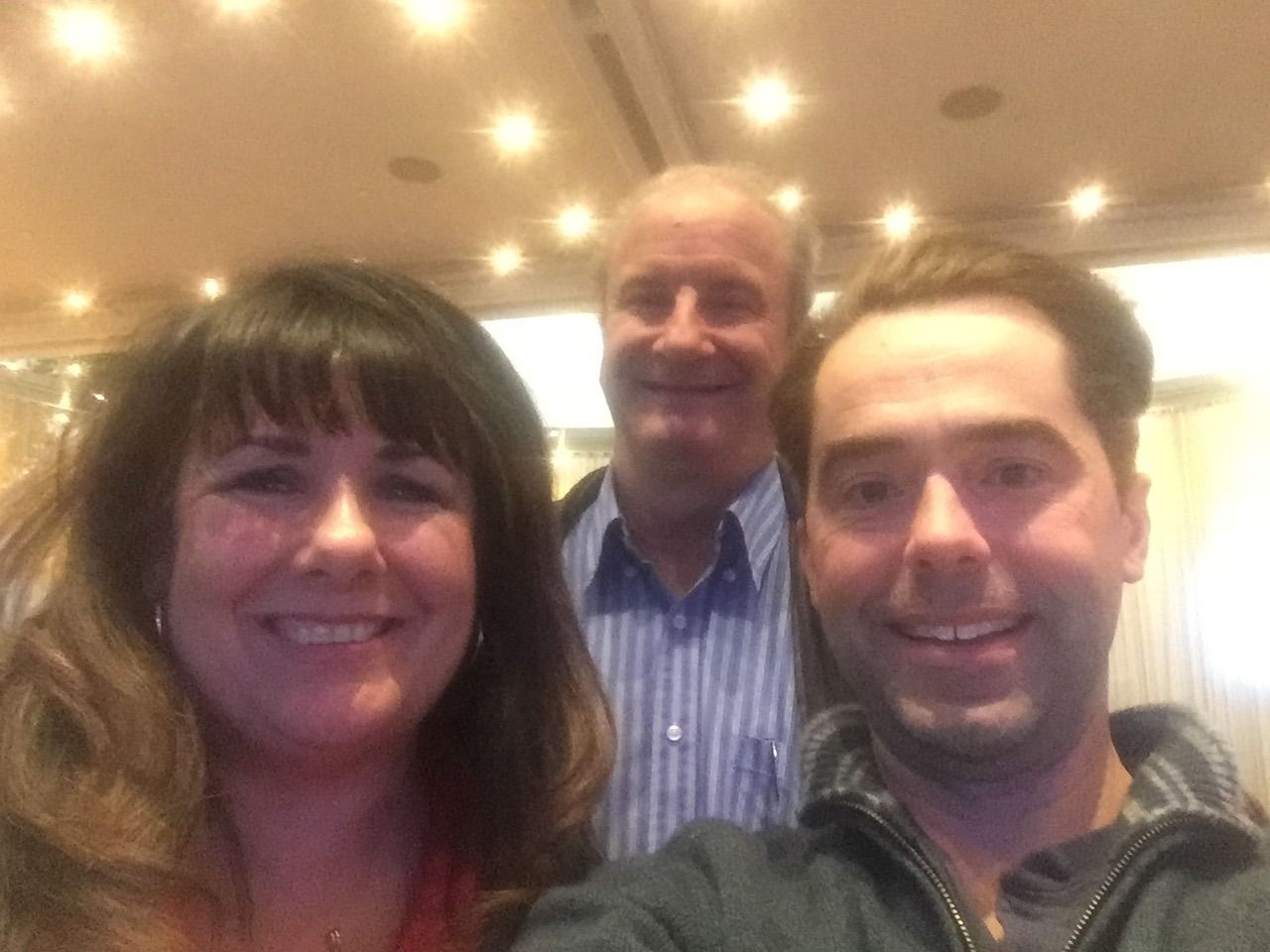 Had some more much appreciated good wine!
Great prime rib (end cut, mmmmmm)!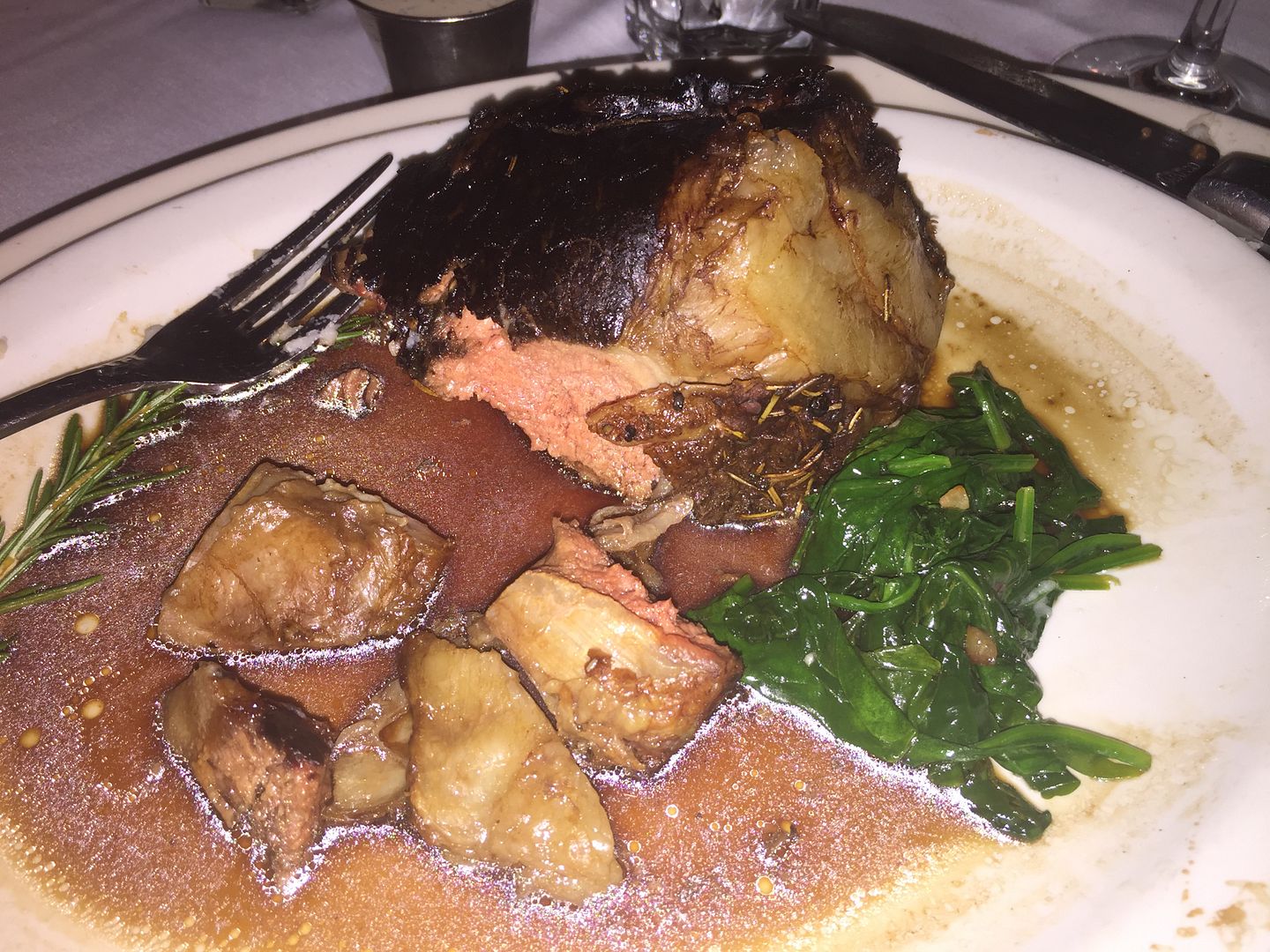 Thursday morning I had an early WIN board meeting, followed by our general meeting.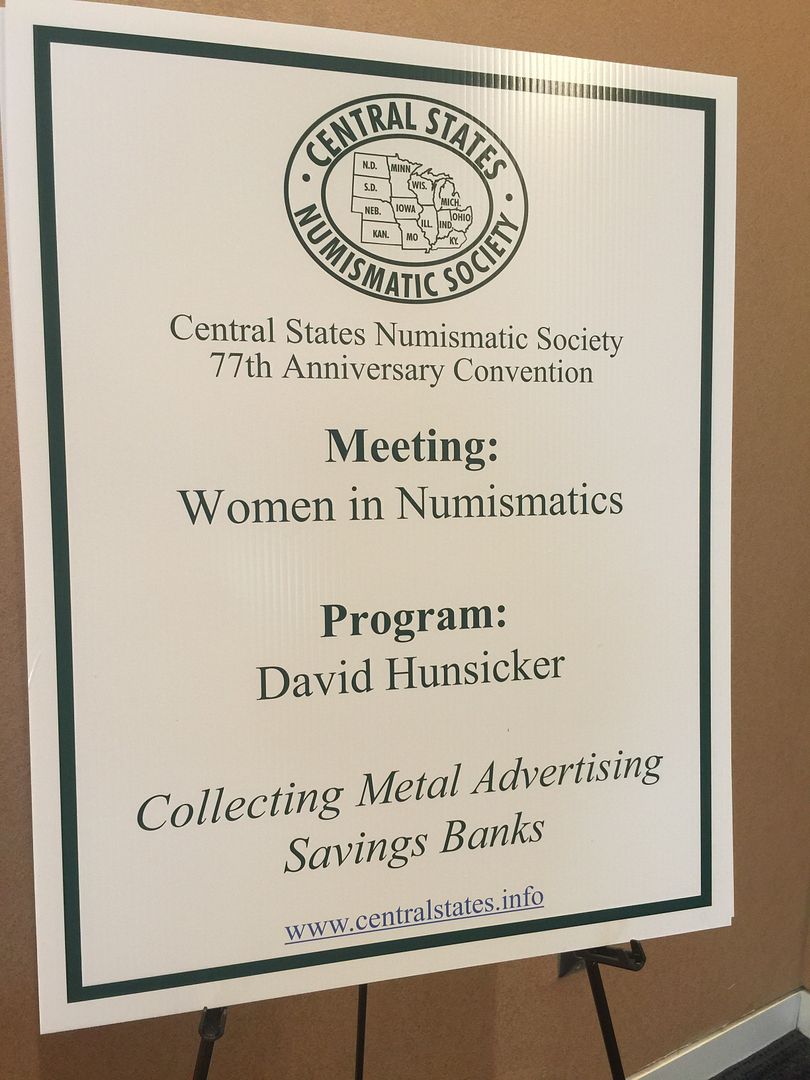 Here's our wonderful, hard-working WiN board!
David Hunsicker gave an excellent presentation on old banks made by banks. I learned that banks would give out their custom banks to customers without the key. So the customer would have to bring the bank back to the bank, which they would open and place the funds in the customer's account.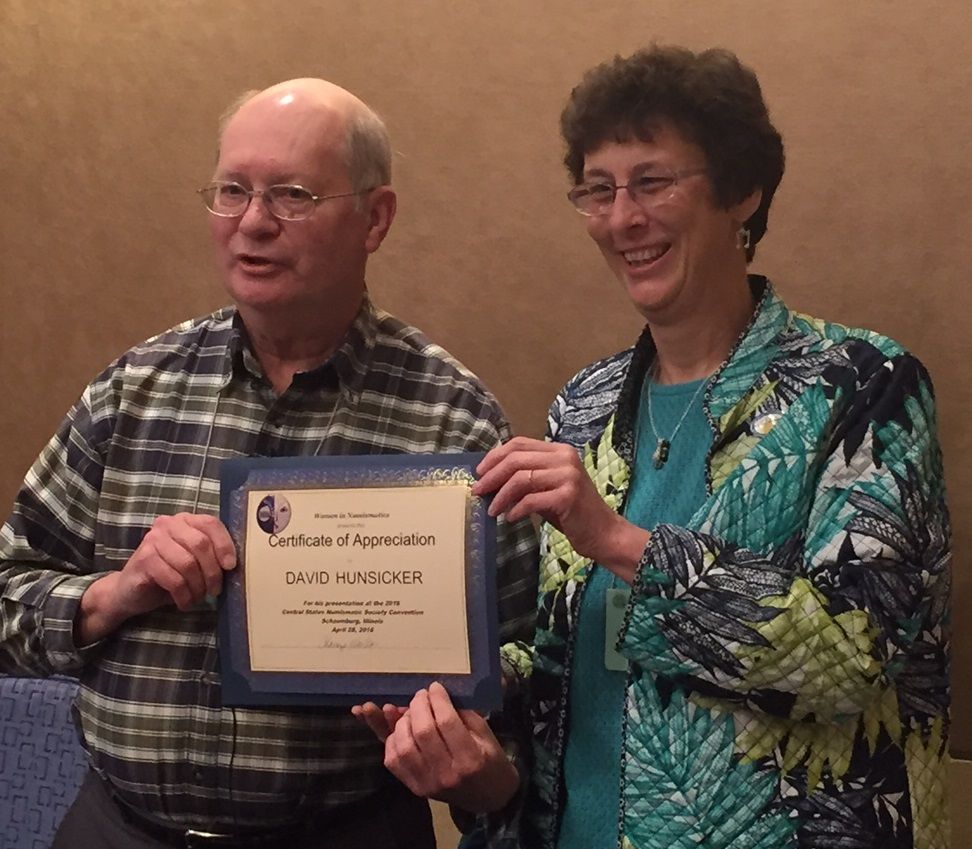 I then settled in at my table, thinking that all was ok with my hubby, trying to focus on coins. Shortly after I got to the show, my good friend David Lange stopped by my table to show me his great new book on coin collecting albums that he'd been working on for quite some time and was just published!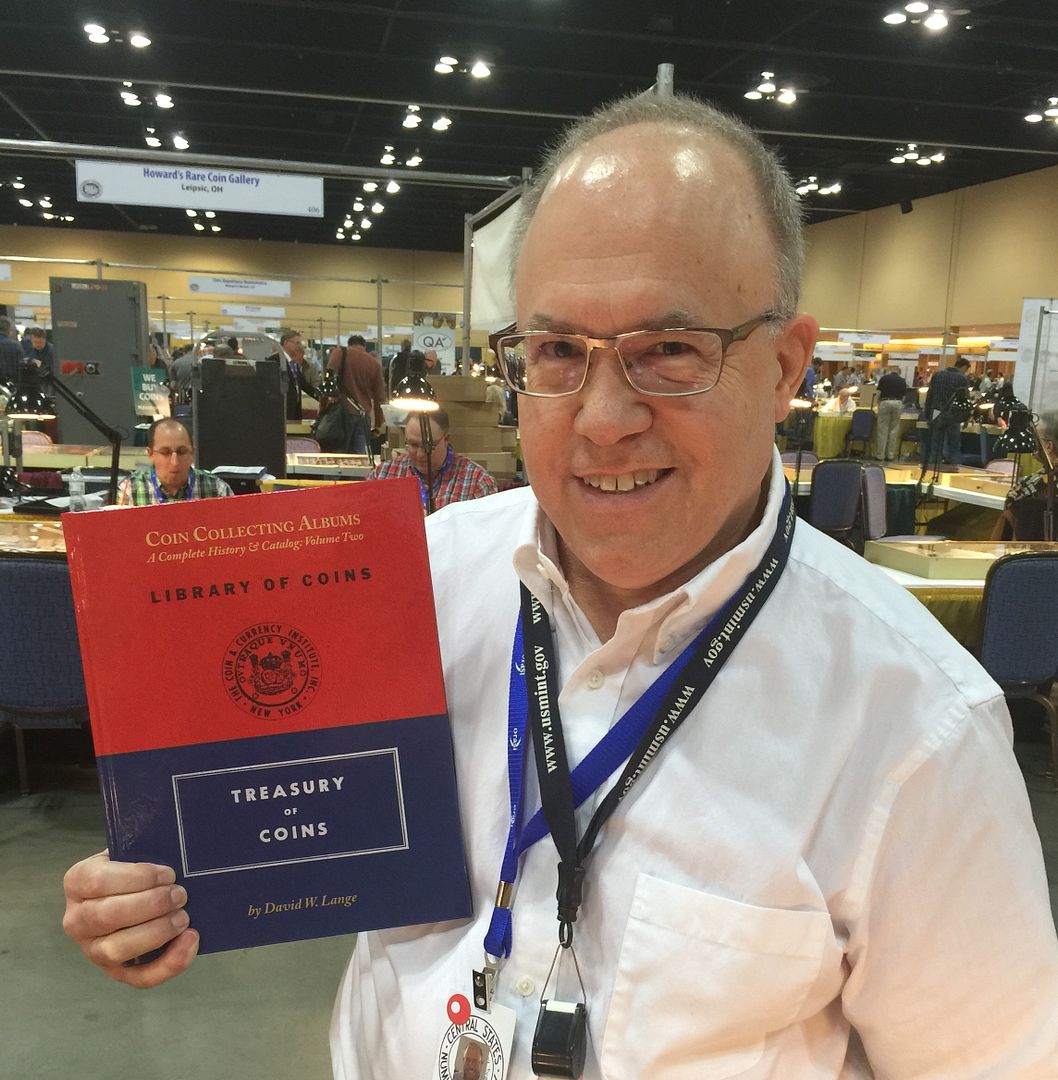 Got an adorable photo of David and Taryn at the PCGS table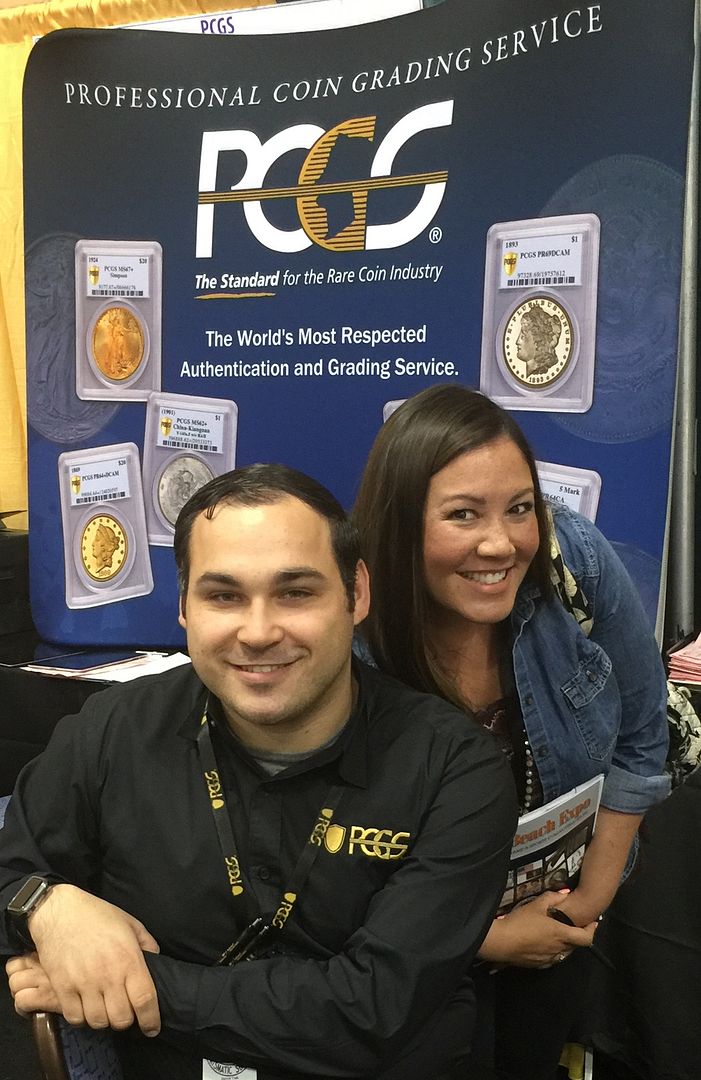 Back to Lou's saga. Thursday afternoon, I heard from my son that Lou had arrived back in the states and was at the hospital in Irvine getting checked out. I breathed a sigh of relief that he was home. So I headed out to dinner with Rick, Matt, and another copper friend, Greg Hannigan. We loved Chicago Prime Steakhouse so much, so we decided to try Chicago Prime Italian!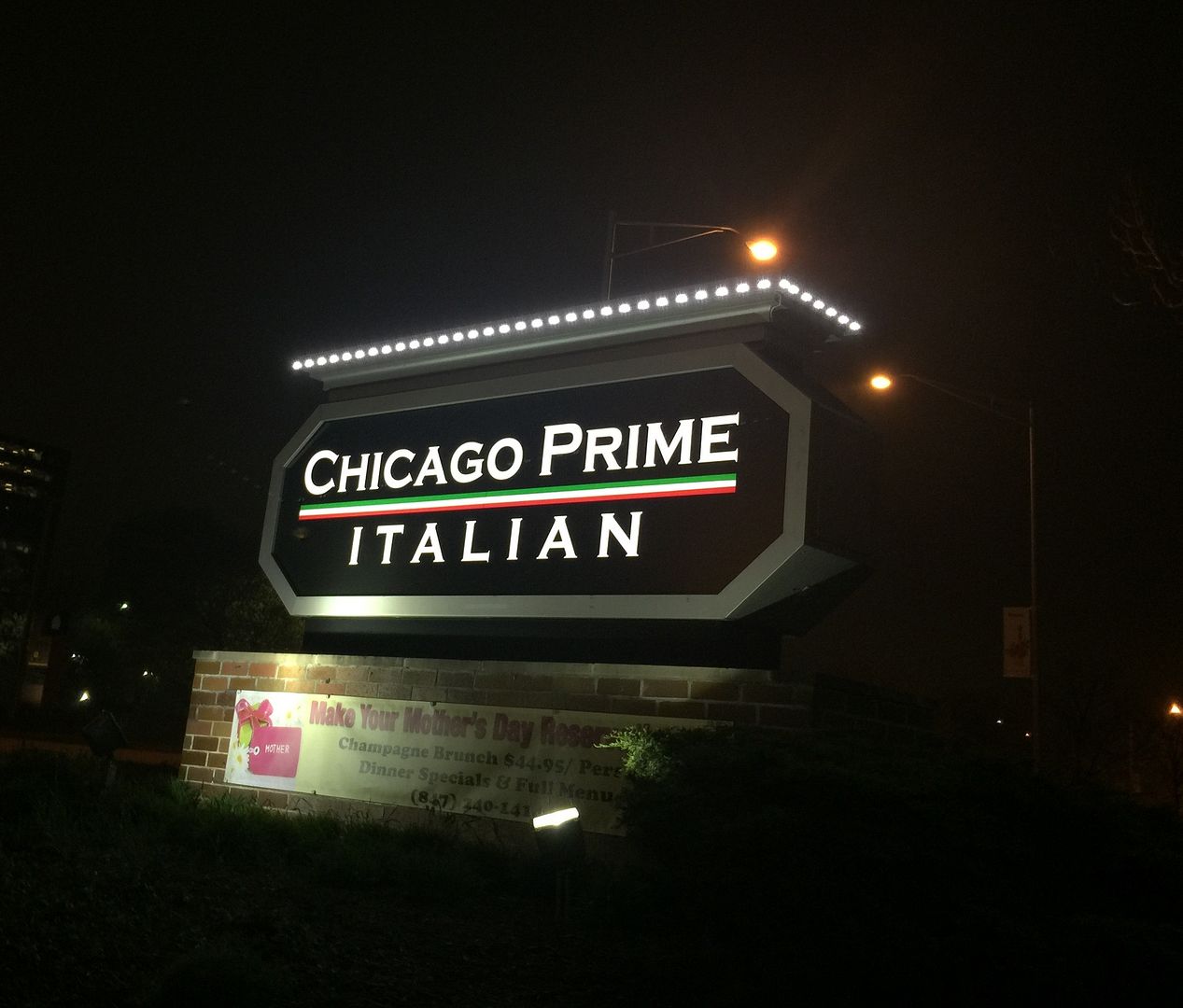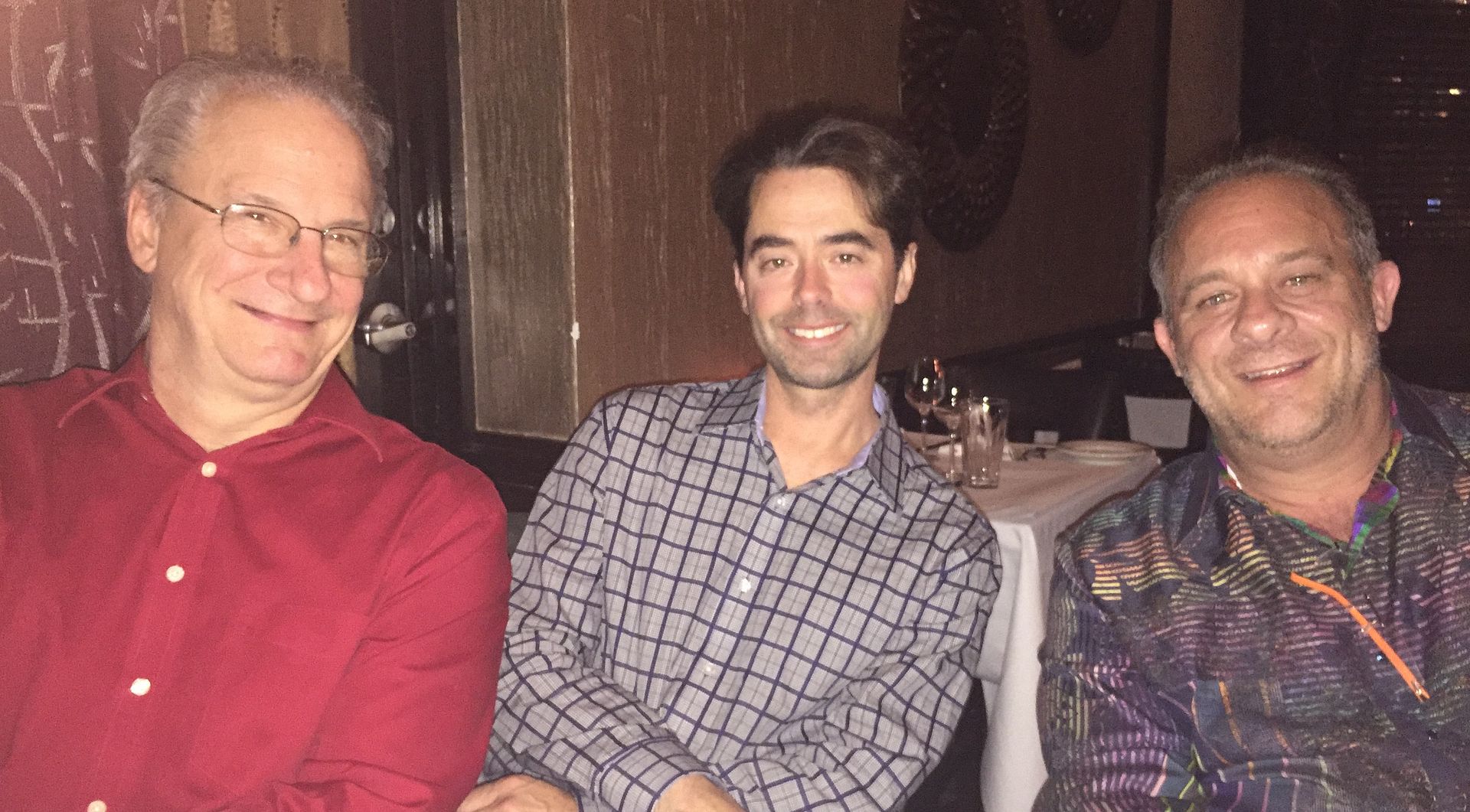 Once again, I went from relief to shock in a span of minutes! Troy called me just before we left for dinner and told me the doctors did an MRI and a CT scan to make sure there was no bleeding on his brain from the concussion, which there was not, and to check for anything broken. Well, they found a fracture on C-2 of Lou's neck (the one that allows the neck to turn and swivel). Troy told me they were rushing him by ambulance to a spinal specialist at Hoag Hospital in Newport Beach for possible immediate surgery. They also found that he had broken 3 of his fingers. How could the doctors in Mexico miss this critical injury and release Lou from the hospital in such an unstable condition???
Once we arrived at the restaurant, I anxiously waited for further word (the hospital in Newport Beach is only about 10 miles from the Irvine hospital). Troy called and told me they were going to do another MRI and CT scan, and would wait until the morning before deciding on whether to do surgery. I was at least relieved for that.
That night I again looked into getting a flight back to OC on Friday (no flights are allowed to land in OC after 10pm on week days so I couldn't fly out that night unless I wanted to go to LAX, rent a car and drive back to OC). It would cost over $1,000 to change my flight, plus the only one that wasn't full wouldn't get there until Friday night. So again, I had to make a decision and decided to wait to see what the doctors said in the morning. Again, in hindsight, I wished I would have just flown back home on Wednesday….
Shortly after I arrived at the show on Friday, my son called and told me the doctors wanted to do one more MRI with contrast (which is a die) to get more detail of the fractured area and he would let me know the results, but that Lou was stable and doing ok. I got to speak with Lou and he was once again in his "I'll be fine, don't worry" mode. Lou is a really tough guy with high tolerance for pain, but I knew he was a little fearful of what was ahead. This made me tearful, and even though I had customers at my booth, I had to turn away to compose myself.
Within an hour, Troy called with an update. The new MRI scan had shown 5 more compression fractures on the thoracic and lumbar parts of his spine, plus a fractured rib, none of these needed surgery and would just require time and pain meds to heal, but geese, every update seemed worse than the one before. Again, more tears and wanting to go home. Here are photos of the doctor's notes showing all the various fractures.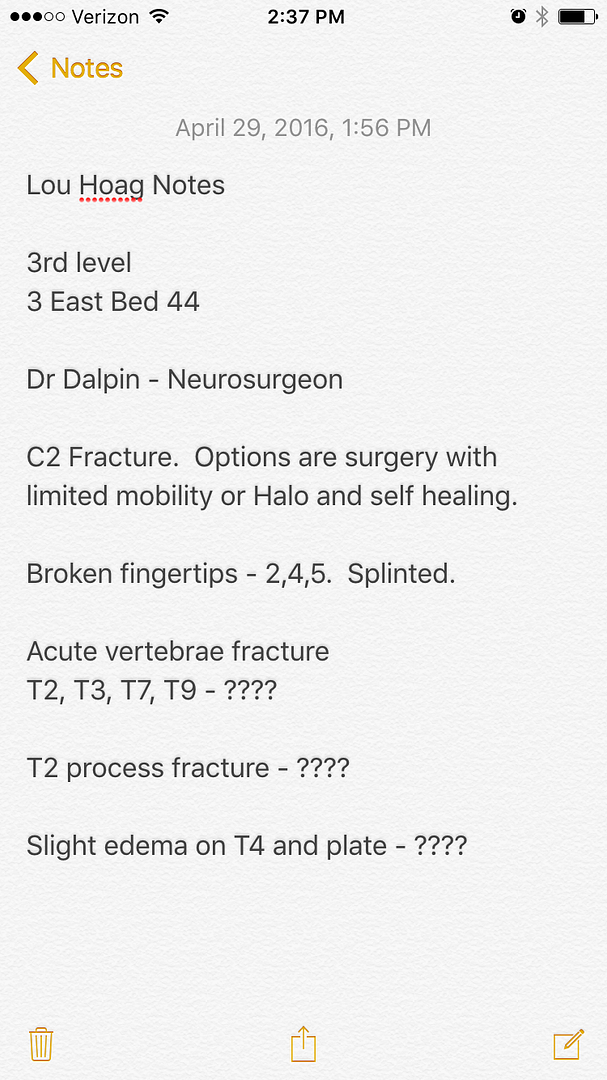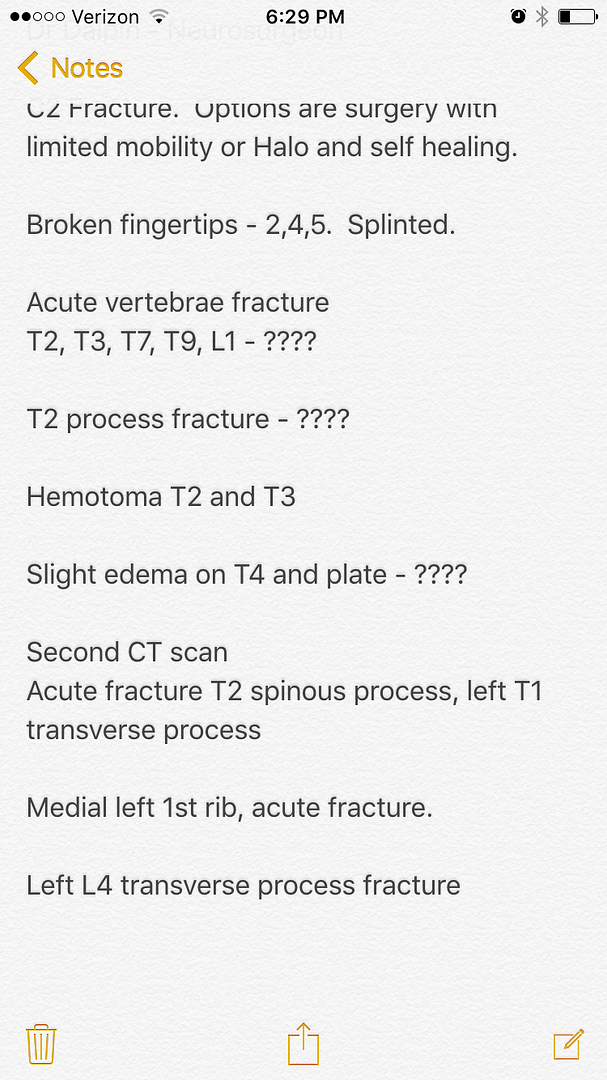 Troy then told me the doctors were considering fitting Lou with a halo device for his C-2 fracture instead of surgery because the fracture was not too bad, was still in alignment, and was a good candidate for healing without surgery if kept stable. He said that there was no longer an urgency, so the doctors were going to wait and talk with me when I got back to OC on Saturday. The surgery would permanently and severely limit Lou's neck movement, but wearing the halo device for a couple months would be no picnic either. Sigh, cry, compose, carry on.
Troy's wonderful wife Nora sent me this adorable photo of Troy feeding Lou at the hospital. Seeing this made me smile.
I made it through Friday but was too distracted to take any photos. Rick, another friend Wes, and I just had dinner at the hotel, and I went up to my room. I needed to let the rest of the team, our family, etc. know what was going on, and to try and get some sleep, which had been eluding me the past few nights.
Saturday morning came, I packed my clothes, checked out of the hotel, went to the show, tried to be cheerful and normal, sold a few coins, but mostly waited for when it would be time to pack up my booth and head to the airport. I got to speak to Lou and he was still being stalwart and brave. I held back my own tears.
My friend, Bruce Benoit, stopped by to show me the gold coin he won for his exhibit which won first in class. He was so excited, like a little kid at Christmas, that it made me smile. I was very pleased for him.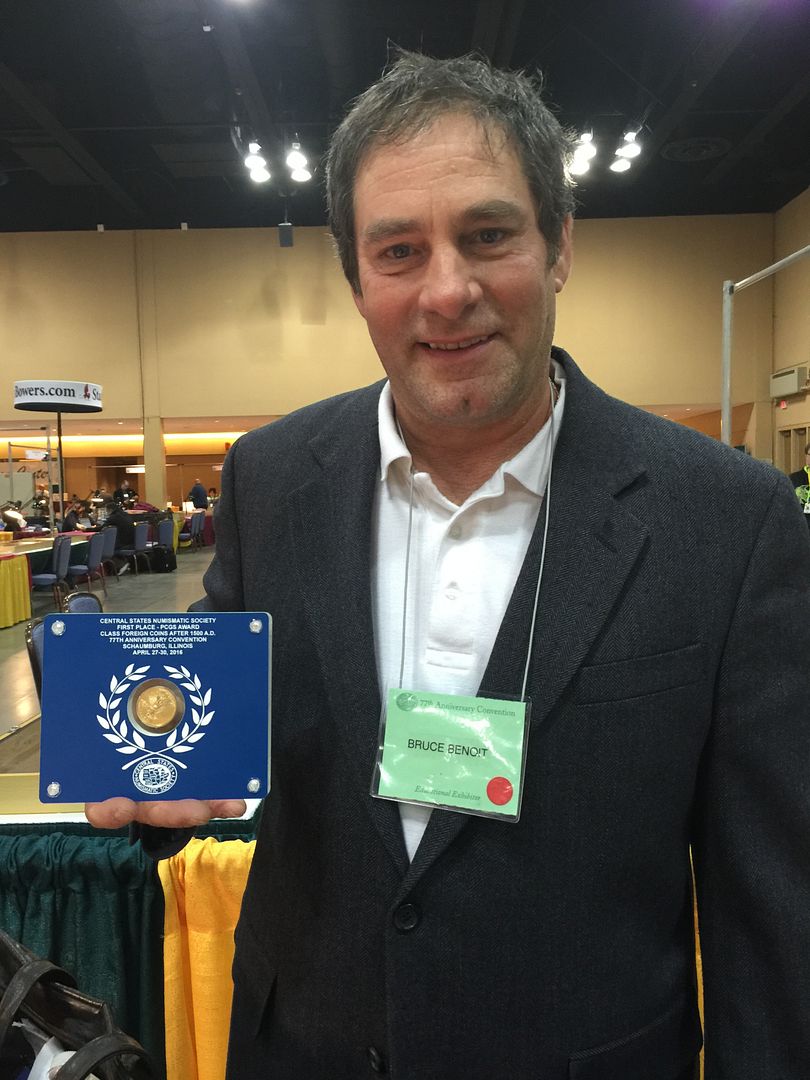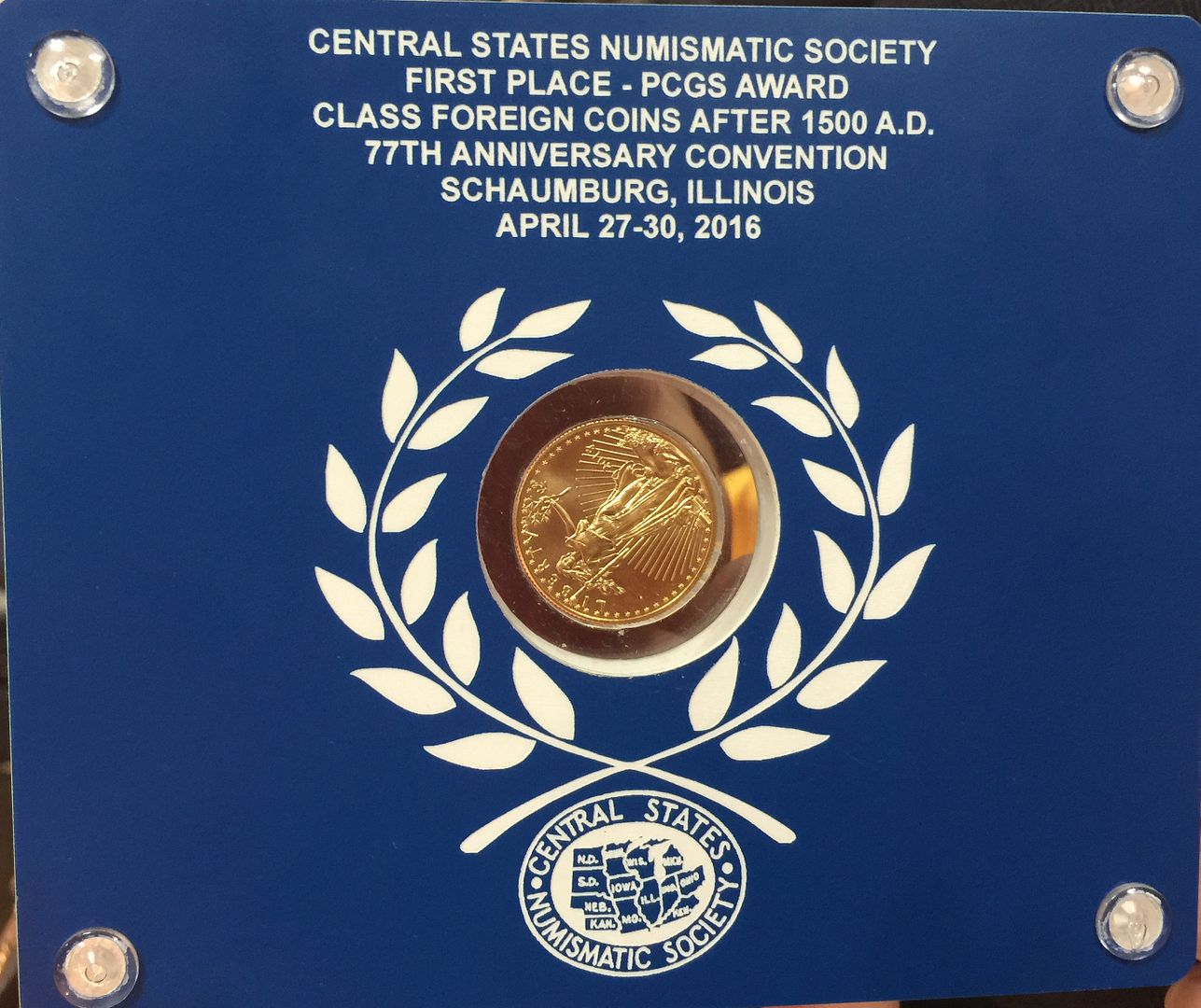 Soon it was time to go to the airport and head home. I had two gin and tonics waiting for my flight, and another one on the plane. It helped me sleep through part of the 4-hour flight. This is me very tired and sad and so anxious to get home!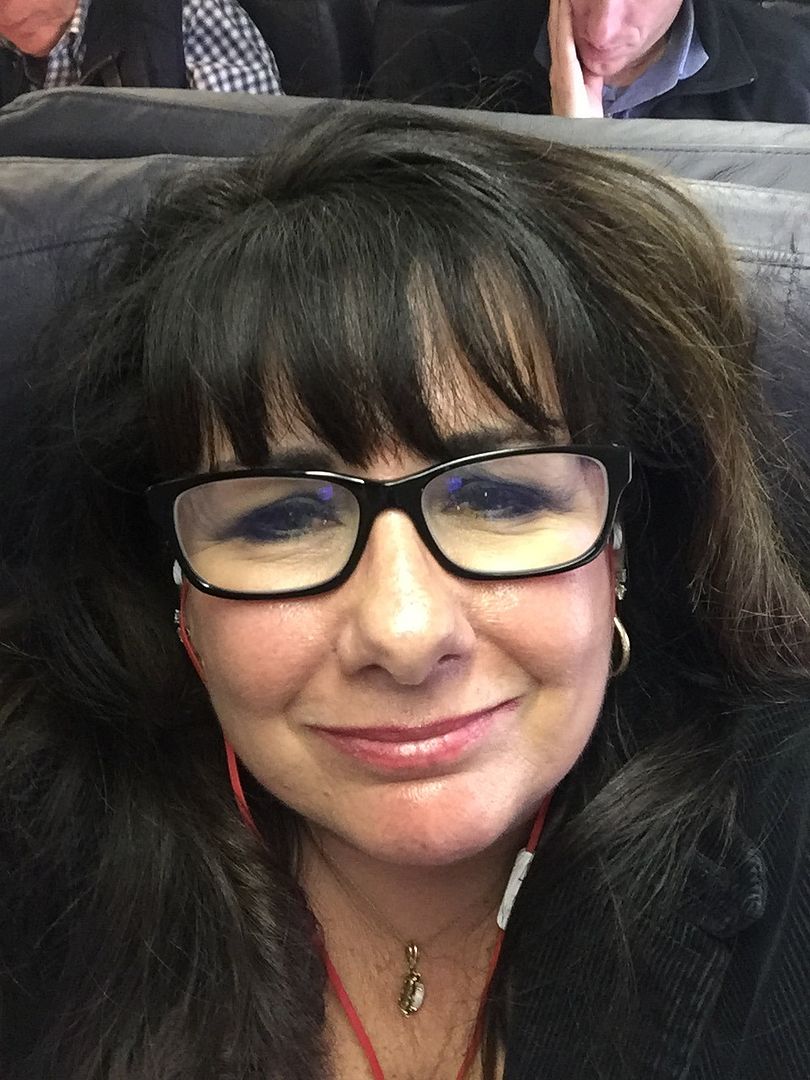 Bye-bye rainy Chicago….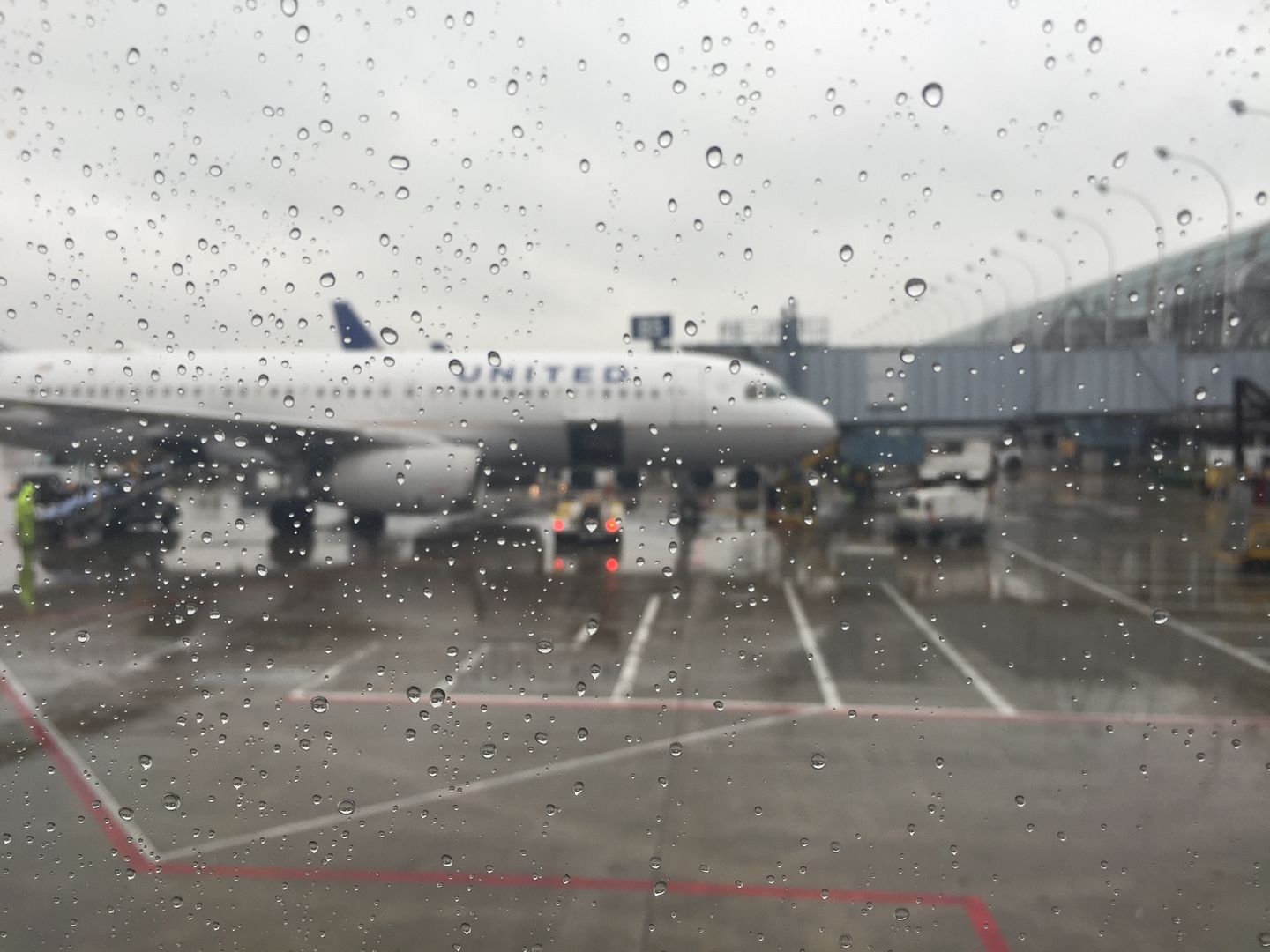 My friend Joan picked me up at the airport and took me straight to the hospital. She also took care of my coins until I got home. I was so happy to see Lou, damn those tears came again!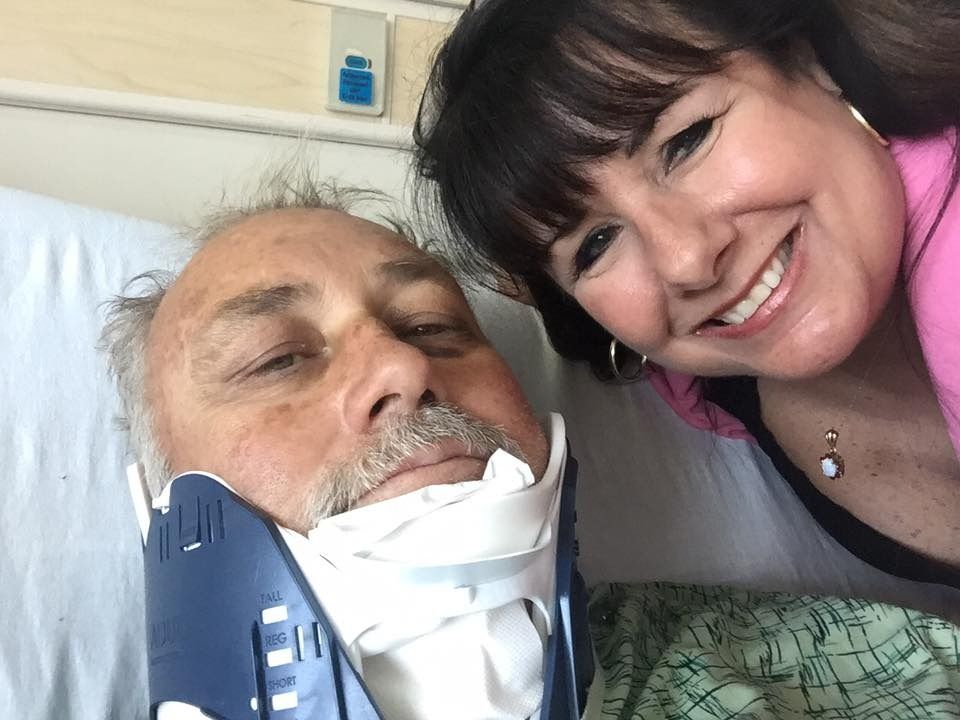 Troy and Nora were there waiting for me too, more tears because I was so ever grateful to them for taking care of Lou so well. While we waited to speak with the doctor, Troy researched what the halo looked like, and how it functioned, and even found a video of how someone functioned wearing one. Frustratingly, even though we had "an appointment" to discuss Lou's options, the nurse soon advised us that the doctor wasn't available to speak with us as expected but said he would meet us at the hospital Sunday morning. Another sleepless night was ahead.
Troy picked me up Sunday morning and we headed back to the hospital. We waited a couple hours and I was finally able to speak with the spinal specialist. He showed us the CT and MRI scans, showed us some other patient scans of what the fused C-2 would look like if he had surgery, and went over the mobility limitations with surgery. Then he discussed how the halo contraption would function, that he thought Lou's injury would heal well with the halo, and afterwards, after 6 to 8 weeks, if all healed properly, he would have the same mobility as before the accident. There was still a chance it would not heal and he would still have the surgery, but he thought with Lou's type of activities, he was recommending the halo. Lou agreed. The doctor said he would order the halo that day and might be able to "install" it that evening, which is what ended up happening.
If you're at all squeamish, you may want to stop reading here.
Here are photos of the doctor putting the halo on Lou, which they did right in his hospital room. It only took about 20 minutes. It was interesting to watch but made me cringe when they "screwed" in the bars to his head. Luckily he was on pain meds and was pretty much asleep through it all. They line up the halo attach it to his head, connect the vertical bars that are attached to a vest that is permanently buckled around his waist. Once everything is lined up perfectly, they tighten all the screws and lock them down.
All done.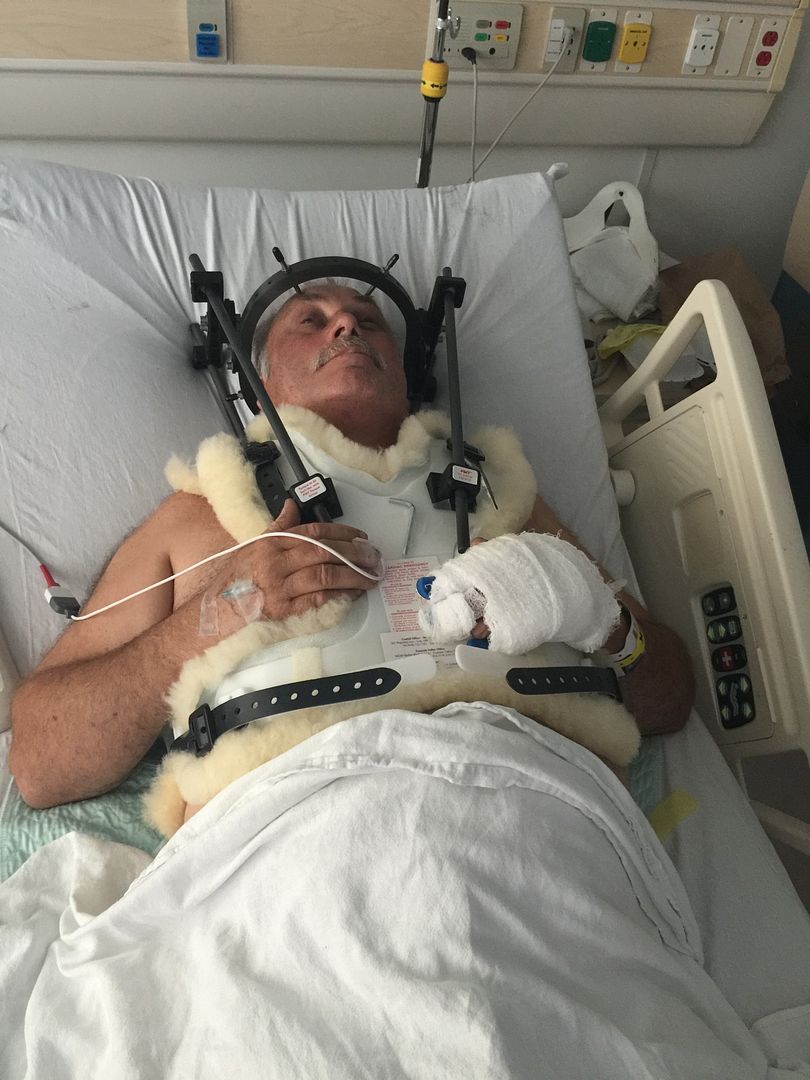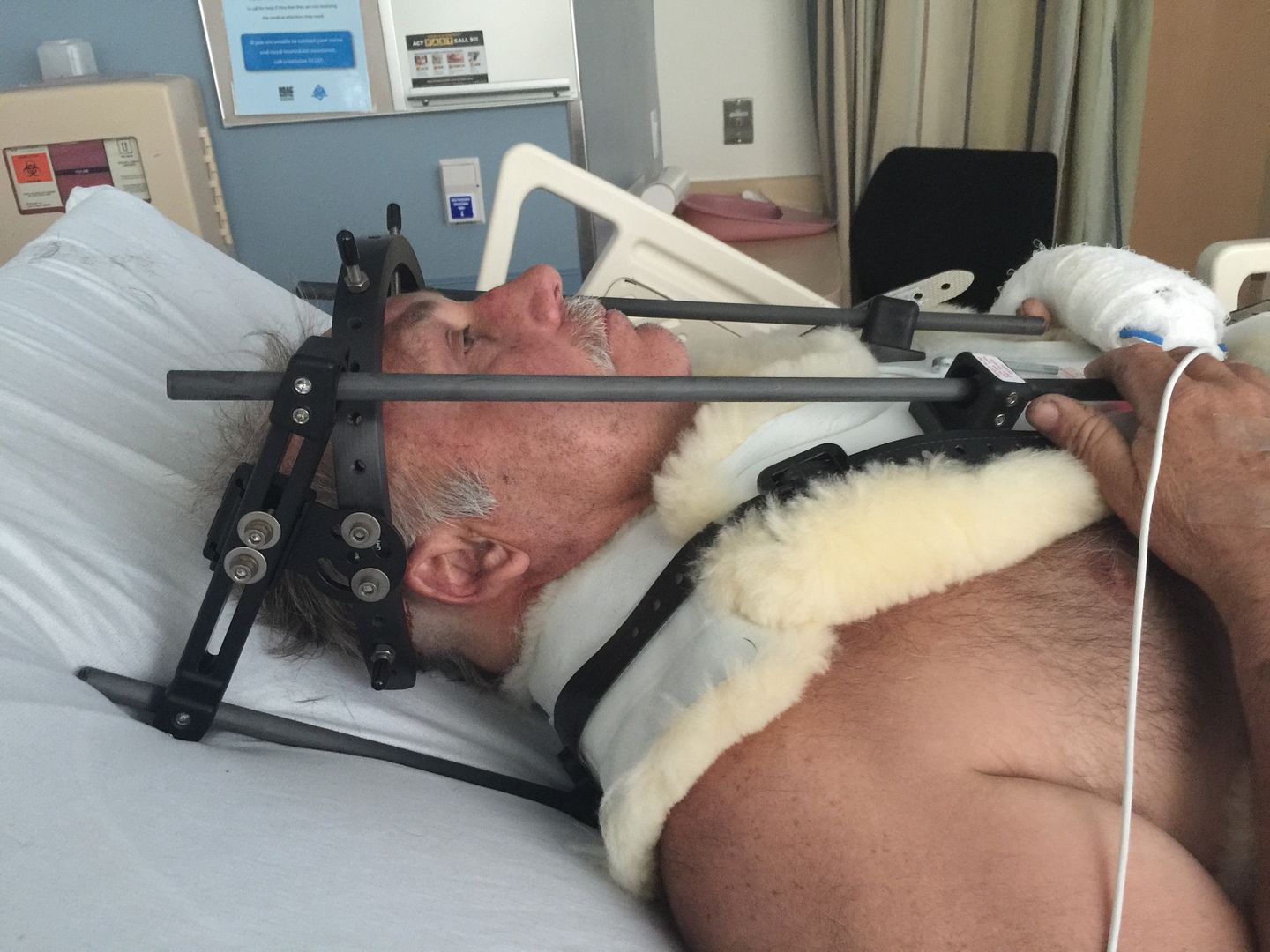 Interestingly, for emergency purposes, they actually tape an "L" wrench to the front of the vest in case he has a heart attack or some other life threatening event that requires removing the halo for emergency treatment.
I stayed with Lou that night to make sure he was as comfortable as possible, and to help him through the first night trying to sleep with this very awkward contraption. It was a rough night. Luckily, they had anti-anxiety medication available which helped a lot.
The physical therapist came on Sunday to see if Lou could walk on his own, especially considering his other back fractures and the weight of the halo. I am so proud of my Lou, he practically danced around the hallways! Well, not really, but he sure surprised the PT, and a couple of his friends who had just stopped by. He used a walker but pushed that thing around the hallway at top speed, just like his racecar! So we were both very happy to be going home.
However, even with my large SUV, with his 6'2" height and the additional several inches of height on the halo, and his limited bending capabilities, getting him in and out of the car was quite a challenge, but we managed it.
We have a long road ahead of us, but Lou is strong, stubborn, and determined. The first night at home was tough because we haven't found the ideal pillow positions to make his head comfortable, the recliner seemed to work best for now. We also need to make adjustments for the height of things, like when he eats since he can't bend his neck to look down at his food, and we need to raise the computer and keyboard for the same reason, things like this.
So our lives have changed dramatically, at least for now. This halo is very awkward and uncomfortable, and is definitely not easy to cope with. I have cancelled all travel for the next couple of months, including, ironically a trip Lou and I had planned with friends to Cabo in early June. I need to stay home to try and make Lou as comfortable as possible, get him to his doctor appointments, and just make sure he gets what he needs. I may be at the Long Beach show since I can come home right after the show each night, but I'll decide after I see how well Lou copes over the next few weeks.
So thank you all for allowing me to write about what happened and post it here. It truly does help to know that so many people are concerned and have kept us in their thoughts and prayers. My friends at the show, including Rick, Greg, Ron, and Matt, were so kind, caring, and patient with me (even when I was so distracted that I left my purse at the restaurant and had to drive back to retrieve it), as were several of my customers who could tell that I was distressed and were so understanding. We have received overwhelming support from all of our friends, family, medical specialists, and even acquaintances. The humanity of complete strangers in Mexico and all the efforts of our friends to help Lou and Rich will never be forgotten and will remain in our hearts forever. We are extremely grateful for all the interventions (both by humans and a higher power) that prevented an even worse tragedy. We will look at this as just another one of life's trials that will hopefully leave us wiser, kinder, and stronger in the end.
But through all of this, one thing remains consistent. Penny is as cute, lovable, and adorable as ever! When I came home, all she did was follow me around and purr every time I pet her. How comforting is that! This is one of her favorite hiding spots which happens to be right near where Lou hangs out the most.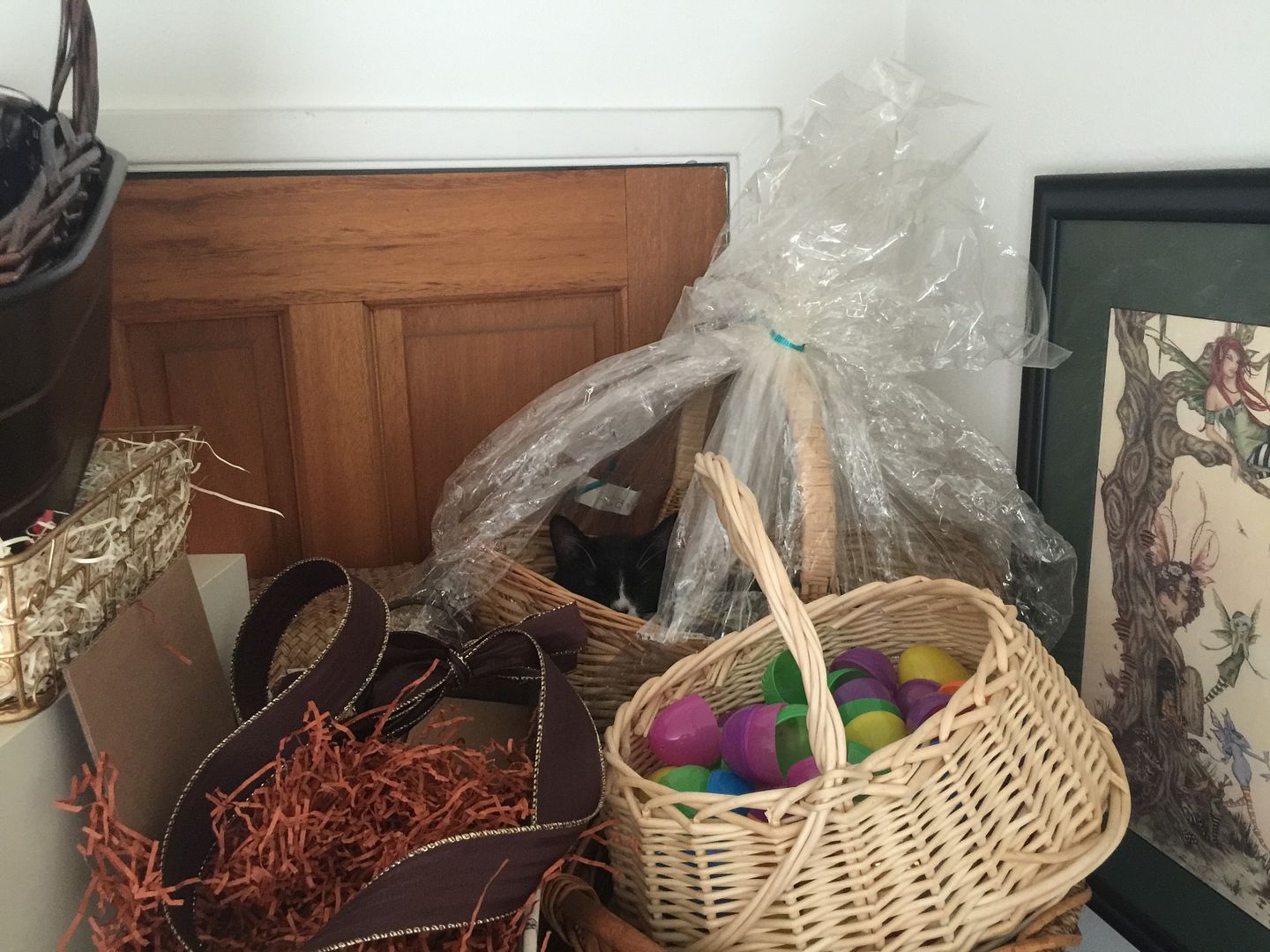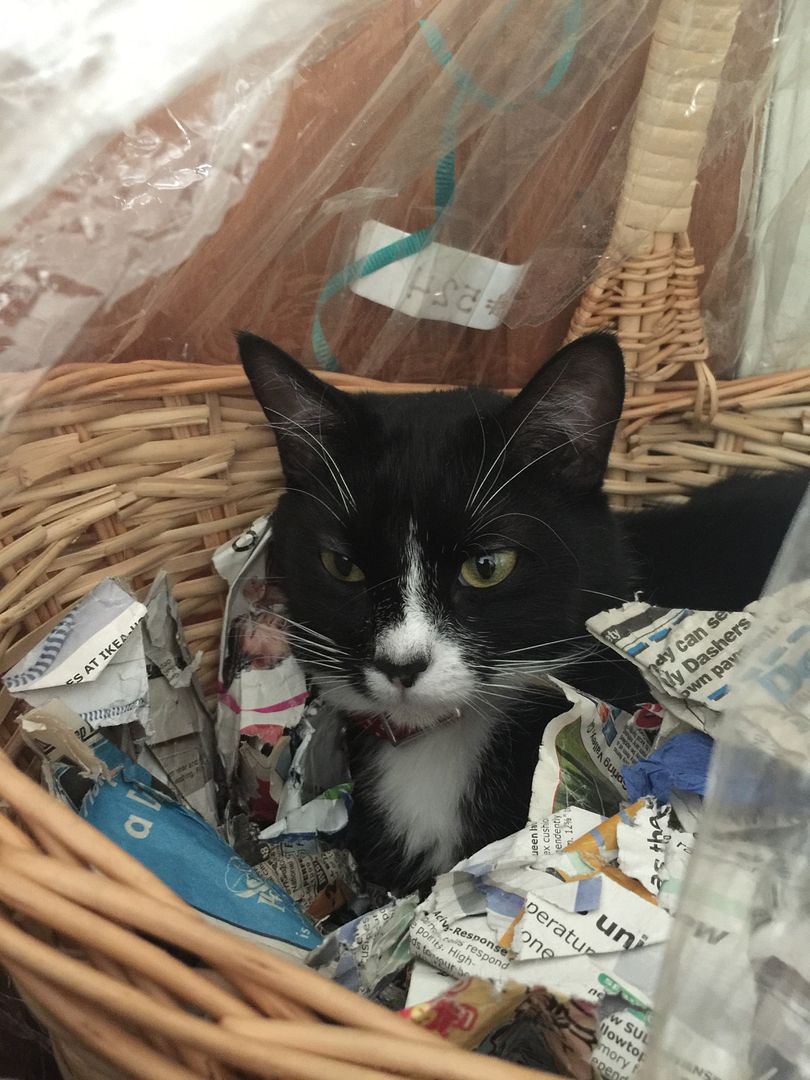 Charmy Harker - The Penny Lady®
President of Women in Numismatics
ThePennyLady.com