Home
›
U.S. Coin Forum
Charmy's 2014 HOUSTON MONEY SHOW REPORT w/lots of Pics!!!

ThePennyLady
Posts: 4,029
✭✭✭✭
As I've mentioned in previous Houston show reports, the folks who put on the Houston Money Show work so very hard to make sure everything is done right and everyone is happy, even walking around from table to table to see if they could help or improve things. They also do a heck of a job advertising the show with both radio and television commercials. In spite of all this, I can't say the show is a gangbuster show, but it is definitely steady and worthwhile for me to keep returning.
So as usual, the night before my flight, I organize all my paperwork and coins, both slabbed and raw. But now with my new little kitty, Penny, I get extra "help" during this process!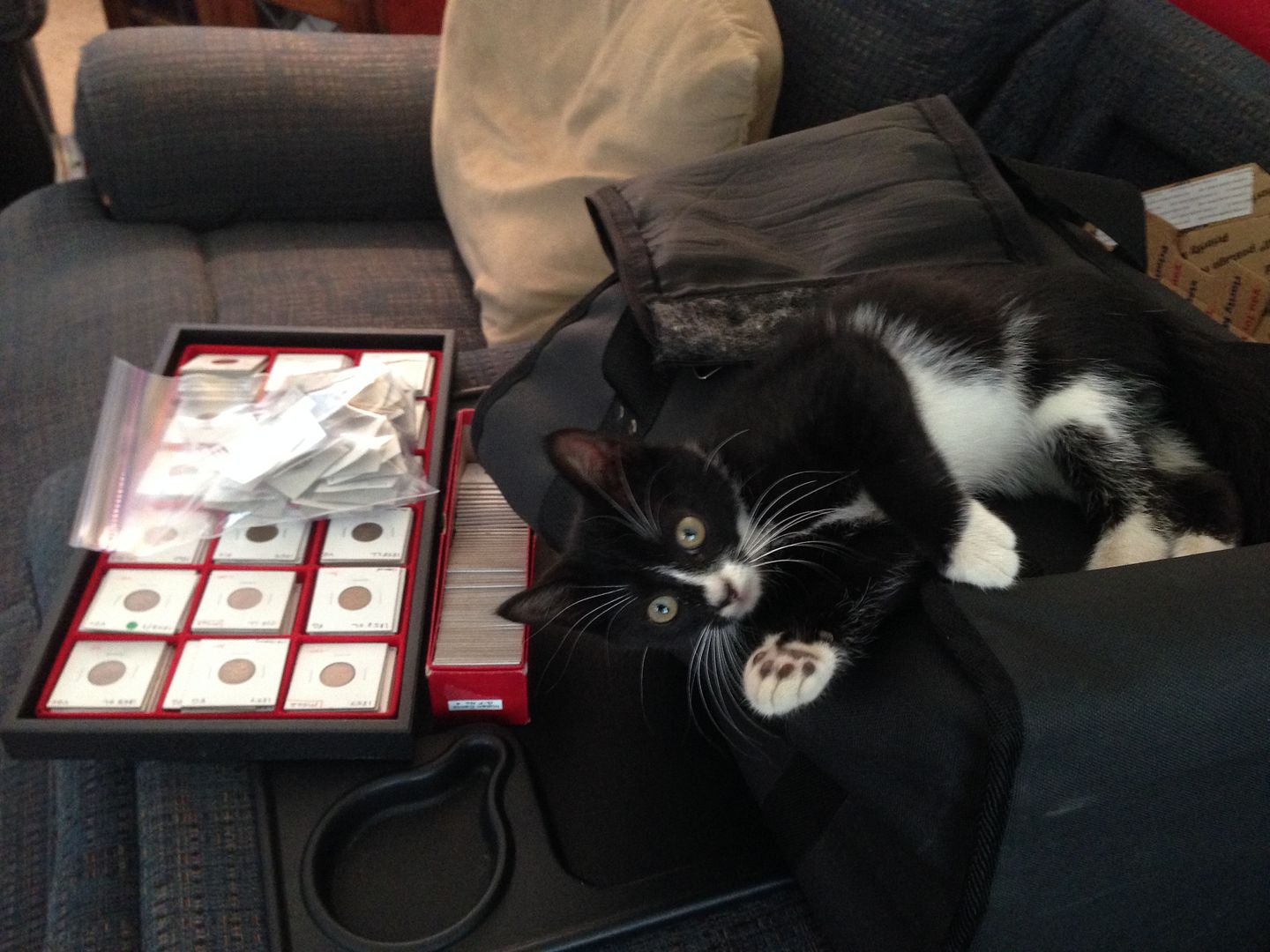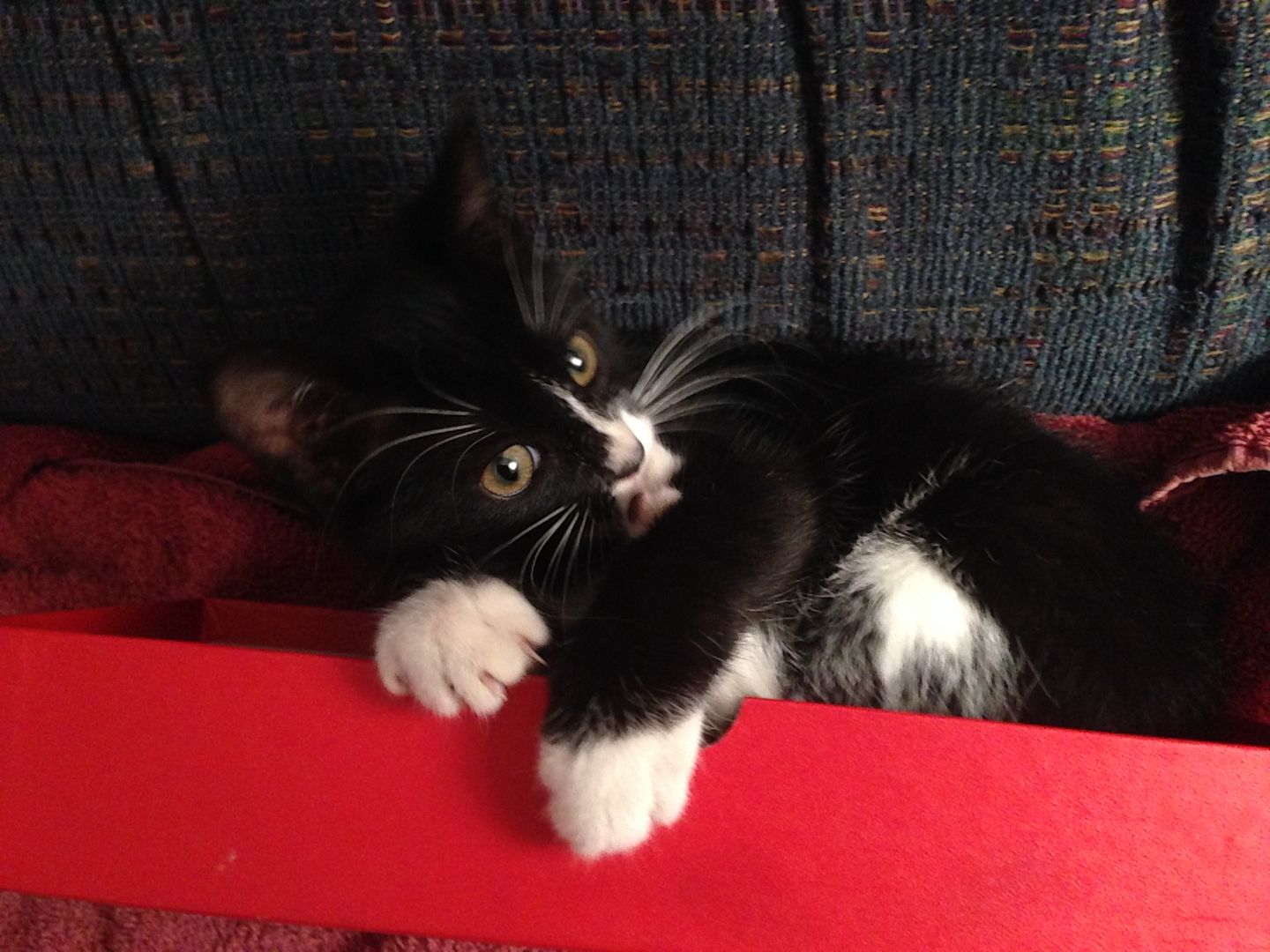 The day before I left Orange County, we finally got some much needed rainstorms and I would have liked to be home in front of a cozy fire hearing the pitter patter of the rain outside because it had been so long since I heard that sound! On Wednesday morning, it was still raining when I boarded my flight. So I said good-bye to rainy Southern California….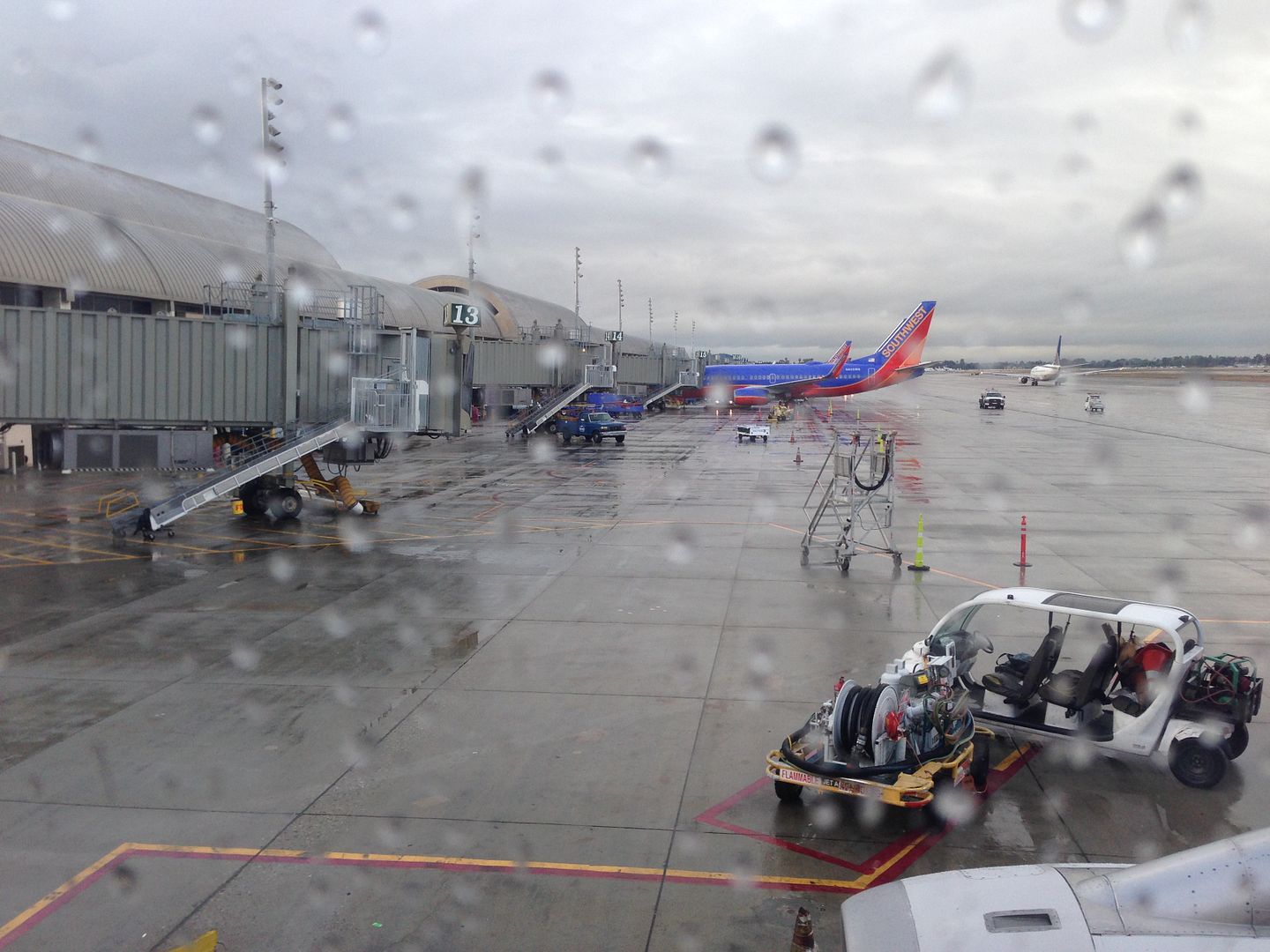 And hello to warm sunny Houston!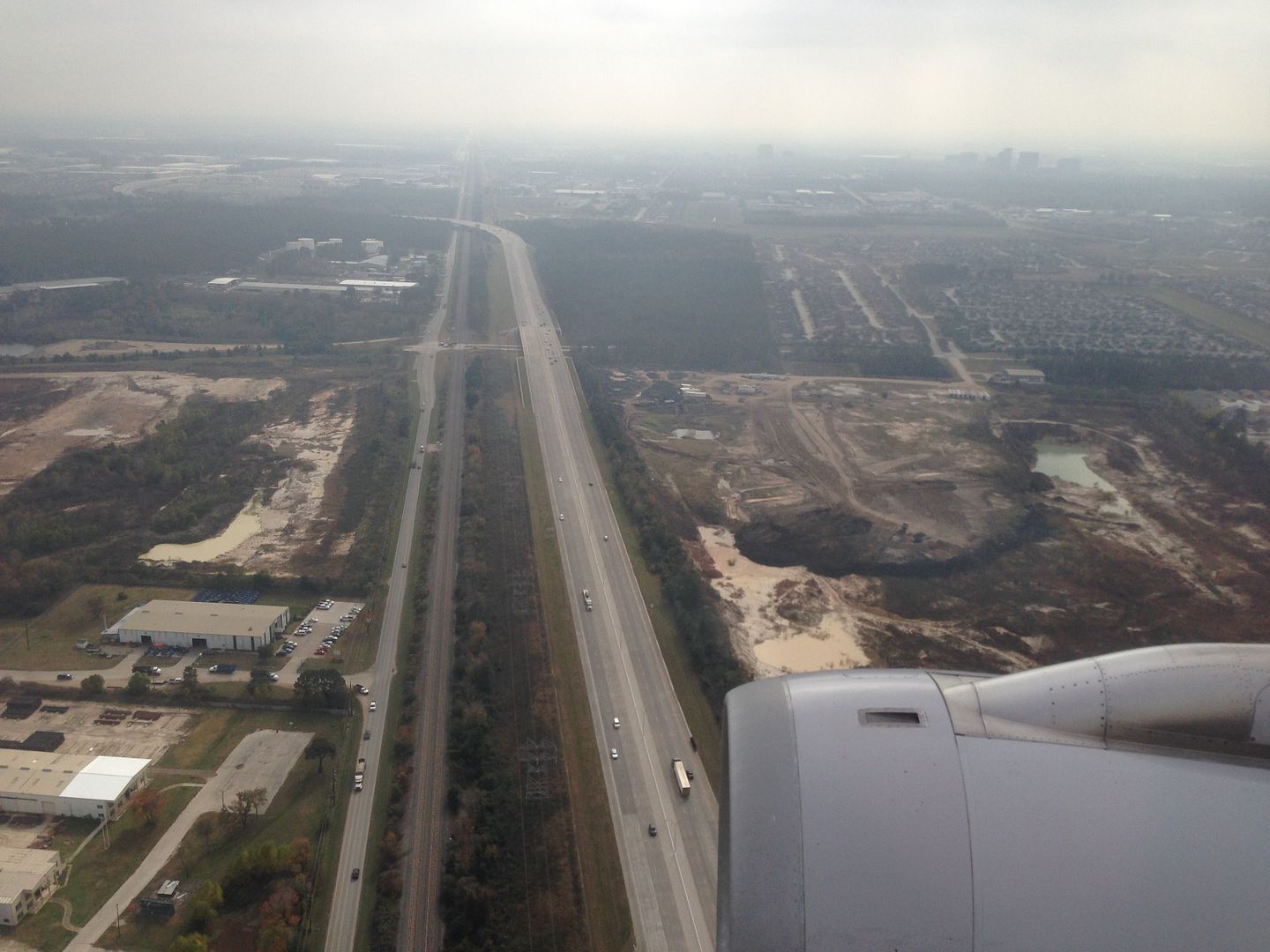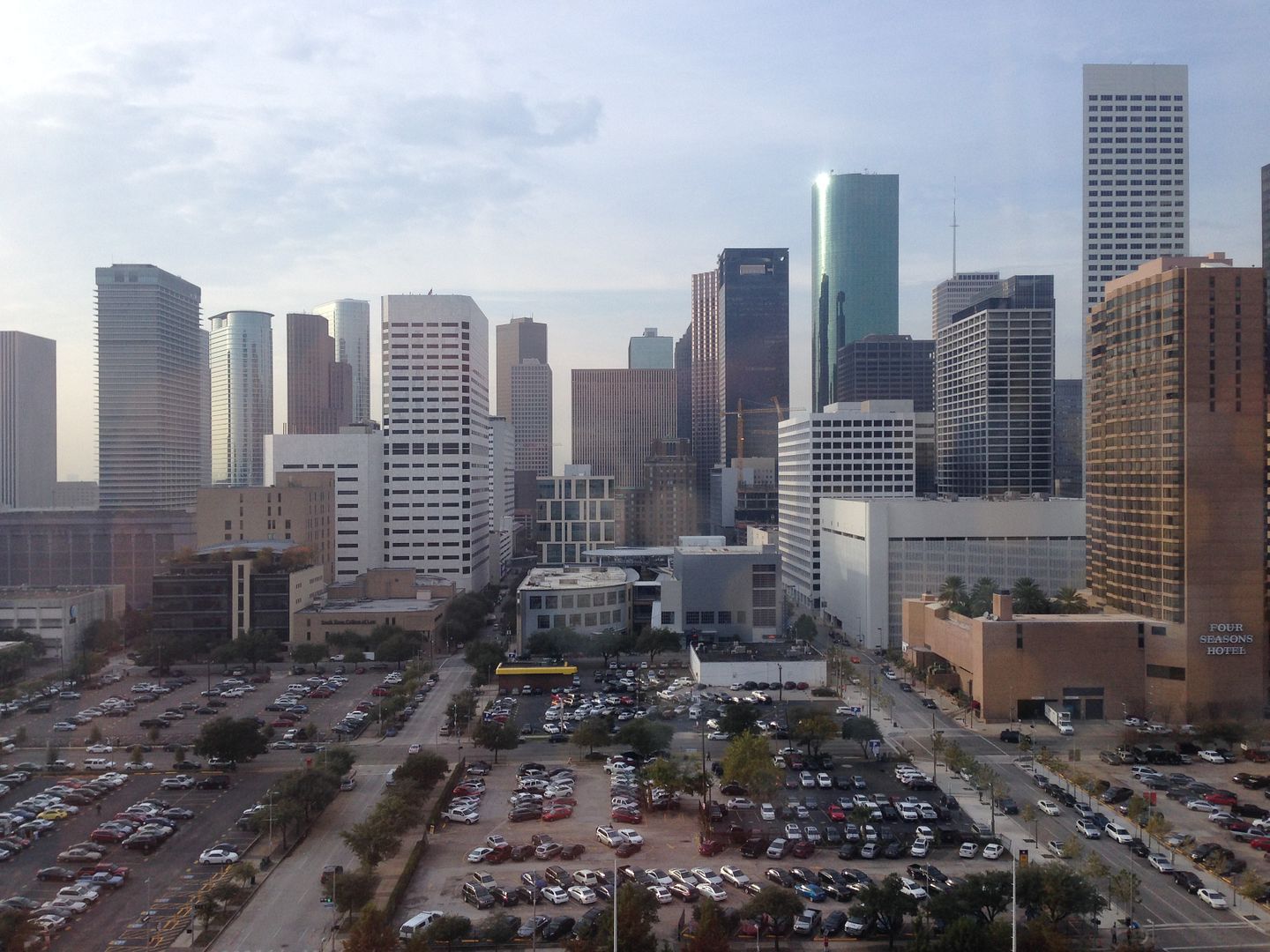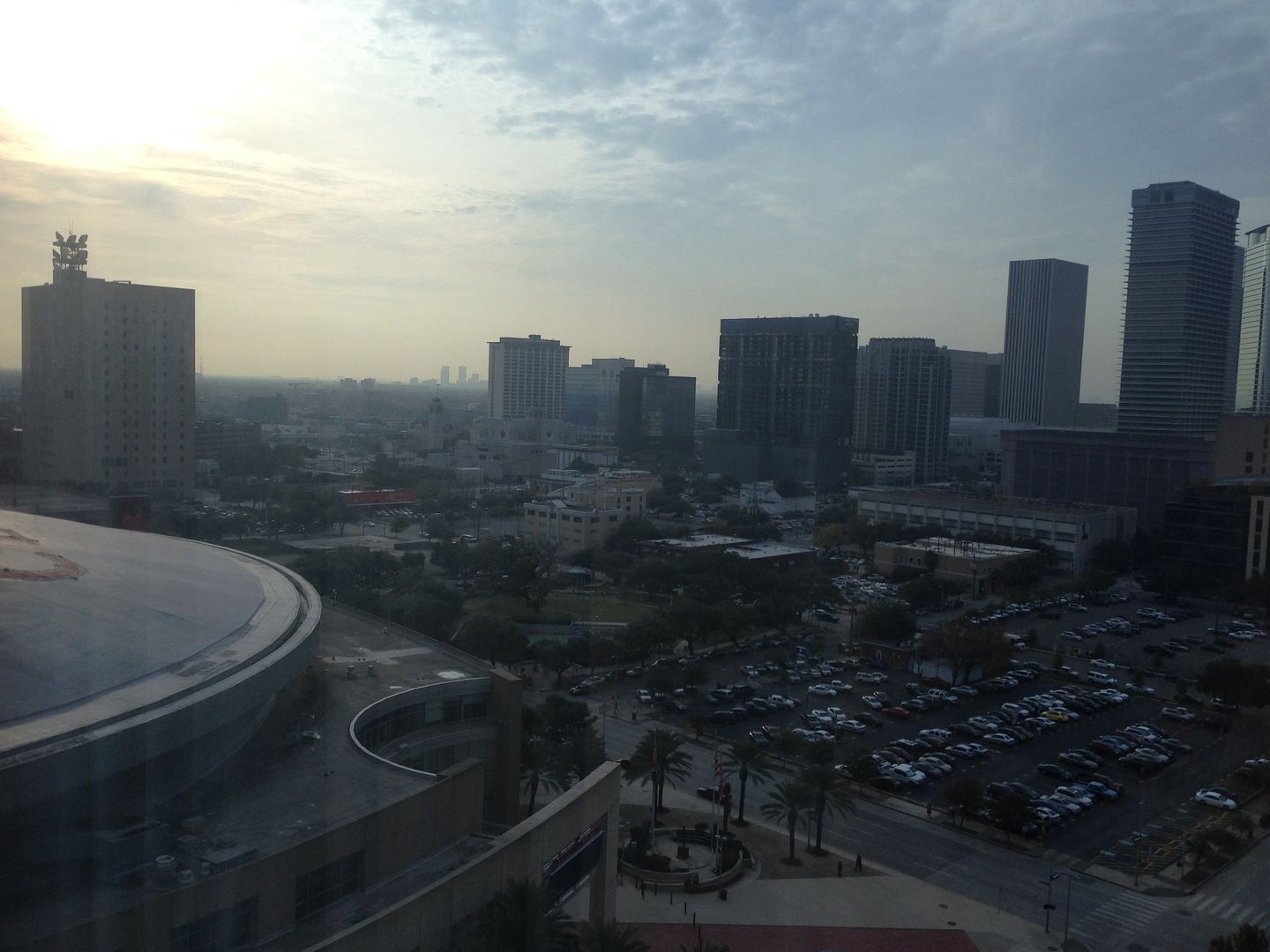 After I settled in, I had a bite to eat with some friends at Pappasito's Cantina (related to the Pappadeaux's Seafood restaurant chain), which is the great new Mexican restaurant in the hotel. Then I had a glass of wine at the beautiful hotel bar and called it a day.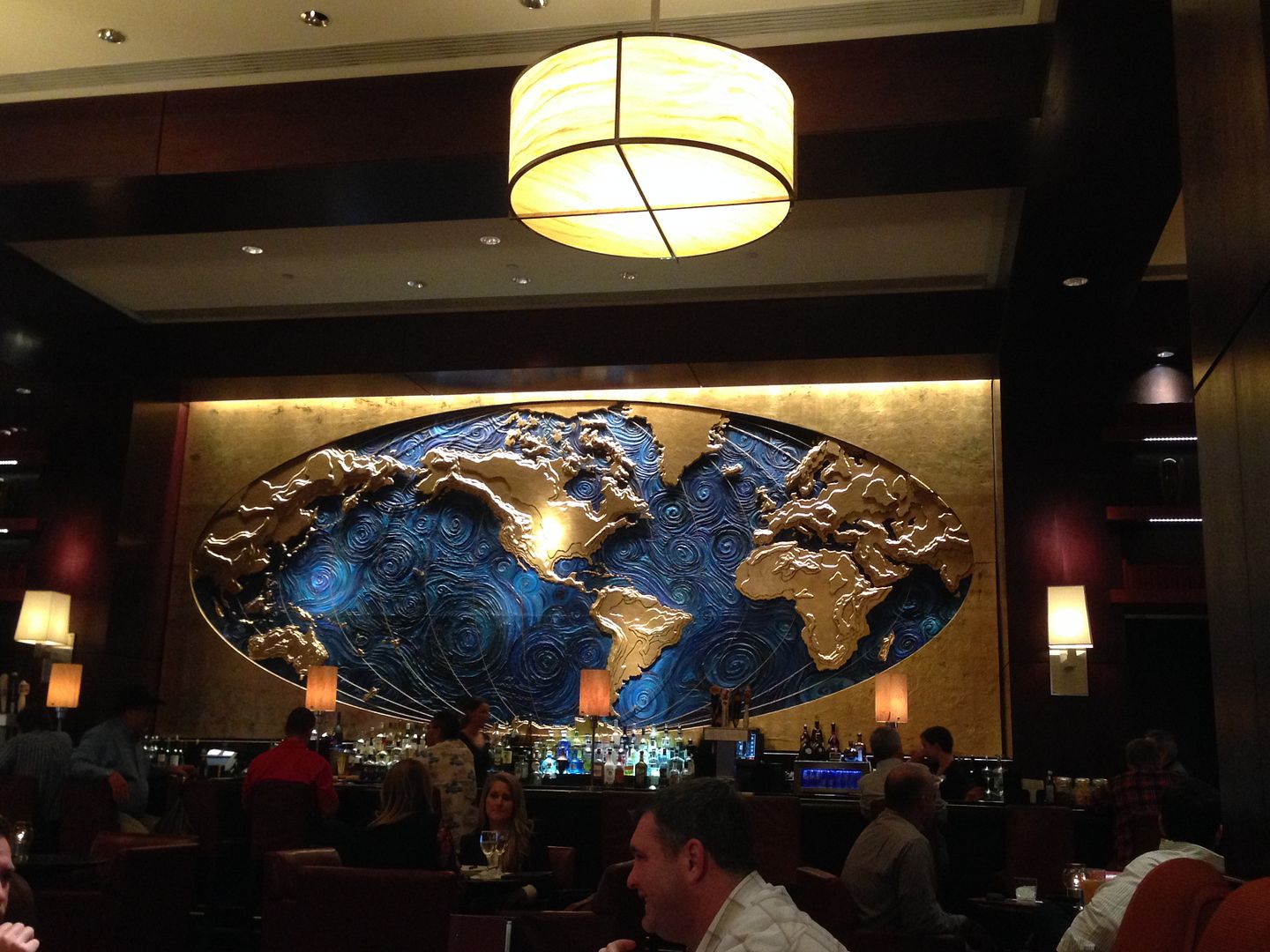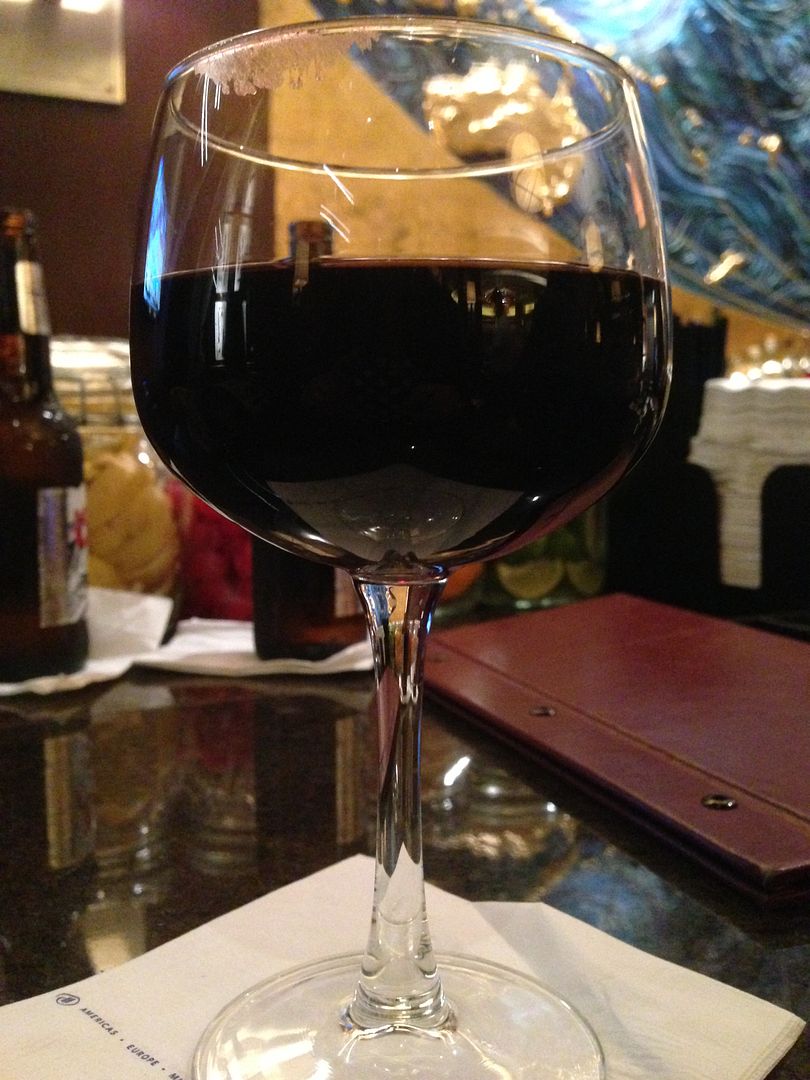 I headed over to the convention center the next morning.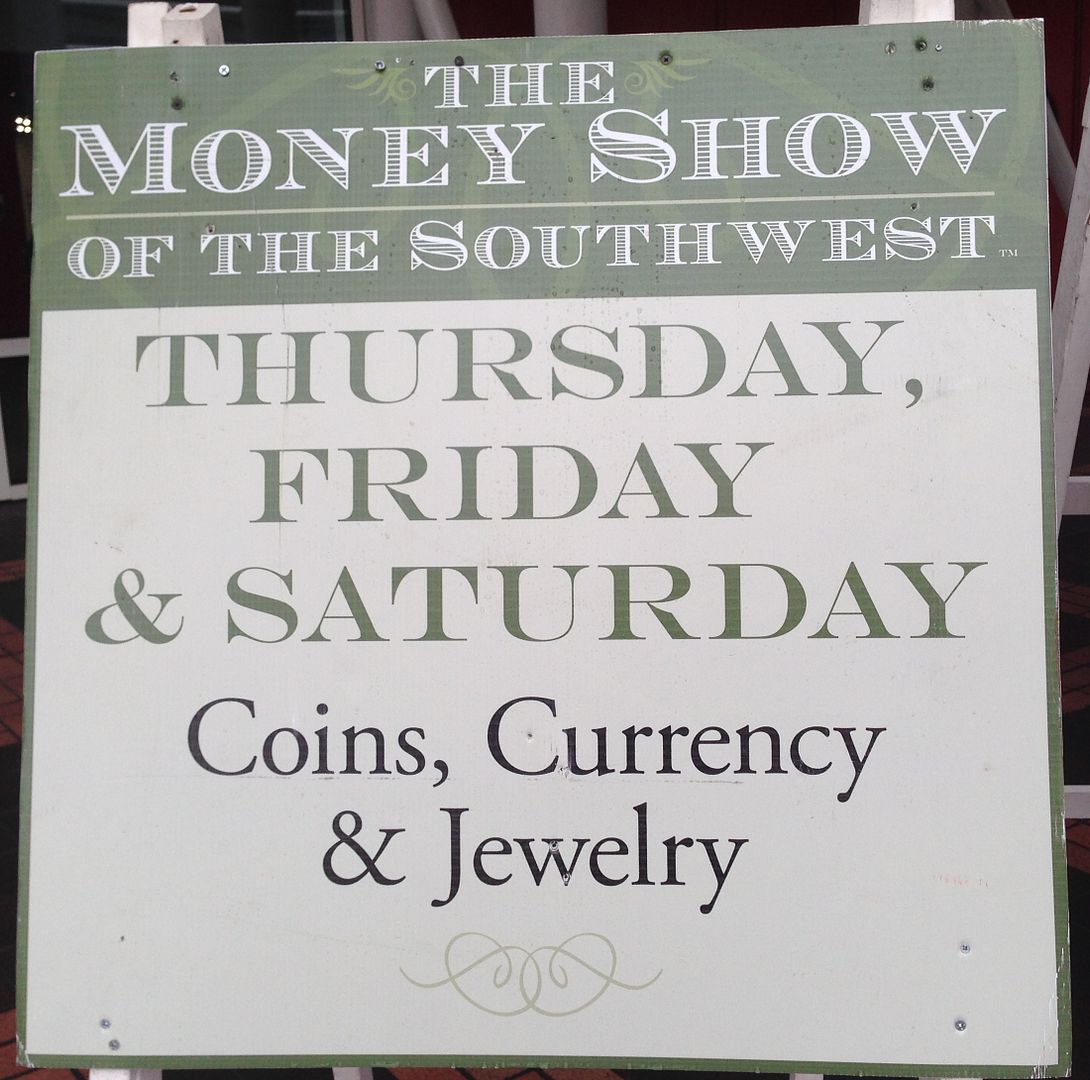 Unfortunately, there were a lot of construction cones around the convention center, which probably meant it was going to be inconvenient for the public to finding decent parking.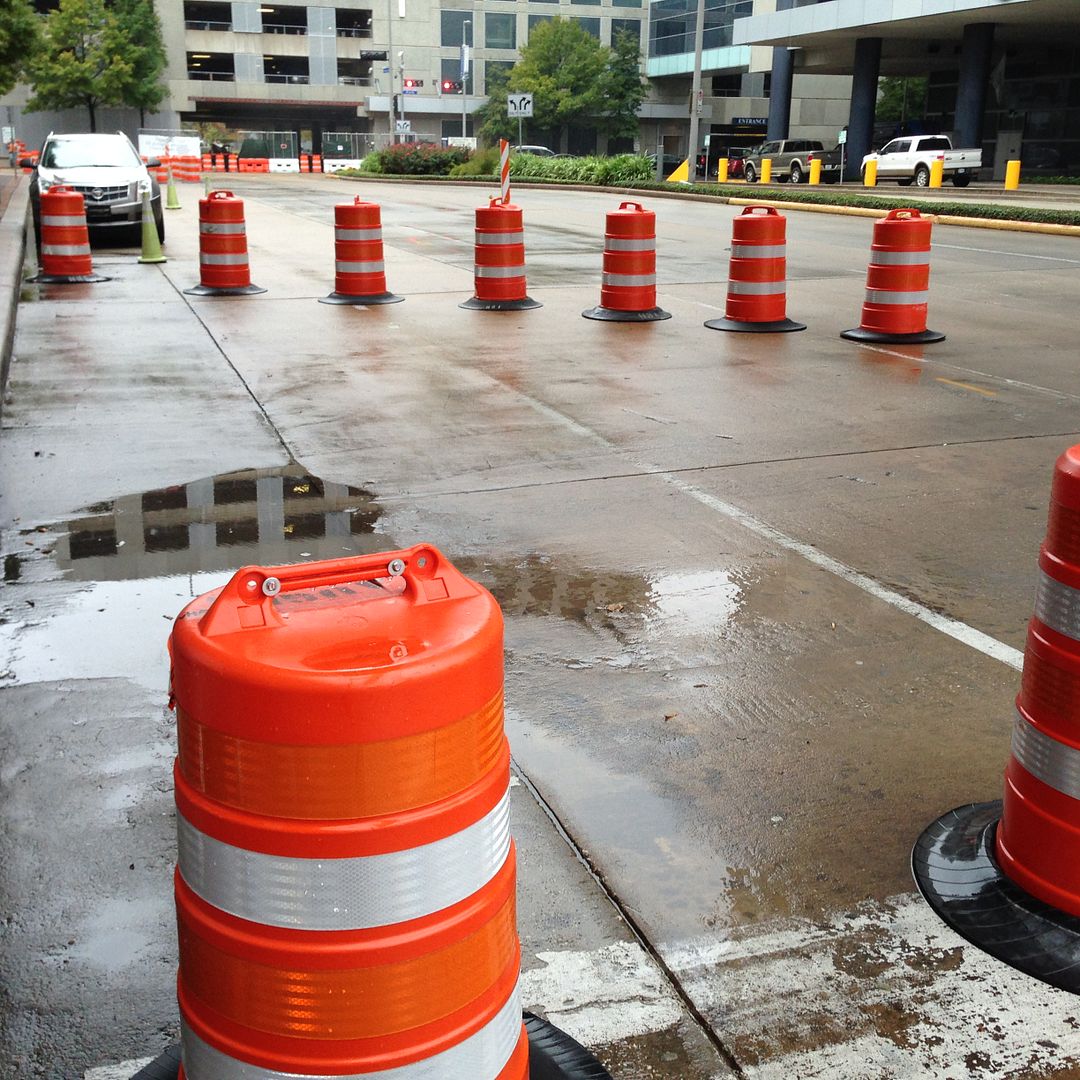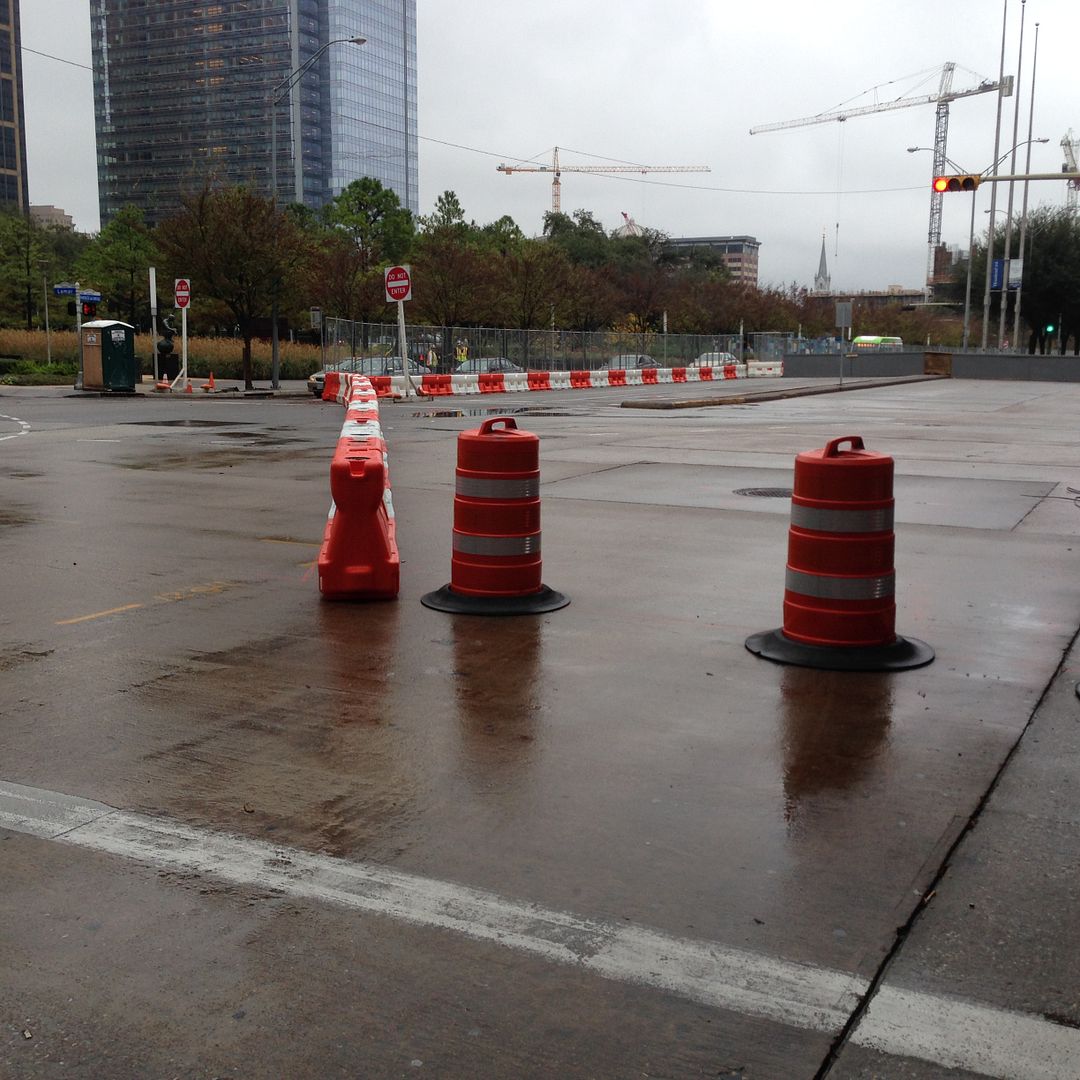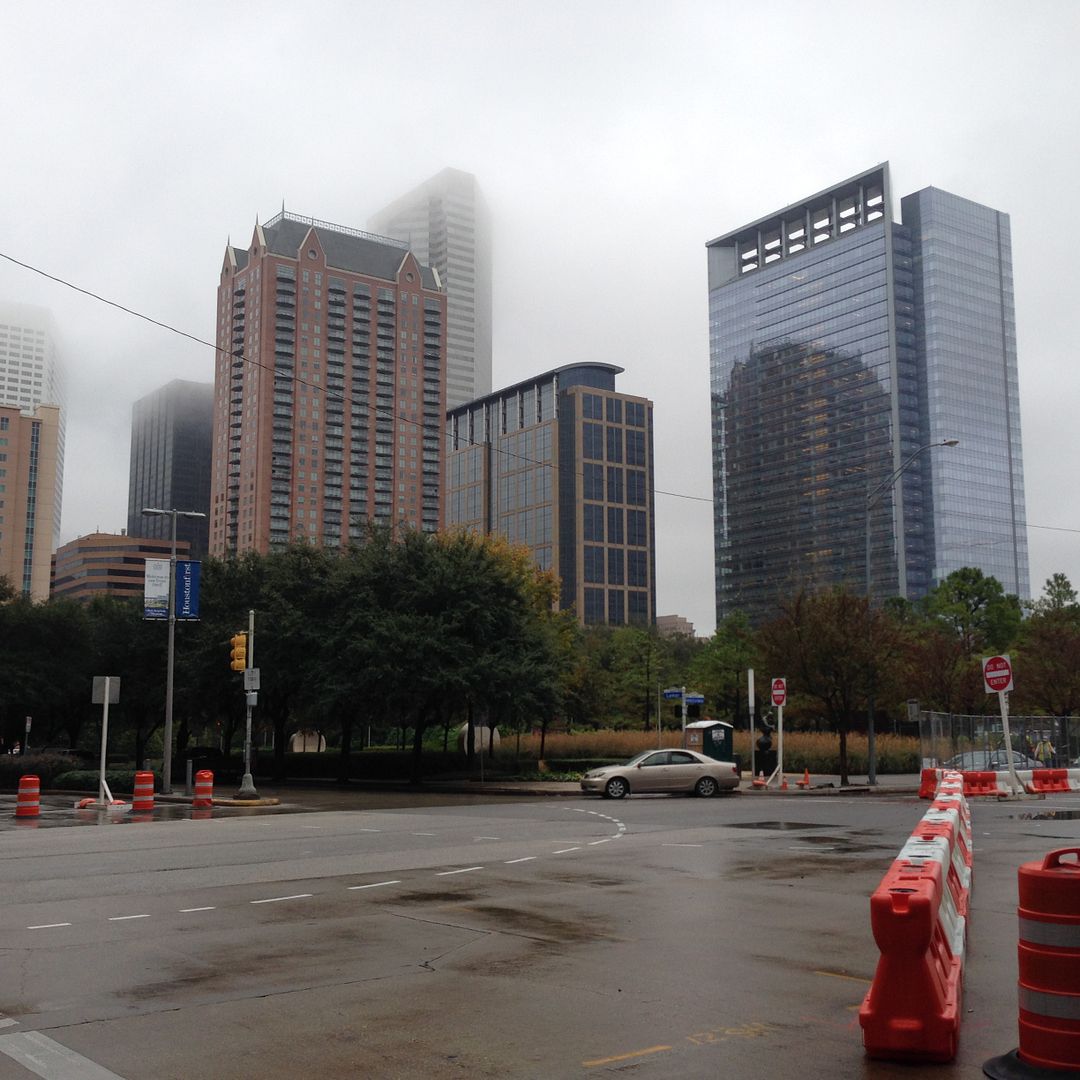 Set up was at 9:00 am, and the public was let in at 1:00 pm, so I had plenty of time to set up my booth and wonderful around the bourse to see what I could find. I found a few nice pieces, and along with some consignments and others that I bought throughout the show, I ended up with quite a few new pretty pennies for my inventory.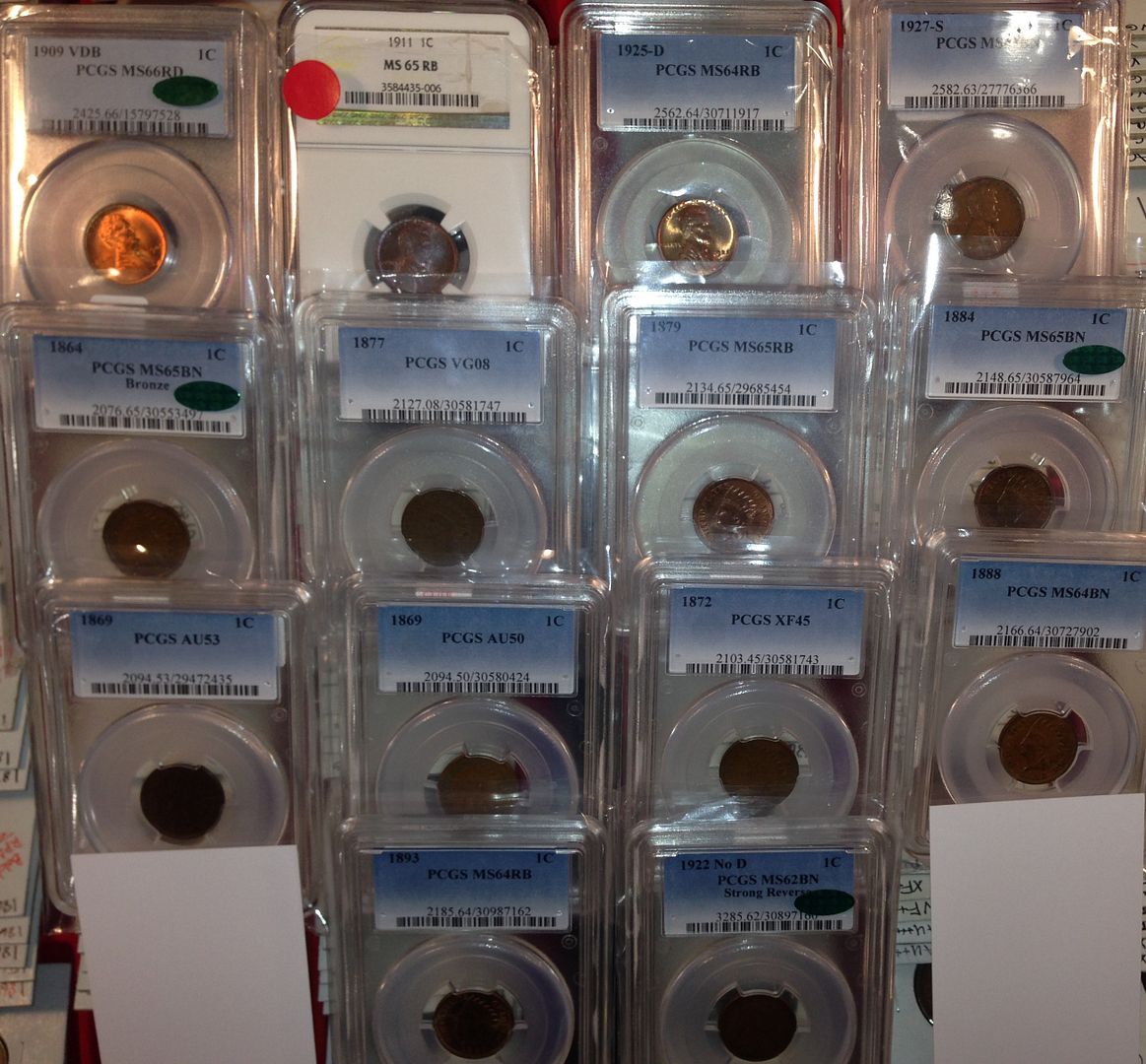 The first forum member to show up at my table was my fellow Conder token collector, Alan/HardTimes, who has made it a nice habit of bringing me a wonderful bottle of wine to enjoy at the show!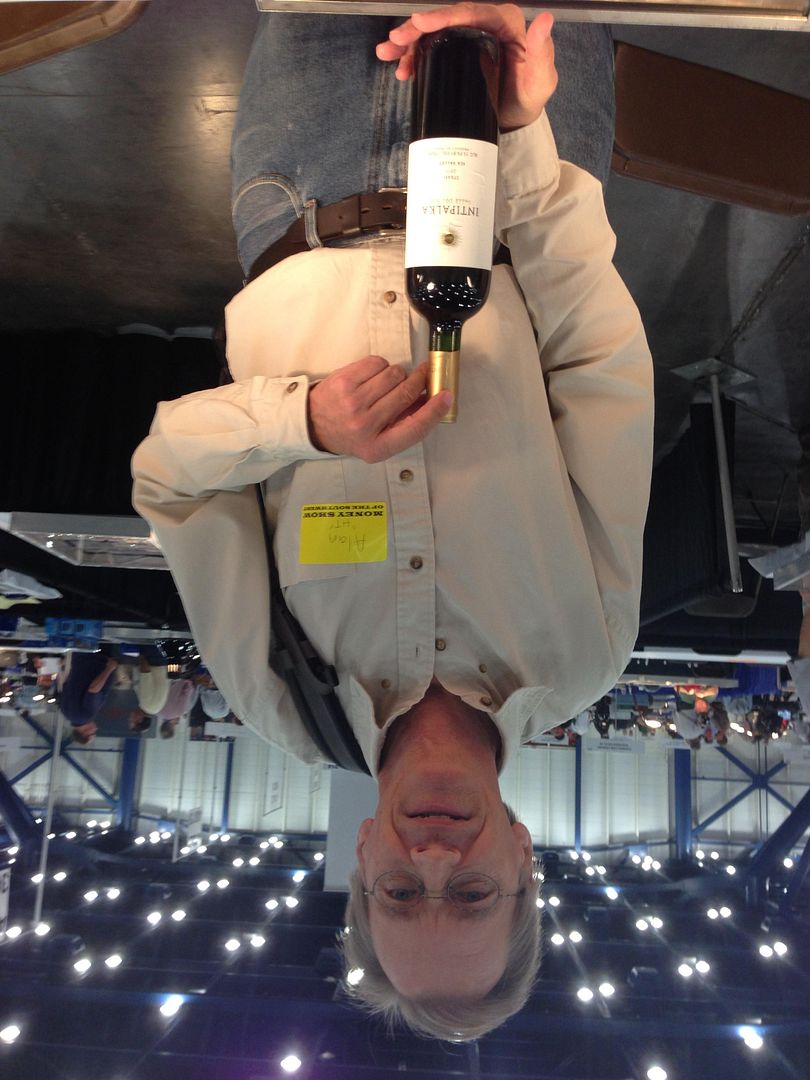 Alan came back later in the afternoon when I opened up the Syrah he brought – it was amazing!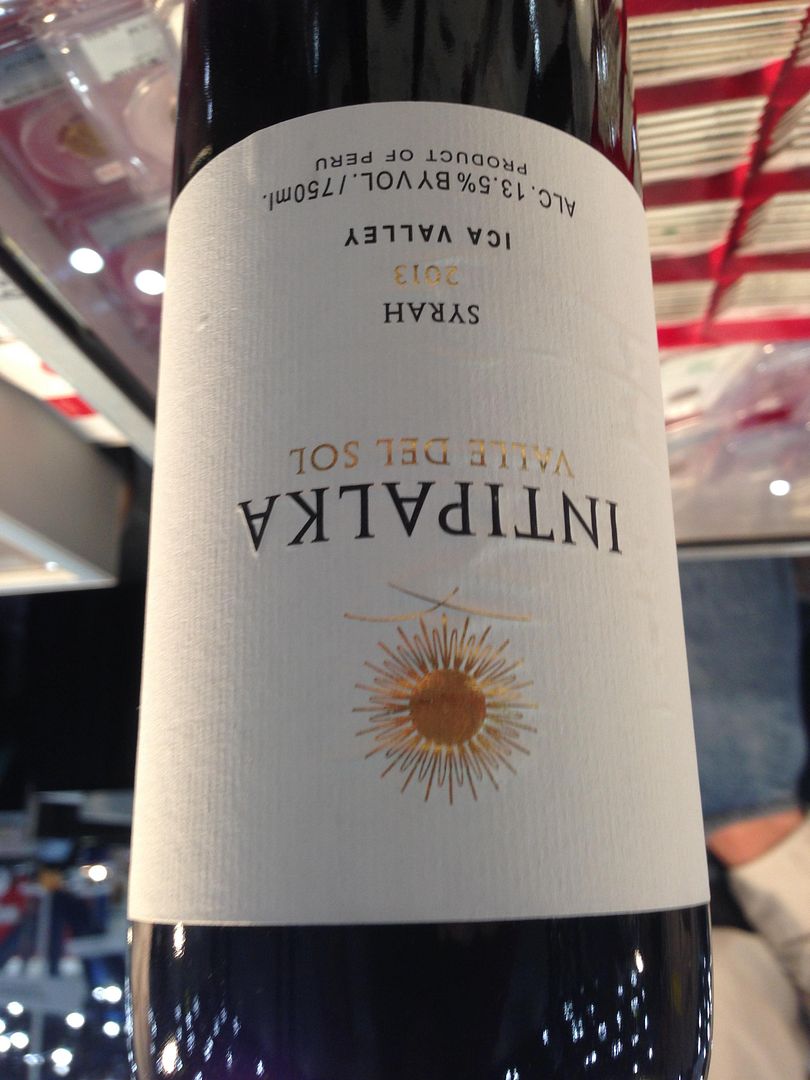 A little while later, this absolutely adorable little girl and her dad came by because she was just starting a new penny collection and wanted to see what I had. I of course gifted her with her first new penny – a 1909 vdb.
Fellow forum member and Facebook friend Jim Bevill also stopped by to say hi. Jim is also a proud member of the Sons of the Republic of Texas!
Christian Merlo/Cmerlo1 came by to say hi. He was working with Paul at the ANACS table and had asked for a nice restaurant recommendation. I, of course, told him he couldn't go wrong with Vic & Anthony's Steakhouse – it's my favorite restaurant in Houston! As a matter of fact, we had reservations there that night!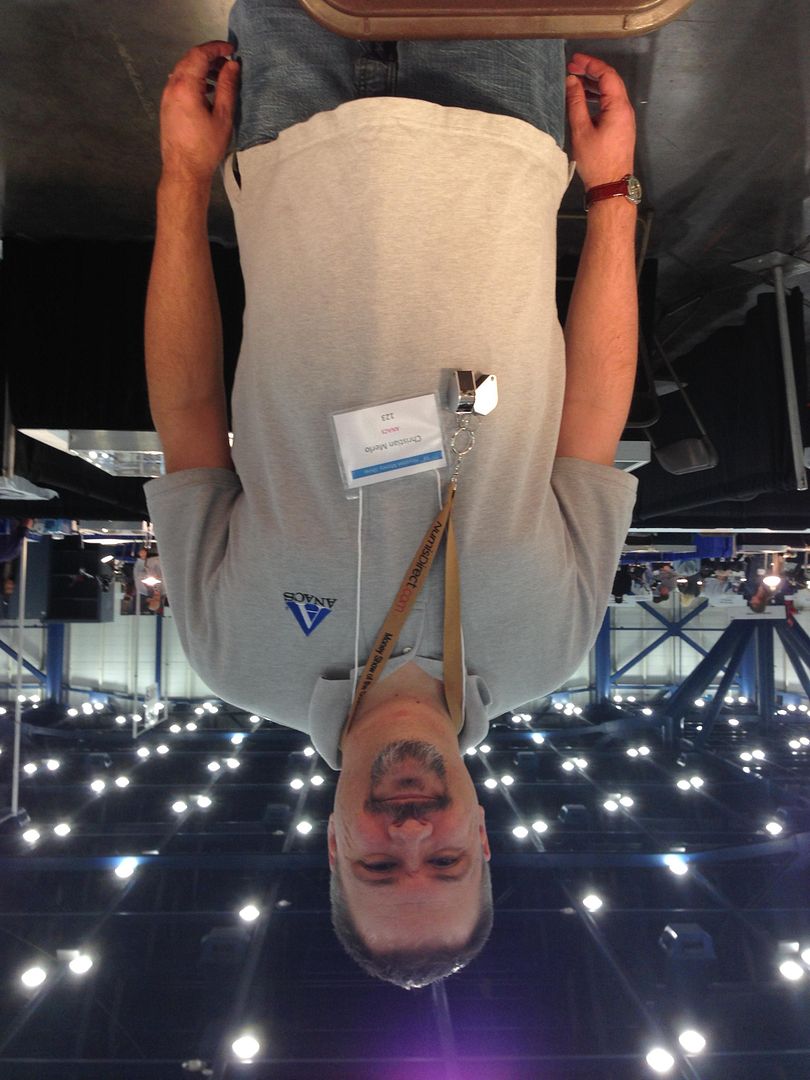 After the show was over, a group of us met back at the hotel since our reservations weren't until 7:45 pm. These are the decorated trees across from the hotel.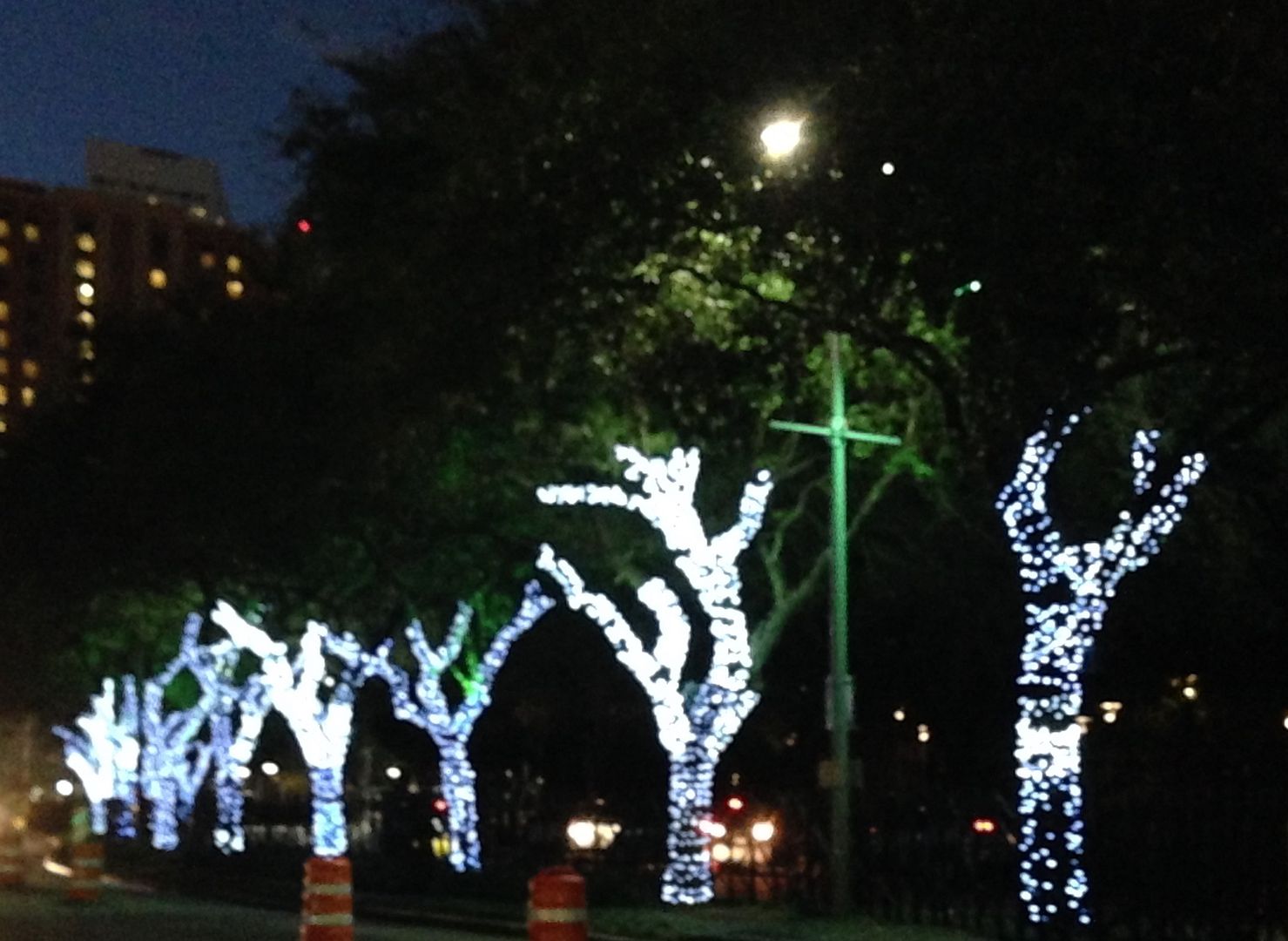 In the lobby, they were just putting finishing touches on their amazing display of Santa and his elves all carved out of pure chocolate – even the floor was covered with chocolate!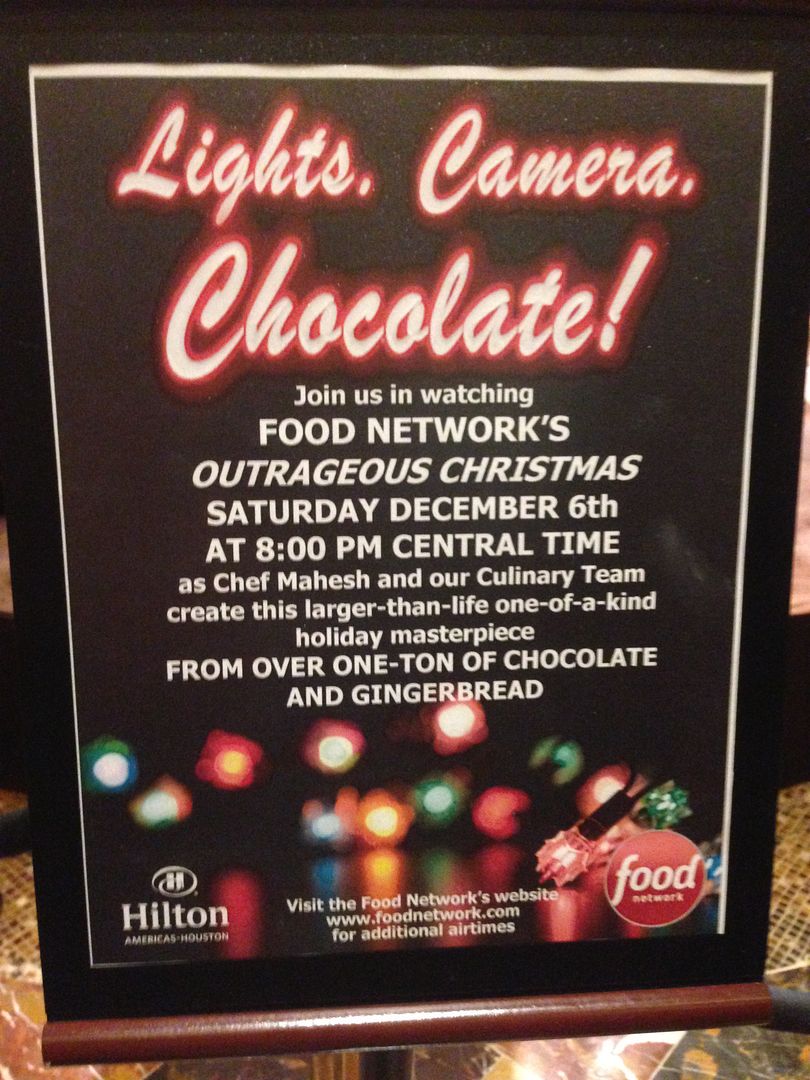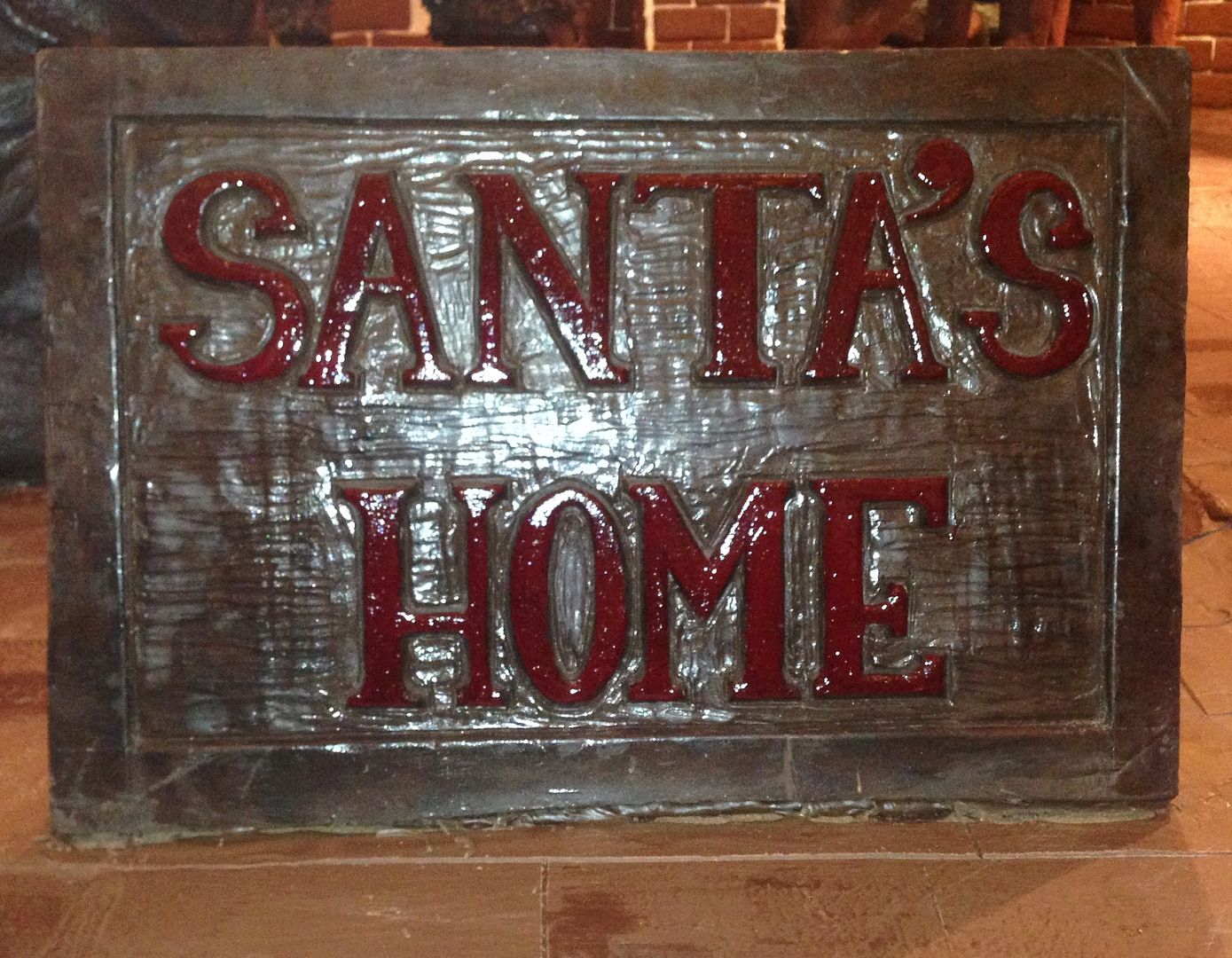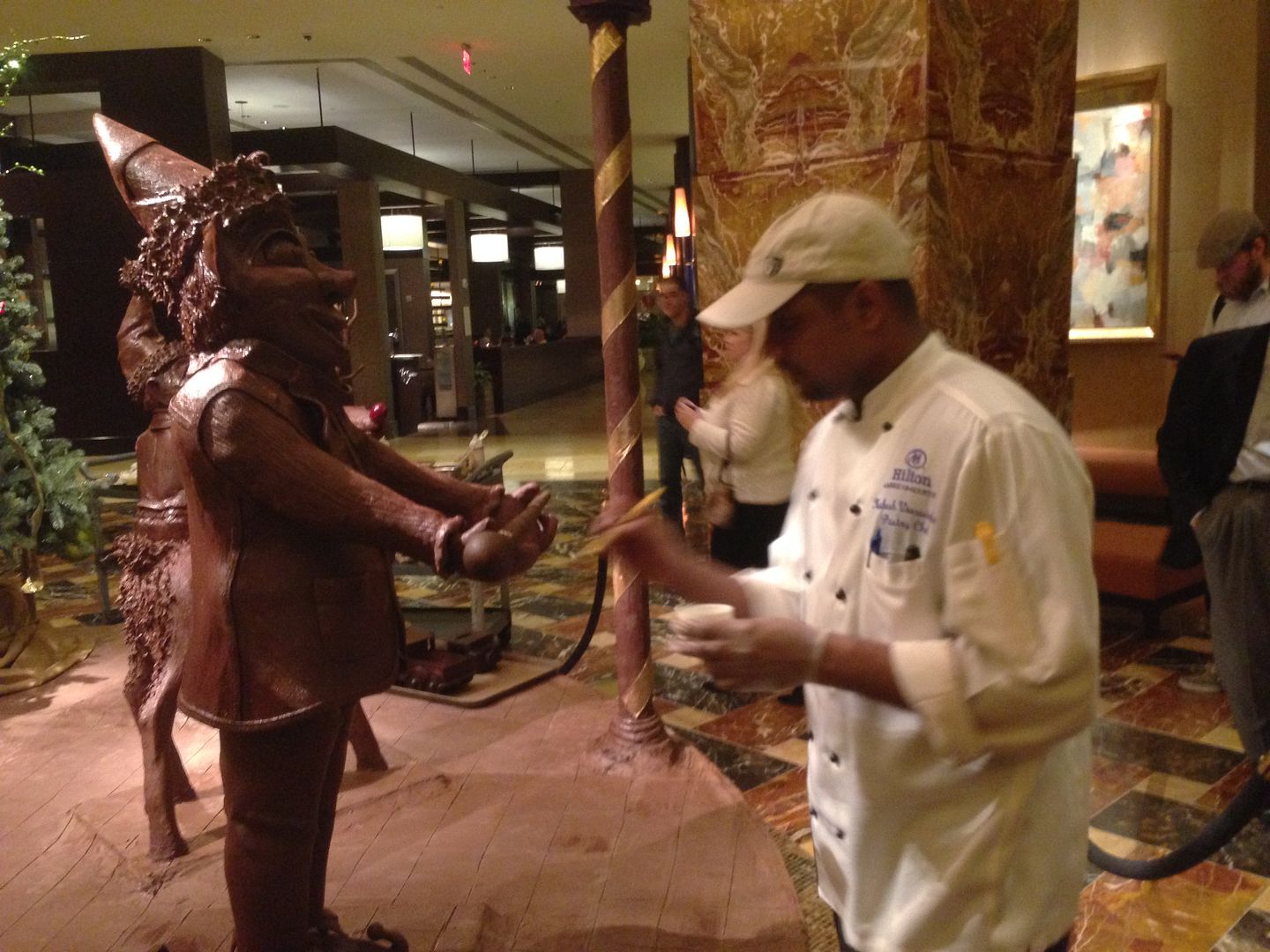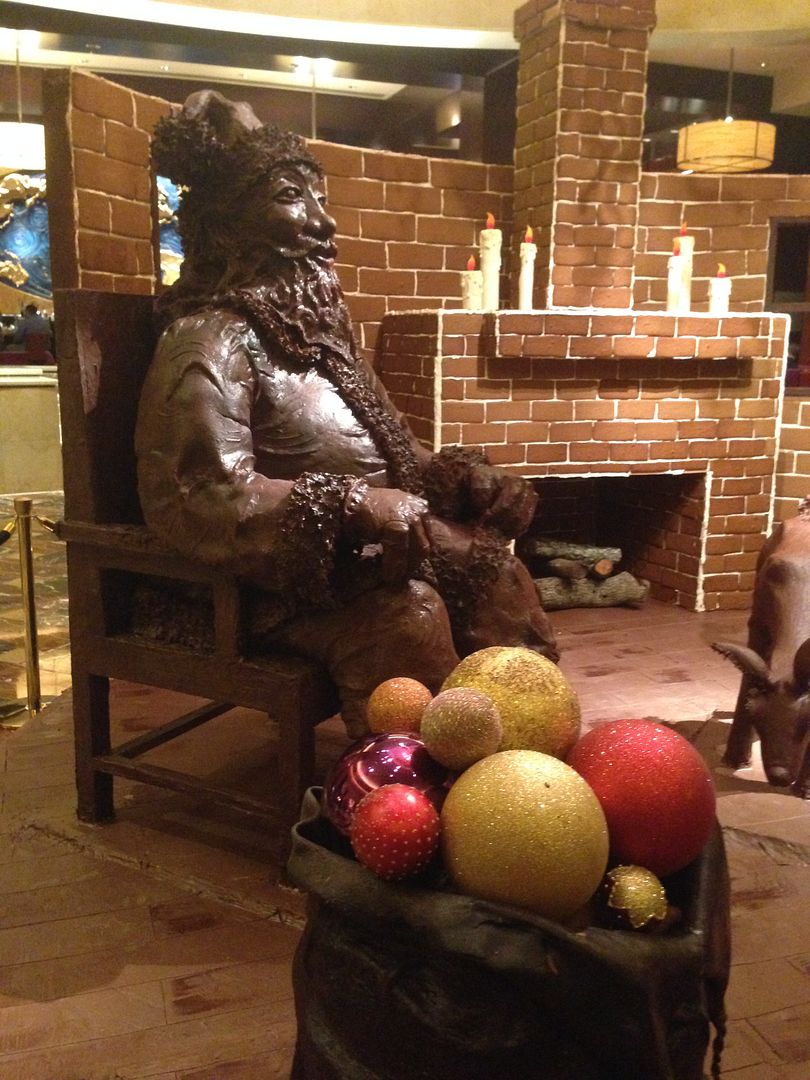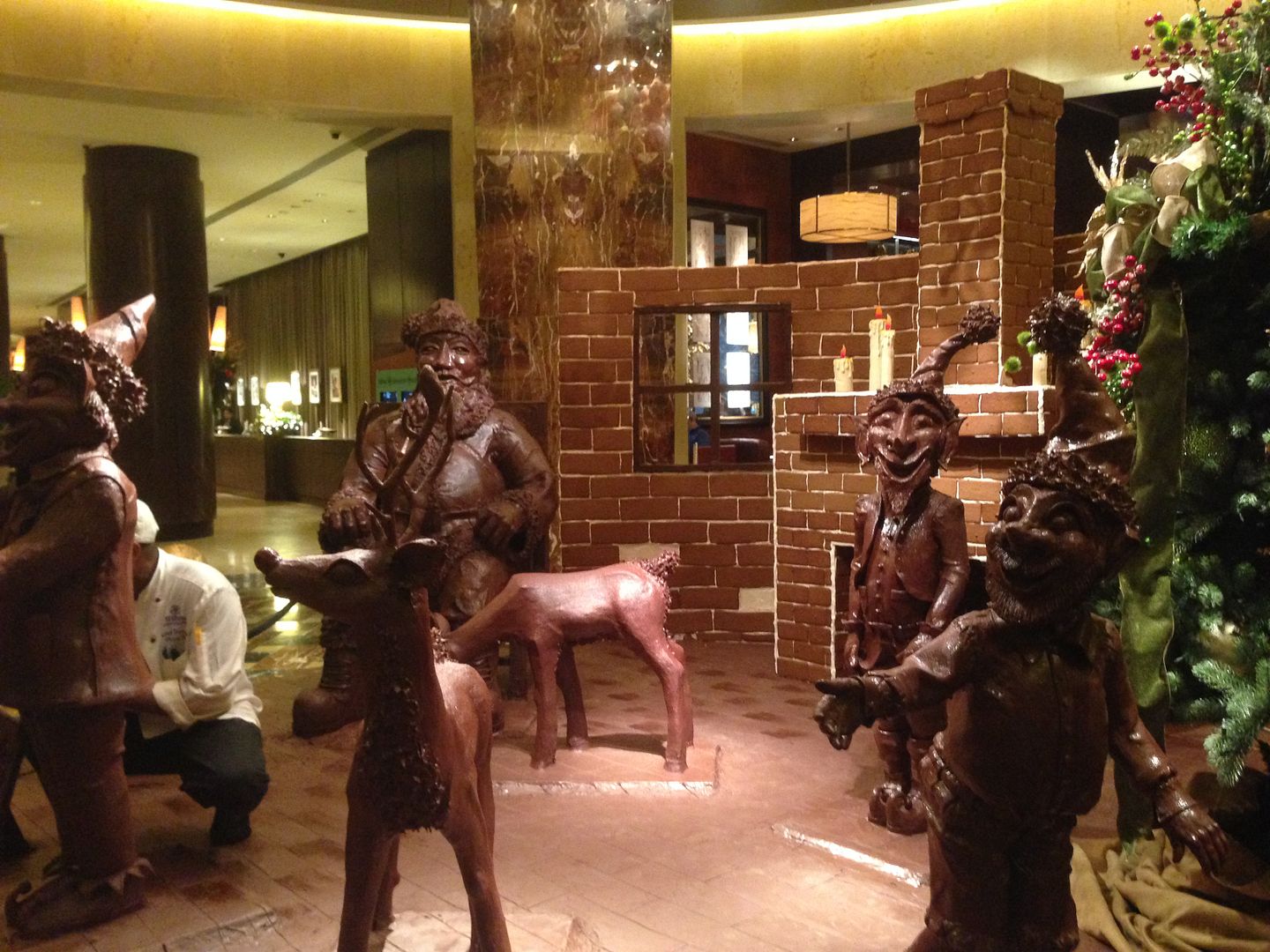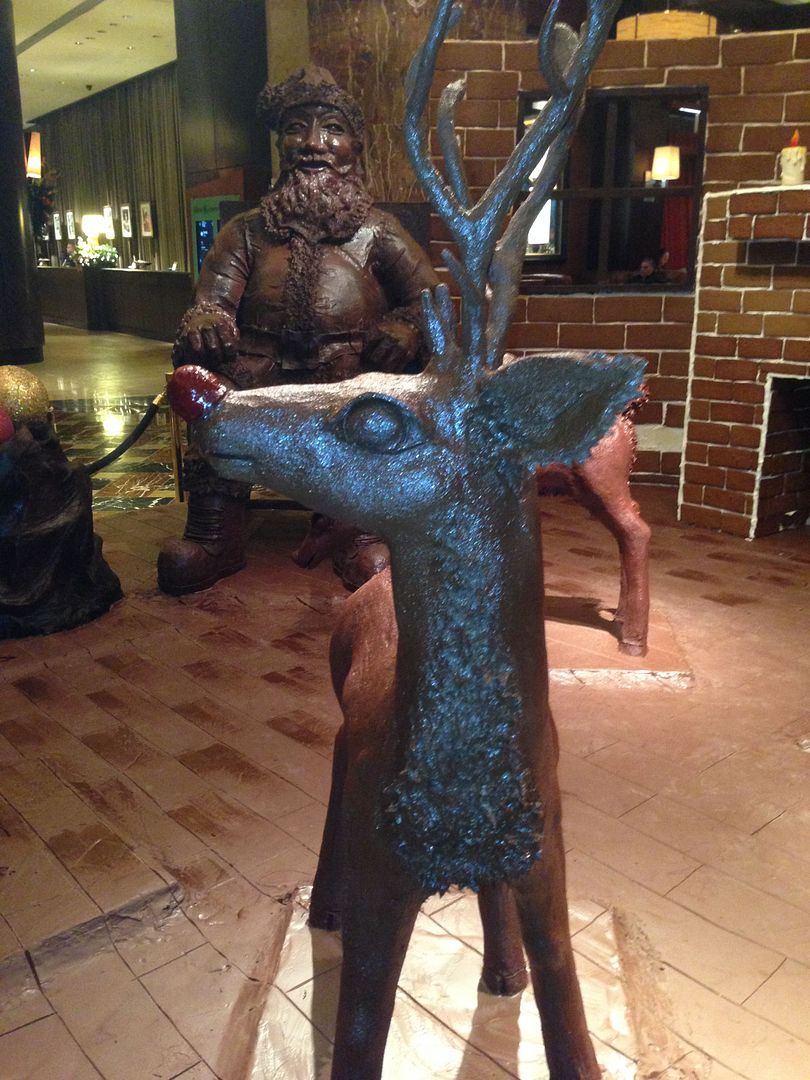 Nina/GreatCollections.com and I had drinks before dinner with a couple other dealer friends.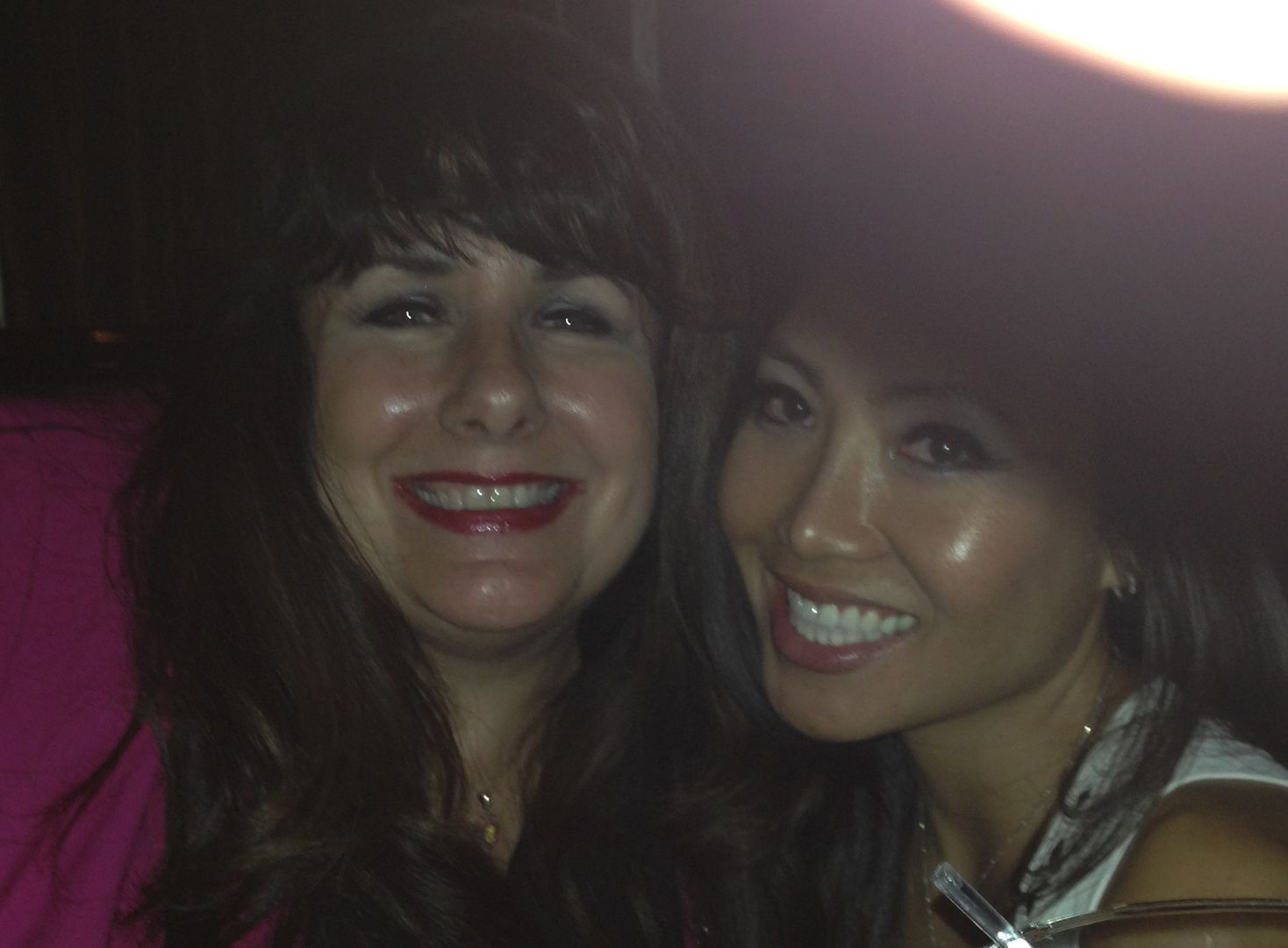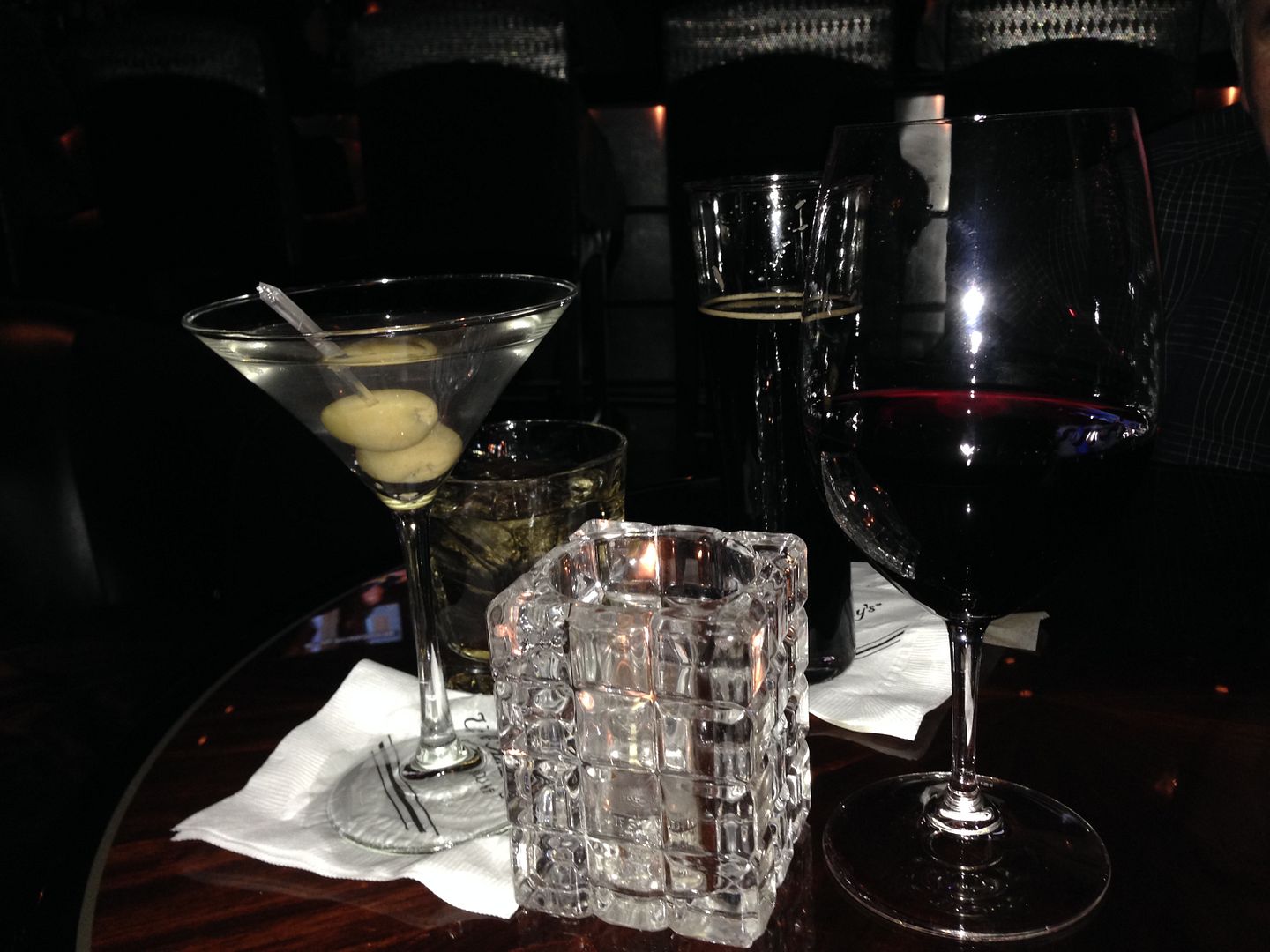 Since it had started to rain, we decided to take an Uber car over to the restaurant, even though it wasn't very far away.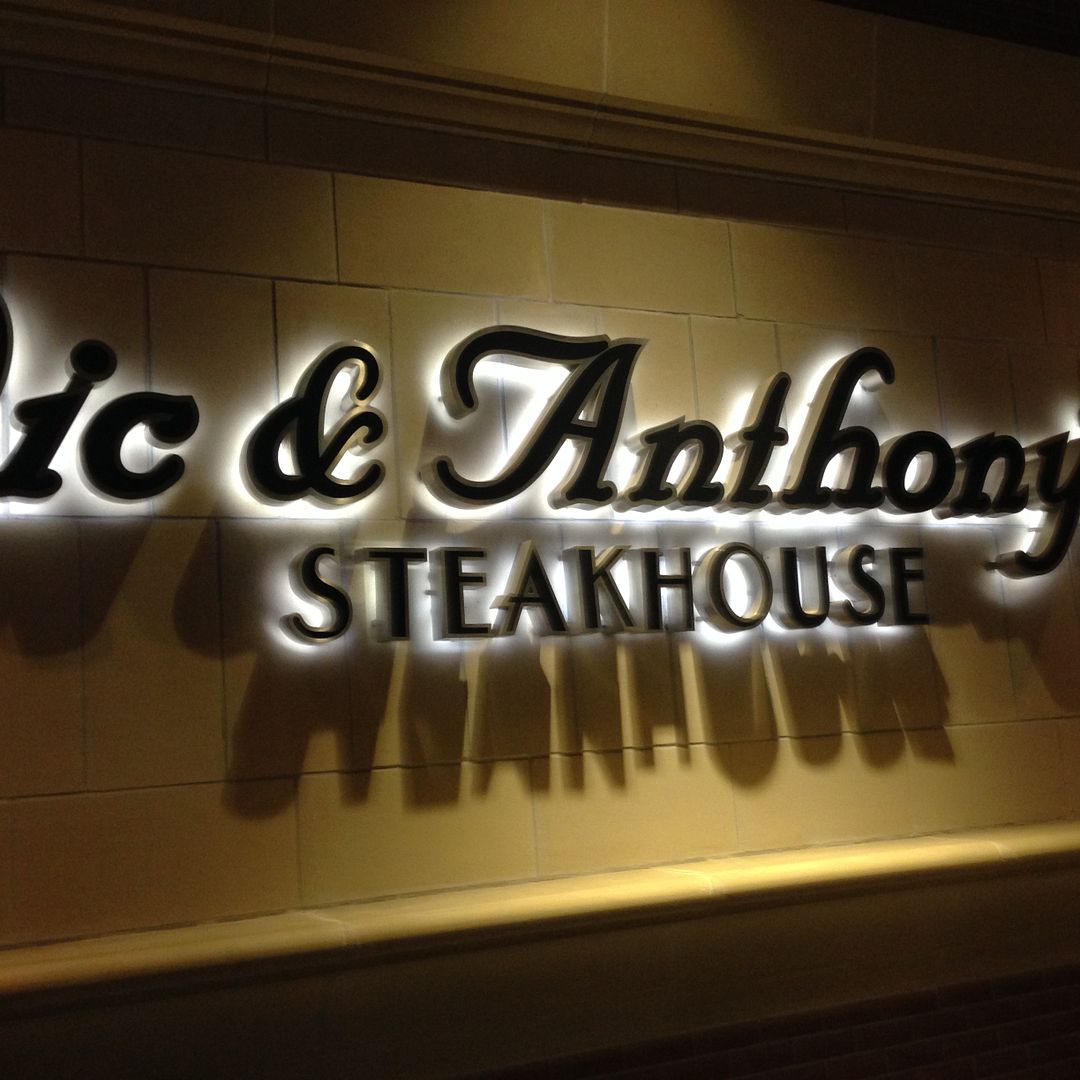 This is Gus and Nina – Gus is a super nice dealer friend, his table is right across from me.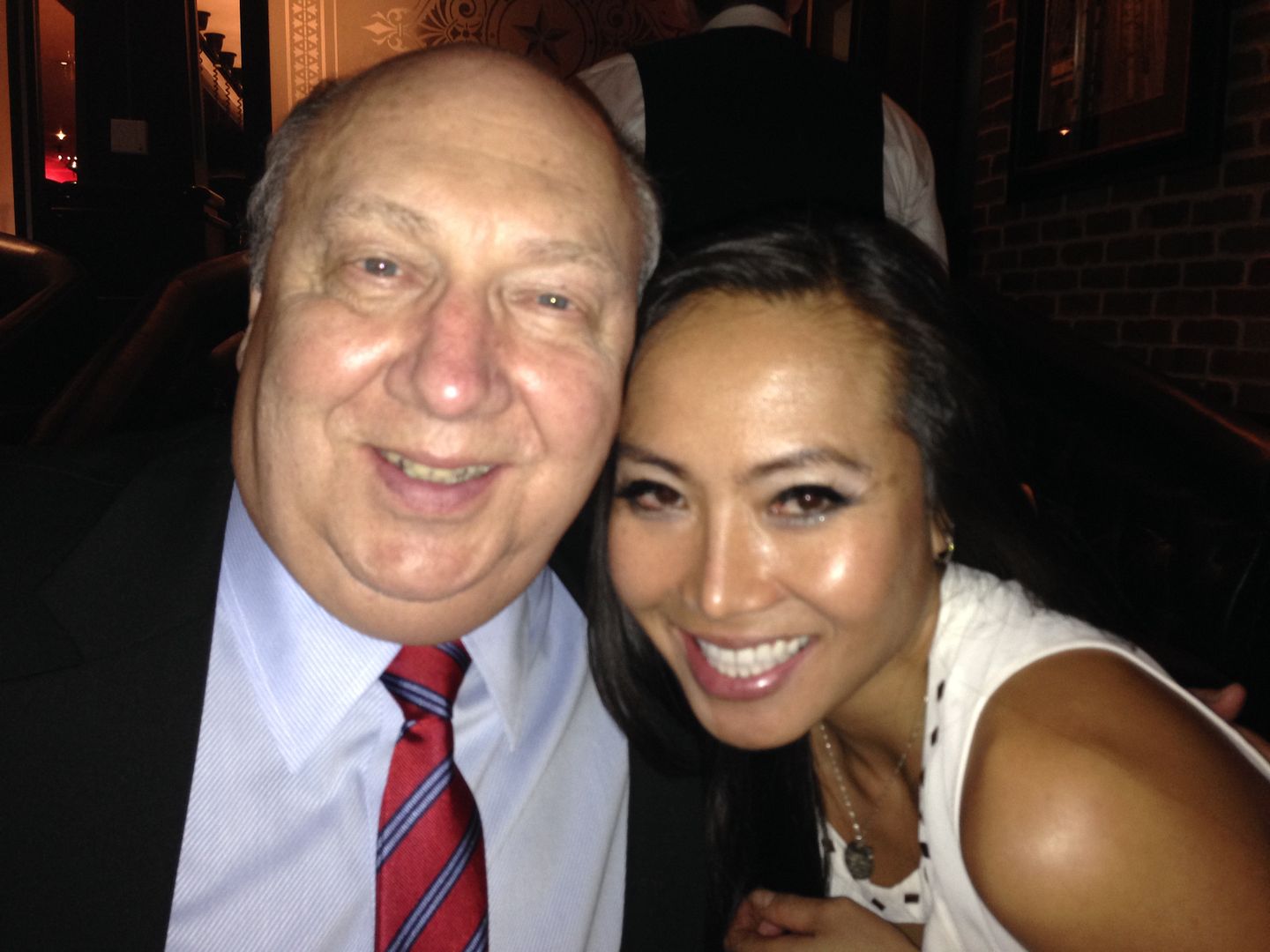 Ron is a longtime dealer friend of mine from Virginia and picks out the most wonderful wines for us!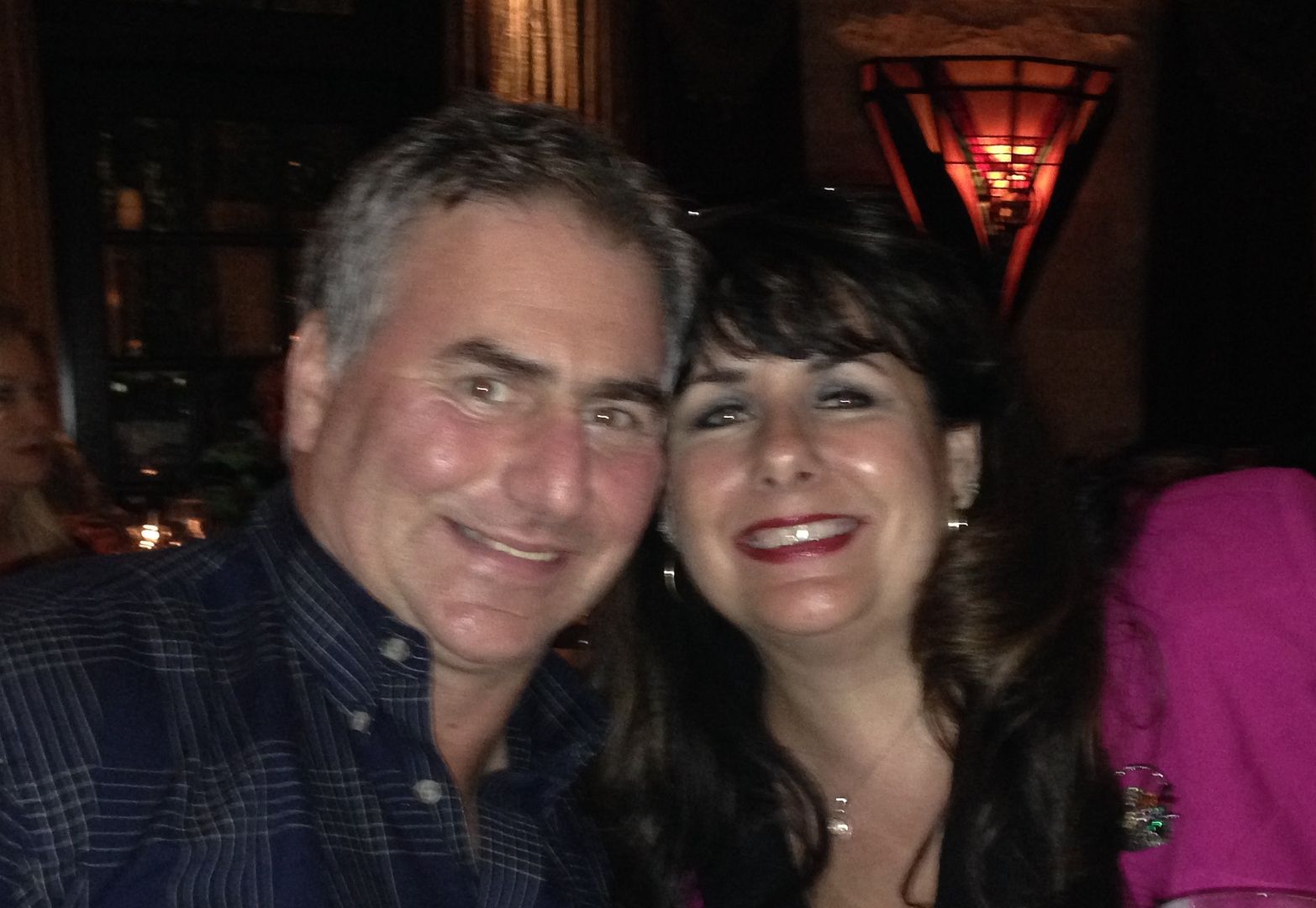 Sorry the photo is blurry, but Duckhorn is one of my favorite Napa wines and this Duckhorn cab didn't disappoint!
I had the bone-in filet with Oscar sauce and grilled shrimp – ummmmmmmmm, it was so delicious but I could only finish half and had the rest for lunch the next day!
Since it was Nina's birthday this weekend, they brought her a very tasty bread pudding treat!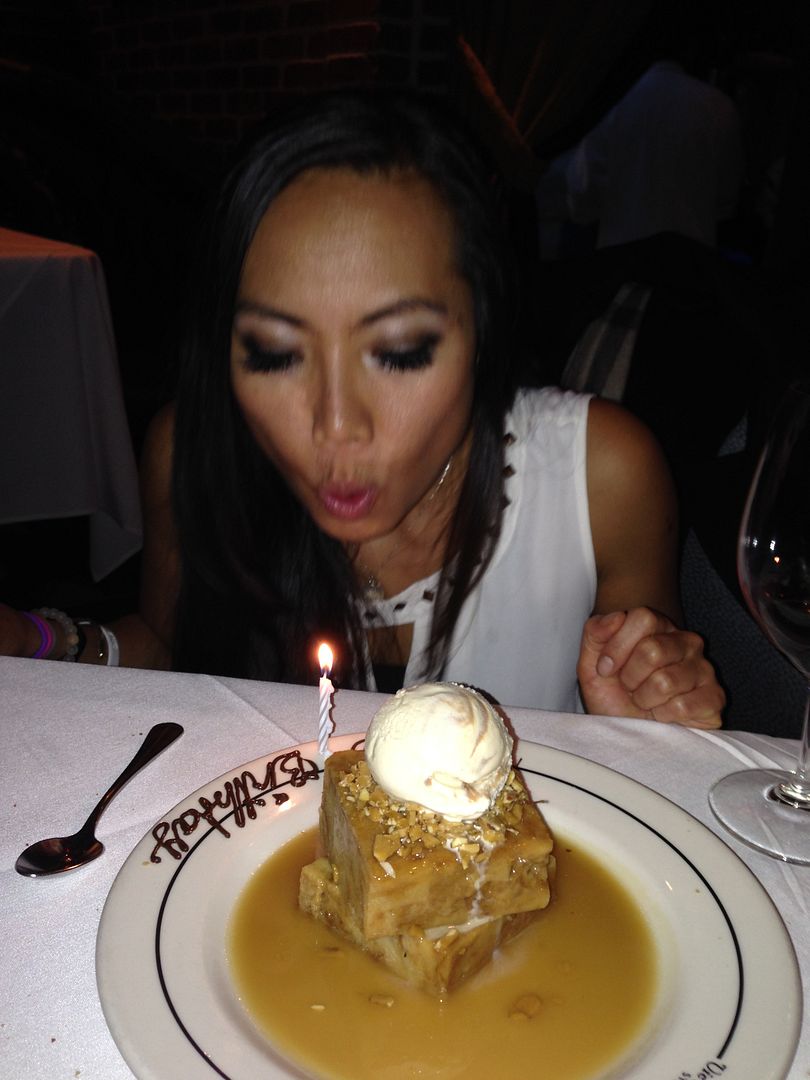 This is a view of the city from my room at night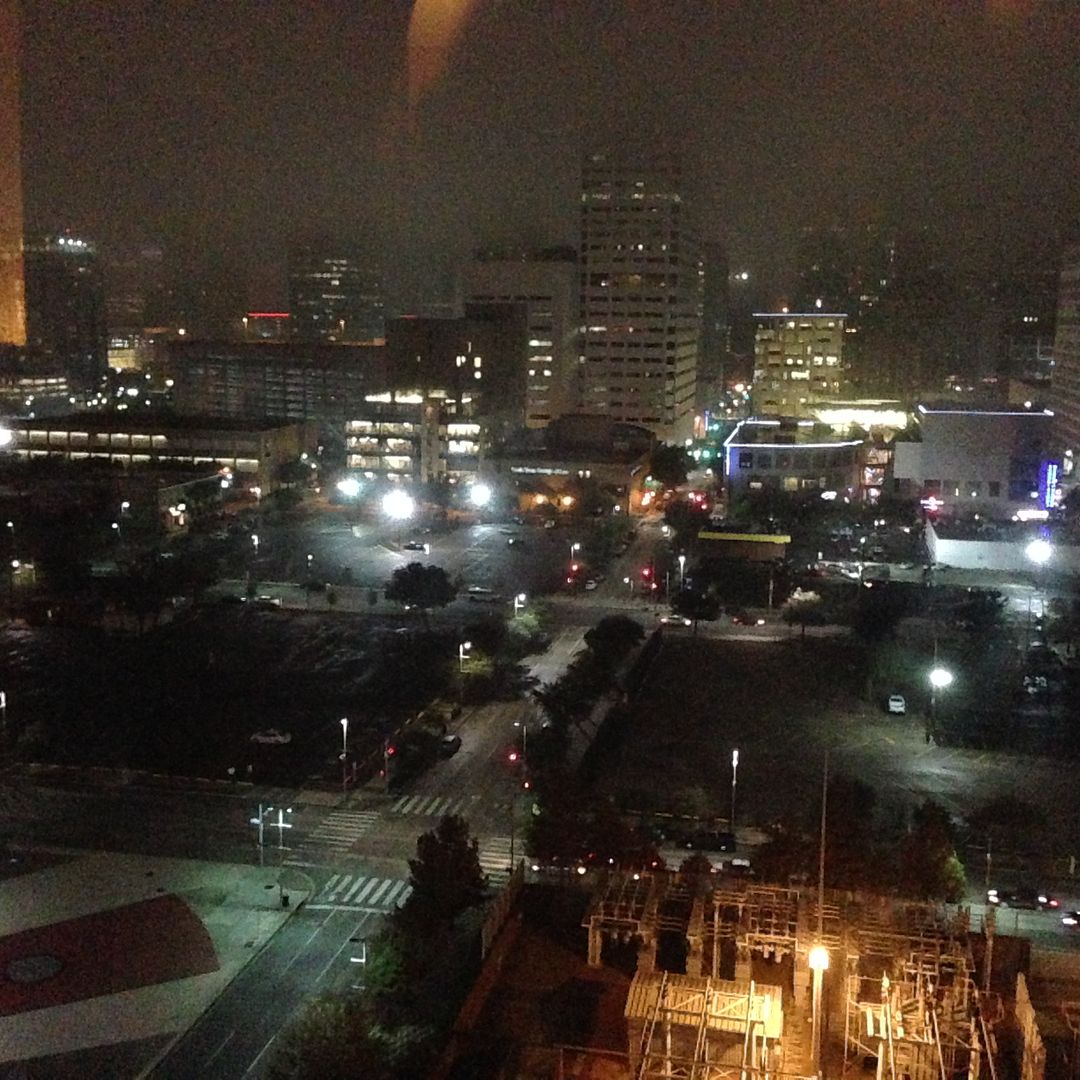 The bourse traffic was decent in the morning but by early afternoon, it had thinned out a lot.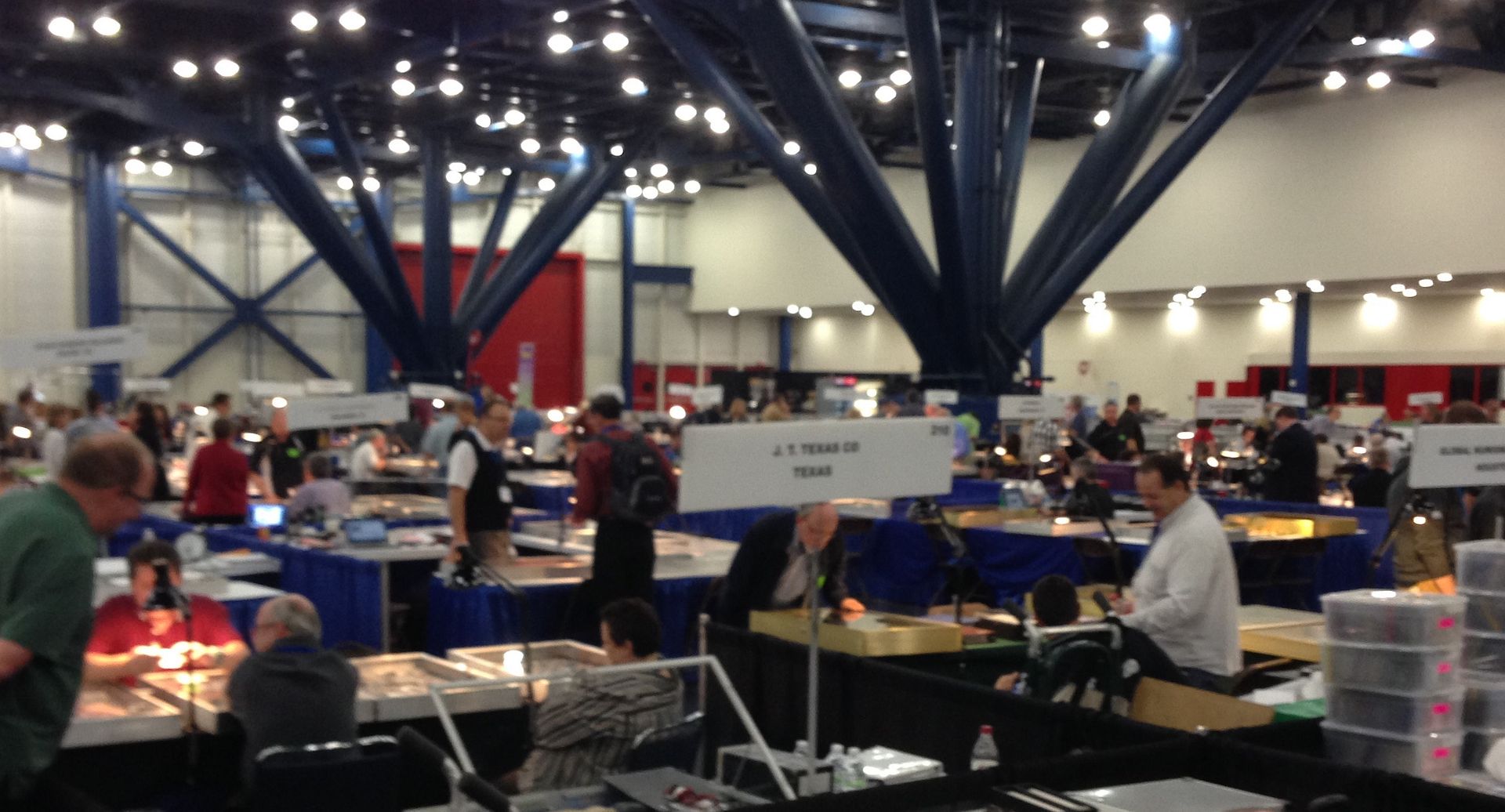 Friday night we had dinner back at Pappasito's.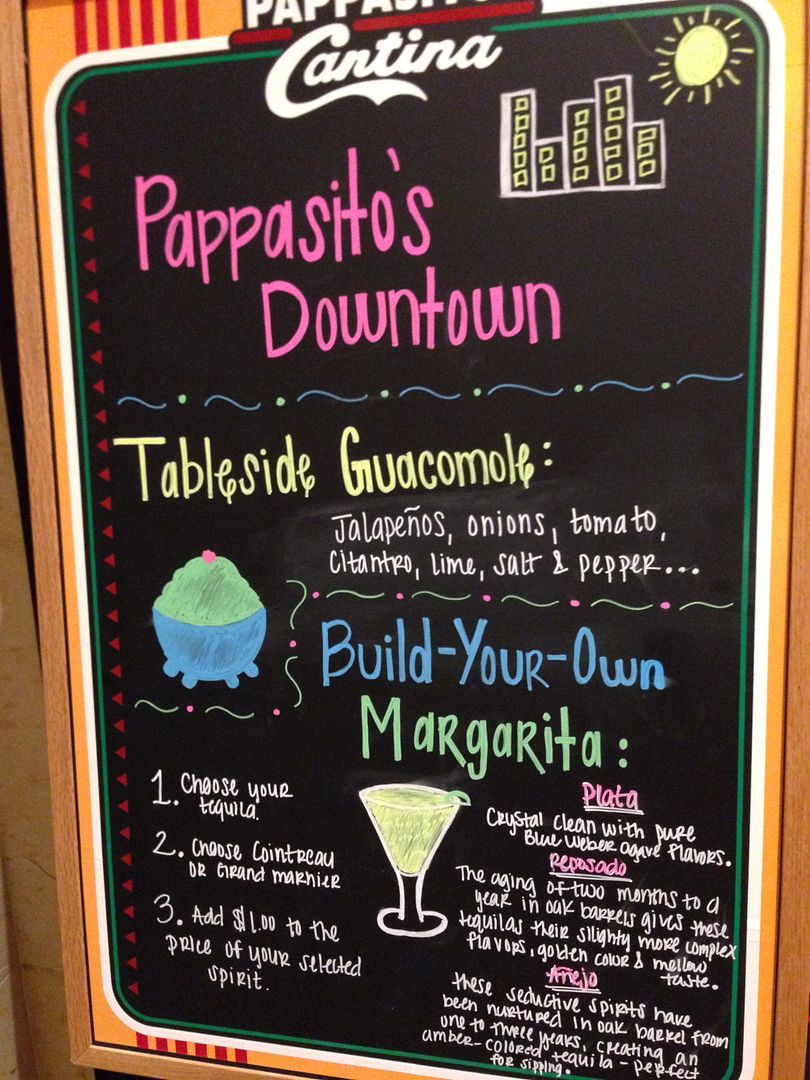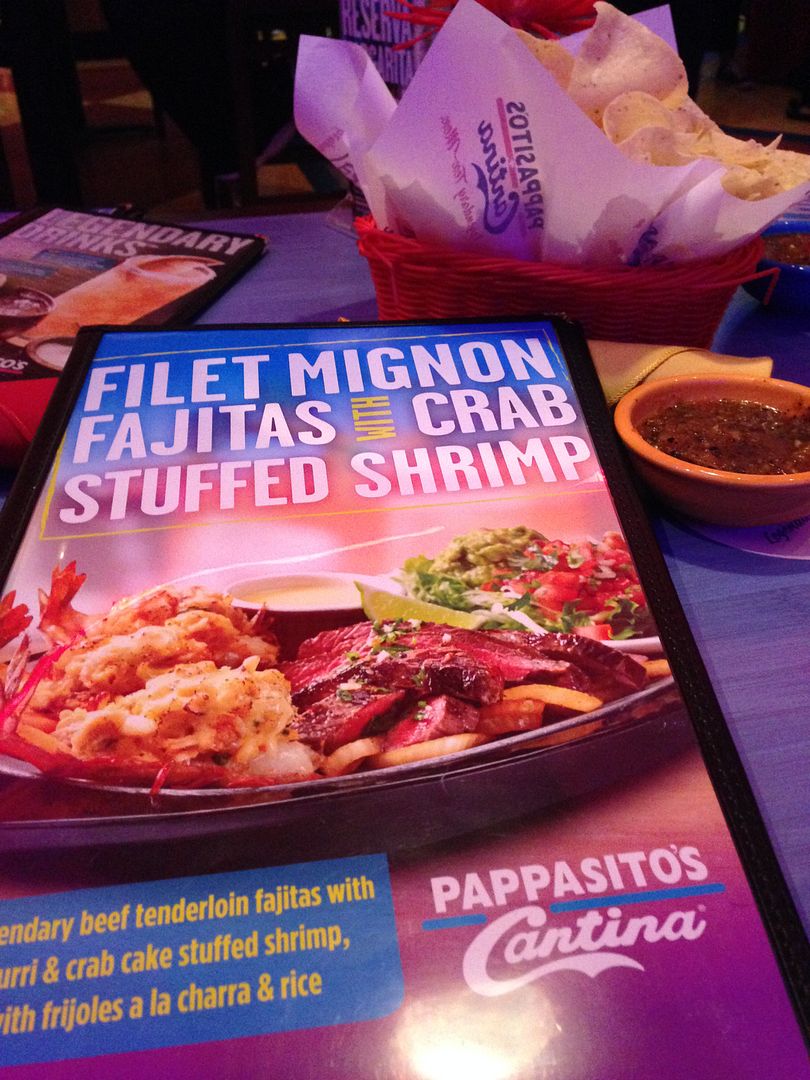 Their margaritas are very tasty!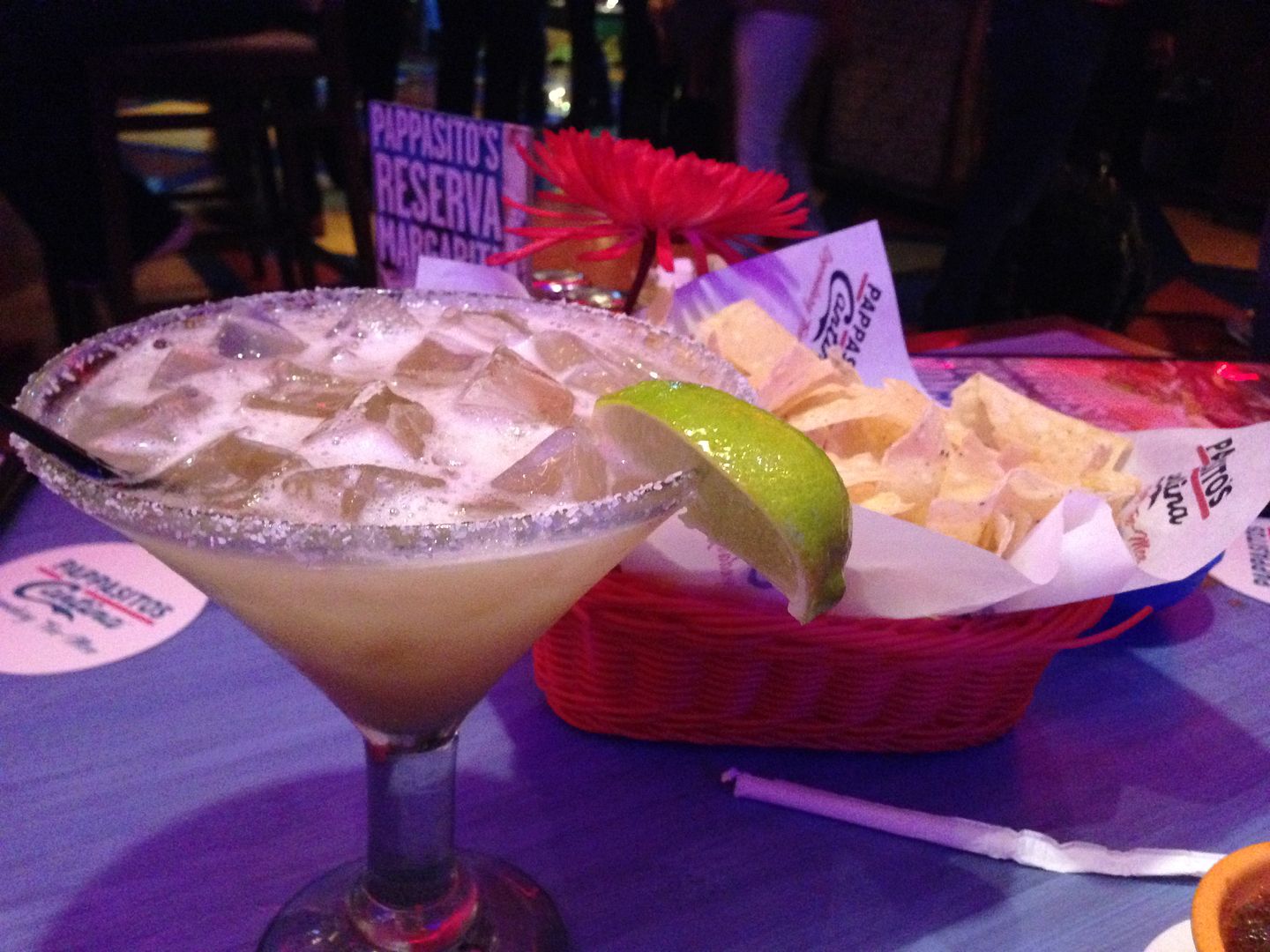 As was their brisket enchiladas!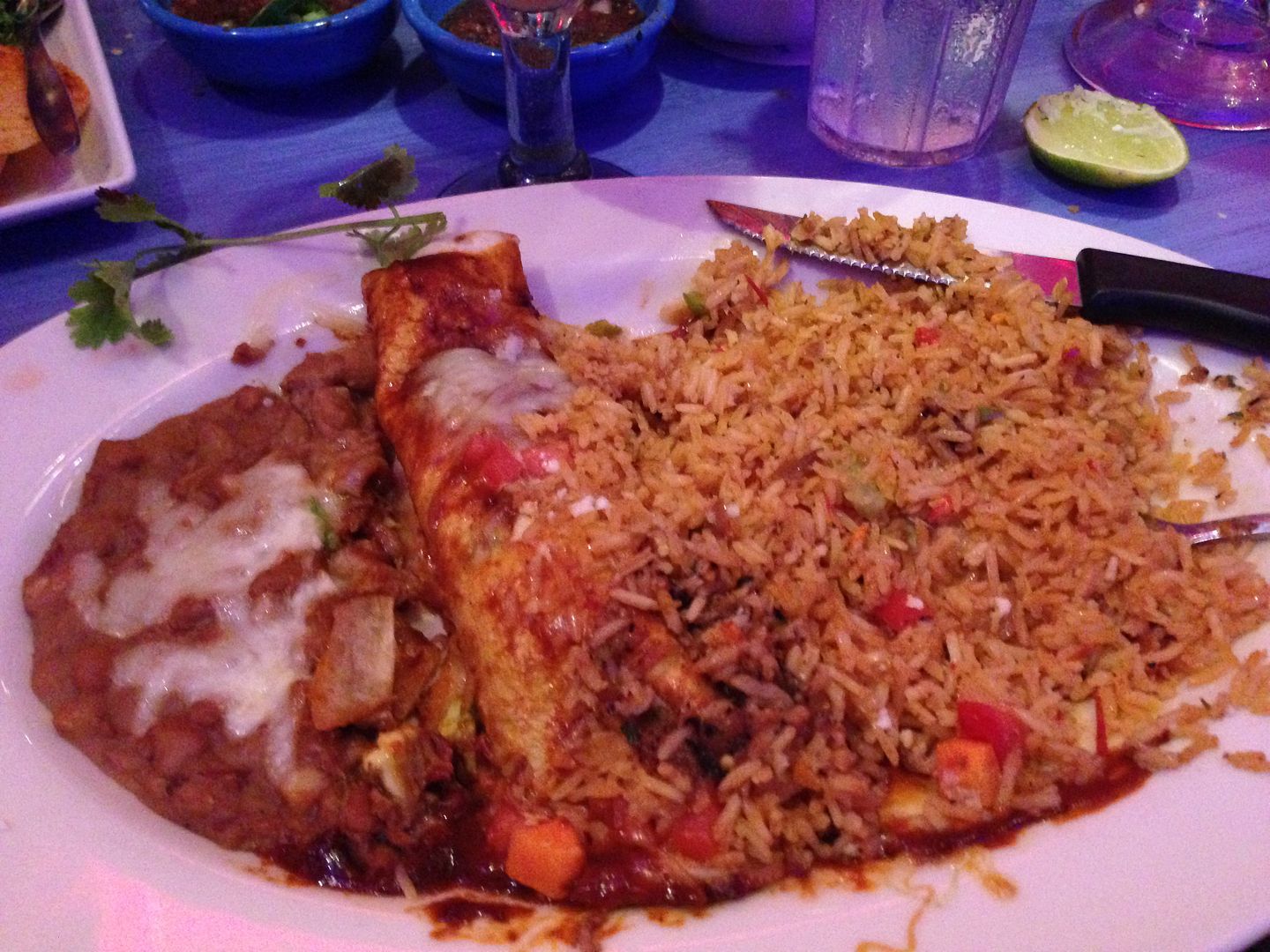 On Saturday Stuart stopped by to show me his beautiful new coin he got at the auction! It has full deep mirrors with a cameo look – what a gorgeous gold piece!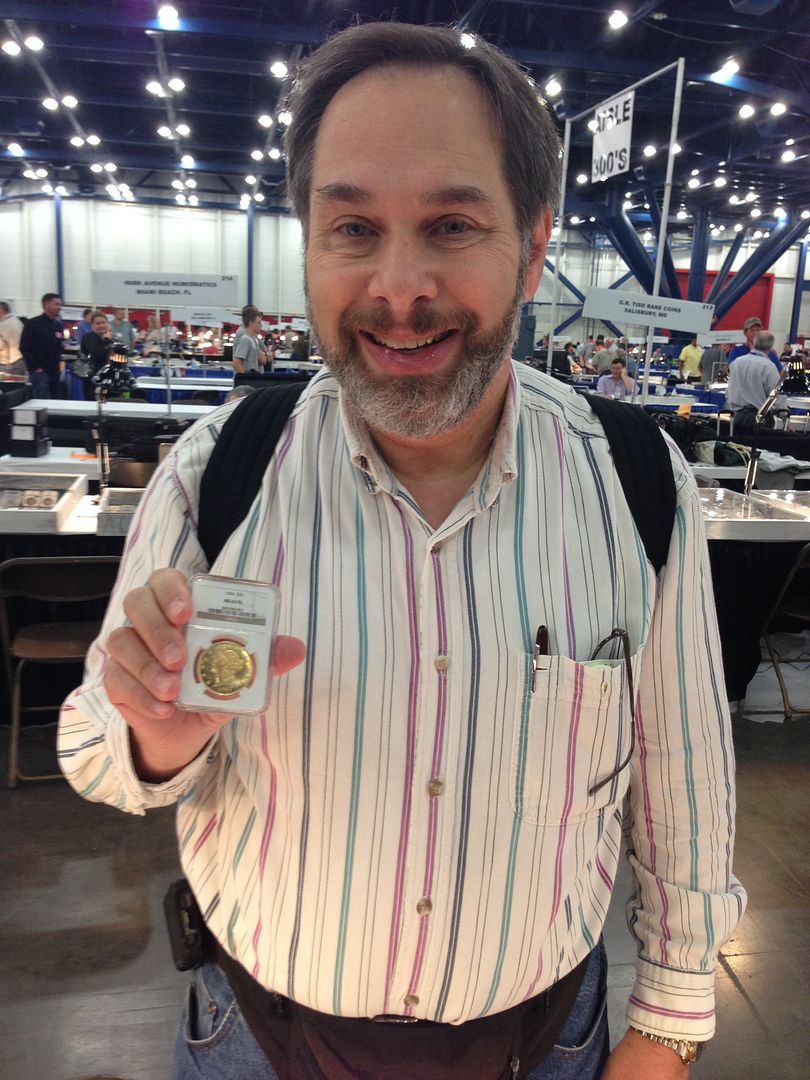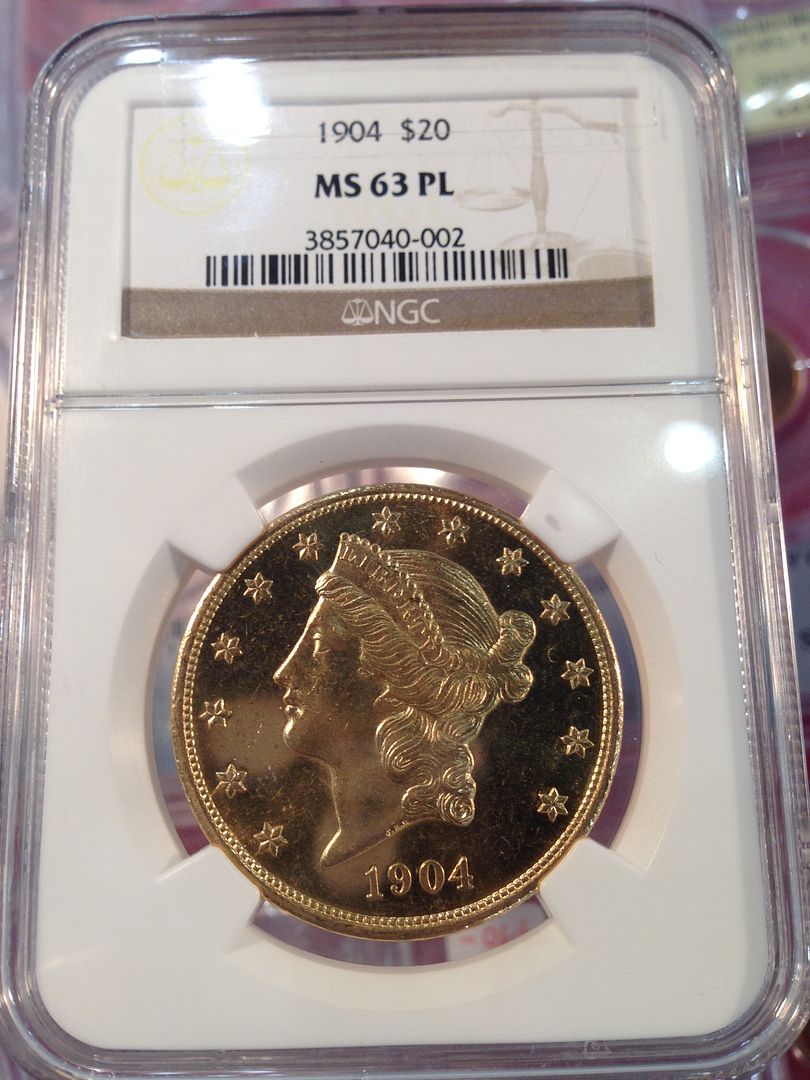 Patrick/PatAR (Aurora Rarities) also stopped by to say hi!
Soon it was time to pack up and head to the airport. Nina and I were on the same flight so she ordered an Uber car to pick us up in front of the convention center. Unfortunately, the driver couldn't find us at first due to all the construction, but after some frustrated phone calls, he finally located us and we made it to the airport in time. Once through security, we found a nice sports pub, took a deep breath, and had a much needed preflight beverage!
And of course, we had to take our usual "selfie" photo!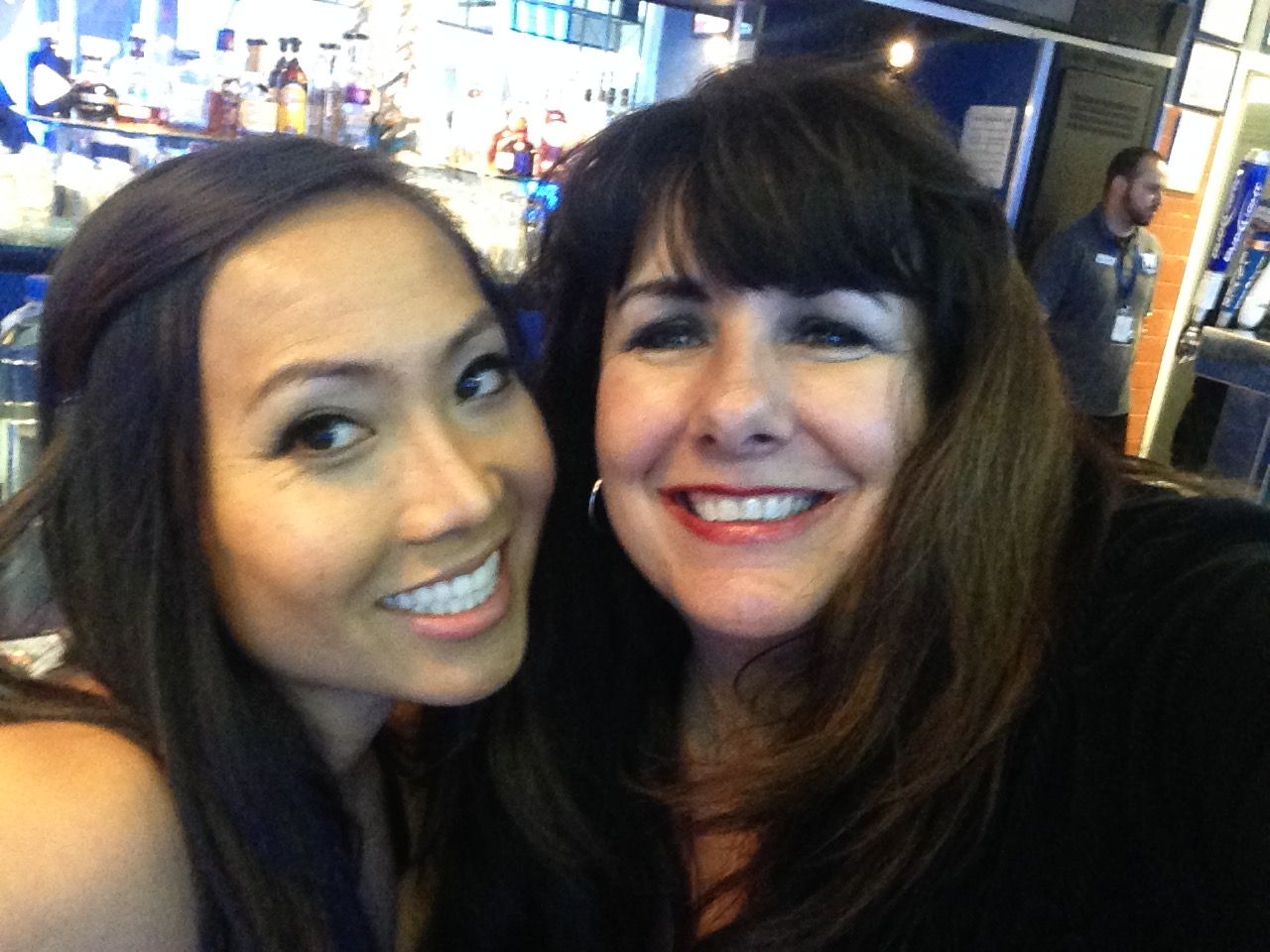 Overall, traffic at the show was lighter than expected, and we found out that the construction prevented people from parking at the convention center so they had to park a few blocks away. I heard that this deterred a few folks from feeling safe enough to walk that far to bring coins to/from the show, which was too bad but understandable. When all was said and done, even with the lighter attendance, I was pleased to see that I had a better than average Houston show sales-wise, and look forward to returning next year!
I was very glad to get home and see my little kitty. She too loves a warm fire in the fireplace!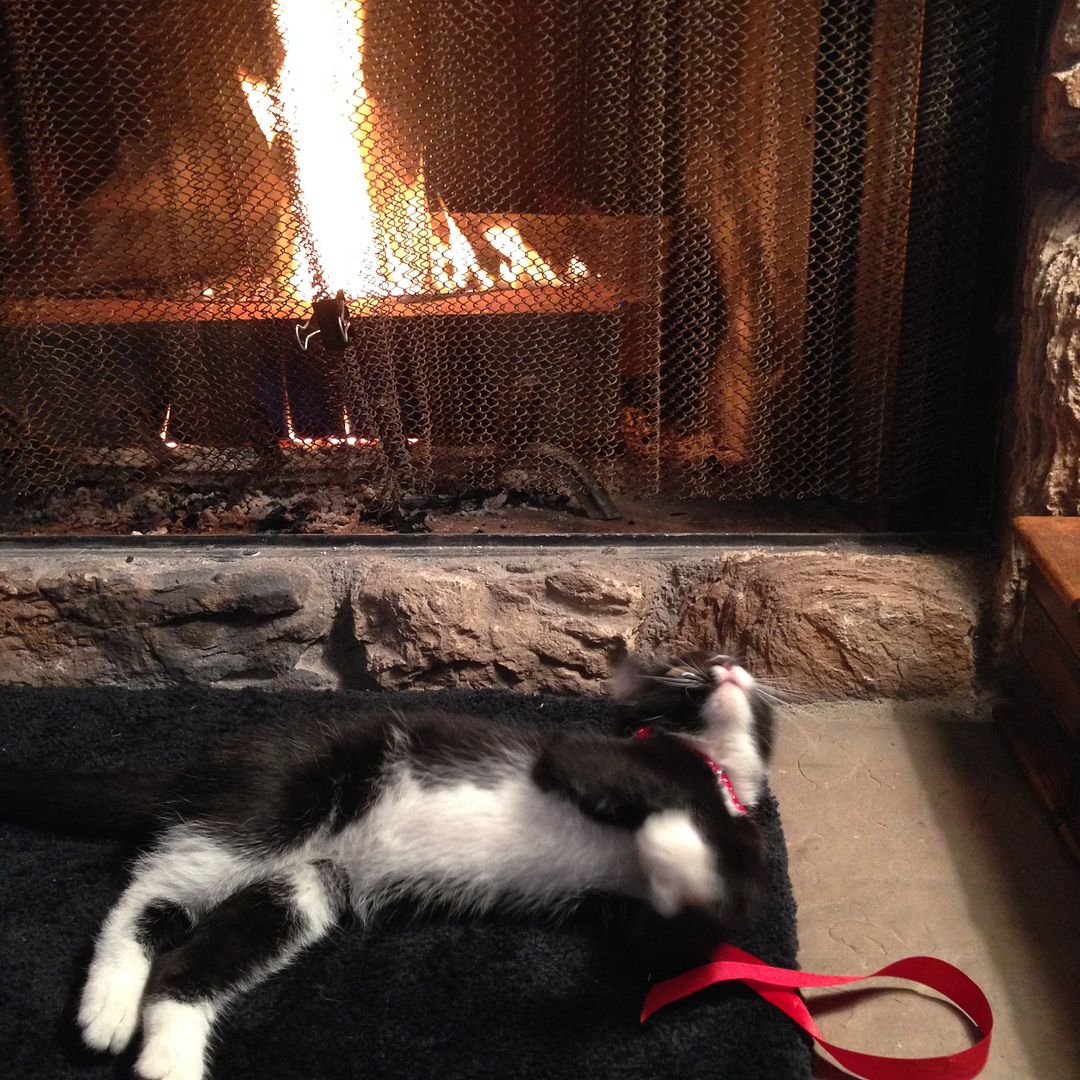 Next up: Las Vegas show next week, followed by a couple weeks of holiday cheer, then the FUN show in January!! I am thankful for all of you for your support and kind comments throughout the year. I hope everyone has a wonderful Christmas and New Year – see you in Orlando….
Charmy Harker - The Penny Lady®
President of Women in Numismatics
ThePennyLady.com