Home
›
U.S. Coin Forum
Charmy's 2014 ATLANTA ANA Show Report w/lots of pics!!!

ThePennyLady
Posts: 4,029
✭✭✭✭
I've never been to Georgia before and was really looking forward to seeing Atlanta. I also checked the weather reports twice before I left so I would know how many layers of clothes and coats I would need to bring! Luckily, the weather was quite mild compared to the week before when all the snow storms were pounding that area of the country.
I left beautiful sunny SoCal early Wednesday morning. I'm always in awe when we head into the skies and fly over the beautiful California coastline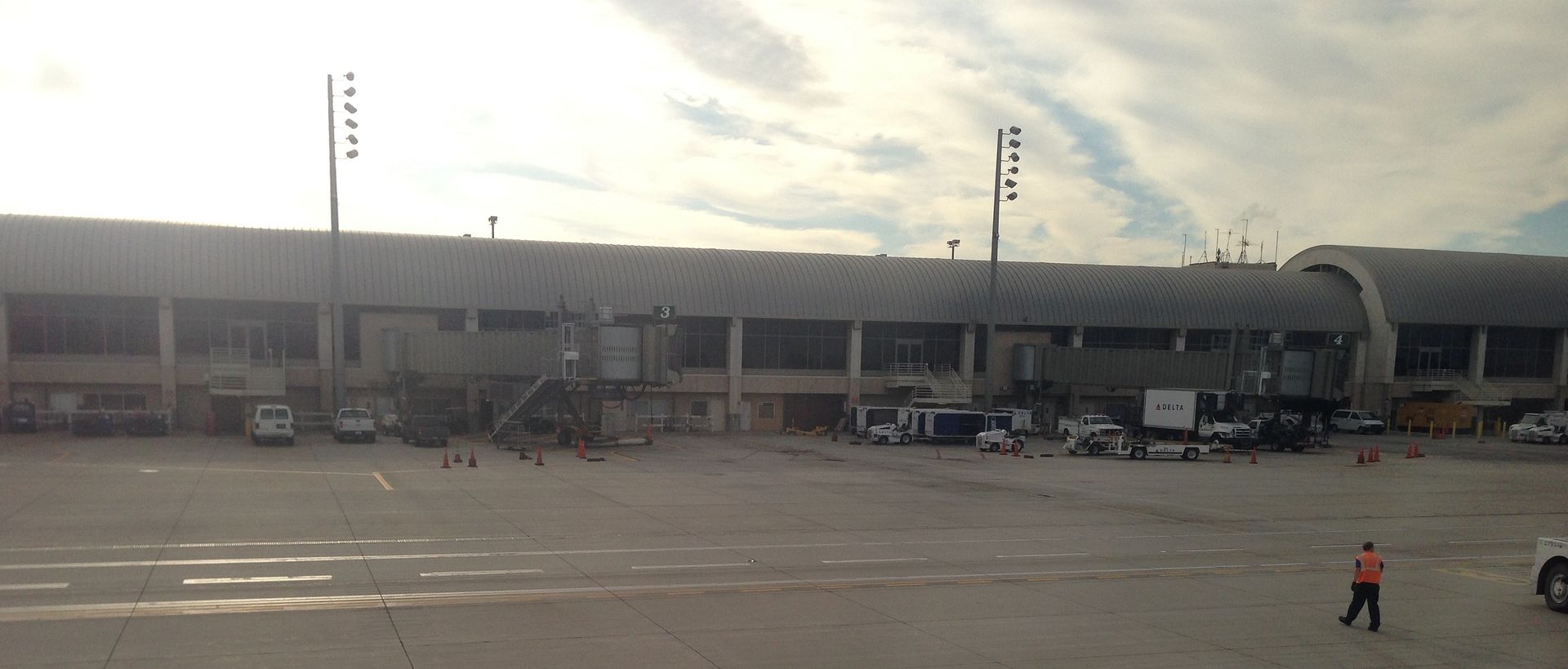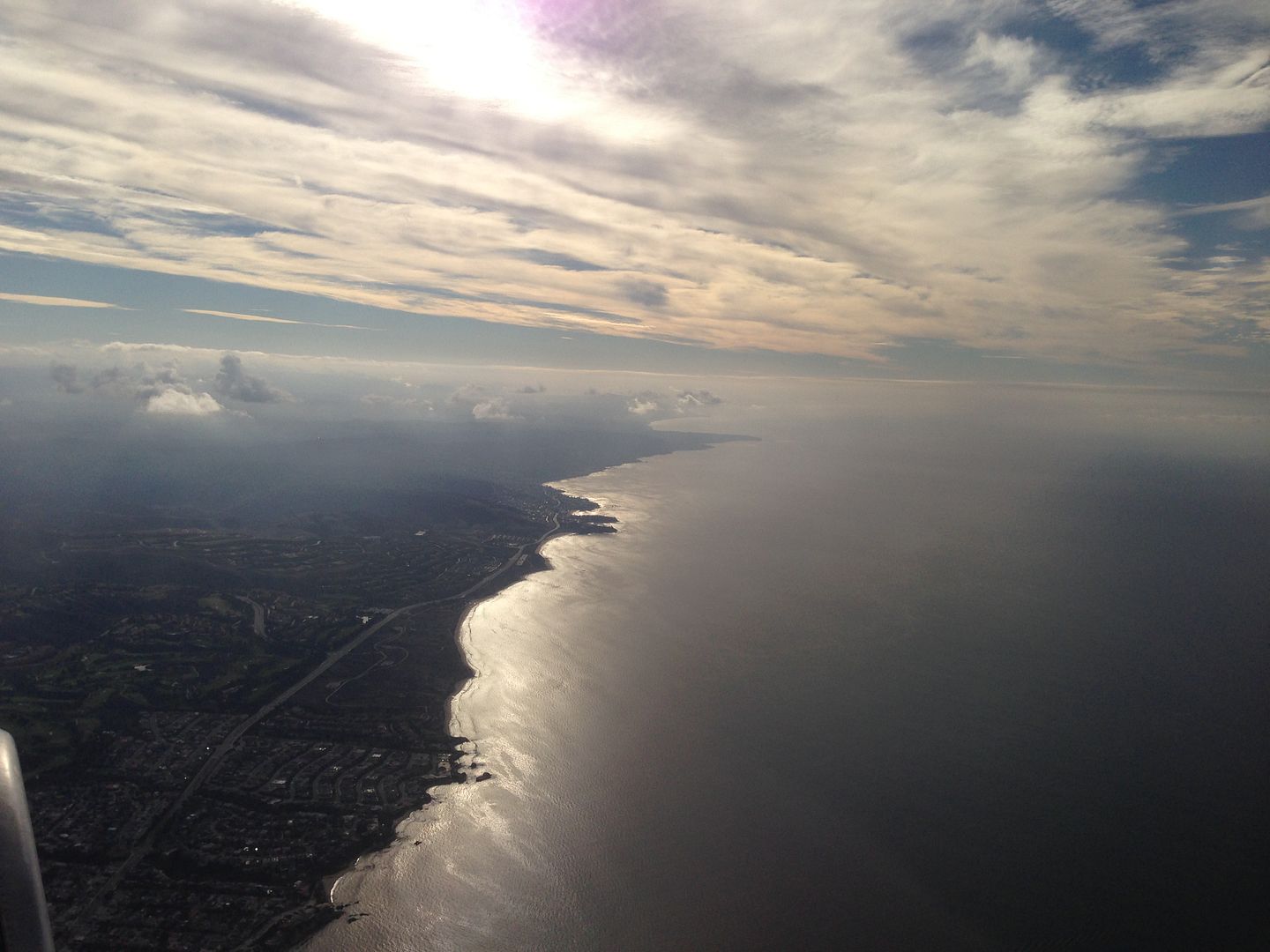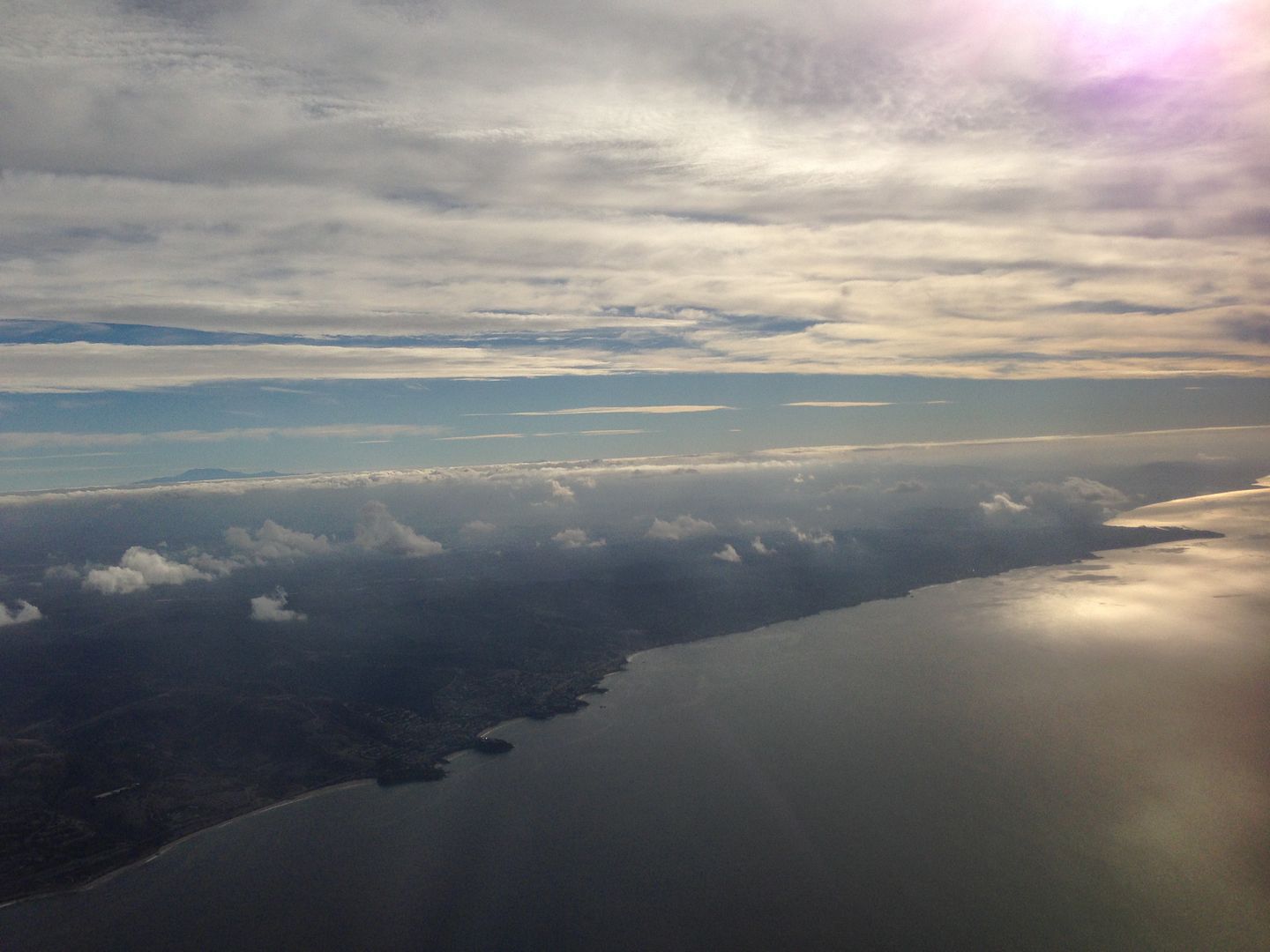 Even though I try to use the same airline so I can collect points for upgrades, this time I was flying on Delta airlines because they happened to have a direct flight to Atlanta. I got settled into my seat and was listening to my audio book when the airline safety video appeared on the tv monitor on the back of the seat in front of me. It caught my attention because it had some very colorful characters, wild-haired rockers, etc., giving the usual spiel about airline procedures, but what really caught my attention was seeing Alf! I'm sure many of you won't remember him, but he had his own sitcom several years ago and was quite funny!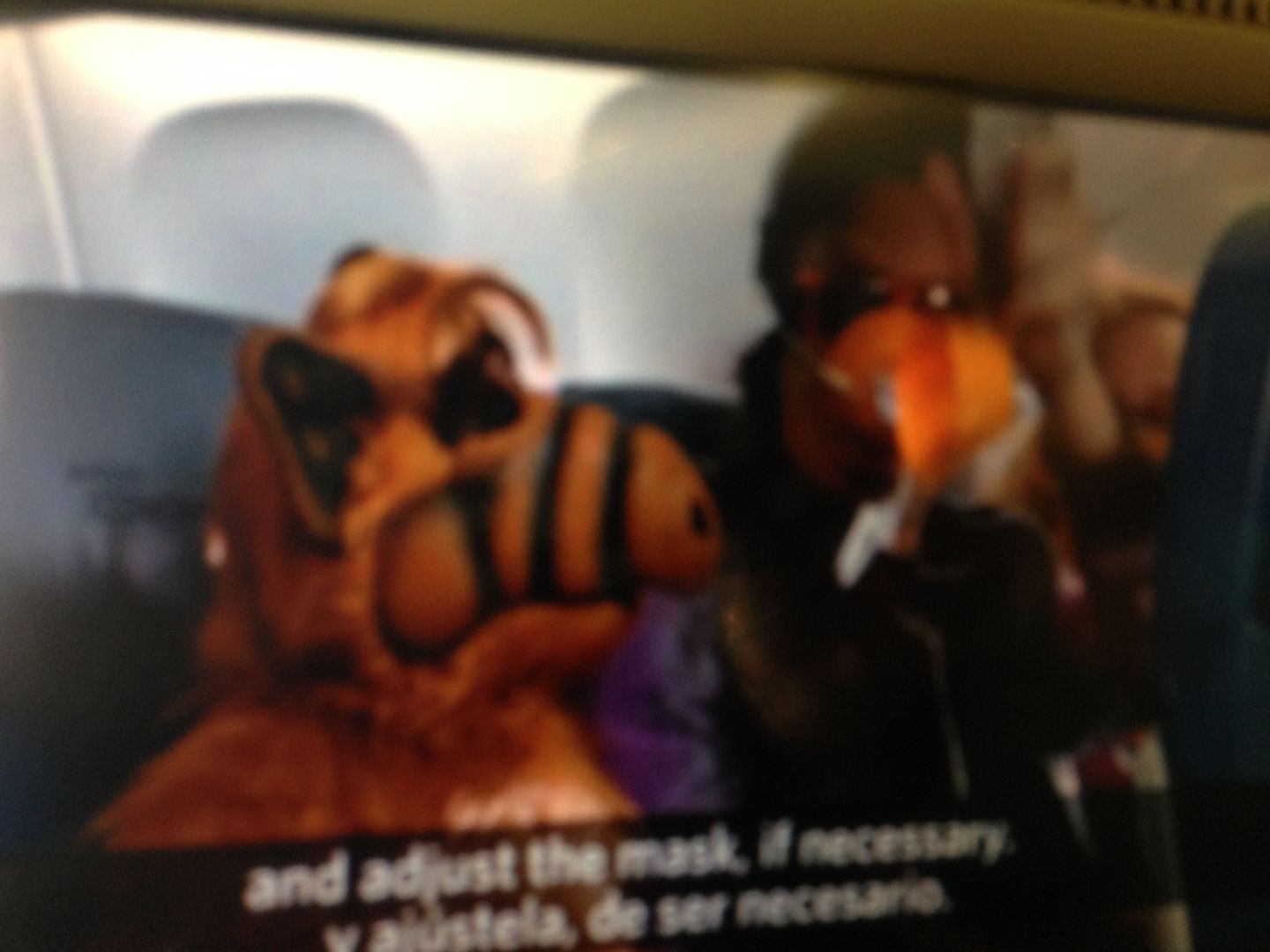 About 4 hours later, we were heading in Atlanta!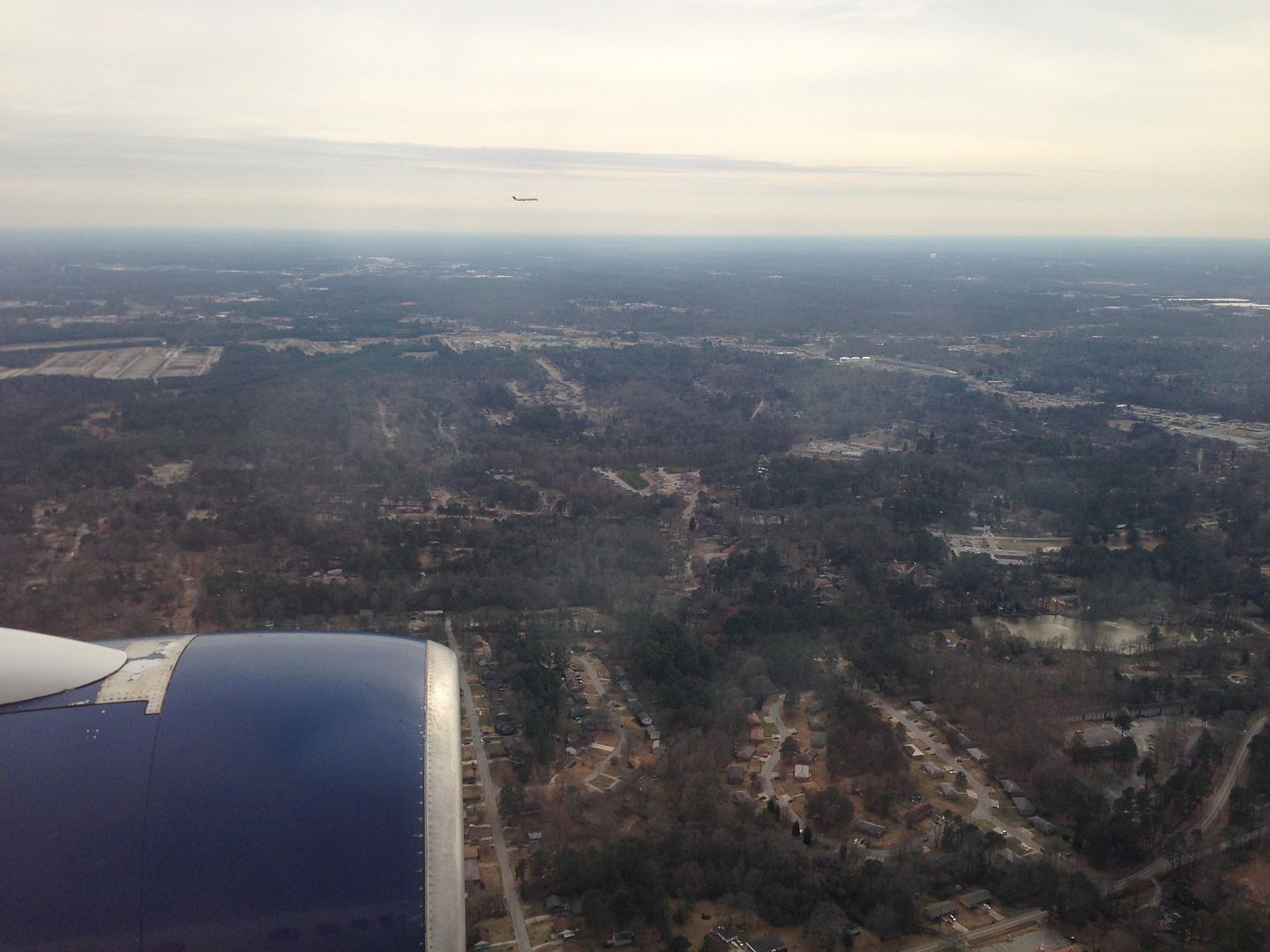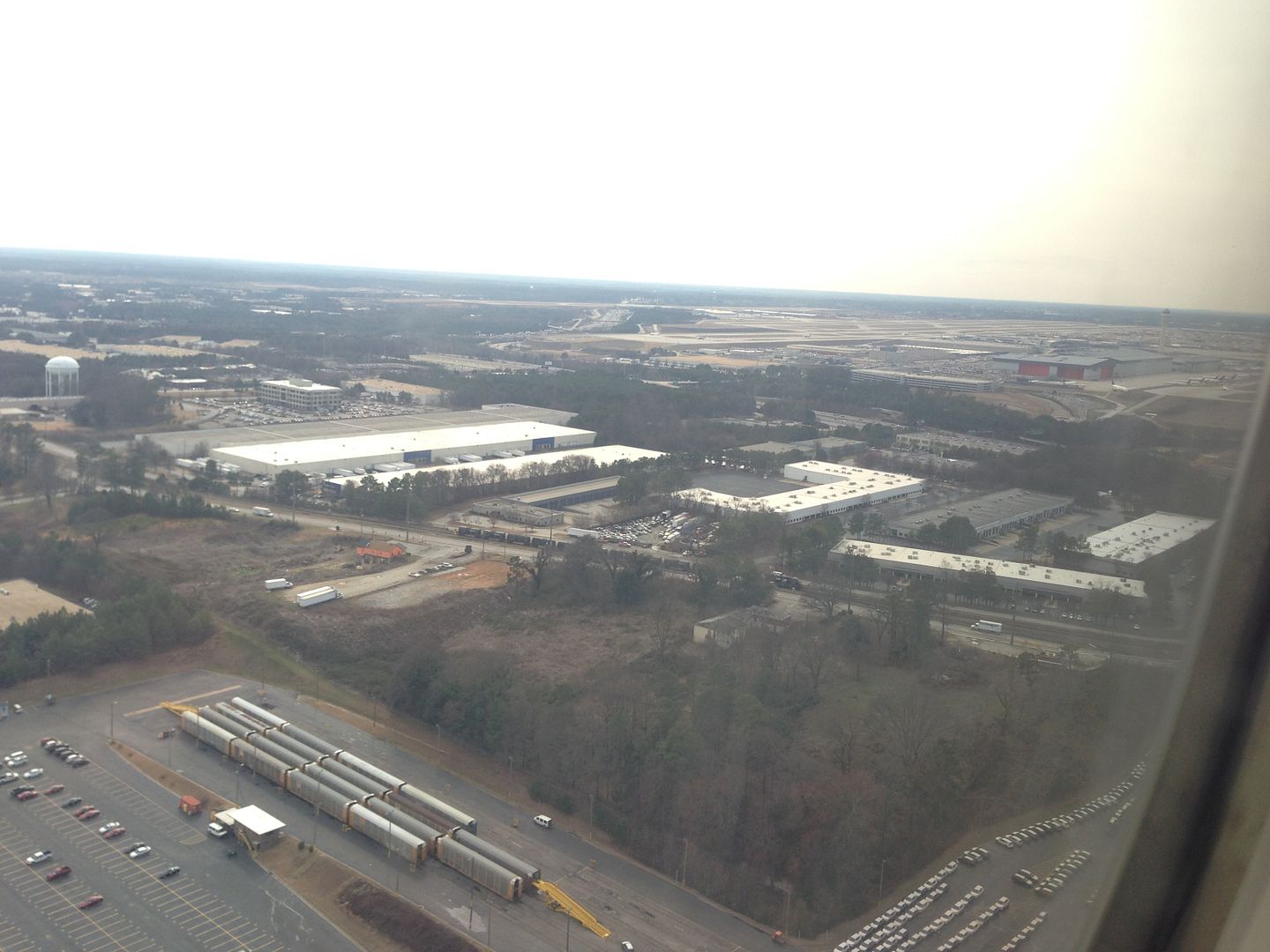 Nina from GreatCollections.com was landing shortly after me I, and since Rick Snow was arriving the same afternoon as me and was getting a car, he graciously agreed to tote me and Nina from the airport to our hotels. Nina's plane was a half hour after mine, and Rick's plane was about 1 ½ hours after Nina's. So I found a TGI Fridays and grabbed a glass of wine and snacks. When Nina arrived, we had a couple margaritas while we waited for Rick's plane to land.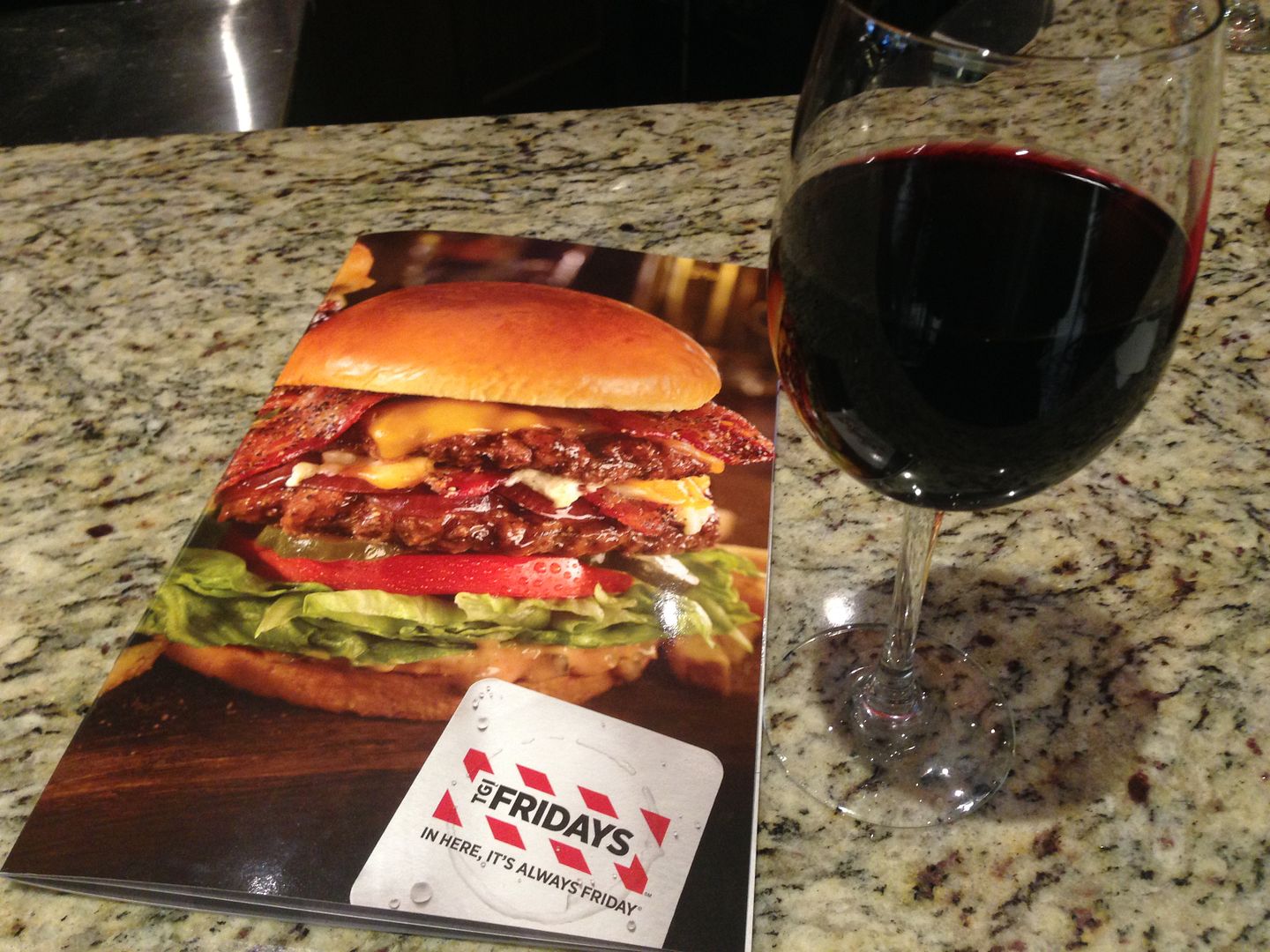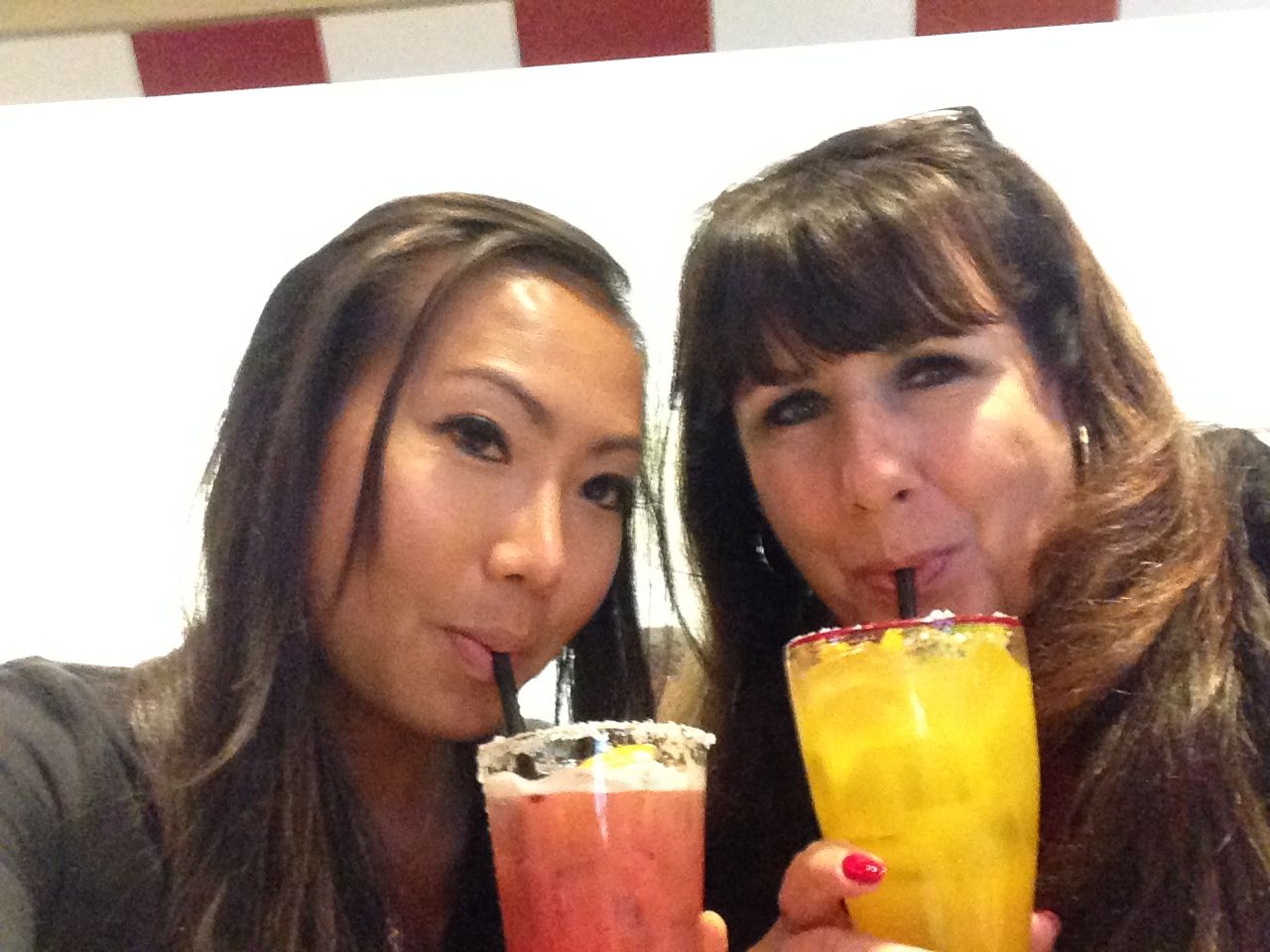 We even took a double selfie photo – I held the camera while Nina tapped the button!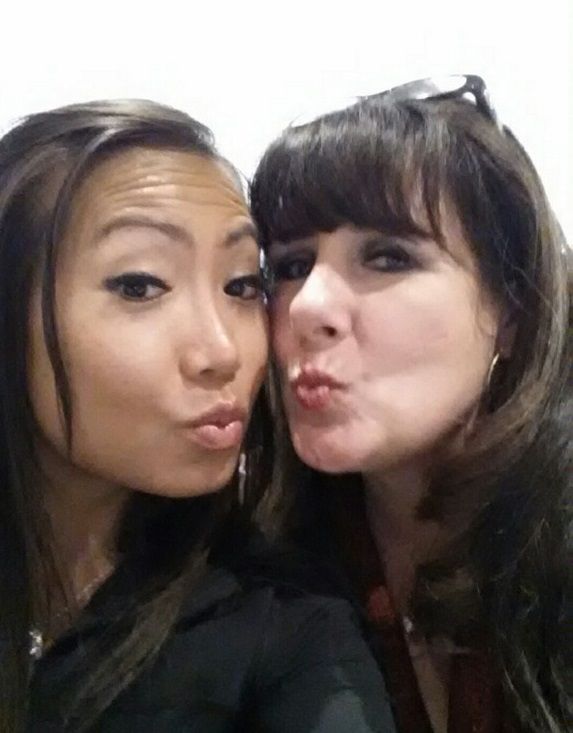 The Renaissance Hotel is a beautiful hotel. It was the host hotel and is connected to the convention center. This is a view of the lobby and the glass elevators.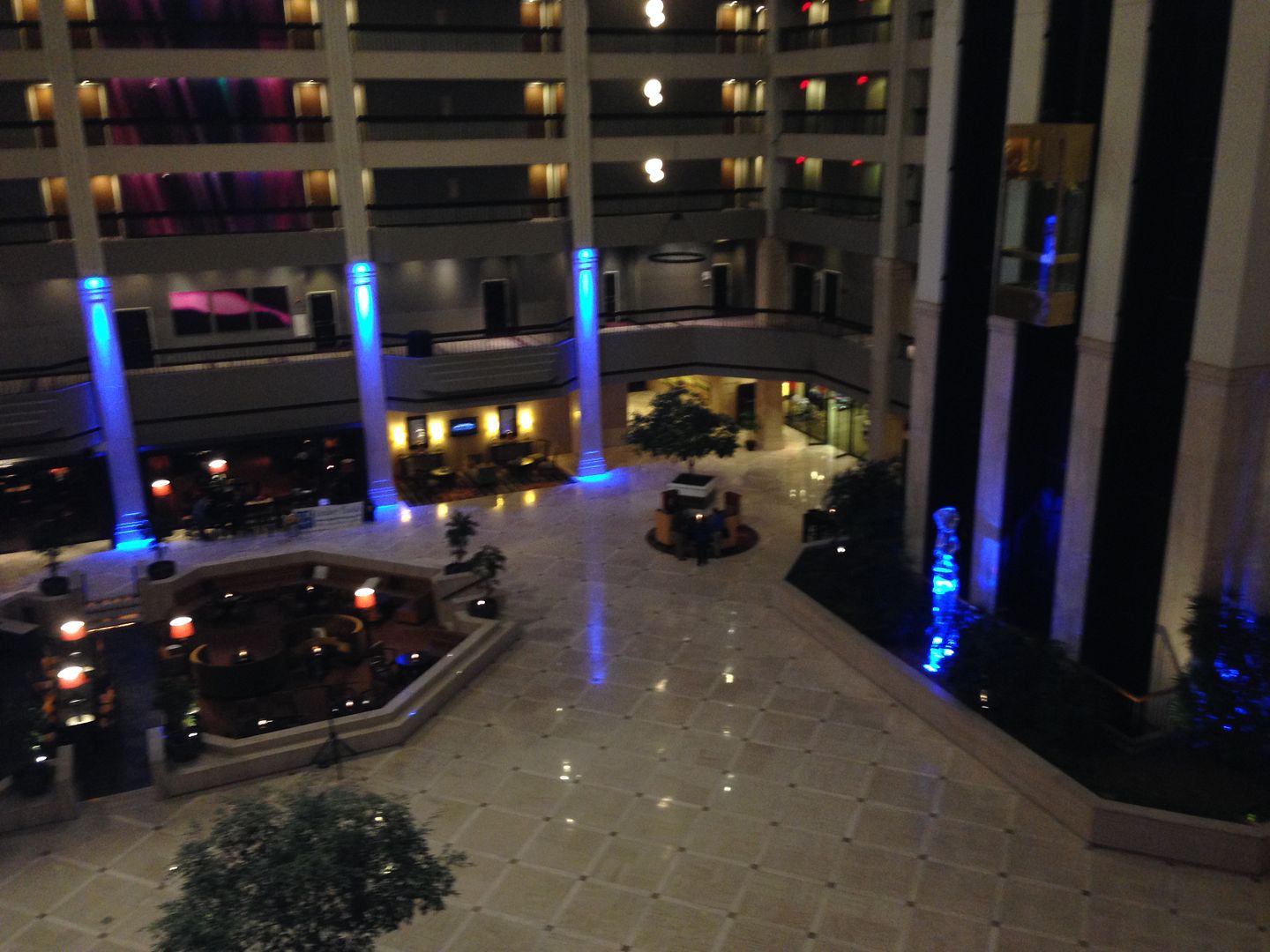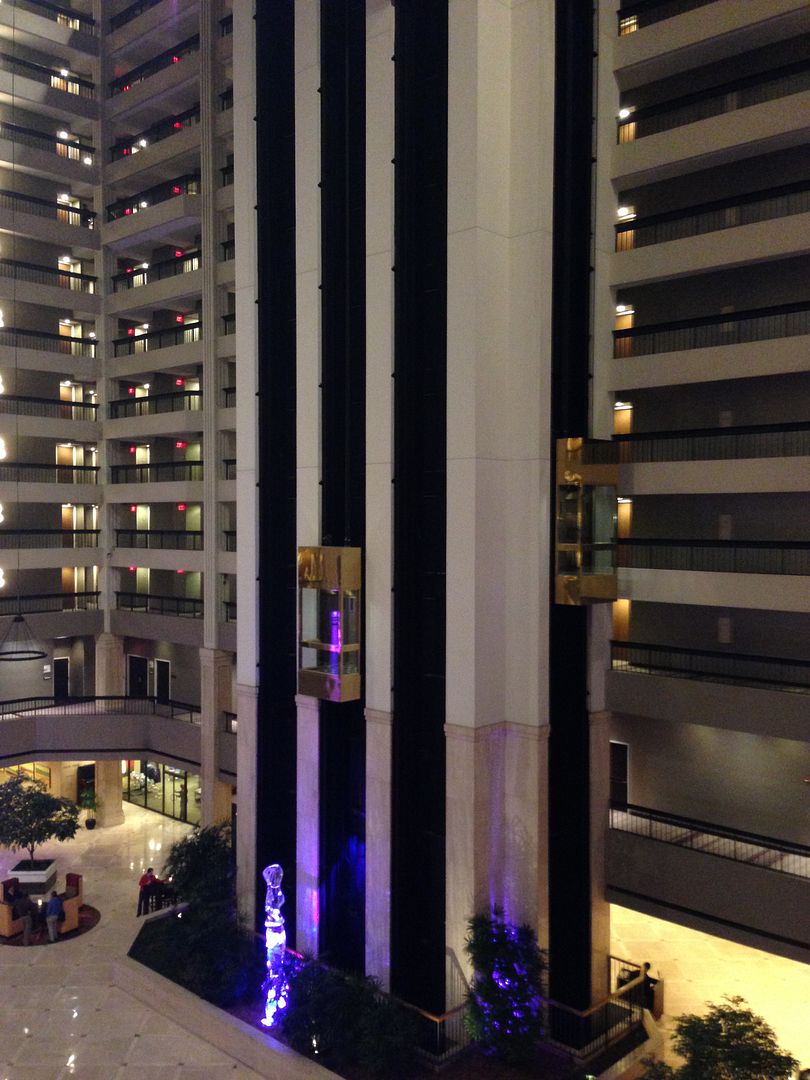 After getting settled, we met for dinner at the hotel bar and found several other dealers doing the same thing, including John from CRO!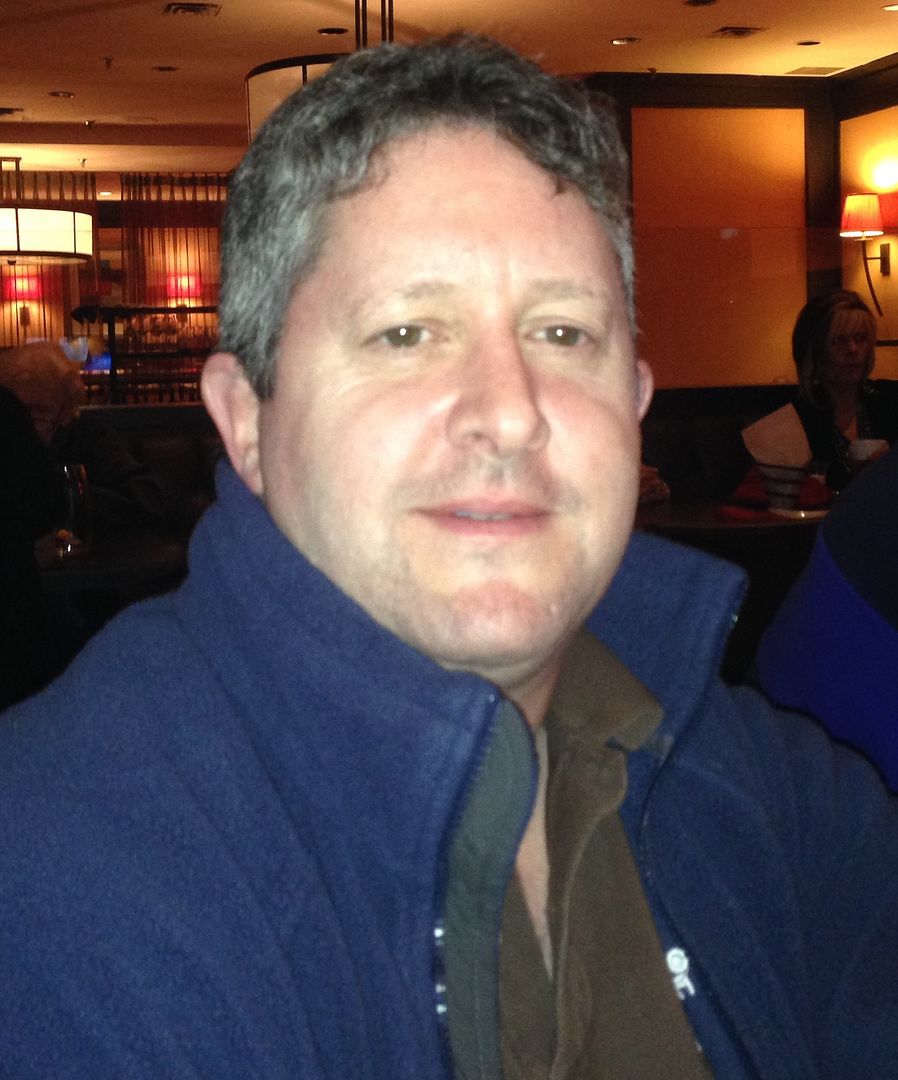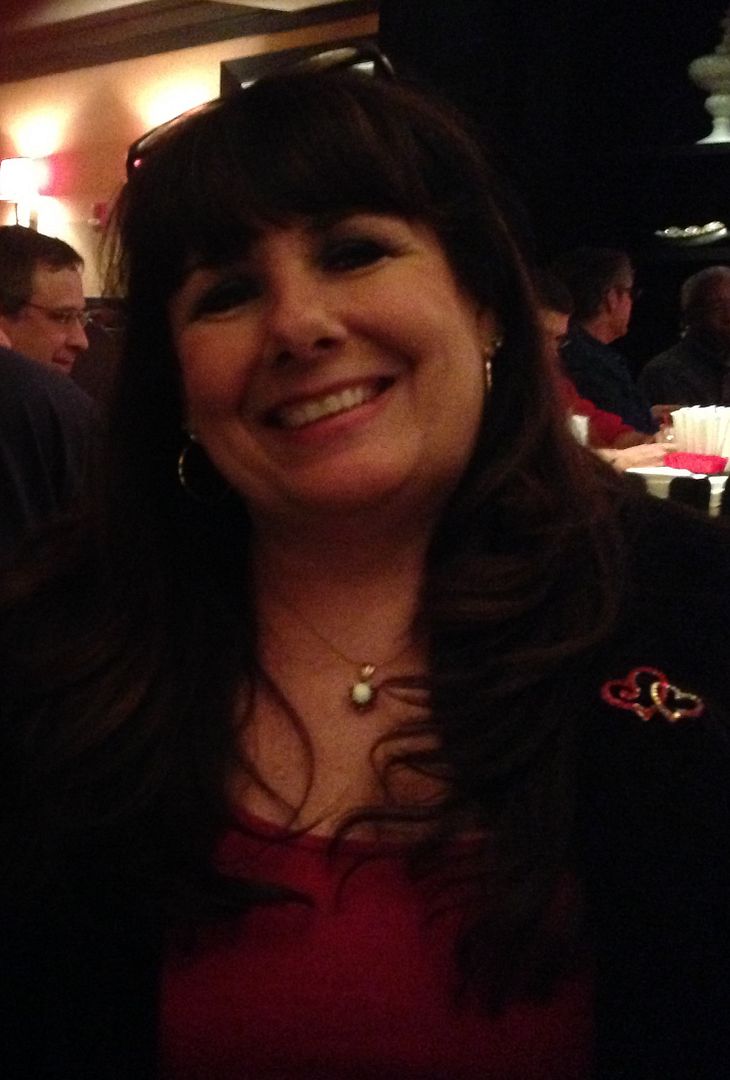 I recently discovered (thanks to my kids!) the tasty world of Whisky Fireballs! Oh my! These things taste just like hot tamale candy, no kidding! So I bought around of these because Rick and John hadn't ever tried them before. Everyone agreed they were very very good!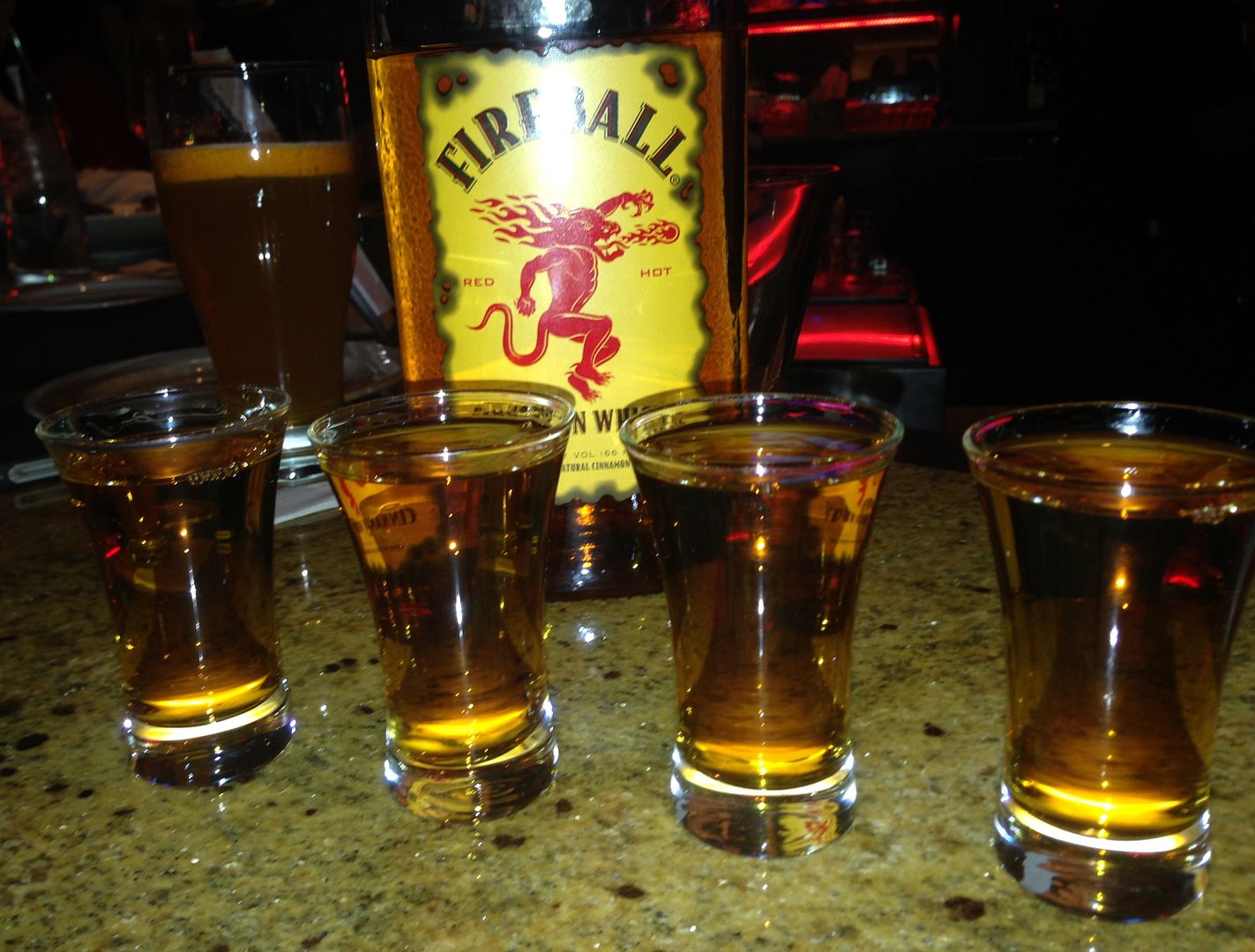 We also enjoyed listening to this young lady sing and play guitar in the bar area.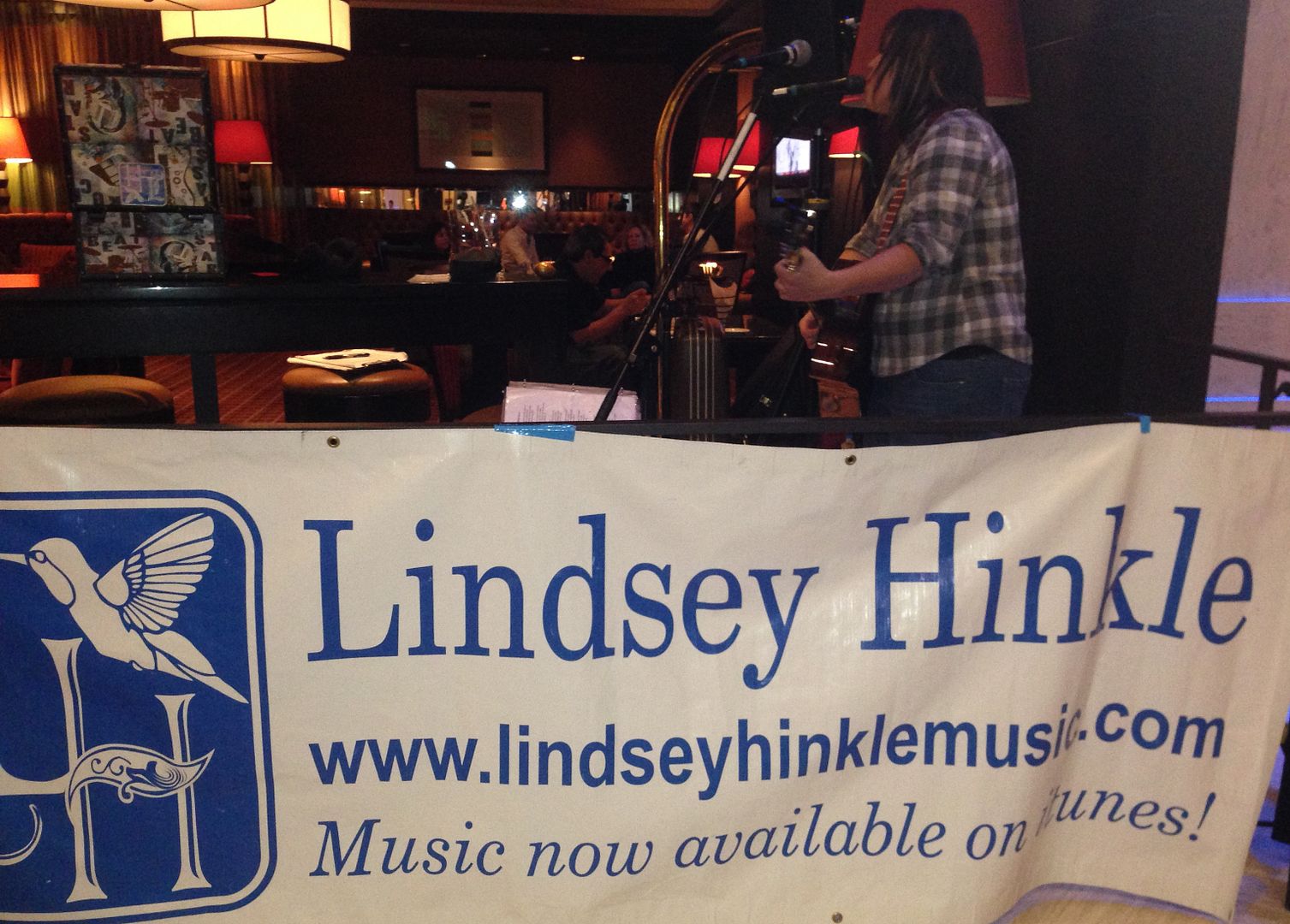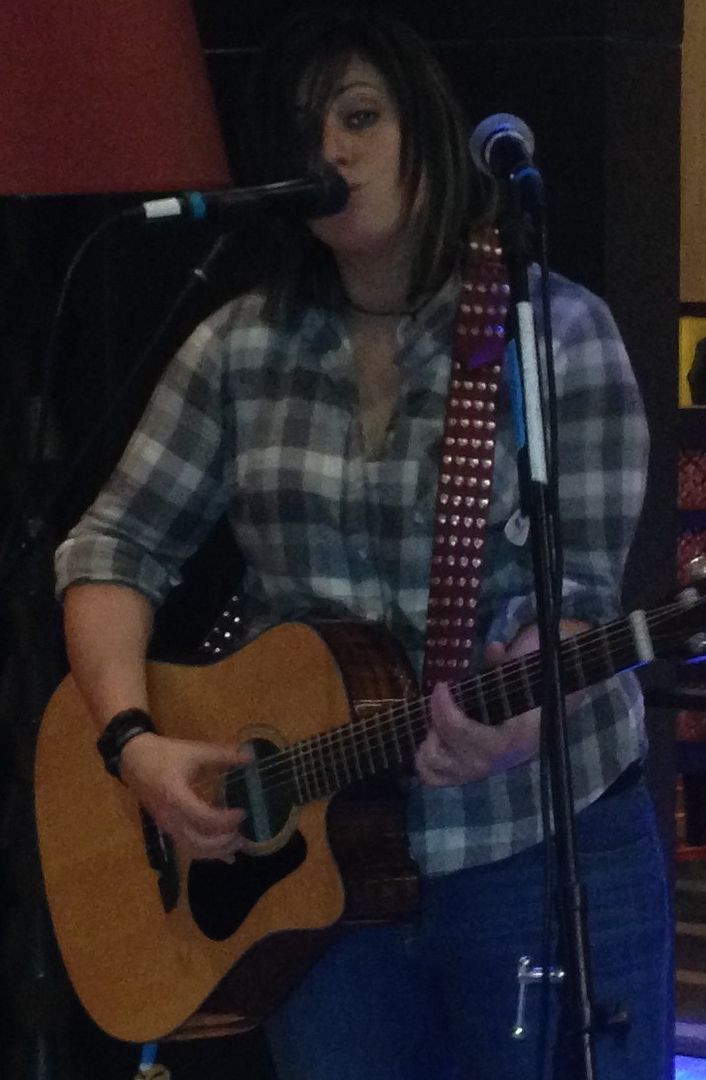 Since exhibit set up time was 7am the next morning, it was soon time to turn in and get ready for the show!
Thursday morning came quickly! I headed over to the show and arrived at 7am. The lobby was pretty much empty at that time, as was the bourse.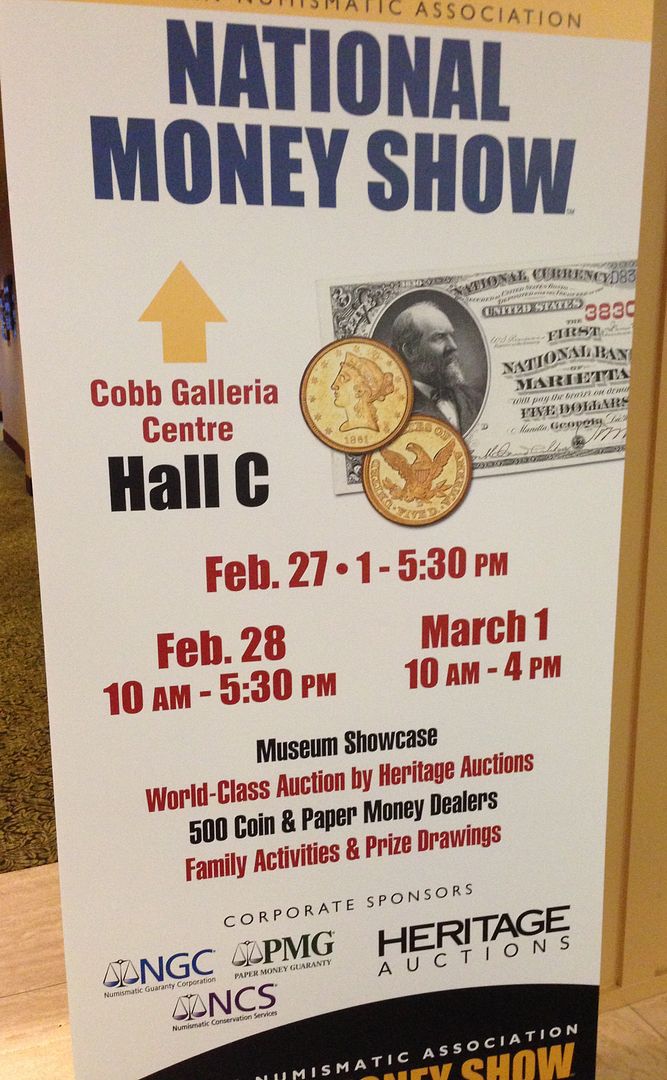 But I was glad to be there early so I could set up my exhibit. I recently acquired a few new pieces that I wanted to add to my exhibit so I spent the week before the show reorganizing and expanding it into 7 cases. So I was glad when they gave the exhibitors an extra hour to set up before the bourse opened to the dealers. It usually takes me about 2 hours to set up my exhibit which, and then another 2 hours to set up my table.
I know I've shown photos of my exhibit in past show reports, but since I added some very cool pieces, I thought I'd post them again. However, I will certainly understand if you want to skip over these photos!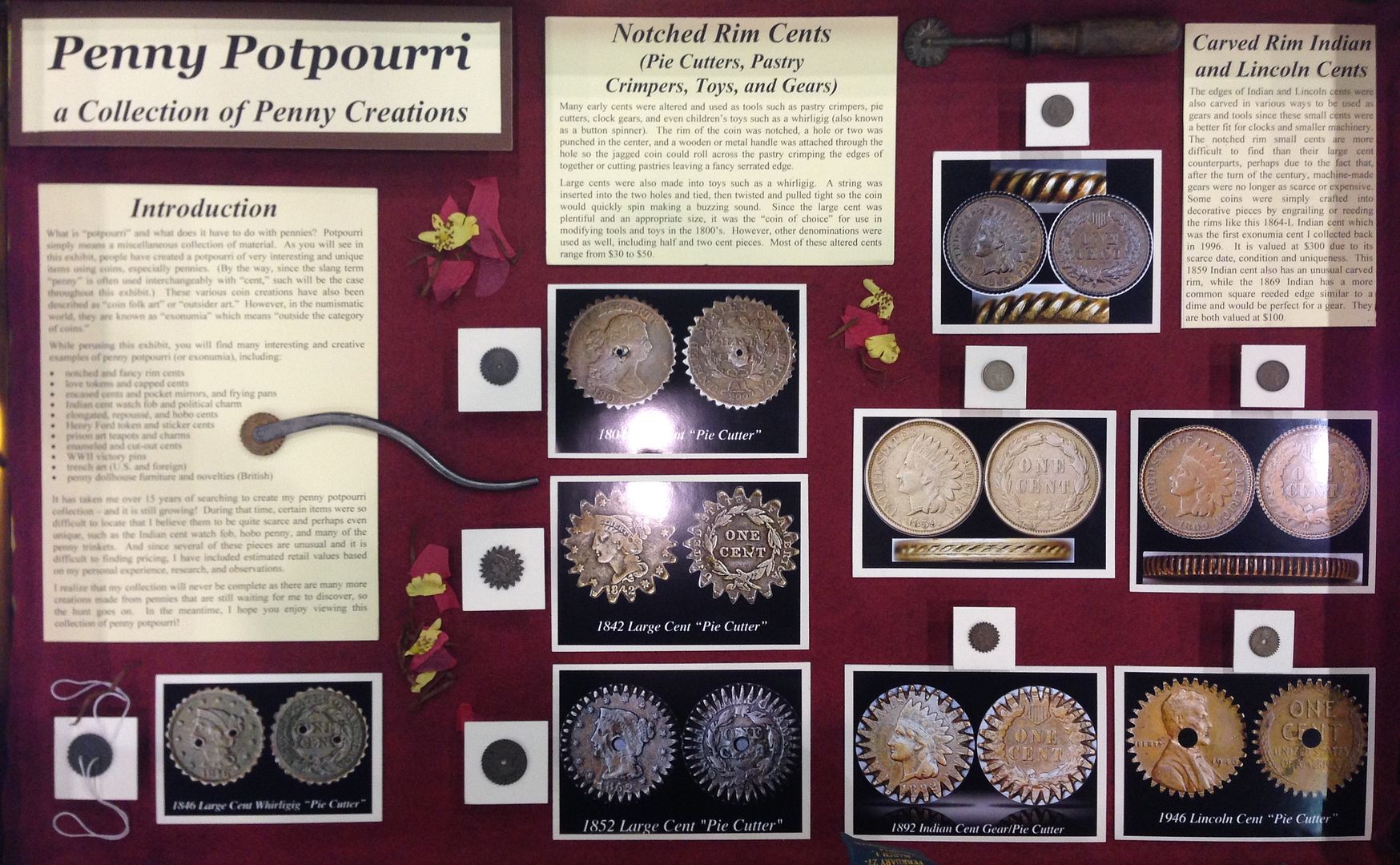 (I fixed the pocket mirror that was tipped over before the cases were locked.)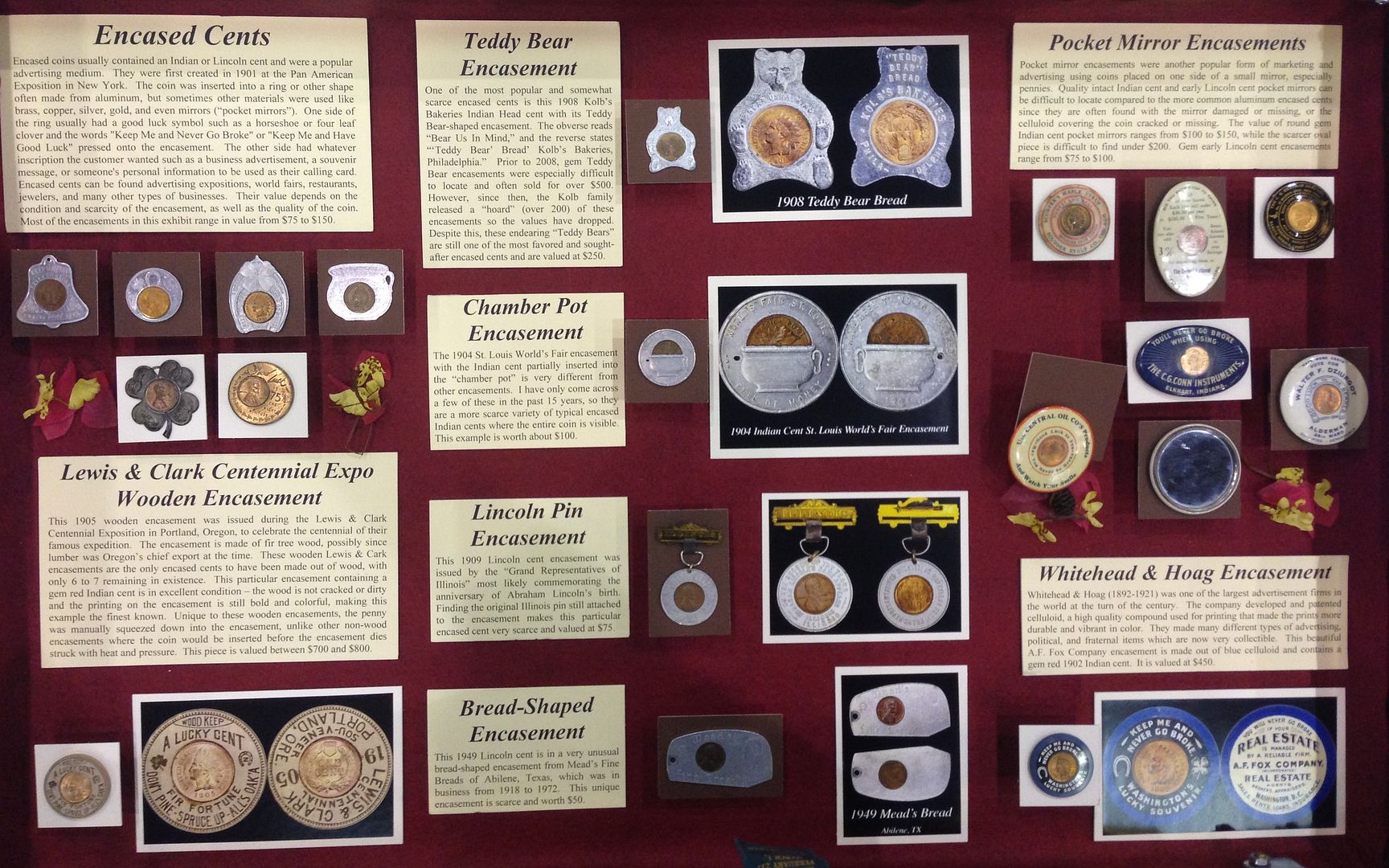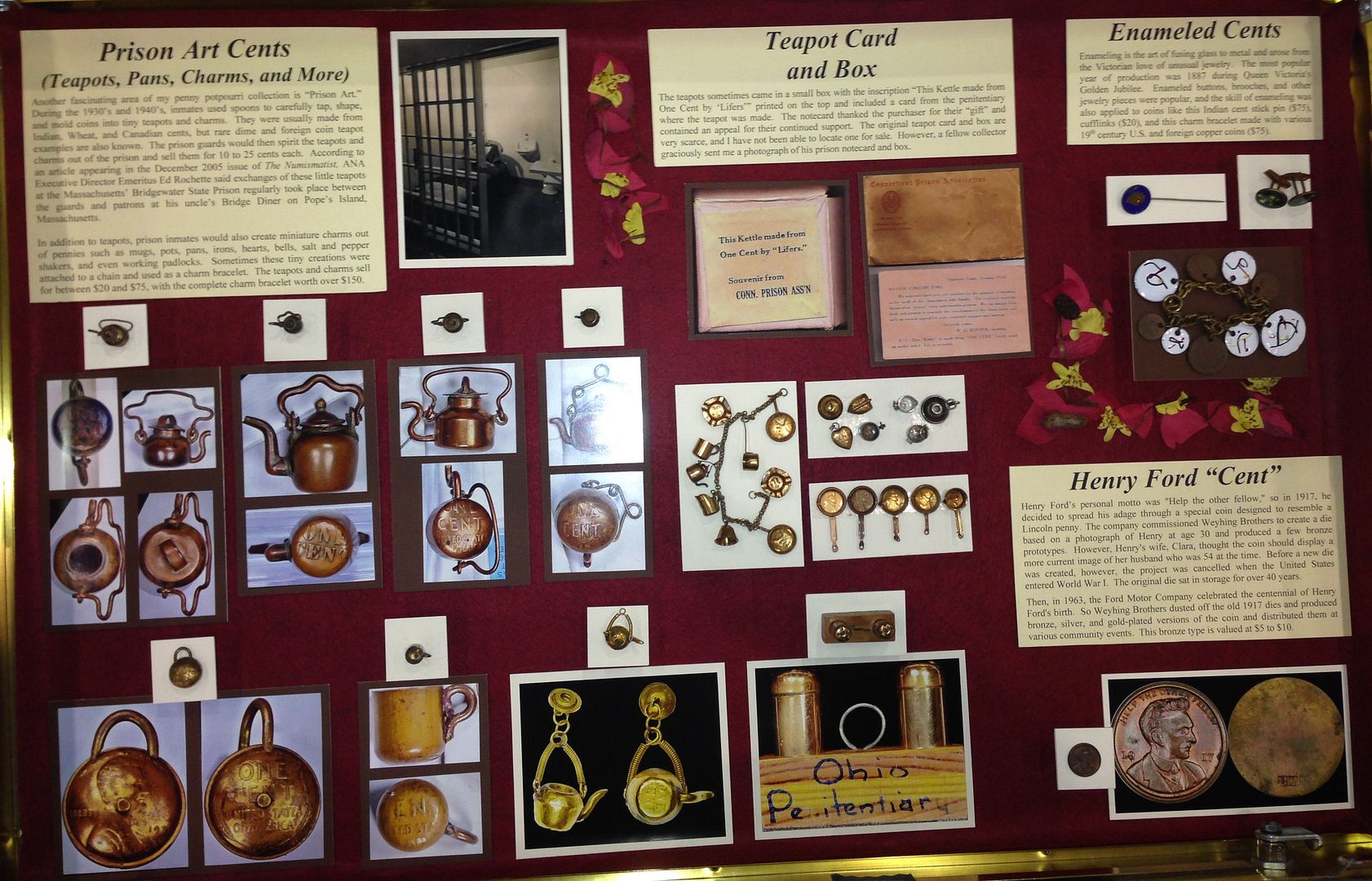 Dealer set up was from 8am to 1pm and there was a lot of dealer activity during that time.
And it wasn't long after the show opened to the public until the first forum member stopped by my table – and look who it was – Nick/Lochness and his adorable little boy! We also made plans to meet up later that night so we could listen to him play in his band.
Another forum member, Bryan Steger, also stopped by with this wonderful Ridge Mazzoni! He came by later that day just as I was uncorking his wine – needless to say, we shared a glass of this very tasty wine.
I took a few minutes to walk around the bourse and see what I could find that was interesting.
The Saddle Ridge gold hoard that was just discovered in Northern California was also on display at Kagin's table and was very popular!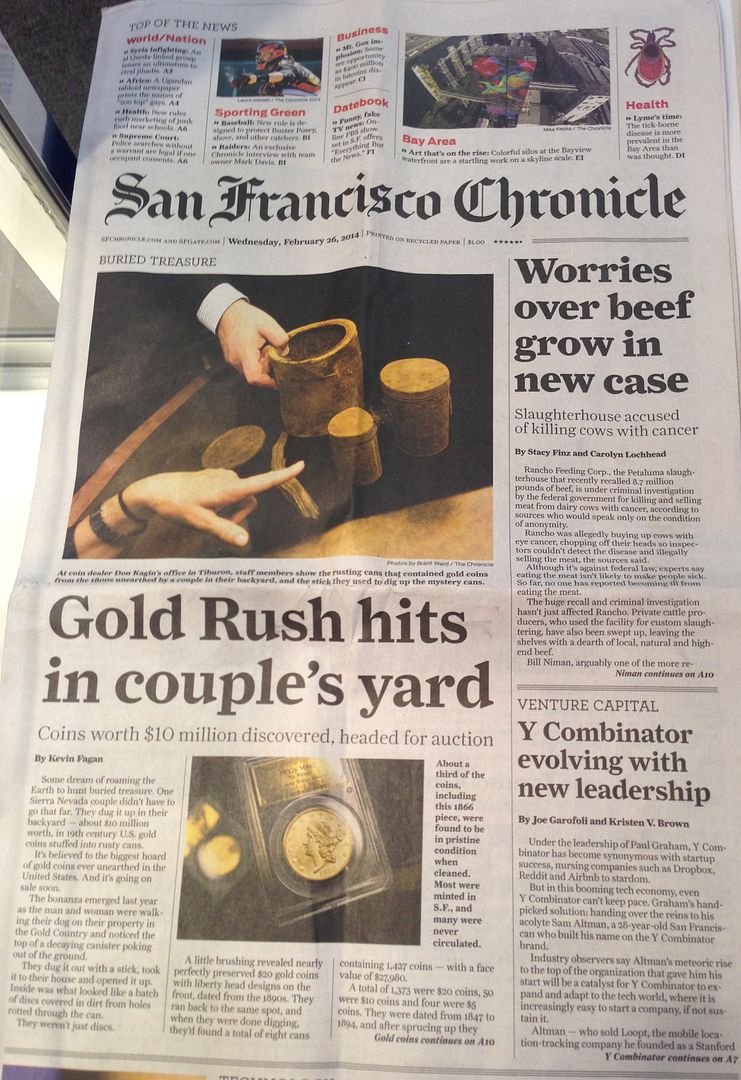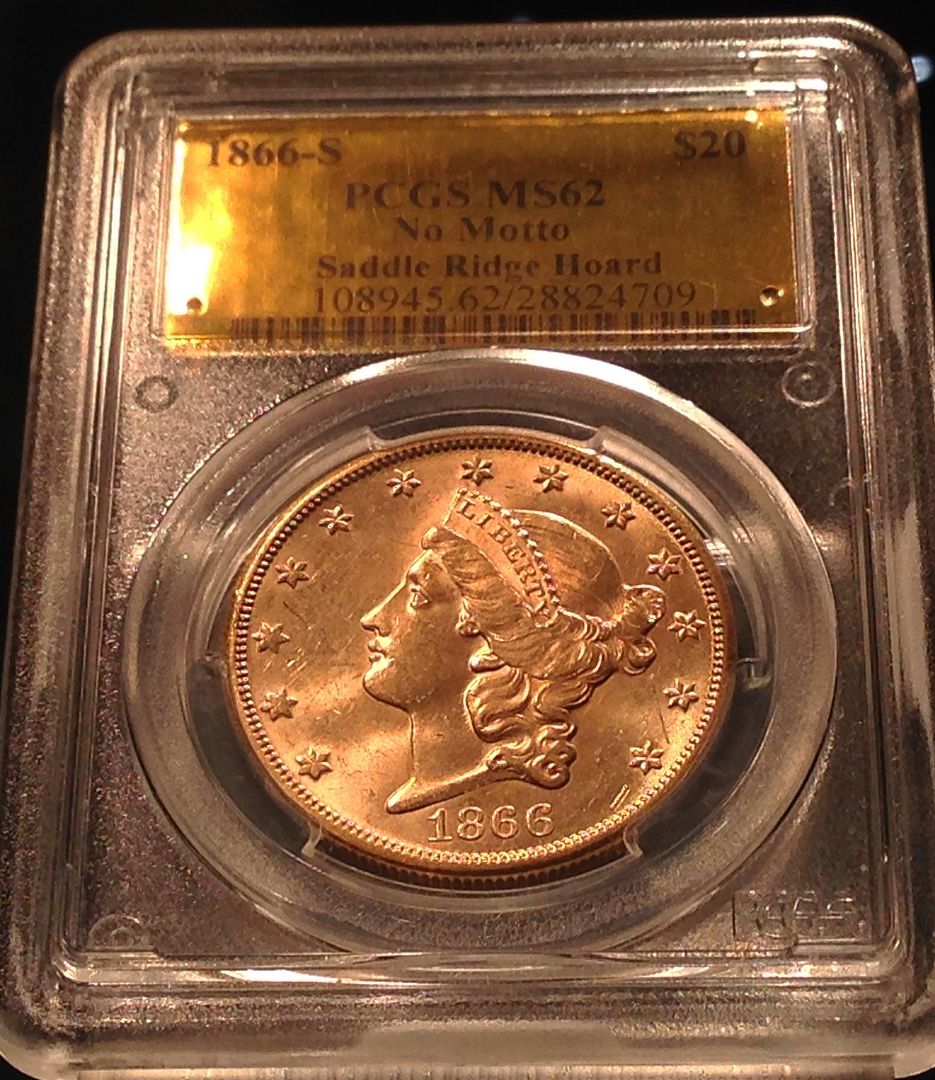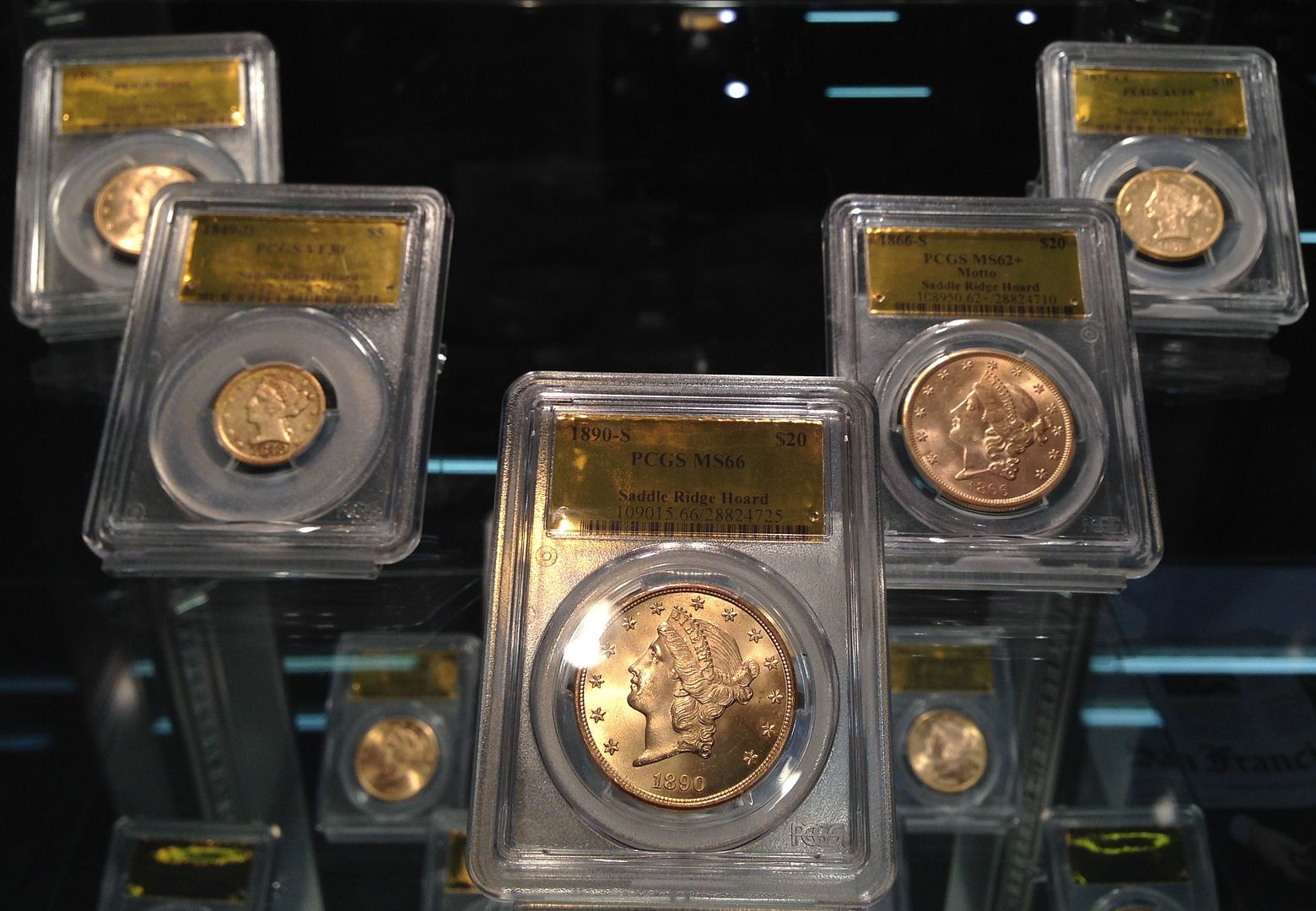 These were the cans the gold had been stored in and the stick they used to dig with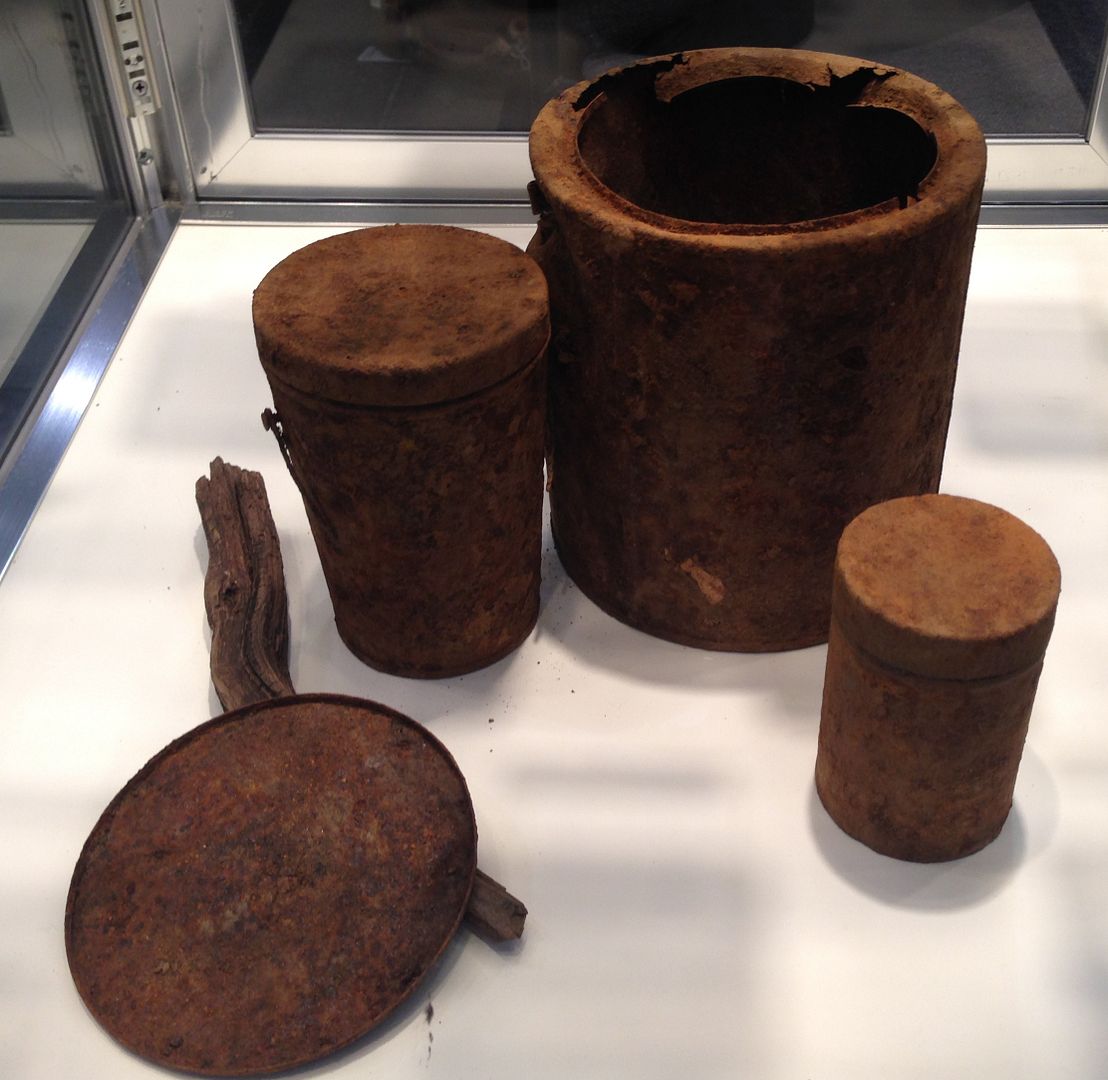 A dealer friend showed me these large bills, I'd never held a $1,000 bill before.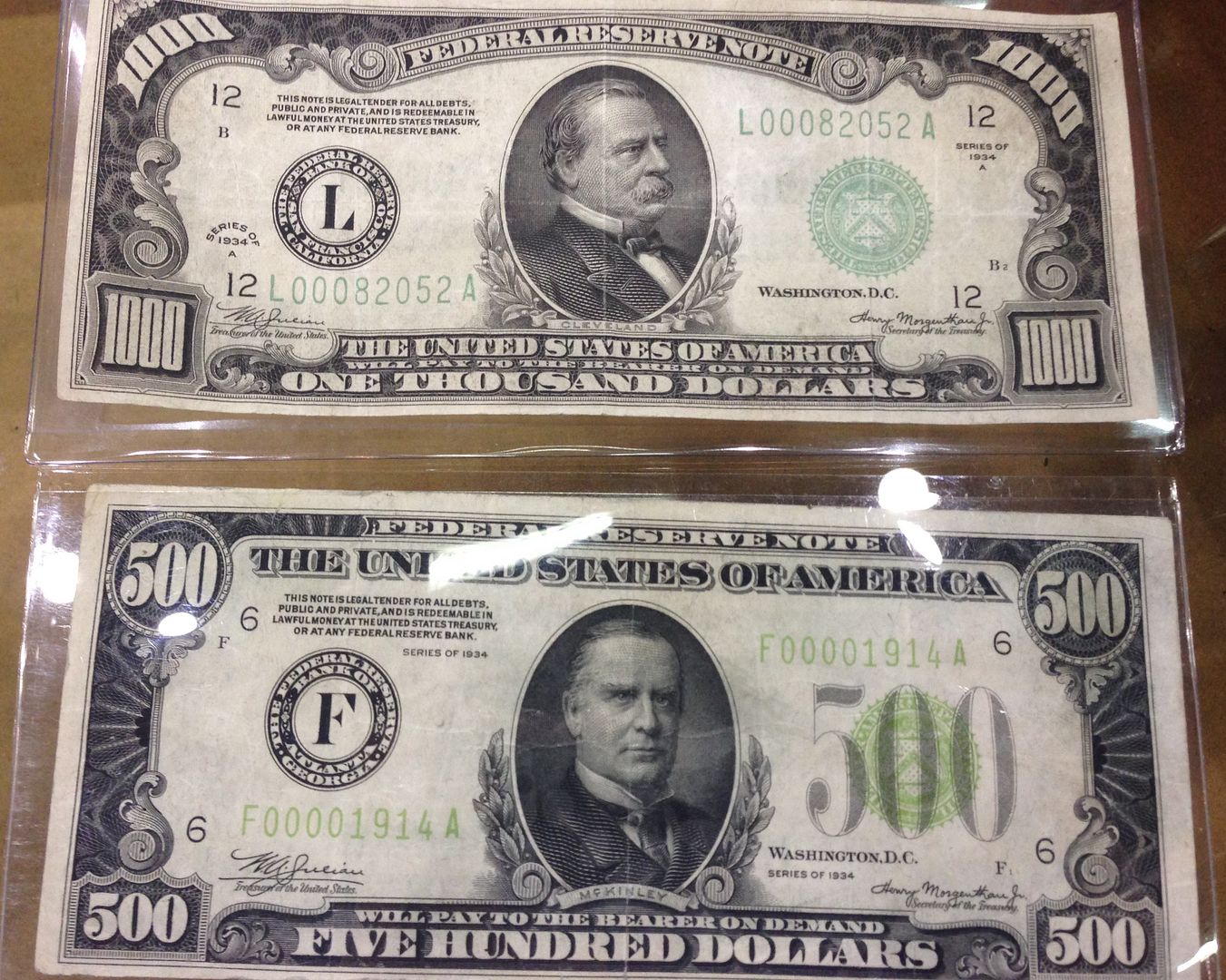 This is a very cool top pop 1 cent pattern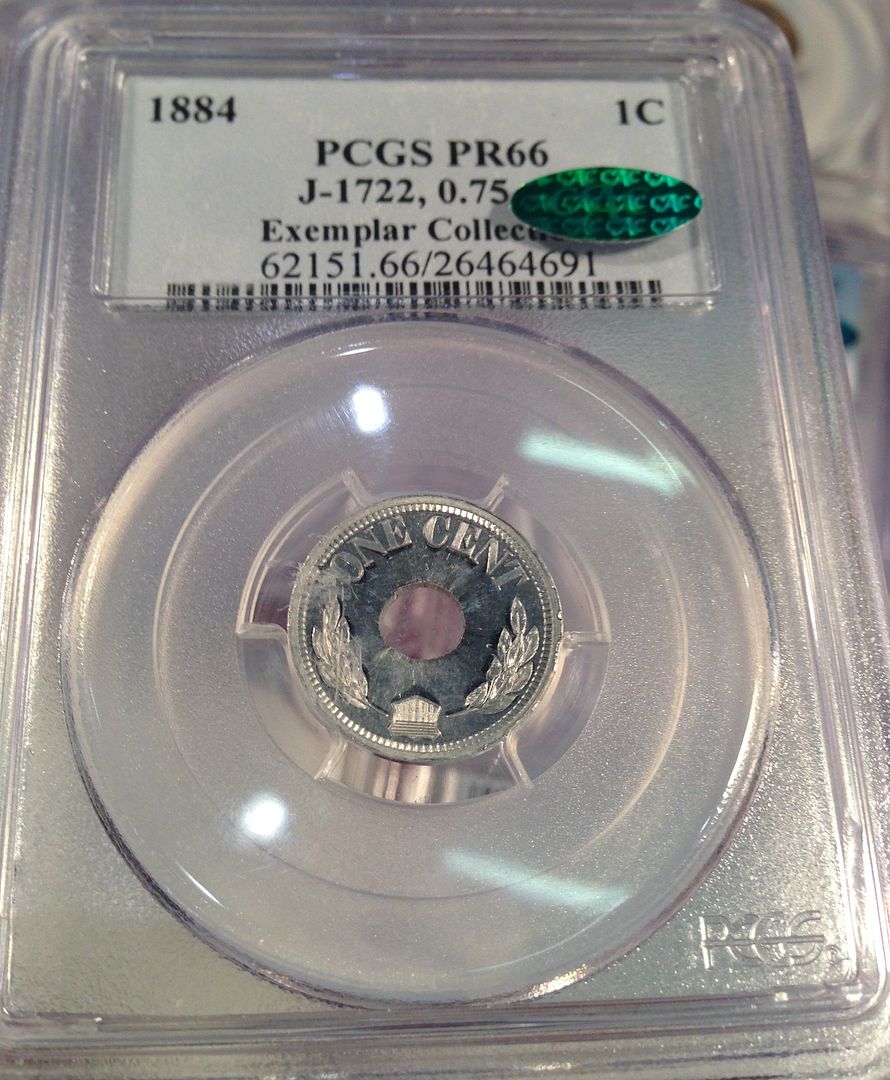 There was a booth who was selling these beautiful playing cards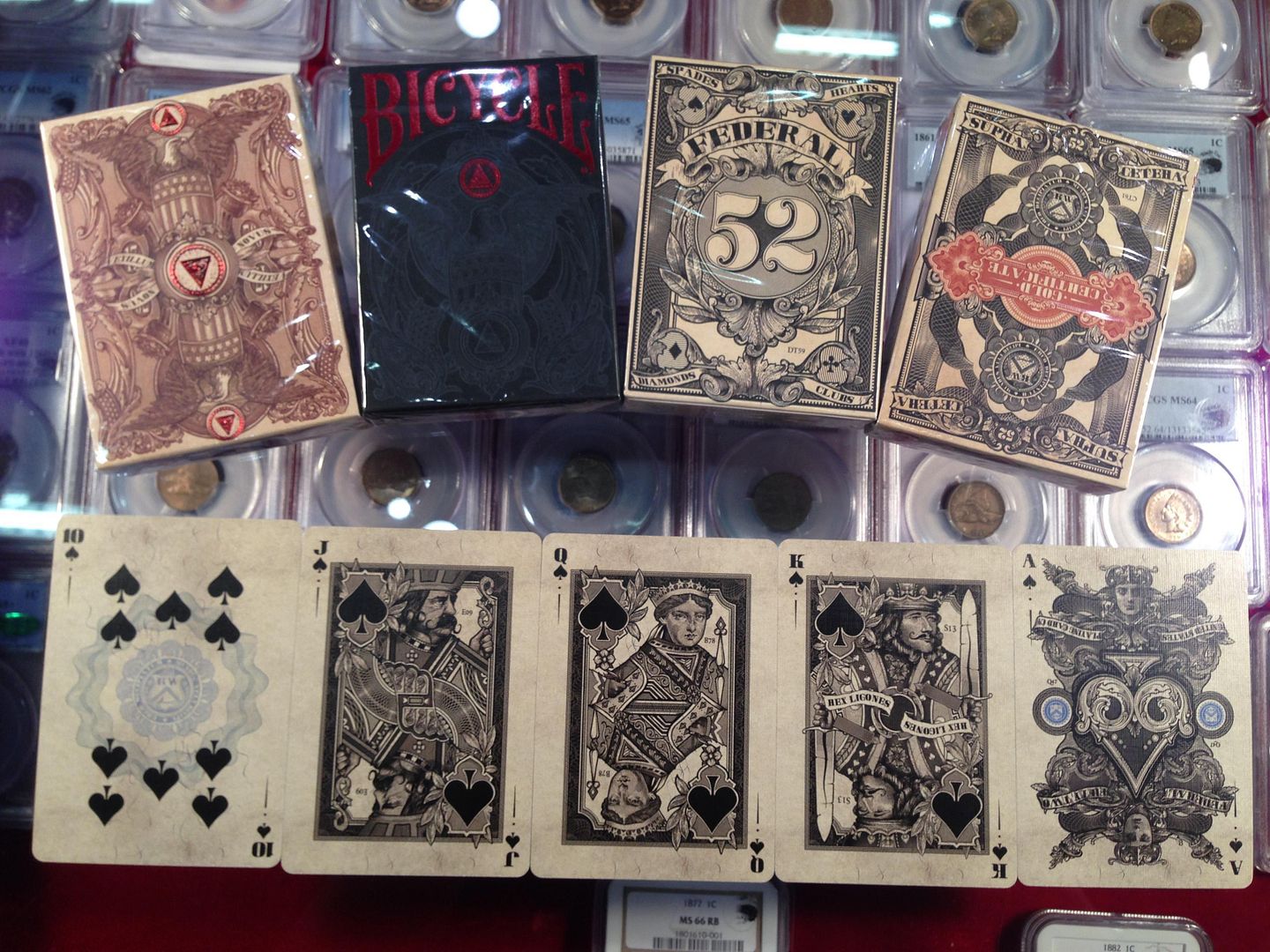 The 1913 Liberty Nickel was on display in the ANA exhibit area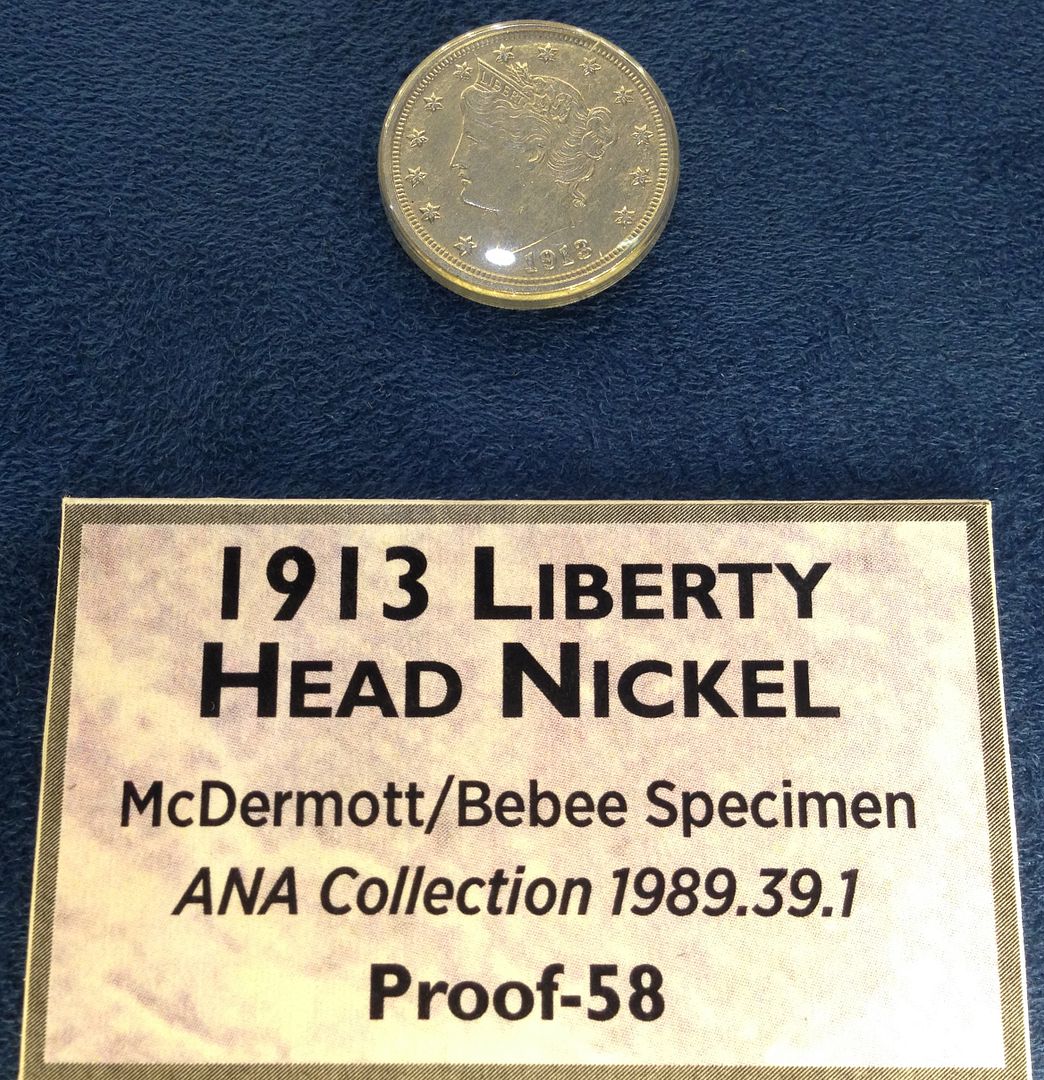 As well as the 1804 Dollar
And lots of gold!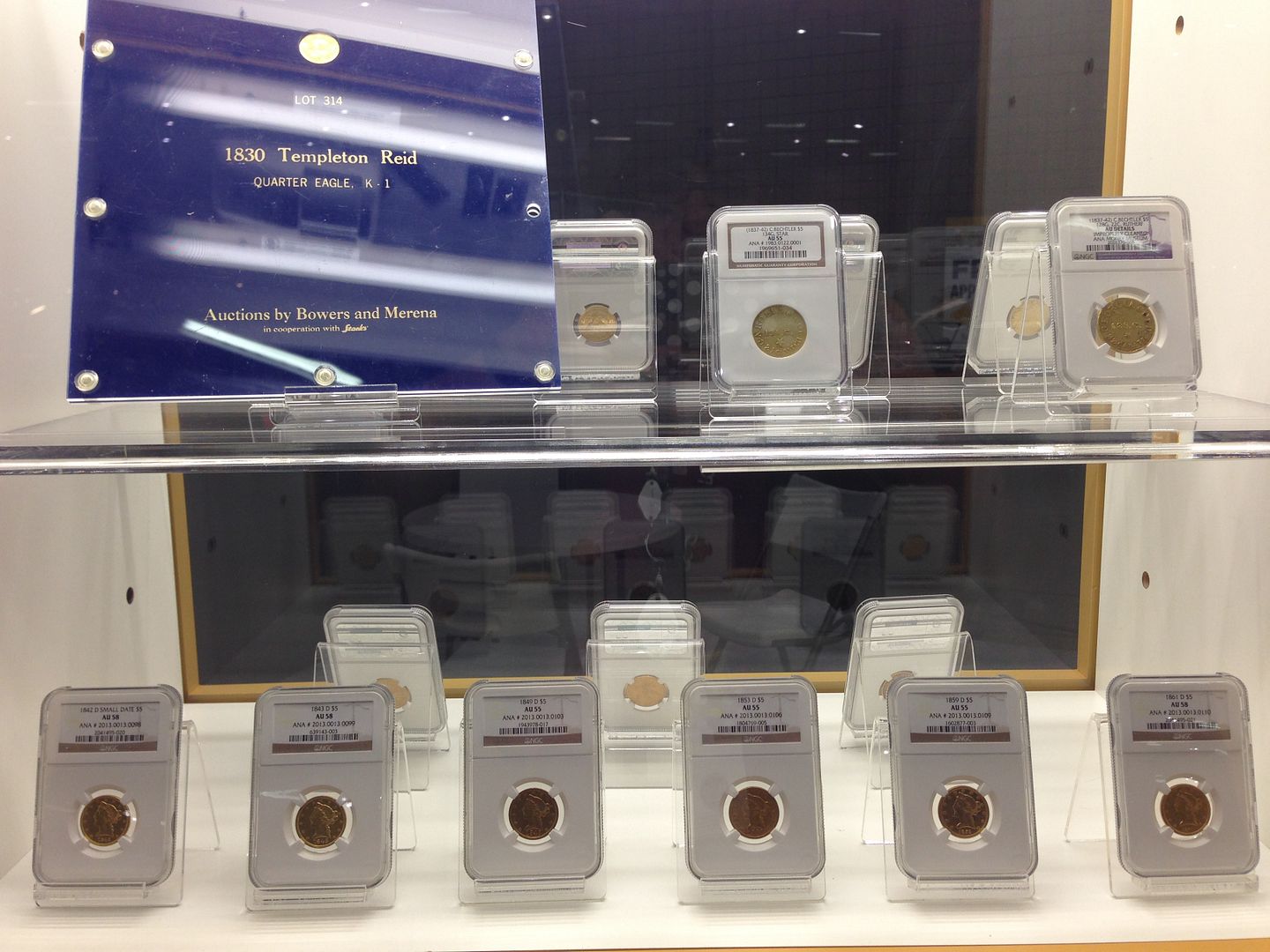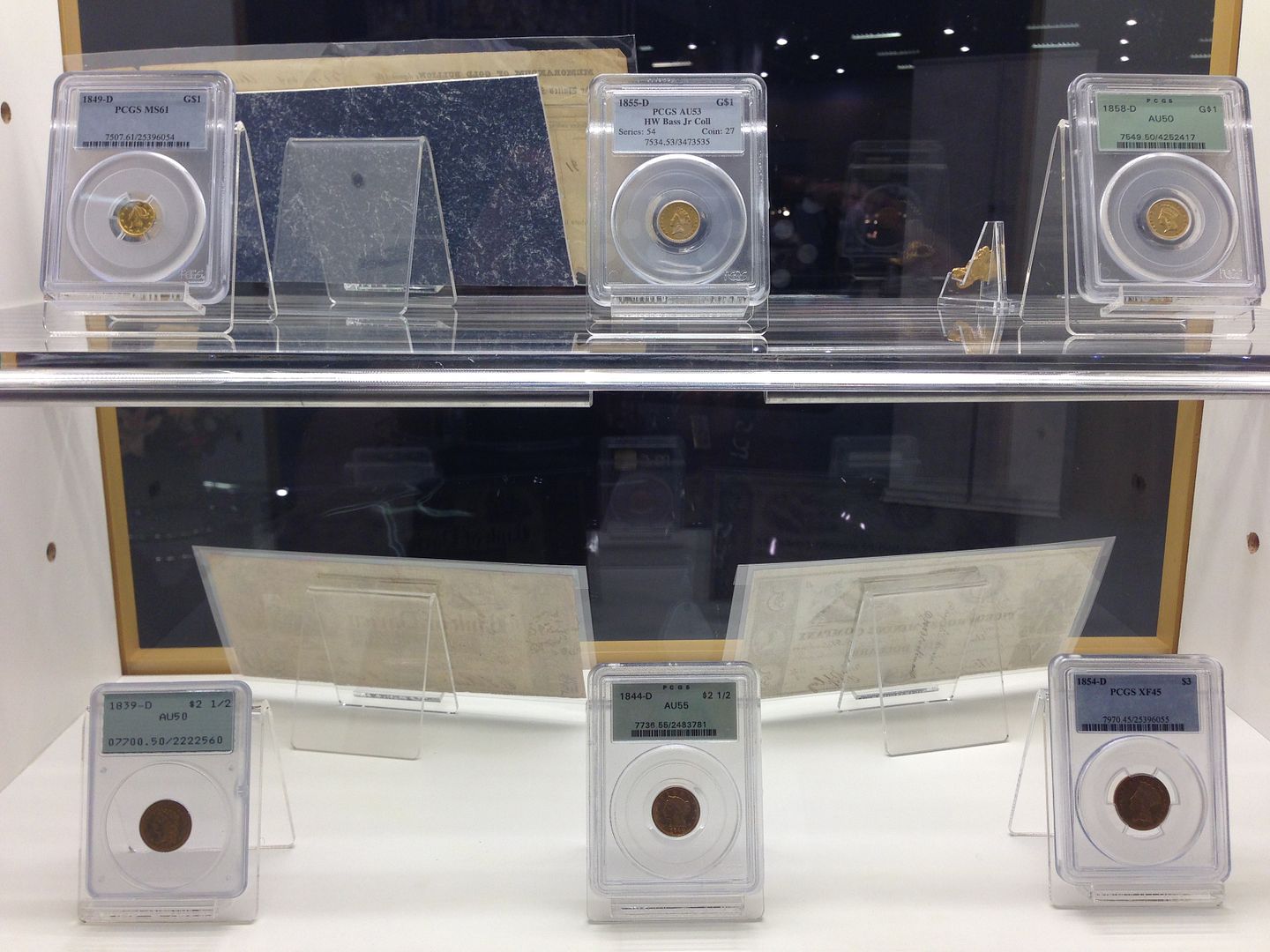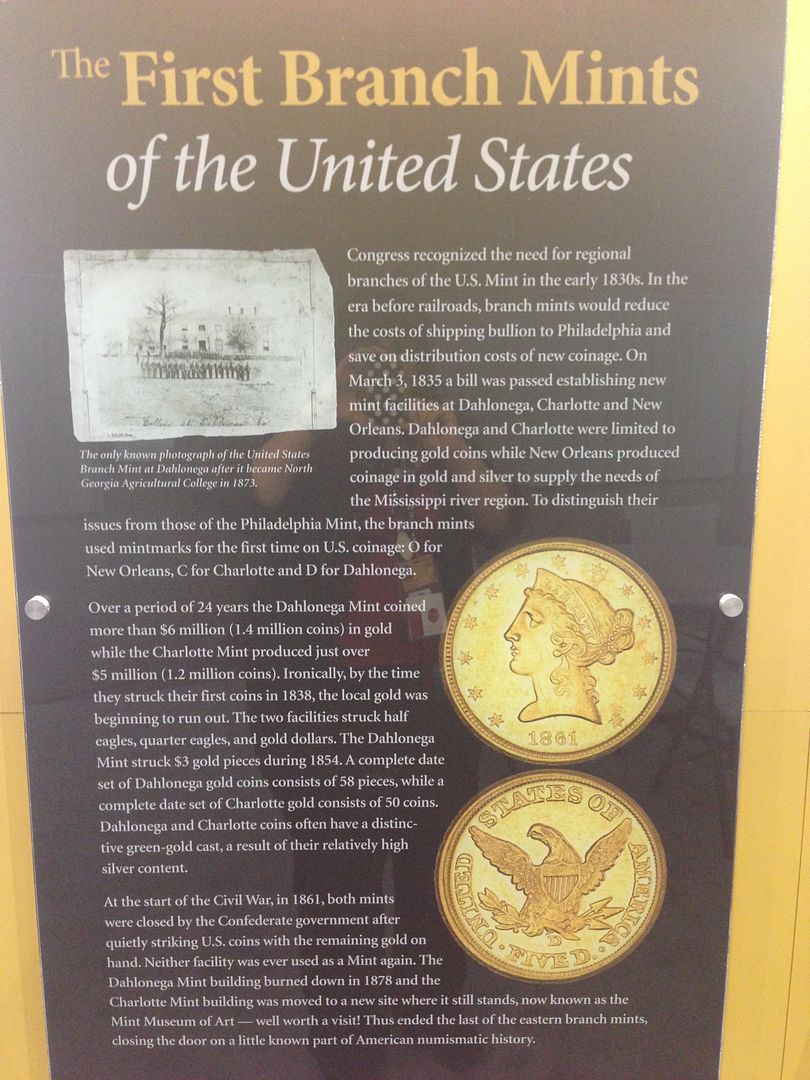 The very first Gatling gun was also on display In the ANA exhibit area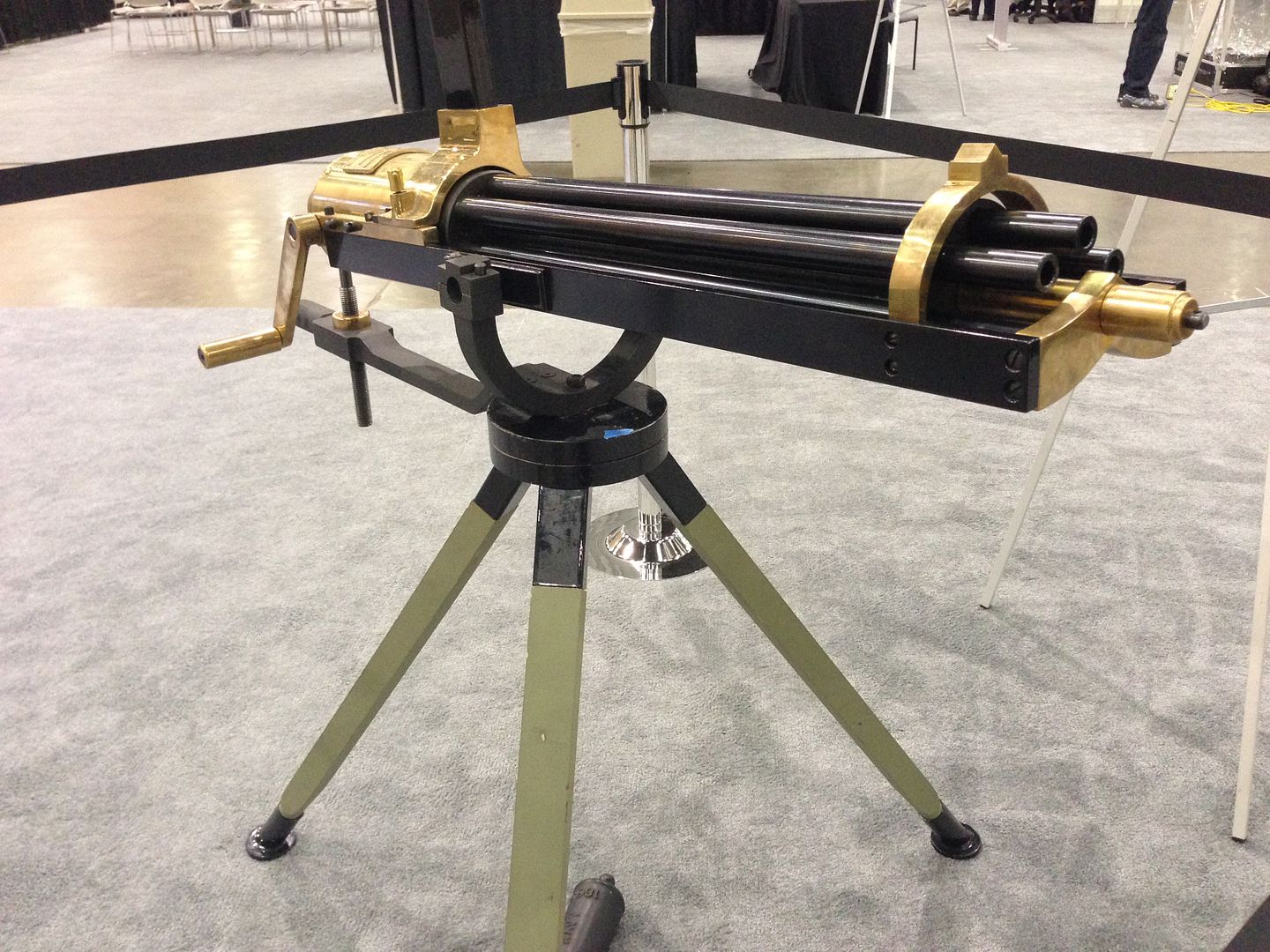 After the show closed on Thursday, we went to dinner at Ruth Chris Steakhouse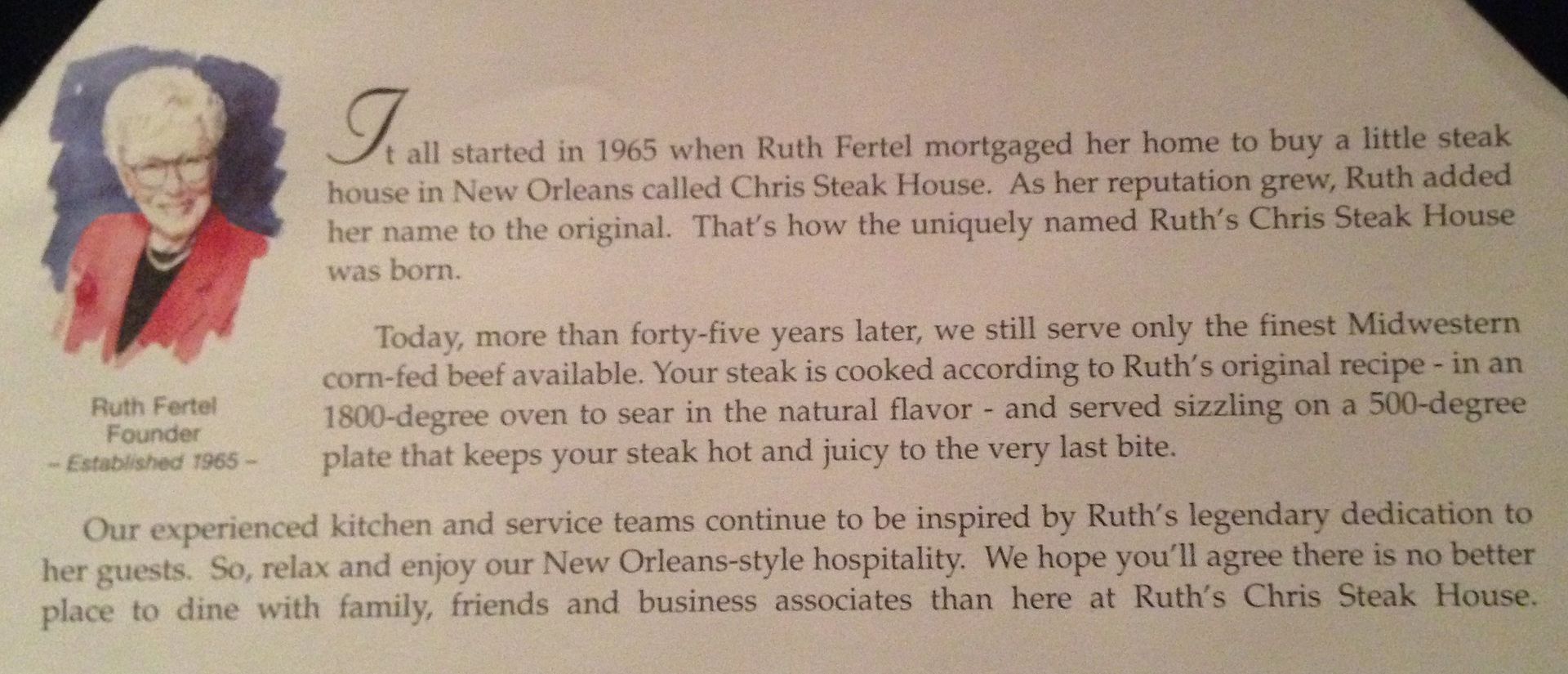 Of course, we had some amazing wine to go with the amazing steak and lobster bisque!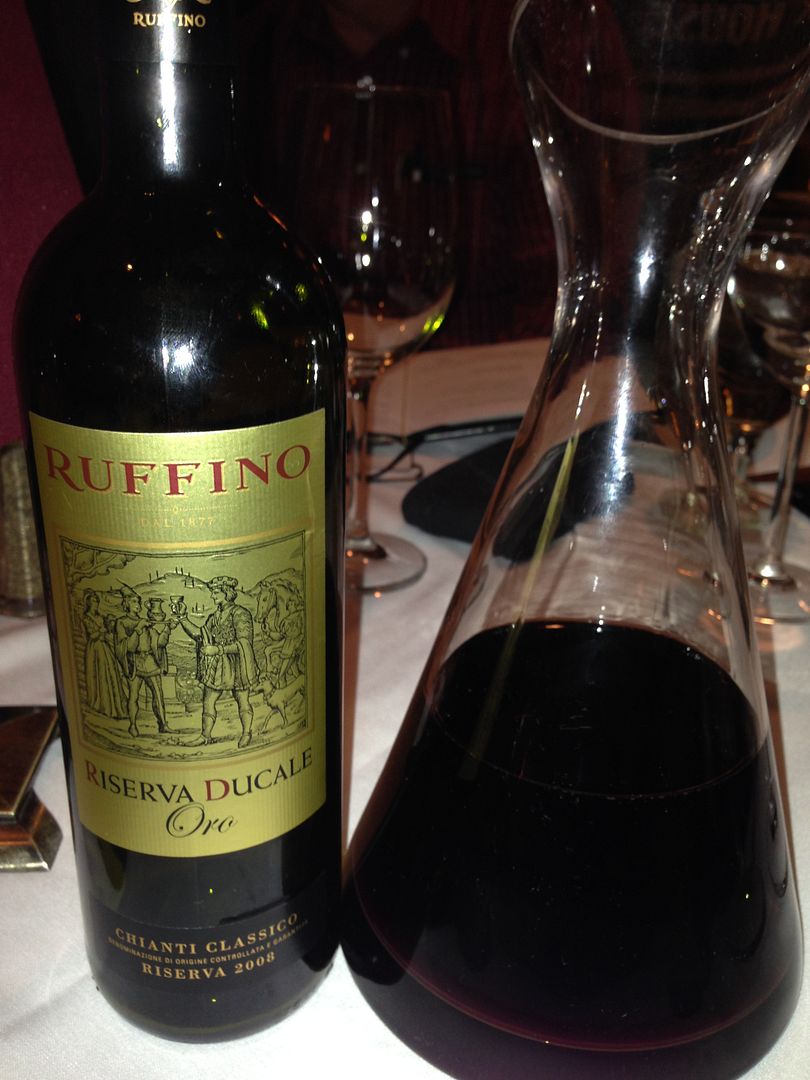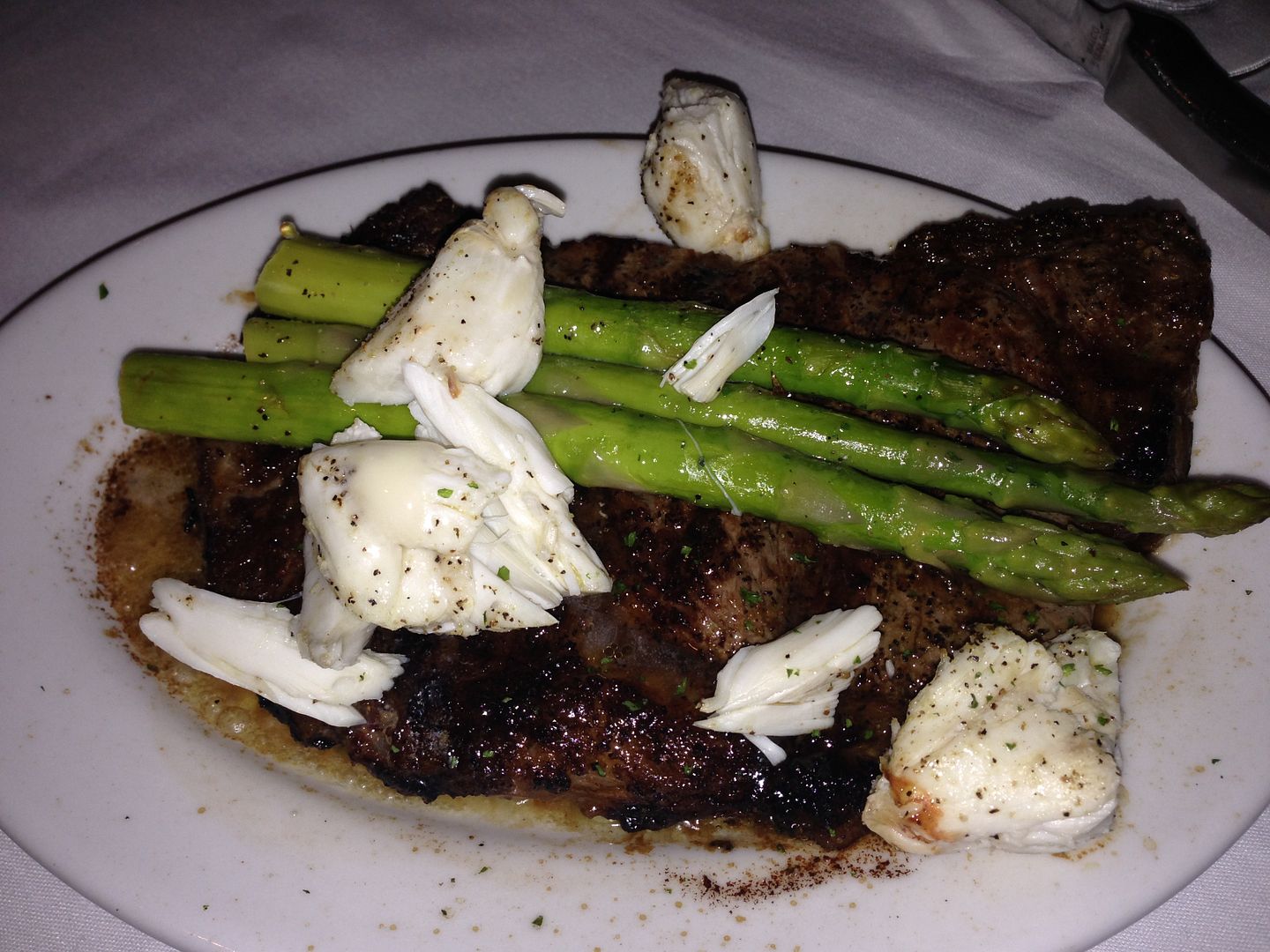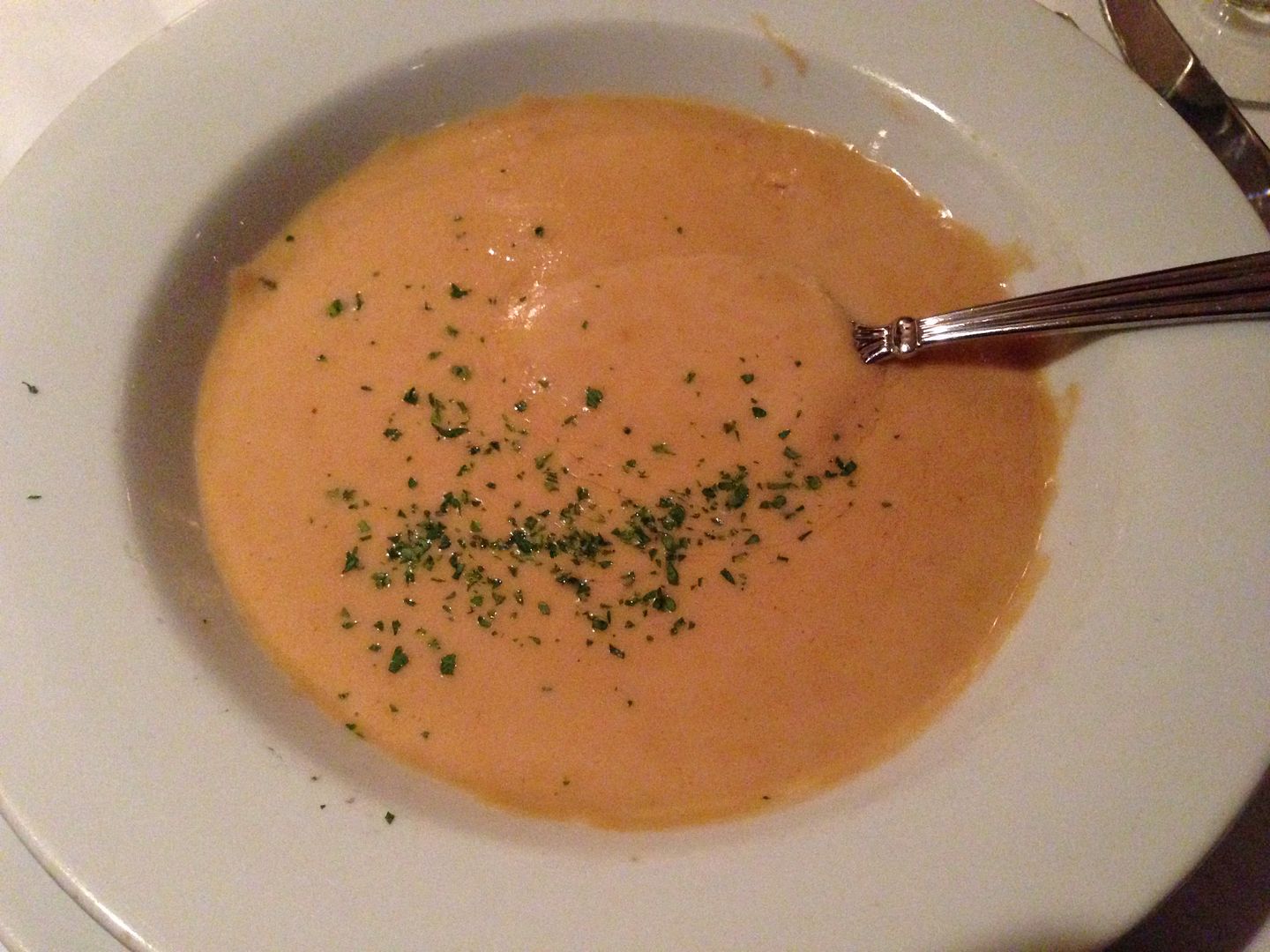 After dinner, we headed over to Stevie's Live Music to watch Nick/Lochness perform in his band. They were fantastic! And Nick not only sang, but he played the guitar, keyboard, and drums! He was really good and we loved all the blues songs!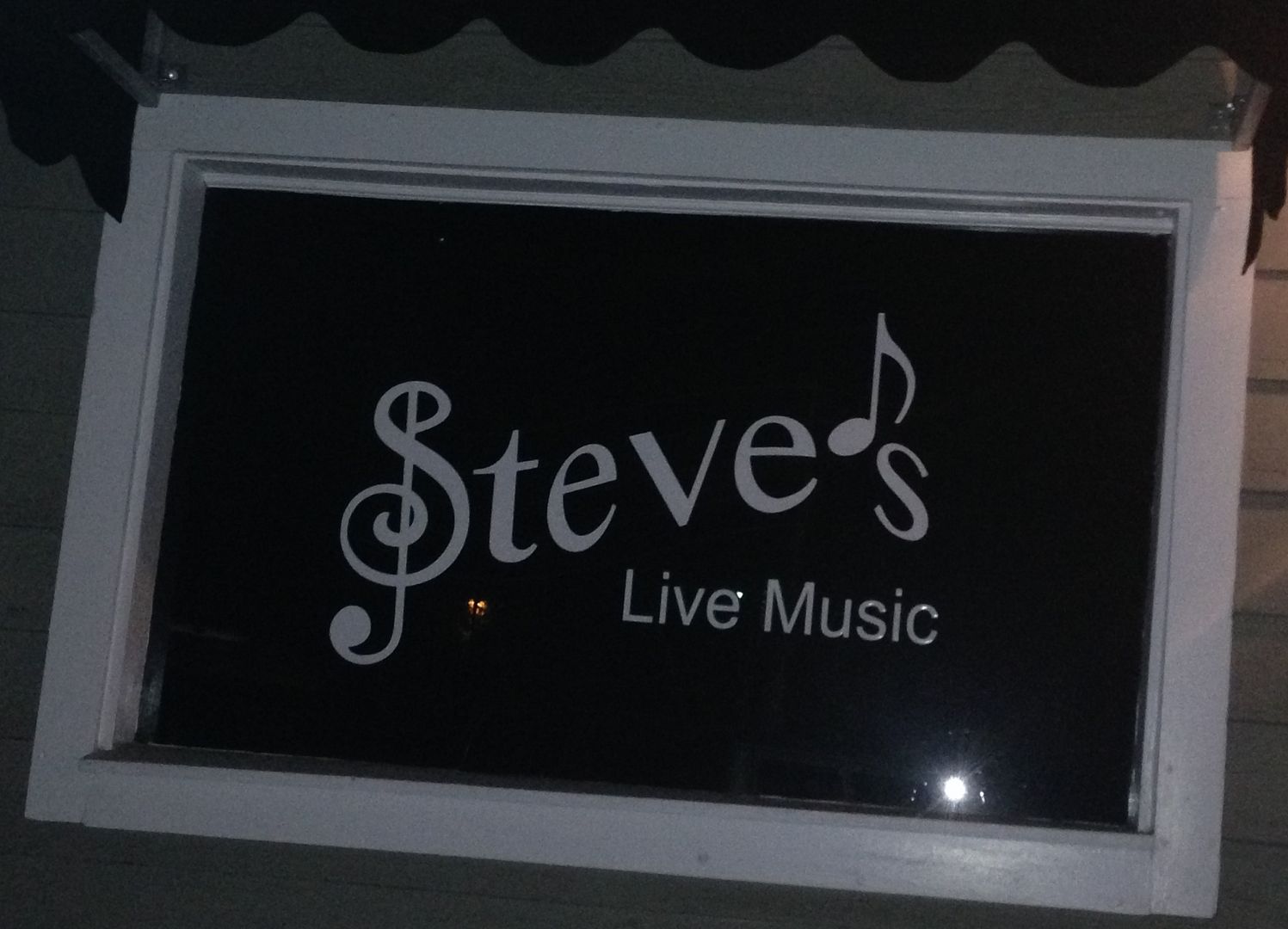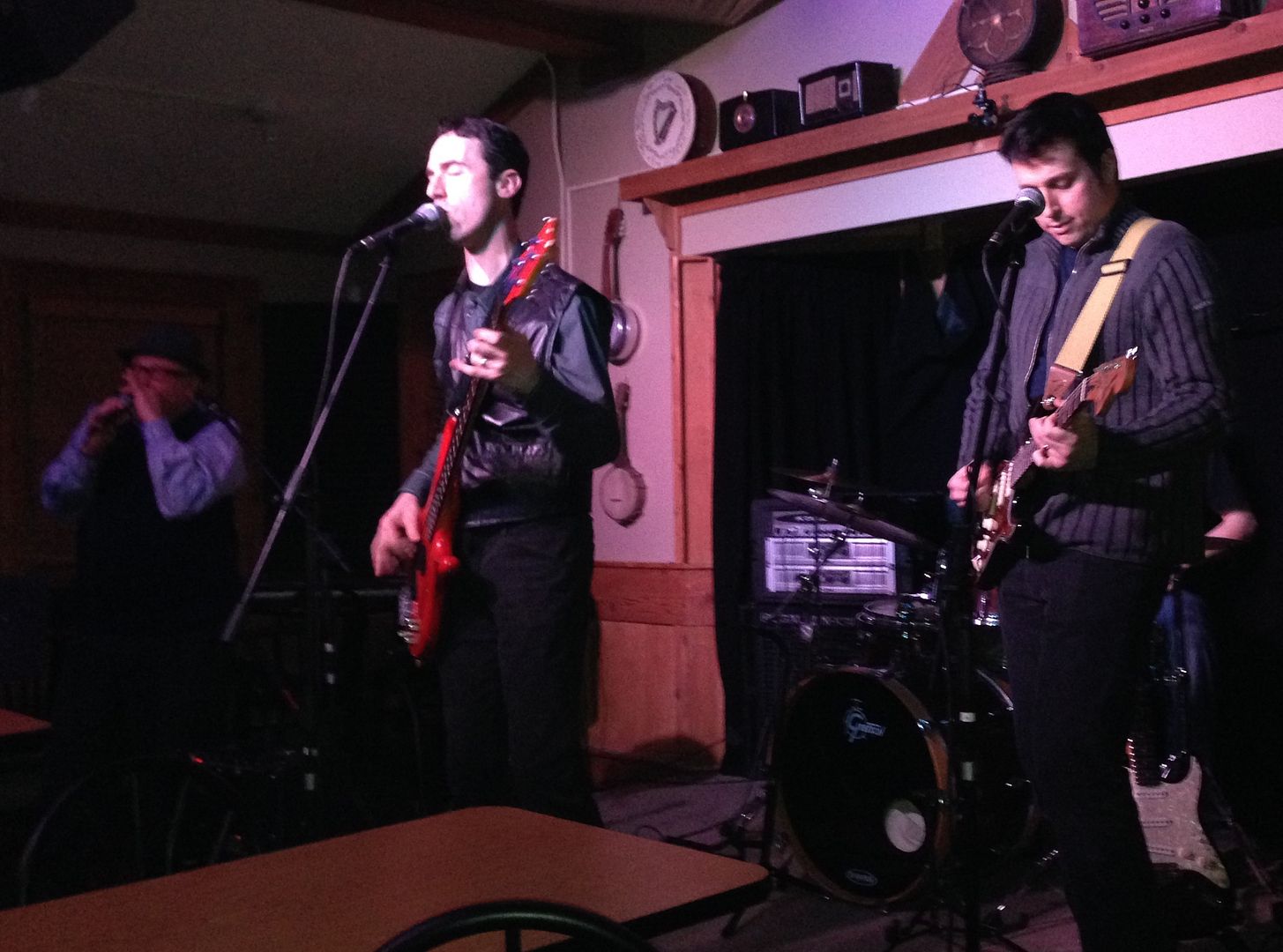 It was "open mike" night so the guy on the far left just took out his guitar an began playing with the band. He was really good!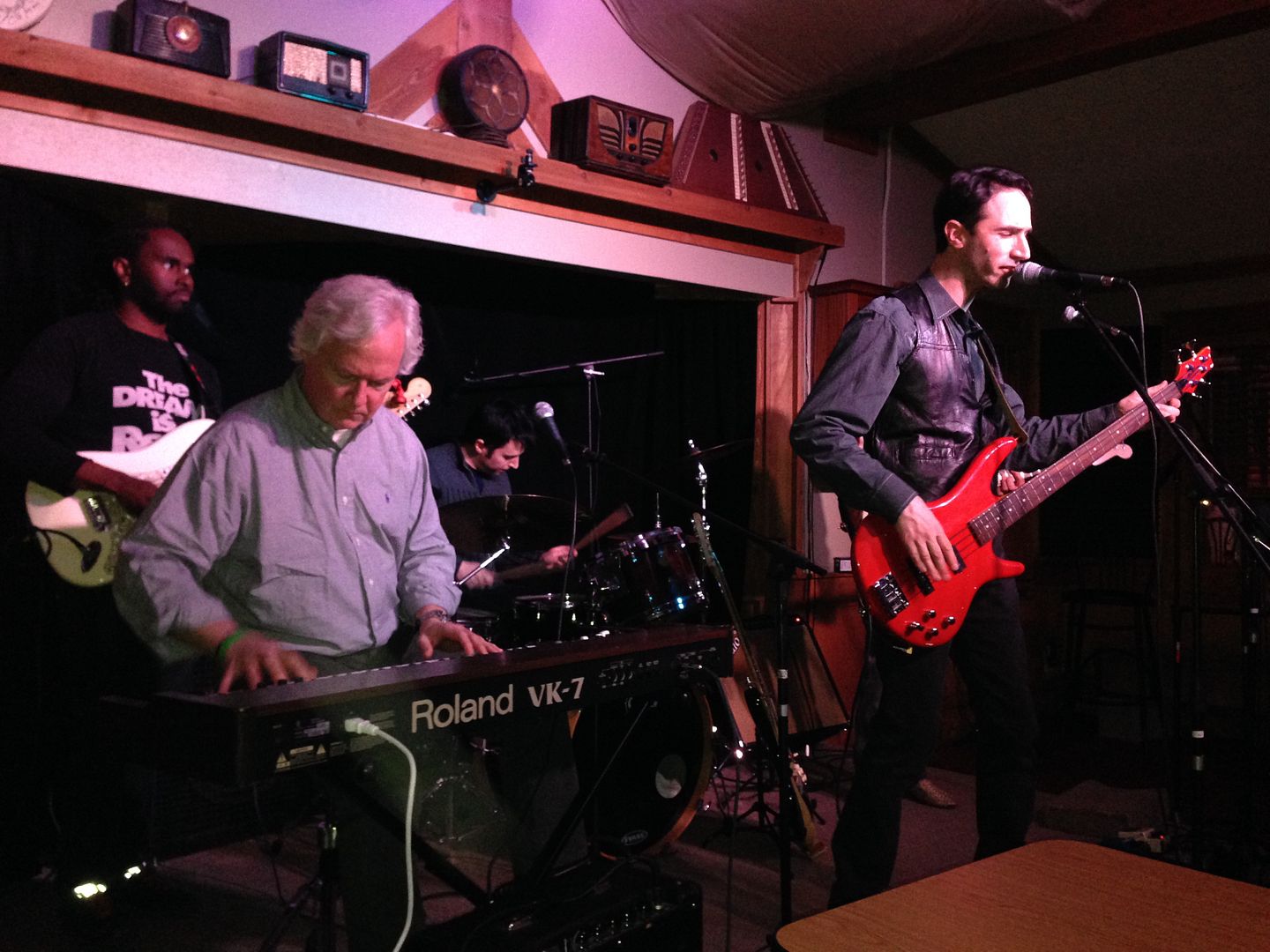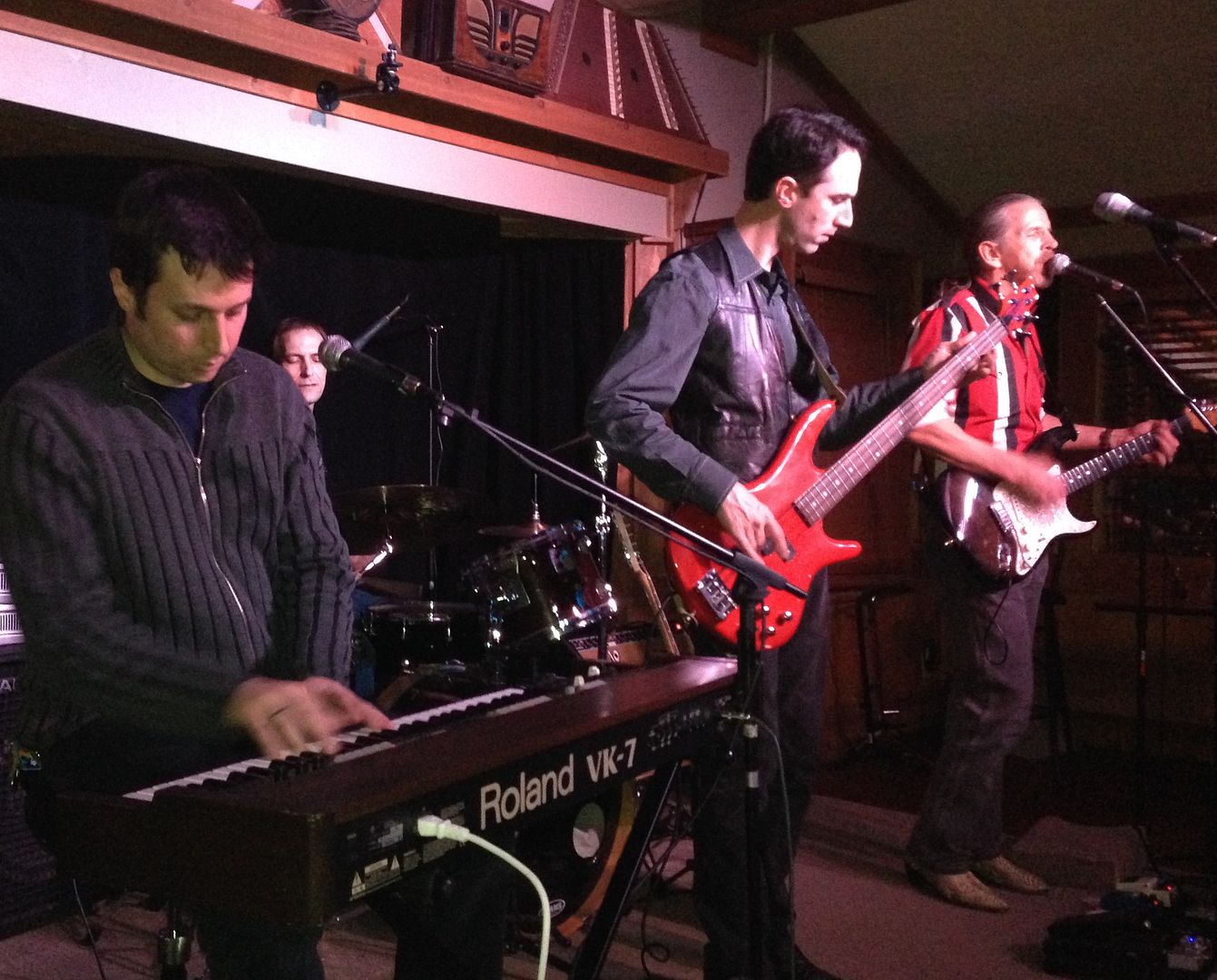 Here's a little video clip of Nick and his band (I thought the tall skinny guy in the middle looked a little like Mike Wolf on American Pickers)!
[URL=
http://i441.photobucket.com/albums/qq139/thepennylady/2014 03 Atlanta ANA/IMG_4242_zps50a86eea.mp4]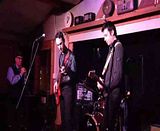 [/URL]
They had these very cool old musical instruments hanging on the wall all around the bar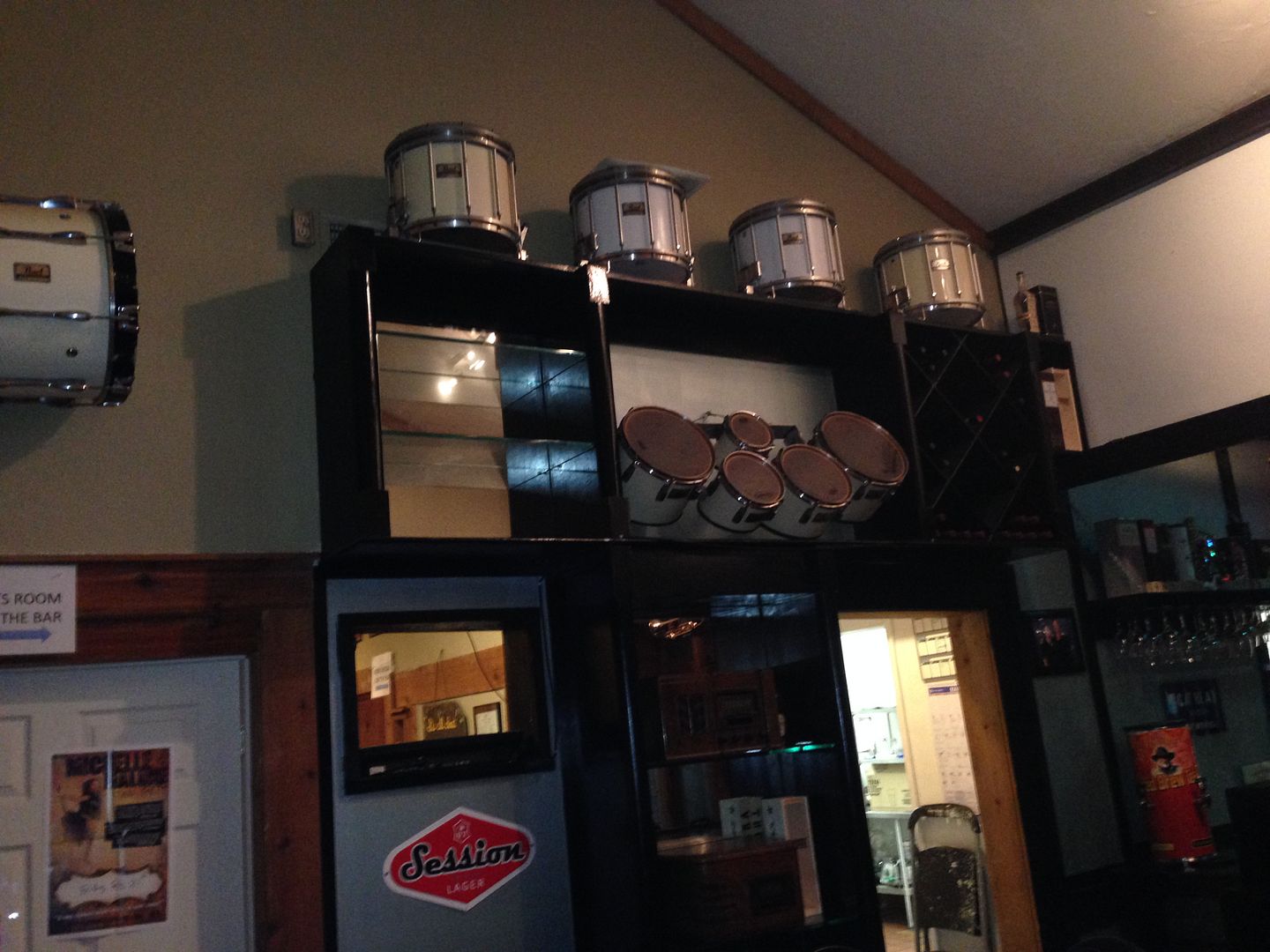 Our group – we all had a great time – thank you Nick!!!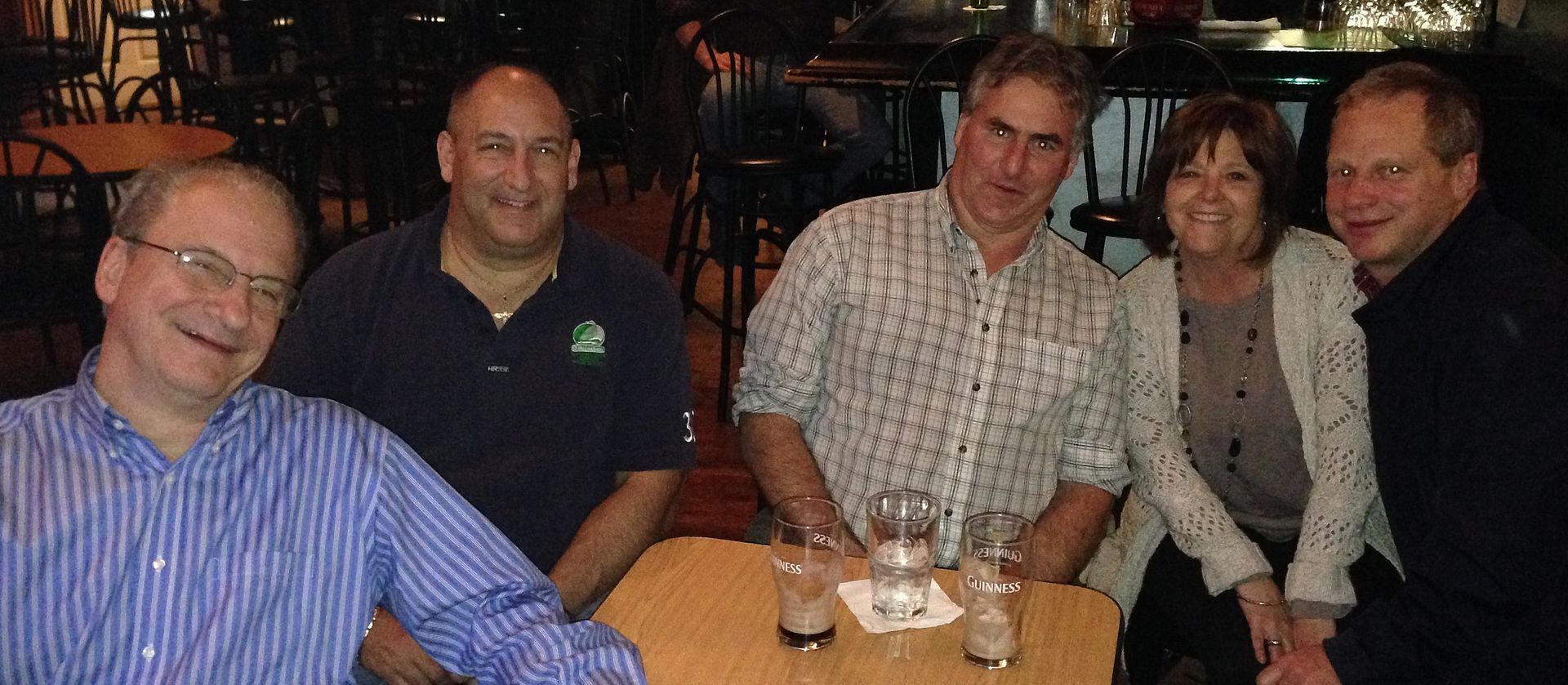 Friday started out slowly but business soon picked up. However, most dealers reported strong wholesale but poor retail sales.

Forum member Dentuck/Dennis Tucker stopped by to say hi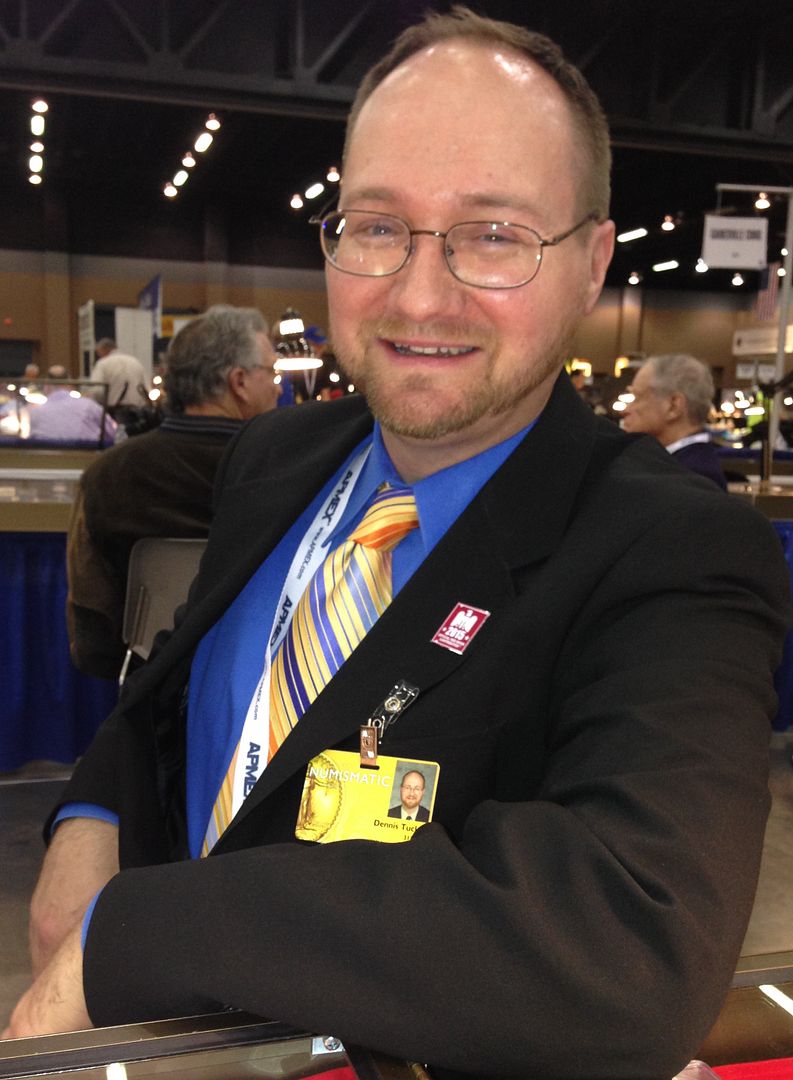 More forum members stopped by, but unfortunately, I left my list of names at the show, so I sincerely apologize for not listing their names!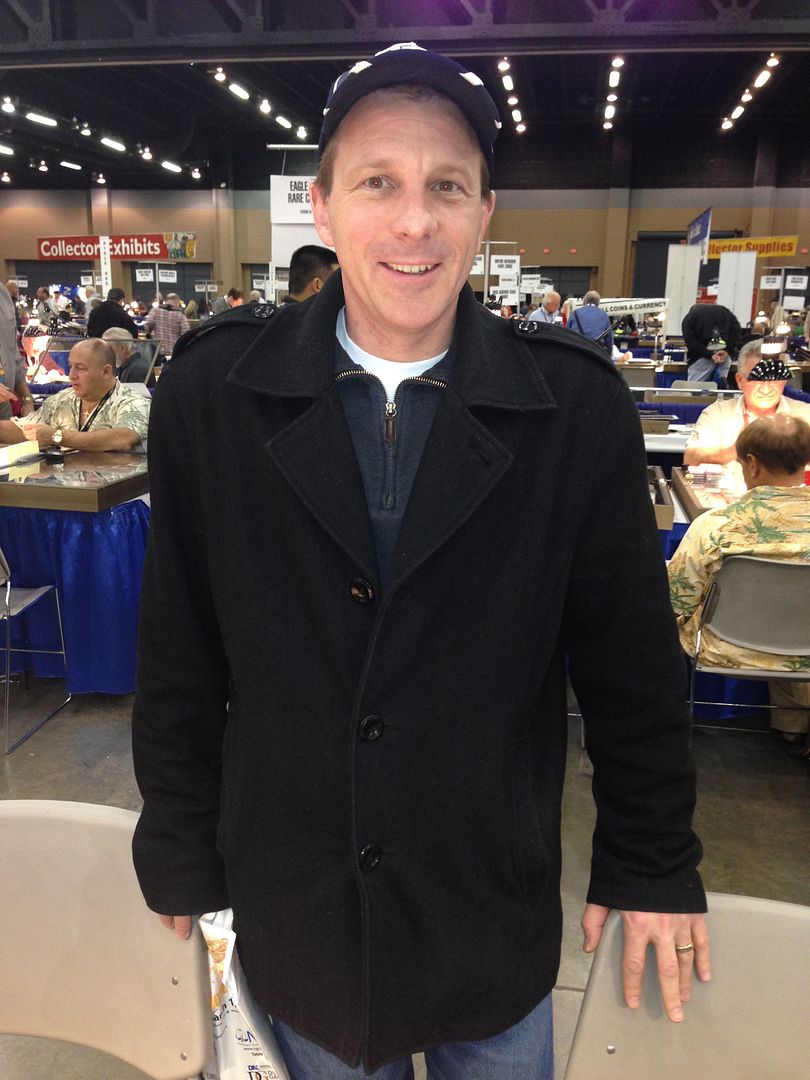 A very cute little YN who was working on the treasure trivia hunt
PCGS folks
NGC folks
Greg Hannigan and Rick Beale
On Friday night, we headed over to Ray's Steak and Seafood restaurant on the lake just a couple exits up the freeway.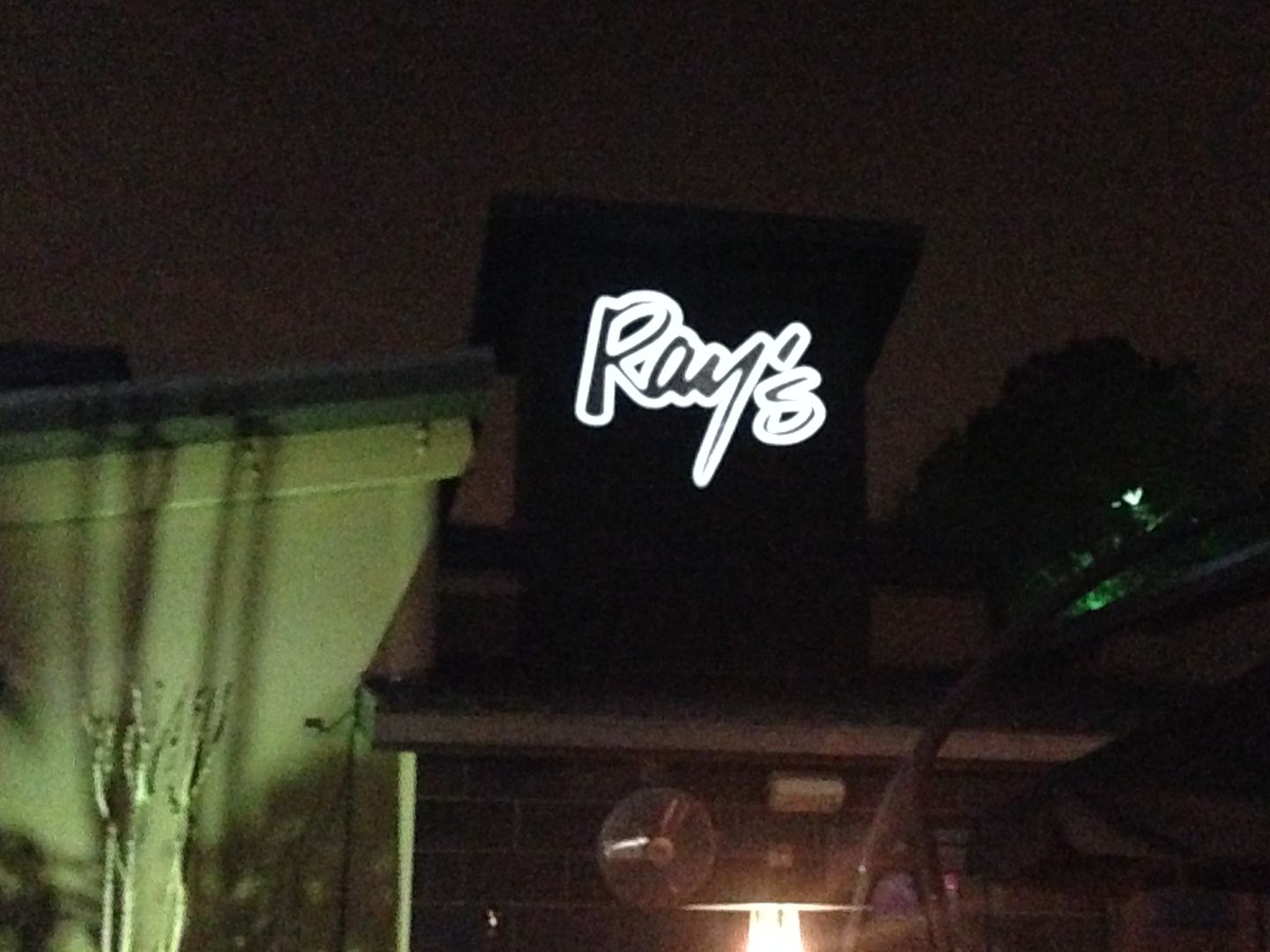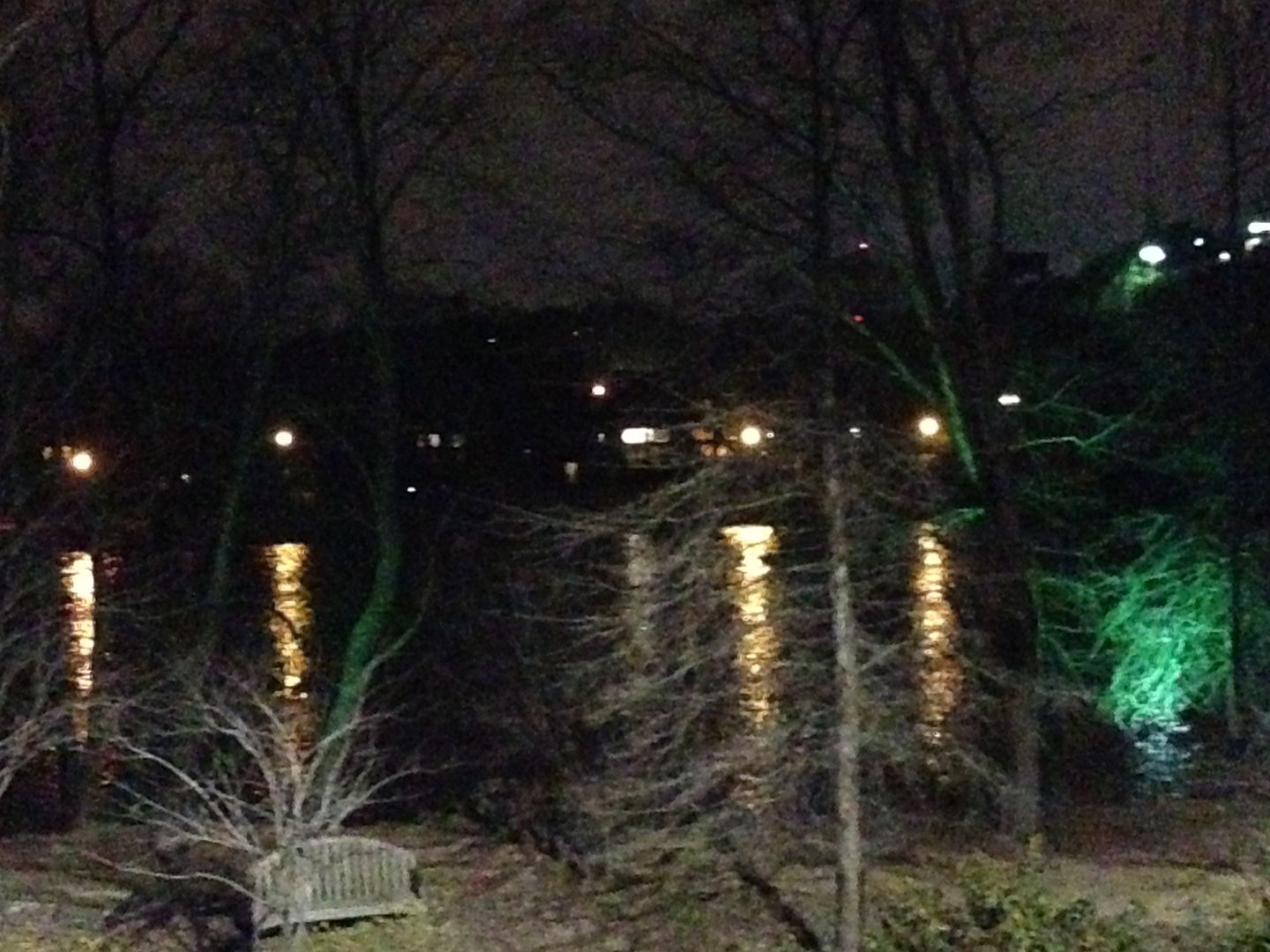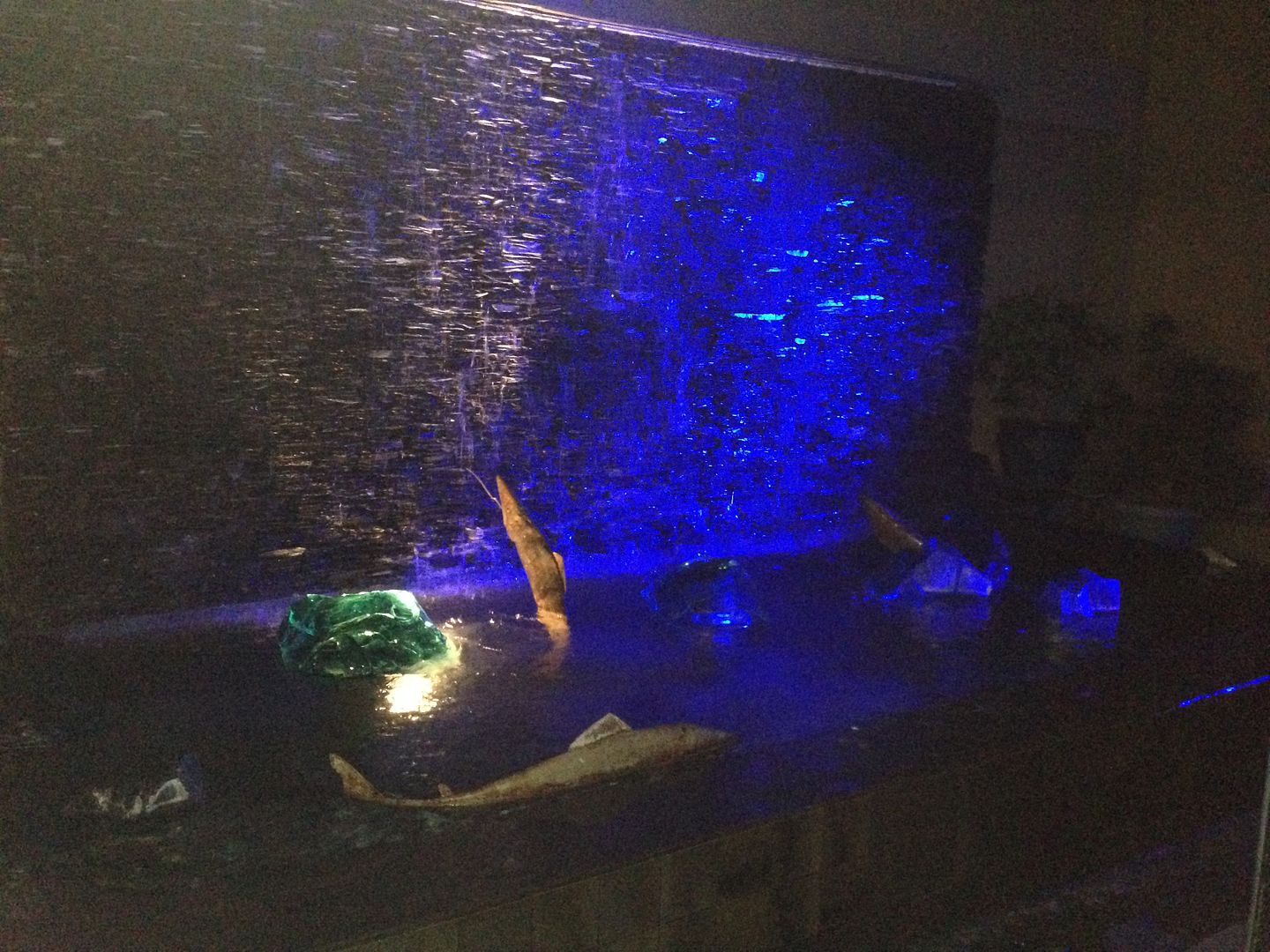 They had a great selection of wine!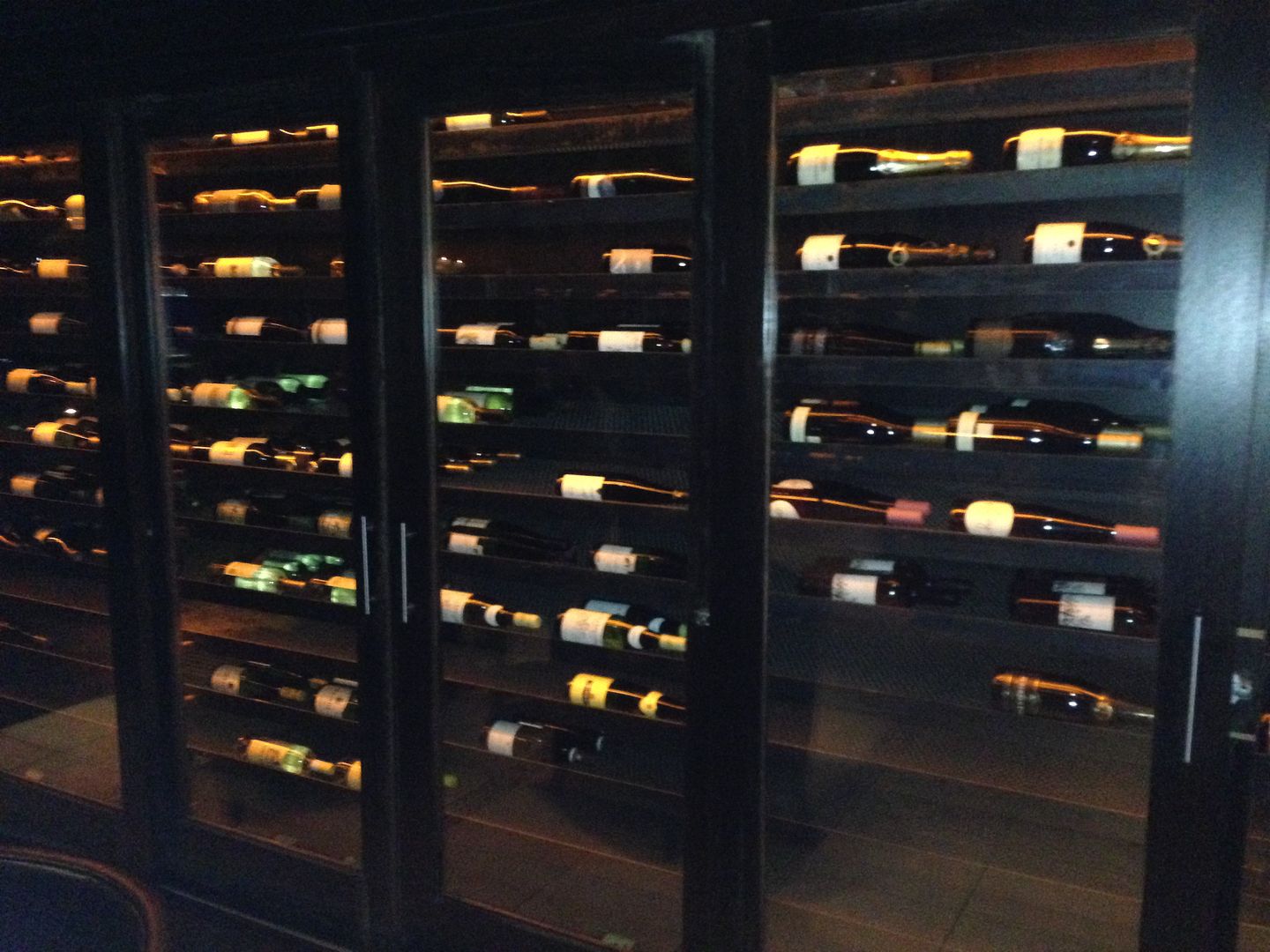 This is the wine we went with – both were very different from each other, one was pre-dinner, and the other went really well with dinner!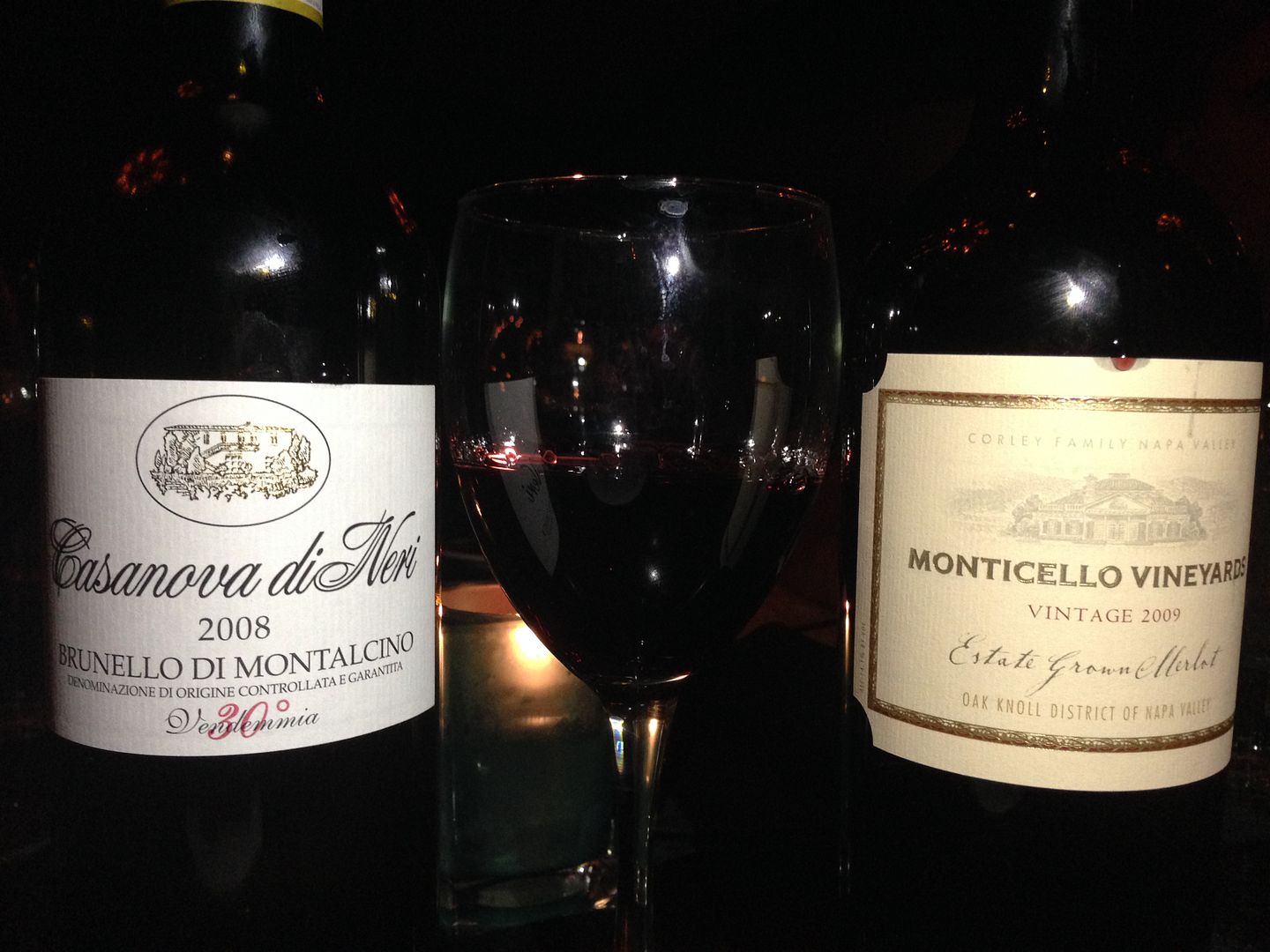 During dinner, we could hear a band playing some great music in the bar area so after dinner, we decided to stay and listen to them before heading back to the hotel. They were really good and we enjoyed all the songs they played, many from the 70's area which I particularly love!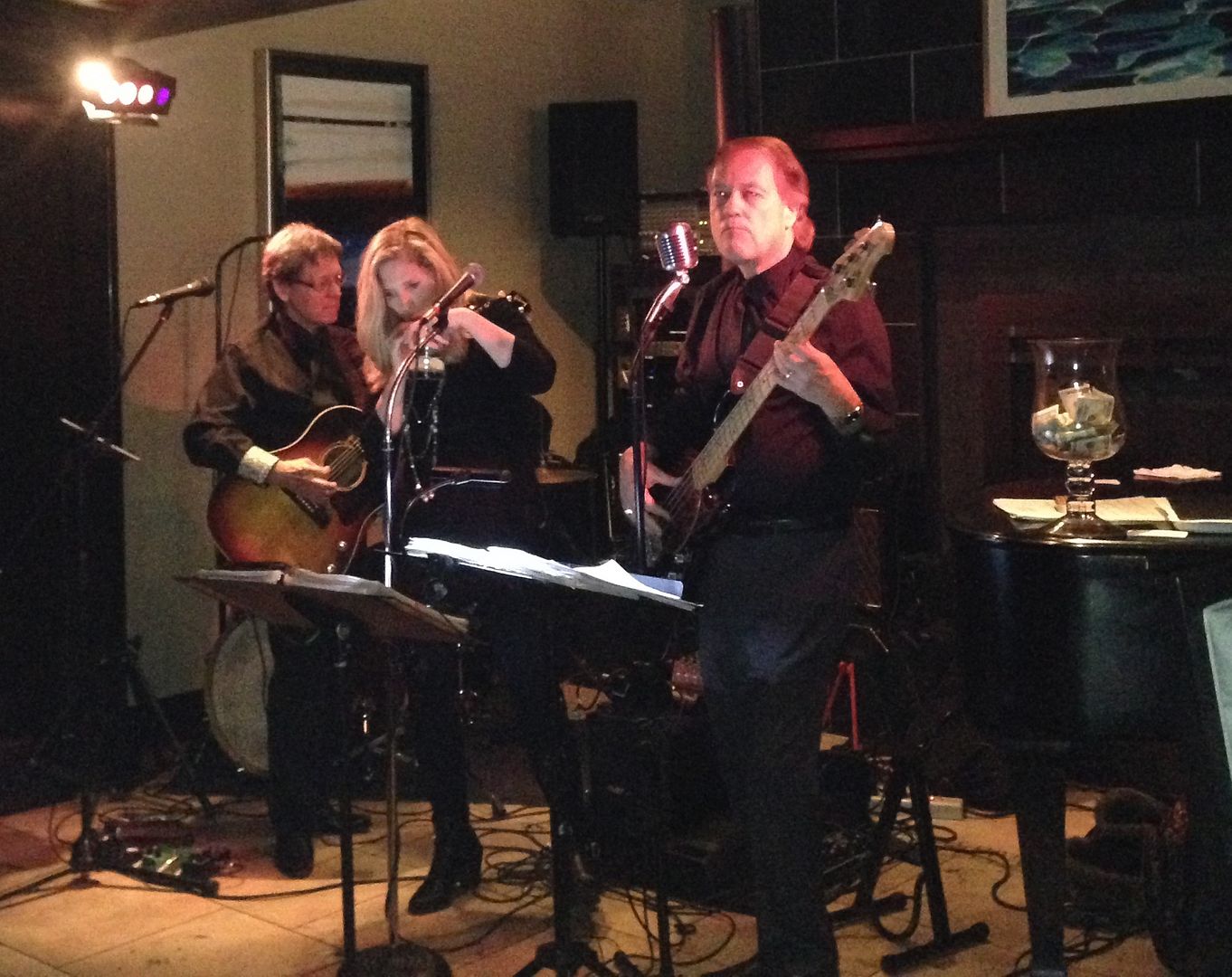 Dennis/Dennis88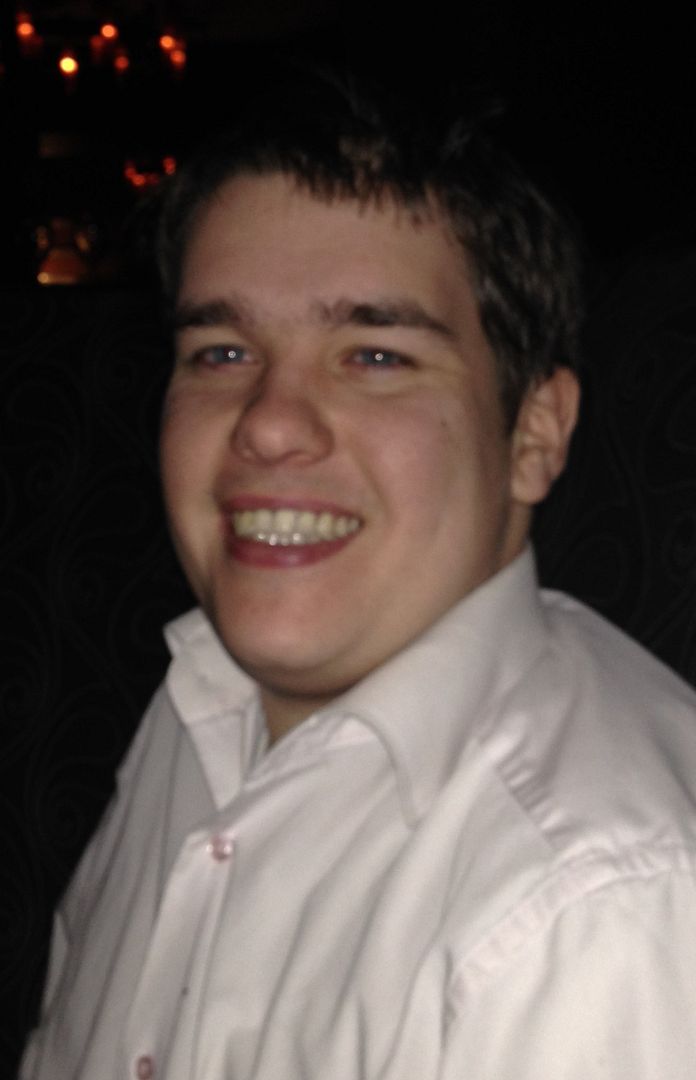 Rick Snow/Eagle Eye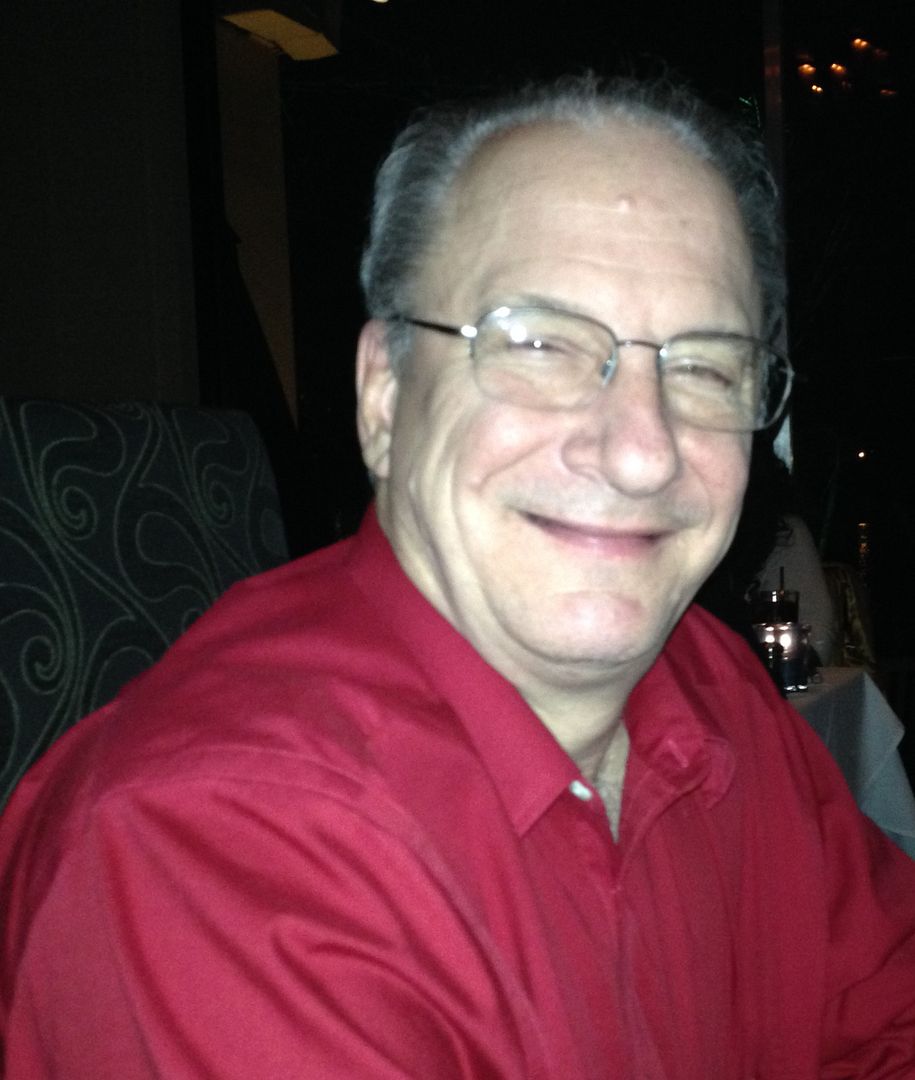 Ron
Me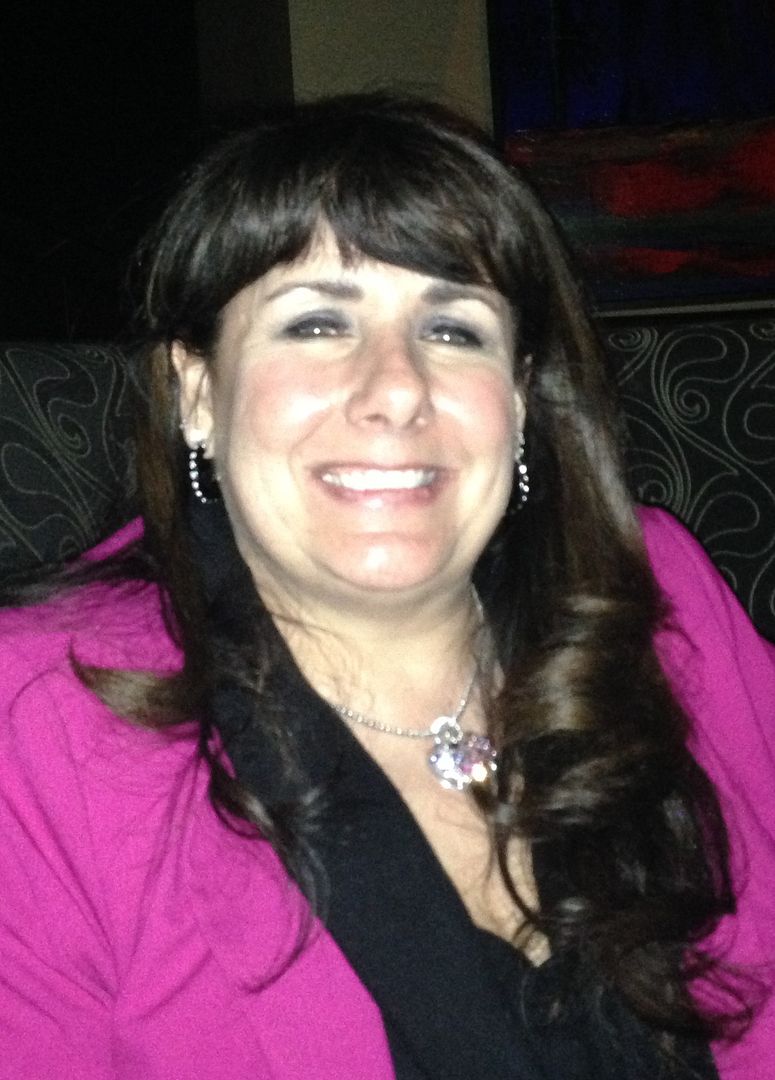 No, we weren't toasted – the flash was just really bright!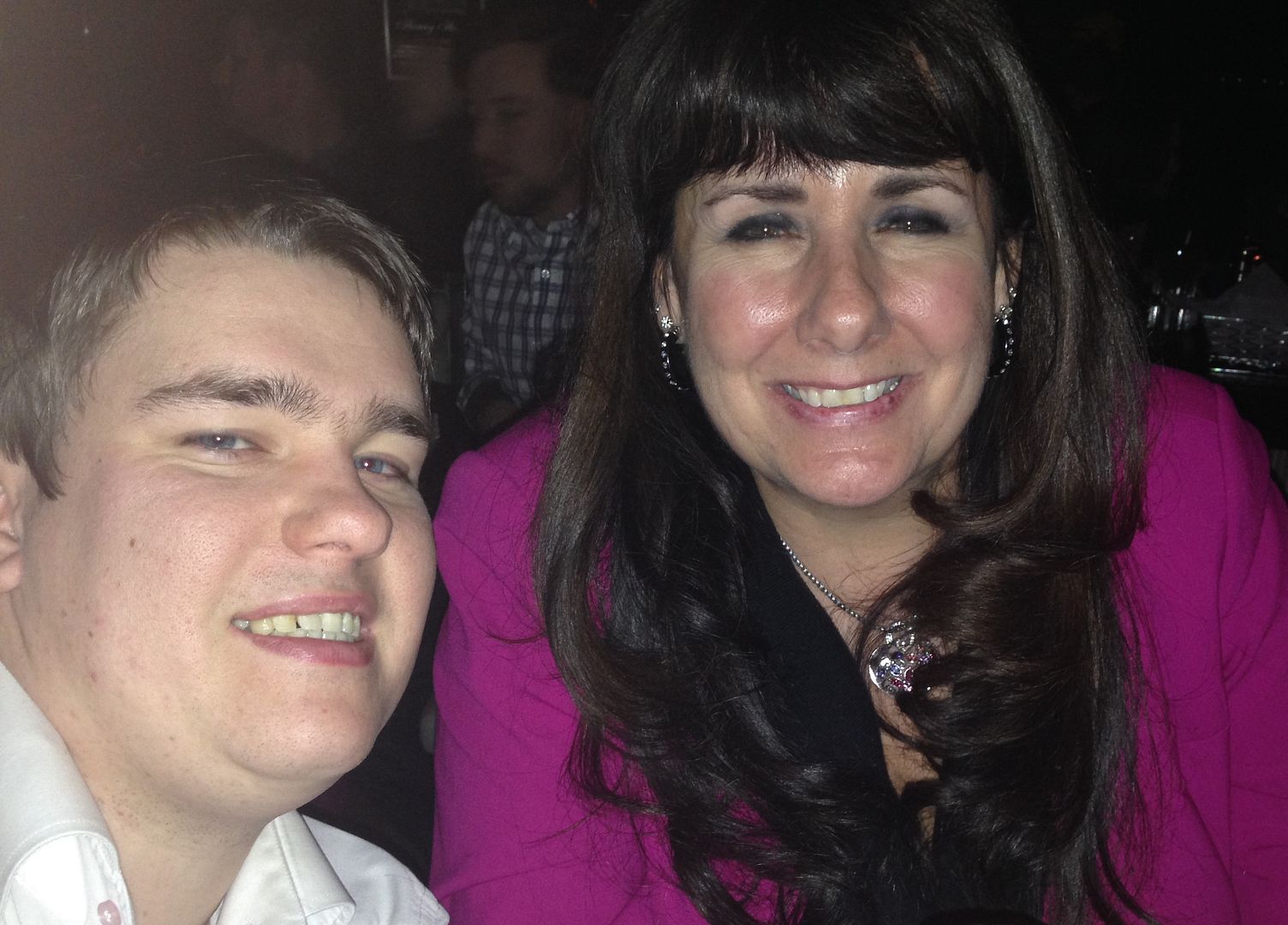 As the new president of WIN (Women in Numismatics), I'm hoping to revitalize the club and do a little revamping and remodeling of our website, club flyer, add a Facebook presence, organize social mixers, etc. We have some great people on our board and I am very excited about the future of WIN! So we had lots of things to discuss at our board meeting which meant being there Saturday morning at 7:30am, followed by our general meeting at 9:00. By the way, we're going to host our first social mixer with free hors devours during the Central States show in Chicago/Schaumberg on Thursday after the show at the Renaissance hotel bar (The Gather). It's open to anyone interested in being part of and/or supporting WIN.
After our board and general meetings, I headed over to the show and was pleased to see registration was very busy and there was quite a crowd waiting to enter the show!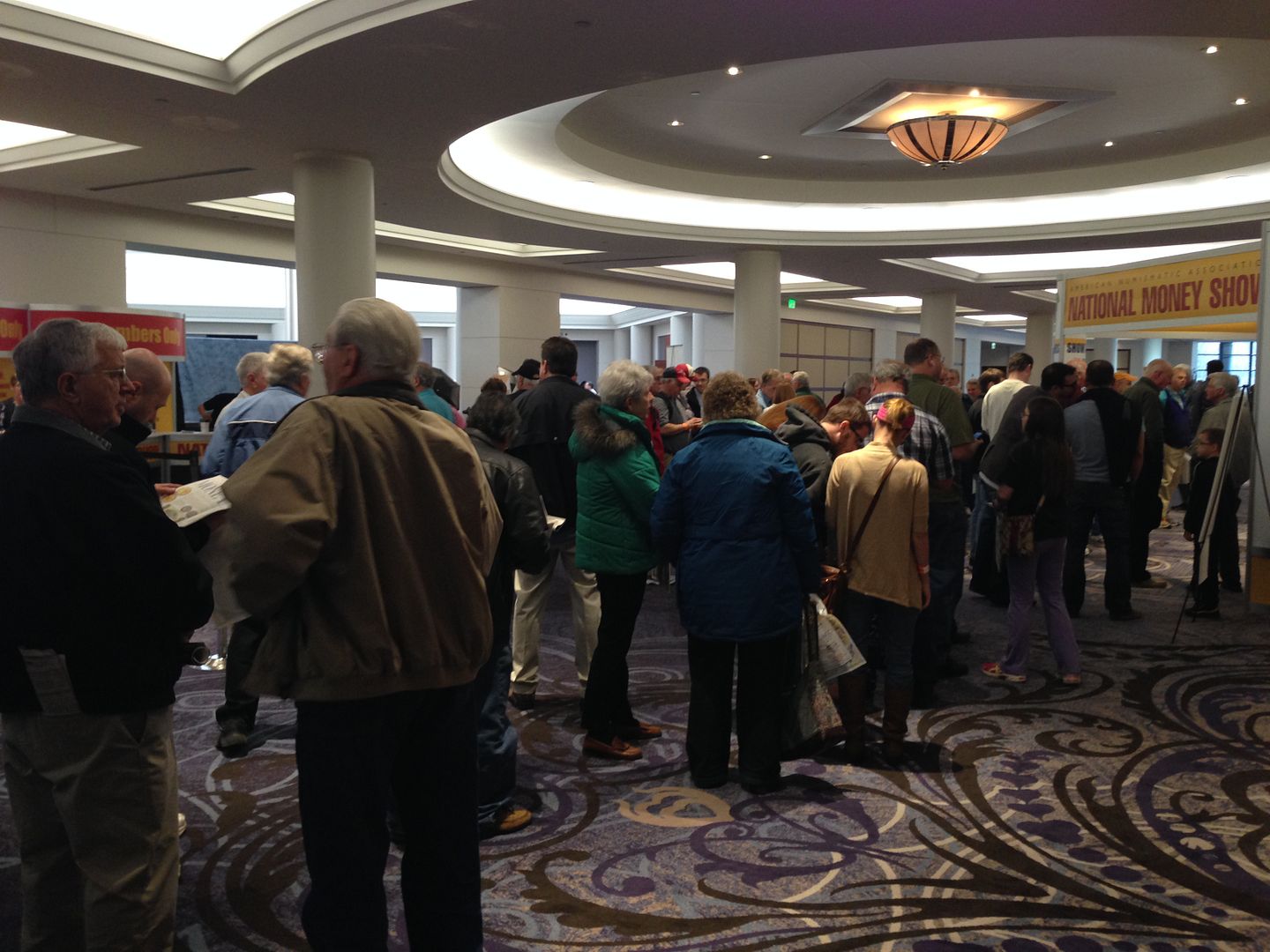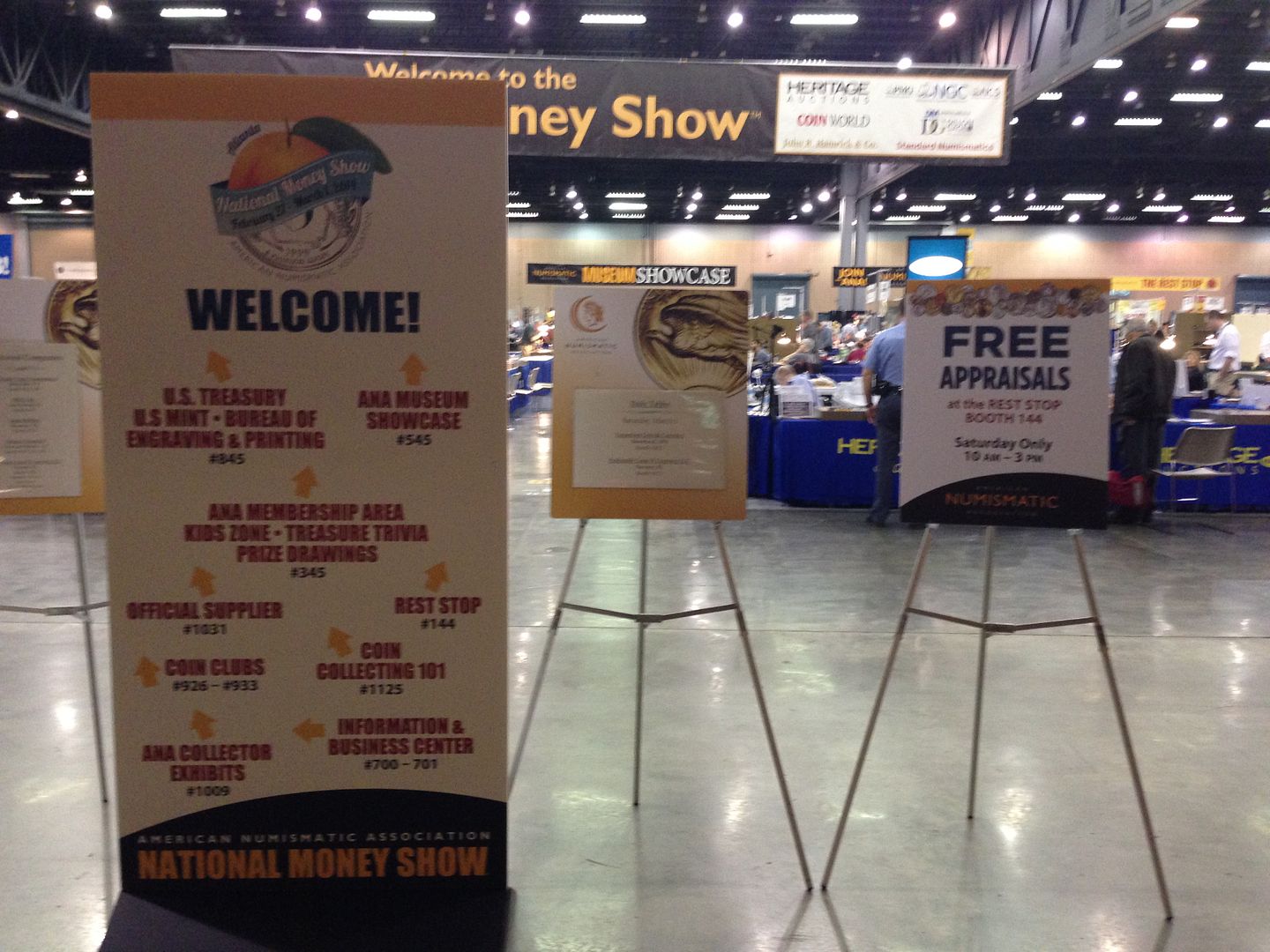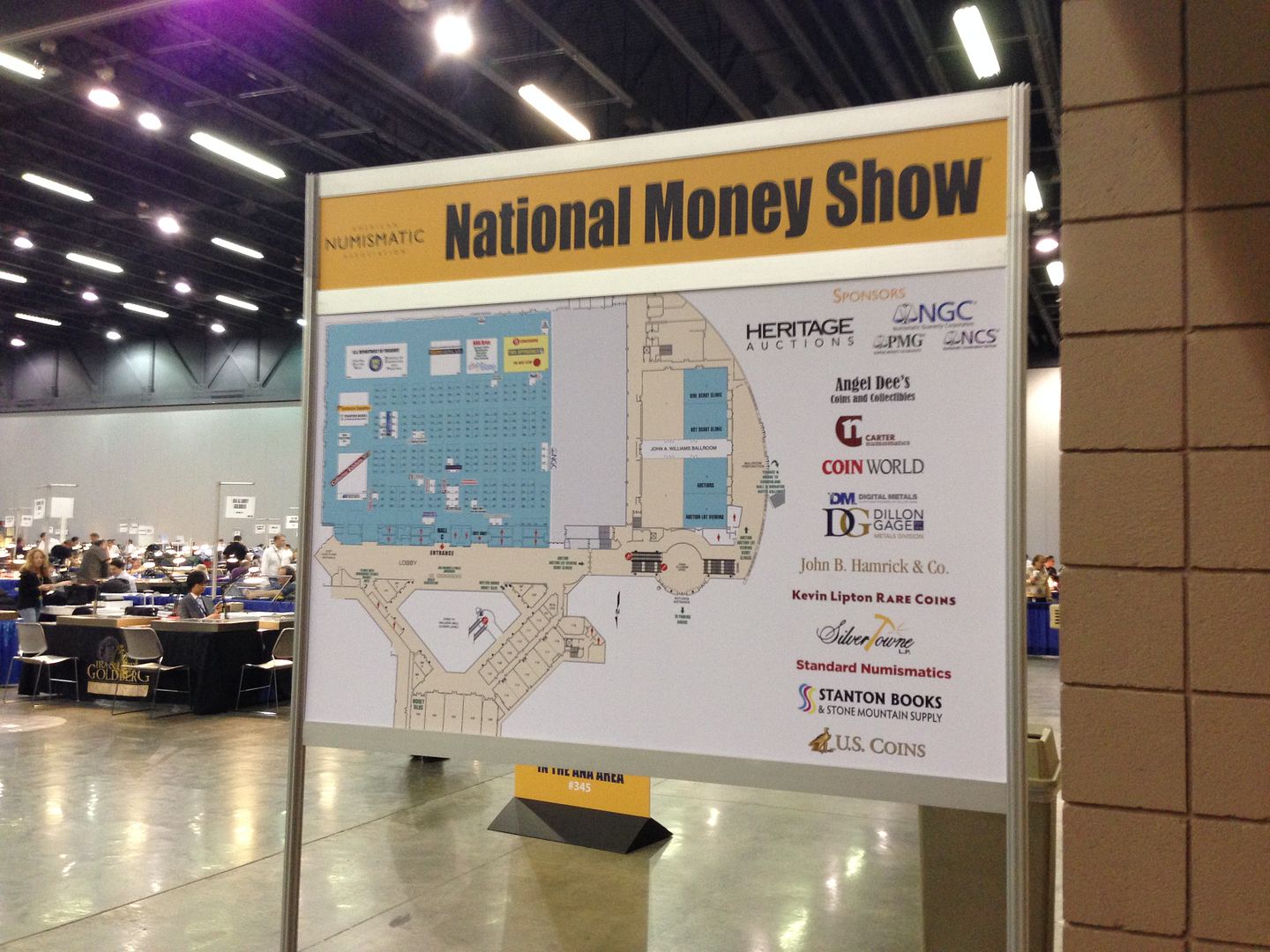 At 11:30am I headed over to the exhibit awards reception. I had already found out my exhibit won 1st place in class which made it eligible for Best in Show. So during the awards presentation, I was very pleased to find out I also won the People's Choice award, and 1st runner up for the Best in Show!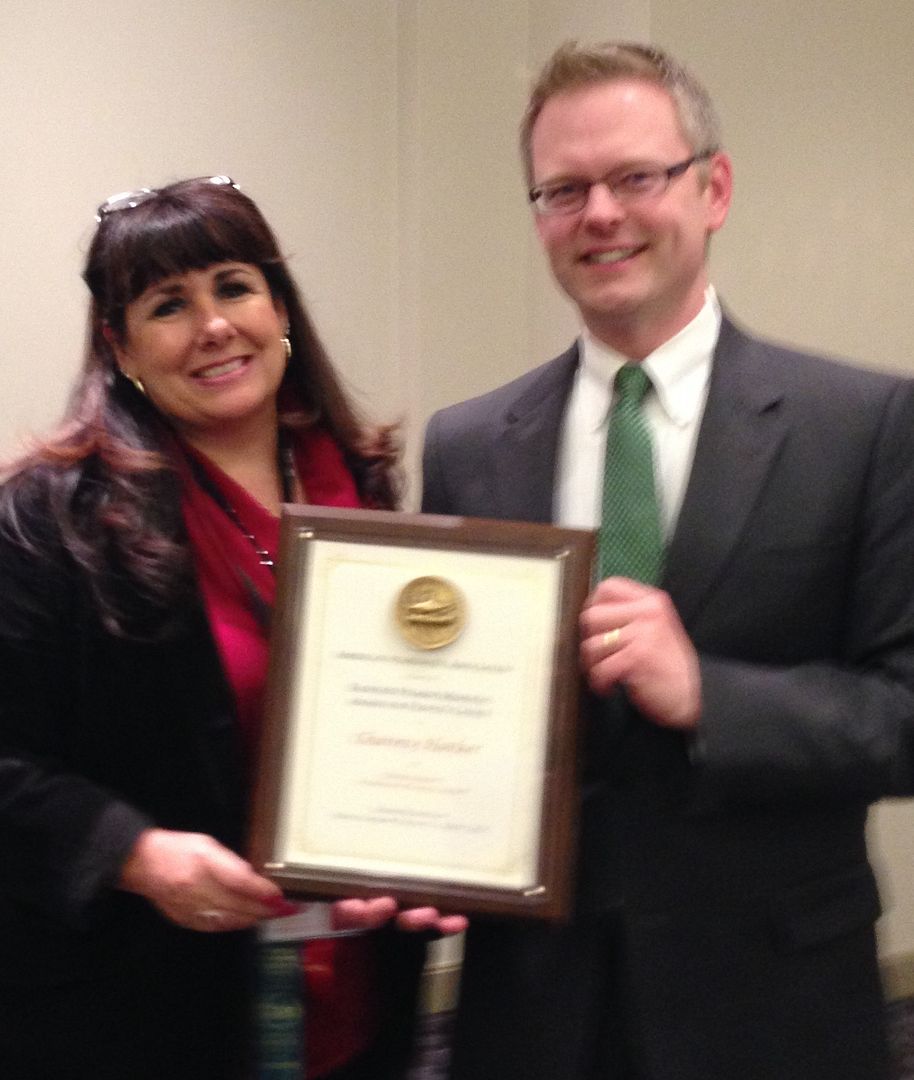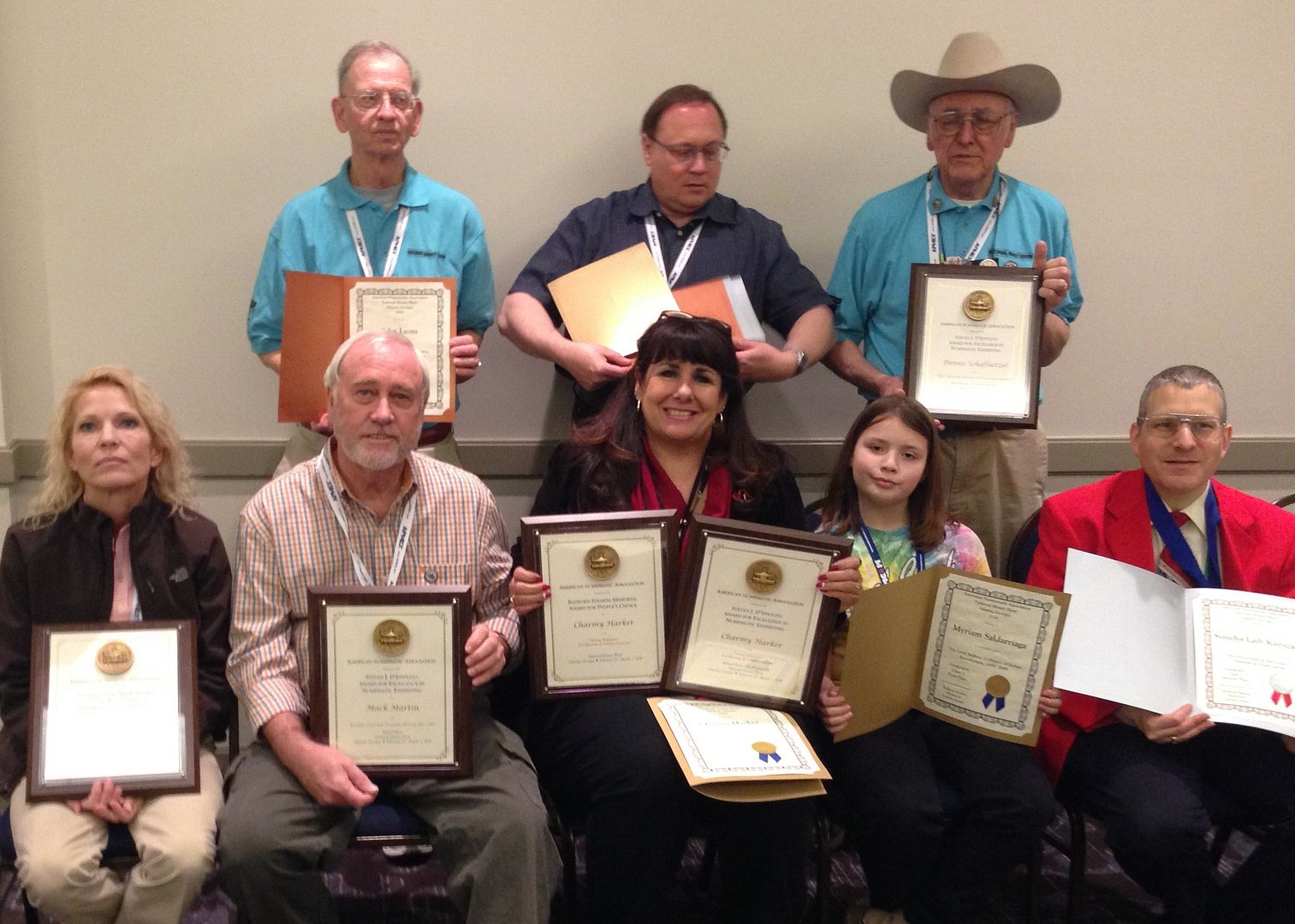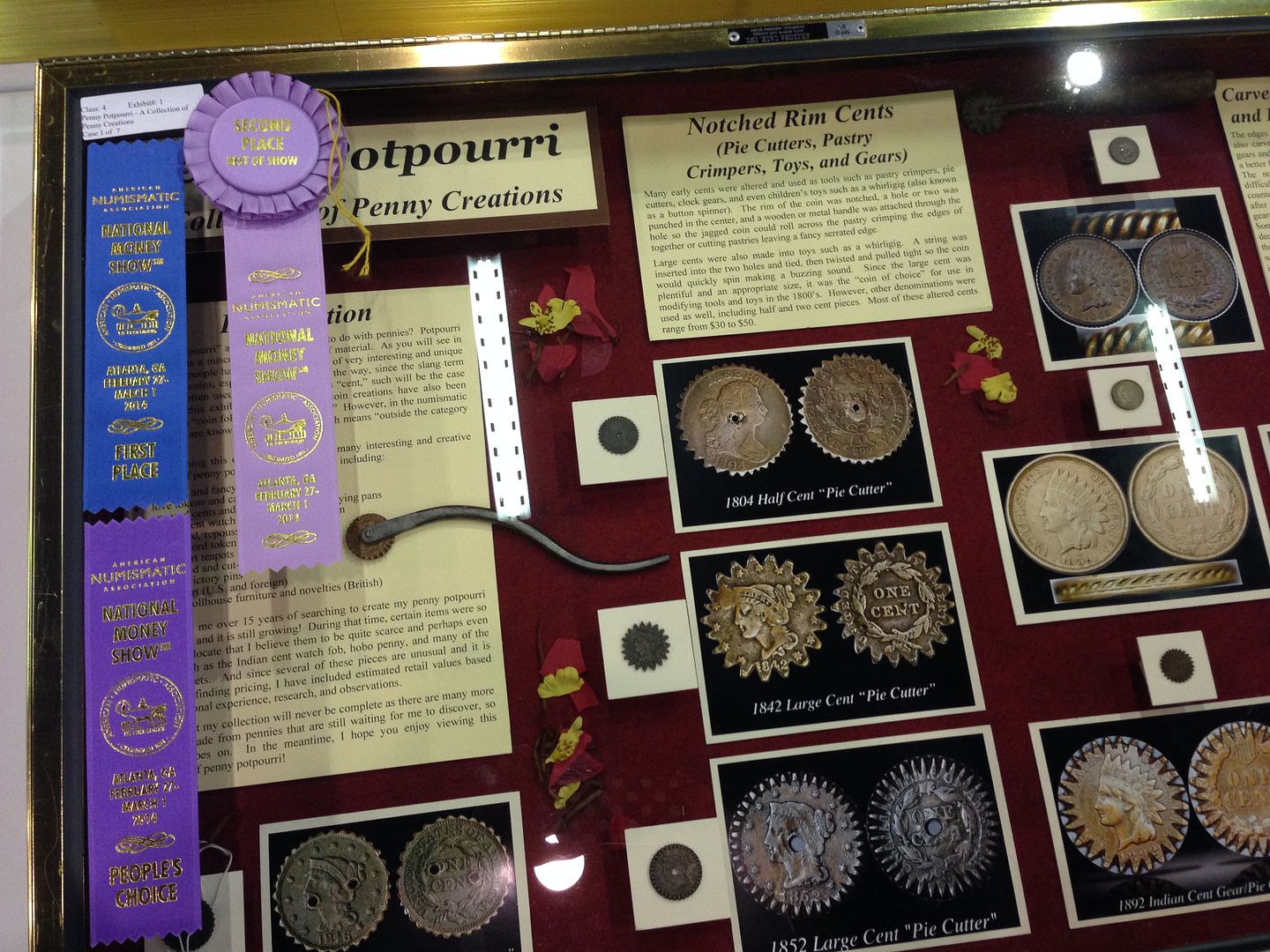 The Best in Show award went to a wonderful exhibit about the history of Georgia money (very appropriate since we were in Atlanta!). He had about 10 cases of various Georgia notes.
When the awards presentation was over, I went over to the exhibit area and was so surprised to see there were several people viewing my exhibit! I sort of stood around and just listened to their comments. Knowing that people enjoy what you created is what makes exhibiting worth all the work and time in organizing it, writing the stories, keeping it updated, transporting it, setting it up, and taking it down.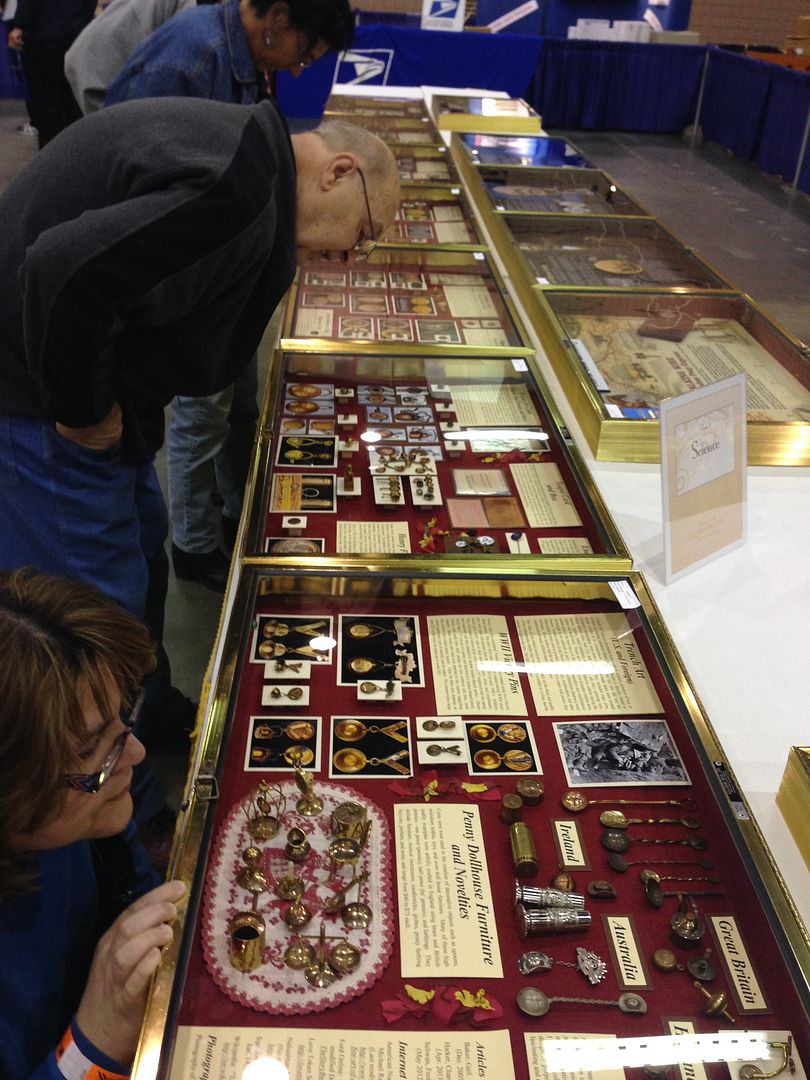 The little girl in this picture is 10-year old Miriam and she put together a great exhibit on Indian cents – she won 1st in her class.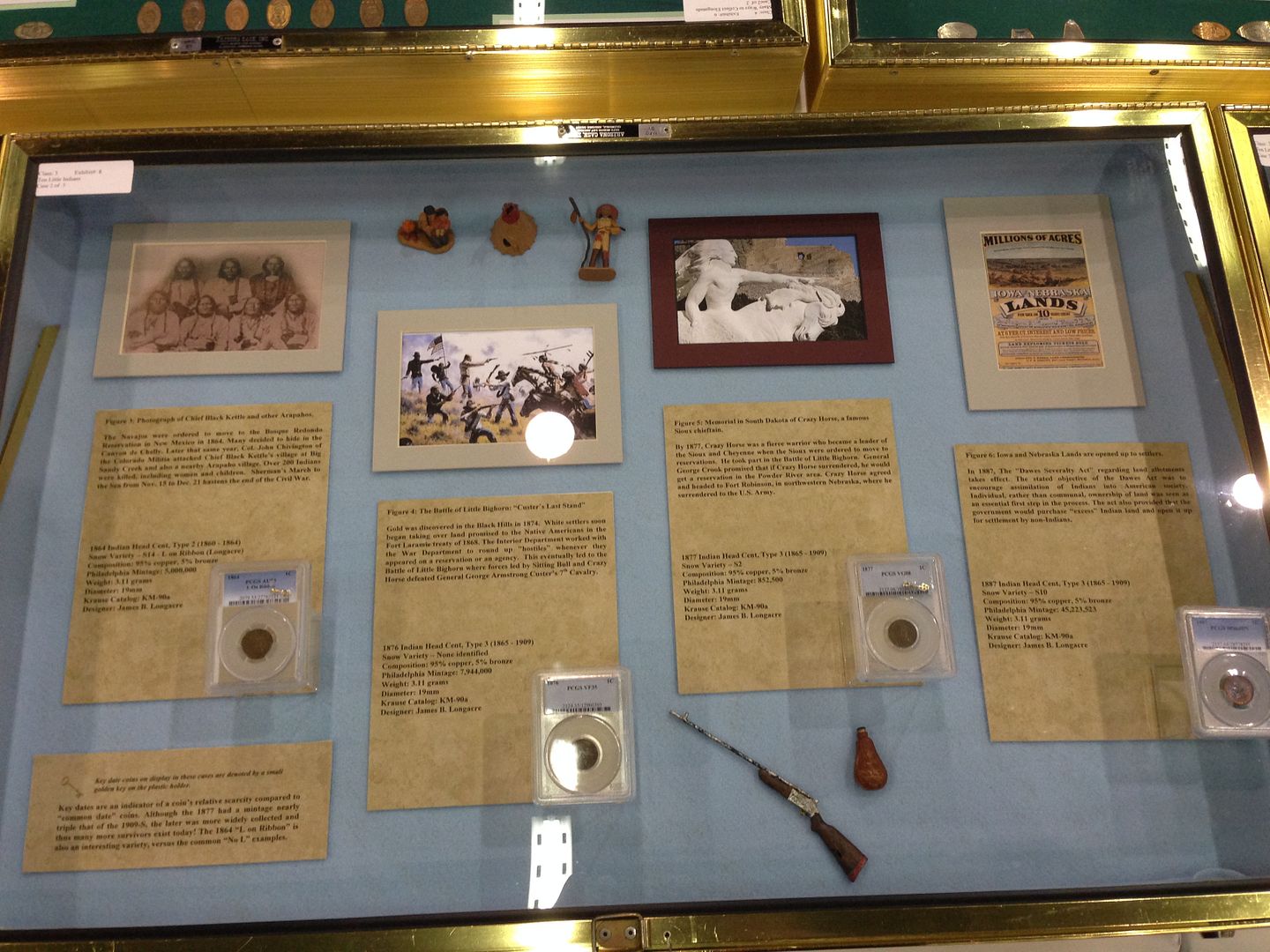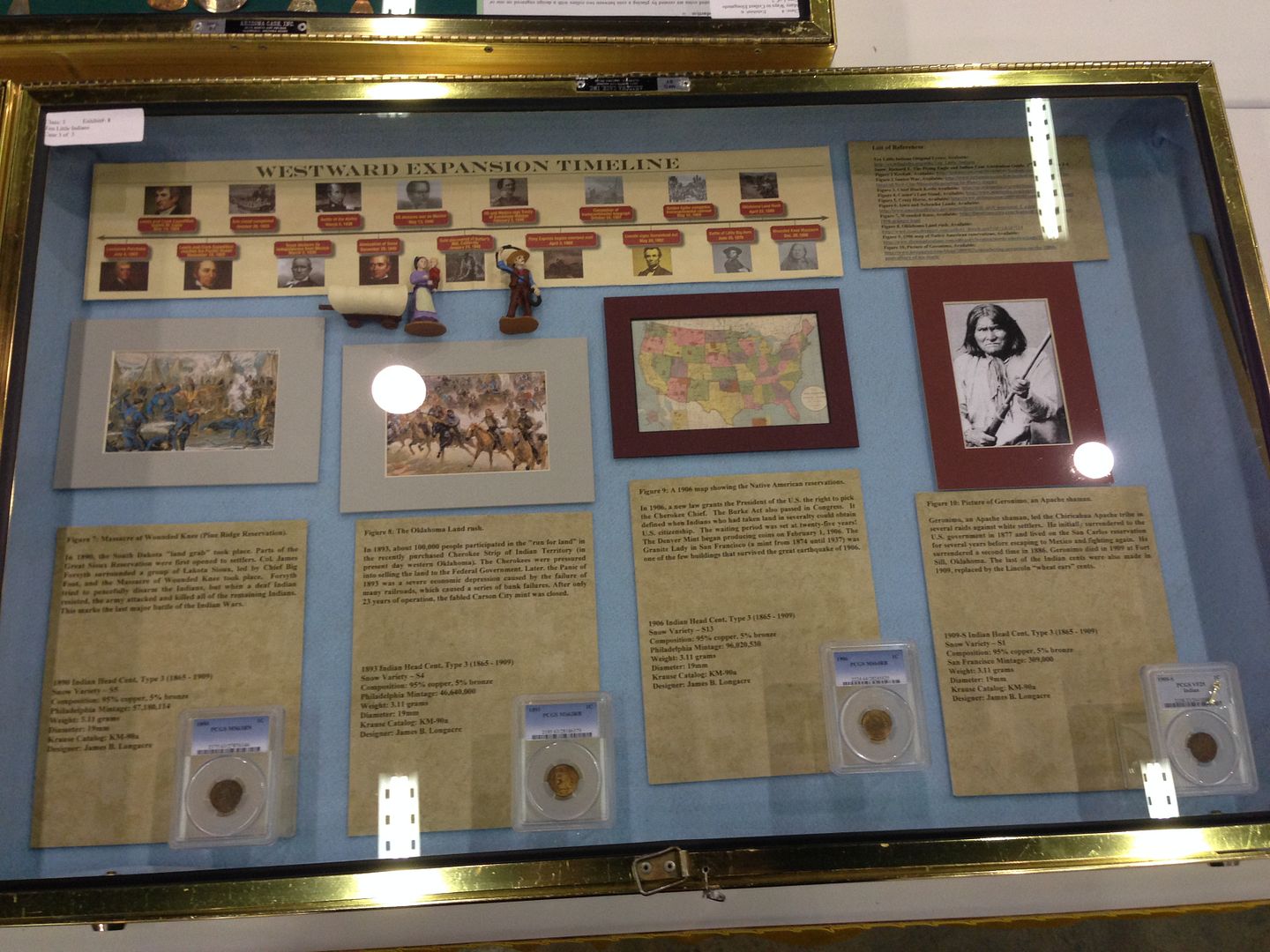 Mike/MFH and Glen Holsonbake/PonyExpress
Even though it was a busy show, as I mentioned above, it was not a great retail show. I did buy some great coins, including some beautiful toned proofs, and several other great coins for my inventory. Here are iPhone photos of the toned coins I bought – of course, these photos do not do these beauties justice!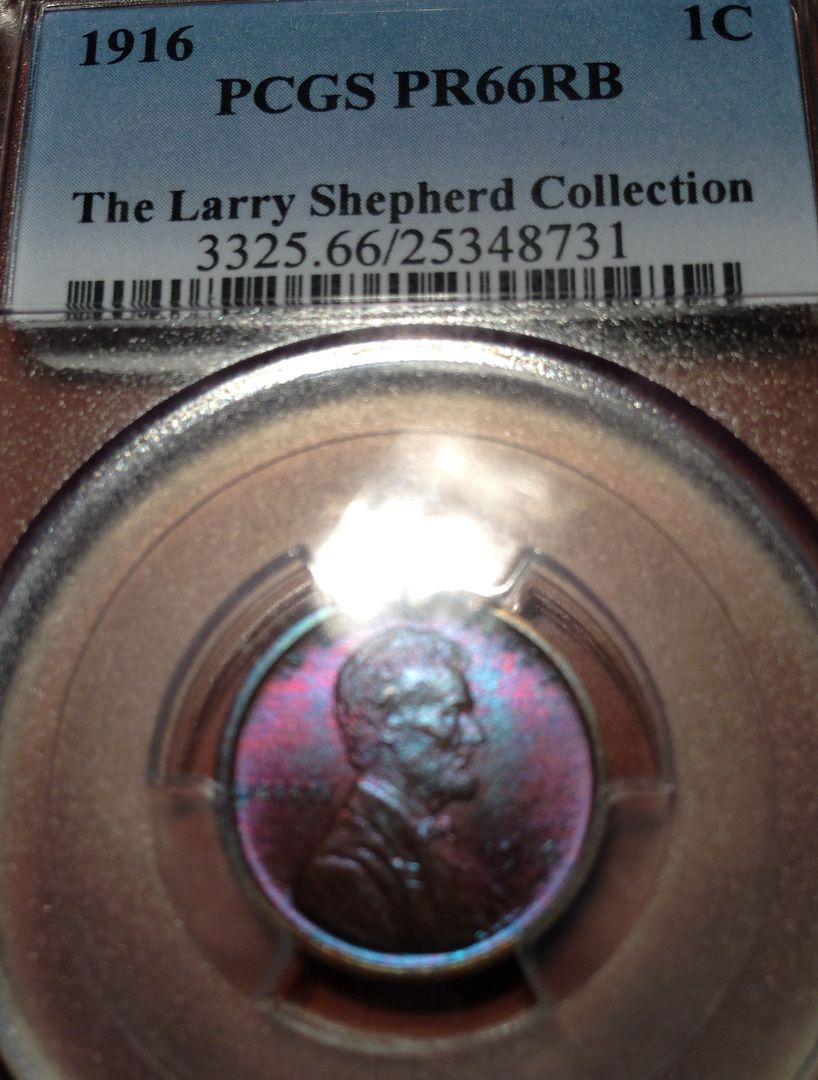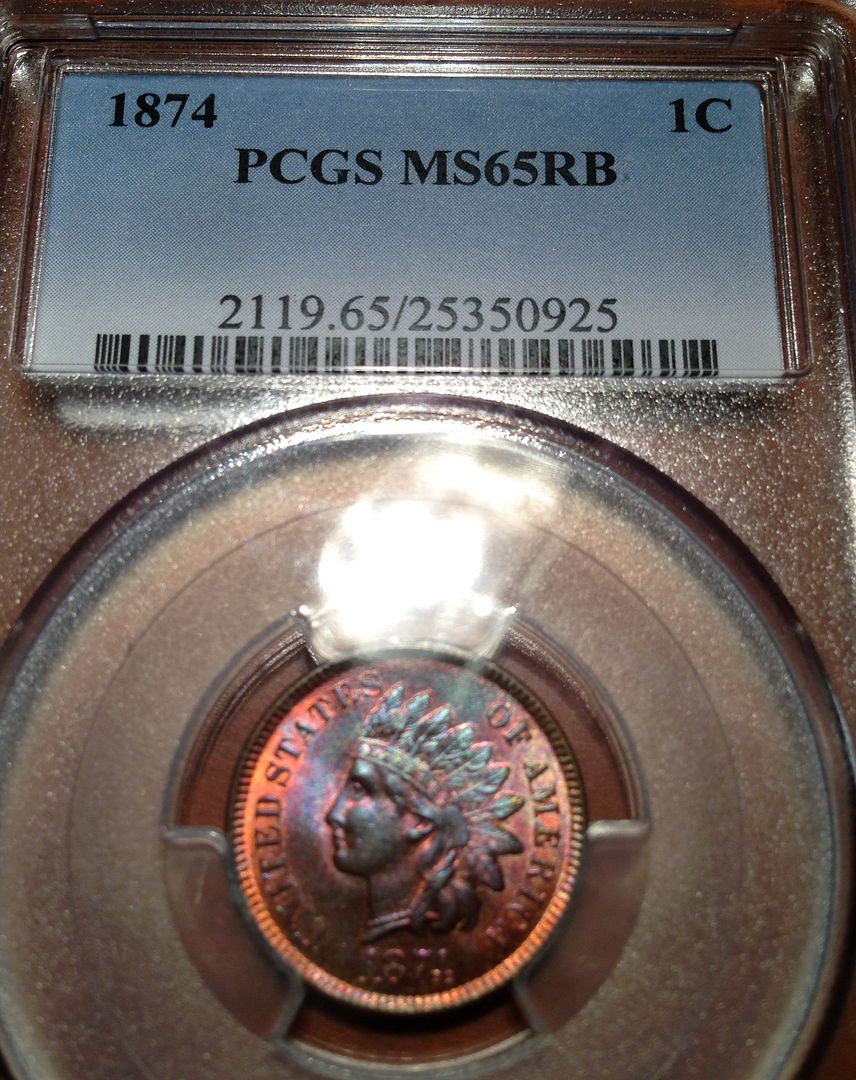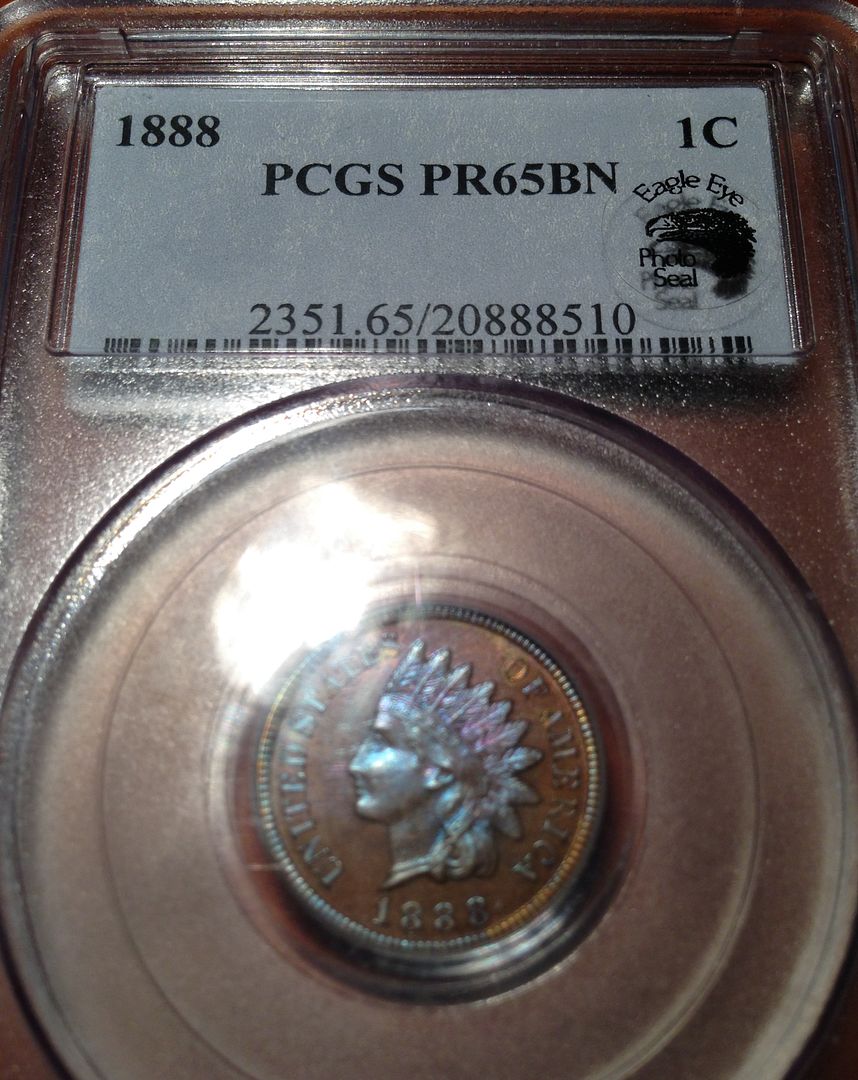 And here are all my Atlanta newps (I know you're thinking, what the heck are all those stickers for? Well, they actually serve a very helpful purpose. The red stickers are for pretty toned coins, the blue ones are for proofs, and the round green sticker is for an error or variety. This system really helps my customers be able to quickly find the type of coin they are looking for without having to search and read each coin label.)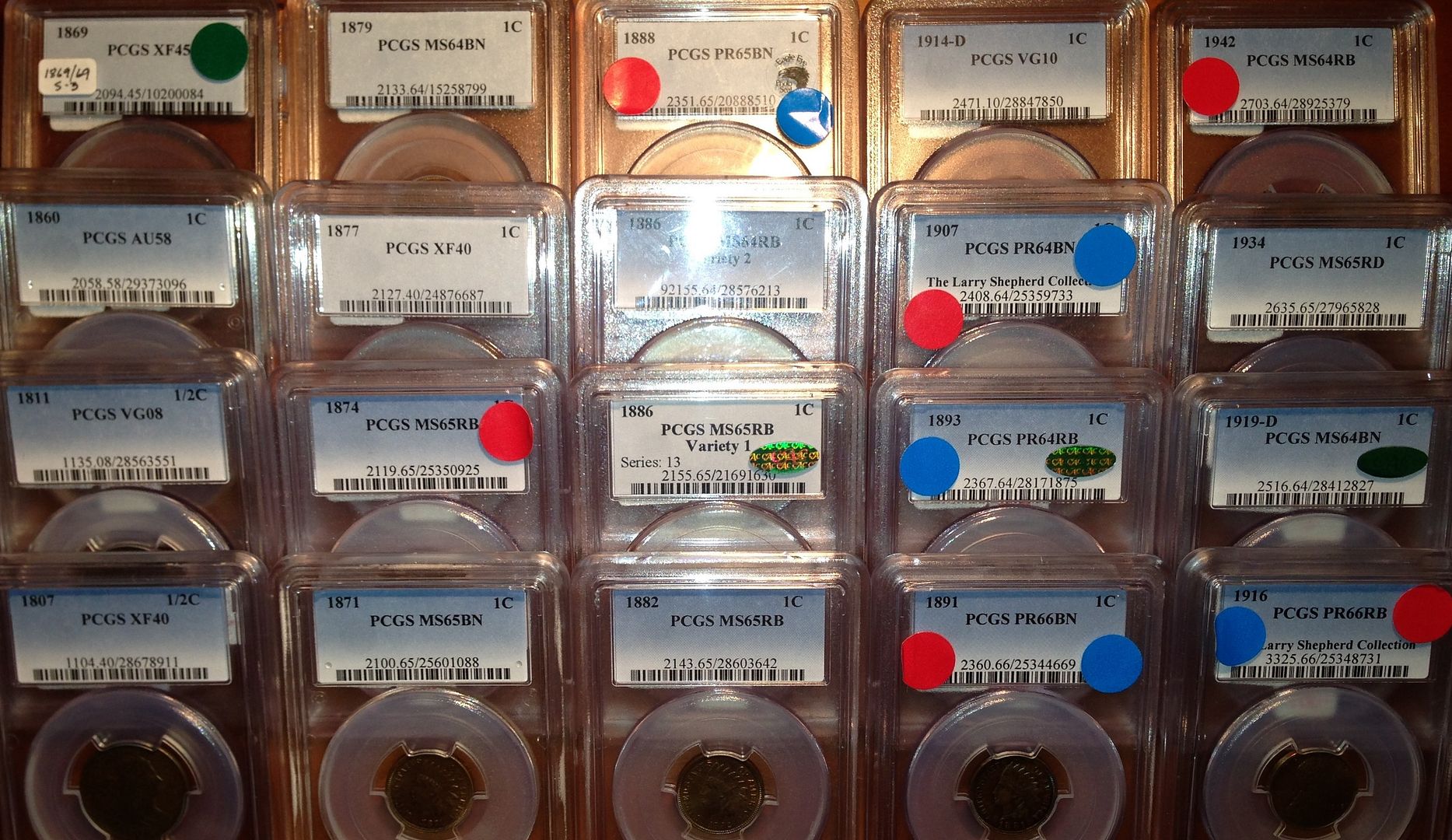 There were lots of kids on Saturday doing the treasure trivia and stopping by my table for their trivia question/answer. And I also had lots of people looking at coins at the same time, so it made for a very busy day. But soon it was time to pack up my booth, and then my exhibit, and head to the airport.
Since I hadn't really gotten to see much of the city part of Atlanta, as we drove to the airport, the taxi driver was really nice to point out several city "landmarks" throughout or drive.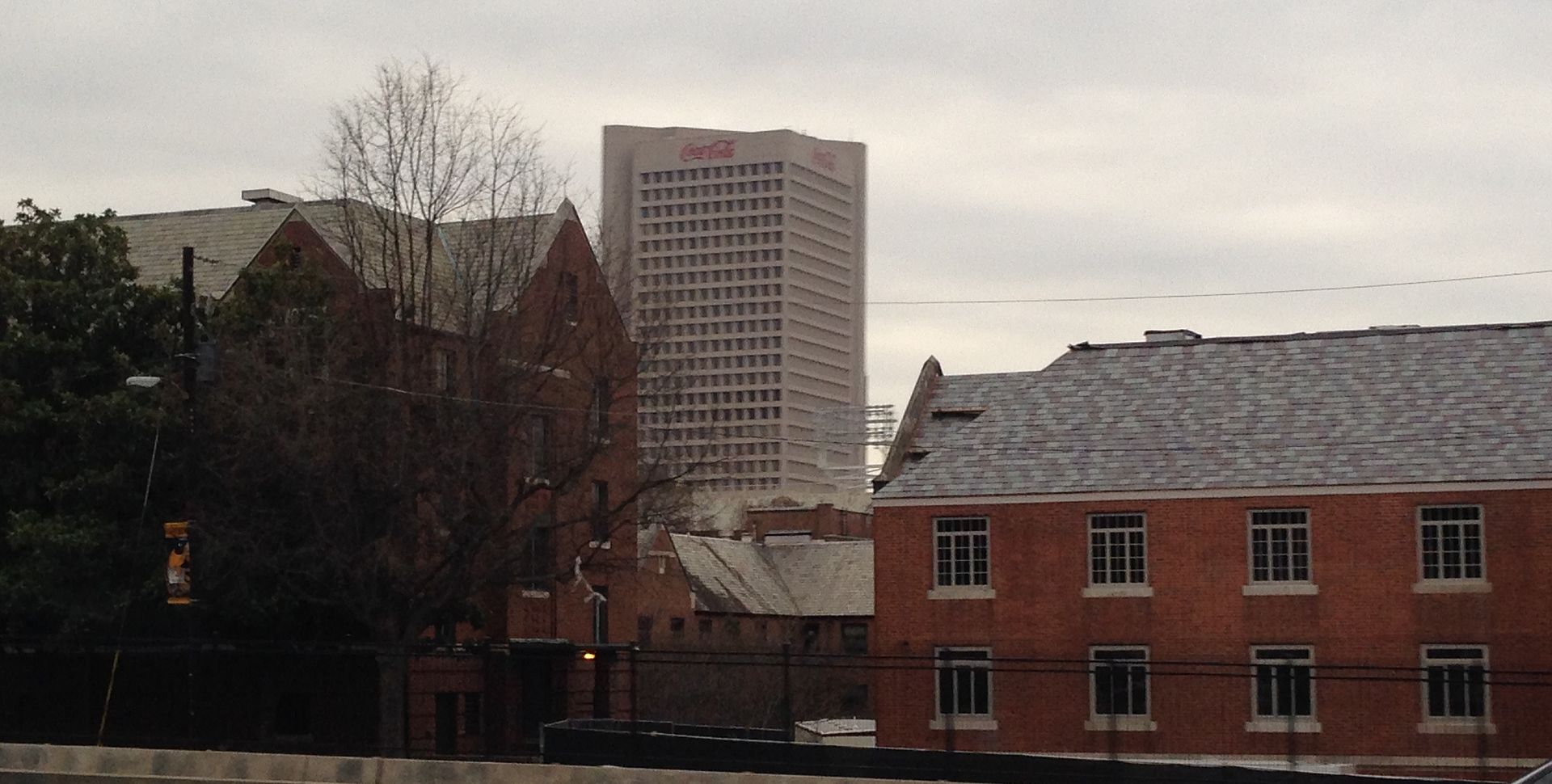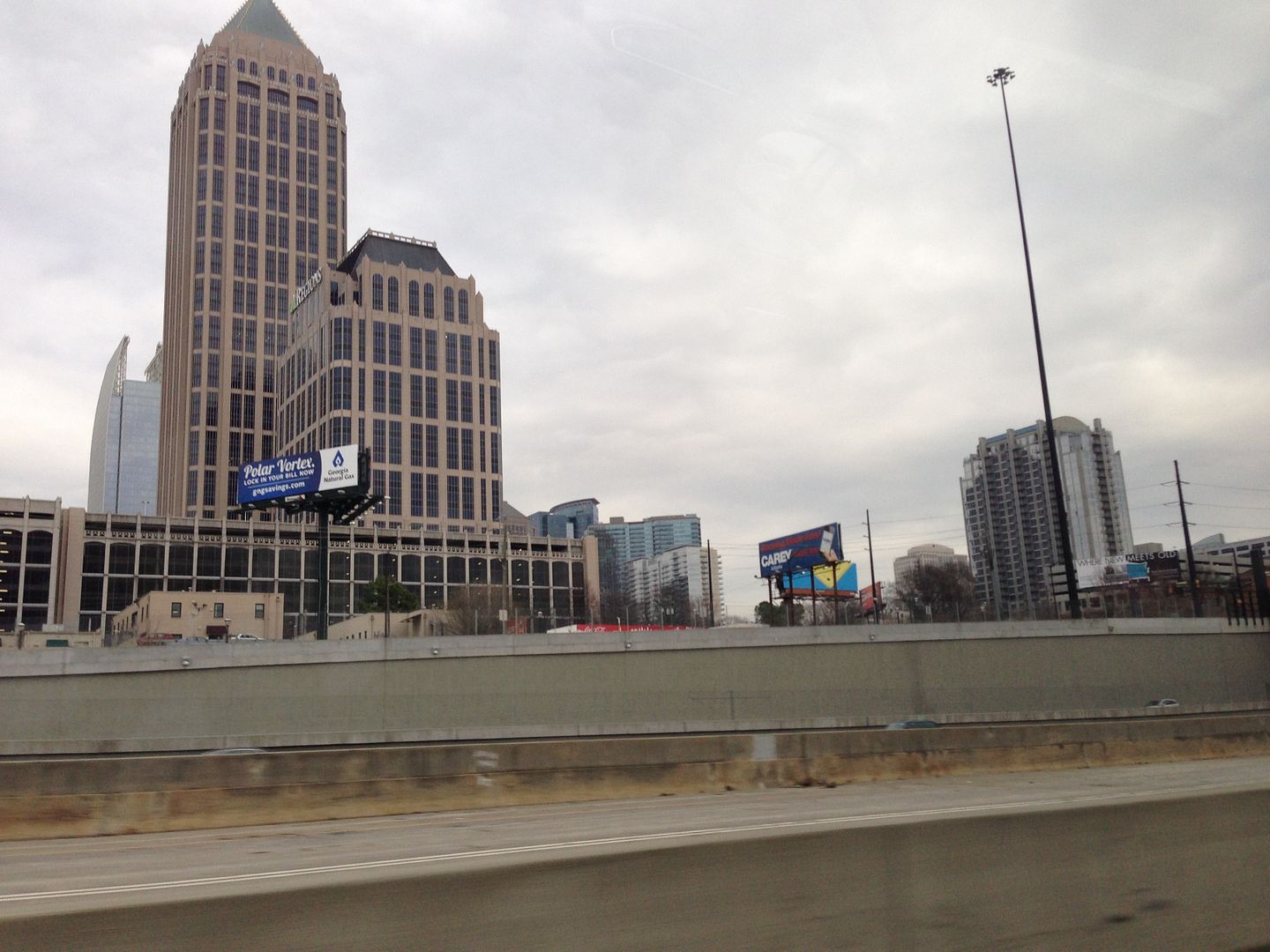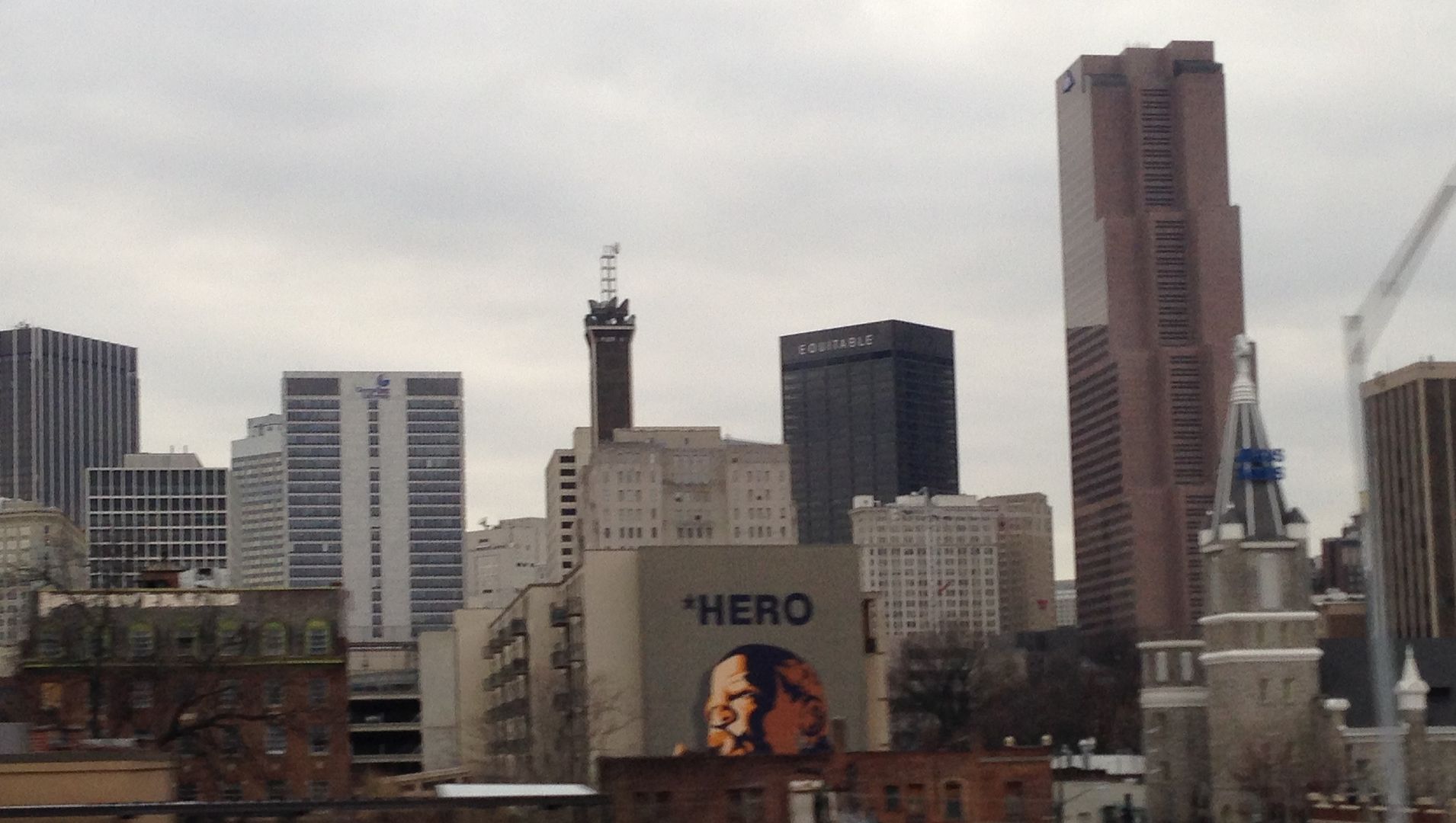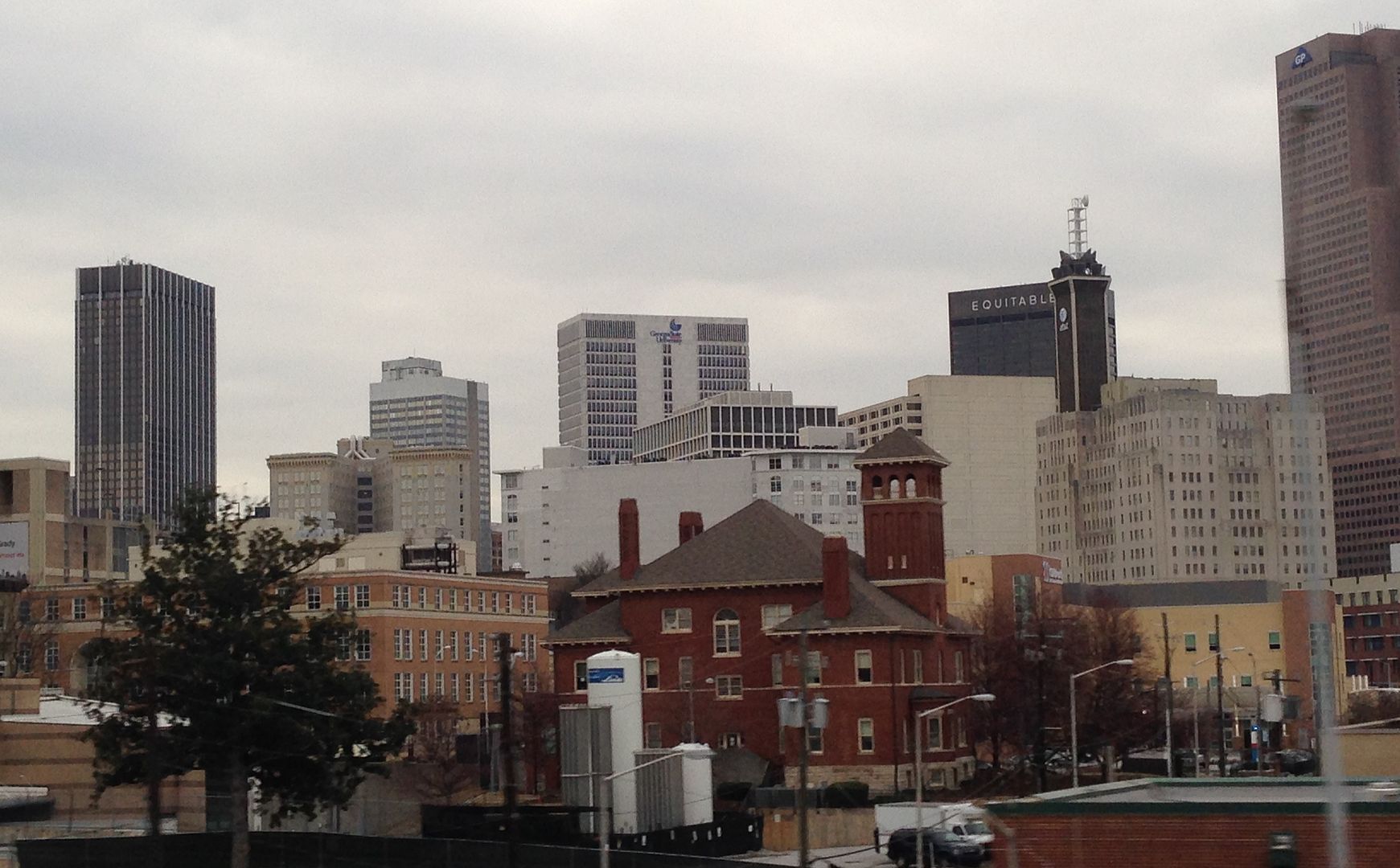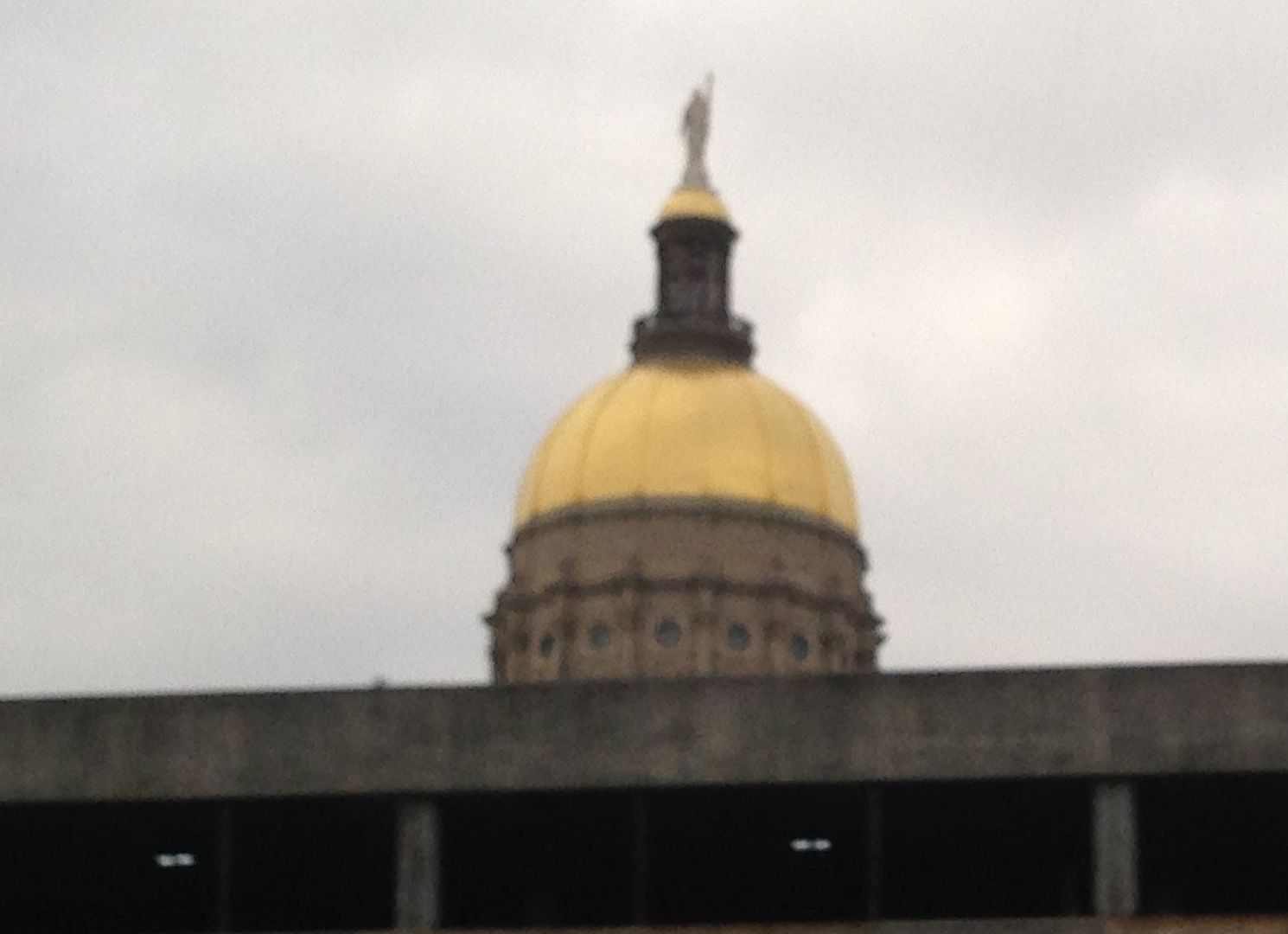 Once at the airport, I found a nice little bar near my gate where I could relax for the couple hours I had before my flight. Shortly after I got there, guess who wanders into the same little place – several of the wonderful folks from ANA who work so hard to put on these shows for us!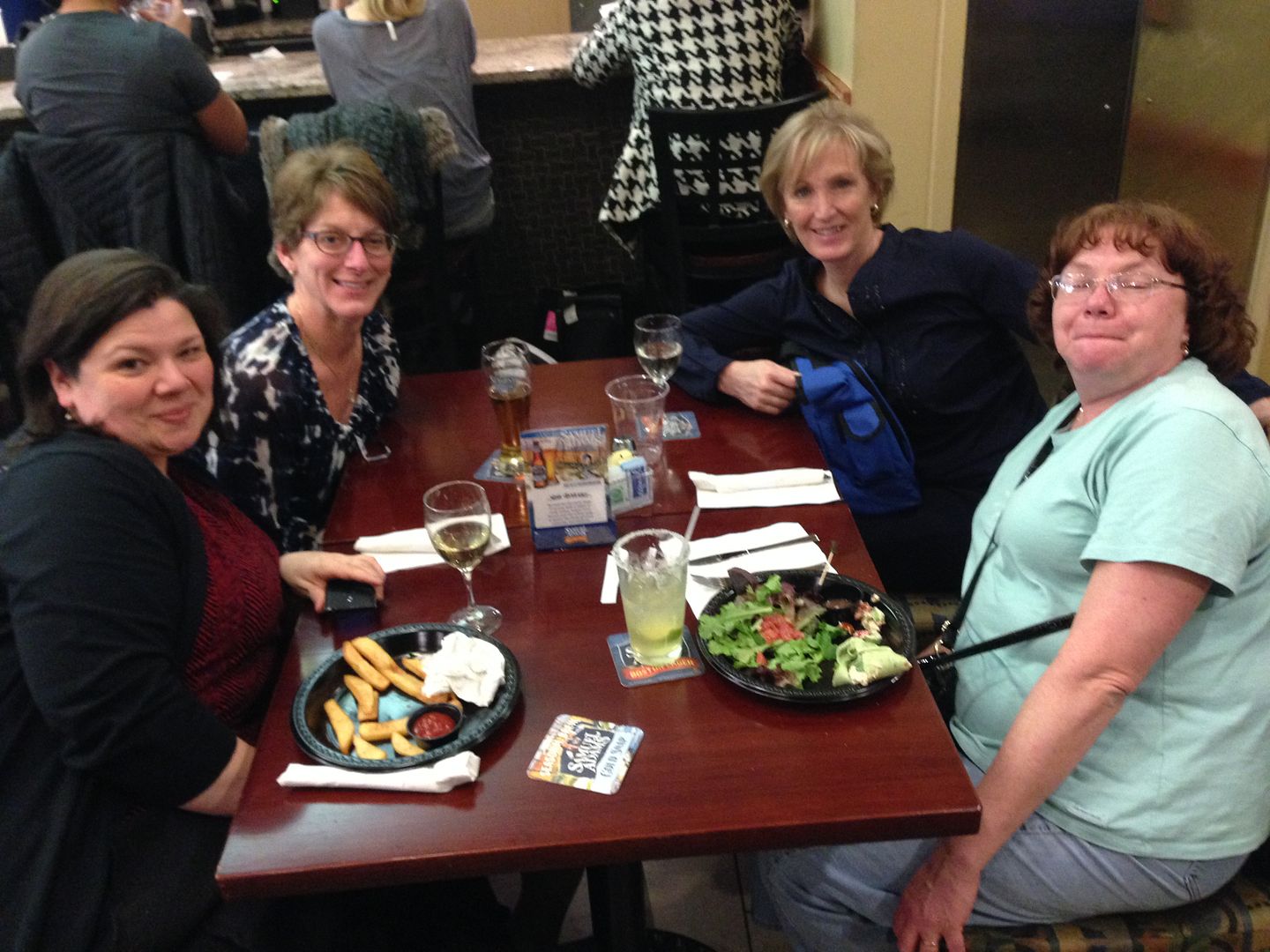 Then I settled into my seat on the plane for the 4+ hour flight home. Bye-bye Atlanta….
Me so happy to be going home!
Hello rainy wet Orange County!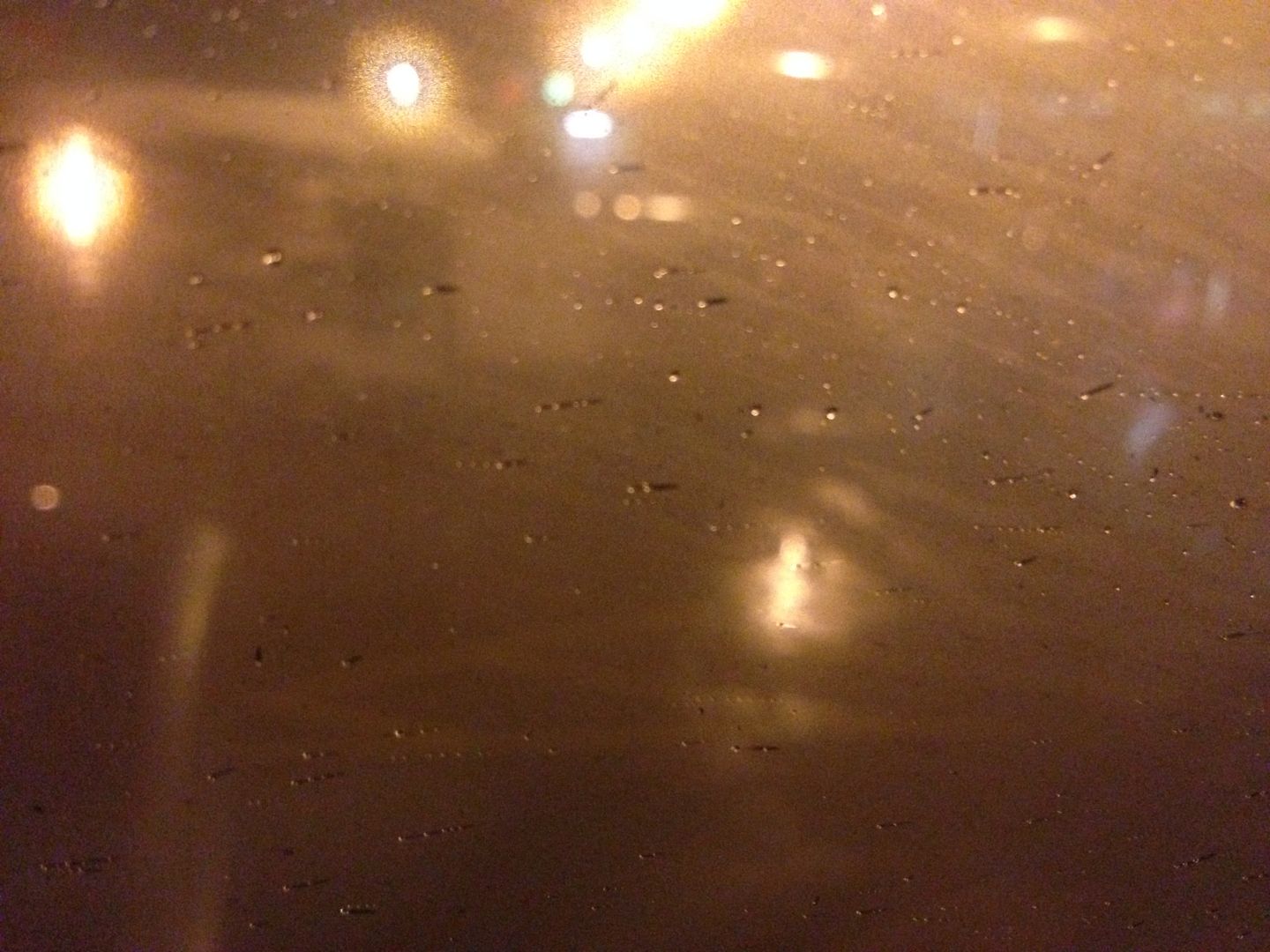 Awwwwww – at home all comfy and cozy!!
Charmy Harker - The Penny Lady®
President of Women in Numismatics
ThePennyLady.com