Home
›
U.S. Coin Forum
Charmy's November 2012 BALTIMORE SHOW REPORT w/Lots of Pics!

ThePennyLady
Posts: 4,029
✭✭✭✭
So, yes, the rumors are true – I finally ditched my Blackberry and bought an iPhone 5! So, hopefully you'll see a little better quality pics in this report.
So I left my house around 10am on Wednesday for the airport (which is less than 10 min. from my house), arrived at the John Wayne airport in plenty of time for my noon flight - the OC airport is one of the airports that usually requires a bag search so I always get there early but was pleasantly surprised when they let my bags go through with no search! So I decided to start trying out my new iPhone camera.
This is a picture of the wine tasting bar that was right across from my gate. You can actually buy a bottle of wine and bring it on board the plane, and the flight attendants will even open it for you! Needless to say, I'm a member of their wine club!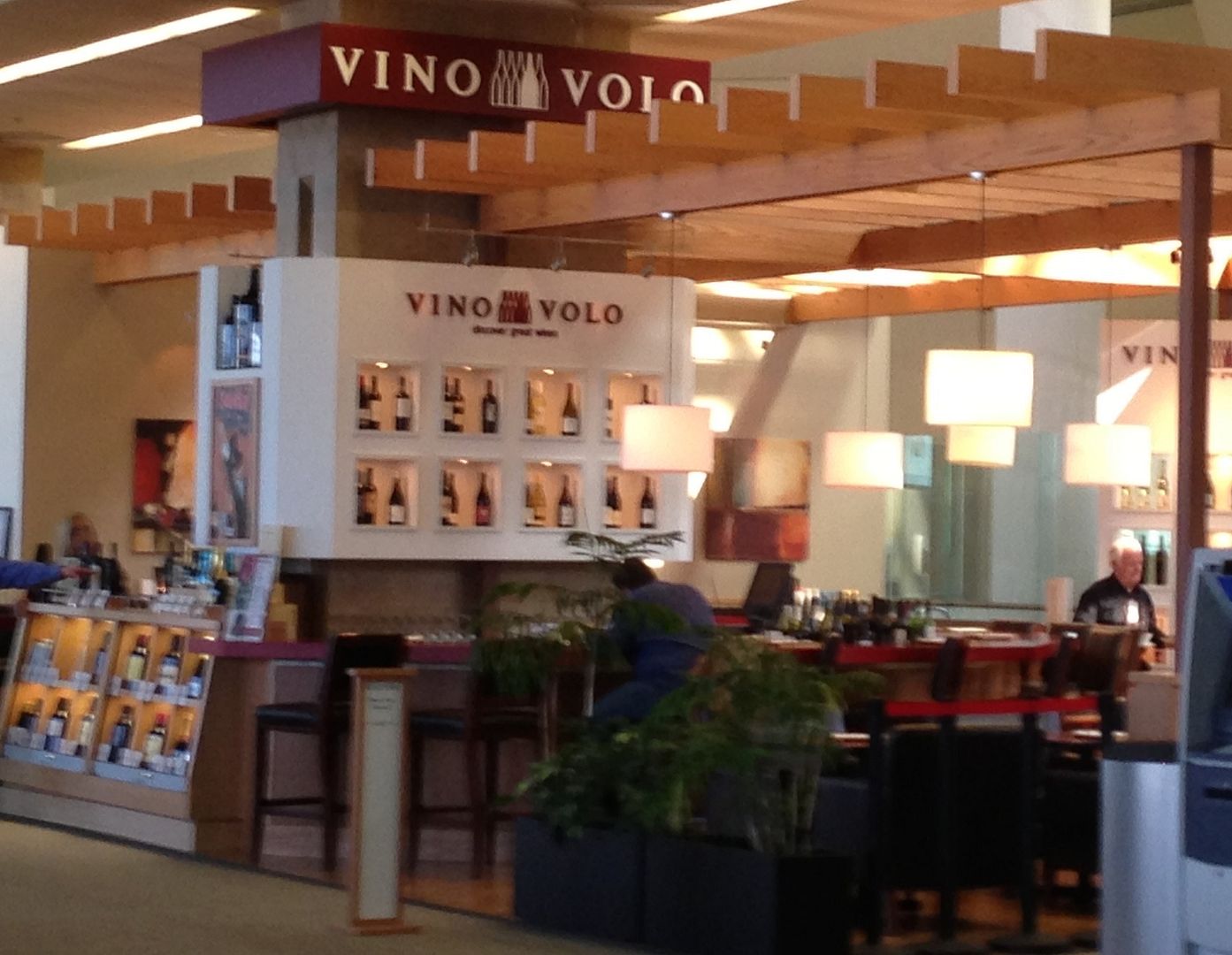 This is looking out on a beautiful sunny 85 degree day in OC, knowing that I would soon be landing in 40 degree Baltimore!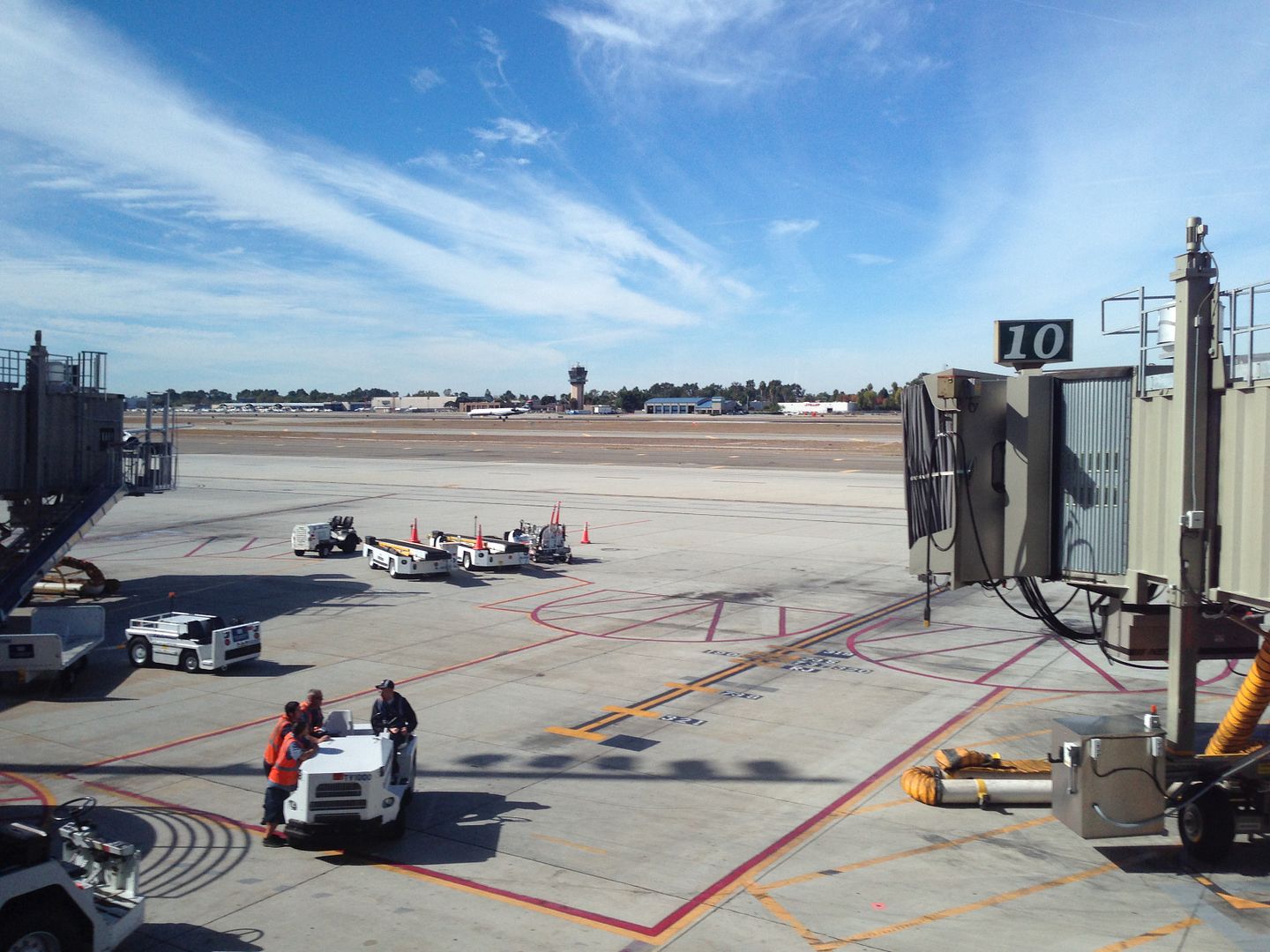 Again, playing with my iPone camera features – this one lets me turn the camera on myself (boy, not sure if I like this feature – it seems to highlight all those wrinkles that I thought were a little less apparent!)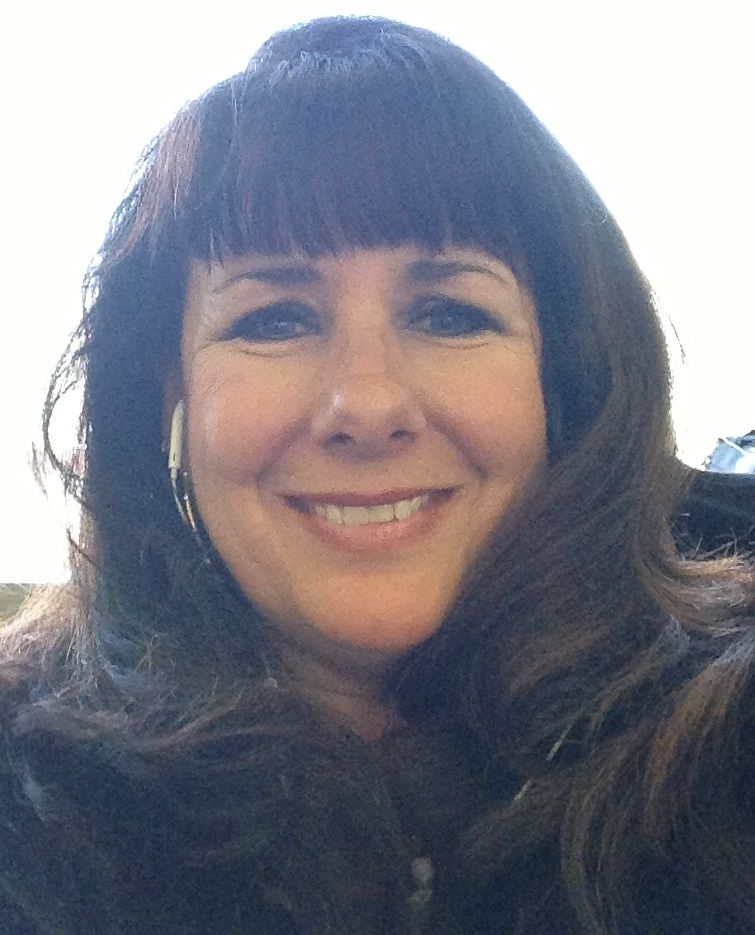 I soon arrived for my connecting flight in Phoenix where I had an almost 3 hour layover, so of course I found a nice little cubby hole where I could hang out!
I finally arrived in Baltimore just after midnight. I ran into another dealer at the baggage claim who happened to be staying at my same hotel, so we it was nice to be able to share a cab. For some reason our bags took about half an hour to finally appear on the carousel. It was about 1:30am when I finally got to the hotel, but I was pleasantly surprised that they upgraded my room to a nice corner room. Here are some photos of Baltimore I took from my room at night.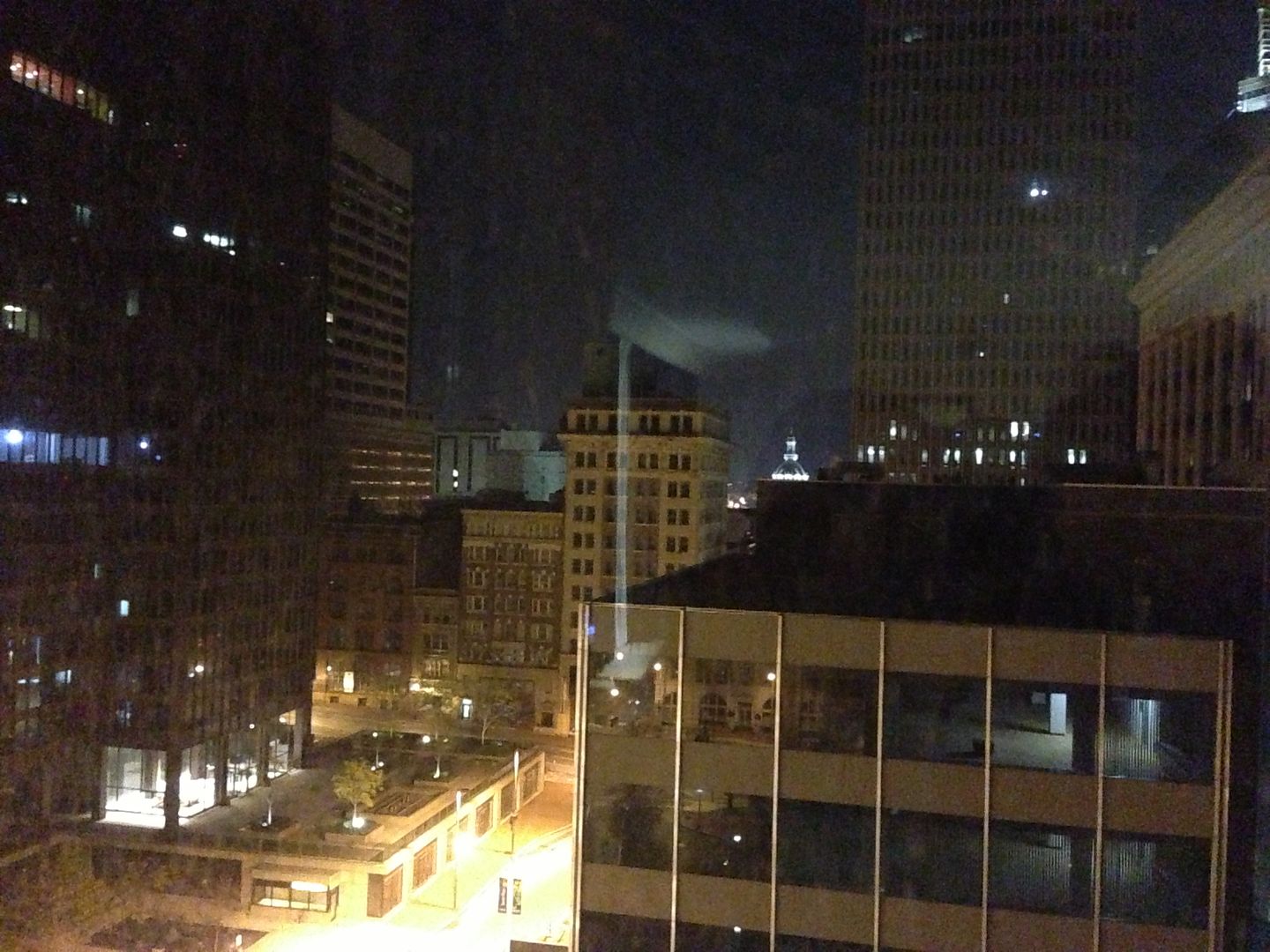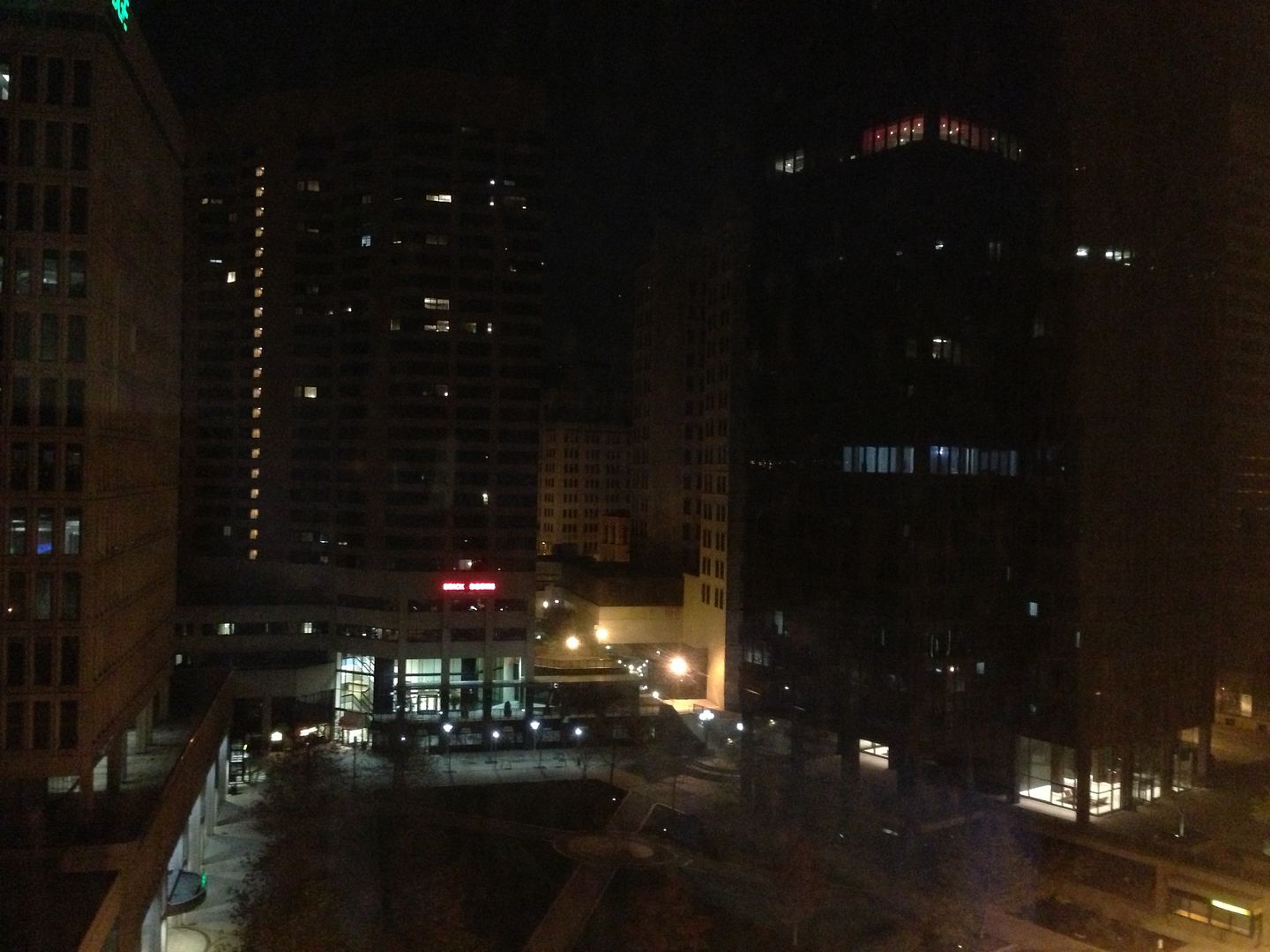 And in the morning (through dirty windows)
Then I quickly passed out on my big super huge soft cozy bed! Then, suddenly, it was time to get up!
Set up on Thursday was 8am, so I dragged myself and my bags over to the convention center. While grabbing my badge, I ran into these two gentlemen –
David Crenshaw/Whitman and John Kreljevich/Pistareen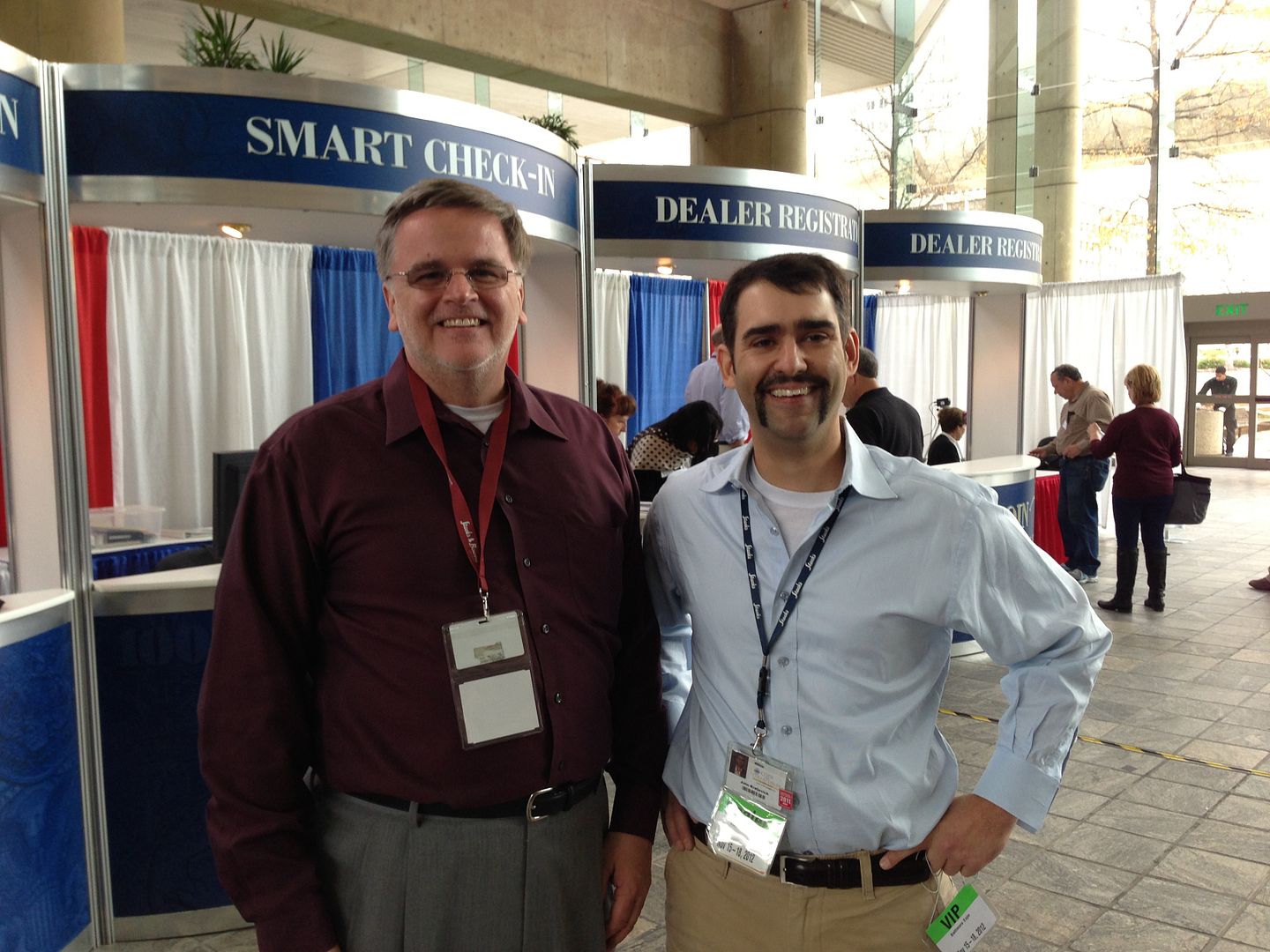 I also saw this very kind gentleman at the Stack's table who graciously allowed me to take his photo…
David Bowers
When I made it to my booth, Todd was irritatingly bright-eyed and bushy-tailed, and had just about finished setting up his photo booth (he had arrived the day before and was already acclimated to the time change). So he left while I began slowly setting out my coins. After I finished, I went out to the lobby and took some photos before the public was let in.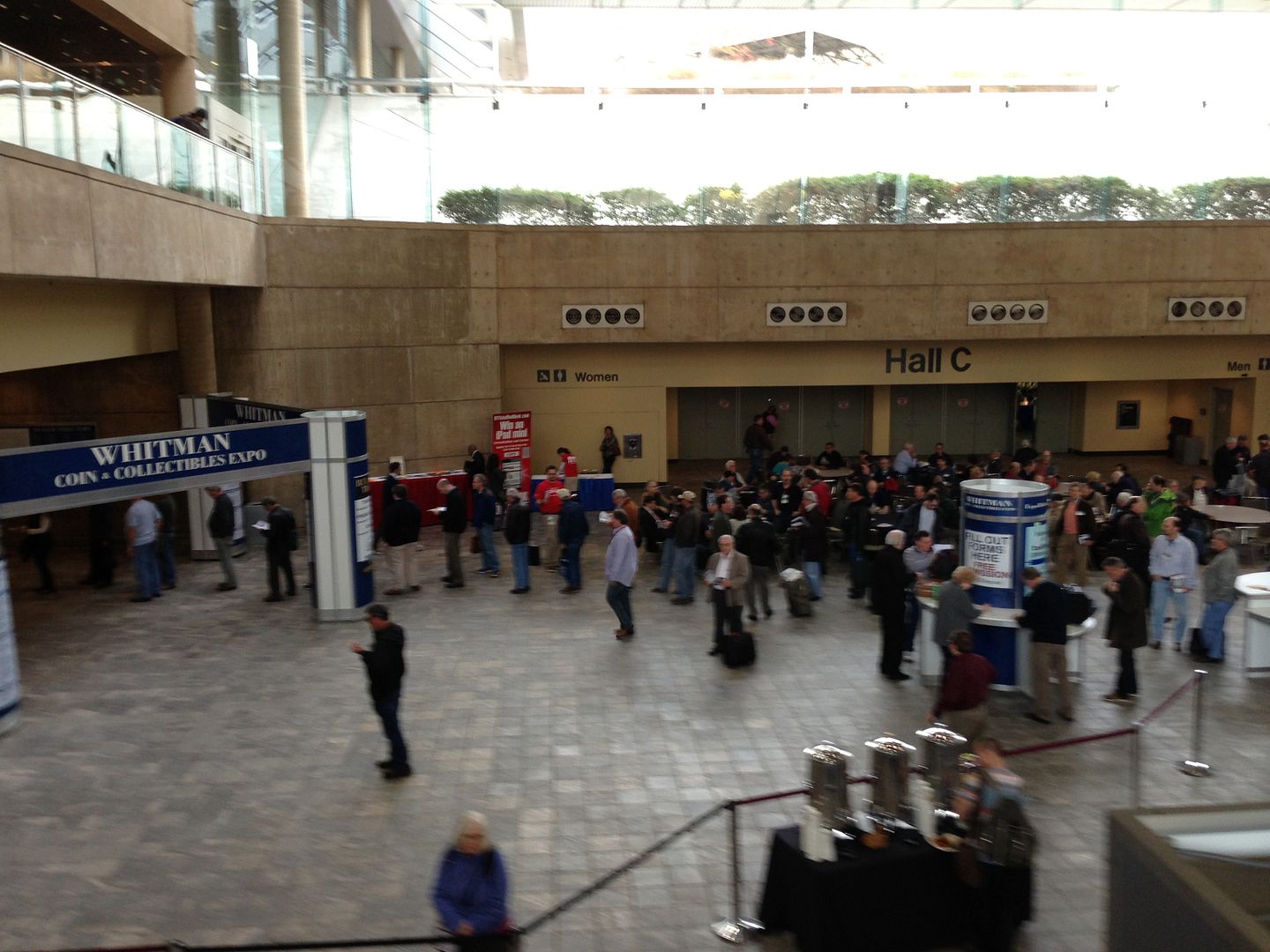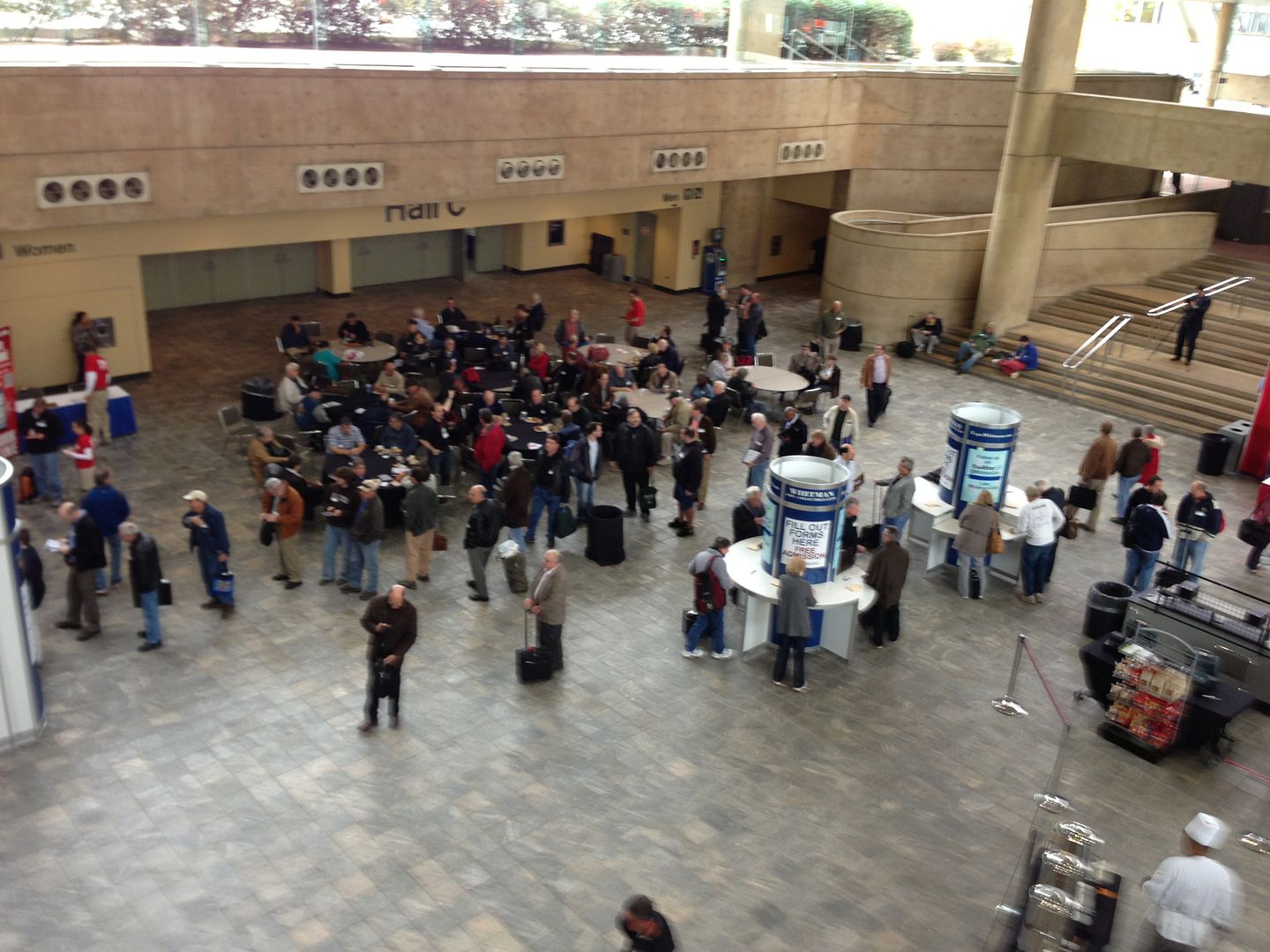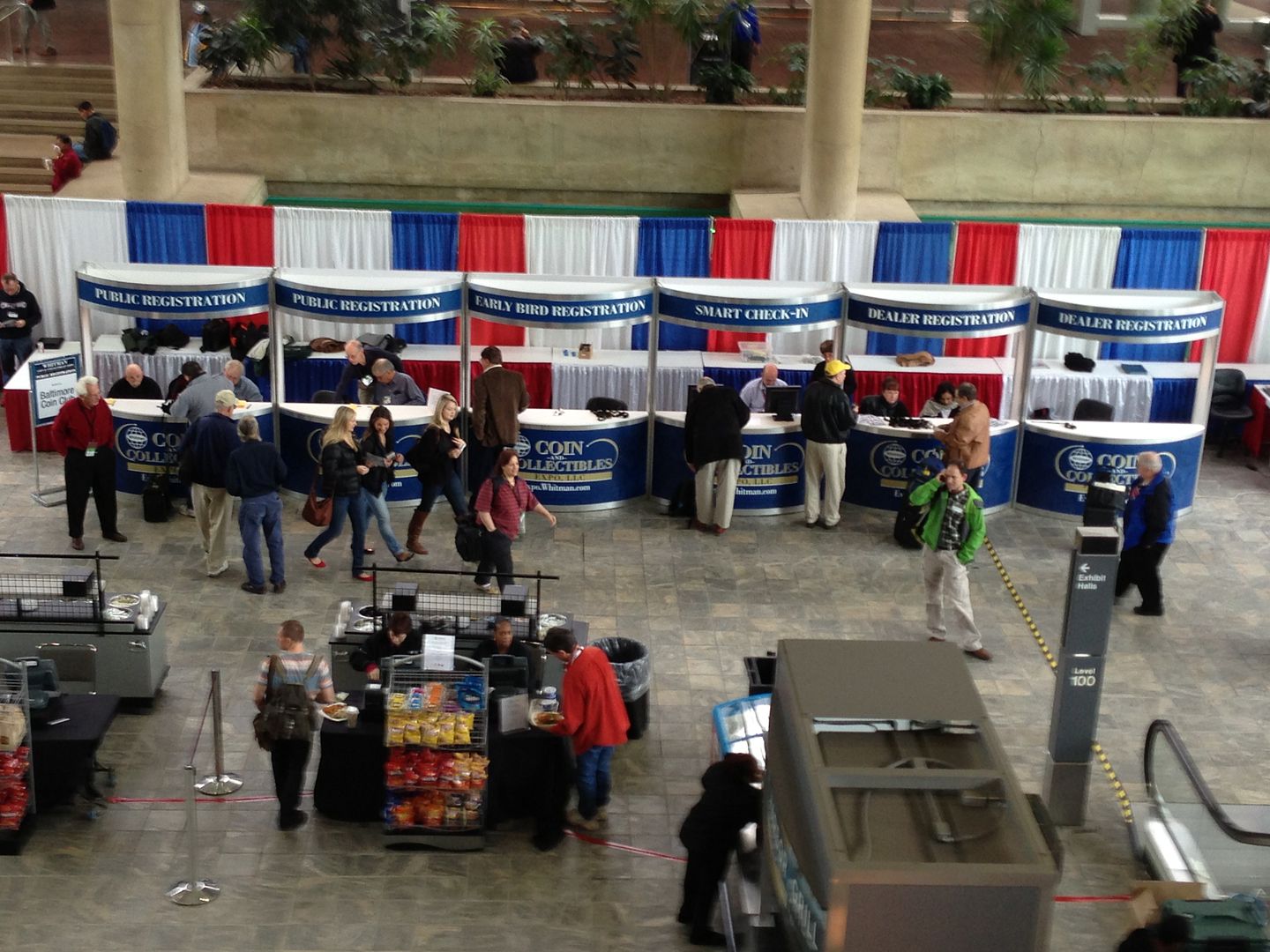 Here are me and Todd ready for business!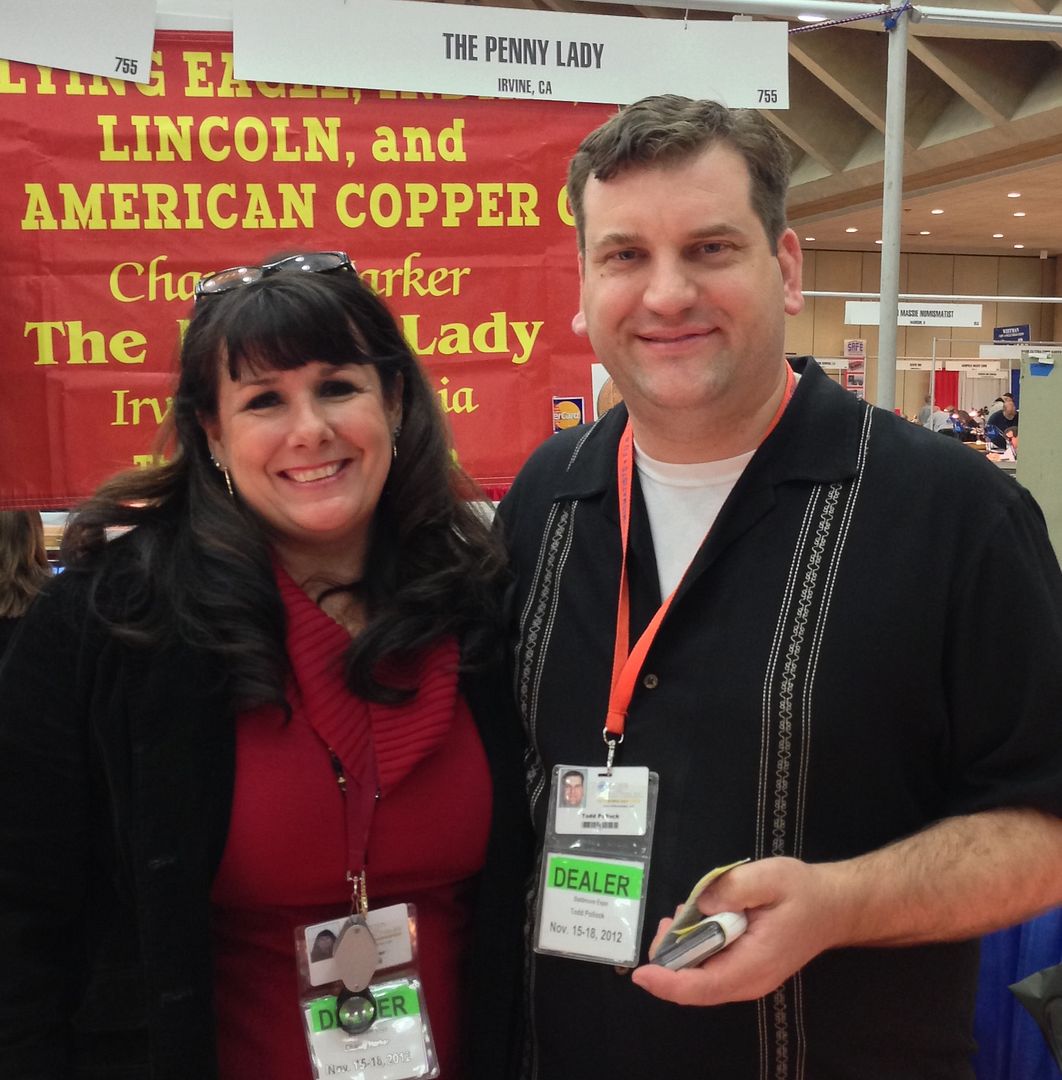 Matt/BillyGoatsGruff of Pinnacle was once again our back door neighbor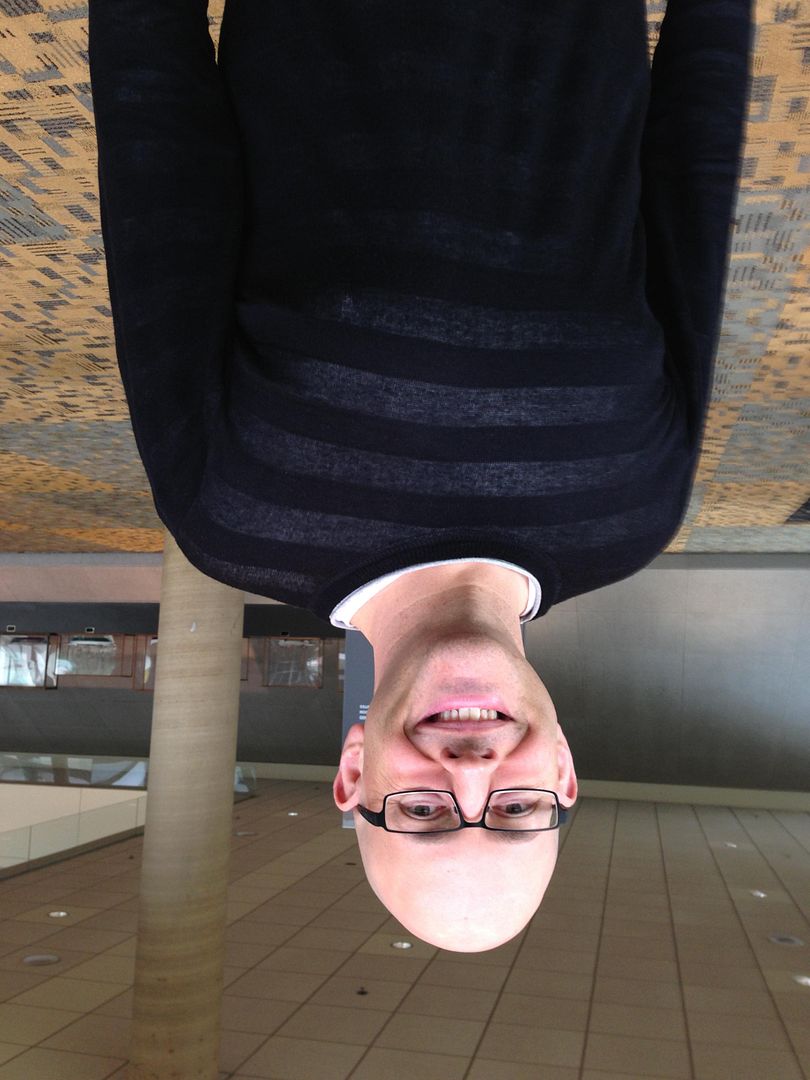 And here's Todd and Wei/WTCG who was giving me some lessons on taking photos with my iPhone – so I turned my camera/phone on him when he wasn't expecting it!
Here's a view of the bourse looking straight out from our table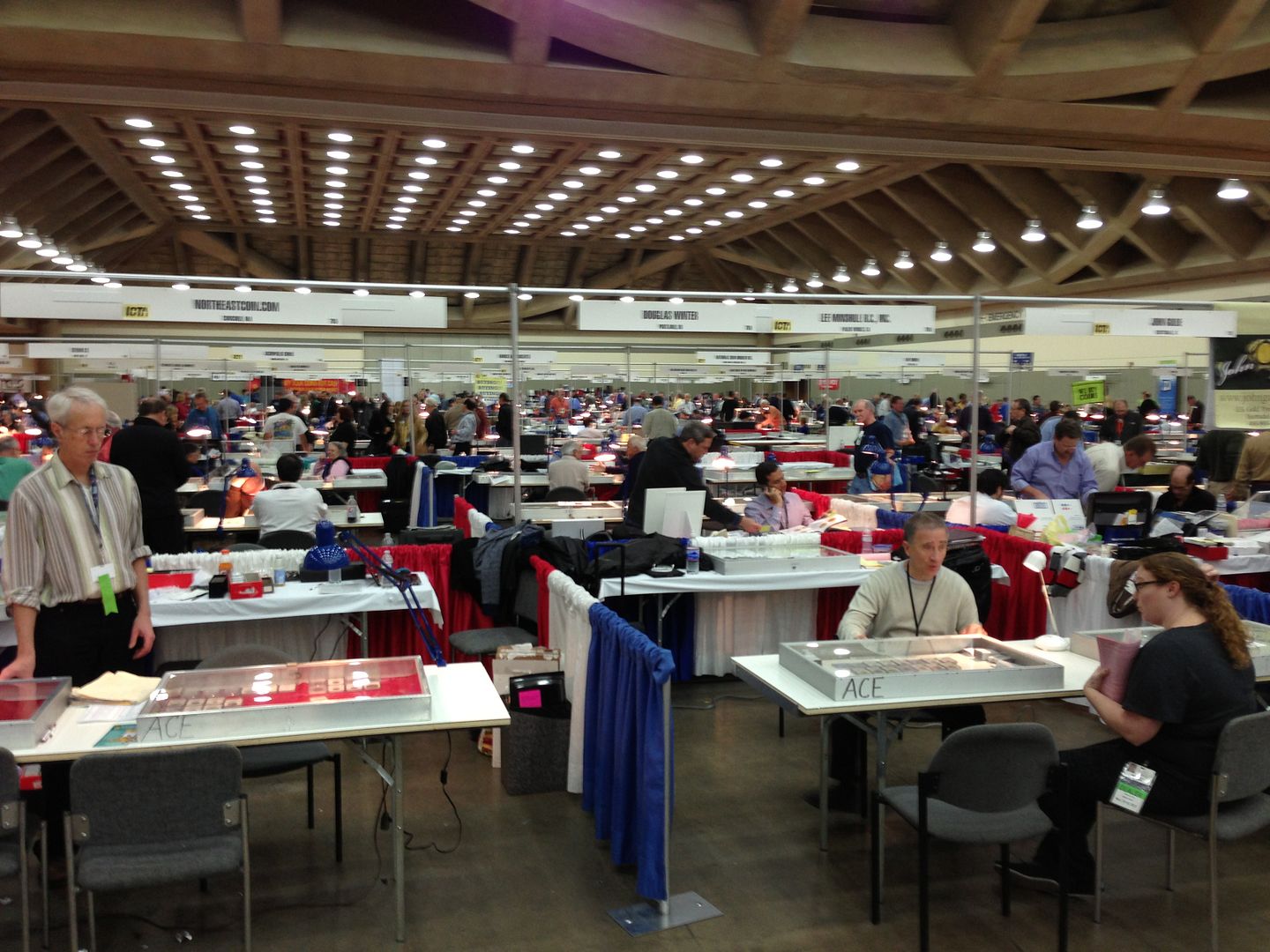 I had brought these "self-contained" little wine little glasses of wine to try out at the show. All you did was peel off the lid and drink – surprisingly, they weren't too bad. So Thursday afternoon when things slowed down, I brought them out - I used Rick as a guinea pig!
After the show ended, we went out to one of our favorite restaurants in Little Italy – Da Mimmo's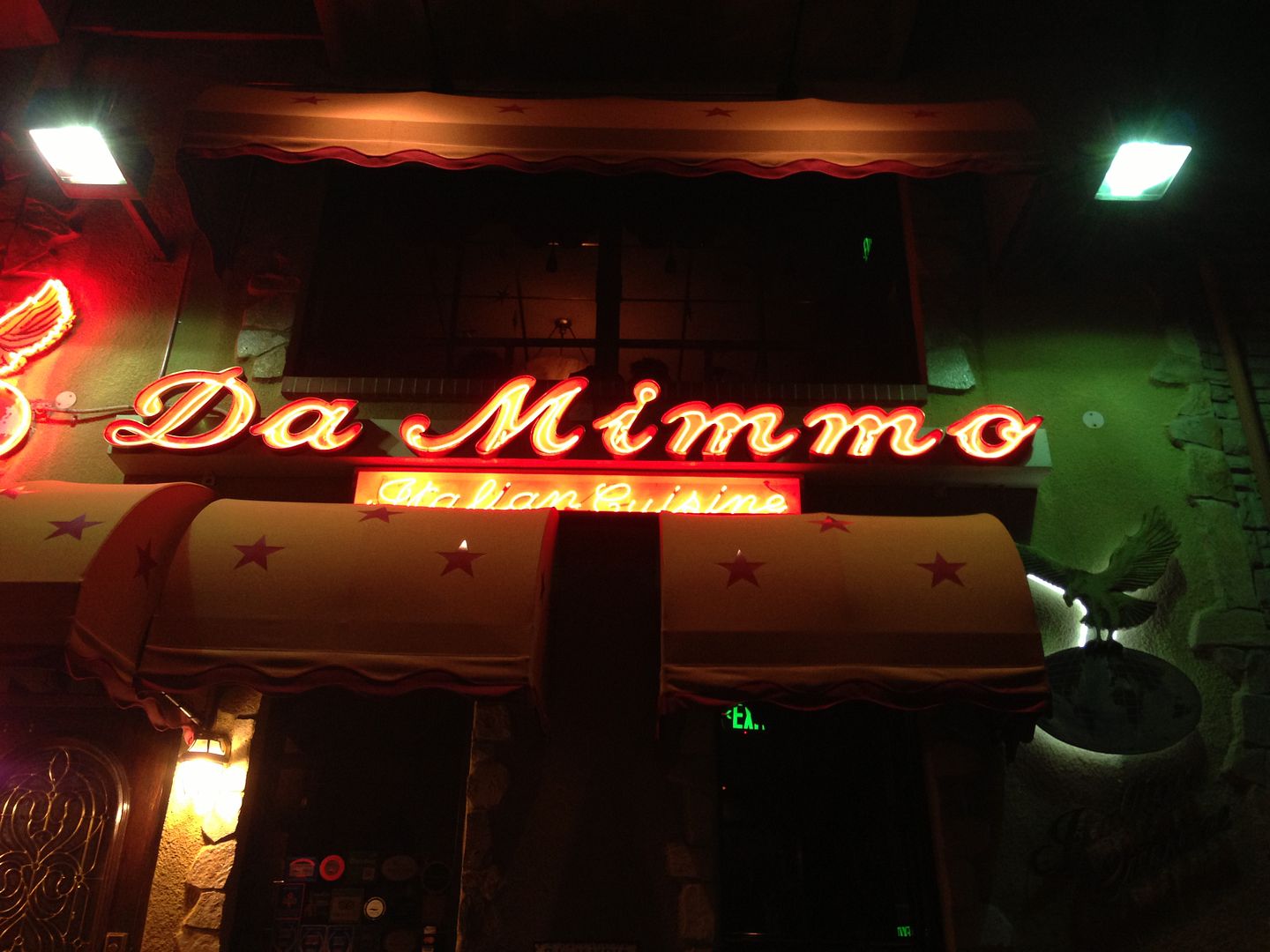 This is Neil (Rick's FBI friend), Rick and me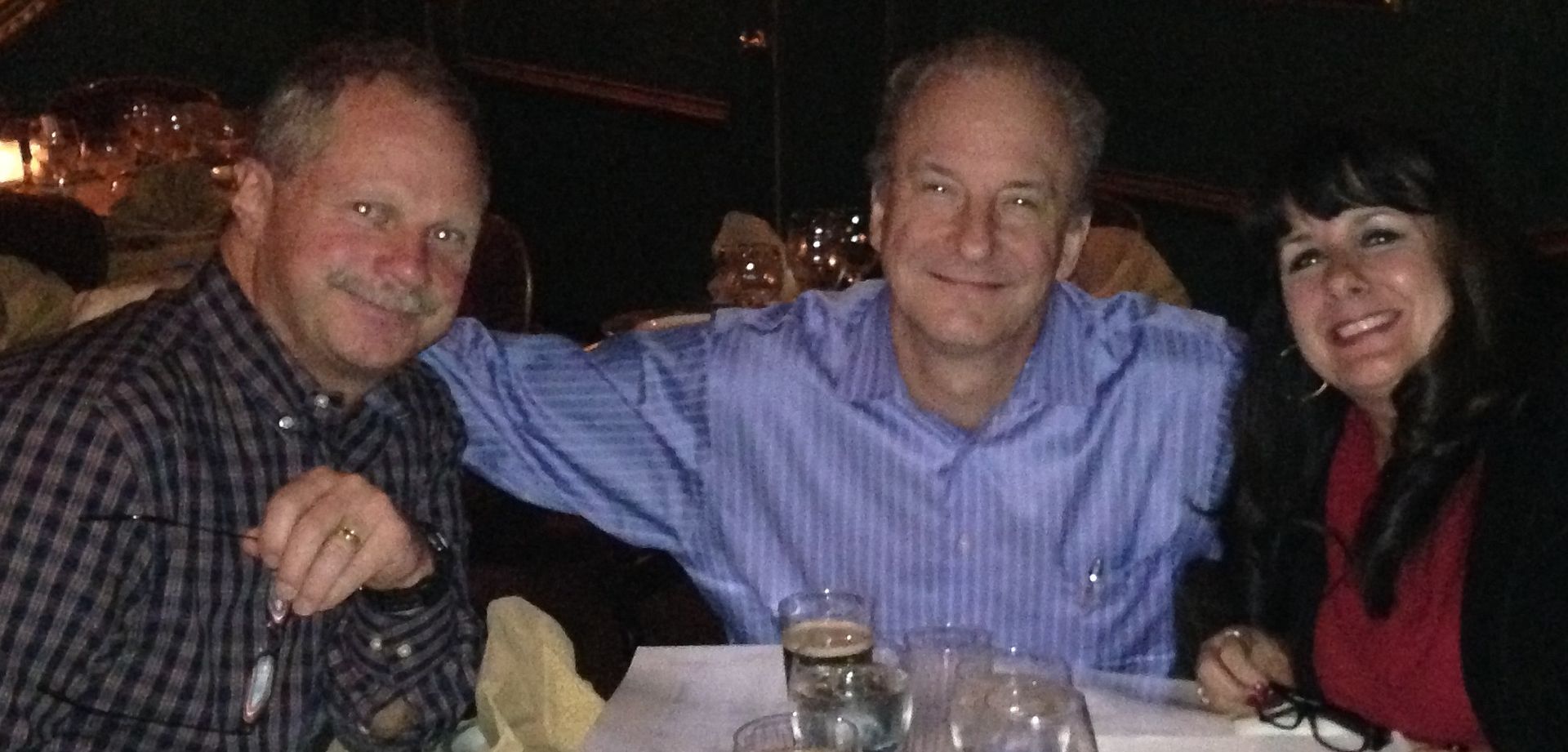 Then we ended up at the Power Plant to re-visit our favorite dueling piano bars – Howl at the Moon (if you're ready my past Baltimore show reports, these photos may look familiar)!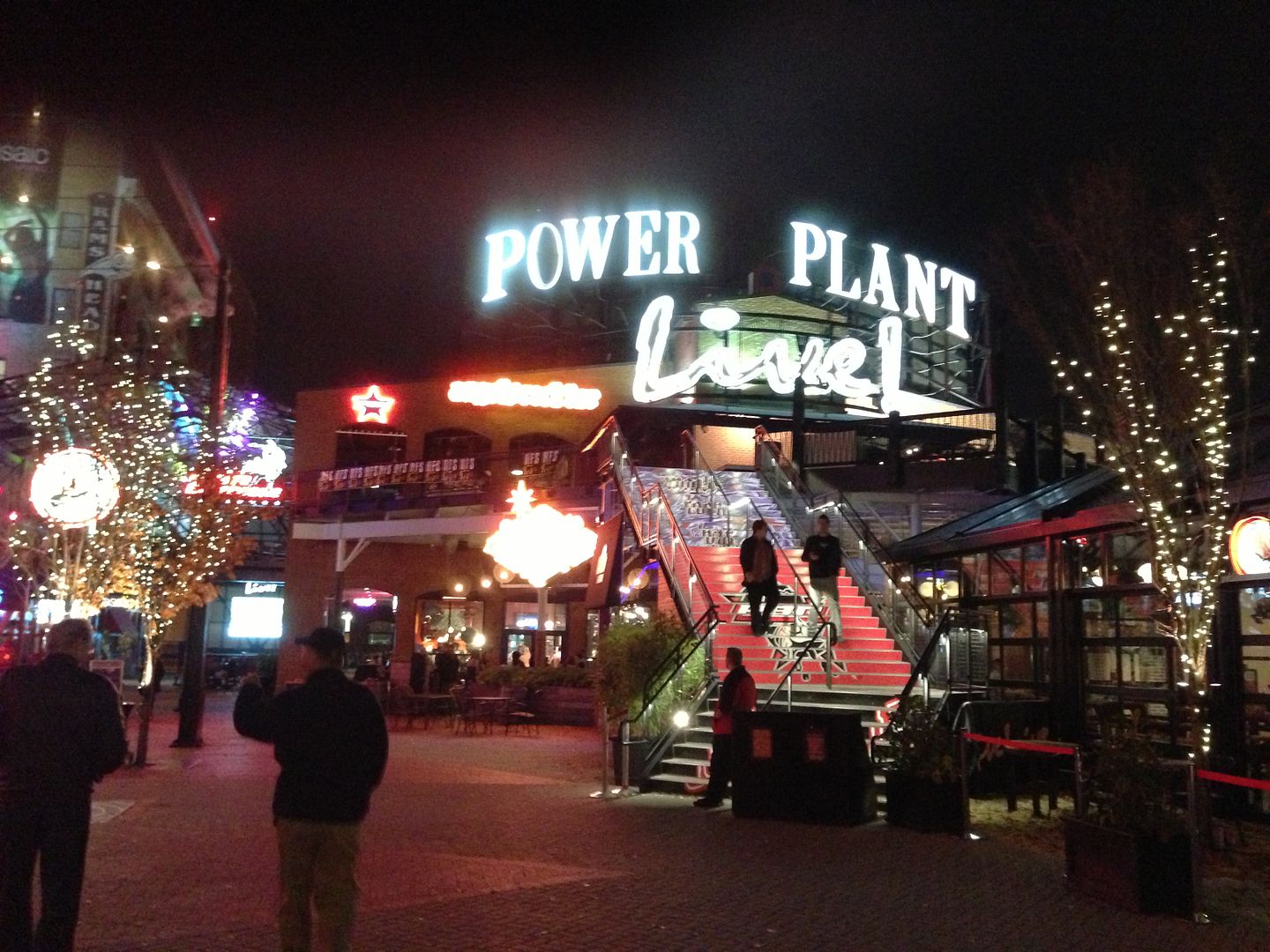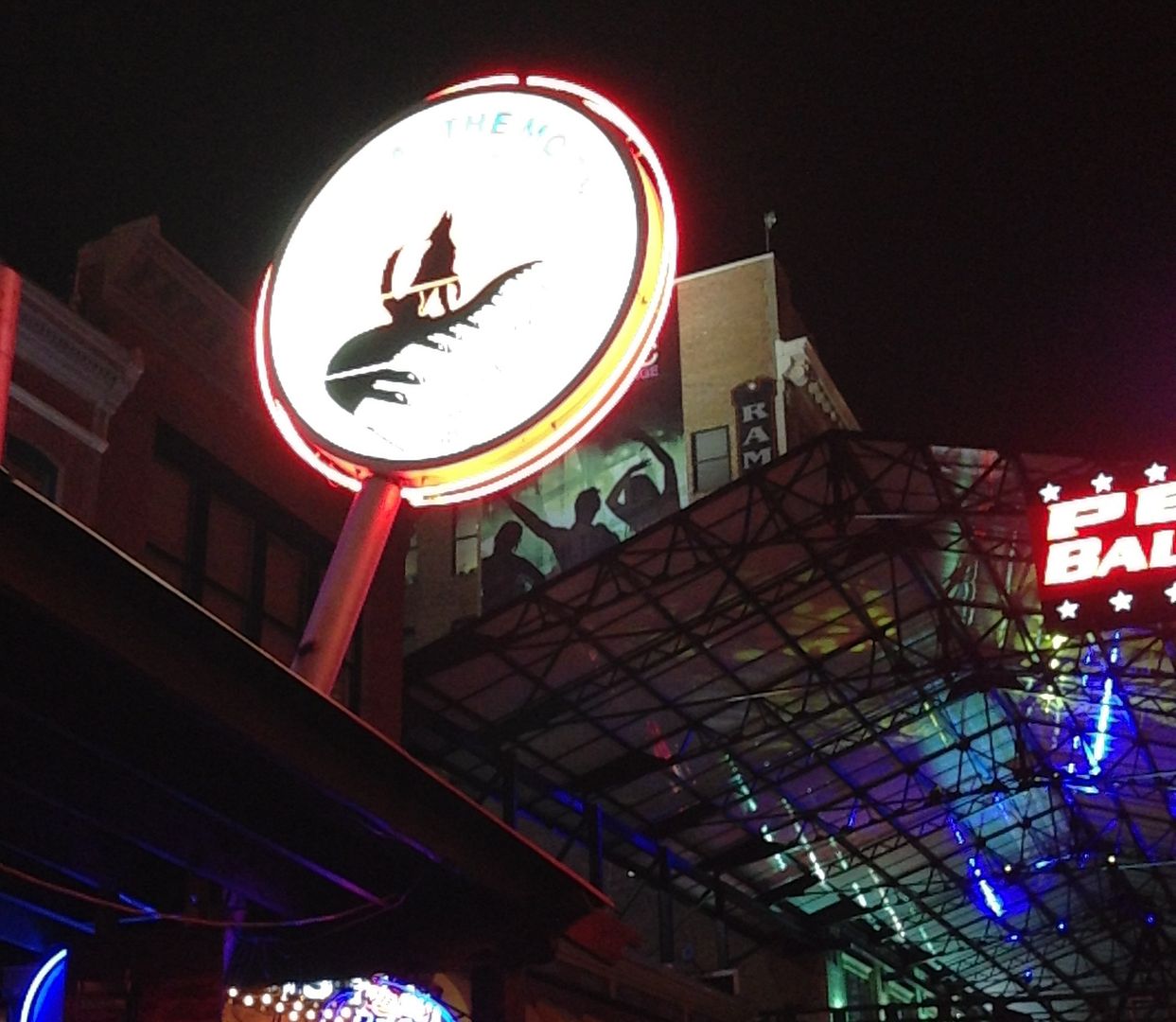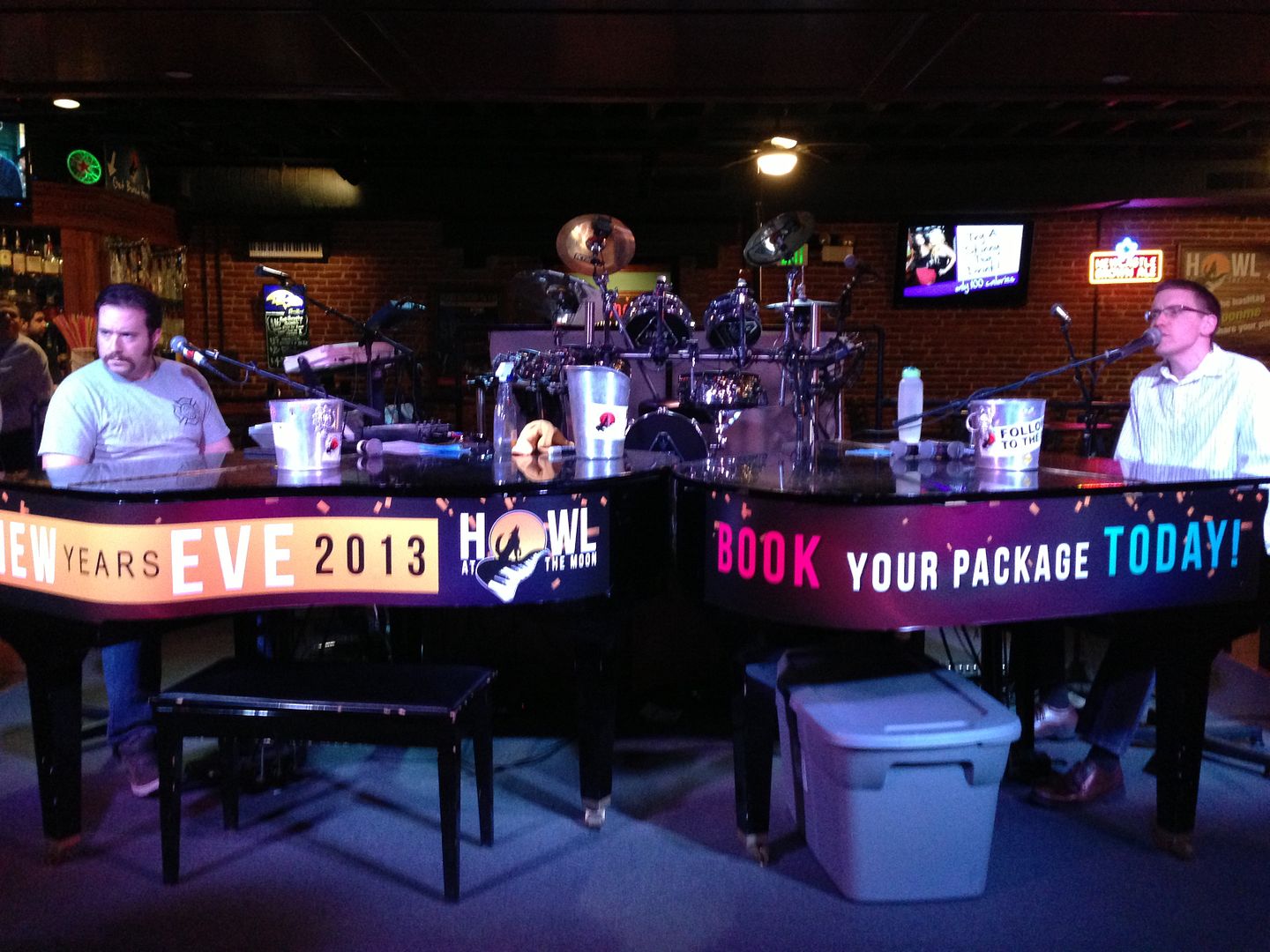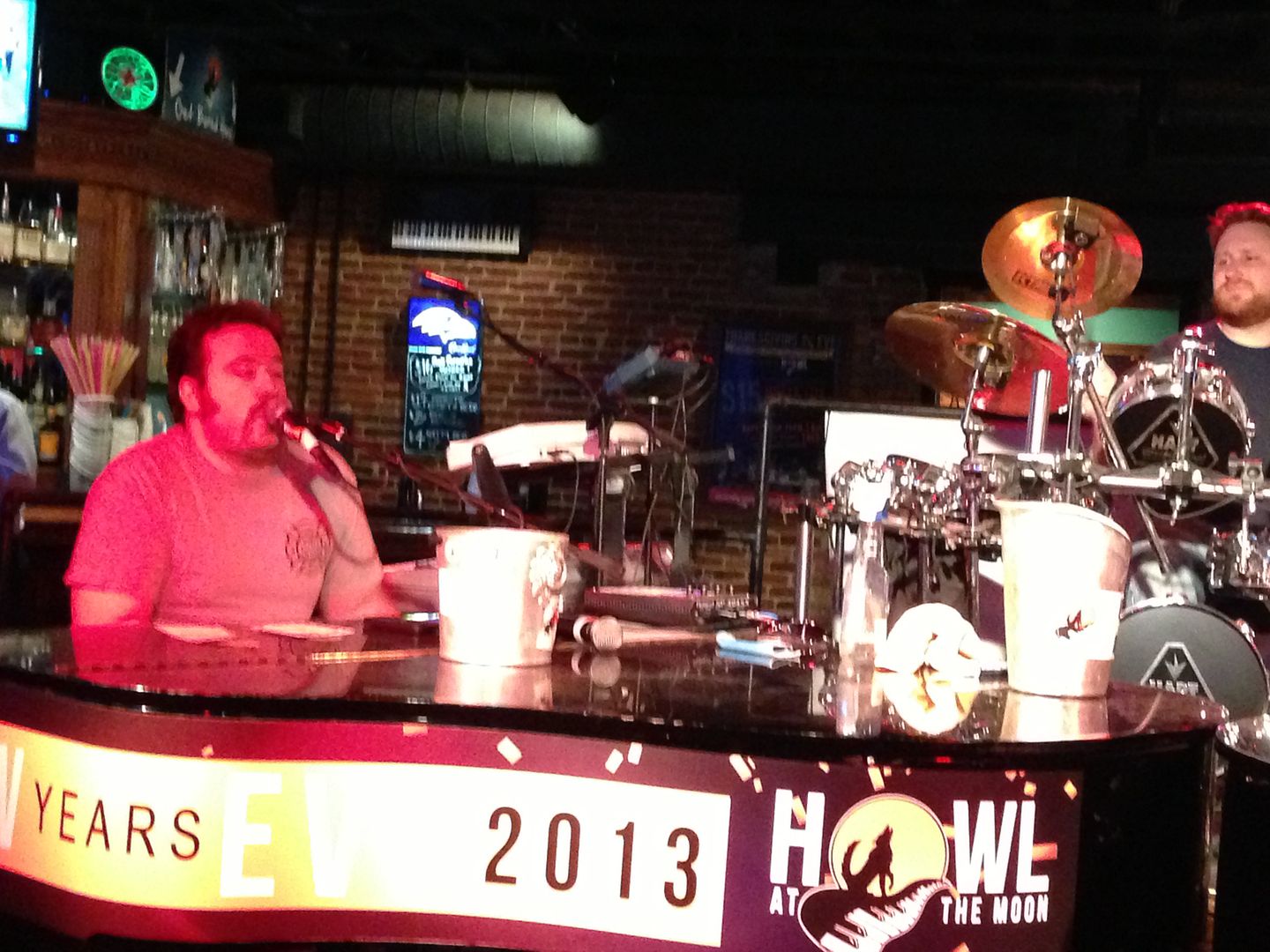 This guy was singing an Elton John song – hence, the weird glasses!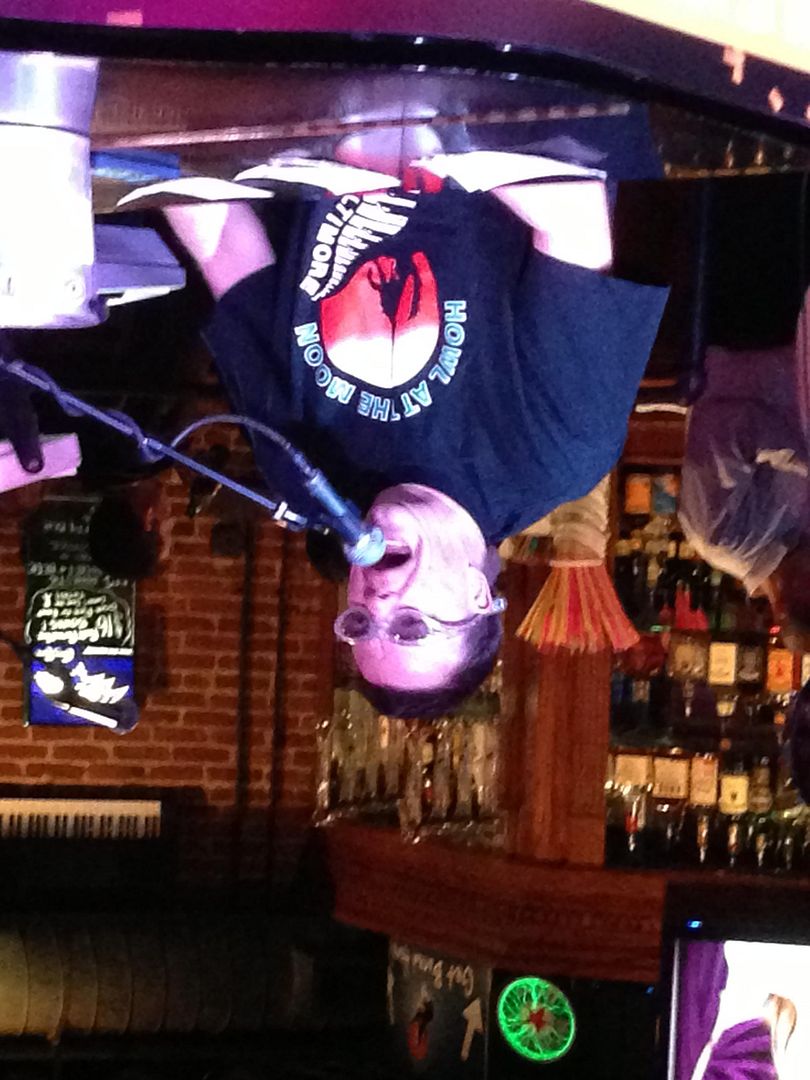 No Irish Car Bombs this time around for me – just Guinness
These are the little slips you fill out when requesting a song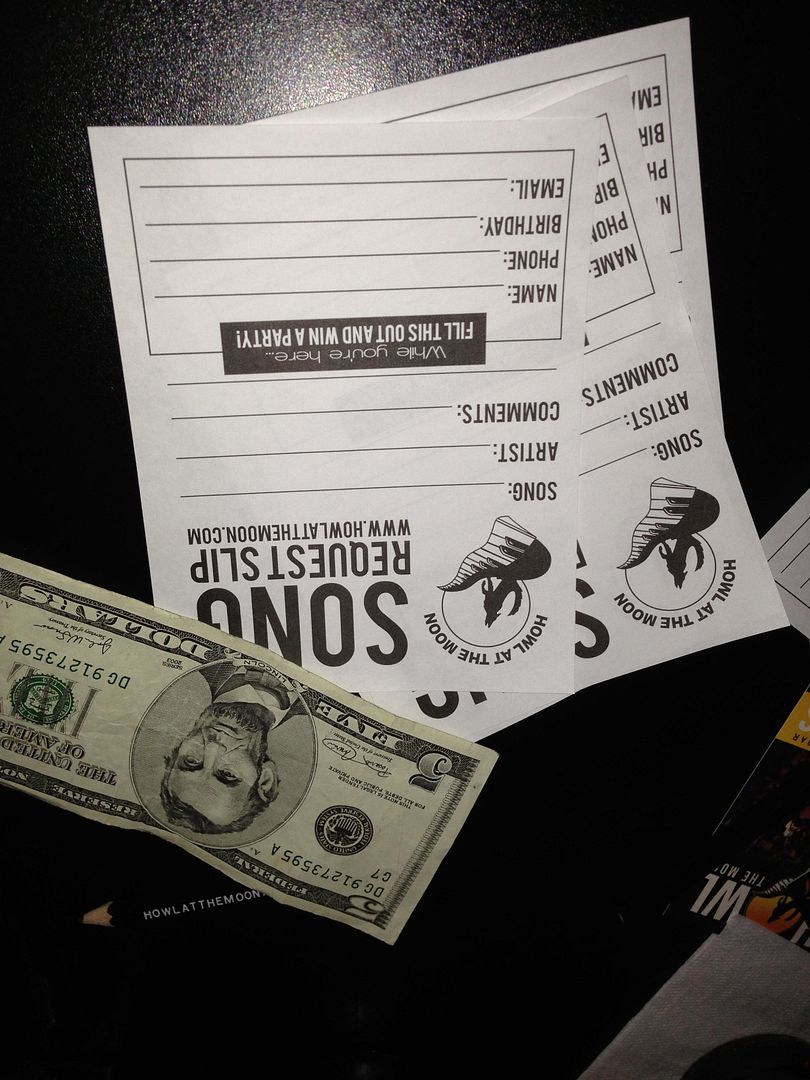 Me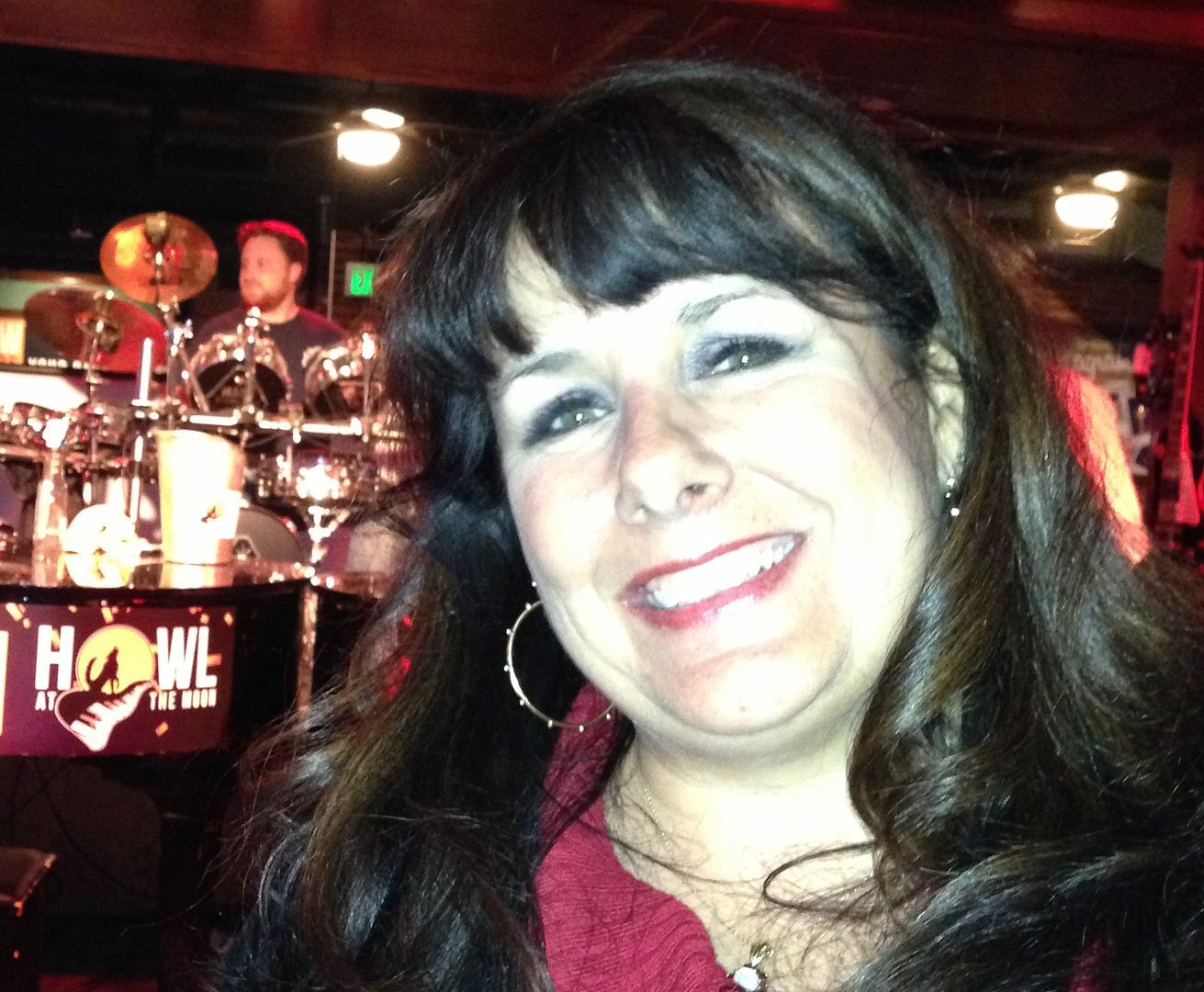 Me trying to take another photo of me (notice, less wrinkles on this one – I think I'm getting the hang of this iPhone camera!)
This young lady is a very talented singer – her version of "Rolling in the Deep" was amazing!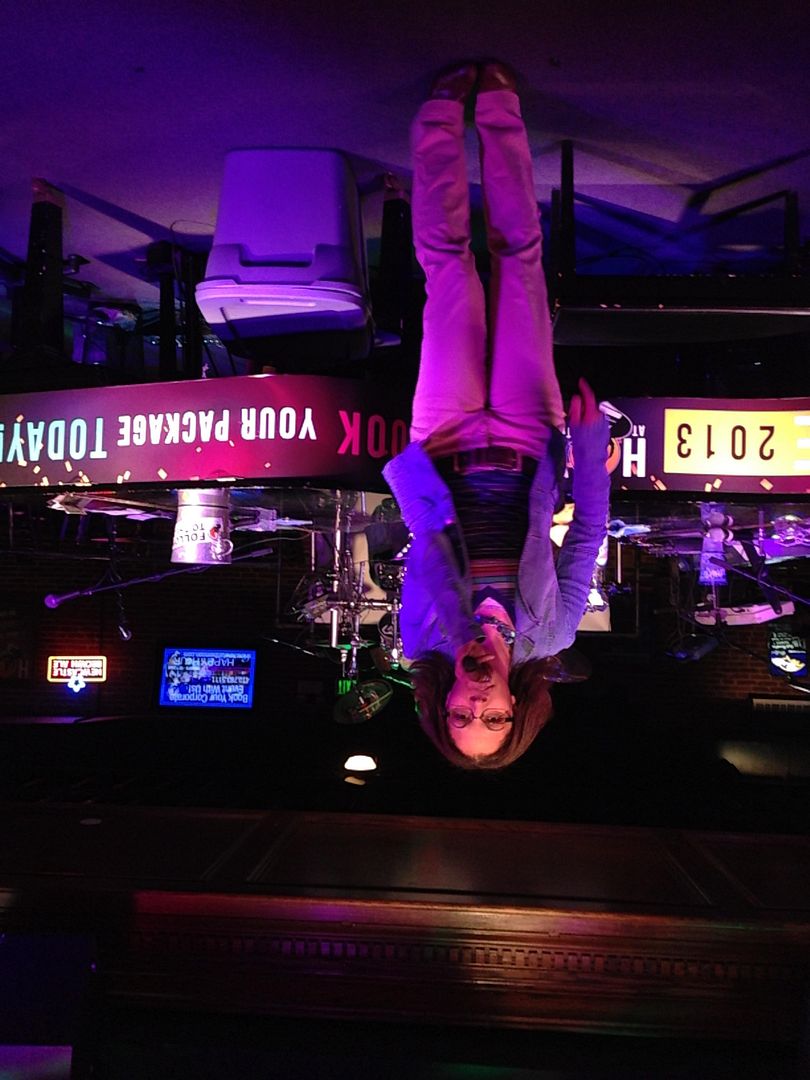 Boys being boys!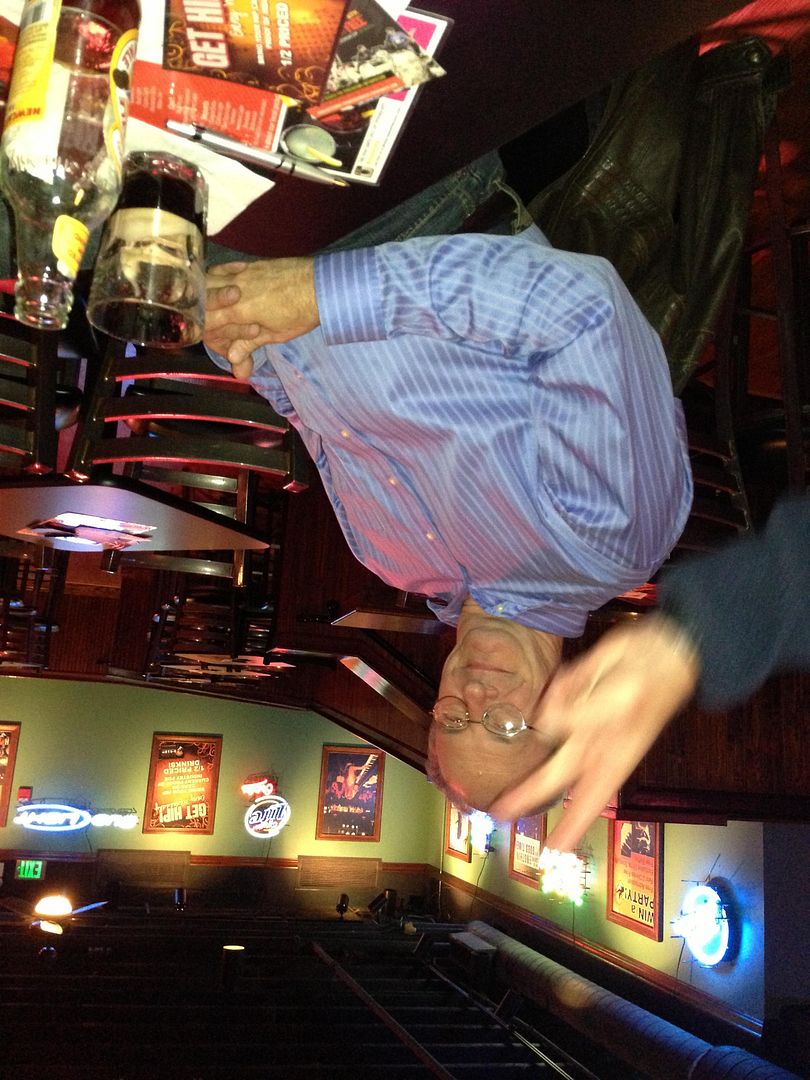 Did I mention that Rick and Neil have known each other since they were in elementary school?!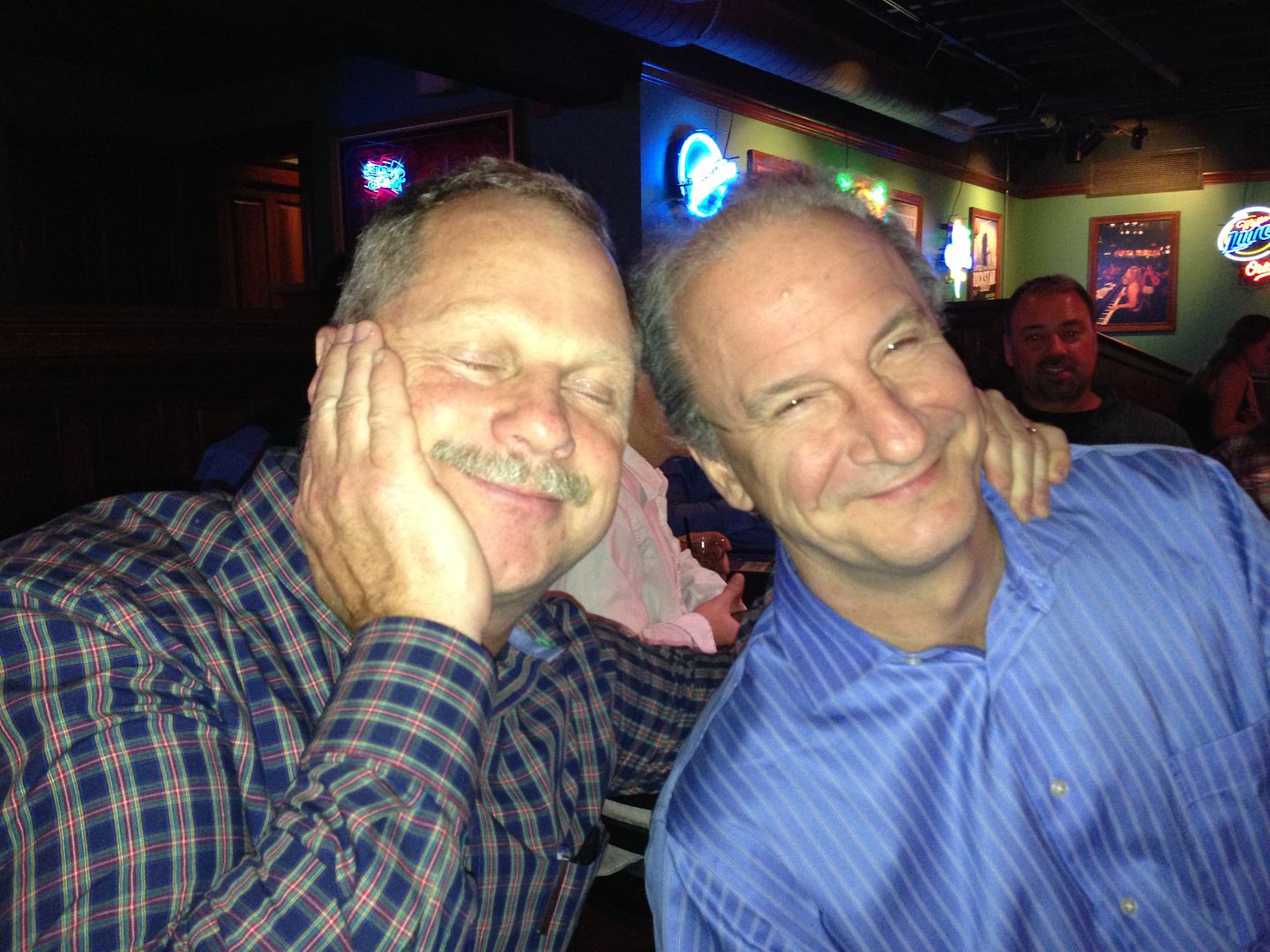 Mine was the first message on the message board – yeah, I know, this was a pretty lame message but my boys went to UC Irvine and Anteaters are really UC Irvine's mascot!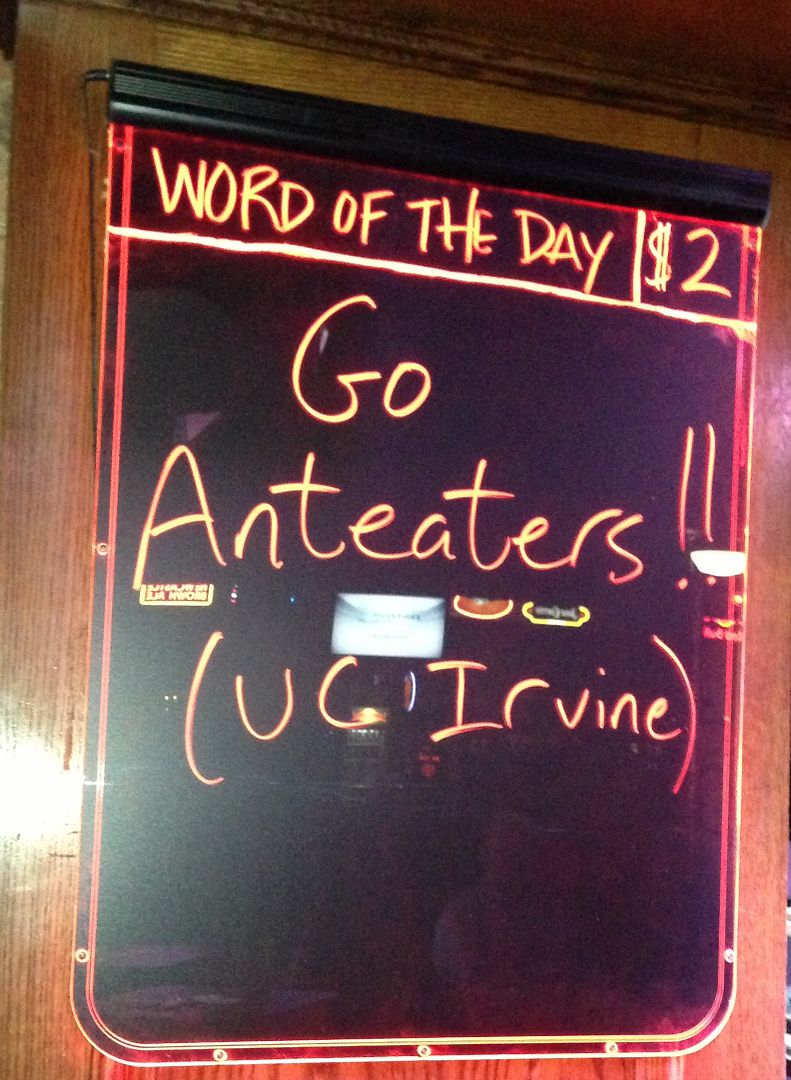 Neil's daughter goes to Auburn – he told me the story about what "War Eagle" had to do with Auburn but I forgot.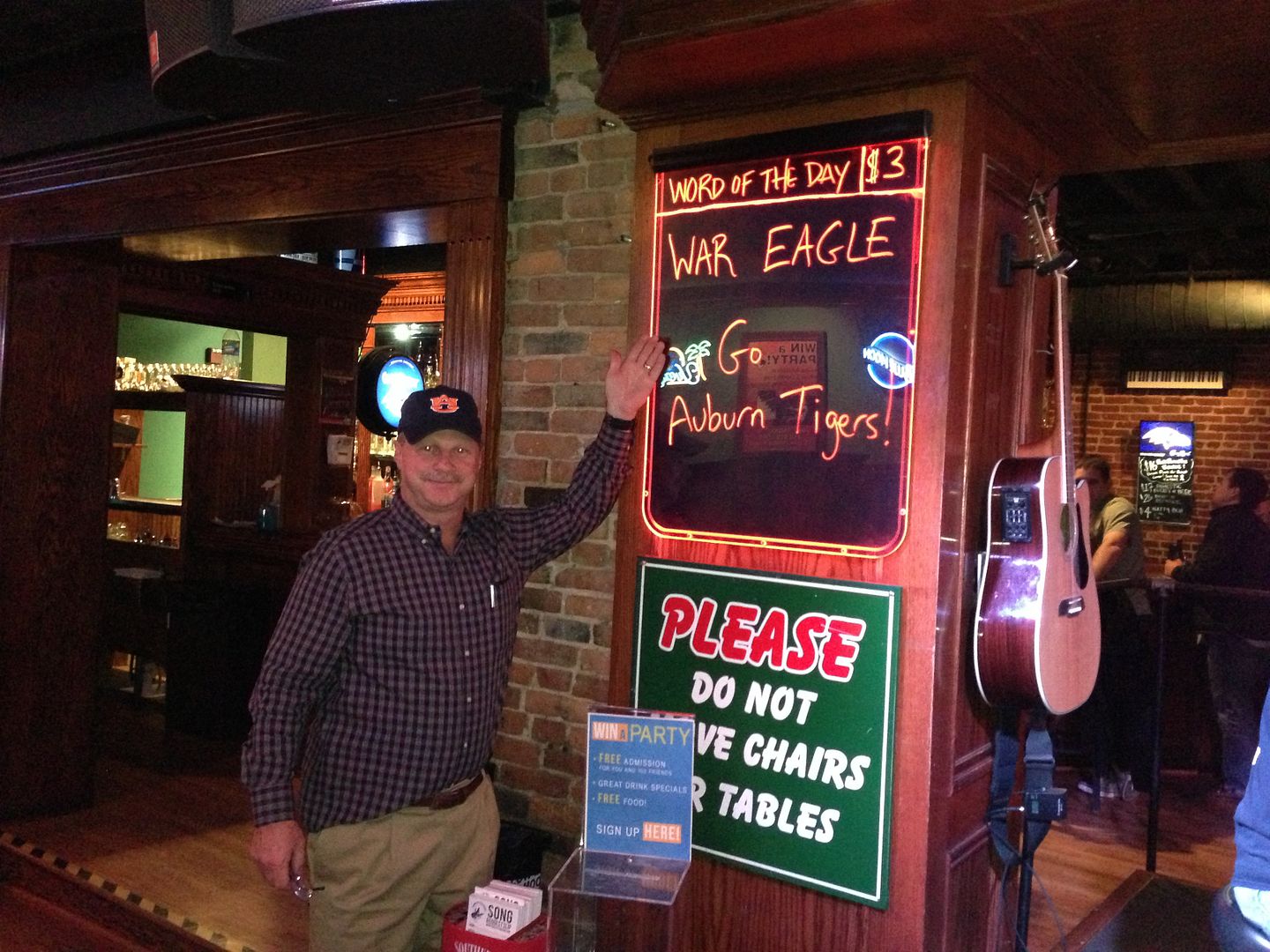 On Friday and Saturday, several board members stopped by our table to say hi and/or have Todd shoot some photos of coins, and even to look at some of my copper!
John/Crypto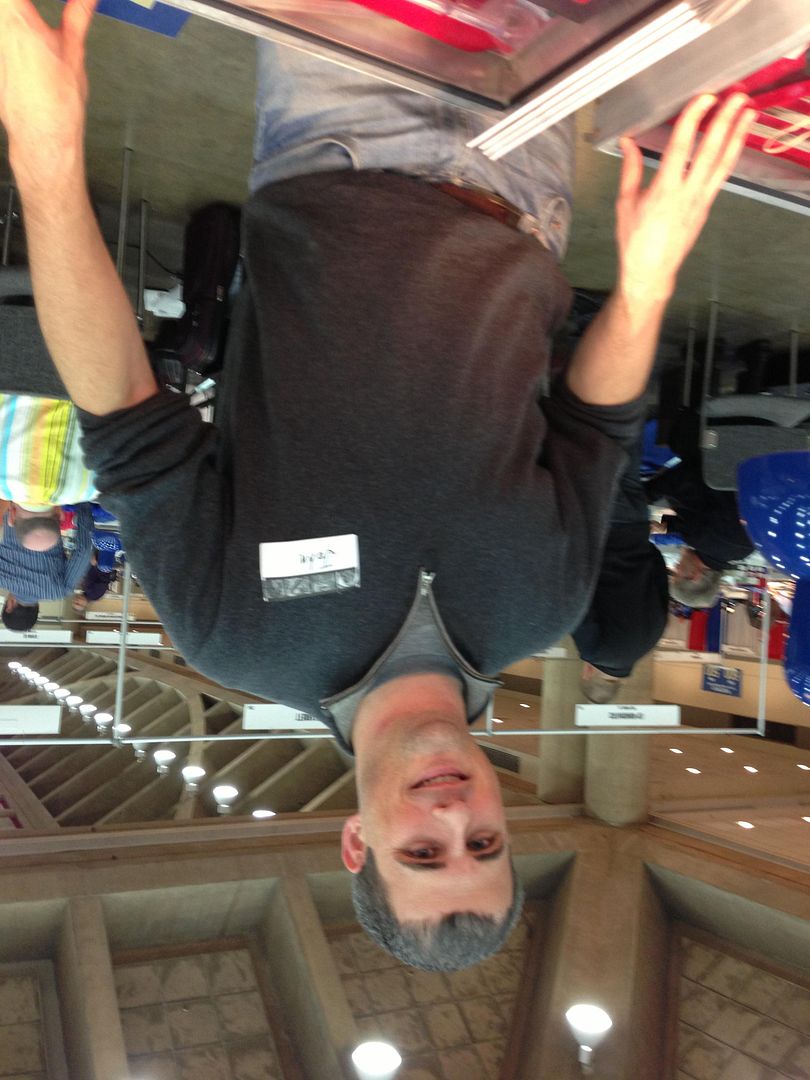 Robert/Orville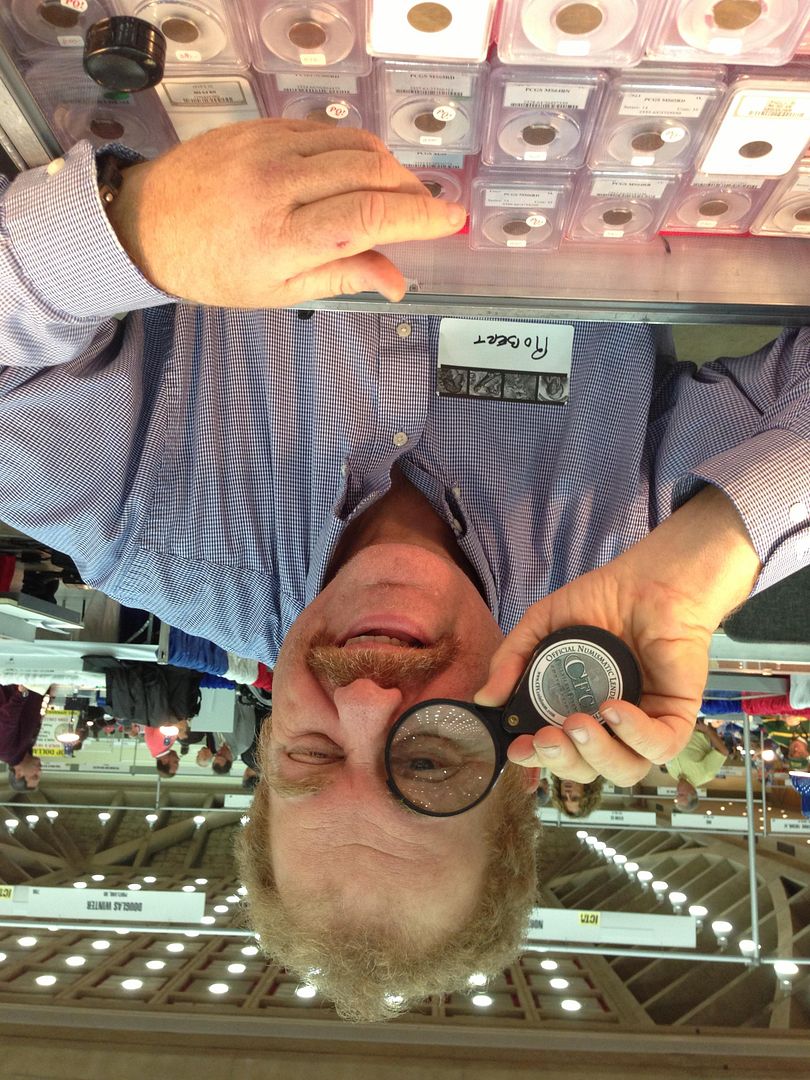 Mike/Goldbully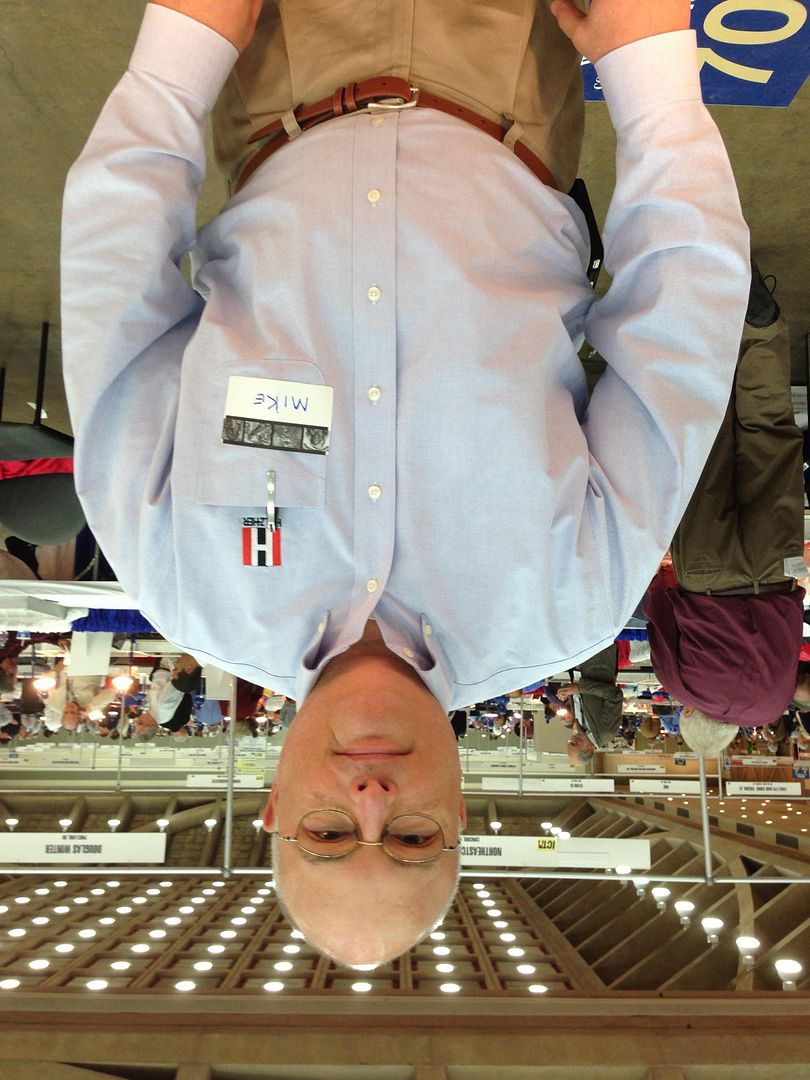 Some board members prefer to remain "incognito"
Jeff/Coppercolor's backpack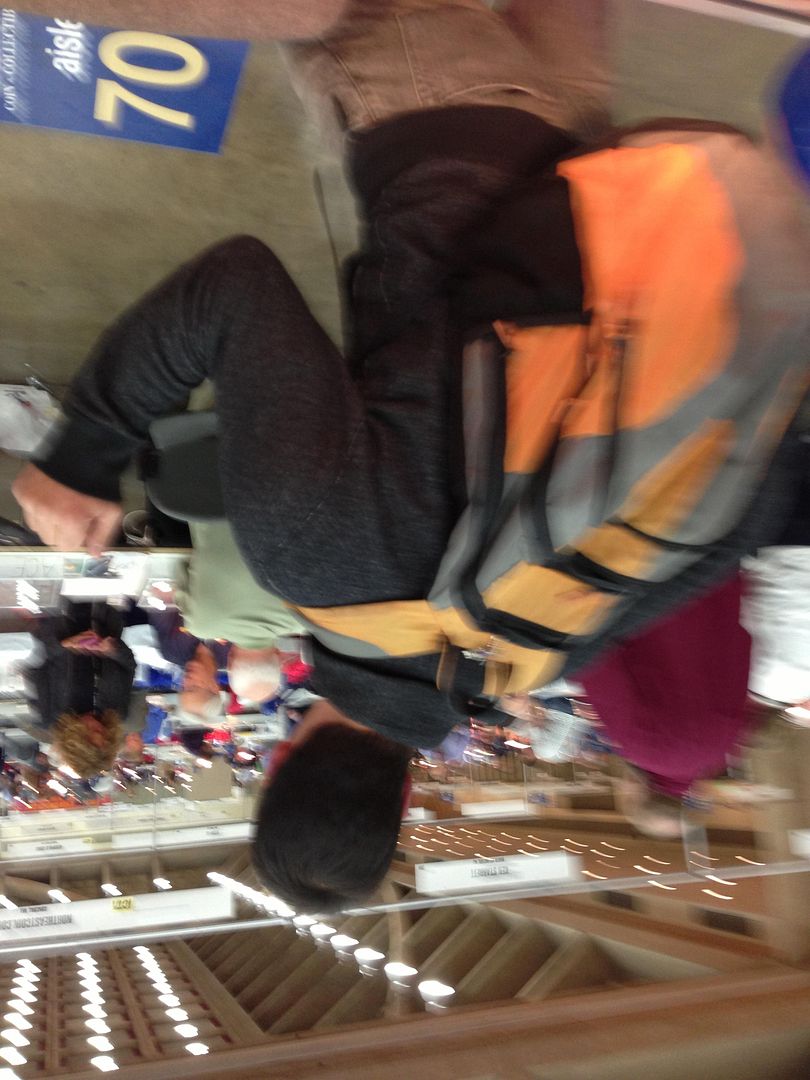 Broadstruck's foot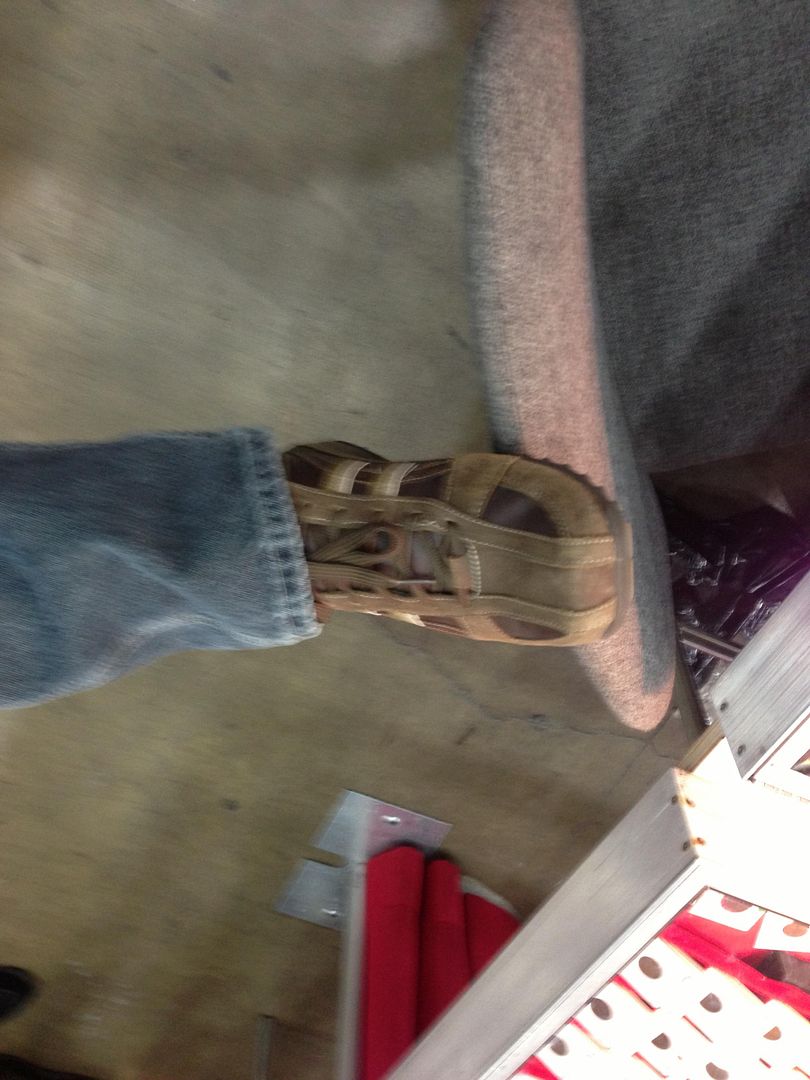 Here are photos I took around the bourse
NGC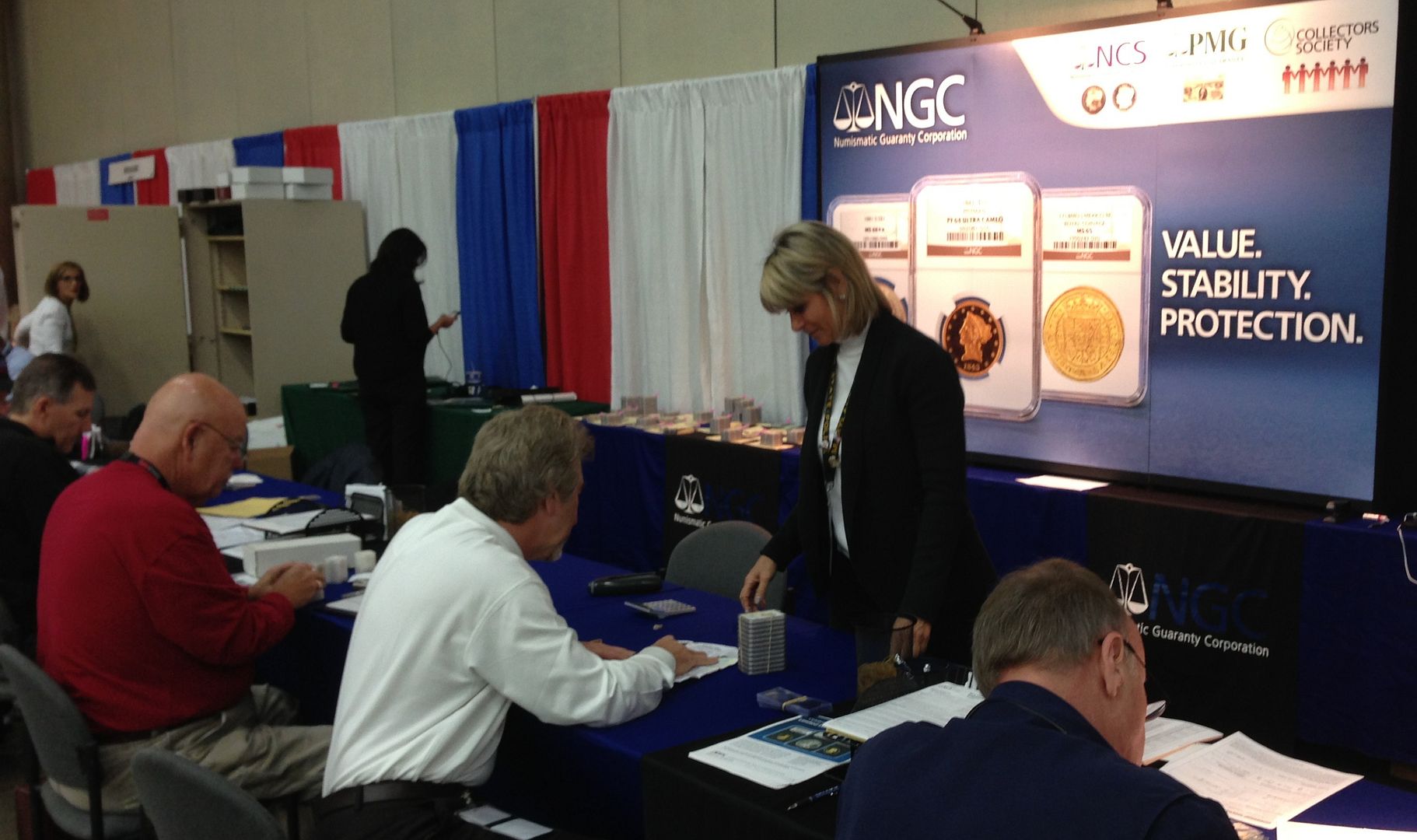 PCGS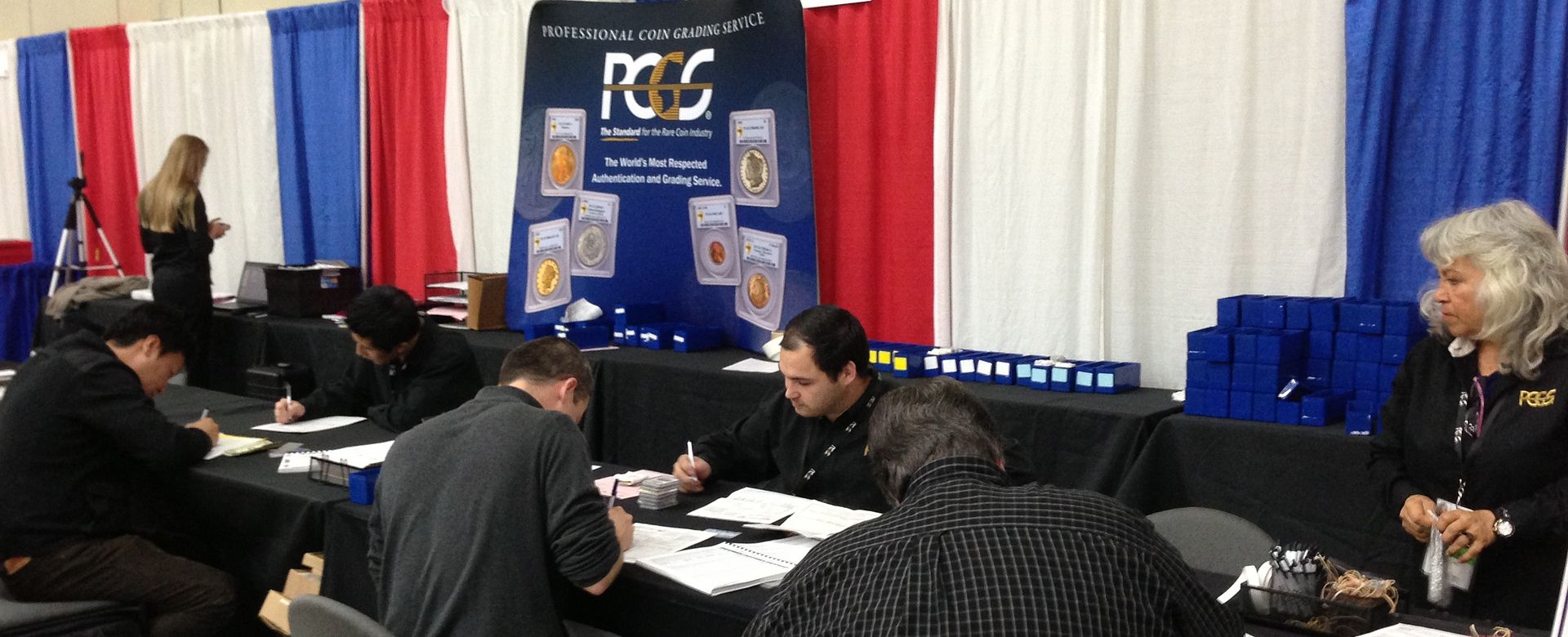 Stacks Bowers Lot Viewing/Pickup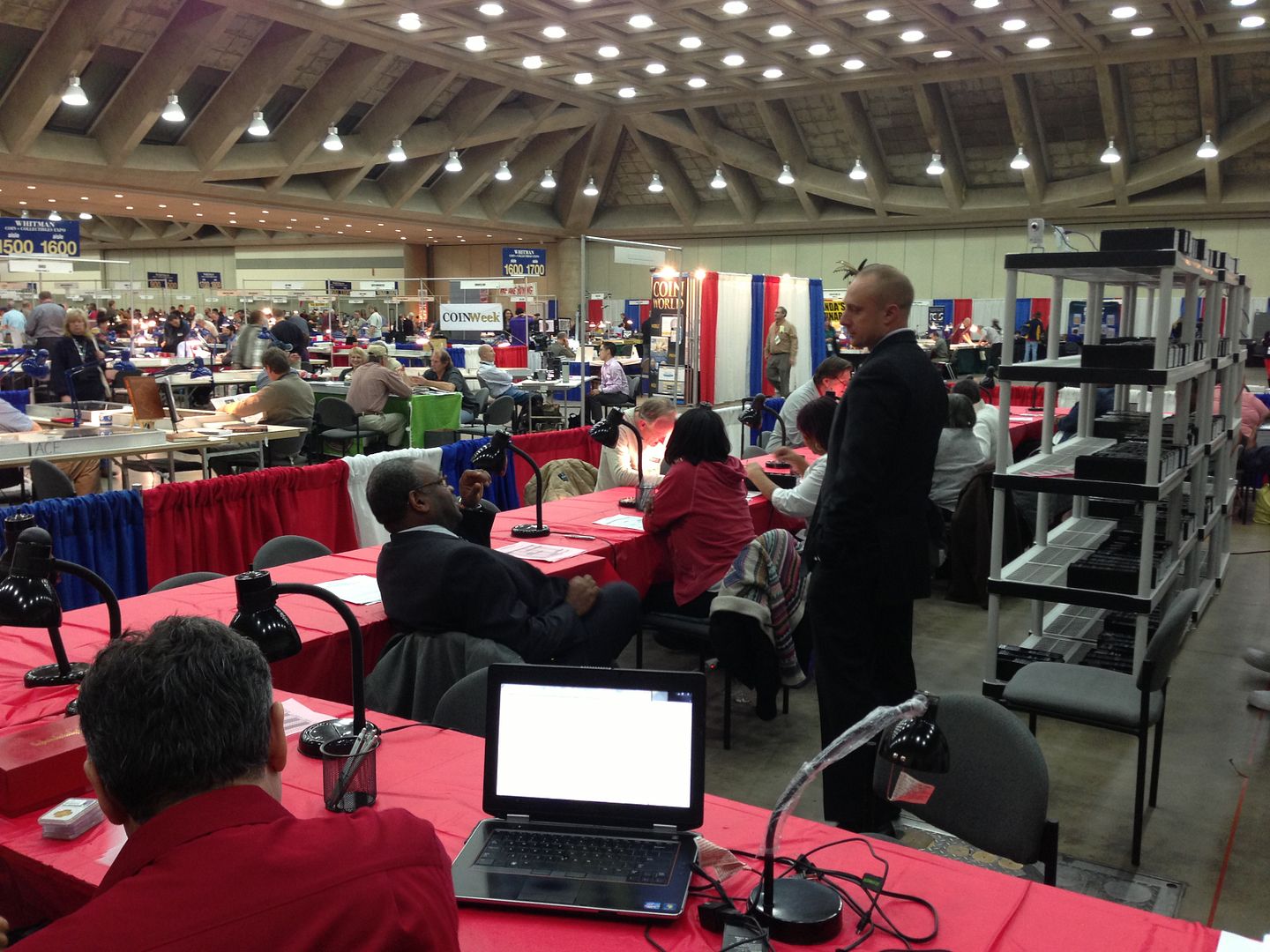 Dino-Lite Folks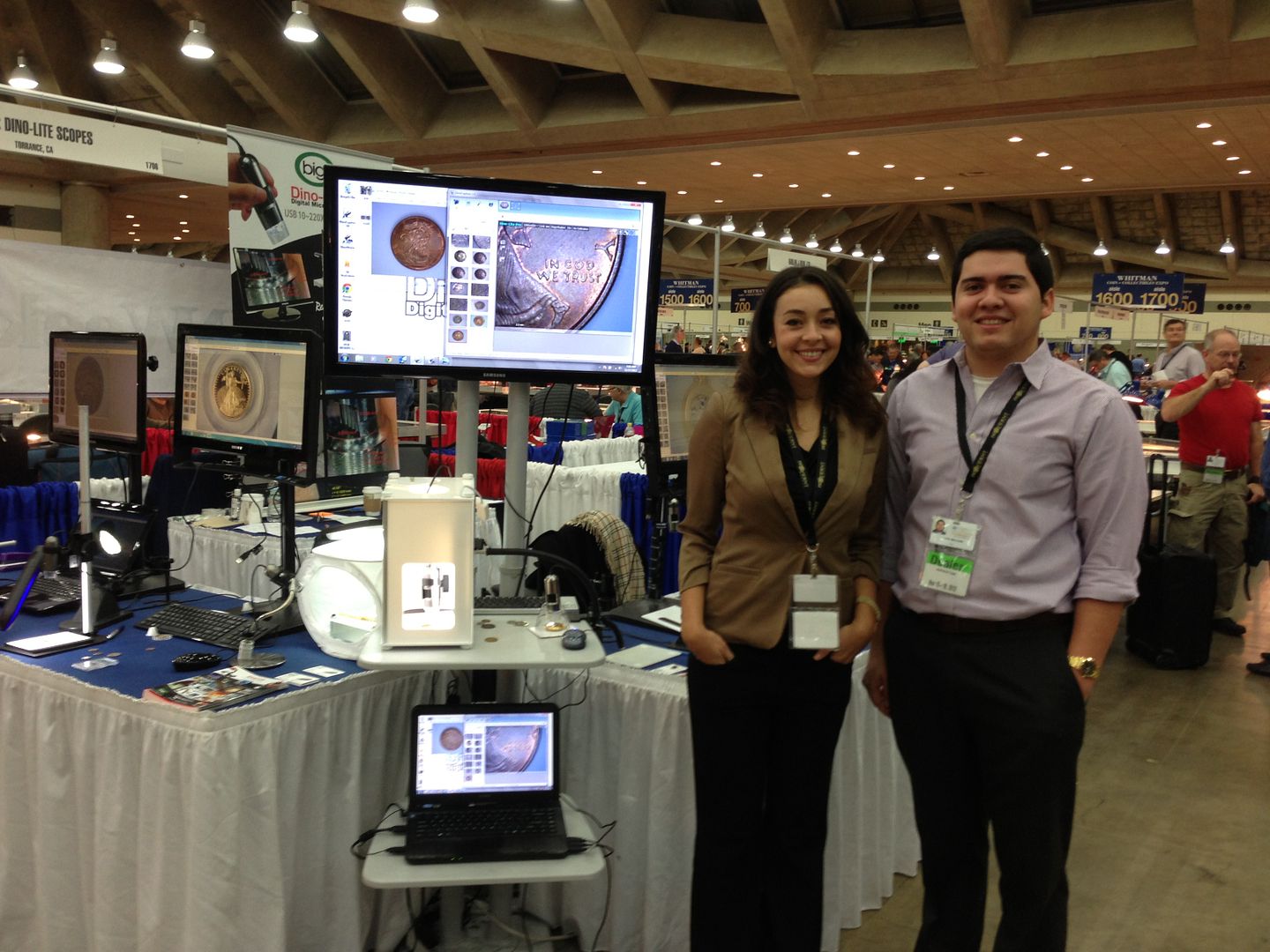 Whitman Folks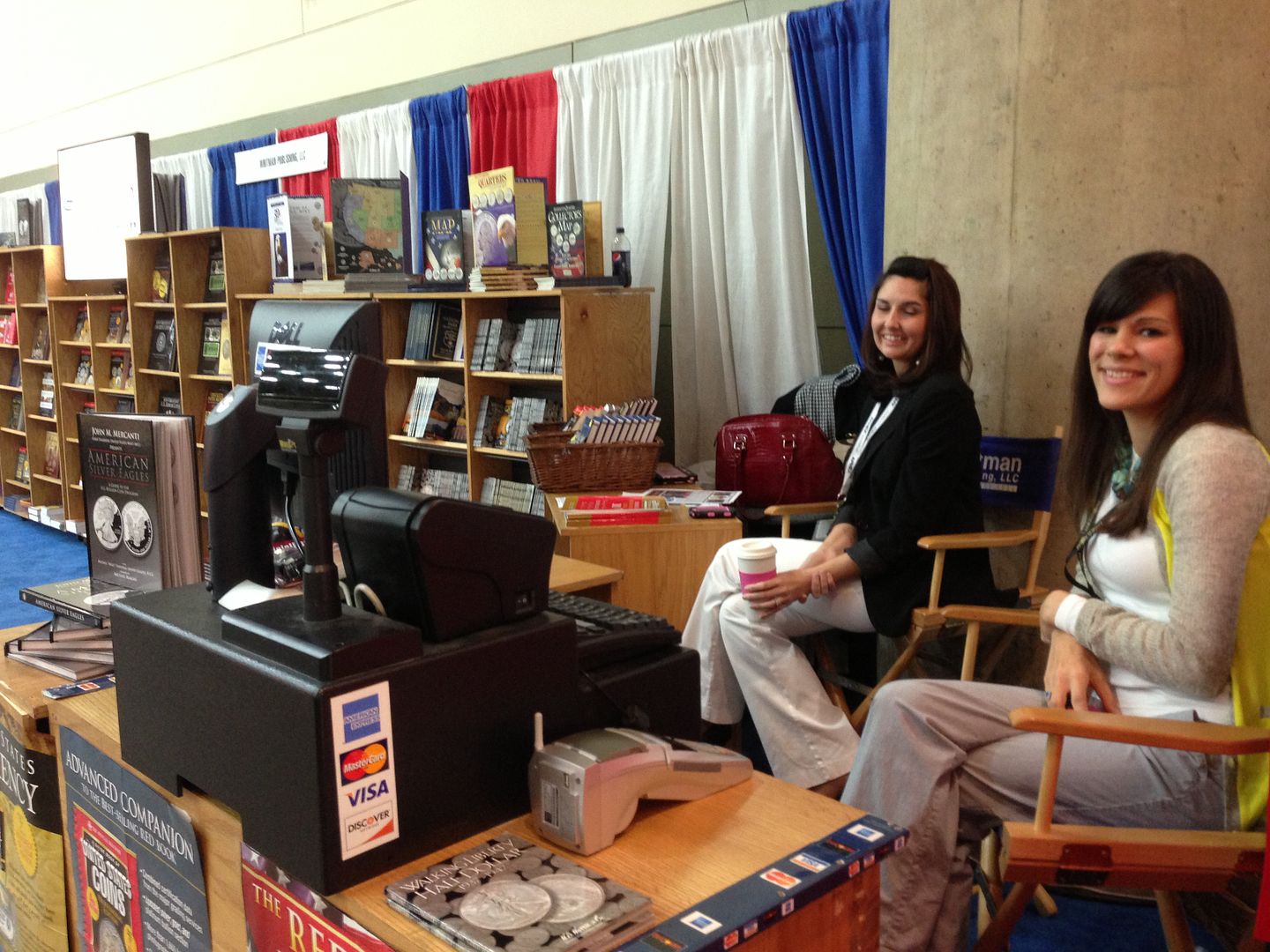 This is a stunning proof that Rick Snow just acquired – it's a PCGS PF66 Deep Cameo 1864 Copper Nickel Proof Indian Cent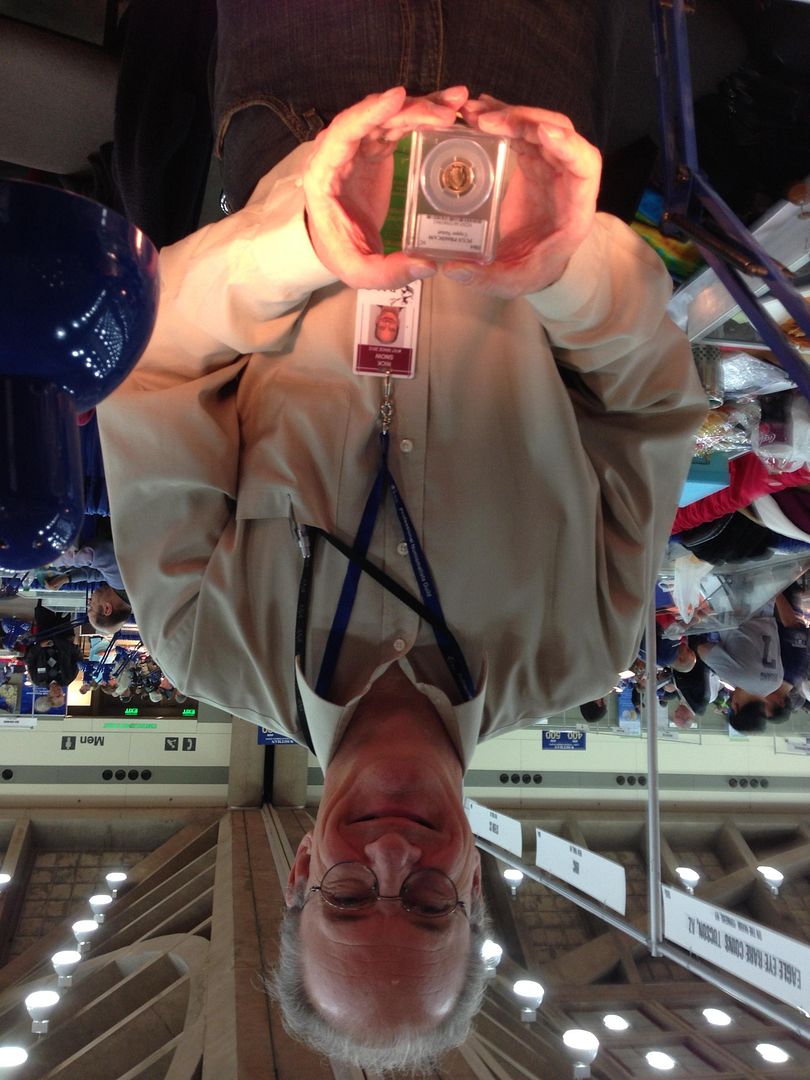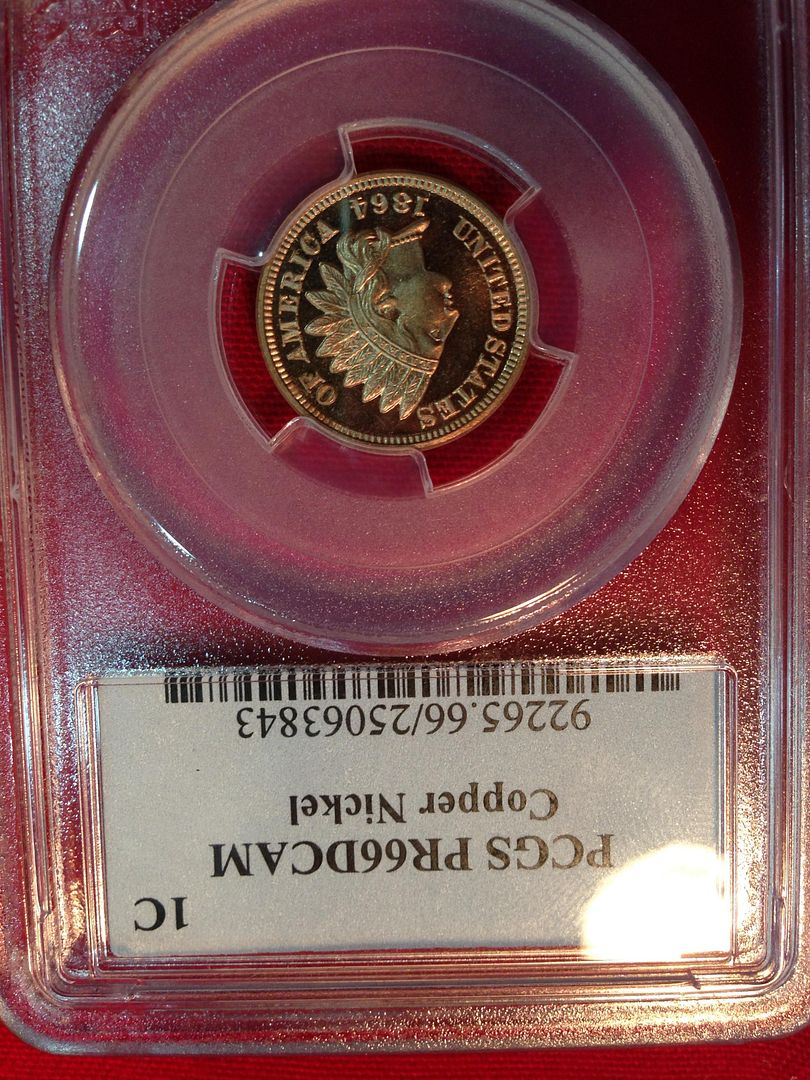 I posted in another thread that I'm preparing an article on "Penny Exonumia" and ever since, I have received several messages from people about pieces they have or know of, and been offered several interesting pieces. Here are some I recently acquired, including a few interesting ones from John Kraljevich.
These are very cool and rare salt and pepper shakers made from Lincoln cents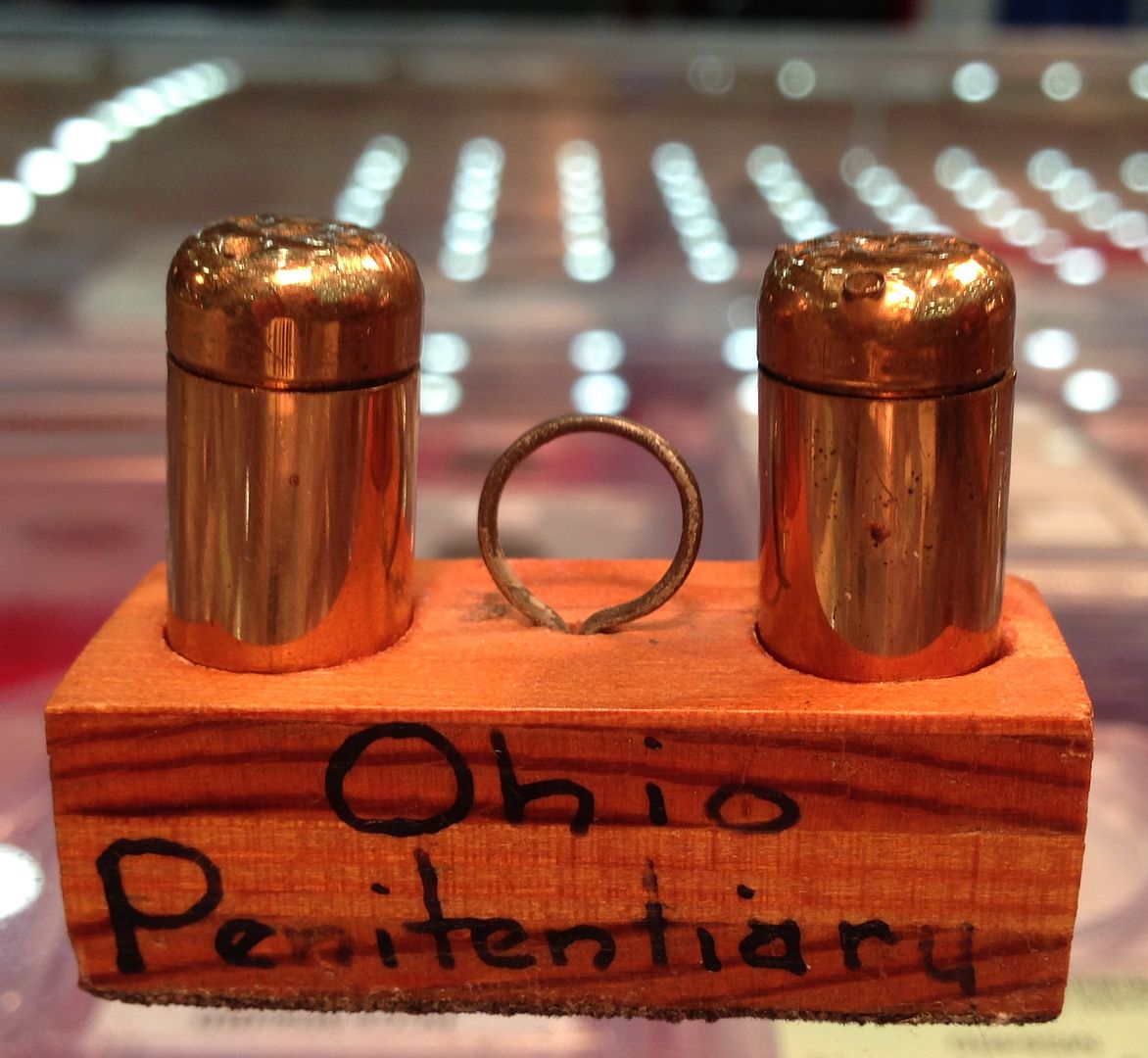 This is a bicycle made from a British pence and farthing
This is a zinc cent encasement (I believe the encasement is modern) but encased 1943 cents are not common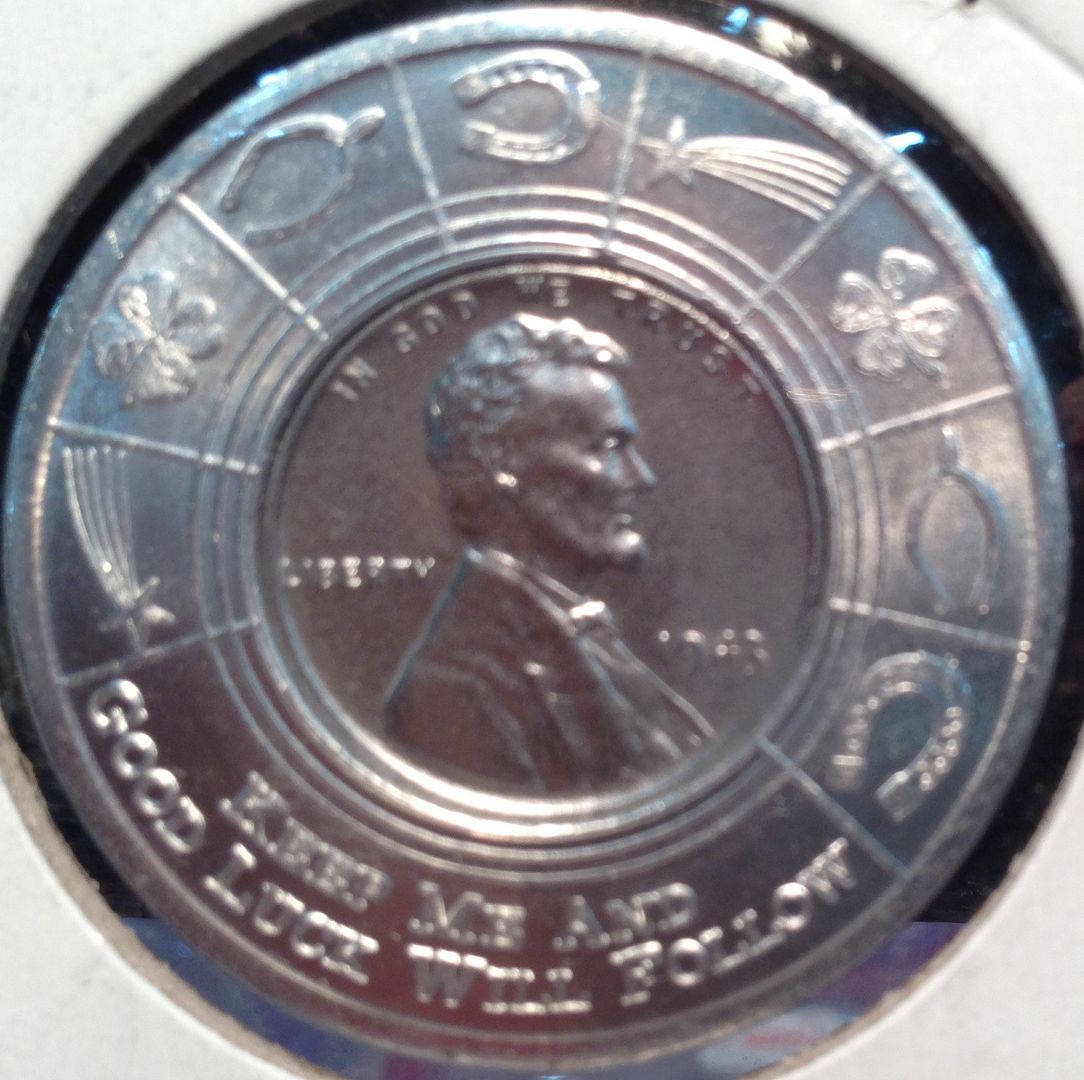 This is a "V" for Victory pin made from Lincoln pennies by soldiers, known as "Trench Art"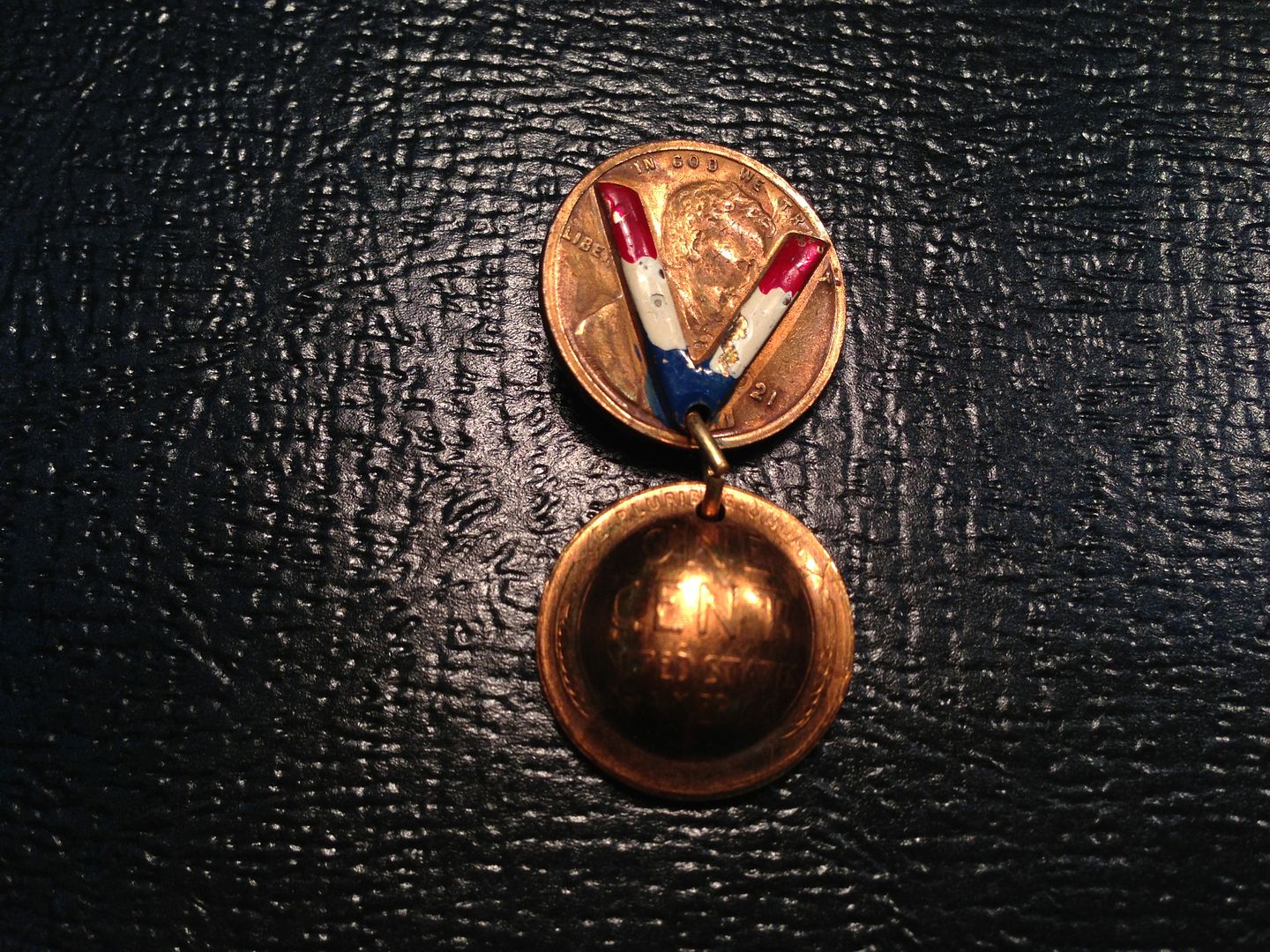 This is a Victory day encased penny I acquired from John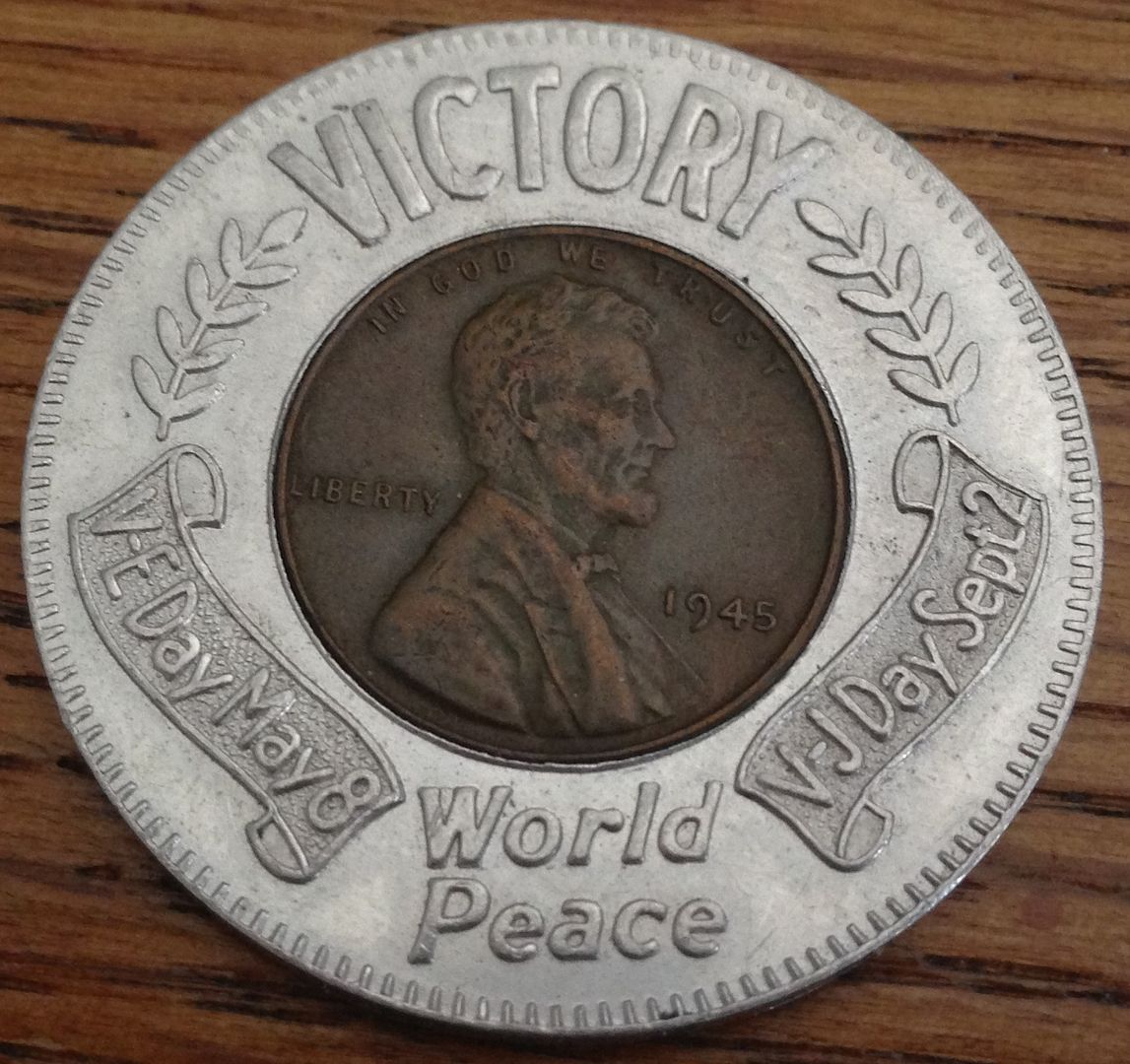 This is an encased 1909 Lincoln cent with attached Lincoln pin which is rare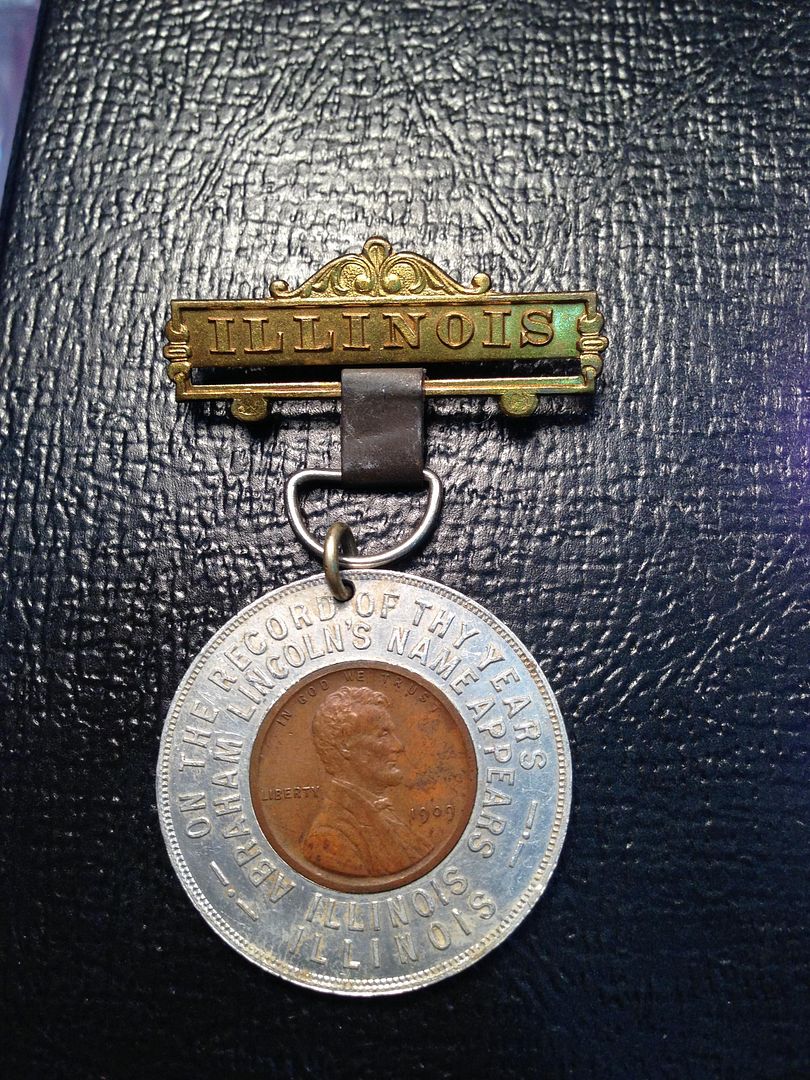 This is a very cool "snuff box" made from British pennies I got from Gary Groll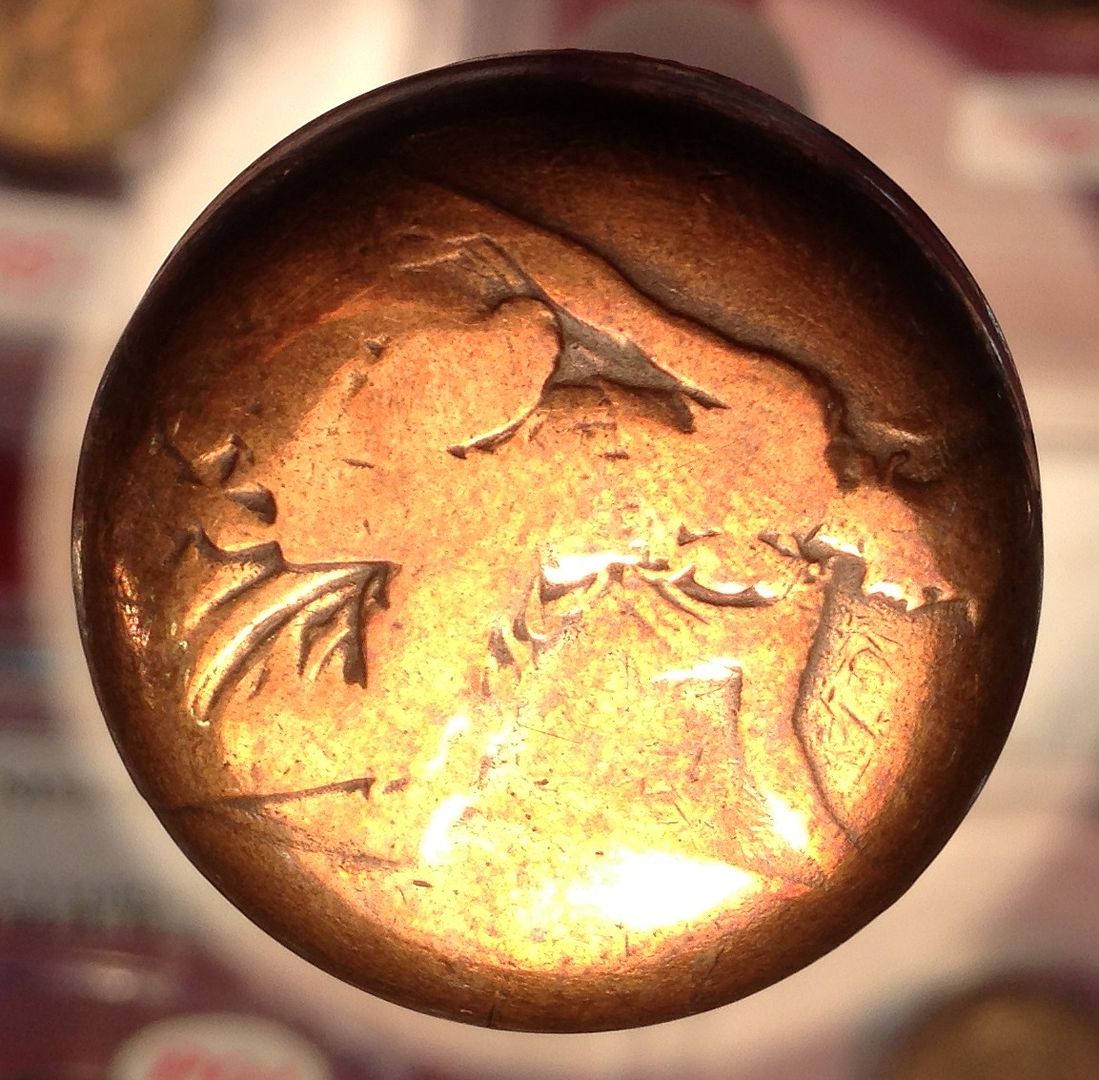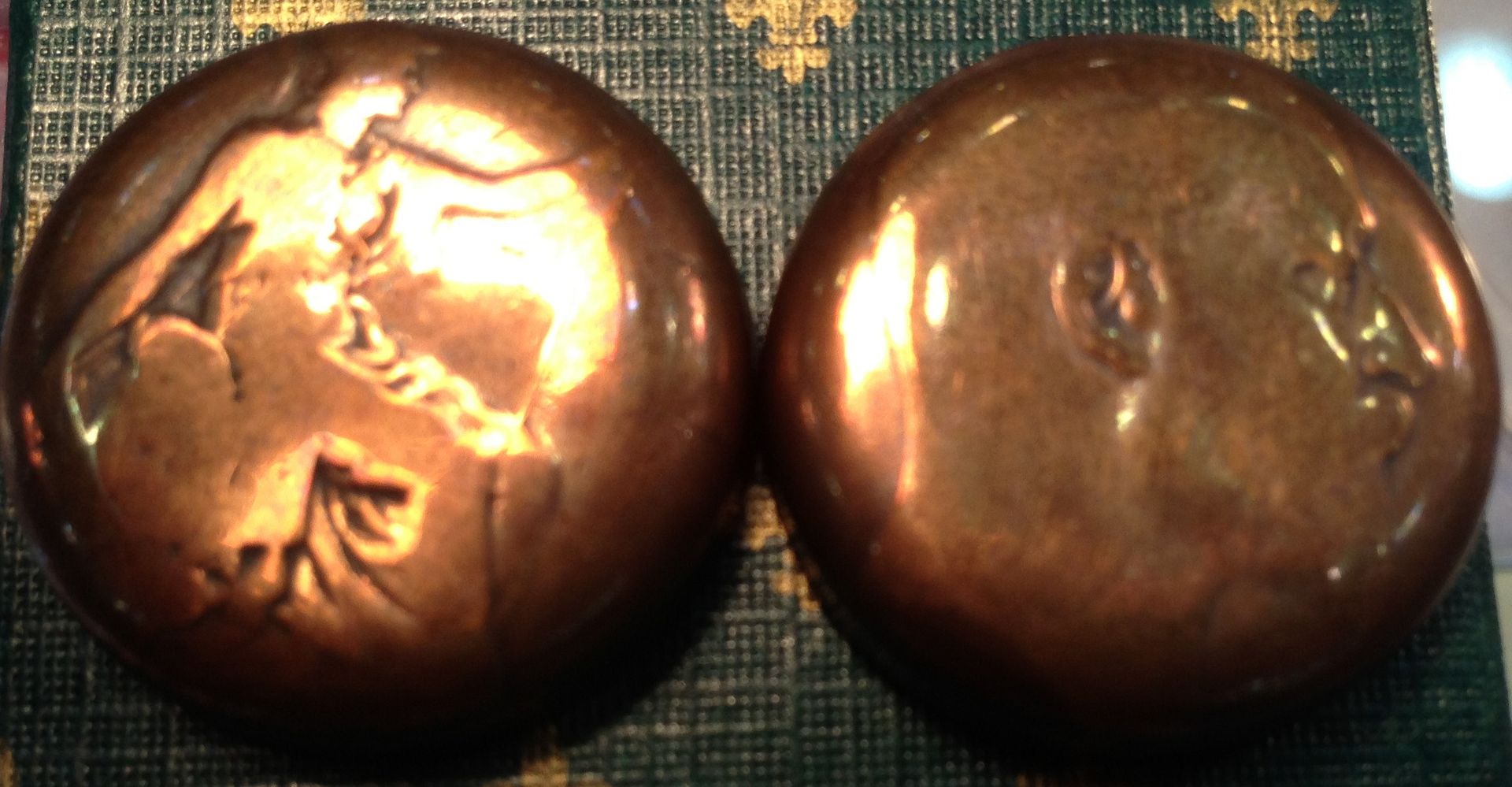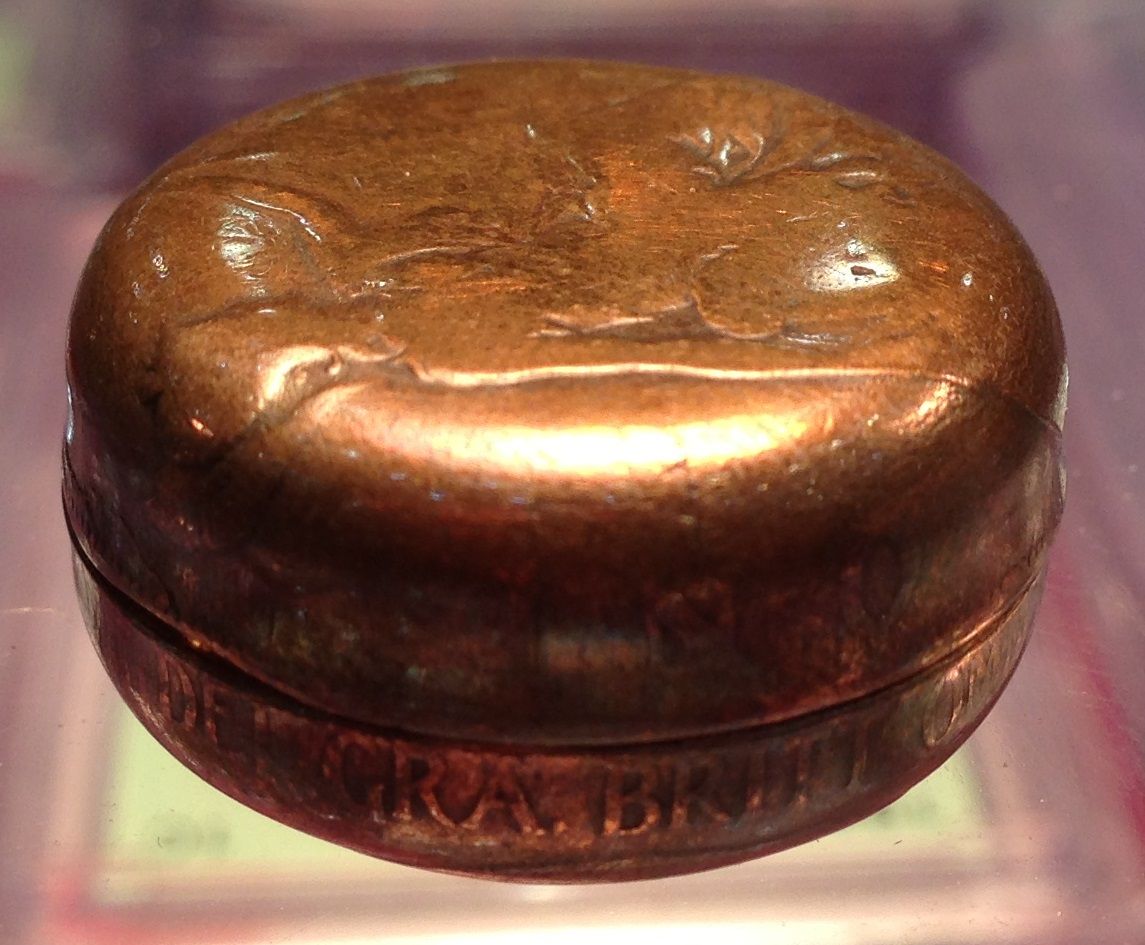 This is a rare "Sticker Penny" I acquired from John Kraljevich – note, this one is an advertising for "Wonder Bread" which as many of you know is one of the products made by the now-bankrupt Hostess company
This is another rare piece I got from John – a "Hobo Penny"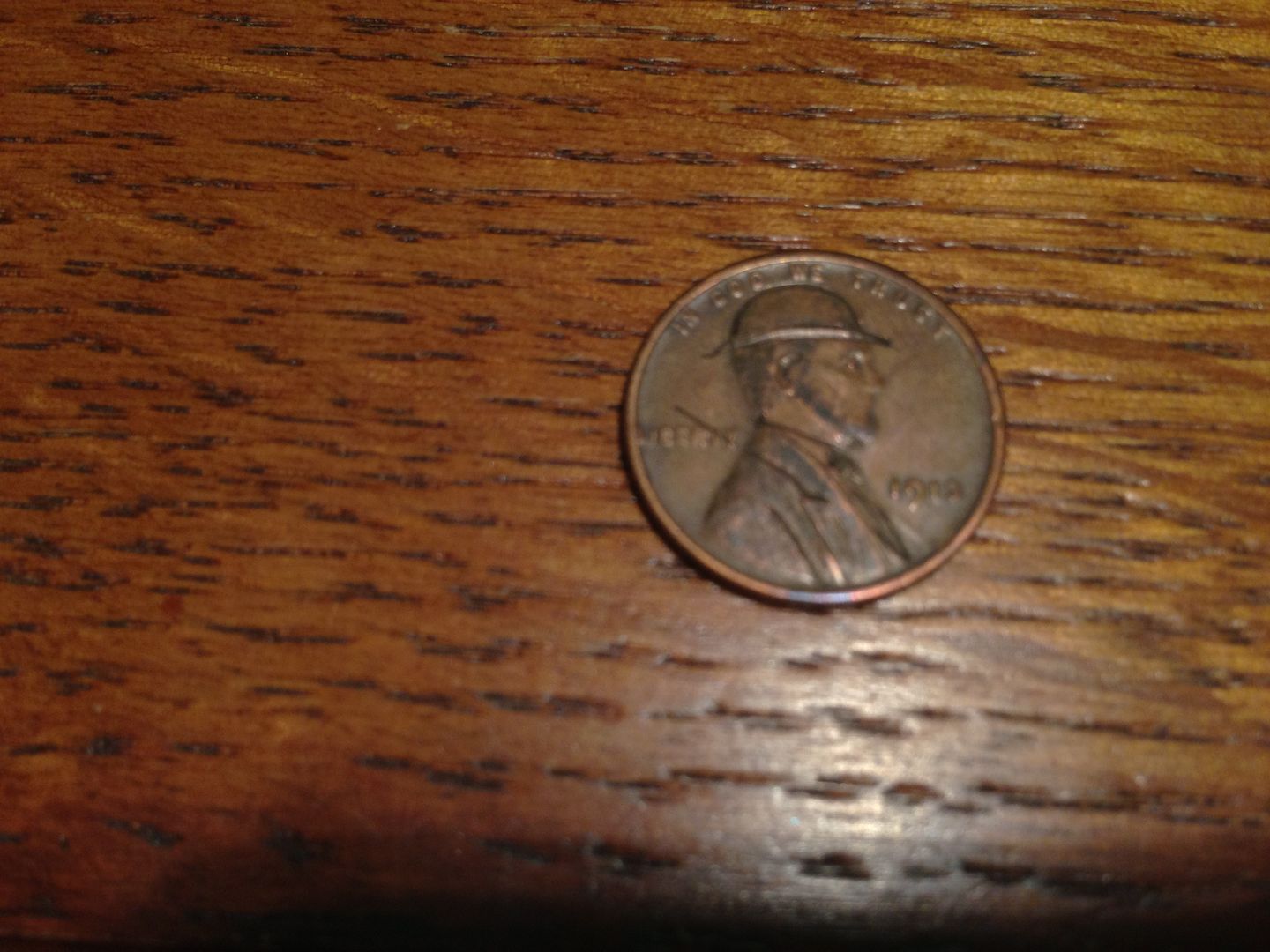 A scarce Roosevelt "pop out" penny made from a 1904 Indian cent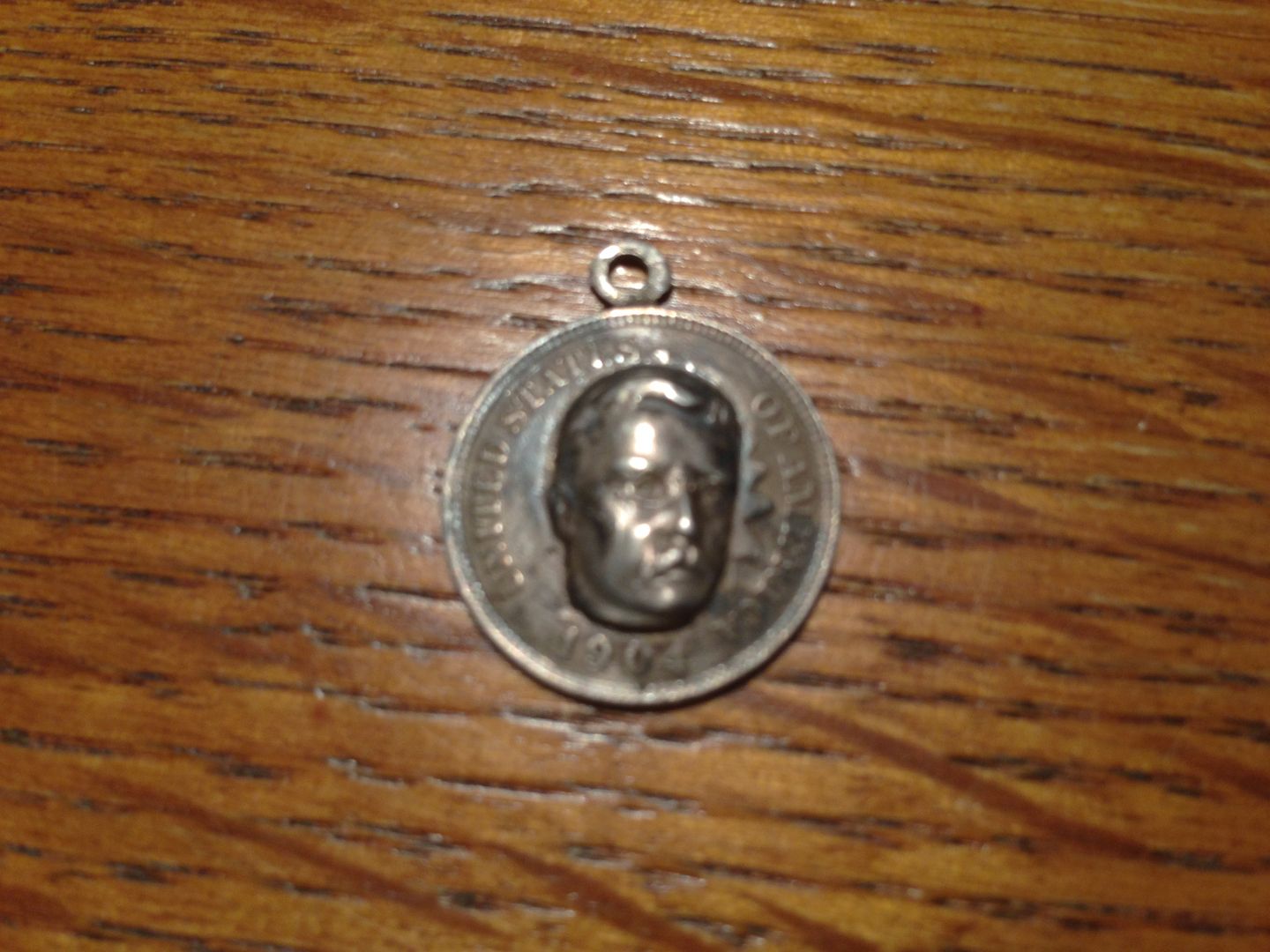 After the show on Friday, a group of us headed over to my favorite Chinese restaurant – PF Changs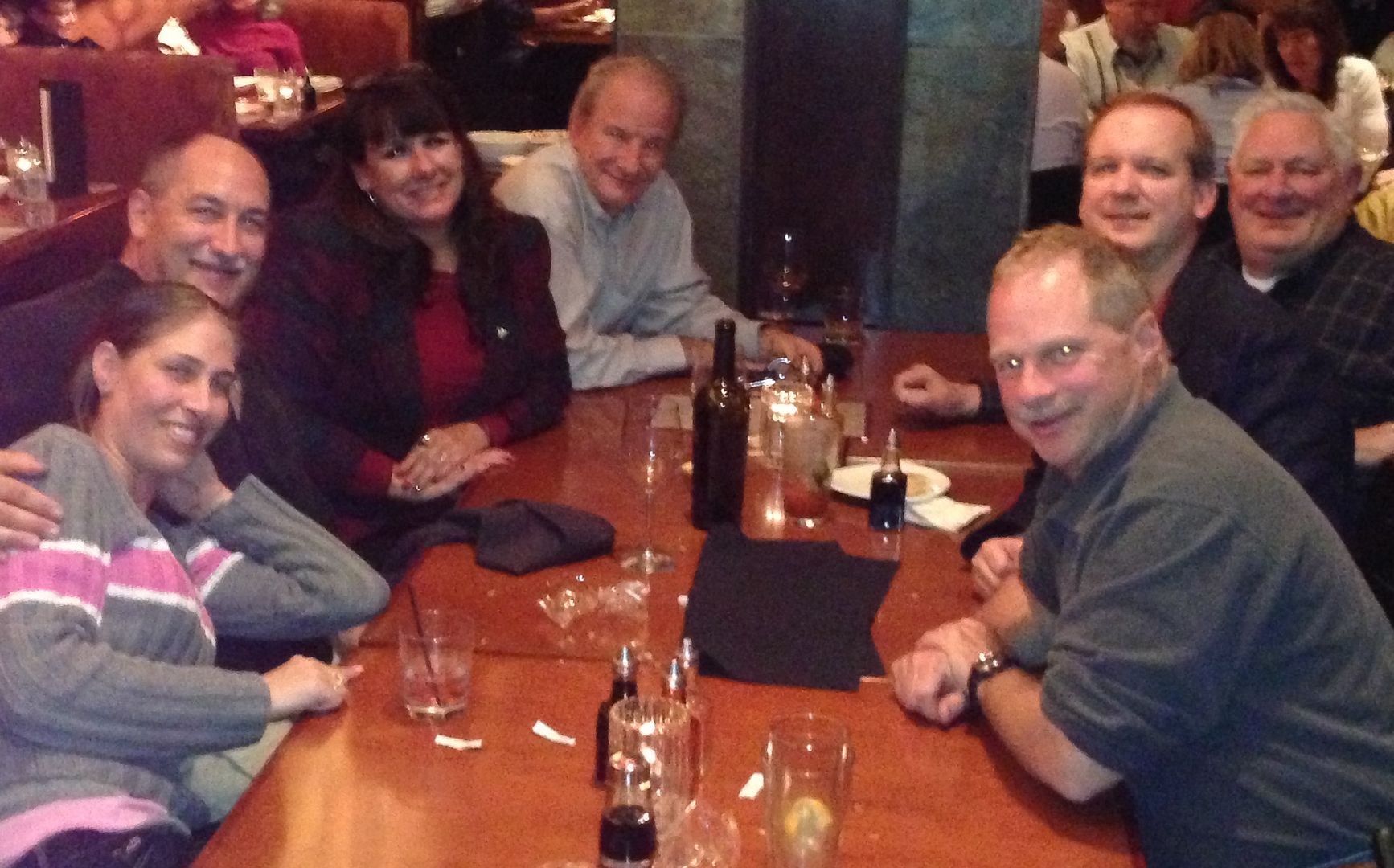 Greg and Neil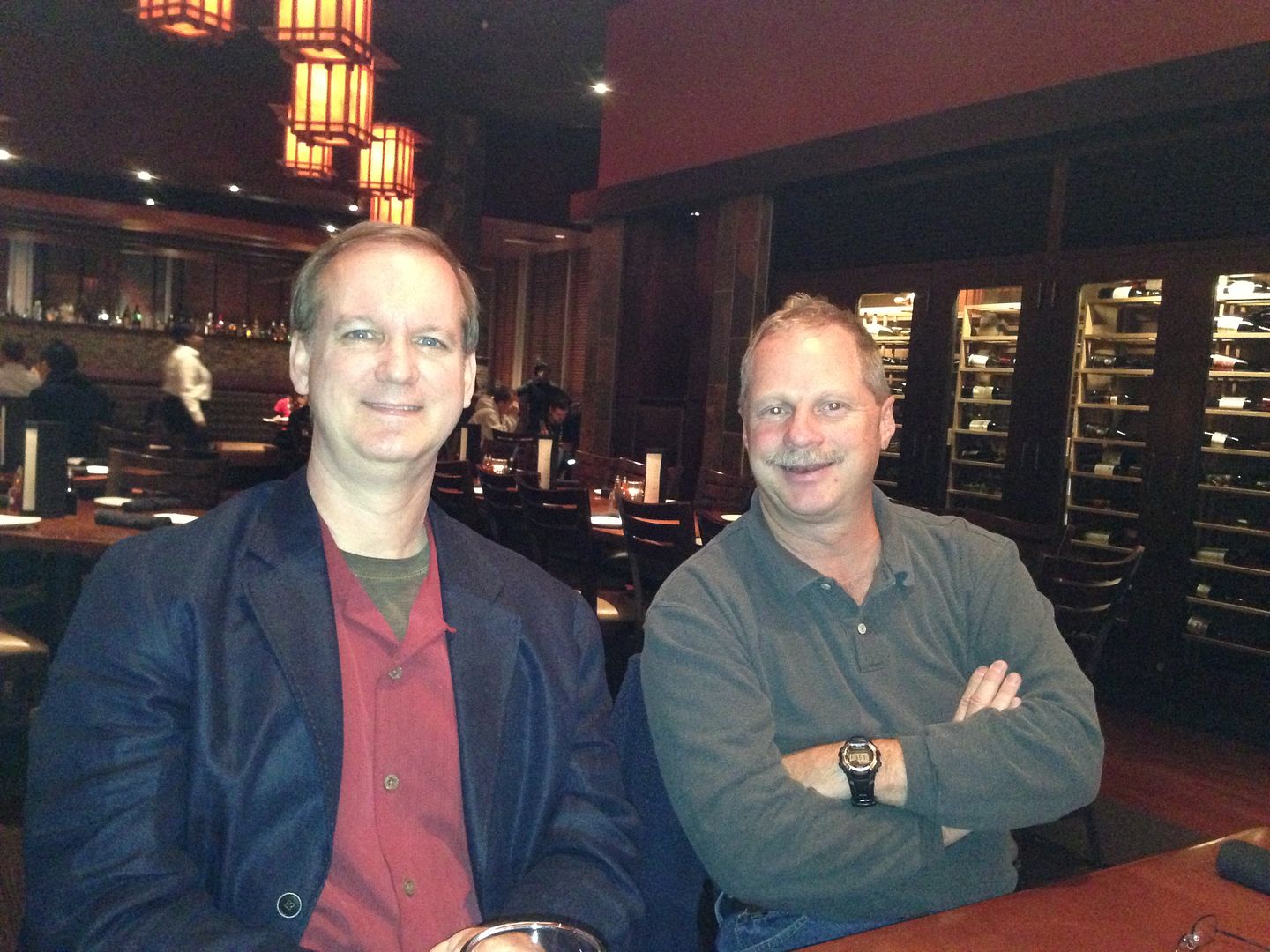 Mark, Me and Rick Snow
The harbor across the street from PF Changs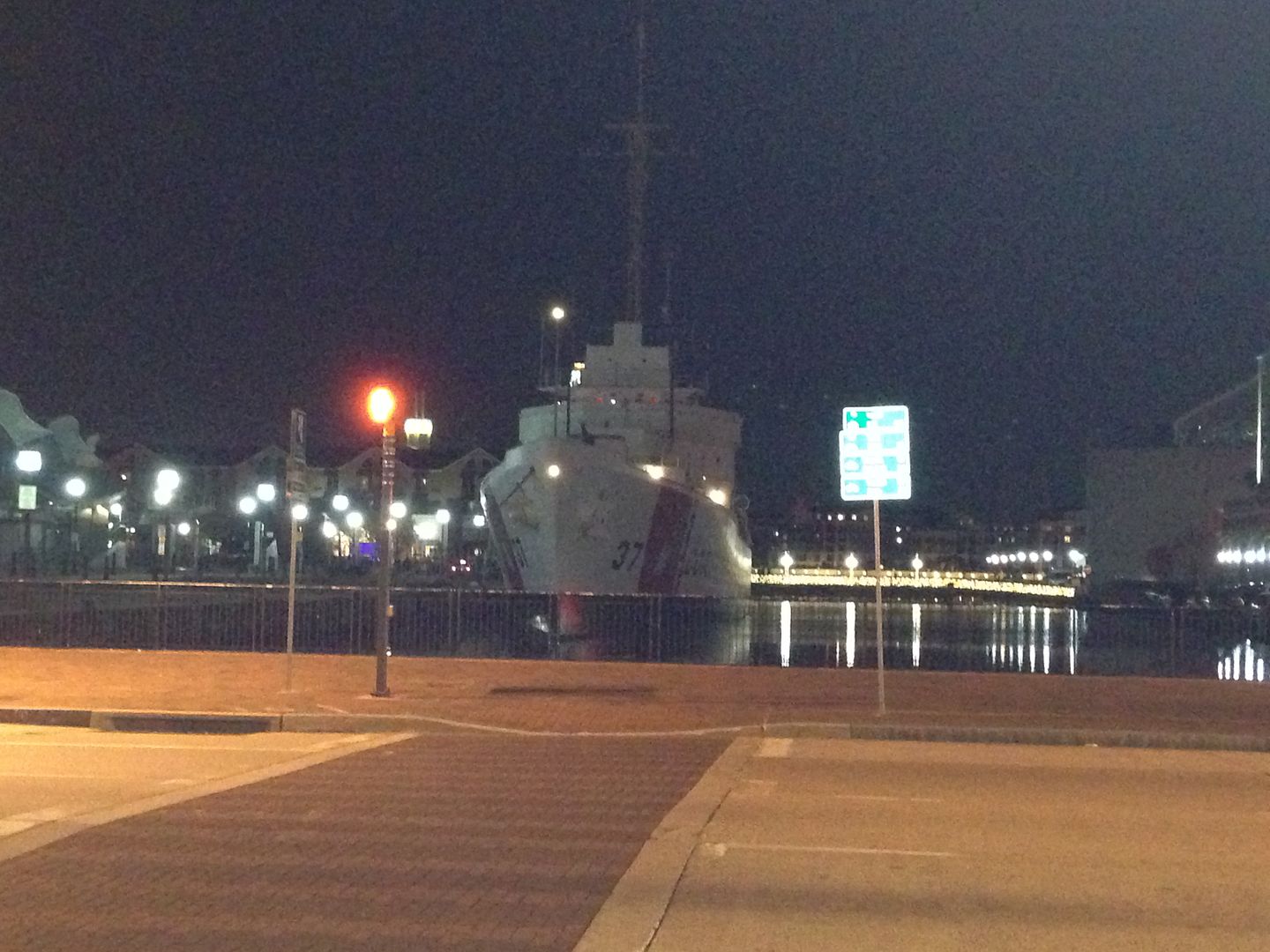 During the show, several of my regular "vest pocket" dealers stopped by my table to show me their copper. Wow, they had some amazing pieces of copper that I couldn't pass them up. Among other pretty pennies, I bought two AU 1877 Indian cents, three 1909-S Indian cents in AU and MS, one of the most beautiful 1869 Indian cents I've seen (next to the one in my personal collection), several key Lincoln cents, and a gorgeous 1864 Small Motto Two Cent in PCGS MS64. I think I bought more coins at this show than any other show! Here is a photo of just some of the coins I bought throughout the show.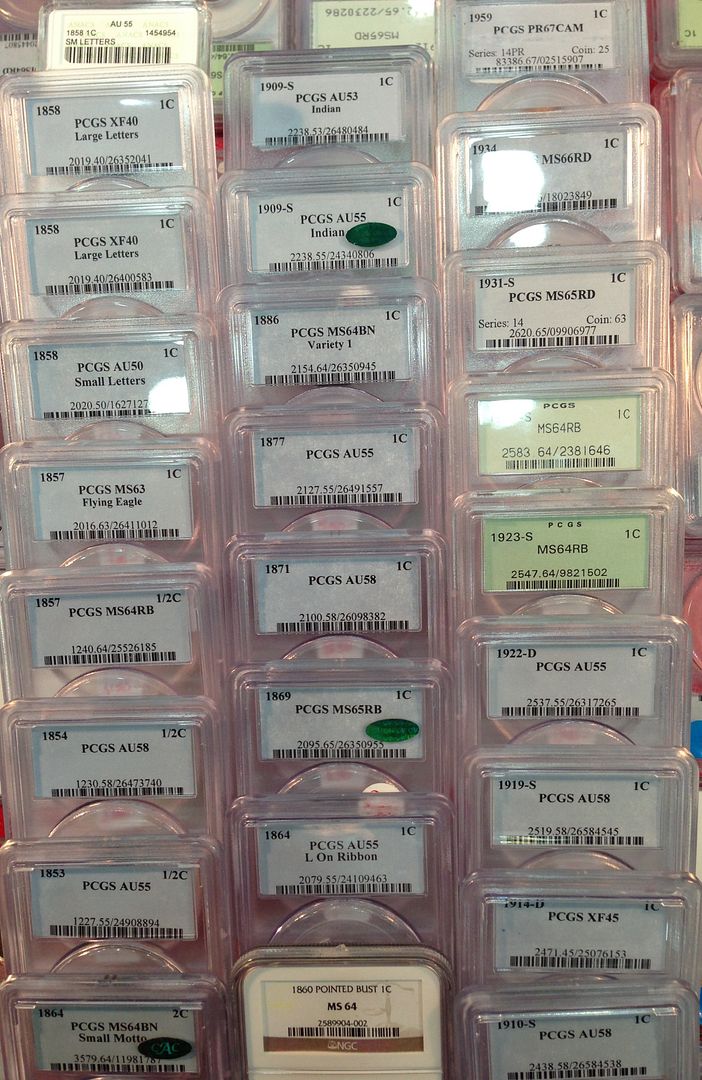 Saturday turned out to be much busier than I expected. I had several nice sales all the way up until I had to start packing up. And overall, it was a fantastic show for me. And from some of the other dealers I talked to, they thought this was a really good show, but even more so, it was a great buying show – and I have to agree!
Soon, I was all packed up and headed to the airport. Again, I was pleasantly surprised that TSA didn't need to inspect my bags so I breezed on through security and had extra time for a pre-flight beverage – this time, a very tasty mango margarita!
As is not unusual, I ran into people I knew at my gate -this is Ian Russell of GreatCollections.com who was at the gate right next to mine getting some work done.
I also ran into Corbin from PCGS who happened to be sitting right behind me on my flight to Phoenix = he promised not to kick my seat too hard if I snored!
That's it for this show report - bye-bye Baltimore until next March….
Charmy Harker - The Penny Lady®
President of Women in Numismatics
ThePennyLady.com