Home
›
U.S. Coin Forum
Charmy's August 2012 "New" SANTA CLARA Coin Show Report w/Pics!

ThePennyLady
Posts: 4,029
✭✭✭✭
I was very excited when I found out there would be a new Santa Clara show as I really enjoy doing shows in the Northern California area. I have several customers in the area, it's usually an easy 6-hour drive, not to mention there are great restaurants and one of the best casinos in the country!
Thursday – I drove up Thursday morning since set up wasn't until 1pm. It's about a 6-hour drive, and pretty boring so I listened to a very interesting book on tape (a biography on Wyatt Earp) which really helps make the time go by quicker. However, do enjoy going through the Pacheco Pass (Highway 152) through Gilroy to Highway 101. It's a very pretty drive, and when I get to Gilroy, I always take a deep breath so I can inhale the wonderful garlic aroma! The fresh roadside flower and vegetable stands are a favorite of mine too.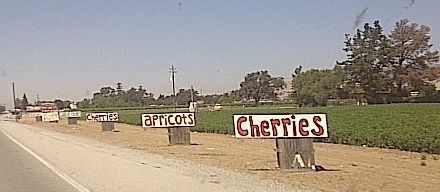 Once I arrived at the show, I began the usual tedious process of setting up my booth, but it was very nice to have a lot of space, and the convention room was nice and air conditioned! After I was finished setting up, I was able to walk around and see if I could fill some want lists. Then it was time to meet with my good NoCal wine-loving buddies for dinner! Since the Hyatt (which is attached to the convention center) has a wonderful Italian restaurant, we decided to meet there for dinner.
Of course they had brought some amazing wine for dinner!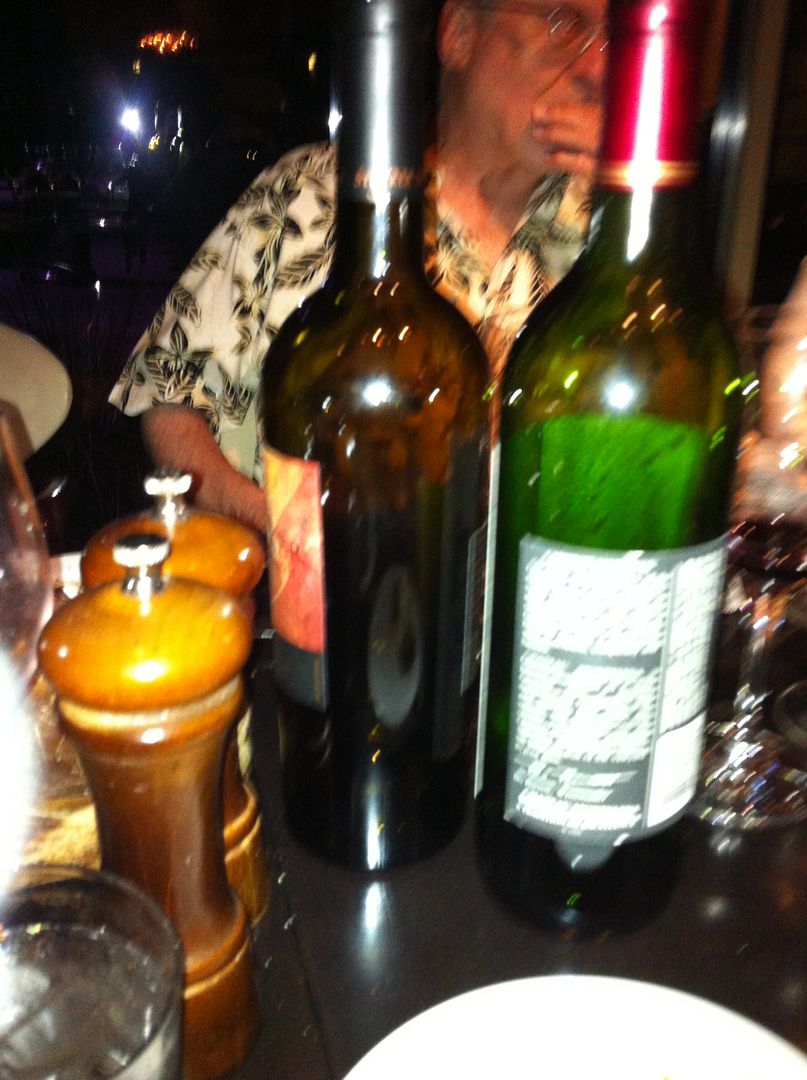 After dinner, of course, I headed over to Bay 101 to play some cards with another dealer buddy. I was doing pretty well until he switched over to my table. Then, frustratingly, I saw my nice stack of chips slowly move over to my dealer friend as his chip stack just kept growing and growing! It seemed like he couldn't lose, no matter what kind of garbage cards he played! He got me really good when I had pocket Aces which were capped pre-flop, and he stayed in with 8-5 and got a straight on the river! Damn! Oh well, when someone is getting really lucky like that, that means someone else is NOT! This is a pretty dolphin fountain on display in front of Bay 101.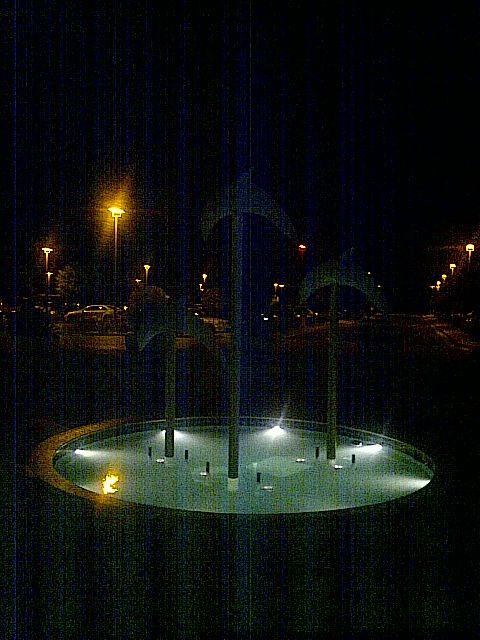 Friday – I arrived at the show early to make sure I had everything set up. All the dealers were all set up and ready for this new show to open!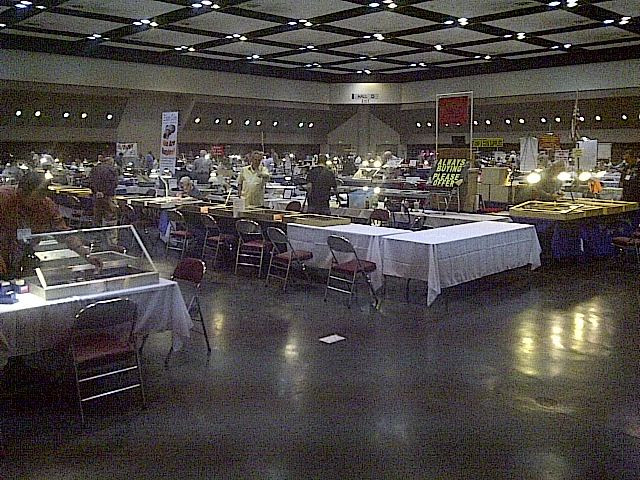 I went into the reception area just before the doors opened and saw a nice crowd eager to be let in!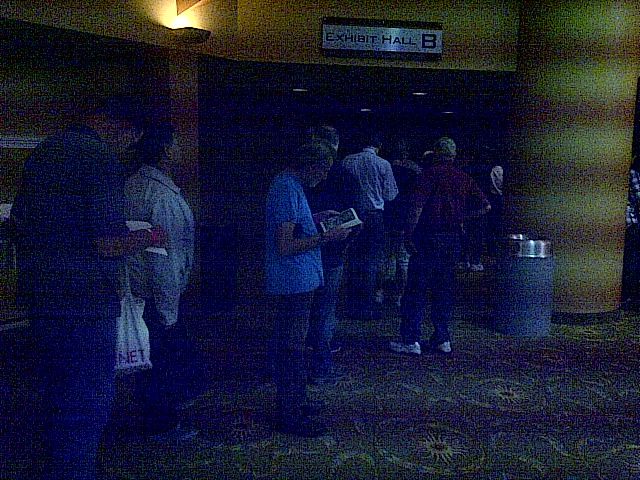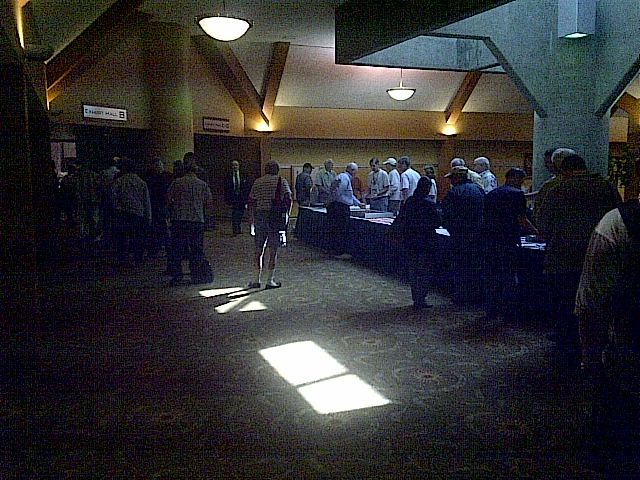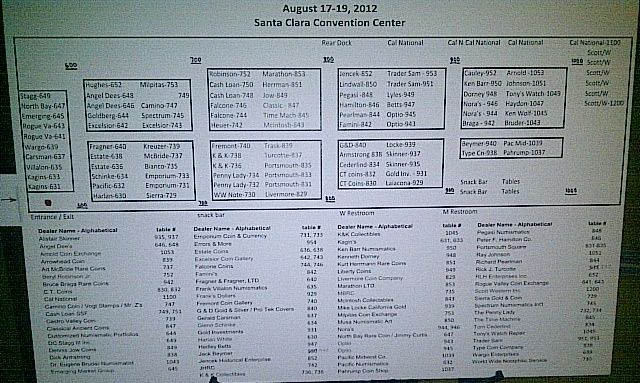 Just before the show opened, Scott had set up a large flag on his table and had the national anthem play on the p.a. system – this was a really nice way to start the show!
As usual, it was great to see several forum members who stopped by (both days) to say hi!
Ray/RMPsRPMs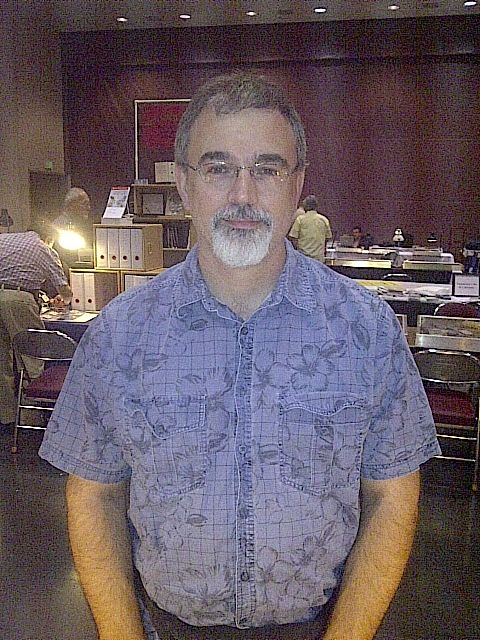 Dan/OriginalDan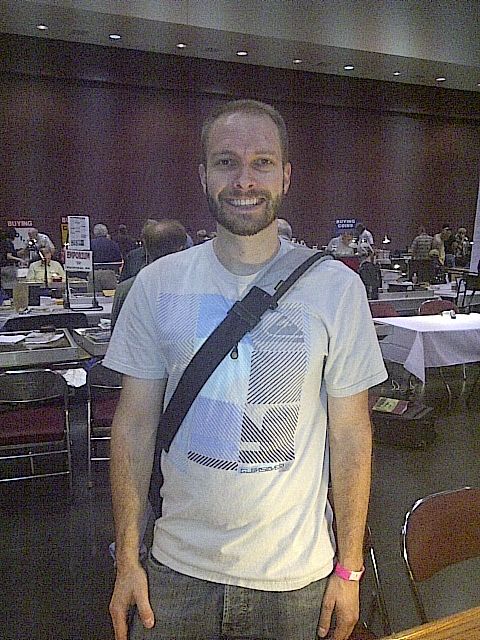 Sy/Skyman
Brian/Camlov2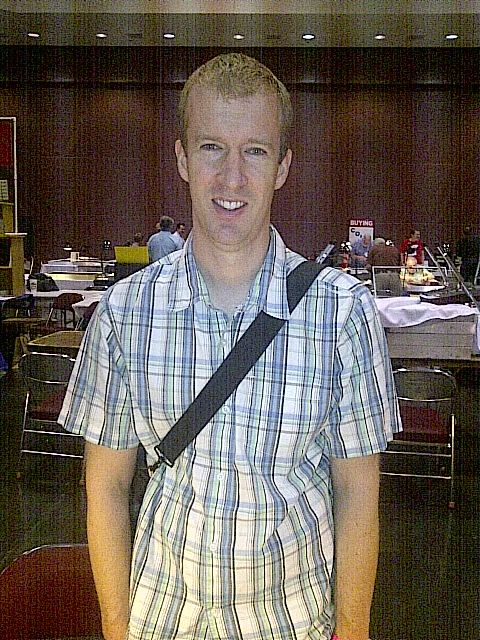 Lance/Lkeigwin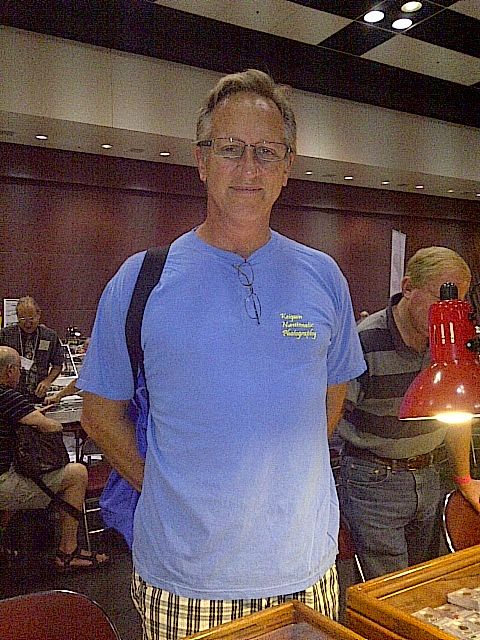 Jim/JBN
Dennis/Dennis88
That's Scott Griffin in the middle (didn't know the names of the other two guys)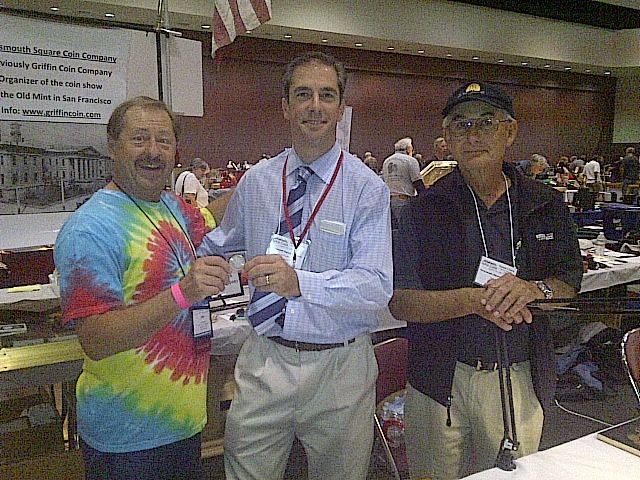 It's a little hard to tell from the photos because the aisles were so spacious, but we had good crowds both Friday and Saturday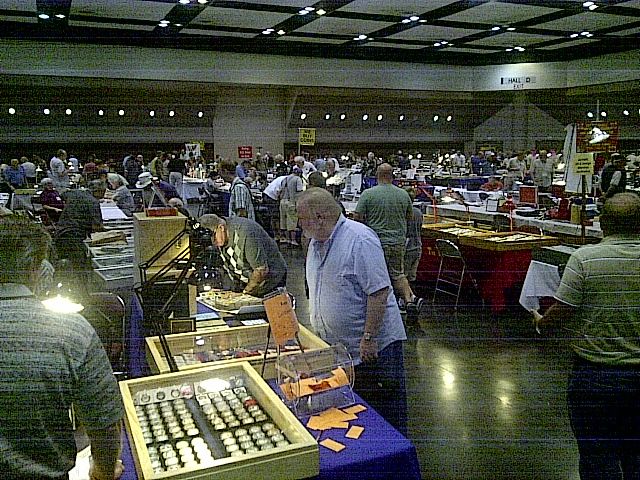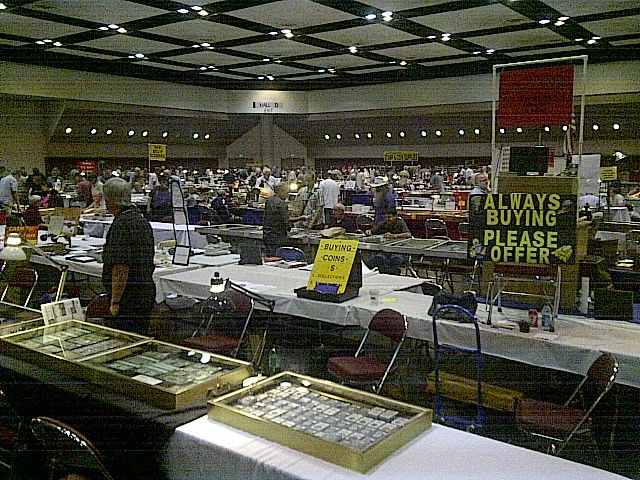 Here are some of the dealers – This is John (on the right) and his new helper from Grass Valley Coins
And these are my very good dealer friends (who are huge wine enthusiasts) Gerry Carsman and Joe Wargo from the Sacramento area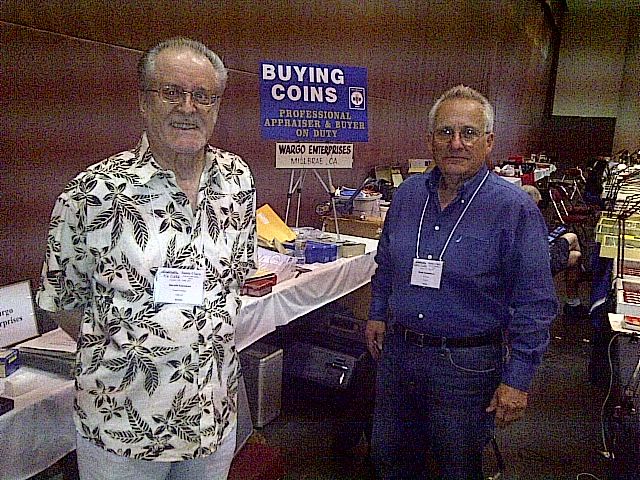 And of course, li lol me!
After the show on Friday, since we enjoyed our dinner at Tusca's so much, we decided to go back there. There is a waiter there (Moe) who is really great and is also a waiter at Spencer's Steakhouse at the Doubletree in San Jose where the San Jose show is held, so we specifically ask to be seated in his area. He takes good care of us and doesn't even charge us corkage fees for our wine!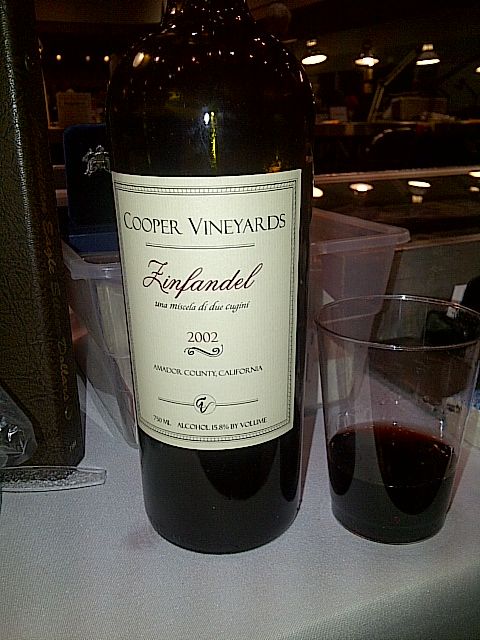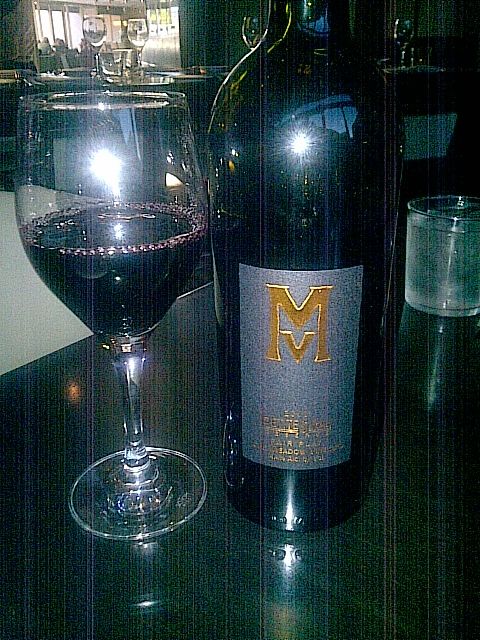 Here are some of the dishes we had – this is a really tasty salad (see, I do have healthy foods too!)
The salads are garnished with these really interesting watermelon radishes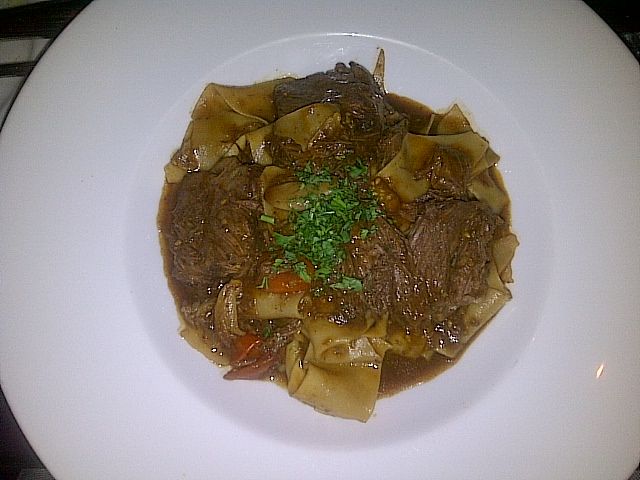 And this is my dinner group (Alan Kreuzer, Joe Wargo and his wife Sarah, Gerry Carsman and his wife Linda, and me - notice all the wine is right in front of me!)
I have to say that Scott Griffin did a fantastic job with this new show and deserves a lot of kudos for his hard work! He did a ton of advertising, he made sure all the dealers had what they needed, all the tables were occupied, the convention room was well organized and spacious, from what I could tell registration was quick and smooth, he made announcements on the p.a. system throughout the day so everyone knew what was going on, when the snack bar was opened and closed, when the drawings would be held, etc.
In talking to several dealers, they all said they had a very good show, better than expected for a "new" show. Also, all the collectors I spoke with said they were very happy to have a show back at the Santa Clara Convention Center. So, from all accounts, it was a very successful show!
Charmy Harker - The Penny Lady®
President of Women in Numismatics
ThePennyLady.com