Home
›
U.S. Coin Forum
Charmy's 2012 PNNA TUKWILA/SEATTLE SHOW REPORT w/lots of Pics!!!

ThePennyLady
Posts: 4,084
✭✭✭✭✭
Thursday: I arrived at the John Wayne airport quite early since my hubby dropped me off on his way to work. Here's a photo of the inside of the airport (some of you may recognize it since a few movies have been filmed inside the terminal.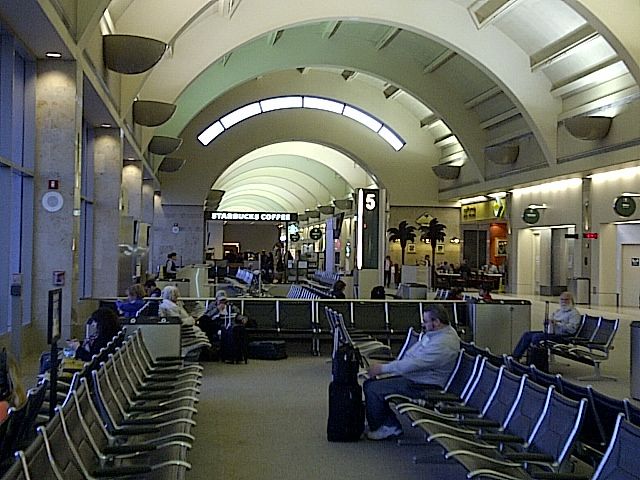 And here's my plane arriving from another flight
When I landed in Seattle I couldn't believe how beautiful the weather was! My brother Paul who lives outside Seattle picked me up at the airport. Here are some beautiful photos he took Thursday morning from his office of the Expedia building….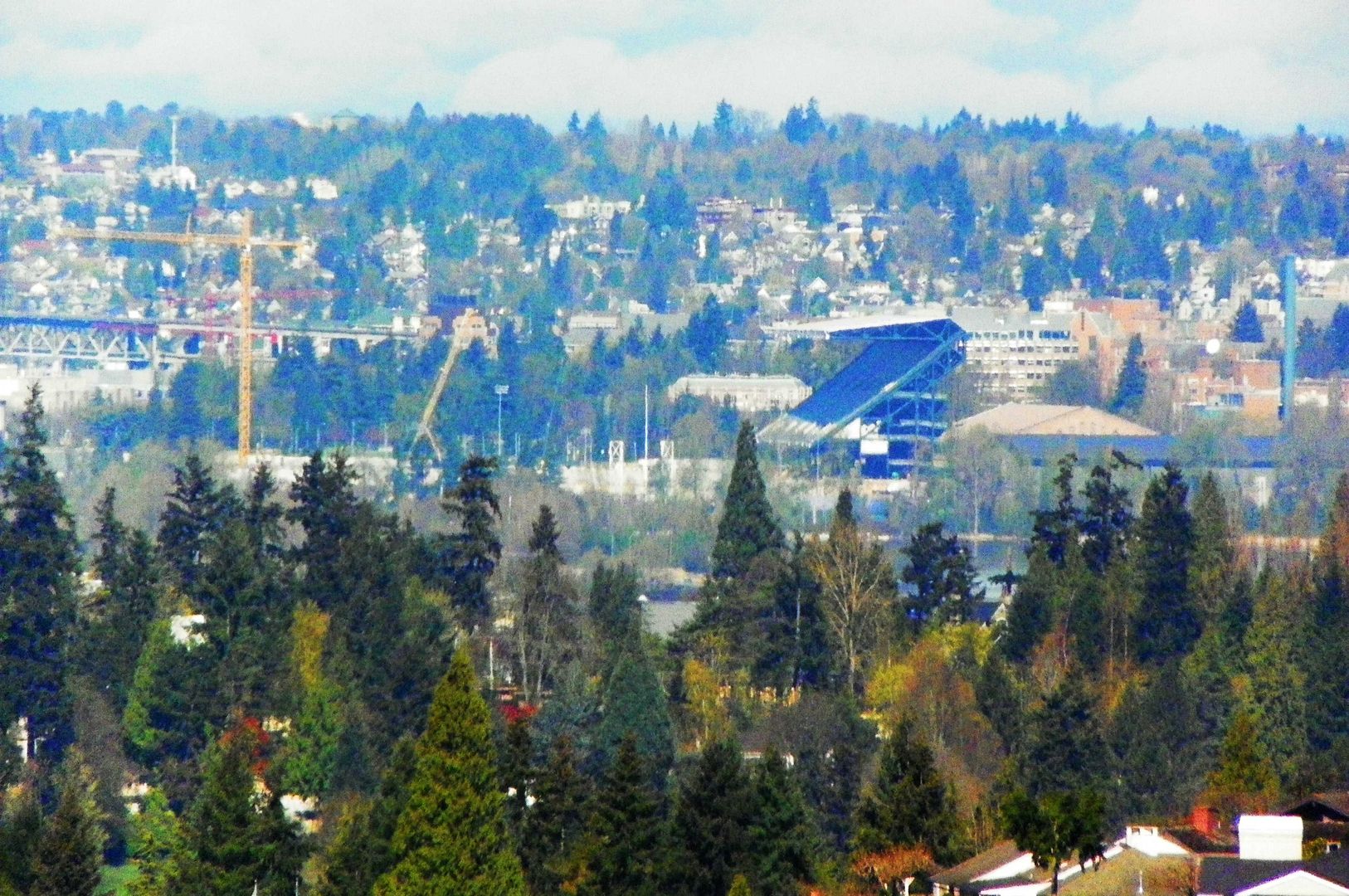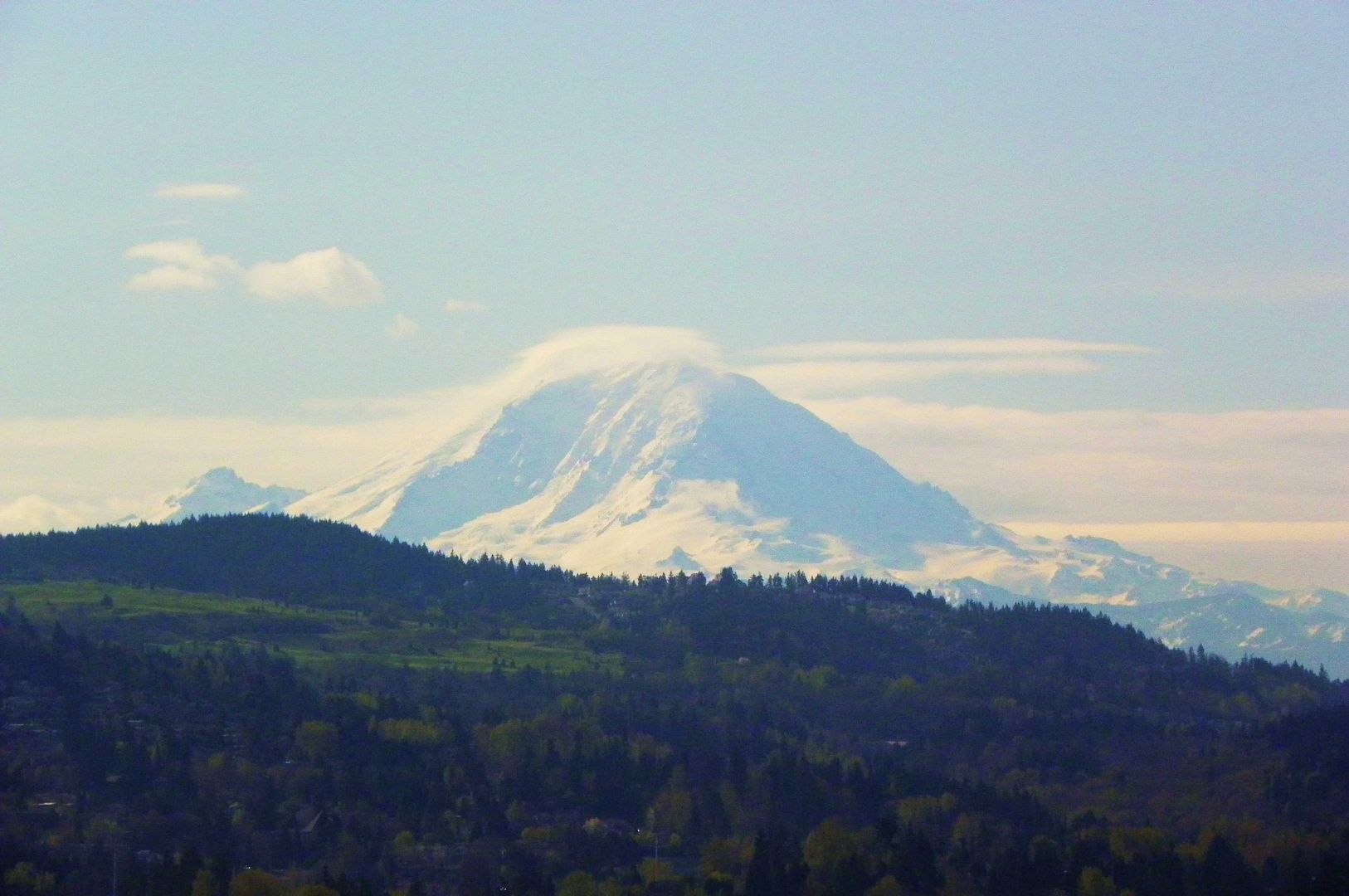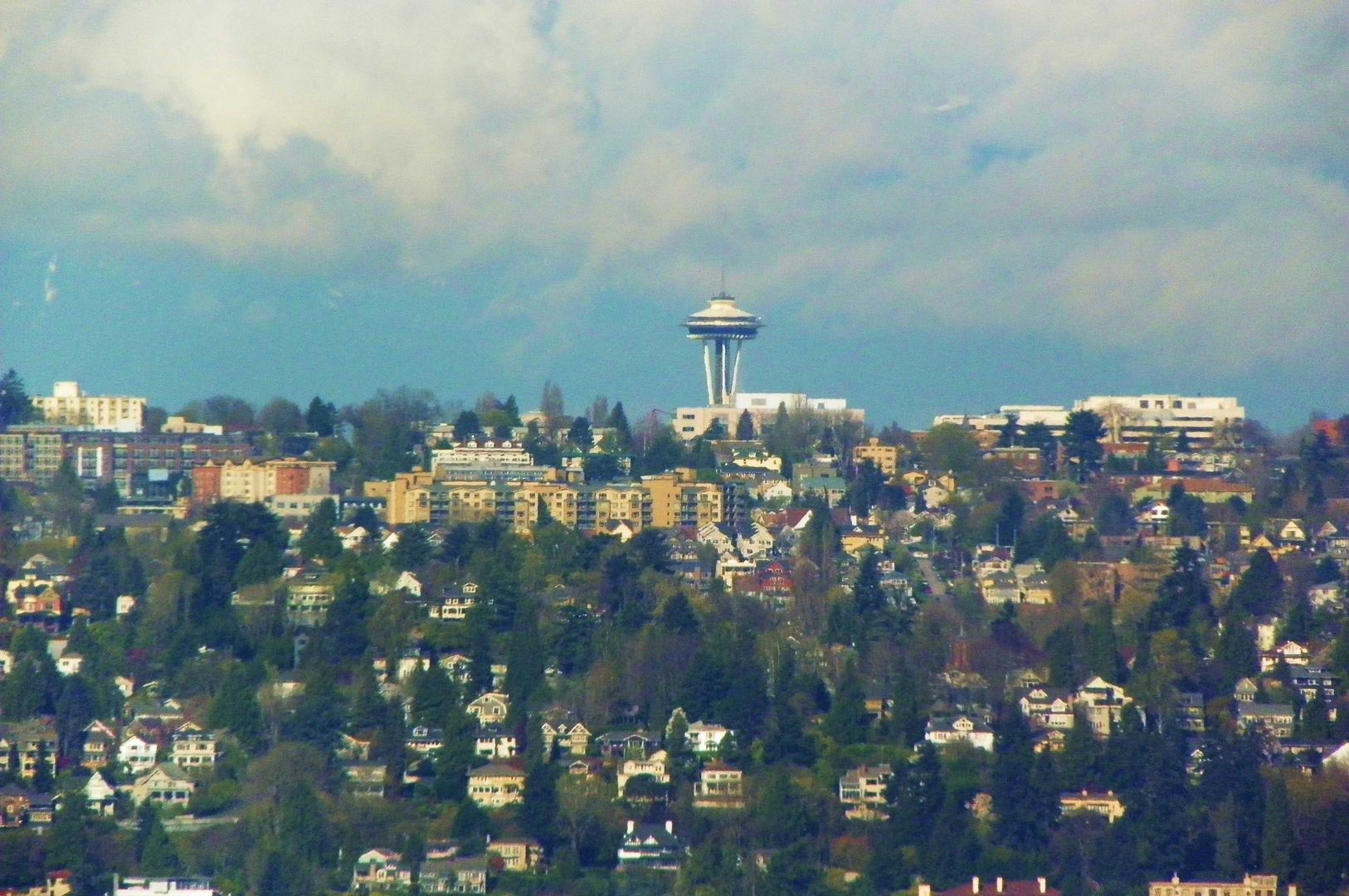 After I settled in and relaxed a bit, we headed out to meet one of my brother's friends for an early dinner at his favorite local Mexican restaurant. Just within the few hours we were in the house, the day turned from bright and sunny to full on rain! And then it quickly stopped.
As you can see the parking lot of the restaurant is empty because it was too early for the happy hour/dinner crowd.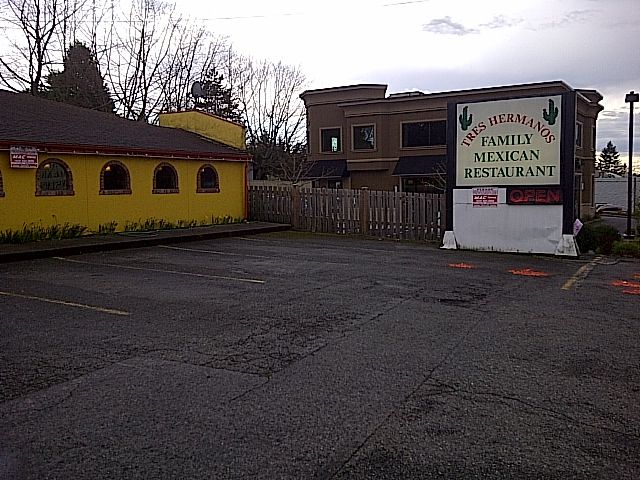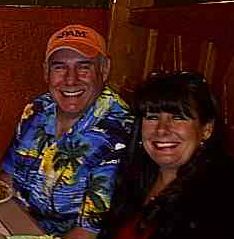 Paul and his friend are in a jazz band, so I went with them to watch their rehearsal, then it was back home for a relaxing evening in front of the tv!
Friday: Here are some photos I took on my way to the show.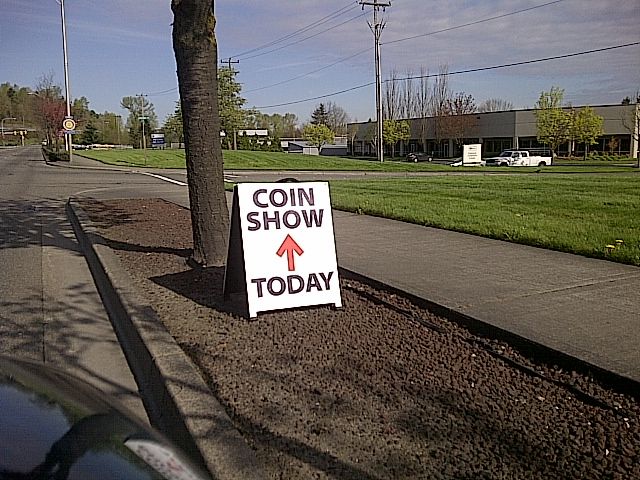 This is a pretty bridge over the Cedar River that we crossed to get to the Tukwila Community Center.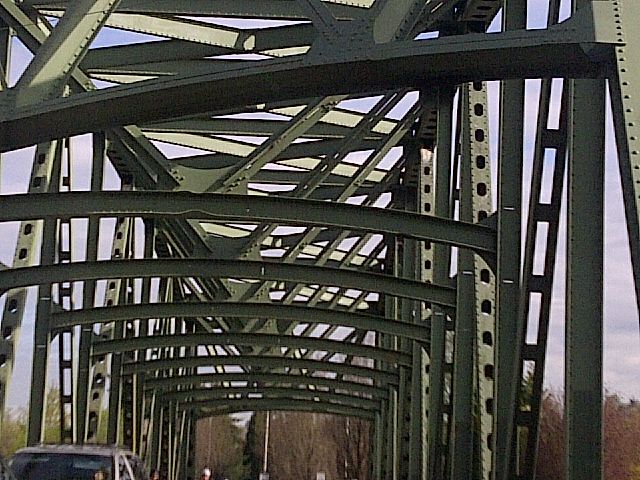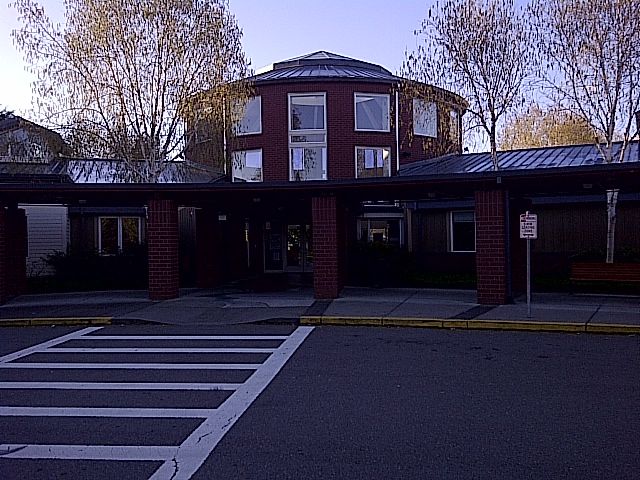 I arrived an hour before dealer set up began so I took some photos of the empty bourse floor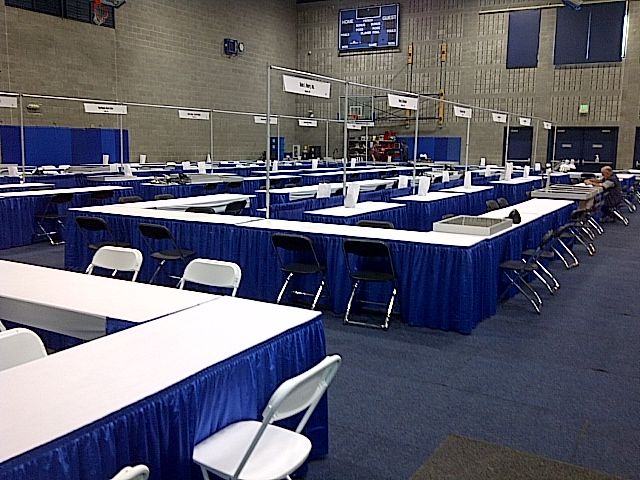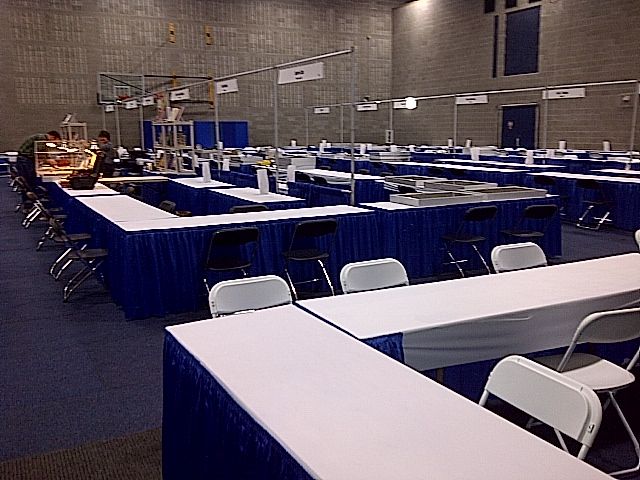 And here's the bourse after the dealers were set up and just before the collectors were let in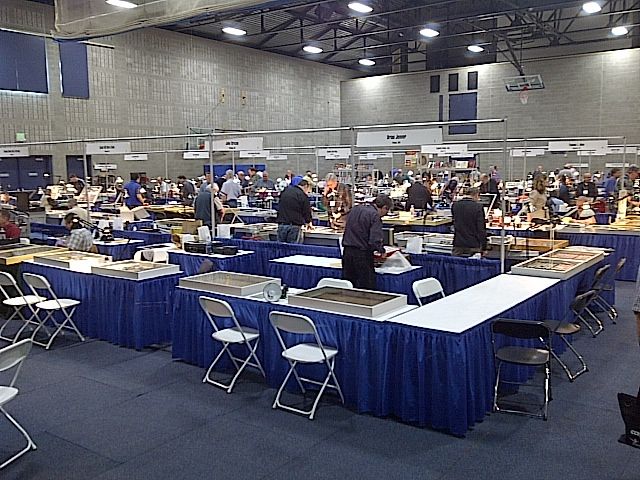 This is the long line of customers waiting anxiously to be let in!
SeattleSlammer was the first board member to stop by my table - he is such a nice and friendly guy! And he loves PCGS old green holder coins (notice the green box!). He was even kind enough to buy one of my Indian cents in an old green holder – he has great taste!!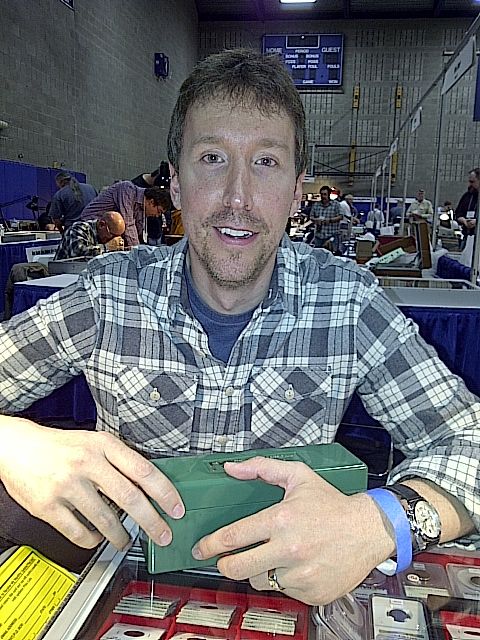 JackRabbit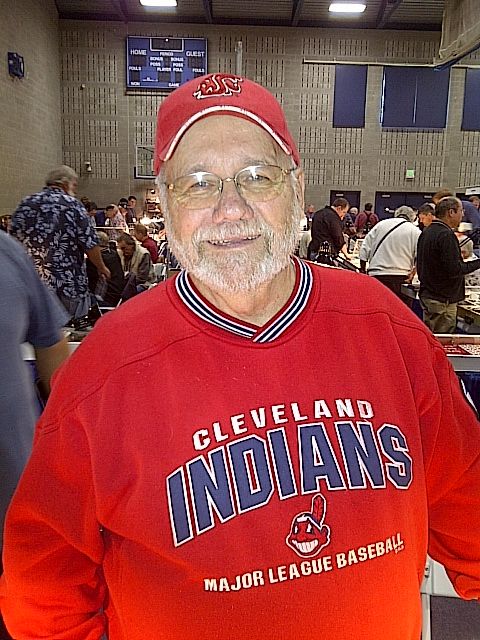 Chad, a regular customer of mine, and a heck of a nice guy!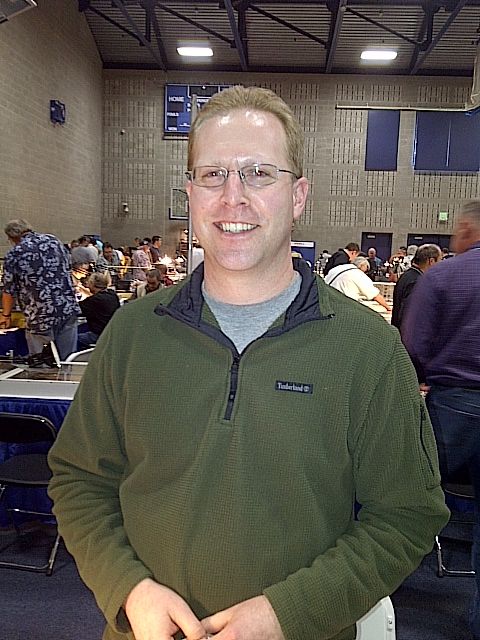 PonyExpress/Glenn and Dennis88 were also set up at this show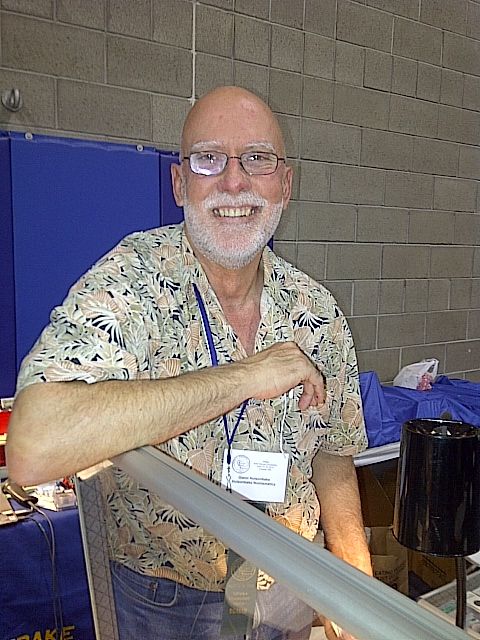 On Friday after the show, we had dinner and then just headed back home to watch a movie.
I should explain a little as to why you won't see any wine bottles and the usual post-show entertainment in this show report. I thought it was time to try and lose a few pounds so, among other things, I have cut out wine and other drinks for a while. I know, I know, you're thinking "Charmy's show report with NO wine – how boring!" Yes, believe me I miss my wine and my pre-flight beverages, but it's a good thing for now.
So this is how I spent my evenings during this show - there is something to be said for relaxing, bonding with family, enjoying a good movie, and waking up refreshed!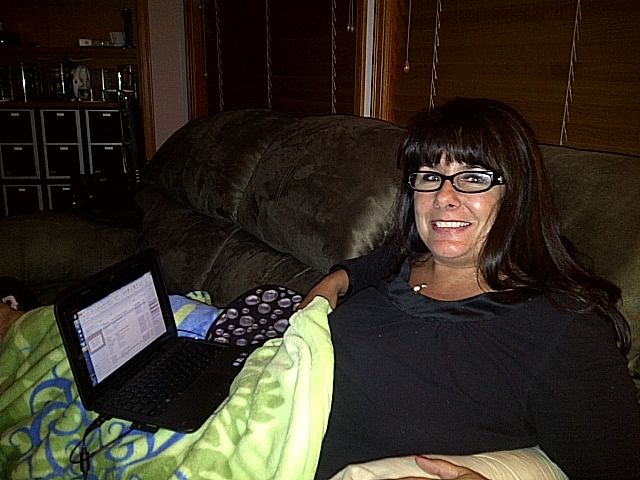 My brother Paul and his girlfriend Vicki doing the same thing!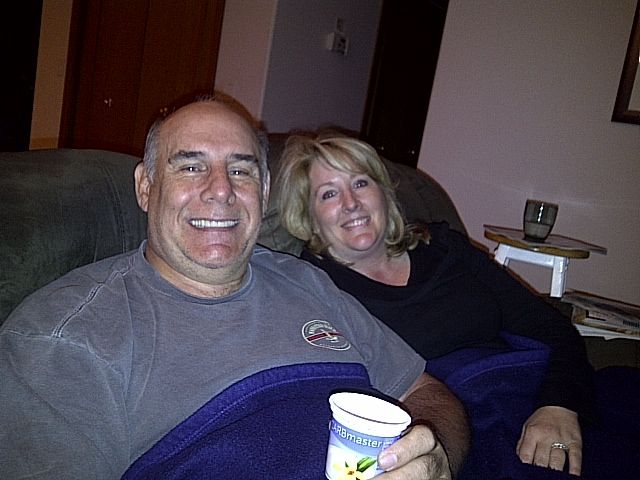 Saturday: Just before the show opened to the public on Saturday morning, there was another long line of people gathered ready to search for coins.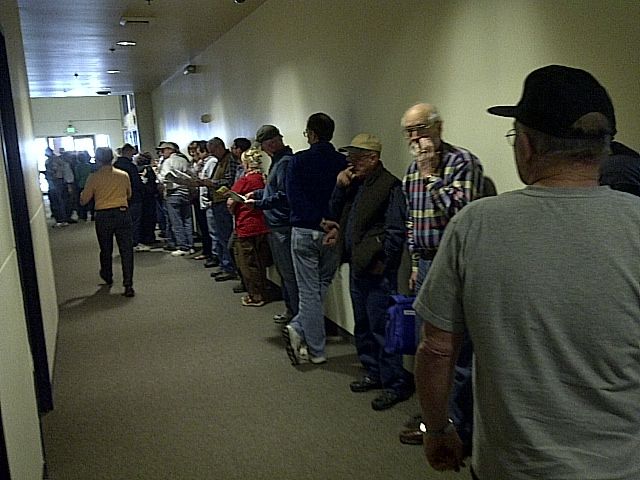 The PNNA set up a "hospitality room" for the dealers where they could get coffee and snacks during the show. Here is Jasmine, a cute young YN, talking to Jeff Shevlin in the hospitality room.
This trio looked like they were having too much fun at the show!
I think that this show is particularly a good place to find quality raw coins. Here are my newps!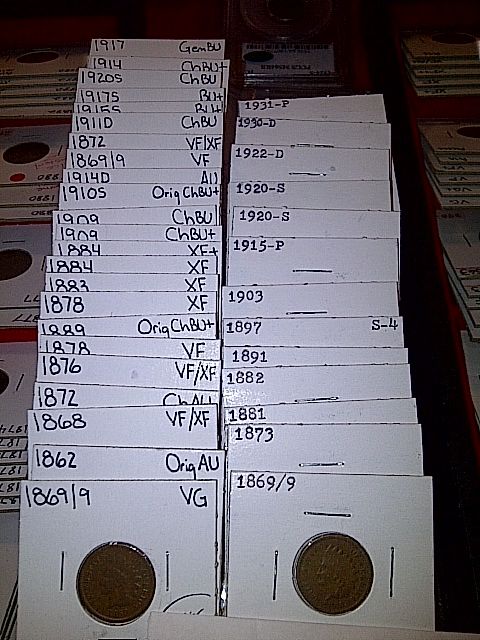 Though I also found this beautiful 1914-D in a very difficult grade
More forum members who stopped by my table:
Cazkaboom, a CoinTalk forum member
Bochiman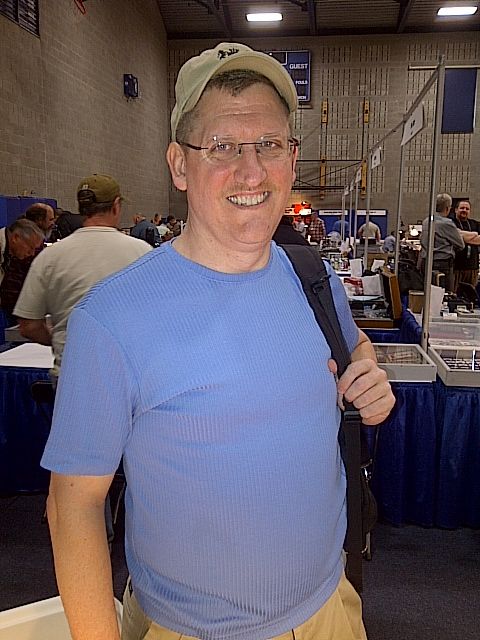 Bochiman's son Ronnie and his friend Ryan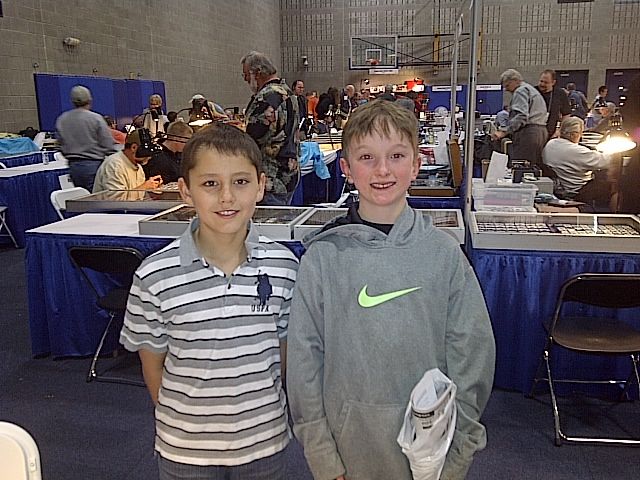 Bochiman and Lakesammman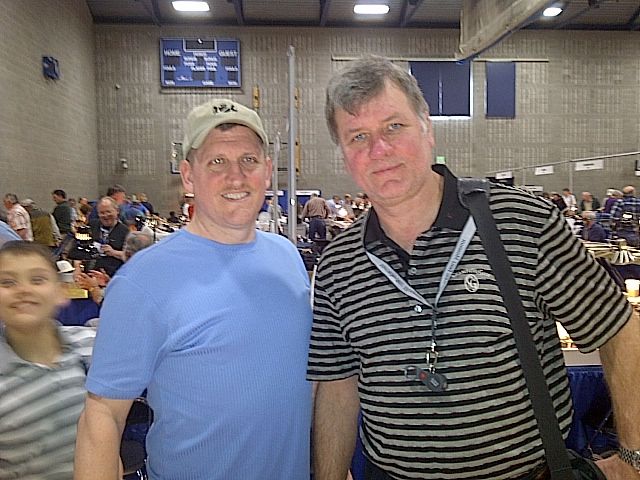 Me!
Here are some of the neat exhibits on display in a room across from the show.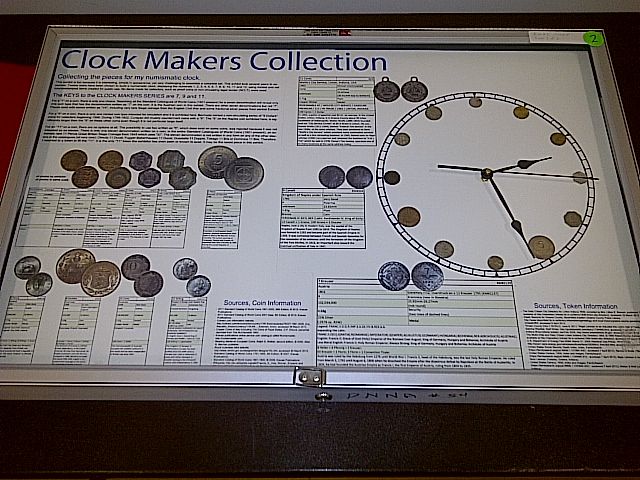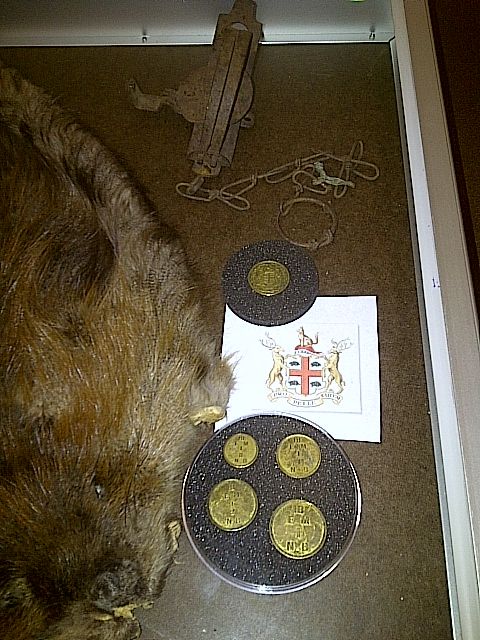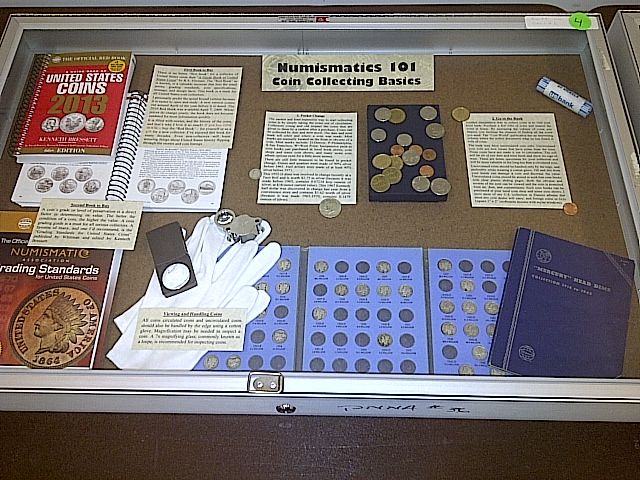 And here are some of the other dealers who set up at this show
Art McBride – a really wonderful guy, honest, fair and nice!
Jerry Bobbe – an early copper enthusiast and expert and fellow Conder token lover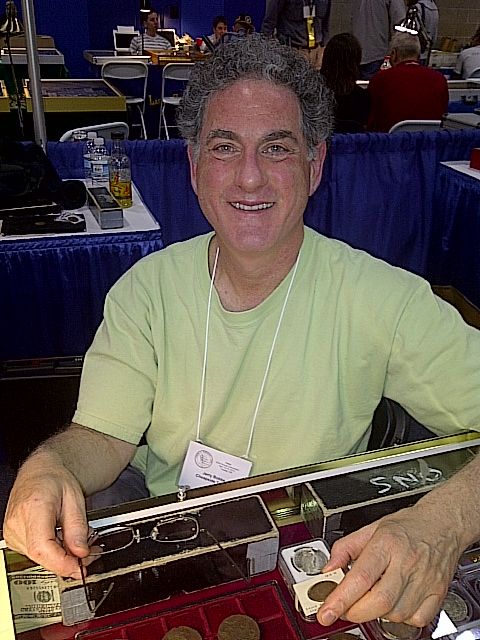 Lisa and Scott Loos, our dedicated, hard-working show promoters
I found these interesting items on display in one of the dealer's case.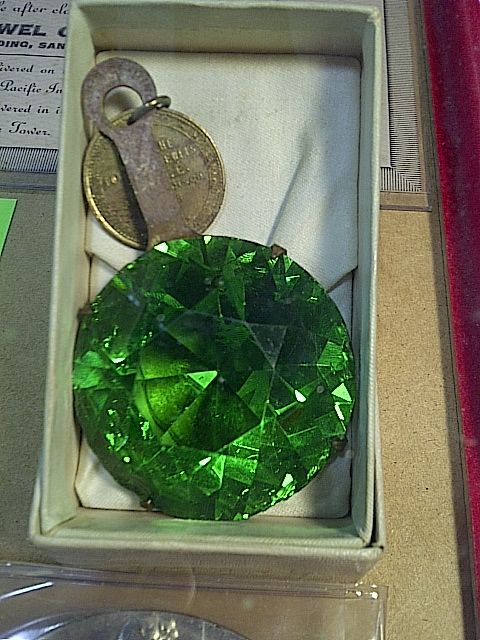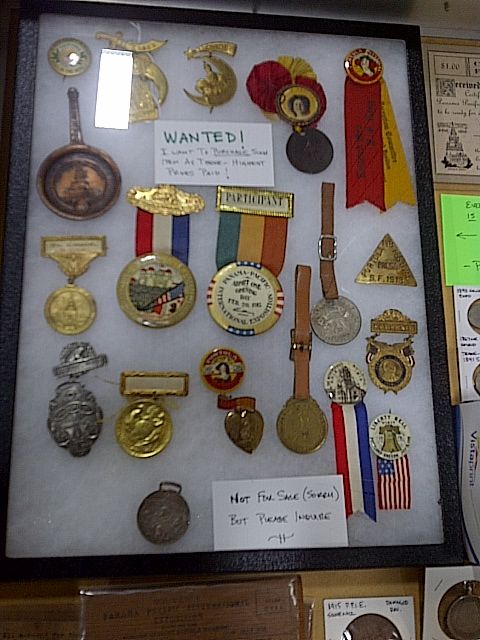 After the show on Saturday, we went to a great Benihana's-type restaurant where everyone is seated around a hibachi and the chef entertains us with fancy juggling of flaming cooking utensils, slicing and tossing food, making an onion volcano, etc., all while he cooks our food. It's a lot of fun and the food is amazing!
I took this photo outside the restaurant as the sun was going down. It was another beautiful night in Seattle!
So after dinner, Paul drove us around the back roads near where he lives not far from the Green River (yes, THAT Green River). It is a really beautiful area with some gorgeous homes.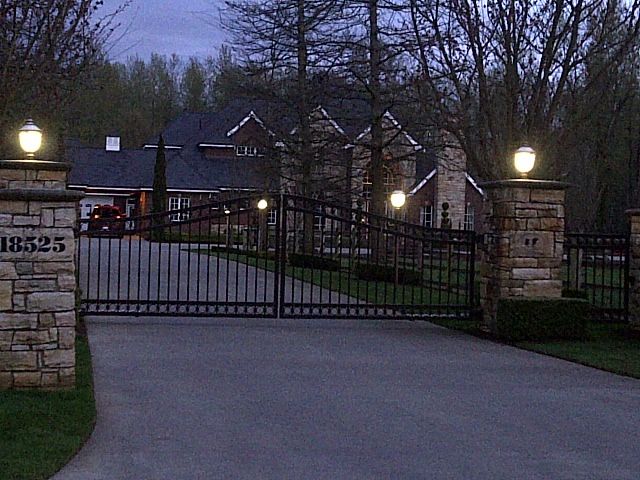 That's the Green River behind me
And this is a very cute tiny list shrew that we saw along the shore
Sunday: Sunday started out much slower with collectors sort of trickling in, but soon the room was buzzing again with lots of people. I had a very good day with several of my regular customers stopping by and picking out some nice pieces. SeattleSlammer came by again and we had more time to chat and talk about pretty copper (my favorite subject!). After a while, I felt comfortable deeming him a "self-serve" customer and let him sort of pick through my case on his own when I needed to help other customers. Seattle picked out several of my more eye-appealing coins to examine – he definitely has a good eye for pretty copper!
Airplanenut also stopped by for a chat – between his job and hobbies, he seems like a very busy guy!
Soon, it was time to start the packing up process. I finished early before my brother was to take me to the airport, so I brought my iPod over to Glenn and Dennis' table to "supervise" their packing up!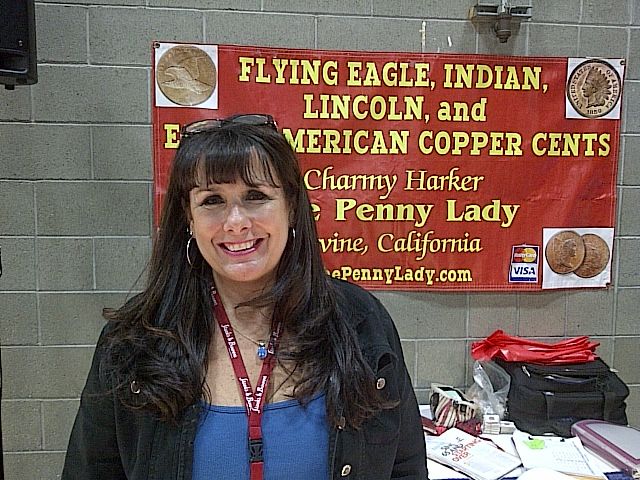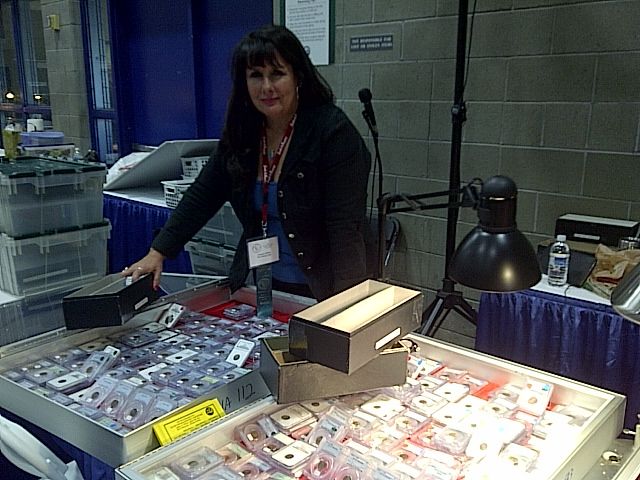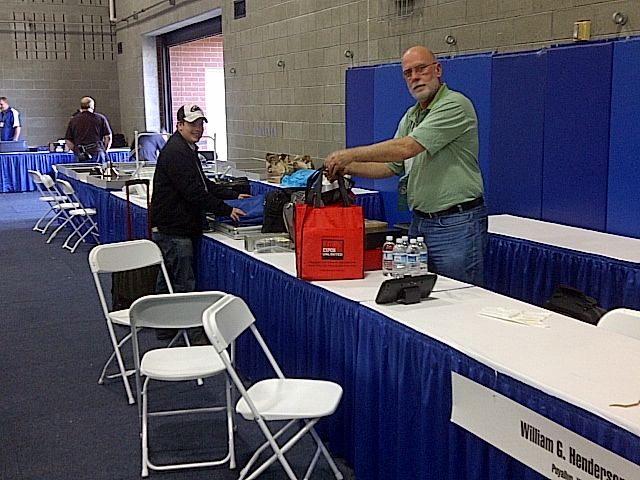 Since Dennis was leaving on the same airline as me, my brother took us both to the airport. Dennis' flight ended up being at the same gate as my flight but an hour later so it was nice to have someone to hang out with until it was time to board.
Now I'm back home, catching up on all the paperwork that goes along with being a coin dealer. Since I won't be going to Central States this year, I have a few weeks off to also catch up with my family and friends, as well as catch up on projects that are waiting for me here at home!
My next show will be the Denver ANA – hope to see some of you there!!!
Charmy Harker - The Penny Lady®
President of Women in Numismatics
ThePennyLady.com