Home
›
U.S. Coin Forum
FINAL UPDATE: Charmy's CHICAGO ANA Show Report w/lots of Pics!

ThePennyLady
Posts: 4,084
✭✭✭✭✭
After having my Saturday flight cancelled, I took a Sunday afternoon flight and finally arrived late Sunday night.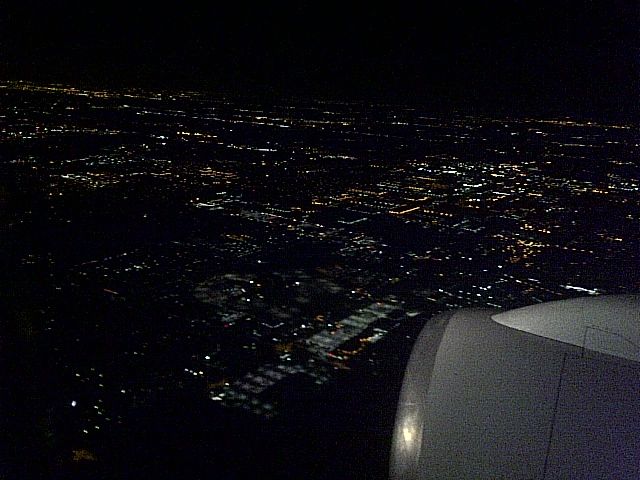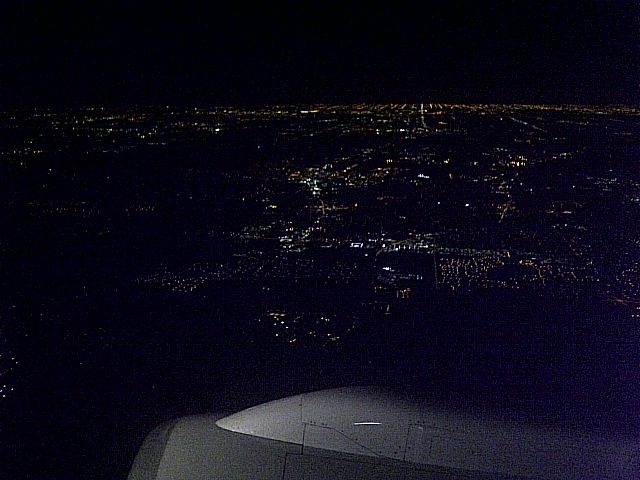 And I know my report is a bit delinquent, but this show has been one of my busiest shows ever! And I haven't gotten back to my room before midnight until tonight! I have tried several times to start a report, only to (gratefully) have another customer stop by my table. In a nutshell, this has been an exhaustingly wonderful show so far, with lots of buying and selling going on!
First, let me say that the weather here in Chicago has been wonderfully comfortable! Not to humid or not, with bright blue skies during the day and cool breezy evenings.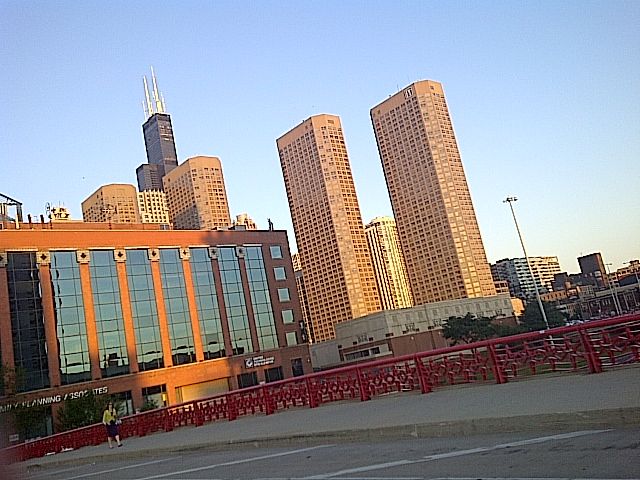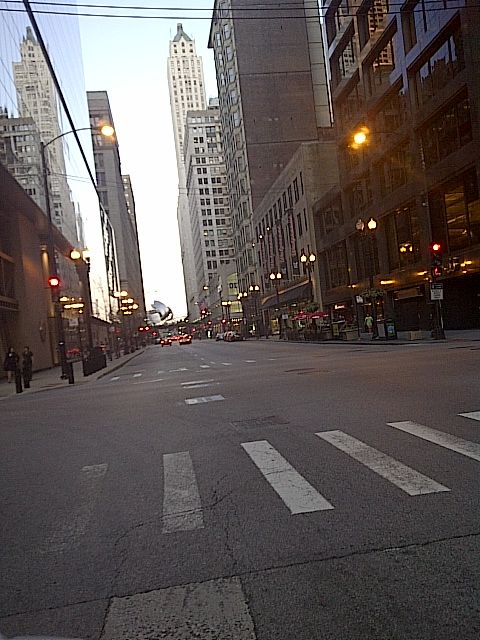 Day 1 (Monday):
I went to the preshow Monday morning, and my first impression was that this room is absolutely HUGE - probably the biggest showroom I have been in! However, the preshow was pretty sparsely attended at least on Monday morning, so I was able to sit and buy new inventory coins at my leisure from several of my favorite dealers - and buy I did! I bought at least 20 new slabs and many more new raw pieces! I even bought a stunning "Christmas tree" toned new 1882 NGC MS66 RB for my personal collection.
Everyone I spoke to said the preshow was not very well attended, though many vest pocket dealers said they did well. Part of the problem was that all the dealers were able to set up at the preshow at their regular assigned table so they wouldn't have to move during the main show. However, the showroom floor is so huge that having all the preshow dealers spread out all over the showroom made the whole room seem very sparse. I'm not sure what could be done to make it more successful, but the dealers I spoke to were not comfortable with the preshow set up.
Soon it was time to set up my table that I share with Todd/Blue62vette (table # 1235). Since Todd was still teaching his photography class, I had the booth to myself and could take my time getting everything in place so that when Todd showed up he would have the room to set up his photo booth. Since set up was scheduled from 3pm til 5:30pm, there wasn't a lot of time for those not already set up for the preshow to make the rounds before it was time to shut down for the night.
We decided to head to downtown Chicago to Little Italy for some Italian food. We ended up at this little Italian Cabaret restaurant which had ok food and a slightly stale Cabaret program. It wasn't bad, but not really my thing.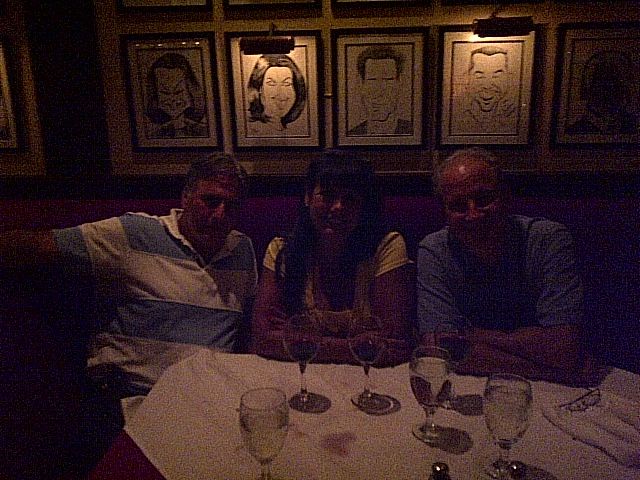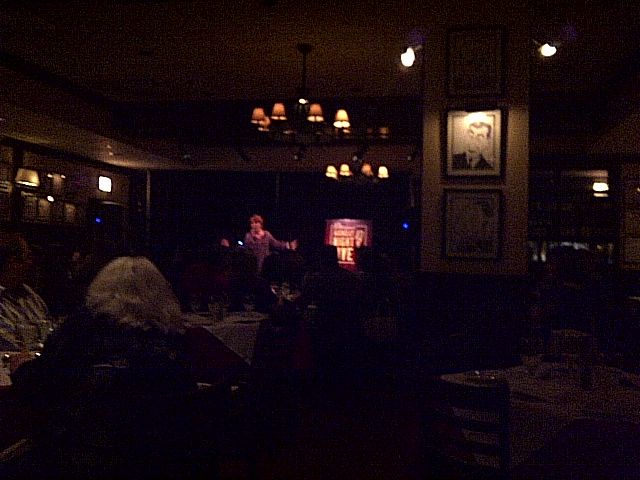 We then walked around downtown for a little while looking for a Blues club.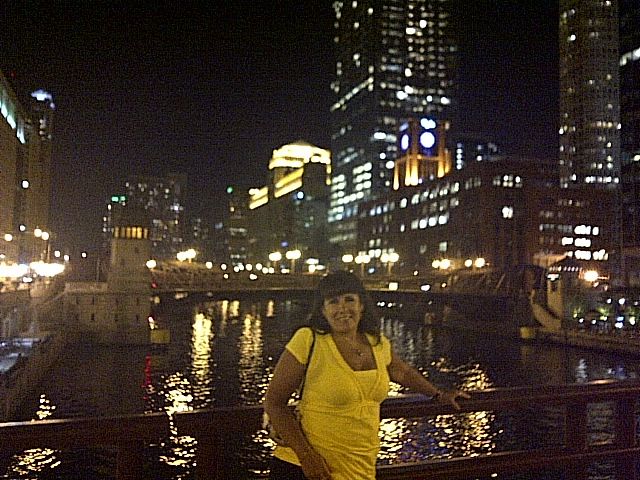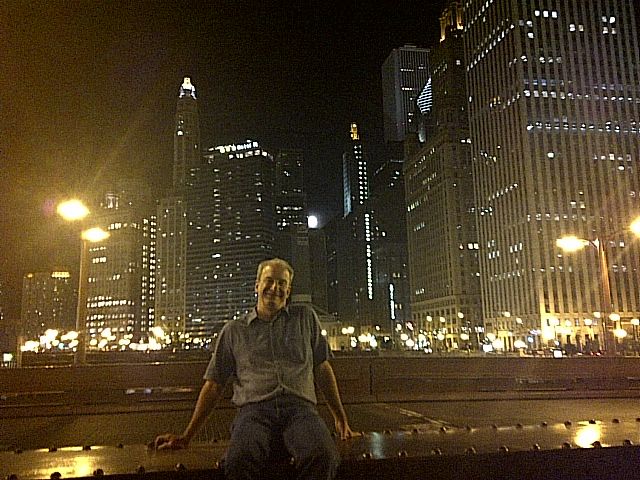 We came upon the House of blues but there were no available seats so we didn't stay long.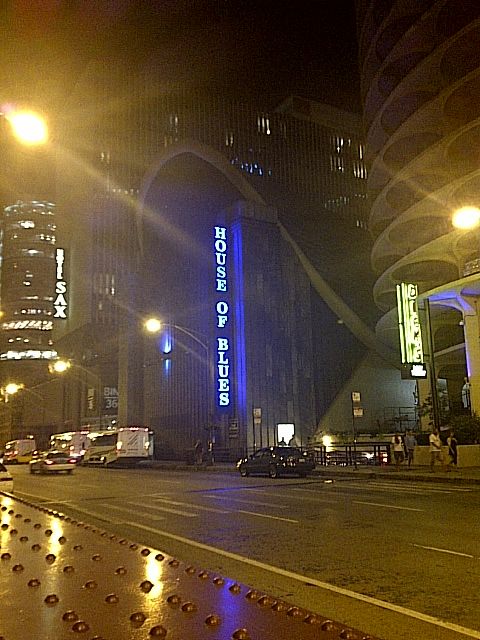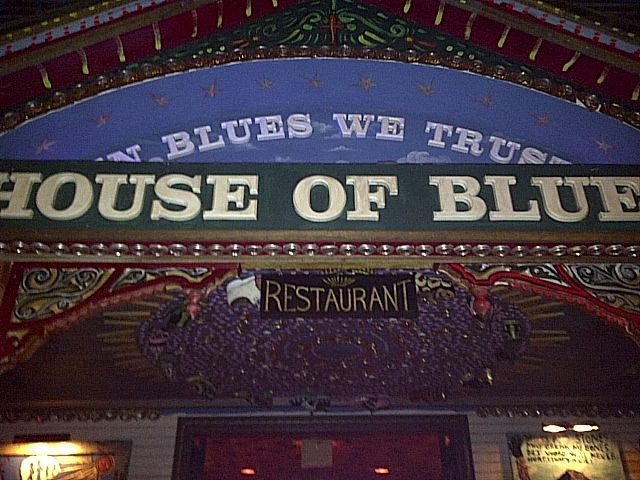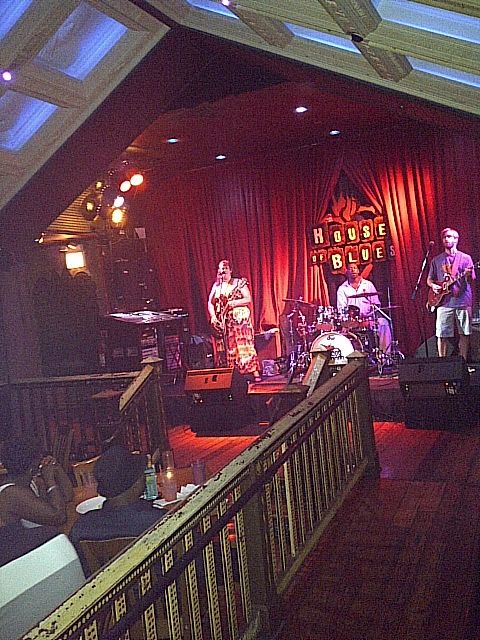 So I was beginning to think that my first night in downtown Chicago wasn't exactly what I thought it would be .... that is, until we found the BEST little Blues pub on the planet - Blue Chicago! WOW, what a GREAT place that was! The band was fantastic, so good that I even bought one of their CD's!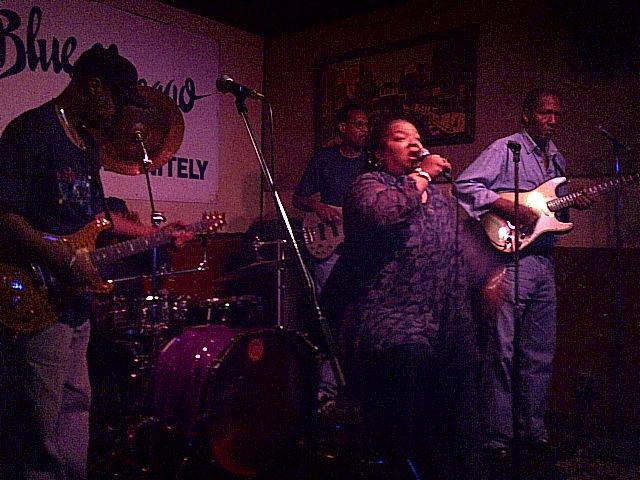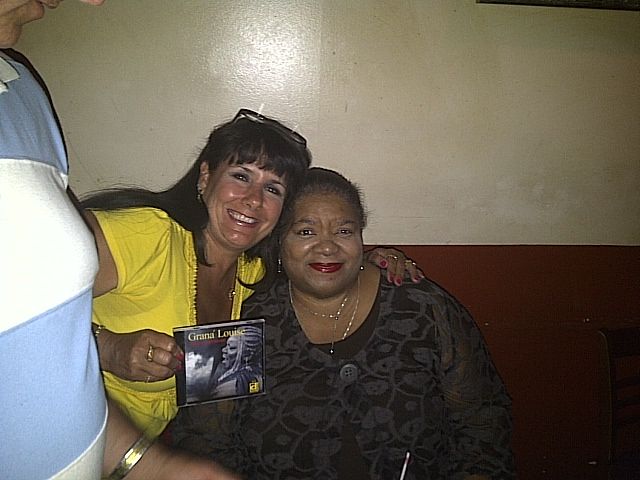 Day 2 (Tuesday):
Tuesday was fantastically busy from the moment I arrived. I took some photos of the crowds and lines on the way in - it's always a good sign when there are lots of people gathered to get into a show, but I understand it did take a while to get everyone registered and finally in the door. However, I am hopeful everyone thought/thinks it was worth the wait!
Larry Shepherd greeting attendees at the registration table...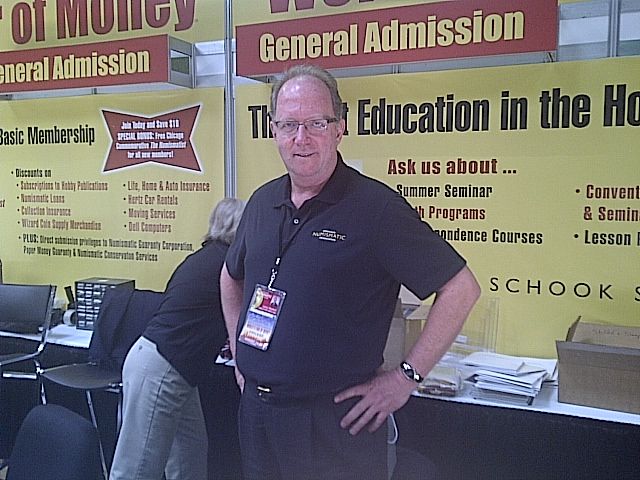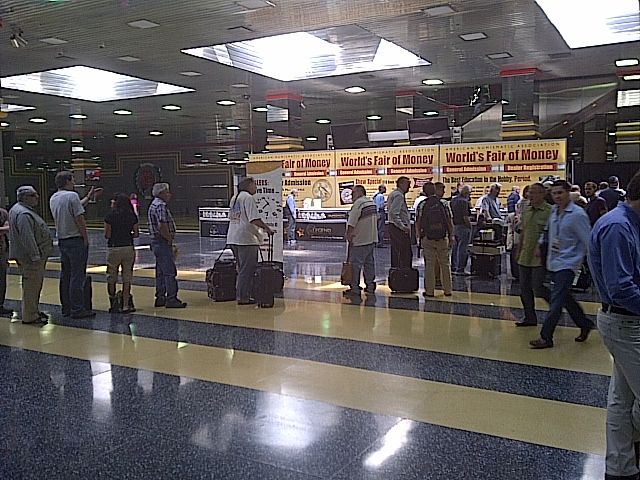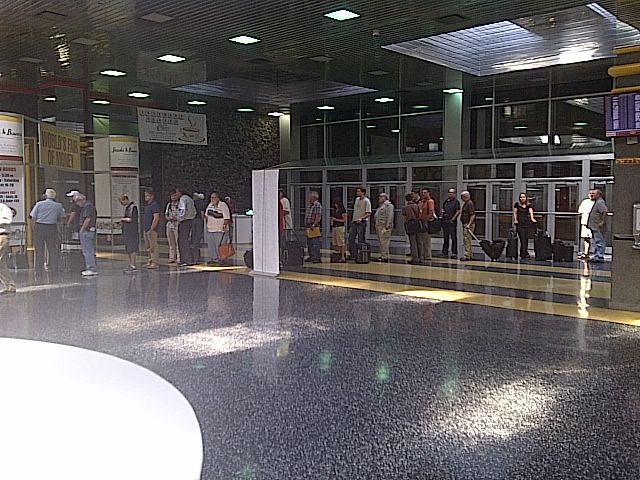 The exhibit area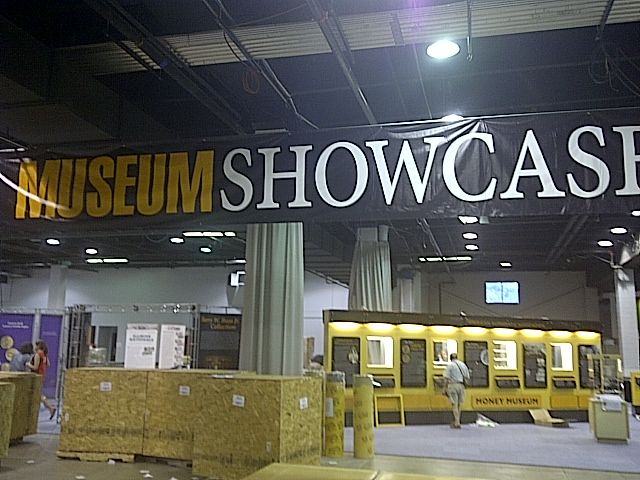 The showroom before the public was let in (it is HUGE!)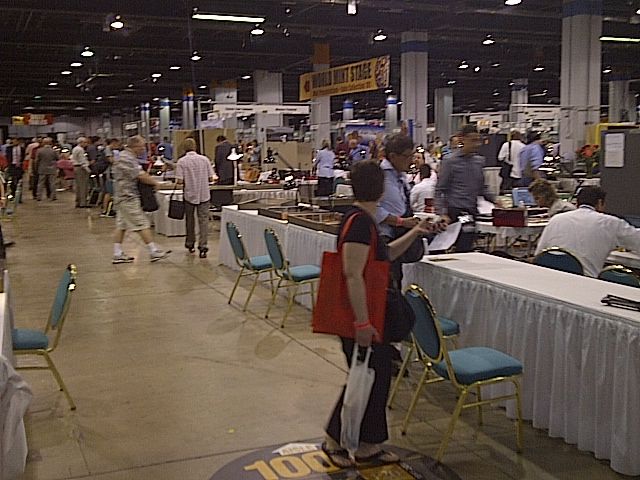 Todd and I were very busy all day on Tuesday, and many many forum members graciously stopped by to say hi (ok, many were there to have Todd photograph there coins and some even purchased a coin or two from me - THANK YOU!). Here are photos of several forum members who allowed me to take their photo for my report (notice how they are a lot less blurry!)....
Fred Weinberg and his assistant, Kathy, who are our neighbors!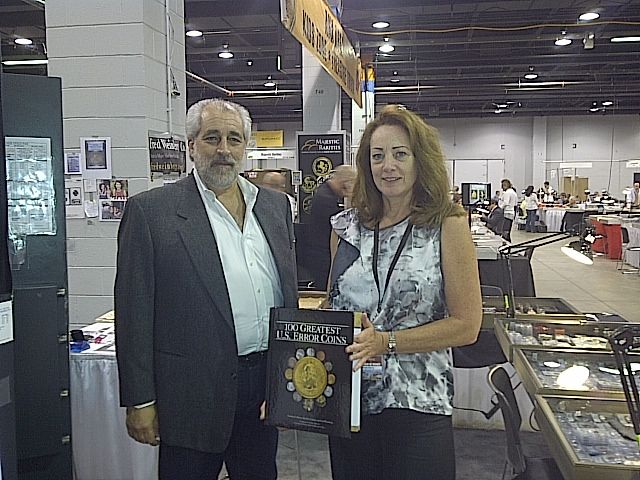 Liz and Gayle with J.J. Teaparty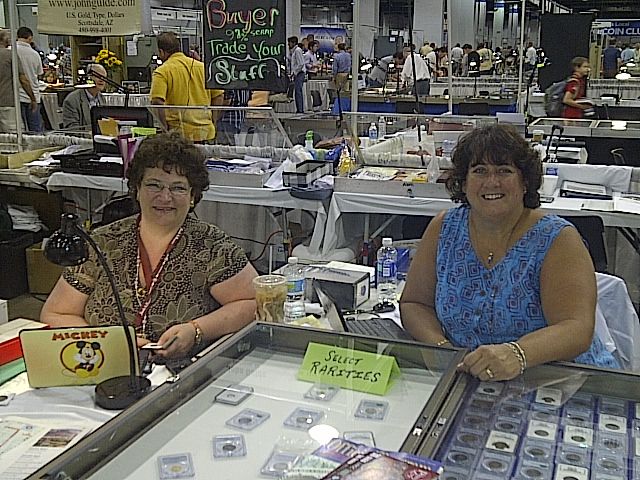 Stacks Bowers Guys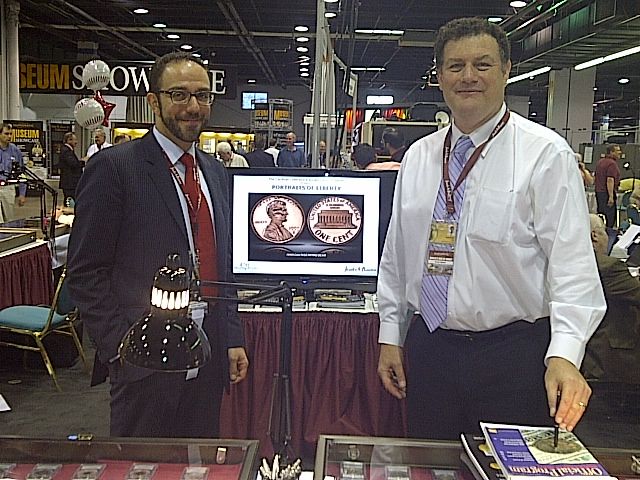 Ian Russell and me
Dan/Catbert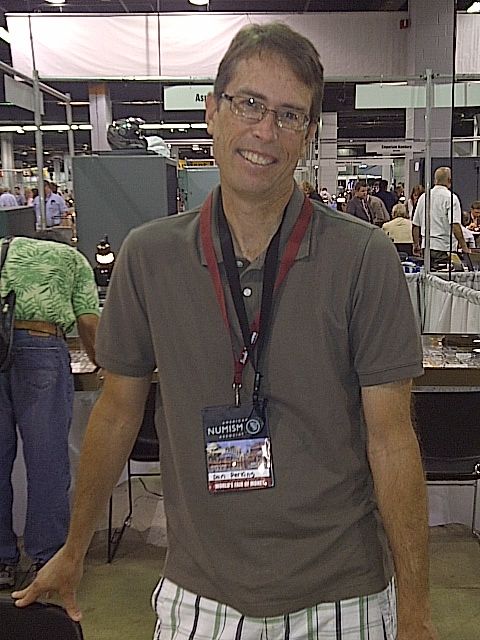 Tony at Northern Nevada Coin
Greg/Halfcentman
Pat/WindyCity
The whole day just flew by, but of course, I did manage to take a breather to open a nice bottle of wine that my good buddy Ron Sirna brought over!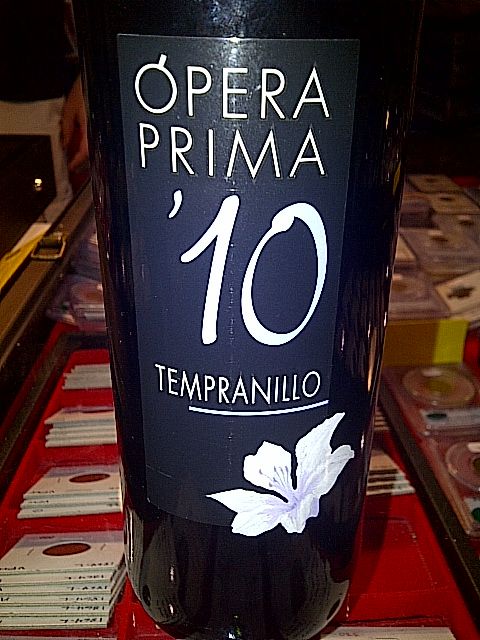 Before we knew it, it was time to cover our cases and head out - we couldn't believe how the day just flew by! Since we signed up to attend the ANA Awards Banquet at the Shedd Aquarium we headed over to the buses. I took lots of photos at the aquarium and more, but it's quite late right now and I will post more tomorrow...
Charmy Harker - The Penny Lady®
President of Women in Numismatics
ThePennyLady.com