Home
›
U.S. Coin Forum
FINAL UPDATE: Charmy's LAS VEGAS PALACE STATION Show Report w/Pics of Course!

ThePennyLady
Posts: 4,029
✭✭✭✭
This show is at the Palace Station this year because the Plaza Casino on Fremont Street where the show usually occurs is being renovated. But let me just say that this is one of my favorite shows that I attend each year - first, it's a coin show, which I love, and second, it's in Las Vegas which I also love! I'm so happy I get the best of both worlds setting up here!
The show is pretty good sized - probably 100+ tables, very roomy...
Here are photos of Sandy and John Guild - the wonderful hardworking show promoters....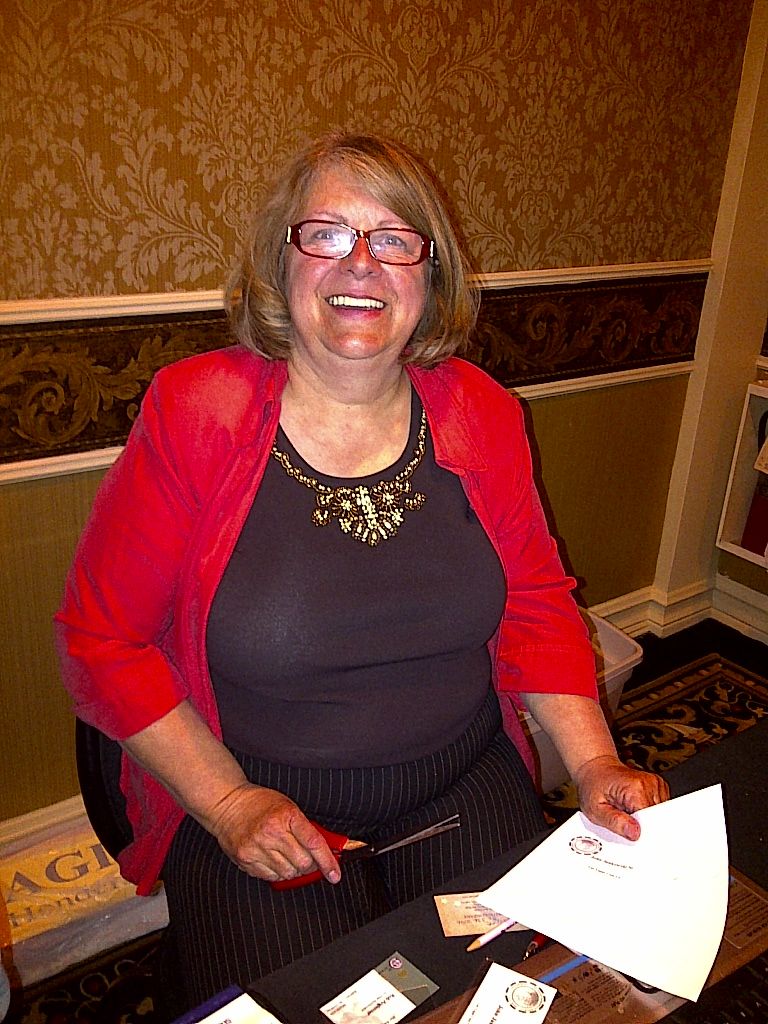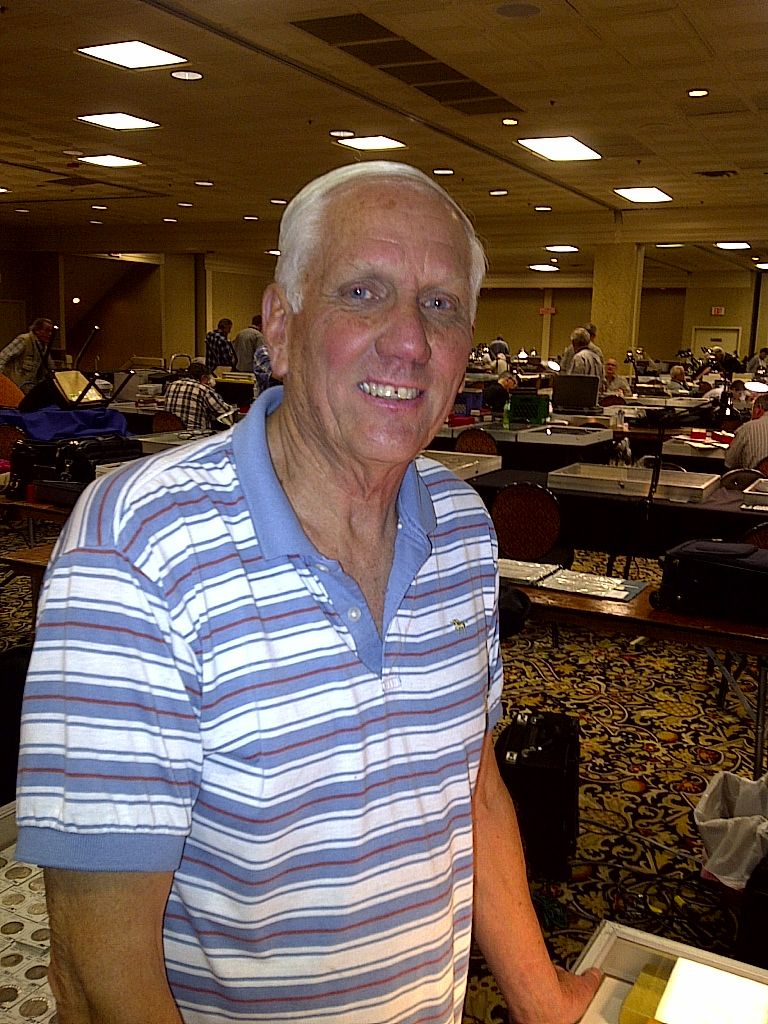 Yesterday was set up day, lots of dealer to dealer interaction. After everything is all set up, I kick back, open my bottle of 7 Deadly Zins, and relax for a few minutes.
One of the "vest pocket dealers" stopped by, so we shared a little wine - yes, I am careful not to drink much while conducting business - actually, I like to offer my customers wine while I sell them some nice coins since the coins tend to look even prettier after a couple glasses of wine! - just kidding!!

I did buy a few nice pieces including a great 1867/67 PCGS XF45, one of my favorite repunched dates since the repunching is so bold. Also bought a very nice 1914-S PCGS MS64 RB which is one of the harder Lincolns to find in this grade.
Then Roger/MustangGT (Todd/blue62vette' dad) shows up, he was in town on business and I had arranged for him to "help" me at my table. He has to wear a badge to be behind a table, so I got a kick out of this silver dollar guy being called "The Penny Lady" and just had to take a photo of his cute badge....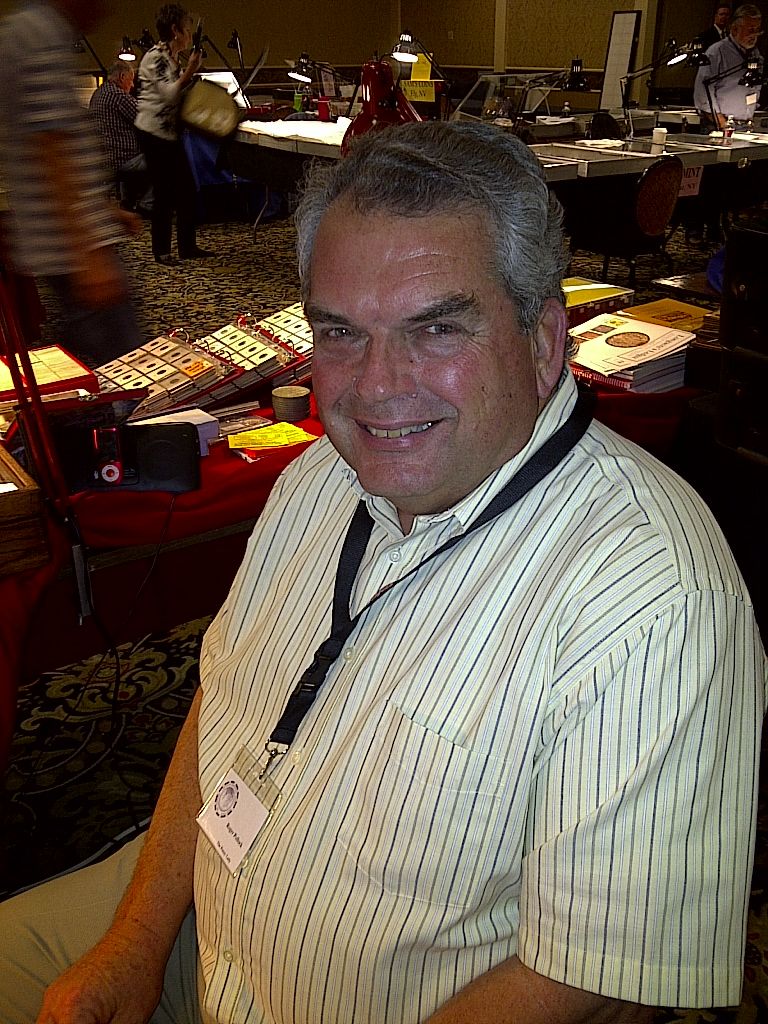 Towards the end of the show I took a walk around to see what I could find, and took a few photos of some of the "regulars" that I often see at my shows.
David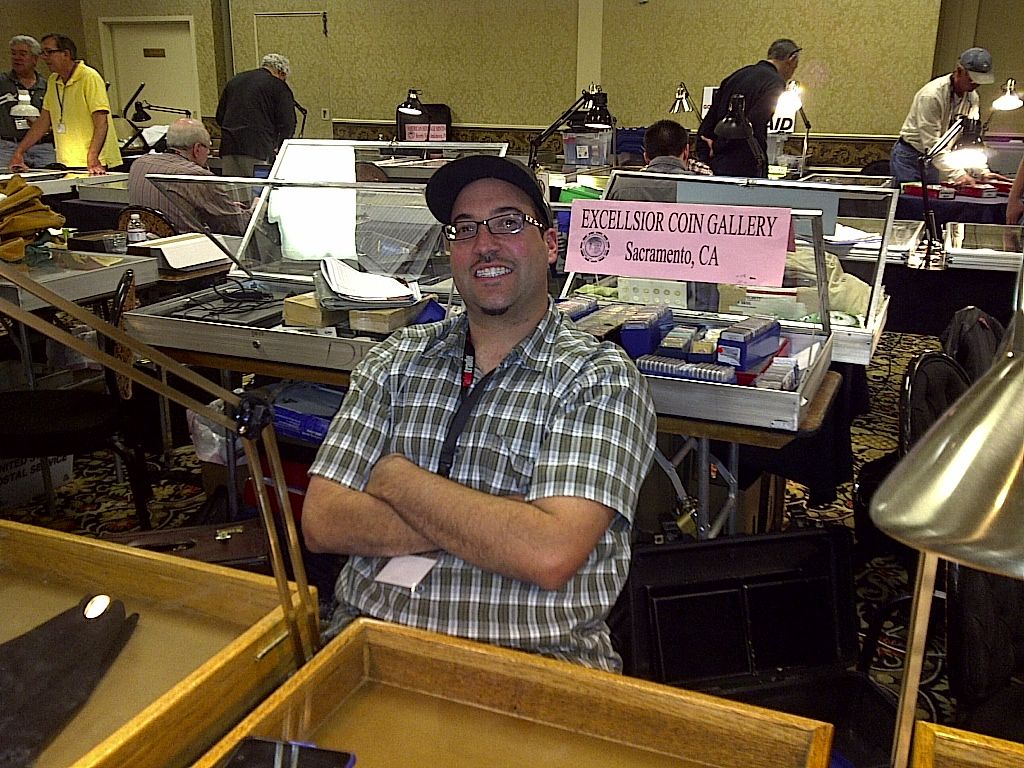 Dawn (where I usually buy pretty jewelry that I can't live without)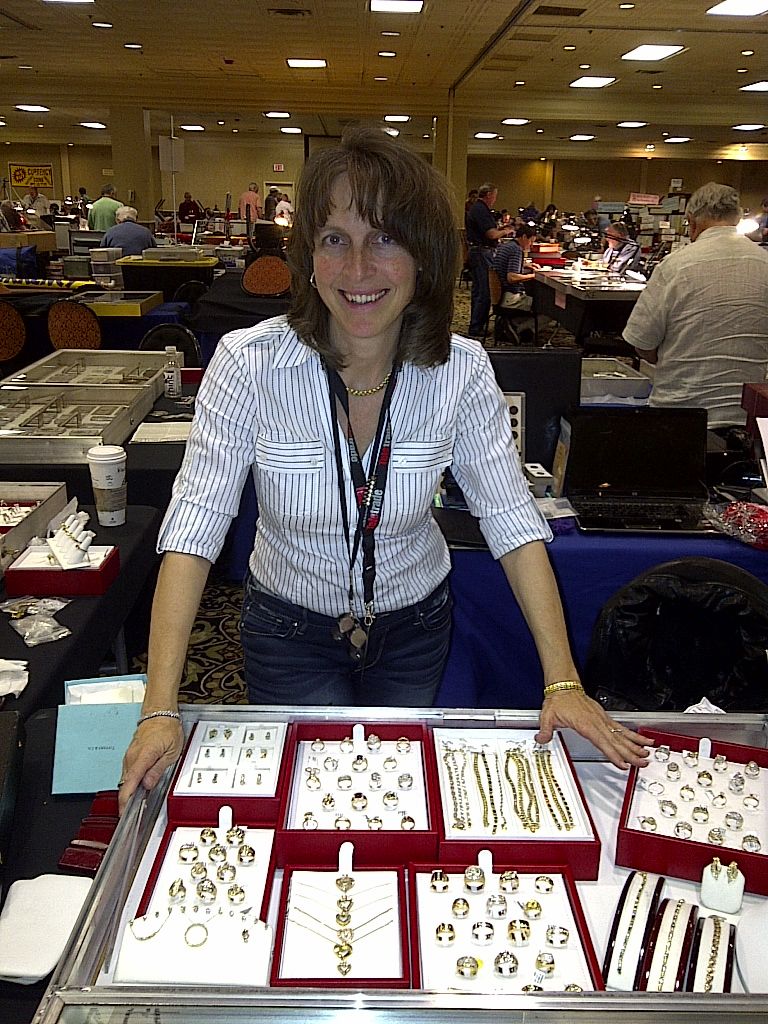 You may recognize these two....
Glen Holsonbake/PonyExpress and Bruce Braga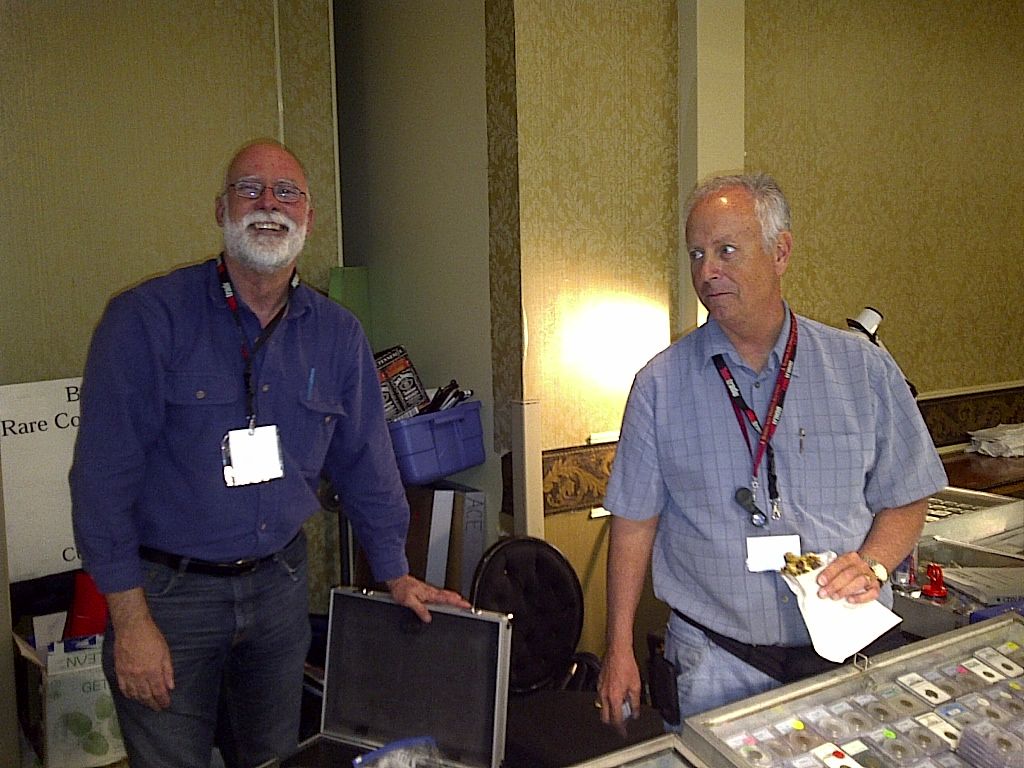 And these two....
Mike/Illini and Raul/Mr. Organic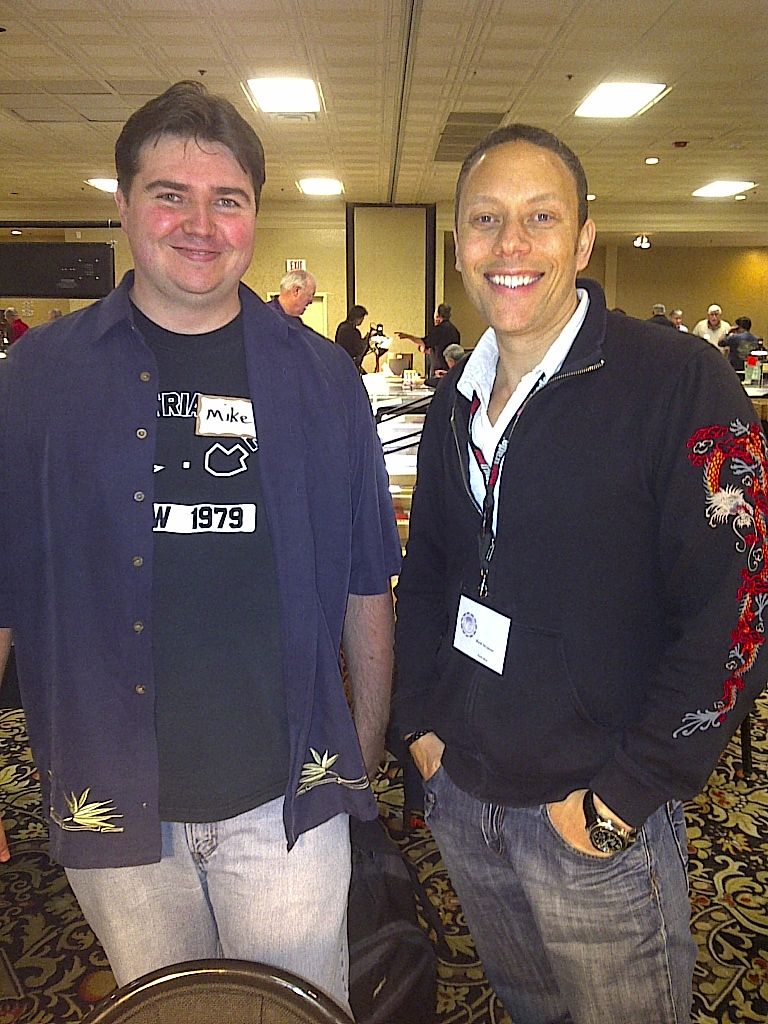 Then it was off to the casino. I'm staying at the Rio, not far from the Palace Station. So I valet my car, walk over to the entrance towing my roller bag and pillow behind me when I see a folded $20 bill on the ground, which of course I pick up. My hands are full so I wait til I get into the casino to stop and check it out. And what do you know, there's another $20 bill folded in with it! So what a way to start off my gambling - free money! Here's my lucky money...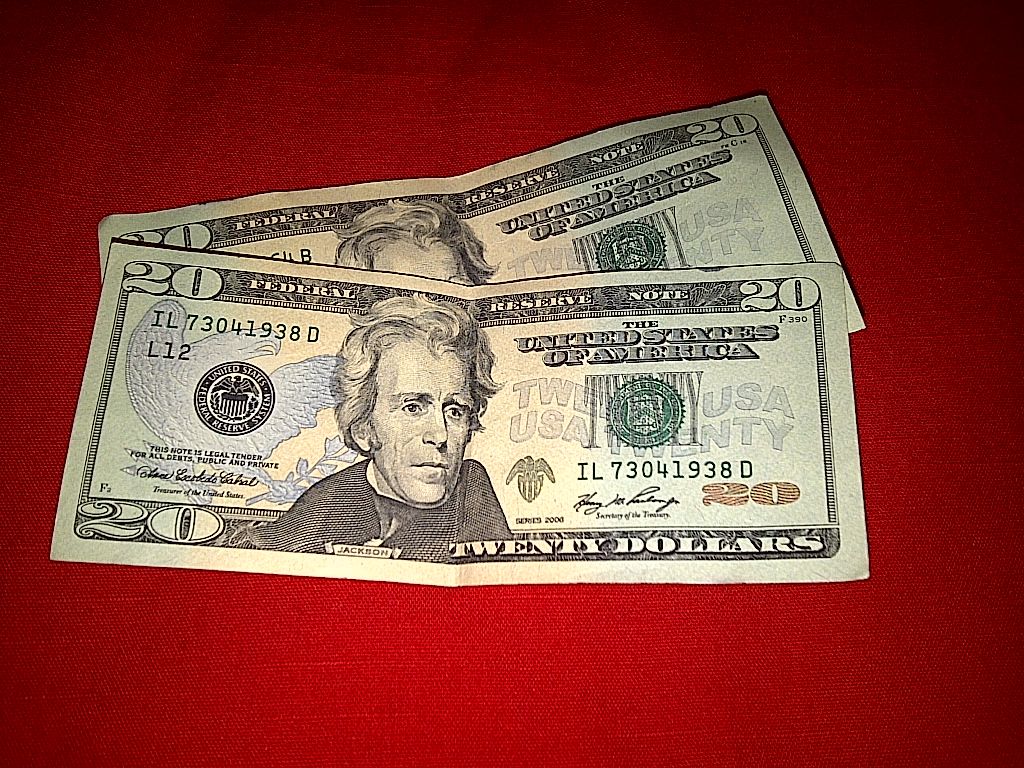 I ended up playing in a poker tournament at the Rio, only came in 5th so I didn't finish in the money.
Today was extremely active, I'm selling mostly raw coins to collectors, and a few pretty slabbed red Lincolns. Rick Snow is also set up here (I'll have to tell you a funny story how that came about later!)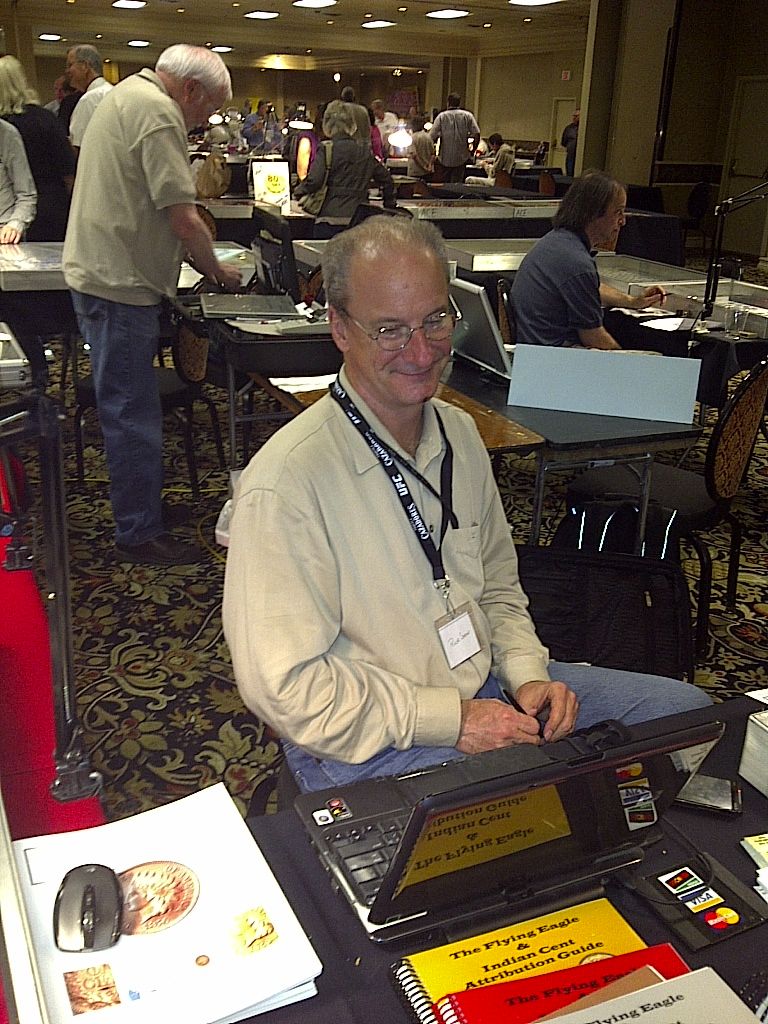 Tonight we're headed downtown to Fremont Street, and will probably play more poker and watch the hourly light/music show. Sometimes they even have some live bands playing down there. But the best thing is they have these very tall wonderful slushy drinks "to go." My favorite is the banana flavored one that tastes like a banana popsicle, only these have 151 rum in them - ummmmmmmmmmmmmm!
More later....
Charmy Harker - The Penny Lady®
President of Women in Numismatics
ThePennyLady.com