Home
›
World & Ancient Coins Forum
Shillings By Monarch (Updated 3/12/2023)
Clio
Posts: 365
✭✭✭✭
I wanted to make a post about a set I've been working on and some comments on the progress so far.
I've been assembling for a few years now a set of shillings with 1 example for each monarch. I originally only planned to do milled but unlike other series the hammered examples don't go back terribly far. For the time being I am not getting a testoon or a commonwealth shilling. These are examples I could go into later but this set alone is a fairly substantial strain on my funds. My knowledge on these series can be limited as I am a type collector to start with. I suspect further down the road I will delve deeper into series but for now I usually go for the easiest type to find in high grade.
1549-1553 Edward VI
This past year I bid on two examples of Edward VI. I've looked at dozens, but I've tried to remain picky about the example I go for. The first I lost was one in an HA auction as I had to choose between two coins to commit funds to and I believe I picked the wrong one.
https://coins.ha.com/itm/great-britain/world-coins/great-britain-edward-vi-1547-1553-shilling-nd-1551-1553-ms61-ngc-/a/3099-31888.s?ic4=GalleryView-Thumbnail-071515
the second example I bid on was substantially lower grade but I thought I might make an exception for one with an interesting pedigree.
https://www.greatcollections.com/Coin/1245543/Great-Britain-ND-1551-53-Silver-Shilling-of-Edward-VI-S-2482-PCGS-XF-45-604gms-Ex-Archbishop-Sharp-Collection
So I've been left empty handed for the time being. I try to tell myself not to be in a rush and more will come but I do still get worked up over it.
1558-1602 Elizabeth I
For Elizabeth I find all the portraits to be so poorly struck that I decided that I would endeavor to go for a milled example. Truth be told her portrait continues to be lacking on these. The first one I bid on was this example:
https://live.spink.com/lots/view/4-4Q8CY5/the-vanmeerbeeck-collection-elizabeth-i-1558-1603-mestrelles-milled-issue-large-size-shilling-8-november-1561-24-october-1561
I foolishly thought this was in my reach haha.
The second one here I actually bought from a dealer at the ANA. After a short stint of owning it I just felt disappointed with the strike and decided to let it go to a friend of mine who was interested.
https://coins.ha.com/itm/great-britain/world-coins/great-britain-elizabeth-i-shilling-nd-1560-1566-xf40-ngc-/a/232147-64502.s?ic4=GalleryView-Thumbnail-071515
1554-1558 Philip & Mary
I've only bid on a single one of these and wasn't able to secure it. Hammered continues to be my toughest area to learn and to price correctly. Here's the piece I bid on:
https://www.noonans.co.uk/auctions/archive/lot-archive/results/437648/?keywords=philip+and+mary&discipline=&category=&date_on=&date_start=&date_end=&lot_no=
1603-1624 James I
This is my first hammered Shilling I bought and potentially the source of my troubles. I really love it's surfaces and it's strike and centering. To find others to match continues to be a challenge. I bought this one raw off ebay.co.uk. Was very pleased with the purchase.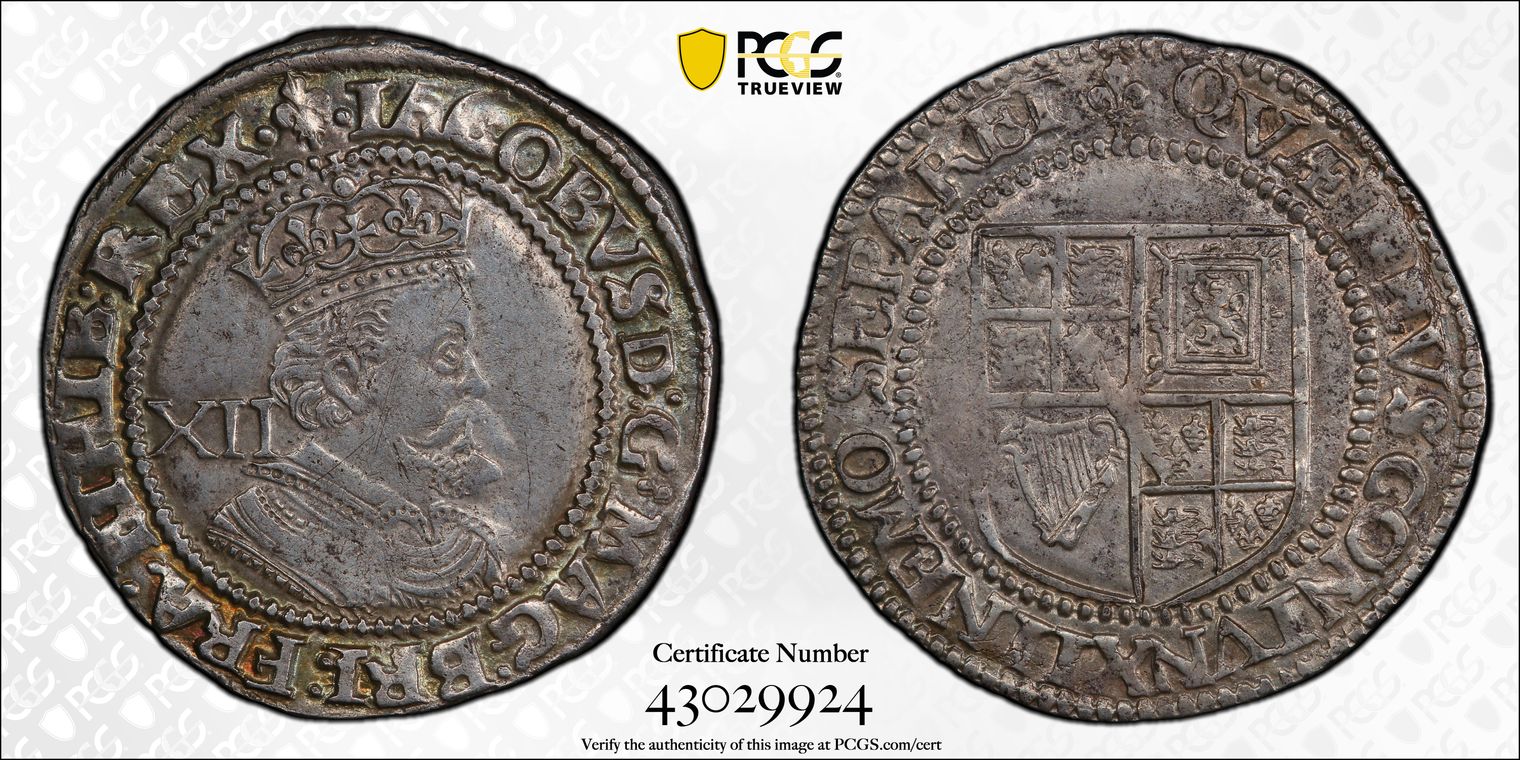 1630-1644 Charles I
I've looked at tons of these. They are very common but the portraits horribly struck. Not to mention issues with the flan as well. I bid on just 1 of these but wasn't confident it was the right one for me and didn't bid strong enough. I have debated getting a Briot to fill this slot which are lovely milled examples if you are not already aware of them. This is the hammered example I bid on:
https://www.numisbids.com/n.php?p=lot&sid=5895&lot=1020
1660-1685 Charles II
Just a single coin I've bid one. I thought it was within my reach and bid very aggressively on it and still fell flat. Incredible ending price but the little I could research:
https://auctions.stacksbowers.com/lots/view/3-URM5F/great-britain-shilling-1663-london-mint-charles-ii-pcgs-ms-62
1685-1688 James II
Only one type for this monarch and a very difficult one to fill. As of yet I haven't purchased or bid on any James II examples.
1688-1694 William & Mary
A very difficult one to get and incredibly difficult in high grades. I paid up for an example from Australia thinking it was a tad higher grade. I am still pleased with it but doubt it will be the final iteration for my set.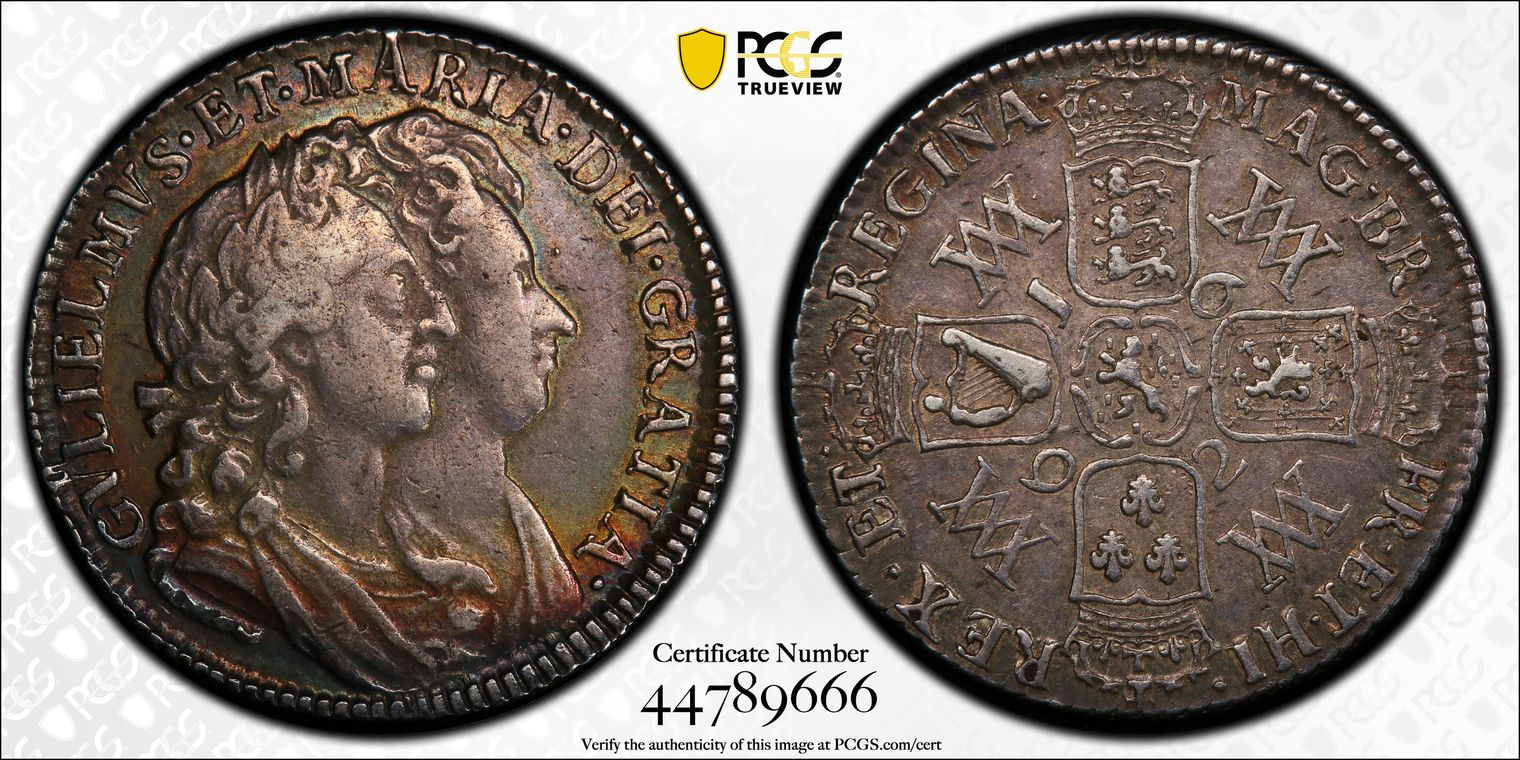 1694-1702 William III
This one I've actually got 2 examples for. One I purchased in the UK in a 1700 NGC MS65 holder that is currently at PCGS:
The second one only just a week ago now at the FUN show. This 1697 I've known about for probably a year and went back and forth with the dealer until they finally decided to let it go: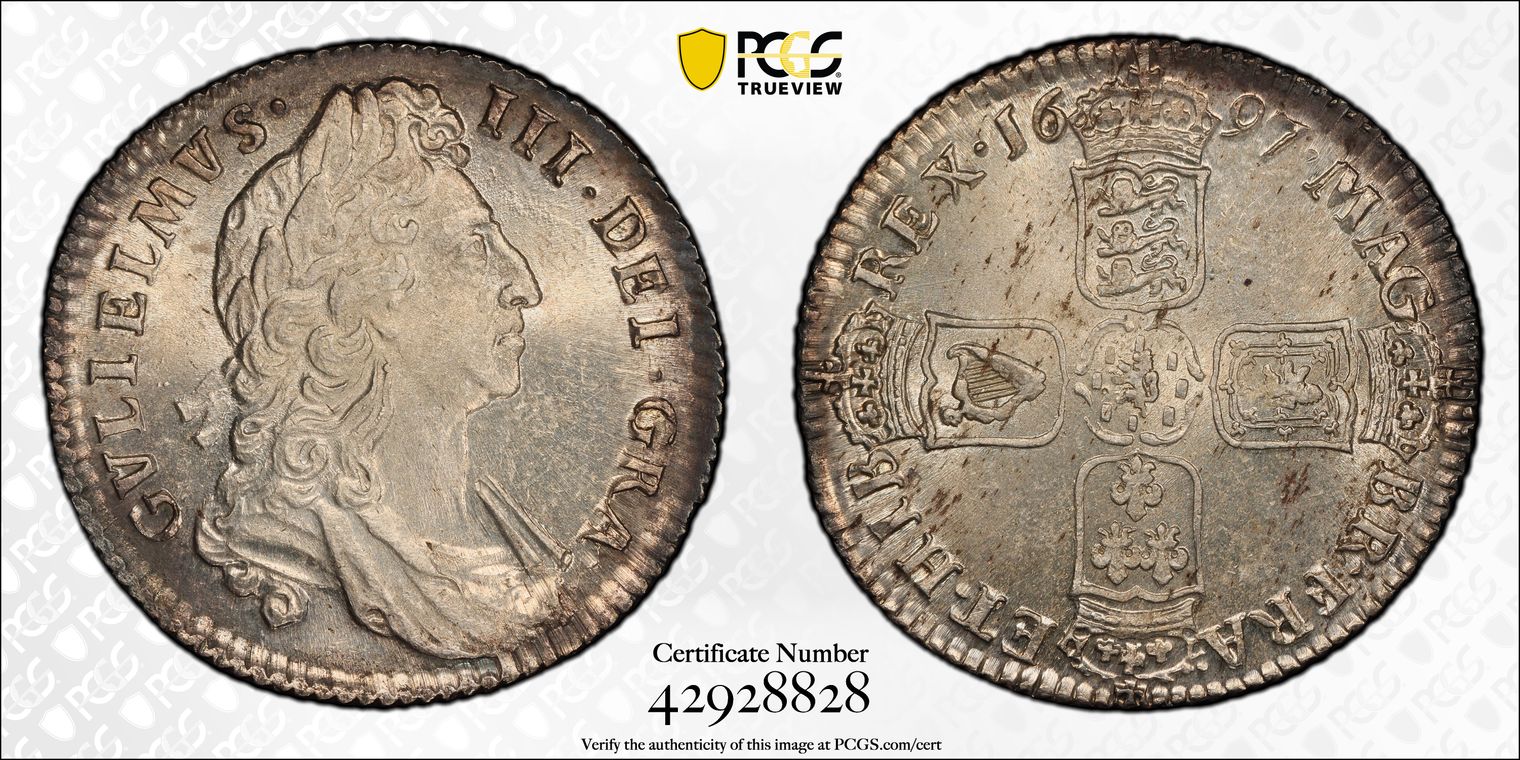 1702-1714 Anne
No examples yet and none that I have bid on. One of my requirements is that there's not significant haymarking and they seem to be rife with it in the grades I am shopping for.
1714-1727 George I
This was a great one and done coin for me. I purchased this example with great luster and nice toning out of a ha auction in an NGC MS64 holder.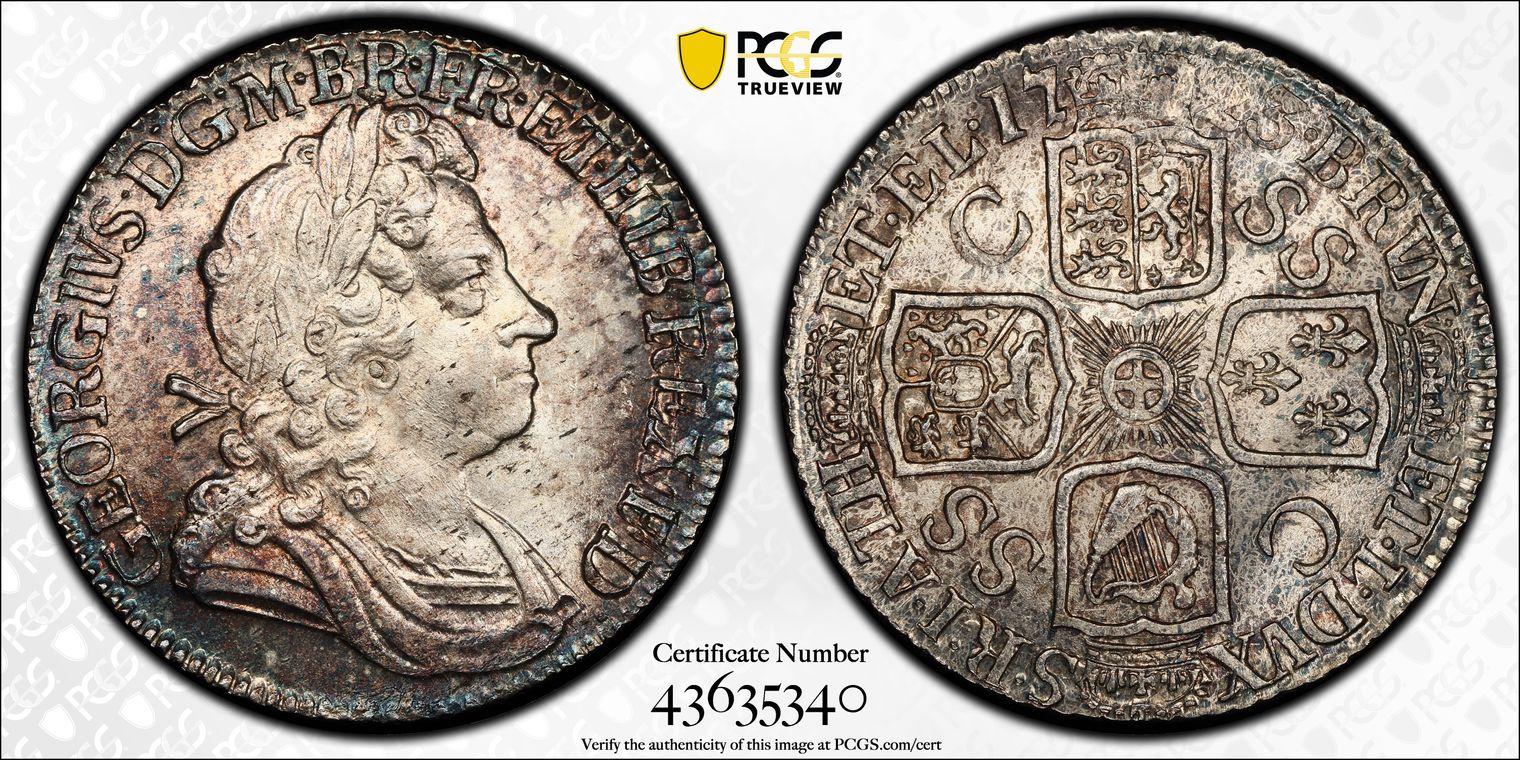 1727-1760 George II
This example is my favorite coin. I purchased it raw off ebay in 2019 for $220 and it's an outstanding example. I really couldn't ask for better.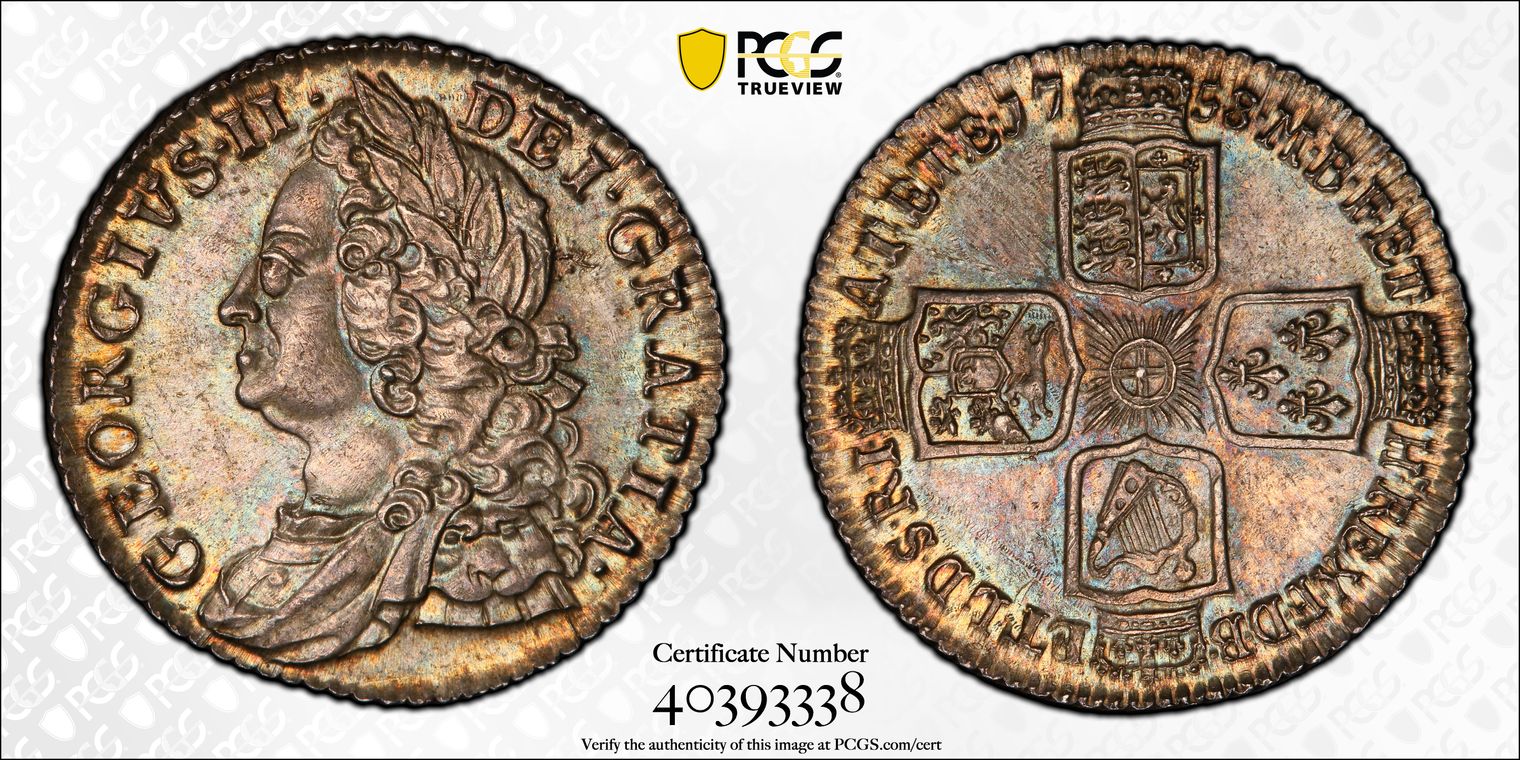 1760-1820 George III
I am not sure I can say exactly why but for this Monarch I much preferred an example known as a Northumberland Shilling. This adds some undue cost but I had decided what I wanted and was able to get a great looking example from stacks. I did buy one other example raw but it was short lived as I was disappointed with it in hand and returned it.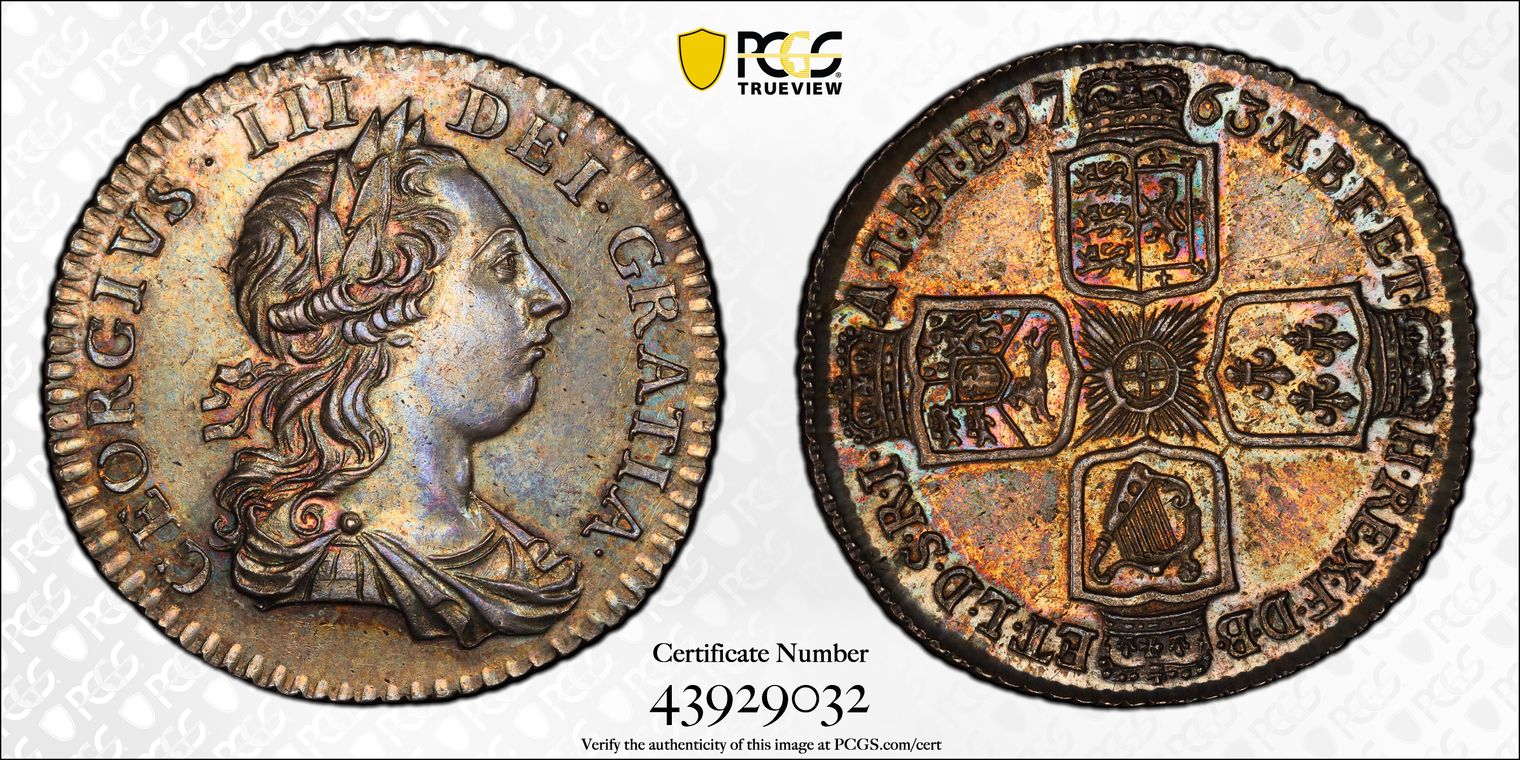 1820-1830 George IV
This is one of my favorite designs to I had to have the 1821 type. I got this from HA late in 2021.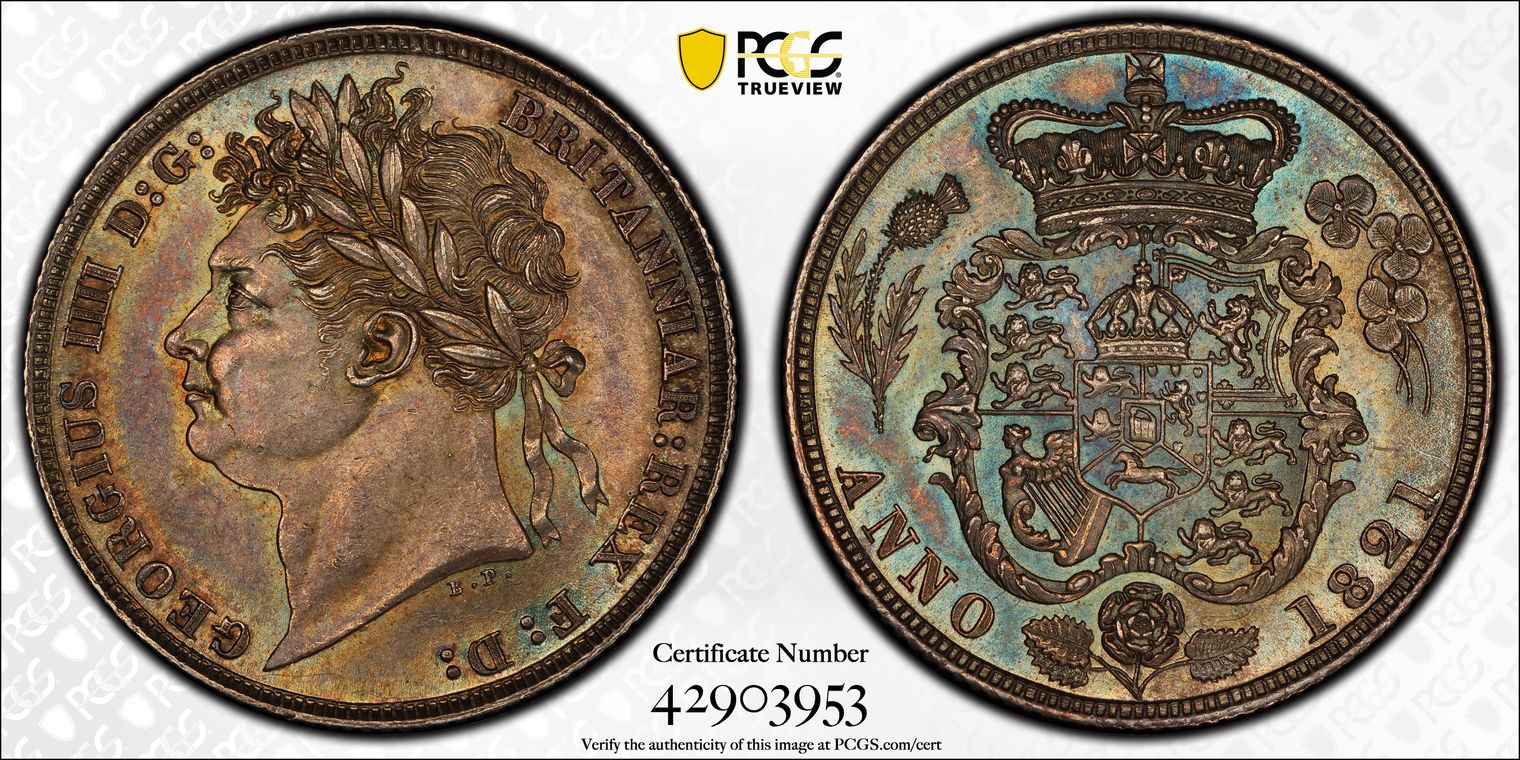 1830-1837 William IV
Many of these look exactly the same and it's difficult to find one that is a nice contrast to the others. I have only bid on one and lost the auction. The link to it is here:
https://bsjauctions.auctionmobility.com/lots/view/1-5L3DTA/british-coins
1837-1901 Victoria
This example I bid on twice! The first go around was here:
https://www.greatcollections.com/Coin/1105939/Great-Britain-1872-Silver-Shilling-S-3906A-NGC-MS-65-from-photo
and without knowing it was the same one, the second time here:
https://auctions.stacksbowers.com/lots/view/3-YTRV7/great-britain-shilling-1872-london-mint-victoria-pcgs-ms-66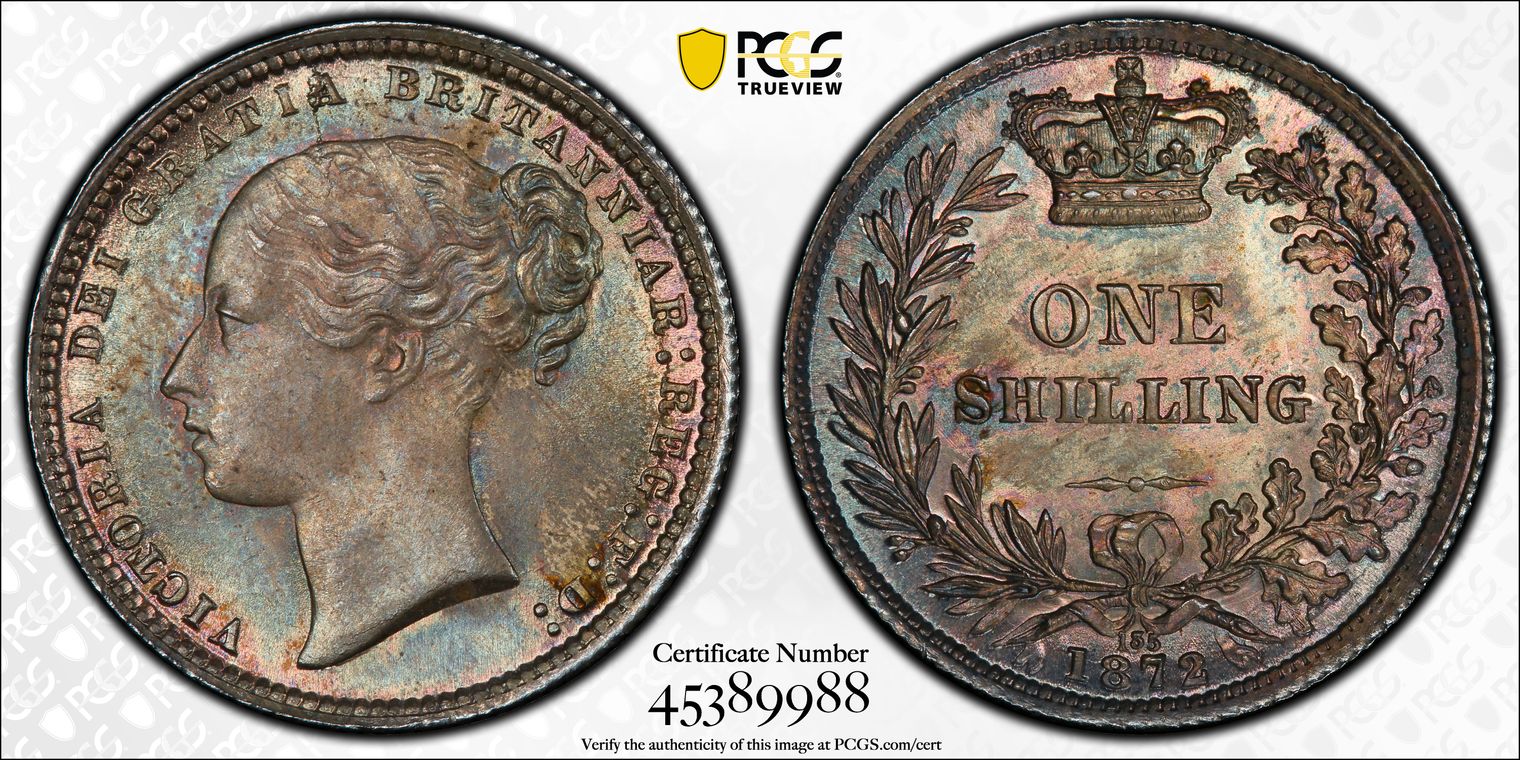 1901-1910 Edward VII
I've owned a few nice Edward VII shillings but this is certainly my favorite. A good friend of mine in Scotland sold it to me raw.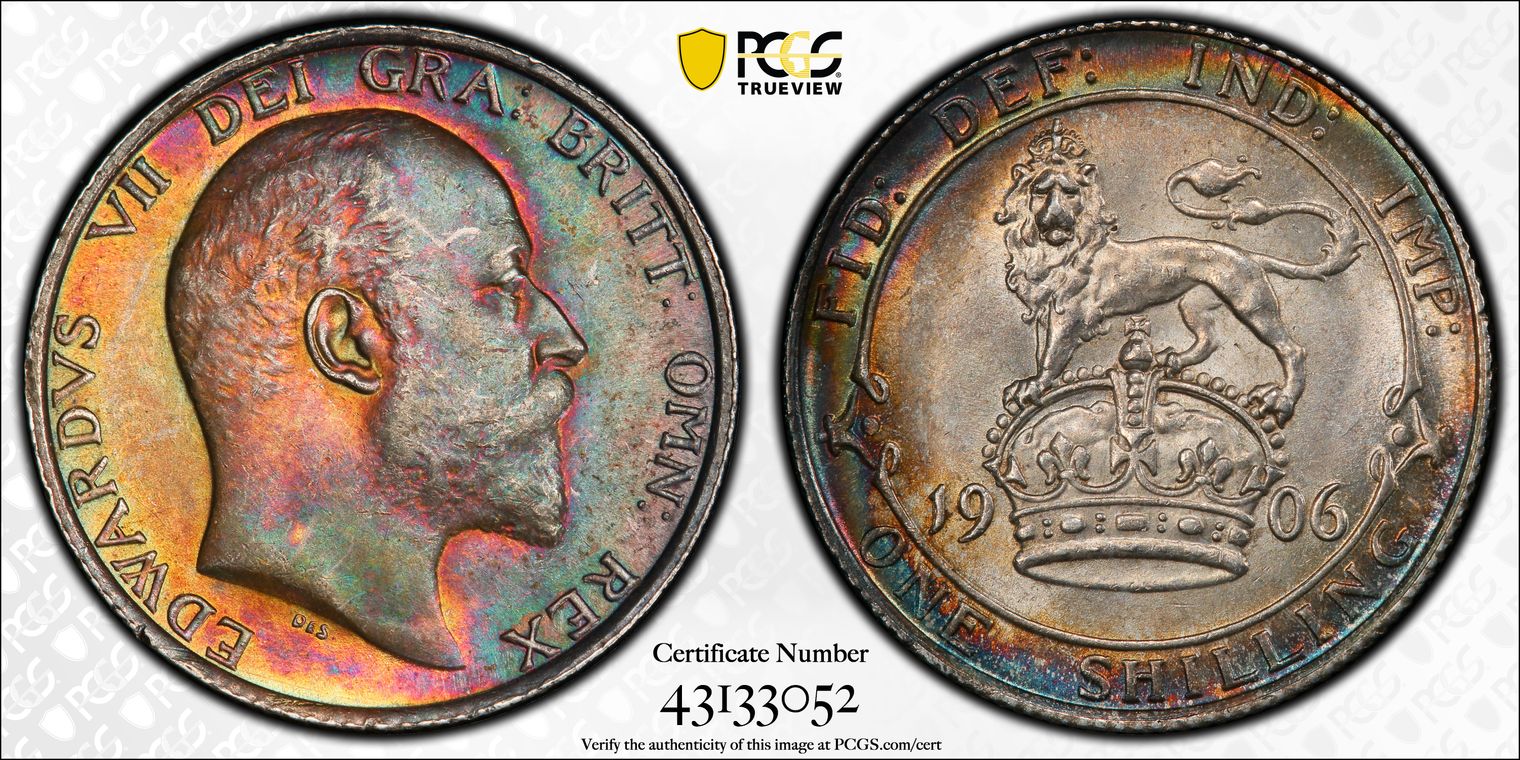 1910-1936 George V
I collect these by date so I've lots of examples to pick from. I chose the one I like the most with the most vibrant toning. Purchased off ebay raw and graded it.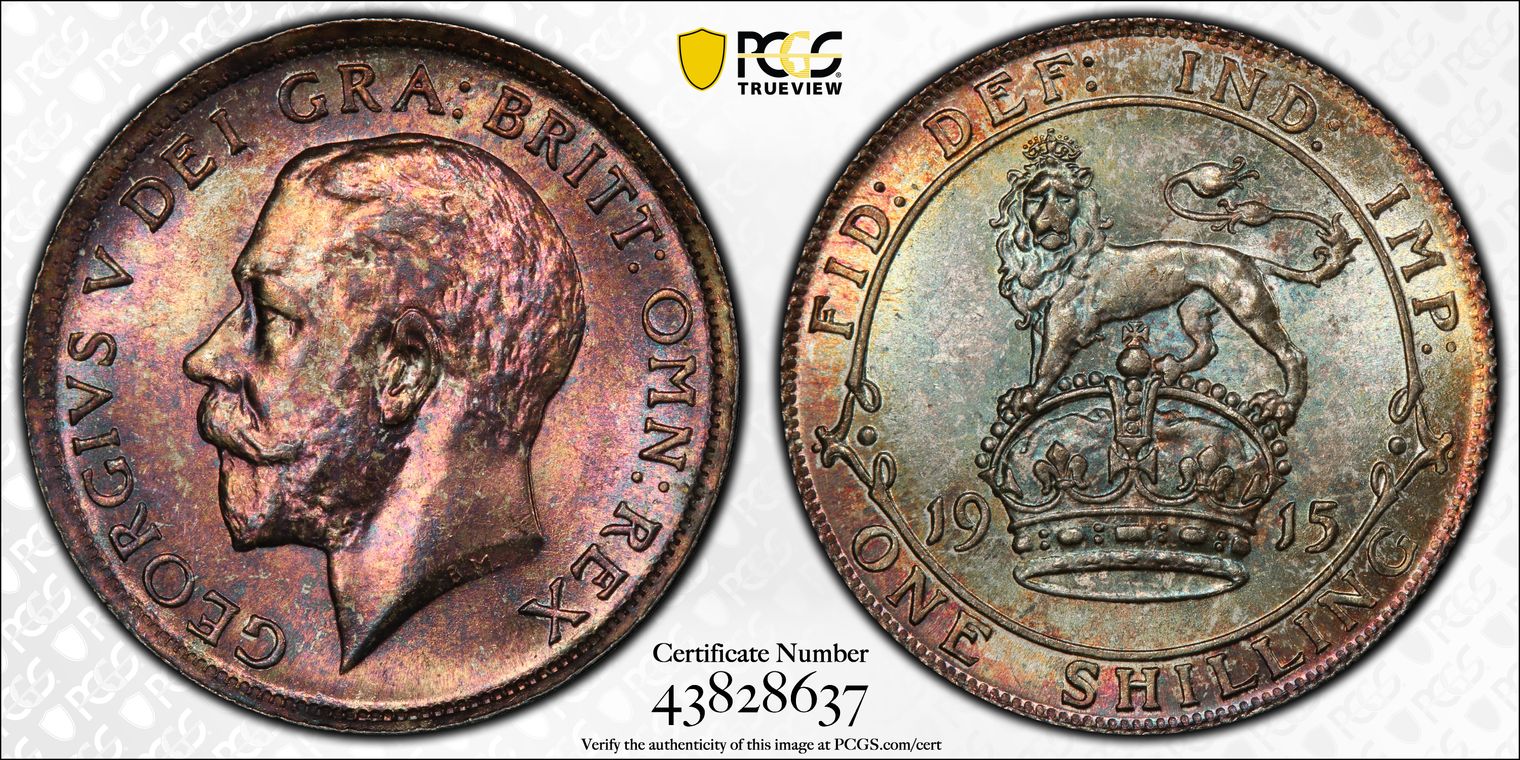 1936-1952 George VI
I've had a handful of these and they are strange coins. Rarely found in gem and almost never found with any toning to speak of much less nice toning. I bought this raw for $10 through a friend of mine and have yet to find one I like more for my set.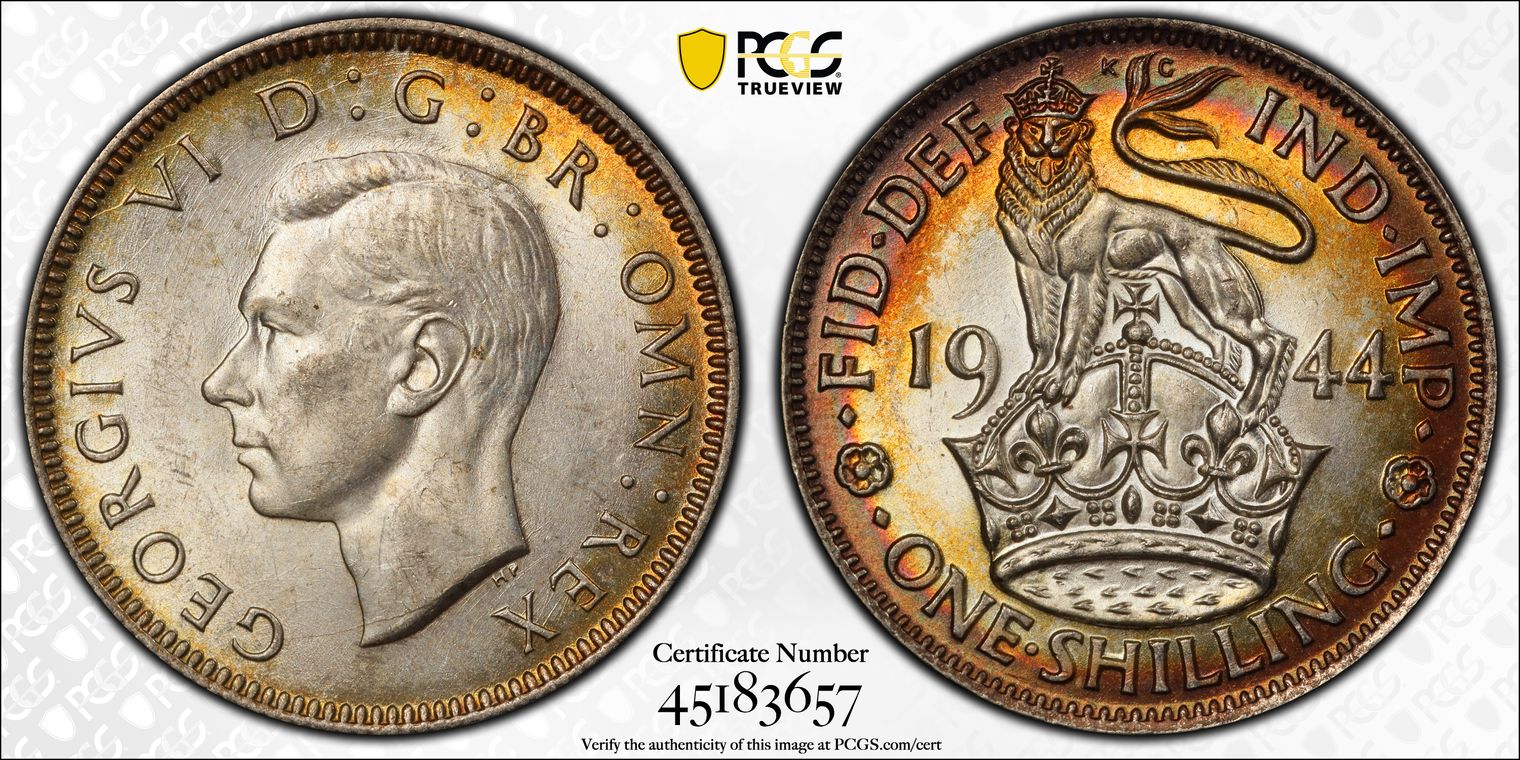 1953-1970 Elizabeth II
I currently have a blast white MS66 for this slot. I am unsure how available toned examples are or if there's any other defining merit I can look for in these, other than just grade.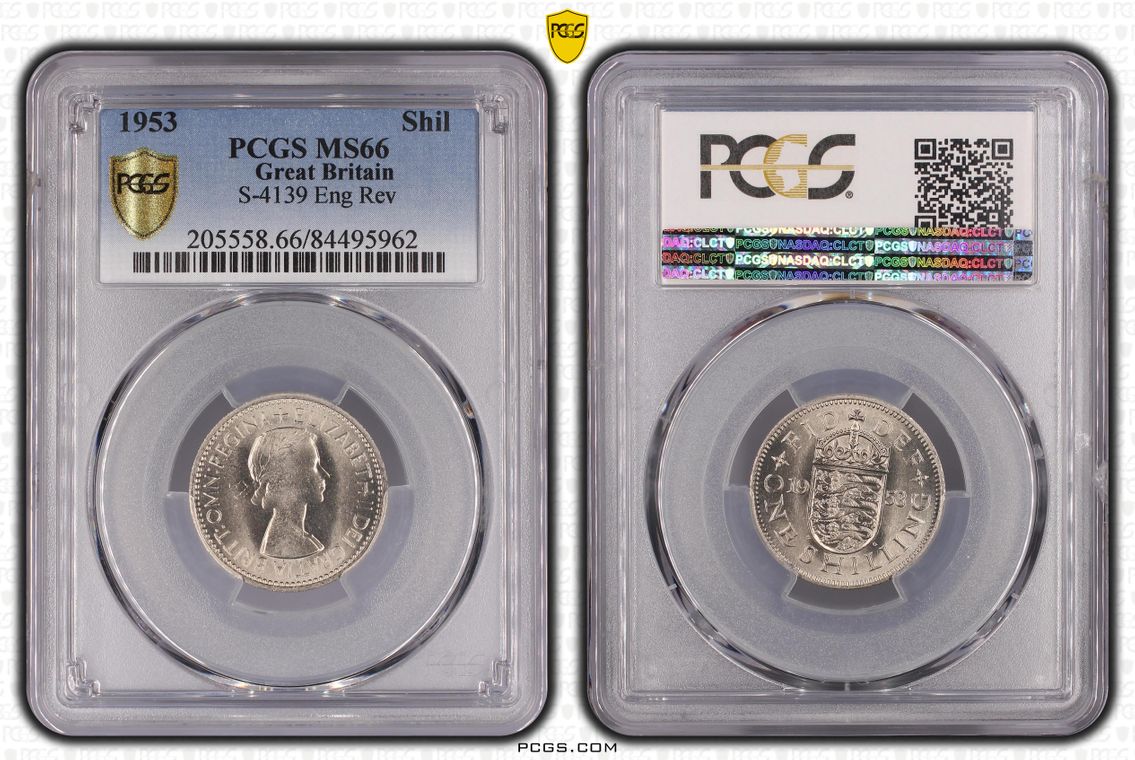 Anyway, that's the current state of the set. If anyone here ever comes across examples, they think would be well suited please do reach out I am always looking.
https://numismaticmuse.com/ My Web Gallery
The best collecting goals lie right on the border between the possible and the impossible. - Andy Lustig, "MrEureka"