Home
›
Buy, Sell & Trade - World & Ancient Coins
FS: 2013 Mexican Numismatic Heritage Caballito - 100 Mintage!
pruebas
Posts: 2,538
✭✭✭✭✭
Here's a modern rarity. Many of you know the Numismatic Heritage Series of the Mexican Mint. From 2011 to 2014 they issued a set of 6 coins each year with designs replicating famous coins in Mexican history. These are similar to the Mexican Numismatic Society's medals commemorating famous coins. The Mexican Mint minted 8000 coins each of 24 total designs.
The Caballito Peso was part of the 2011 set and hence dated 2011. BUT, Mexico was hosting the 2014 Mint Directors Conference, and it is customary to have a competition of the previous year's coinage. A 20 Peso commemorative was entered in the "best circulating coin" category, but some high official decided to re-strike the Caballito from the Numismatic Heritage series except dated 2013 for the "other coins" category. As a minimum of 100 coins needed to be struck per the law, that is what was struck. An article about the issue and the official documentation is reproduced in the Mexican Numismatic Society Bulletin of Oct-Dec 2019.
After distribution to the delegates, the remainder of these coins were discretely available for sale over the counter at the Mexican Mint's retail store near the American Embassy in Mexico City. One local dealer bought almost the entire stock and he is currently selling them on eBay at a high price with shipping from Mexico.
So with a mintage of 100 pieces, this is the rarest regular-issue coin of modern Mexico (20th and 21st Centuries). (I consider the 1922 2c and the 1931 5c to be trials, and regardless, their mintage is not reported, so they don't count.)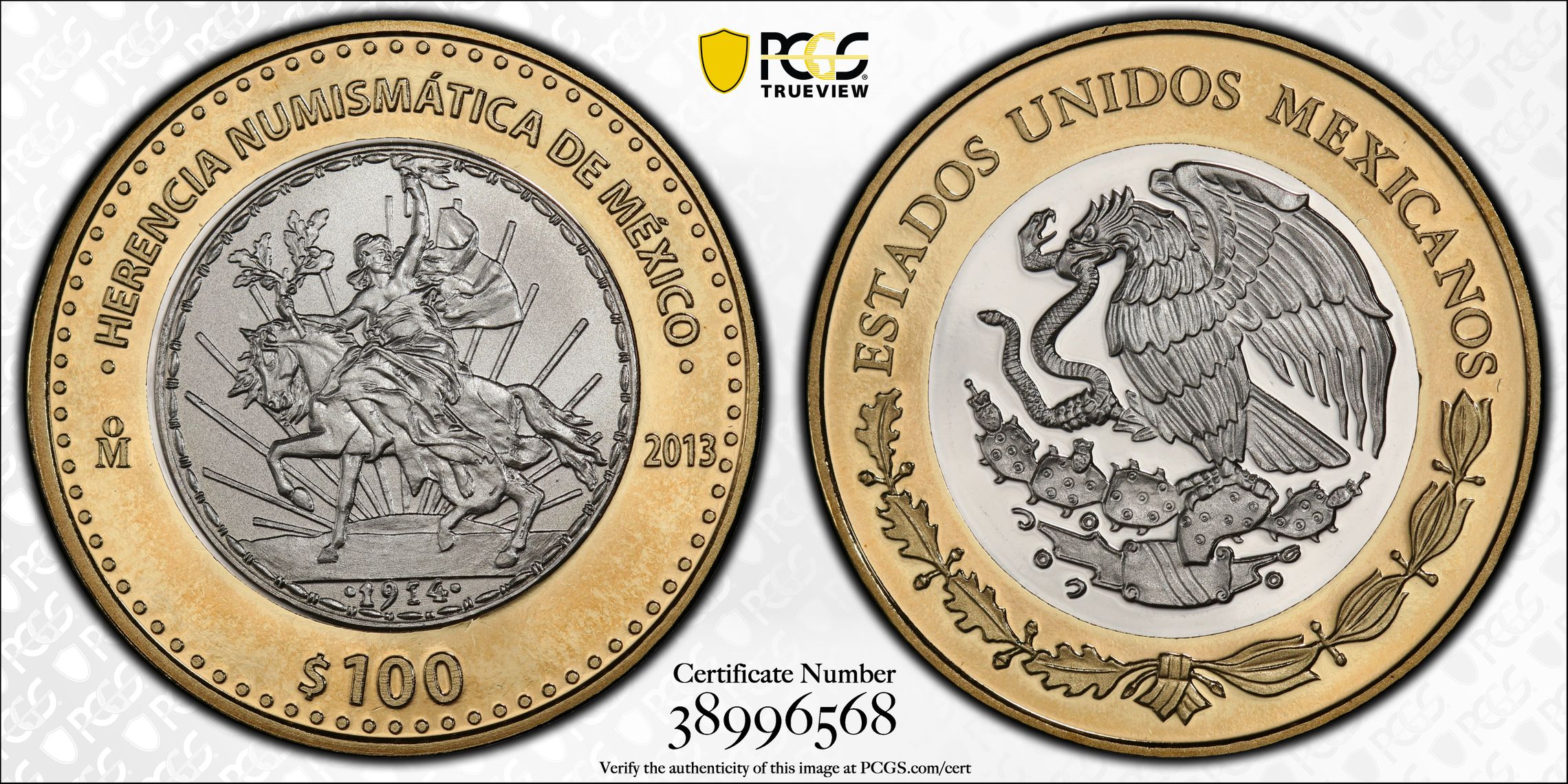 The coin is graded PL69 by PCGS (tied for highest graded at PCGS).
Price is $2000 with insured shipping within the US. PPFF or USD check/MO preferred.