Home
›
Buy, Sell & Trade - World & Ancient Coins
FS: 2013 Mexican Numismatic Heritage Caballito - 100 Mintage!
pruebas
Posts: 2,334
✭✭✭✭
Here's a modern rarity. Many of you know the Numismatic Heritage Series of the Mexican Mint. From 2011 to 2014 they issued a set of 6 coins each year with designs replicating famous coins in Mexican history. These are similar to the Mexican Numismatic Society's medals commemorating the same thing.
The Caballito Peso was part of the 2011 set and was dated 2011. But the story goes that the Mexican Mint wanted to put the coin into the Coin of the Year competition in 2015 so had to have a coin dated 2013 in order to do this. And as Mexican law requires a minimum mintage of 100 pieces, they minted 100 of that coin dated 2013 specifically for the occasion. (An alternate telling of the story says that the COTY rules state that contestants need to have a minimum mintage of 100 to be included.)
These coins were available for sale over the counter at the Mexican Mint's store near the American Embassy in Mexico City and one dealer bought almost the entire stock.
So with a mintage of 100 pieces, this is the rarest regular-issue coin of modern Mexico (20th and 21st Centuries). (I consider the 1922 2c and the 1931 5c to be trials, and regardless, their mintage is not reported.)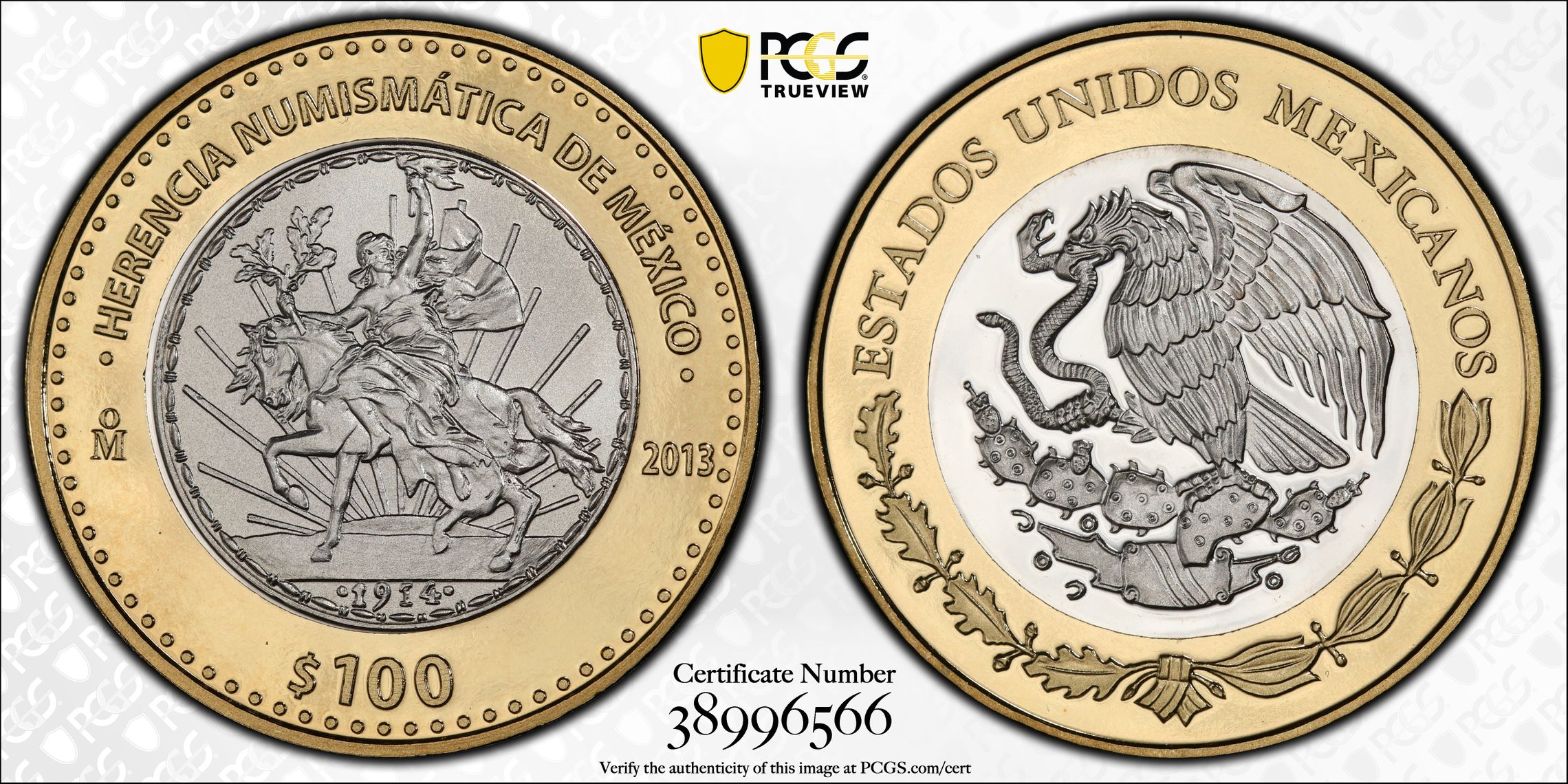 Edited to add: I don't see any Mexican entrant in this list, so it could be that the story is apocryphal?
I have two pieces available for immediate sale. Your choice at $2000 each (Registered shipping included). PP Friends or check/MO only. One is PCGS PL68 and another is PCGS PL69. Personally, I like the 68 better, but both are the same price.
I may be able to get NGC graded coins next month. Once travel restrictions are lifted, a dealer friend will bring up some NGC PF69 and NGC PF70 pieces. Prices TBD on these.