Home
›
U.S. Coin Forum
2019 American Innovation Dollar Coins (19G*) - Georgia RP details posted...
BackroadJunkie
Posts: 3,745
✭✭✭✭✭
Aaand, they're off!
The 2019 American Innovation dollar coins (aka Innobucks) are slowly being released over the next few months.
The limits have been determined for the bags, rolls and proof set. None.
Mintage Limit: None
Product Limit: None
Household Order Limit: None
The 2018 Reverse Proof had a mintage of 75K (HHL of 5 for the first 24 hours). I am 50/50 on whether they strike more of the 2019 RP's, since the Intro dollar surprisingly went to CU so quickly.
EDIT: The Delaware Reverse Proof coin continues a mintage of 75K @ $9.95.
If you are unfamiliar with these coins, they are being minted for "collectors" only, which means they are not going to be injected into circulation by the Mint. They're still legal tender though, and can be spent. The law to create these things can be found here:
American Innovation $1 Coin Act (pdf)
There will be four coins released per year, one for each state and territory. With the 2018 Intro Coin, it will make this a 57-coin, 15-year series. (That means the series will end in 2033 for those who don't want to do the math.) They will be in three finishes, a circulation strike (available only in rolls and bags), a proof (only in a four coin set) and a reverse proof (only available individually). The proofs will not be in the normal annual set. There will be no uncirculated set.
This year's offerings are for Delaware, Georgia, New Jersey and Pennsylvania.
2019 American Innovation Dollar Coins (Innobucks)
Delaware
Georgia
New Jersey
Pennsylvania
Product
Product Code
Release Date
Product Code
Release Date
Product Code
Release Date
Product Code
Release Date
100 Coin Bag (P) - $111.95
19GBA
Sep 19
19GBD
Dec 19
19GBC
Nov 21
19GBB
Oct 24
100 Coin Bag (D) - $111.95
19GBE
Sep 19
19GBH
Dec 19
19GBG
Nov 21
19GBF
Oct 24
25 Coin Roll (P) - $32.95
19GRA
Sep 19
19GRD
Dec 19
19GRC
Nov 21
19GRB
Oct 24
25 Coin Roll (D) - $32.95
19GRE
Sep 19
19GRH
Dec 19
19GRG
Nov 21
19GRF
Oct 24
Reverse Proof (S) - $9.95
19GE
Nov 7
19GH
Feb 11, 2020
19GG
Jan 7, 2020
19GF
Dec 5
(Product codes above are links to the Mint web page. Those in bold have populated webpages.)
The Mint's web page for the proof set can be found here. It's been given a sales date of October 11.
American Innovation 2019 $1 Proof Set (19GA)
Price has been set at $20.95, a one dollar increase over the last four coin prezibuck proof set ($19.95).
All Innobucks will have a common obverse. All the necessary wordage to make it a legal tender coin (like the date and mintmark... Grrr....) is on the edge. (I really don't like edge lettering. I just thought I'd throw that in there.
)

I'll keep the line art along with the Mint images when they become available.
Delaware:

Georgia:

New Jersey: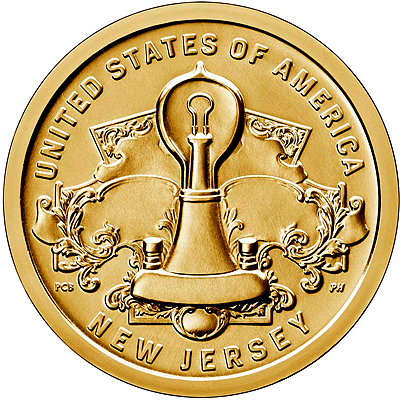 Pennsylvania:

Proof set:

The initial thread for this coin series can be found here:
American Innovation $1 Coin Act, H.R. 6025 (Now, HR 770. Became law 7/20)
The Introduction Coin thread is here:
2018 American Innovation $1 Coin (Intro coin) (18GA, 18GRA, 18GRE, 18GBA, 18GBE)