Home
›
Trading Cards & Memorabilia Forum
Murky Dismal: Juan Soto Run #US300, HMT55...
han_soto
Posts: 895
✭✭✭
After seeing a game during one of our semi-annual MGM trips at National Harbor and subsequently pulling one of his Bowman Big League Breakthrough redemption cards, I've found myself dipping my toe into the modern pond.
It's been a pretty eye-opening and knowledgeable trek and a refreshing break from the vintage side.
The "knowledgeable" schtick comes from learning about the cards titled in the thread. The 2018 Topps Update #US300 and its Chrome version, the HMT55.
As opposed to vintage and the "RC" standard definition, Ive learned about "1st Bowman" card, "The RC Logo", "Pack Pulled" cards and, while still absorbing here, the parallels of all of these cards.
I must admit, it was extremely overwhelming at first. But, this middle-aged dog wanted to at least attempt to learn some of the new tricks. So, I just took it slow. Day by day. And researched heavily before doing any sort of impulse buying. Considering the price descrepancy between some of these parallels, I didnt want a stupid mistake to thwart any of the fun because thinking back, I had already been collecting vintage parallels since day Juan (one).
Think various versions of the '89 FF card, the '52 mantles a&b, the '64 bat knob card, '69 white lettered, Juan Gonzalez reverse negative, Topps, Tiffany & Desert Shields and the Veni's to the Minis. All could basically be labeled under the original parallels if you wanted to.
With that long diatribe being over, I love the image and how it has been used in numerous different Topps product lines.
(Which was hard to wrap my head around at first)
How could the same card, with the same remarkable image, be found in at least 4 different distribution methods by Topps? The simple answer? It just is.
Again, I'm not into modern really so I'm not chasing each release, doing case breaks or ripping a bunch of wax or is it plastic/foil now-a-days, so just tracking down the singles is fun and challenging in itself.
With that being said, I'm just gonna post the different cards as they have or get picked up just to document the journey. Its all PC so if the kid doesnt make it, it's been fun witnessing him play (and hit) in person, pulling that bowman card, learning about shiny and just having fun again with raw cards without any emphasis on "flips".
The original base:
2018 Topps Update #US300; Base
Front: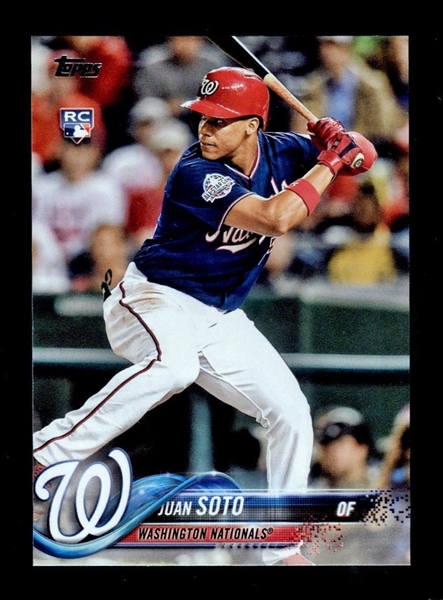 Back: